We use affiliate links. If you buy something through the links on this page, we may earn a commission at no cost to you. Learn more.
Christmas is coming, and for those with a camper, hunter, outdoorsman or
anyone else on the gift list that might need a lighter which can perform under
adverse conditions, there is the latest offering from
Sportgear's
Azen Storm
Proof Lighters line.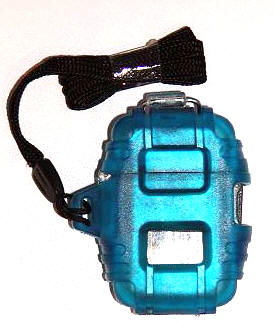 Similar to their lighters
that I reviewed last year, the new Neo (900 series)  is made for those who
might have to deal with wind and rain while starting a fire. What sets the Neo
lighters apart is the fact that they are much more rugged than those I
previously reviewed. They are also a bit wider, which makes them easier to
handle while wearing gloves.
The exterior of the Neo is shelled in a thick hard rubber skin, which should
protect it from drops, crushing or other shocks. Avaiable exterior colors
include amber, forest or aqua.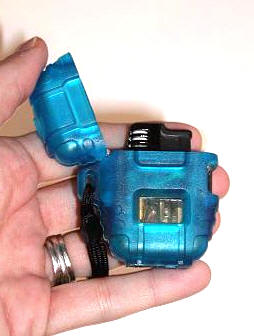 The Neo is made with easy one-handed operation in mind. A rolling metal clip
keeps the lighter's cover in place, but a flick of the thumb will expose the
lighting mechanism when needed. A push button on the side of the lighter flips
the lid back, and a blue "jet flame" is produced when the black plastic igniter
is pressed.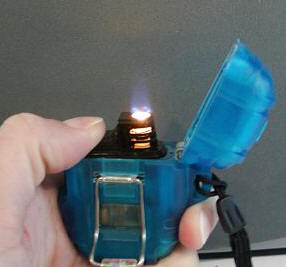 These "jet flames" are much more resistant to wind or weather than a
traditional BIC-style traditional flame. I was pleased with the fact that from
the first flick, there were no fuel-wasting misfires. That is saying a lot for
an inexpensive lighter!
According to the packaging, the Neo is "windproof and waterproof", which is
consistent with the backyard testing I subjected it to. This lighter also
features a machine sealed gas chamber from which you can check fluid levels
through the side window and a bottom adjustable flame screw.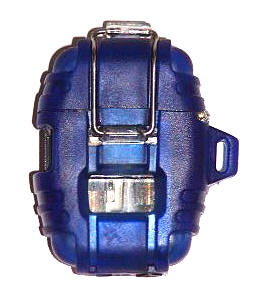 A neck lanyard is included with each lighter, which will make it that much
less likely to be lost or misplaced when outdoors. However, the lanyard can be
removed and the lighter pocketed should the user prefer.
The Neo Storm Proof Lighter is an inexpensive way to make sure that your
favorite outdoorsman is never without a flame. It is also handy for lighting
cigars and cigarettes, should someone be so inclined. ;0)
Price: $7.95 (+ $3.50 shipping cost in US Funds.
Lighters ground shipped without butane gas for safety.)
Available in amber, forest and aqua translucent colors
To purchase make contact here.
Pros:
Inexpensive and reliable lighter
Included neck lanyard
Adjustable flame
Water and wind resistant
Pocketable size
Cons:
None
Product Information
Price:
7.95
Manufacturer:
Sportgear
Pros:

Inexpensive and reliable lighter
Included neck lanyard
Adjustable flame
Water and wind resistant
Pocketable size

Cons: