We use affiliate links. If you buy something through the links on this page, we may earn a commission at no cost to you. Learn more.
If you have been looking for a gear bag that can hold lots of stuff in an organized manner, the Pack Sport from Infusion Threads may cause you to look no further. The Pack Sport is a smaller sized black Ballistic nylon unisex styled shoulder or waist bag. For its size, the Pack Sport has storage galore. I've come to think of it as the SCOTTeVEST of gear bags.
To give you an idea of the size of this bag, below you will find the dimensions of the main compartments.
Main compartment – 7.5 x 10 x 2.25 inches
Secondary compartment – 7.5 x 7.75 x 1 inches
PDA or camera pocket – 4.25 x 5.5 x 1.25 inches
Flash light or mace pocket – 1.75 x 6.25 x 1.25 inches
Two cell phone side pockets – 2 x 4 x 1.25 inches
Change and key pocket (Flat pocket) – 7.25 x 2 inches
ID, credit card, passport, money and check pocket (Flat pocket) – 7.25 x 6 inches
Papers, receipts, paperback books back pocket (Flat pocket) – 8 x 7.25 inches
Now, let's take a detailed tour of the Pack Sport from front to back, inside and out. First the outside…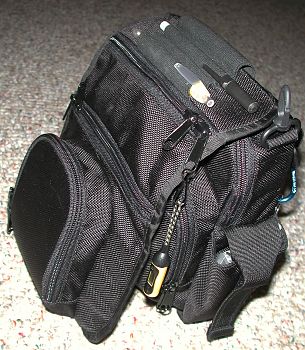 The front flap on this bag is much more than just a cover for the main storage area. The top spine of the flap has 4 long elastic loops of varying widths for pens, pencils and styli.
Below the pen holders is a flat dual zippered 7.25 x 2 inch pocket. I use this pocket to hold my pill case, lip balm, and eye drops.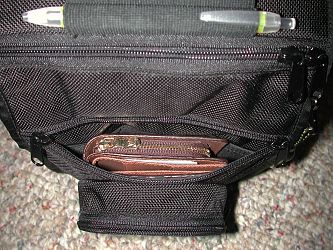 Continuing down the front of the flap, there is another dual zippered pocket which has four separate sections. A stiffened partition separates a deeper outside pocket from a more shallow pocket. Two small pockets made of nylon are sewn into the back wall of the flap. I keep my wallet in the deep pocket and loose change in the two small pockets.
On the outside of the bottom flap pocket, is a large rigid dual zippered 4.25 x 5.5 x 1.25 inch compartment. I've been using this area to hold my digital camera and my breakfast – half a peanut butter sandwich. Since this compartment is reinforced with plastic, it helps to protect items from crushing.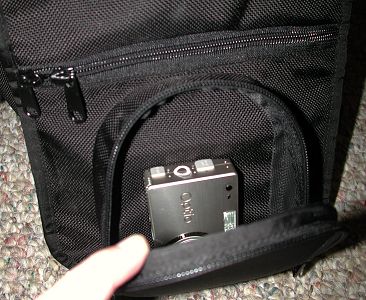 On the back of the Pack Sport is a large non-zippered pocket that is big enough to hold a medium thick paperback book, but not large enough to hold a magazine (unless you fold the magazine in half). On both sides of this pocket are plastic D rings. These D rings serve as attachment points for the shoulder strap. The strap which is included is only about 1 inch thick, and just seems a little cheap to me. I quickly removed it and replaced it with the shoulder strap from my Waterfield Small Cozmo bag. I love the Waterfield strap and it works great with the Pack Sport.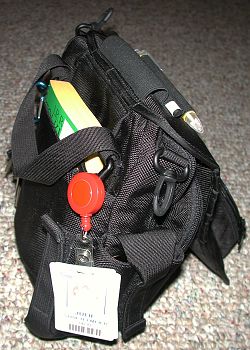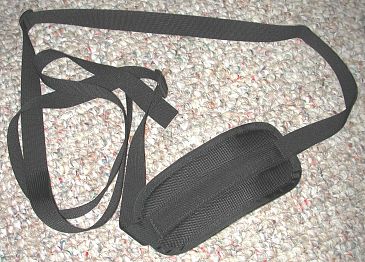 On either side of the Pack Sport are two plastic clips that can serve as attachment points for a shoulder strap or other objects such as car keys. I used these clips for the Waterfield strap. I used the D rings to hold my ID badge and vehicle keys. A small flat handle is also located in this area.
Between the D rings is a flap of material that the included waist strap can slide through. I personally do not like waist bags at all and did not test the bag in this manner.
On the outside of the back pocket is a long plastic reinforced tube that has a Velcro strip cover. The tube opens at the bottom which I find a little strange. I've yet to use this for anything, but according to the Infusion Threads site, it is designed to hold a flashlight or mace.
Each side also has a long thin pocket with a Velcro strip cover. These pockets work great for my cell phone and sunglasses clip.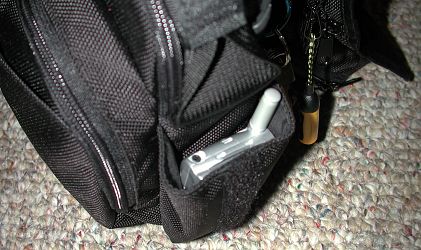 My main complaint about the Pack Sport is with way the front flap is held closed. A plastic squeeze clip is employed. First of all, I really don't like these types of clips because I invariably end up pinching myself with them. Sure enough, I've done this at least a half a dozen times during the review period. Second of all, the location of the clip makes it somewhat inconvenient to open quickly when the bag is on your shoulder. You have to slide your fingers up under the flap and feel around blindly until you can squeeze the clip to release the flap. I'd rather see the clip moved to the front of the bag somehow.
I should also mention that the bag tends to fall over when the flap is not clipped closed.
Now let's take a look at the inside of the bag.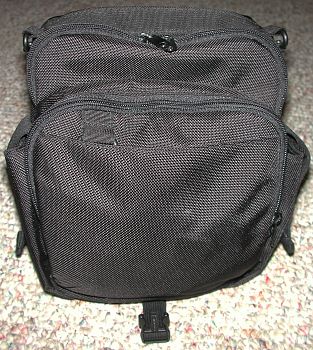 Once you open the flap, you'll see the three main compartments. On the outside is a non-zippered pocket with a keychain clip.
Behind that pocket is the smaller of the two main compartments. Like the Pack Sport's other zippered compartments, this one also has dual zippers. On the front wall of this compartment are two flat open nylon pockets, and on the back wall are three open ballistic nylon 'cups' of varying widths. The largest of these cups can hold my HP2215 while it is encased in an
Innopocket aluminum case. I use the other compartments to hold a BoxWave
miniSync cable, CF to PC card adapter,Semson's & Co. 4 in 1 CF card adapter,I-O Data Multi PC card adapter, and a WiFi sniffer.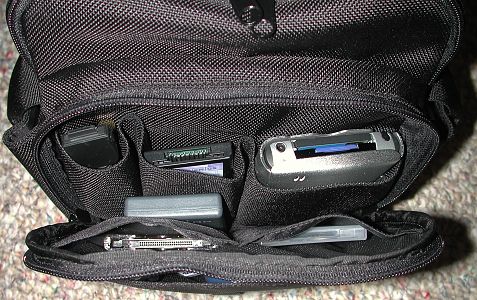 The Pack Sport main compartment has… anyone? anyone? That's right, dual zippers. This large area is completely open except for a flat unzippered pocket on the back wall. However, this isn't exactly a pocket as the bottom is open. The material goes all the way to the bottom of the bag, but it isn't sewn into the bottom. It's possible that my bag is defective. I've found that this pocket works well as a checkbook holder. In the main area, I keep my iPod, B&O earphones, and any other loose items that I may be reviewing or need with me at any given time.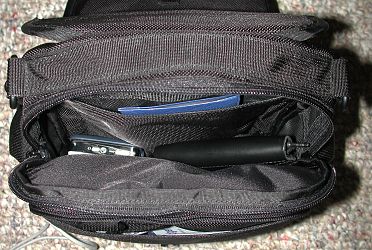 Except for the location of the flap clip and the shoulder strap, I've found that the Pack Sport makes an excellent gear bag. The construction is first rate, and the materials are rugged enough to withstand everyday use and abuse. I would love to see this bag made available in other colors and sizes, but as is, I think the style is appealing to almost anyone.
Product Information
Price:
48.99
Manufacturer:
Infusion Threads
Pros:

Pockets, pockets, pockets!
Minimal use of Velcro

Cons:

Shoulder strap
Flap clip location
Bag tends to fall over when flap isn't clipped