We use affiliate links. If you buy something through the links on this page, we may earn a commission at no cost to you. Learn more.
Julie's comments are in BLACK and Judie's are
in BLUE and italicized
Last year, Julie and I thought about going to
TECHXNY / PC Expo, but we waited until the last minute then said, "Nah.".
While the week long convention was happening and for some time after it was
over, Julie and I were moaning about how we had missed out.
So this year, we booked our plane tickets six months in advance! We weren't
going to make the same mistake twice.
Speaking of which, you would think that by booking
my ticket six months in advance, I would have got a price break…but no!
My plane ticket from San Angelo to NYC was over $600! ACK! But I digress…
Of course, we had already been to
CES in January
and were going to
COMDEX in
November.  If we went to every show that we were interested in attending,
we would be broke!
The plan for 2003 was that we would attend TECHXNY /
PC Expo, and now – here we are! Julie and I are going to try something new.
Instead of writing a big long wrap-up after we return, we are going to post
pictures and comments at the end of each day. The plan is that we will attend
the convention Tuesday and Wednesday, and spend Thursday sightseeing.

Neither of us has ever spent any time in New York. Judie drove through the
city (in 1993!), but I've never set foot in
it.
So needless to say, we are both excited about taking
a nibble out of the big apple! ☺
Monday
Never miss one of our posts again. Sent MON, WED, and FRI with the latest gadget reviews and news!
My day started with an 8:30 flight. I got to spend
much of the hour long commute to Dallas playing

Jumble, which is the new PDA game by
Outlook Entertainment,
based on the daily word puzzle that comes in the newspaper.  This version
is much better though, because it's portable without leaving newsprint stains on
my hands, and I don't have to wait until the next day to check my answer. This
game has eye-candy graphics and is  an excellent time waster!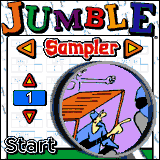 Once I got to DFW, I was pleased to find that right
next to my gate were these little internet kiosks where you could plug in your
laptop and surf. Since I had two and a half hours to kill, I parked there and
read an e-Book (The
Vanished Man by Jeffery Deaver) while charging my CLÍE
for the upcoming flight. This was pretty convenient, plus it allowed me to be
anti-social – which is how I usually am in the morning. If you are ever on a
layover at DFW, look for one of these…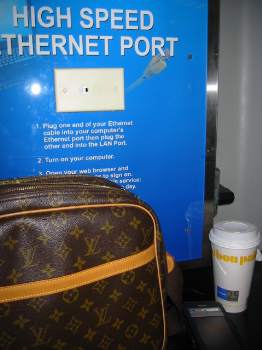 My flight to JFK was pretty smooth, which was
surprising considering Hurricane Isabella is supposed to be making her way up
the coast.
I was luckier than Judie, as I didn't have to leave home for the airport till
12:30pm.  It was a quick uneventful 1hr drive and an equally quick
check-in. You really have to love the self serve kiosks that most airlines now
use.
After getting my gate info, I grabbed some nuggets and a coke from McDonald's
and settled down to wait the hour till boarding time. Before I knew it, I was
herded into the plane and settled down for a short 1hr and 45min flight. During
the flight, I listened to a new CD that I had ripped of
AudioSlave, and read my current e-book
(A
Walk in the Woods by Bill Bryson).
Once I arrived at LaGuardia, I grabbed my bag and headed for a taxi stand.
As I was on my way to the JFK taxi stand, this guy
in a black suit grabbed my bag and tried to get me to go with him to an awaiting
town car. "It's the same price as the yellow one," he said as I asked him what
it would cost.
"Well how much is that?" I insisted.
"$60." He mumbled.
"Yellow Cab is $35!" I said as I grabbed my bag back
and went to get at the end of the queue. Not even in New York for 30 minutes,
and I had already been spotted as a newbie. puh-leeze!
Judie was supposed to arrive in NYC 1hr ahead of me, so when I called her
mobile phone, I was surprised to hear that she was also in a cab heading toward
the

Marriott Marquis on Broadway.
I have to tell you all about this – because as it
happened, I was in a state of disbelief! While riding to the hotel with my cab
driver, whose name was prominently displayed on his posted license, I could hear
him on his mobile phone calling his credit card company to activate his new
Visa. He not only read his number out loud, he also said the last four digits of
his social security number and gave his home address. Never mind that he was
doing this over a mobile phone – I was sitting in the back seat writing things
down on my CLÍE. For all he knew, I could have been taking down his personal
information. I was stunned by his naiveté.
15 or 20 minutes later, we met up in the lobby of the hotel, checked in and
were on our way up to our room; what seemed like a very small room for $200 a
night. After phone calls to our loved ones, we were ready to go exploring and
get something to eat!
We stopped by the security guards desk and asked
where he liked to eat in the area, and he suggested Carmines, which was just
down the alley from our hotel. Once we got there, however, the 45 minute wait
really put us off. Neither of us had eaten since noon, and our blood sugar
levels were tanked. Not even 20 feet up the sidewalk was a Chinese restaurant
named Ollie's Noodle Shop and Grill. The people inside looked happy and the
prices looked reasonable. We stepped in…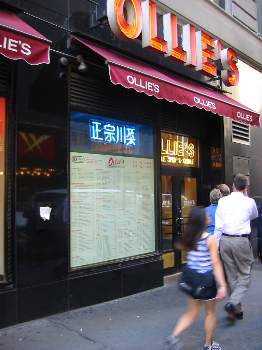 First we started off with pan fried dumplings and dipping sauce. They were
wonderful!!!! Judie made me use the freaking chopsticks, which I then proceeded
to impale my dumpling with, rather than tweeze. We made short work of that
appetizer, and soon we were happy to see the main course.
I got the rice noodles with pork, and Julie got the
rice noodles with chicken. There were mushrooms, water chestnuts, scallions,
seaweed and various other vegetables stir fried into our dishes. (side note –
when we got back to the room and were working on this article, Julie saw me
write that there were mushrooms in the meals, and she freaked!! Since her
eyes are still not quite 100% after the operations, she had been sitting there
enjoying her meal, never realizing it was loaded with "slimy slug slices" – as
she likes to call them!) I am sitting here rocking with laughter as she keeps
hitting me and saying, "I did not eat mushrooms!" Yes Julie…you did!
☺
Of course, we couldn't eat it all (…and even less
would have been eaten had Julie known about the mushrooms…) and it
really pained us that we could not take our leftovers with us back to the room.
We were pleasantly surprised by the price of the meal. It was $26, including
tip! Needless to say, we'll probably be back before the trip is over.
After eating, we walked around the corner and were
amazed by all the flashing lights, lighted news item scripts, and moving
billboards that looked like gigantic plasma screens. It took us a moment to
realize that we were in Times Square! Since the only views either of us has ever
seen of this area were in movies or TV shows, it was almost surreal to realize
that we were actually standing there.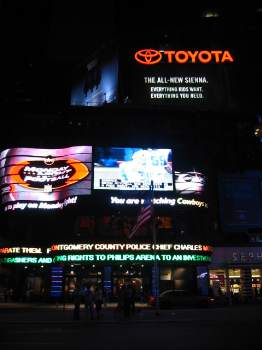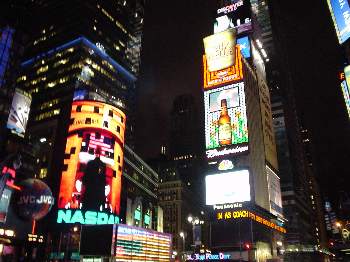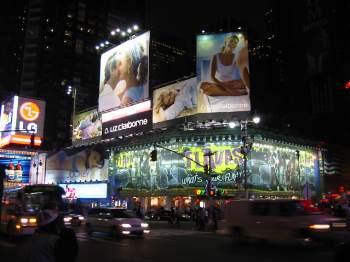 One of the shops that we passed, caught our attention with all of the
electronic gadgets and gizmos in the window display. We thought we might get
lucky and see a Sony CLÍE UX50, since both of ours were delivered to our
respective homes today while we were in transit. Unfortunately, the shop didn't
have the UX50. It did however, have the Garmin iQue 3600 on the shelf. We asked
one of the many clerks if we could see it, and he handed us the box. When Judie
asked if we could open it to see the actual device, he said no. Gee thanks
buddy… Hopefully, we will be able to see one tomorrow in the Palm booth.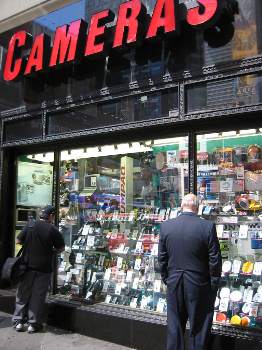 We trekked around for a little while longer, looking
at the various sites and people. Then we figured we ought to head back and put
something together for you all about our day. Tomorrow, we hope to see many
things that we won't be able to live without…