We use affiliate links. If you buy something through the links on this page, we may earn a commission at no cost to you. Learn more.
Product Requirements:
Device:
Windows PC 98, 2000, ME, XP or later
When people say that size doesn't matter, they are lying. With some things,
bigger is better. However, this is not true when it comes to PDAs. Here, smaller is almost always better. The
reigning
king of Pocket PCs is the HP 5400 series. Although packed with features and
style, this PDA isn't exactly shirt pocket size. To remedy that, late last year
HP introduced the 1910. This device was their
first true small form factor Pocket PC, and as such, gained a popular following
even though it lacked some of the more powerful features such as Bluetooth and WiFi.
This summer, HP has introduced 3 new iPaq models running
the latest version of the Pocket PC 2003 operating system:  the 1940, 5500
and the 2215. It is the 2215 that we will be looking at in this review. I think
this model might just be the next king of the Pocket PC. Small enough for a
pocket and infused with enough features to satisfy most people, this one is a
winner. Read on to see if you agree.
Hardware Specifications
Operating System: Microsoft® Windows® Pocket PC 2003 Premium
Processor: 400 MHz Intel® XScale technology-based processor
Memory: 64 MB SDRAM (56 MB main memory)
Display: 16-bit Transflective TFT color (65,536 colors) 240 x 320 pixel 3.5 in (96 mm)
diagonal
Expansion: SD slot: SD, SDIO, and MMC support, CF Slot: Compact Flash Type I and
II
Infrared port: IrDA SIR
Integrated Bluetooth™ (ver. 1.1)
Battery: Rechargeable 900 mAH Lithium-lon user swappable battery
AC Power: AC Input: 100~240 Vac, 50/60 Hz; AC Input current: 0.2 Aac max Output
Voltage: 5Vdc (typical); Output Current: 2A (typical)
Dimensions: (L x W x H) 4.54 x 3.00 x 0.61 in. (115.4 x 76.4 x 15.4 mm)
Weight: 5.1 oz (144.2 g)
What's In The Box
HP iPAQ Pocket PC 2215
USB Desktop cradle/charger
AC Adapter, battery, and charger adapter
Slip case
Getting started poster
HP iPAQ Pocket PC Companion CD
I've been using Palm's Tungsten | T
as my main brain for the last 9 months. I've actually not used a Pocket PC to do
much of anything in all that time. So, I have been itching to dive back into
using a Pocket PC and was excited when the HP iPAQ 2215 evaluation unit showed
up on my doorstep. Having seen pictures on the web, I didn't think I'd be blown
away by the style of the device, as it just didn't seem as sexy as the 1900
series. But, looks aren't everything and I didn't want to judge a book by its
cover until I actually had the device in hand.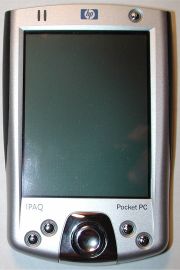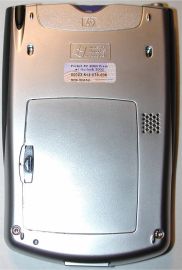 Upon first inspection, I would say that the 2215 was related to the iPAQ family. But to me it looks more
like a cousin than a brother to the 1900 and 5400 series. The casing is more
chunky than the streamlined body of the other iPAQs. There is also no question
that the casing of this device is plastic. With the other iPAQs, they had a
definite metallic look to them. In hand, the 2215 is a good fit. It is small and
light weight, making it very comfortable to hold and use. I don't know if it is
just my imagination, but the plastic body almost feels like it has a very thin
rubber coating. This gives you a secure grip on the PDA without any slippery
feeling.
Never miss one of our posts again. Sent MON, WED, and FRI with the latest gadget reviews and news!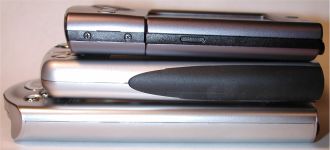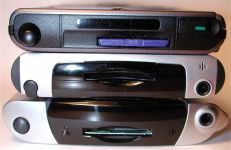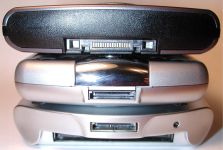 Top to bottom: Tungsten | T, HP2215, 3800 iPAQ
Speaking of grip, my first test was to give the 2215 the good ol' Gadgeteer
squeeze test. Although the 2215 is a solid little PDA, it did yield a few creaks
and groans
when I squeezed the sides in my hand. I didn't feel any flexing of the plastic,
but I could feel the rubber side grips move a bit. Shaking the PDA only caused
rattling of the stylus in the silo.
The case is made of matte colored grey plastic with chrome and black plastic
/ rubber accents. The look is a little more utilitarian than the snazzy 1900 or
5500 series. It is larger than the 1900, while still being very compact.
Above the display is the power button and two status / alarm LEDs. The power
button is small, but easy enough to press. Holding the button for a few seconds
turns the backlight off on the screen. There are two LEDs, which are indicators
for the built in Bluetooth radio and for alarms. The left LED is the Bluetooth
LED. It flashes blue when you have the radio turned on. The LED on the right is
the alarm LED and battery charging LED. It will flash amber while charging, and
then glow solid amber when the battery is fully charged. It will also flash
green as a visual event alarm.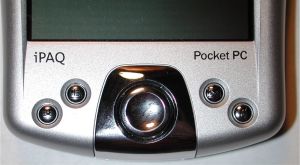 Below the display are the 4 application buttons and the navigation button.
The application buttons are small and a little stiff to press. They are slightly
smaller in size than the same buttons on my 3800 series, and are recessed into
the case to guard against accidental activation. I've never been a big fan of
the navigation button on every iPAQ model (except the 1900) that I've had. On the other
hand, the navigation button on the 2215 is wonderful! It is a smooth and shiny button with a
large indention on the top that is perfect for resting a finger tip or thumb.
The button moves effortlessly in any direction, including pressing it in. All of
the buttons have great tactile feedback.
The display on the 2215 is gorgeous and very easy on the eyes. I compared it
with the screen of a friend's 1910, and it is very similar. It is crisp, bright
and clear. Perfect for e-book reading! The 1910 might have the slightest edge as
far as color vividness, but other than that, they are almost identical. Like the
1910, the 2215 does not have an ambient light sensor. So you can't set it to
automatically adjust the screen brightness level based on surrounding light. I
have no complaints at all in this area though, as I never used that feature
anyway.
Screen size comparison
3800 series iPAQ
3.10 x 2.34in  (78.8 x 59.5mm)
1910 series iPAQ
2.86 x 2.16in  (72.7 x 54.8mm)
2215 series iPAQ
2.88 x  2.18in (73.2 x 55.5mm)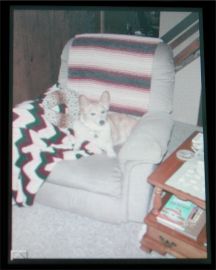 Unedited image taken without flash and full brightness setting.
Those fond of ClearType will be happy to know that included with the OS is a
new tuning utility that allows you to adjust the level of anti-aliasing, or
smoothing, of text.
The touch screen is adequately sensitive and easy to write on with a stylus.
Although you can see the screen depress slightly when pressed with a stylus, it
is slick and does not feel spongy at all.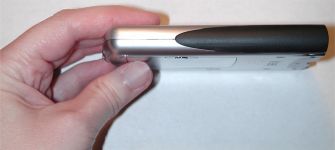 The left and right sides of the 2215 have hard rubber grips that remind me of
the side rails on the Toshiba e570. I
wouldn't be surprised if replacement grips weren't offered in different colors
soon. The grips are nice, but they do creak a bit.
At the top of the device is the microphone, 3.5 mm headphone jack, IR, stylus
silo, SD and CF slots…
Although there is a microphone, there isn't a dedicated voice recorder
button. You can reassign one of the application buttons for this task though.
People that use the voice recorder feature a lot, might find this omission to be
annoying. I personally rarely if at all record anything, so it doesn't bother
me. Unlike the 1910, the 2215 does have a standard sized earphone jack. So,
using your favorite ear buds or headphones will be no problem. Audio quality
through the earphone jack is great and the maximum volume level is more than
adequate.


The IR port is hidden behind the black plastic that surrounds the SD and CF
slots. IR strength is pretty strong. I was able to control my TV from as much as
20 feet away. HP put the Nevo Universal Remote Control software in ROM, which makes the 2215 double as a
really nice remote for your home theater.
The stylus that comes with the 2215 is a boring plastic toothpick… It is
usable, but you'll probably want to upgrade to something nicer ASAP.
In my opinion, the best feature that the 2215 has, is its dual memory card
slots. With both SD and CF slots, there is no need for expansion sleeves like on
previous iPAQ models. You can use the SD slot for a memory card or SDIO device,
and the CF slot for a memory card, GPS or WiFi card. Or, if you're a total
memory junkie, you can put a 1gb CF card in one slot and another memory card in
the SD slot. Totally sweet if you ask me. This is a major selling point for me
because I have digital cameras that use CF cards. The ability to take the CF
cards directly from the camera and insert them into the 2215 for viewing is
great!
The connector on the 2215 is the same as the iPAQ 3800, 3900 and 5400 series
models. This is very nice because it allows you to use other peripherals
designed for those models such as keyboards, charging, syncing cables etc. As
for charging, the 2215 comes with a cradle that includes a slot for charging a
2nd battery. The cradle is a little too light weight for my taste though as it requires
two hands to remove the PDA which is a little annoying…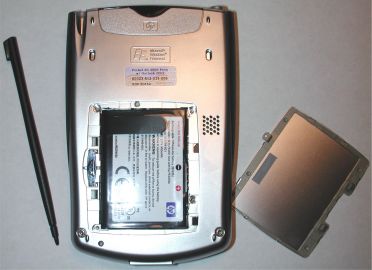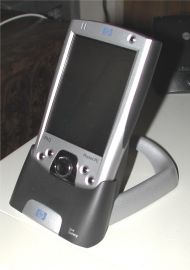 On the back of the PDA is the speaker and battery compartment. The speaker
has adequate volume and can easily wake you up if you want to use the 2215 as an alarm
clock. The battery compartment is easy to access as it has a spring loaded lock. The battery capacity of the
2215 is the same as the 1910:  900mAH. According to HP, the estimated usage
time of a fully charged battery is up to 12 hours. I guess this is with the screen
and speaker turned off as I did my own test that you can see below.
Battery Level
Time Used
Activity
Screen Brightness Level /
Volume Level thru built-in speaker / headphones
100%
1:30pm – 2:30pm (60min)
Media Player Playing MP3s thru earphones
Screen Off / 50%
90%
2:30pm – 3:30pm (60min)
Media Player Playing MP3s thru speaker
50% / 50%
70%
3:30pm – 4:00pm (30min)
Reading e-books with Palm Reader
50% / 50%
64%
4:00pm – 4:30pm (30min)
Powered off
n/a
64%
4:30pm – 5:00pm (30min)
Surfing the web via a Socket WiFi card in the CF
slot
50% / 50%
52%
5:00pm – 5:30pm (30min)
Powered off
n/a
52%
5:30pm – 6:00pm (30min)
Image Viewer slideshow pulling images from CF
card
50% / 50%
37%
6:00pm – 8:00pm (120min)
Powered off
n/a
30%
8:00pm – 8:05pm (5min)
Image Viewer slideshow pulling images from CF
card
50% / 50%
25%
8:05pm
First low battery warning
50% / 50%
25%
8:05pm – 8:30pm (25min)
Image Viewer slideshow pulling images from CF
card
50% / 50%
15%
8:30pm – 9:00pm (30min)
A little of this and a little of that
100% / 50%
13%
9:00pm
End of test
100% / 50%
Total usage
time 4hrs 30mins / Total powered off time 3hrs
Memory wise, the 2215 comes with 64mb of RAM of which 57mb are available to
the user and 3.8 available in the non-volatile file store. With both an SD and
CF slot, that should be oodles for almost any user.
There is one feature that the 2215 has that I can do without: Bluetooth. I
wish it had built in WiFi instead. I didn't test the Bluetooth feature much at
all. I did see if my Tungsten | T could recognize it, and it could. Microsoft did send
a CF WiFi card to me to test with the 2215. I had used a WiFi card with previous
iPAQs, and found setup to be a real pain! It's nice to see that with this new
version of the OS, those setup problems are a thing of the past. All I had
to do was install the Socket device driver on the iPAQ, plug the card in, and
boom, I was surfing! Very nice!!!
Overall system speed with the 2215 is snappy. Very snappy. I was pretty
surprised at how quickly I could load a 1mb .jpg image from a CF card and display it.
On older versions of the OS, this would take forever. With the 2215, the
pictures load and display in about 5 secs!
Now we get to the software side of things. The software bundle that comes
with the 2215 is actually pretty decent…
Software Included In ROM
Pocket Outlook – This is your PIM (Personal Information Manager) Suite of
applications. You get Contacts, Calendar, Tasks, Notes, and Inbox. All of
these applications will sync directly to Outlook on your desktop PC
Pocket Internet Explorer – Web browser
Pocket Word – View and edit Word documents
Pocket Excel – View and edit Excel documents
Block Recognizer – Graffiti clone input method. If you have a Palm OS PDA
and know Graffiti, then you'll be right at home with this input method.
Voice Recorder, Calculator, Solitaire
iPAQ Task Manager – Access and launch programs easily
Diagnostic Tool Kit
iPAQ Backup – Utility for Backup/Restore to Main Memory, Memory Card, or iPAQ
File Store
iPAQ Image Viewer – View images and create slide shows
Nevo – Universal Remote Control
iPAQ File Store – Non-volatile storage in flash ROM
Adjustable Standby Settings – Utility for adjusting power conservation modes
Utilities – Self Test, iPAQ Audio, Power Status
Windows Media Player 9 for Pocket PC – Listen to digital music and watch
movies
Microsoft Reader for Pocket PC – Read electronic books
Jawbreaker – New bubble popping game
Optional Applications (and demos) on CD:
ActiveSync 3.7
Microsoft Outlook 2002
Audible – Your Pocket PC can read you the morning paper or a best selling
audiobook and replay your favorite public radio program – anytime you want
Vindigo – Tell Vindigo where you are and what you're looking for, and it
will direct you to thousands of places to eat, shop and play
RealOne Player – Access RealAudio and RealVideo news, sports,
entertainment, and other informative programs from the Internet
MARGI Systems Inc.'s Presenter-to-Go – Give presentations created in
PowerPoint or any printable Windows application on your iPAQ™, or simply view
presentation notes and text content
iPresentation Mobile Converter LE – Allows you to view Microsoft
PowerPoint presentations on the Pocket PC
Peacemaker Professional – Beam information to and from a wide range of PDA
devices, IR-equipped desktop or notebook computers, or text-scanning pens
Adobe Acrobat Reader for Pocket PC – View Adobe Portable Document (PDF)
files on Pocket PC devices
Ilium Software eWallet (Professional Edition, Trial Version) – Store,
protect, and back up your important information
Ilium Software ListPro (Professional Edition, Trial Version) – Make, use
and re-use all your important lists
F-Secure FileCrypto for Pocket PC Personal Edition – File encryption
application that provides protection against unwanted data disclosure
Pocket Watch – The Interactive World Clock For Pocket PC – Tap to find
what time it is all across the world
Along with all the good, there are a few nits to pick, and one is a pretty
big nit… My first complaint is that powering the unit on doesn't feel quite as
instantaneous as other Pocket PCs. It feels like there is a 1-2 second lag
between pushing the power button and having the unit actually come on.
My other complaint is quite a bit more serious. There seems to be a serious
problem with the OS and the way it handles alarms. Several times, I have noticed
that my appointment alarms were not turning on the PDA and notifying me.
Sometimes I would turn the PDA on, and find the alarm waiting for me on the
screen. This is a big problem as I'm sure you'll agree. If you can't depend on
your PDA to alert you to your meetings, then what good is it? I will say that
this problem didn't happen 100% of the time. But, just knowing that there is a
problem would make me a little worried about depending on the 2215. Here's
hoping that HP will release a patch to fix that problem as soon as possible. I'm
pretty confident that they will.
Hardware-wise, I'm quite happy with the 2215. It is a robust little PDA that
has the most important features that I personally could want. With 2 memory / IO
card slots, to me it is more powerful than its much more expensive big brother,
the 5555. I know the 5555 has 128mb RAM, built in biometric security, a larger
battery and WiFi, but at $250 more than the 2215, is it really worth it? To me
it isn't. The extra card slot means I have a smaller, more compact PDA, that
doesn't require me to carry along a expansion sleeve. Battery life on the 2215
was fine for me. The ability to carry a spare battery is a real plus. About the
only thing I would change if I could on this PDA, is to switch Bluetooth for
WiFi. As is though, the 2215 is a great PDA for the price. If you're in the
market for a Pocket PC, you really owe it to yourself to check this one out.
Price: $399.99
Pros:
SD and CF slots
Great screen
User replaceable battery
Bluetooth
Cons:
Alarms don't always sound
Slight pause when powering on
Small capacity battery
Lack of a jog dial