We use affiliate links. If you buy something through the links on this page, we may earn a commission at no cost to you. Learn more.
Product Requirements:
Pentium processor with Windows 95,
Windows 98, or Windows NT 4.0, Windows 2000, or Windows XP, Windows ME; 32MB RAM
minimum; between 300 MB and 1.5GB free hard disk space; CD-ROM drive; available
serial port; 256 color display adapter and monitor (24 bit recommended); and
mouse or other pointing device; PC Interface cable. Internet access is also
recommended to make use of the unlock process
Device:
Powered by either 12-volt power cord or six AA
batteries
When I bought my 2003 Ford F-150 Harley Davidson SE truck, I was momentarily
tempted to get the in-dash satellite navigation system that was being offered
for my particular model. That is, until I realized that it was a voice prompt
only (no visual maps or button input) unit and that the cost was $1569 plus
approximately $130 for the installation. Aye Chihuahua!
For those of you that aren't familiar with what GPS (Global Positioning
System) is or how it works, here is a page that can give you more
information.
Obviously, I know that there are other aftermarket GPS
options available, but I wanted to
try a solution that wasn't dependent on my already owning or buying a PDA. In
other words, I wanted to try a dedicated, portable, full color, top of the line,
mack-daddy GPS system. Garmin was
kind enough to send me a loaner unit of their
Street Pilot III Deluxe,
which met all of the above qualifications.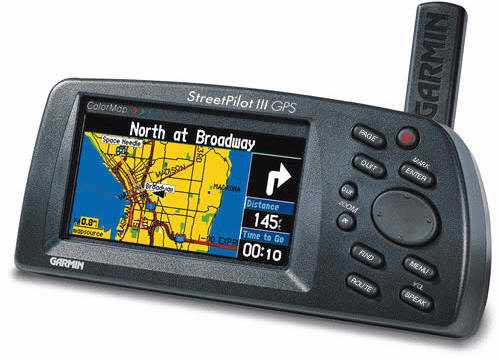 Photo courtesy of the Garmin website.
When I first opened its box, I have to admit that I was taken aback by the
size of the SPIII. Weighing 1.6 pounds (with batteries) and measuring 6.75" wide
x 3" tall x 2.125" thick before adding any brackets, mounts or cables, the
Garmin is a bit of a brick. But once I turned the unit on and saw its gorgeous
screen, I could breathe again.
Setting the Garmin to the side, I found the following items inside the box:
PC interface cable,
dashboard
mount,
portable (bean bag) mount, external speaker with 12-volt cigarette lighter
adapter,
MapSource City Navigator North America CD with full coverage and full unlock
(worth $233.32 by itself), 128 MB data-card (already installed in the unit's
card port), owner's manual, quick reference guide, and a USB data-card
programmer.
One caveat in regards to this review: I was not provided with a map software
unlock code, therefore I was not able to do anything pertaining to loading and
installing maps directly from my PC to the Garmin data-card.
This Garmin review unit came with the built-in

Americas Autoroute Basemap and detailed maps of what amounts to "zone
2" of the United States loaded on the data-card.
Depending on your needs, there are three other map configurations by which
you can order the SPIII:
As I mentioned, the Garmin comes preloaded with the Americas Autoroute
Basemap. This is a map that shows "oceans, lakes, rivers, airports, cities,
interstates or major motorways, principal and major thoroughfares, political
boundaries, federal interstate highway exit information for services such as
food, lodging and truck, RV and automotive service stations in the US only."
What this means is that even if you don't have the detailed map for a particular
region installed, you will still be able to get to just about North American
city and access various Points of Interest (POIs) along the way.
Before we go much farther, let's take a look at the actual GPS receiver
hardware…
Hardware Specifications: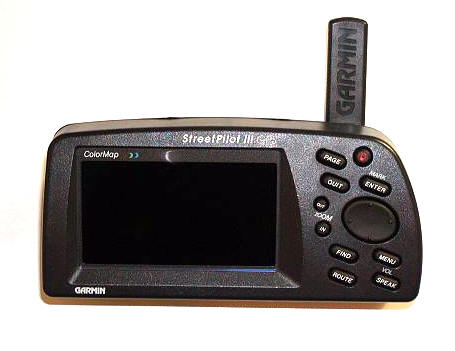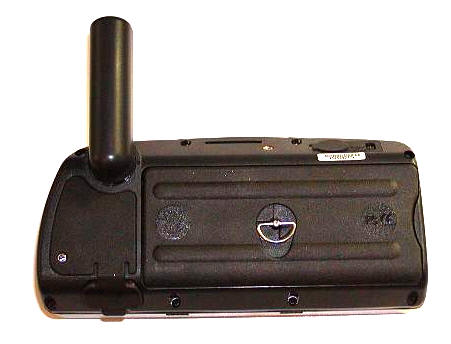 According to the Garmin site, these are the hardware specs for the Street
Pilot III:
GPS performance Receiver: Differential-ready 12 parallel channel
GPS receiver continuously tracks and uses up to 12 satellites to compute and
update your position
Acquisition times: Warm: Approximately 15 seconds, Cold: Approximately 45
seconds, AutoLocate®: Approximately 5 minutes
Update rate: 1/second, continuous
GPS Accuracy: Position: < 15 meters, 95% typical*, Velocity: 0.05
meter/sec steady state
DGPS Accuracy: Position: 3-5 meters, 95% typical*, Velocity: 0.05
meter/sec steady state
Position: 3-5 meters, 95% typical*
Velocity: 0.05 meter/sec steady state
Dynamics: 6g's
Interfaces: RS232 with NMEA 0183
Antenna: Detachable with standard BNC-type connector
Physical Size: 3.2"H x 6.8"W x 2.6"D (8.0 x 17.3 x 6.5 cm)
Weight: 1.4 pounds (635 g)
Display: 3.4"W x 1.8"H (8.6 x 4.5 cm), (305 x 160 pixels), high-contrast,
16-color LCD with backlighting
Case: Rugged; fully gasketed
Temp. range: 5°F to 158°F (–15°C to 70°C)
Data storage: Indefinite; no memory battery required
Map storage: Data cards store detailed map data
Power Source: 6 AA batteries or 12-volt adapter cable
Battery life: 2–20 hours based on backlight setting
As I mentioned before, the Garmin weighs1.6 pounds (with batteries) and
measures 6.75" wide x 3" tall x 2.125" thick. The unit's casing is made of thick
black plastic that feels extremely sturdy and easily passes Julie's patented
creak-test. In fact, it is no exaggeration to say that this unit is rock-solid.
The power and data-card ports are protected by flexible rubber covers, which
makes the SPIII ideal for outdoor use. These gaskets should protect the ports
from dirt and light drops of moisture, but I am sure that the Garmin is not
intended to be used in serious rain.
When using the Street Pilot III in a vehicle, you will need to attach a few
items for a proper mount DC powering. First, you must attach the mounting
bracket which snaps on to the back then screws securely into the top of the
Garmin.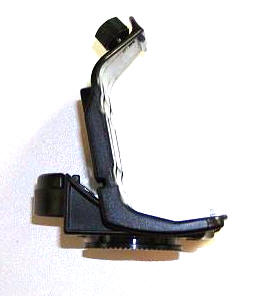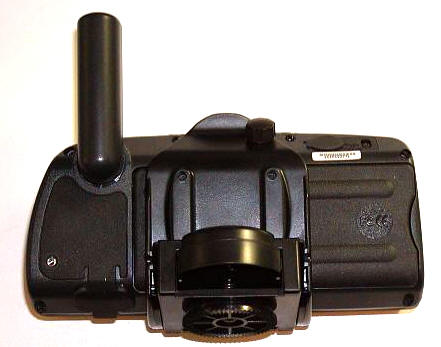 Next, you will need to attach the DC power port. This plugs into the back of
the SPIII, while the integrated speaker cord plugs into the jack on the lower
left side. The speaker cord threads through the back of the mounting bracket to
keep things neat.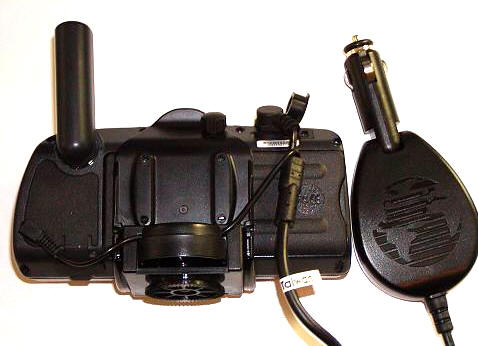 When the DC cord is plugged into your vehicle's power port (or cigarette
lighter, if you smoke), power will not only be supplied to the unit, but voice
directions will also be broadcast from the speaker-box attached to the plug.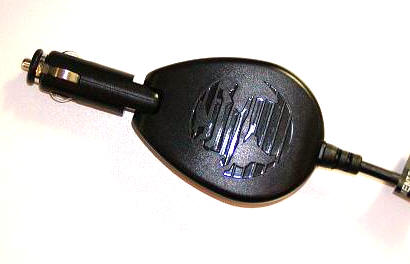 Figuring out a position for mounting  the Garmin on your vehicle's dash
can be a bit tricky. It is important to choose a spot that doesn't block your
vision in any way, and that makes the SPIII accessible to your co-pilot. 
If you have no objection to permanently attaching something to your dash, then
you can use the included lower profile dashboard mount.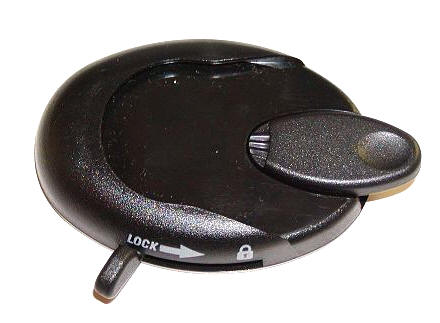 If you have an aversion to 3m tape or if you want to be able to just pick up
the whole unit and throw it into one of your other vehicles at a moment's
notice, then you will want to use the portable (bean bag) mount.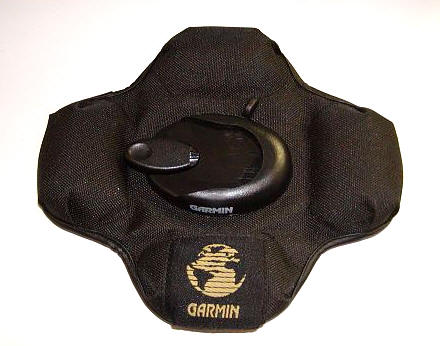 Once you have figured out what type of base mount you prefer, it is simply a 
matter of locking the Garmin with attached mounting bracket and DC cord into the
base. Here you can see it in the portable mount on my dash.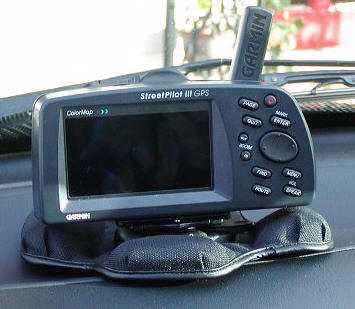 While I am on this topic, I should mention that I found the portable mount to
be extremely stable even when driving on bumpy roads. The only thing I would
caution you about is that the Garmin does weigh over a pound and when using the
portable mount the SPIII is not actually locked down, so there could be unwanted
movement in the event of hard braking.
One last hardware item worth mentioning is the data-card. I don't know why,
but I just assumed that the Garmin would use a known memory card format. Well
guess what…it doesn't. Garmin has their own proprietary (meaning expensive)
data-cards available in various memory denominations from 8 – 128MB. These cards
are pretty wild: they are rectangular, thick, and have a retractable handle for
facilitating insertion and removal.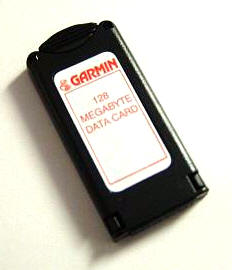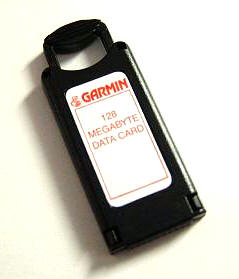 That pretty much sums up the hardware aspects of the Street Pilot III, now
let's talk about my experience with the Garmin…
My User Experience:
The first day I had the Garmin I quickly realized that I would not be able to
upload any maps to the unit myself (no codes) and that there had been a reason
the Garmin rep had asked where I would be driving (so he could load the maps to
the data-card himself). All that was left was for me to do was to set my home
address as a destination.
Figuring I would do this from the comfort of my desk, I powered up the
Garmin. Since I was inside, it spent a bit of time trying to acquire a GPS
signal. Soon, a menu popped up offering the choice of indoor use (for
faster route planning), new location (if you have moved hundreds of
miles), stored w/o batteries (if the date is no longer correct), or to
continue acquiring (if no other option applies).
I highly suggest that you take the time to route your trips or to
create your favorite destinations (Waypoints) while you are at the comfort of
your desk. Once in the car, the process is a bit tedious and probably not
something you or your passenger will want to fool with.
Here is a run-down of the steps it took to enter my home address:
1. Hit the find button
2. Scroll down to Addresses, hit enter
3. Hit enter again to highlight the street number
5. Use the nav-pad to scroll up or down until the correct number is selected
6. Scroll right to move to the next number in the sequence
7. Continue process until the correct street number is displayed
8. Hit enter
9. Scroll down to the next field, Street
10. Hit enter
(new screen)
11. Scroll up or down with the nav-pad until the correct number or letter is
selected
12. Scroll right to move to the next number or letter in the sequence
13. Continue process until the correct street is displayed (a list of possible
matches will be displayed under the area you are working in. This greatly helps
reduce the time it would otherwise take to do this step)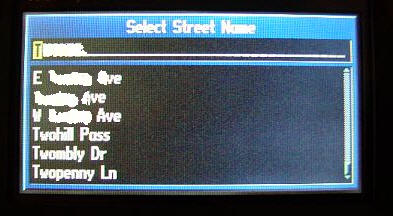 14. Hit enter
15. Scroll down the list and select the street by hitting enter
(Back to main screen)
16. Scroll down to the next field, City
17. Hit enter
(new screen)
18. Scroll up or down with the nav-pad until the correct letter is selected
19. Scroll right to move to the next letter in the sequence
20. Continue process until the correct city is displayed (a list of possible
matches will be displayed under the area you are working in. This greatly helps
reduce the time it would otherwise take to do this step)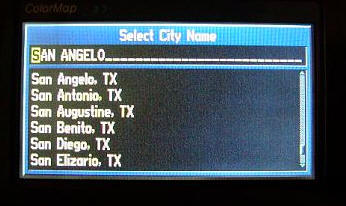 21. Hit enter
22. Scroll down the list and select the city by hitting enter
(Back to main screen)
23. Scroll down and select Find
24. Hit enter
A screen titled Select Address will pop up, hopefully with a 100%
match for the address you entered. In this case, there is one…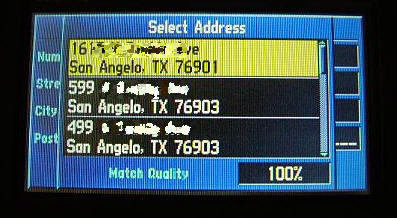 25 Hit enter
A screen titled Address will come up with three choices at the bottom:
Save as Waypoint, Show Map, and Route to It.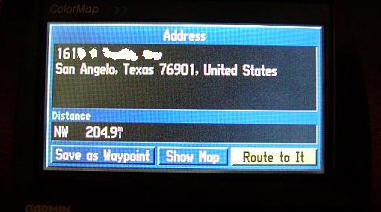 After accomplishing the previous steps, I definitely wanted to save my
address as a Waypoint. Once that option was pressed, a new screen opened,
telling me that the Waypoint had been saved, upon which time I could choose to
Delete (heaven forbid), Show Map, or Route to It.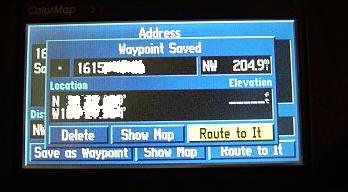 I have to tell you, being PDA-centric for as long as have been, I have truly
become accustomed to entering data via a touch-screen. I guess I am a bit
spoiled, but it just seemed incredibly tedious to have to manually enter every
character of an address through the use of a four-direction nav-pad and an enter
key.
Now that my home address was set as a waypoint, I decided I was ready to
install the Garmin in my truck. I figured I needed to get used to its presence
as well as it's GUI. After all, this is not a unobtrusive little device..
The installation was painless, I simply set the unit (in the portable mount)
on my dash, plugged it in, turned it on, and pressed enter twice to pass
up the splash screen and obligatory warning about not attempting to enter route
information while driving. I would say "well duh," but I am sure that
there are those who actually think that they are indestructible and will attempt
it.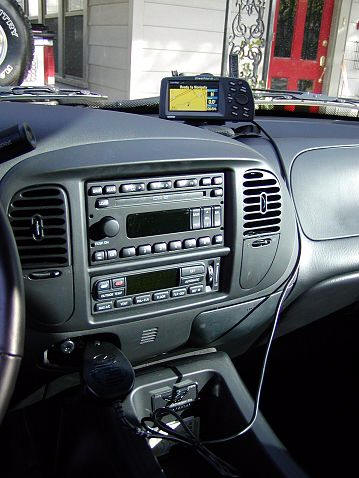 The next screen was a zoomed out map showing my home, which also happened to
my current position. I continued to see this screen until the GPS acquired its
satellites and registered my location.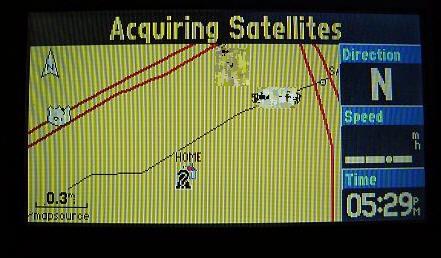 As soon as the GPS has picked up the needed satellite signal, the next screen
is my location, with a triangle marking my spot.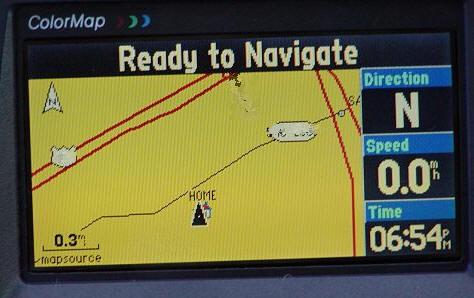 Even though it is nice to cruise around and see your position on the GPS
screen and watch as marked streets go by, it's not really using the GPS for what
it was intended: getting you from Point A to Point B wither in the shortest or
quickest manner – and without letting you get lost.
With that in mind, I decided to use the Points of Interest menu to
find a restaurant for dinner. Before I started the truck, I pushed the Find
button, highlighted Points if Interest and pressed enter. A new
screen popped up listing various POIs, and I chose Food & Drink by
pressing enter. Scrolling through a variety of different types of
restaurants, I chose Mexican. I am not sure what a restaurant has to do
to get included in the POI list or how often the list gets updated, but I did
notice that there were quite a few businesses that had not been open – some for
years – that were still listed on the list. Still, it was pretty cool to be able
to choose a restaurant and route to it in this manner. I selected Chilango's
Cafe and Cantina, the pressed the option to Route to it.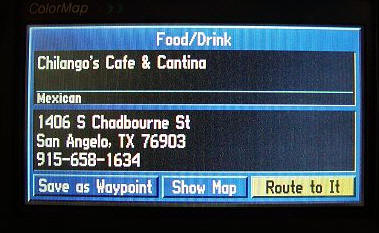 A screen popped up, asking if I wanted the Faster Time, Shorter
Distance, or Off Road route.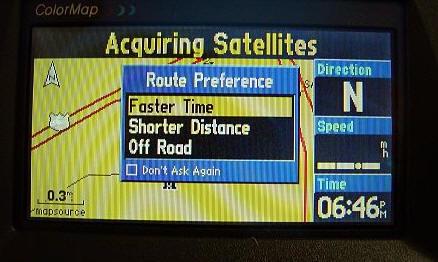 I figure no one wants me driving through their lawns, so instead of off road,
I selected the faster time. After a short wait, during which time a graphic
displays on the bottom left of the screen (showing that it is plotting my
drive), the route appears. Not only does the Garmin tell me how to get there, it
shows my direction, estimates the distance left, and displays the approximate
driving time left. Pretty cool!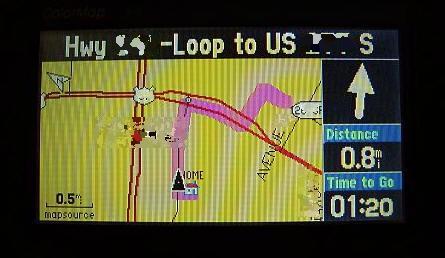 Notice all the little icons on the screen? There is a detailed
Map Legend
available at the Garmin site to help you decipher everything.
Another cool feature of the SPIII is that it will show the list of directions
for the entire trip. This is handy when you have someone in the backseat asking
what the whole route will be.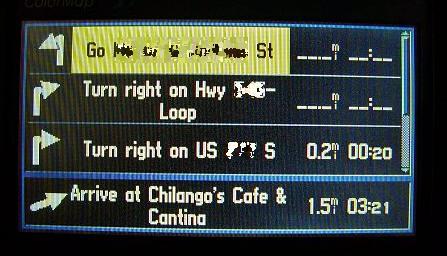 When you do not have a planned route entered, the screen will display your
direction, speed, and the time.
Some of the navigational features of the Garmin include:
Routes: Automatically calculated with turn-by-turn instructions.
Up to 50 stored. Using built-in Basemap, routes include interstates, highways
and major thoroughfares. With detailed data from CD-ROM, routes include
residential street-level detail within metropolitan areas.
Voice: Navigation instructions and warnings
Waypoints: 500 with name and graphic symbol
Track log: 2000 track log points
Trip computer: Reset-able odometer, timers, average and maximum
speeds
The Garmin is capable of zooming in to a screen-width scale of 900 feet or
zooming out to a screen-width scale of 6,100 miles.
If you are having trouble figuring out how to work your Garmin, there is an
Instructional
Video that you can buy ($16.53). Personally, i think that they should have
included it in this package. It may be true that not everyone will need it, but
I think it was cheap not to include it for those that do. Included on the video
are:
Explanation of GPS
Turn-by-turn and voice prompt guidance
Map page features and how to customize the display
Downloading maps from the MapSource™ City Navigator CD-ROM
The function keys and what they do
Finding destinations
Marking waypoints
Automatic routing
I had thought that one of the high-points of trying out the Garmin would be
using it for the six hour drive to Houston, and routing the quickest way to our
friend's home. It was a doomed prospect from the beginning…First of all, I
waited until we actually started the trip before I began to enter their address
into the Garmin (Steve was driving). I must have spent 30 minutes trying to
convince the SPIII that a home built in 1999 existed. The Garmin did not agree,
and would not allow me to route. Needless to say, I was frustrated and wound up
putting the device in the console for a good part of the drive. See how petty I
can be? I'm not particularly proud of myself, but that is what I did. Finally, I
decided that once we got to our friend's home, I would turn on the GPS and see
why it wouldn't recognize their address.
Here is what I got…evidently their street doesn't exist.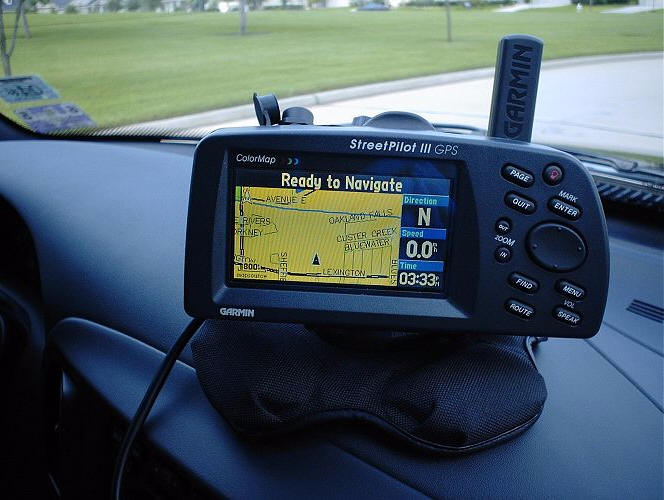 Picture taken with my Sony CLIÉ NZ90, by the way
I looked throughout the Garmin pages, but I could not find anything stating
how old the maps that they use are. I am going to guess mid to late 90s, since
the street was present before 2000. I did find this statement, though: "Please
Note: Garmin strives to provide its customers with the most economical,
accurate, and up-to-date electronic maps available. However, features are
continually changing, so the data may not reflect the latest modifications
and/or additions in your area."
So I suppose that if you are trying to find a location that has been around
since before the mid-90s, you should have no problem. I have a feeling that this
problem is going to occur with any mapping software.
On our trip from Houston to Austin, I fell in love with the Garmin. Instead
of trying to enter a physical address, I just entered the city name and let the
Garmin take us the fastest route. It was great seeing all of our twists and
turns mapped out for us, and the vocal prompts were straightforward and loud
enough to hear over the stereo.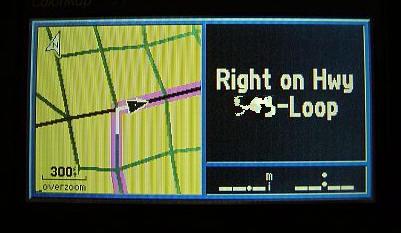 The trip computer was a cool feature too, as it told us our average speed –
as well as our top speed.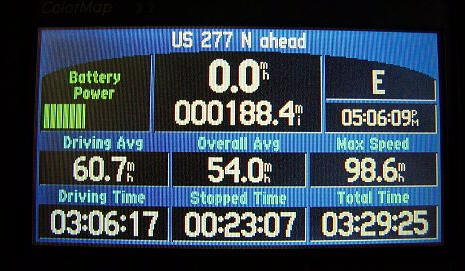 On a side note, I should mention that the screen is extremely
susceptible to fingerprints and smudges. I have an old suede PDA screen
polishing cloth, and it seemed to do a very good job of  keeping the SPIII
clean. You should also make sure that you have a large enough place to store the
Garmin (perhaps in a center console or under a seat), as you will not always
want to leave it exposed on the dash.
The Garmin Street pilot III has a few knocks against it: It is expensive, it
is big, and entering addresses is a bit of a pain when using the nav-pad and
enter button. On the other hand, getting an in-dash navigational system for your
vehicle is ridiculously expensive – and that is if there is even one offered for
your make and model. The Garmin can be moved from vehicle to vehicle, or be used
as a stand-alone unit when you are hiking. That helps to soften the blow of its
cost. Entering addresses is a pain, but I can tell you that the more addresses
you enter, the less trying it becomes…but it still isn't fun. However, once an
address is entered, you can save it and never have to re-enter it again. The
Garmin gives excellent directions as long as the address is in it's database,
and there are always ways around it if you need an address but the neighborhood
is too new to be mapped; for instance, searching for cross streets.
If you want the security of in-vehicle navigation, but don't want to pay an
outrageous dealer's fee for a unit that stays with your auto when you sell it,
then you should check out the Garmin Street Pilot III Deluxe.
Price:
$999.99
MSRP with no monthly service or hook-up fees Check for latest prices
Pros:
Extremely rugged and durable body
Bright colorful screen
Highly detailed and explicit voice prompts
Driving directions are plainly displayed on screen
Can be transferred from vehicle to vehicle
Can be used outside of vehicle as a standalone unit
Cons:
Big, bulky unit
Expensive
Maps may not reflect newer addresses
POIs may not be completely up to date
Time consuming to enter addresses with 4-way nav-pad and enter button
Instructional video is not included
Product Information
Price:
999.99
Manufacturer:
Garmin
Pros:

Extremely rugged and durable body
Bright colorful screen
Highly detailed and explicit voice prompts
Driving directions are plainly displayed on screen
Can be transferred from vehicle to vehicle
Can be used outside of vehicle as a standalone unit

Cons:

Big, bulky unit
Expensive
Maps may not reflect newer addresses
POIs may not be completely up to date
Time consuming to enter addresses with 4-way nav-pad and enter button
Instructional video is not included