We use affiliate links. If you buy something through the links on this page, we may earn a commission at no cost to you. Learn more.
The physical fitness buffs out there will probably agree with me, when I
say that most heart rate monitors are a pain to use! They require you to wear an
uncomfortable elastic / plastic strap around your chest that is cold when you
first put it on, and then gets sweaty as you work out… ECK!
Heart rate monitors are an important tool when you are exercising to lose
weight. They help to keep you in your target heart rate zone for optimal calorie
burning.
I've been interested in getting a monitor for awhile now, because I've always had a
pretty fast pulse and thought it would be good if I could consciously monitor it
during workouts in order to try to lower it. So, not long ago I spent almost
$200 on a Polar watch / strap combo. It was a nice watch and worked great, but I
really hated the chest strap that you had to wear with it. As a result, it
ended up at the bottom of one of my gadget drawers not long after I bought it.
Then I came across the Mio
SHAPE watch. I was very excited about it, because it did not require a chest strap and
could be used anytime, and anywhere. Not just while working out. The watch has
the ability to give an electrocardiogram (ECG)-accurate heart rate without a
chest strap, calculate the percent of maximum heart rate while exercising,
indicate how quickly your heart returns to its resting rate, and calculate the
calories you burn during exercise.
Available in 3 colors including Blue,
Red or Black with Silver trim, the Mio is a largish plastic watch with an oval
LCD. Neither masculine nor feminine in style, this watch can be worn by anyone.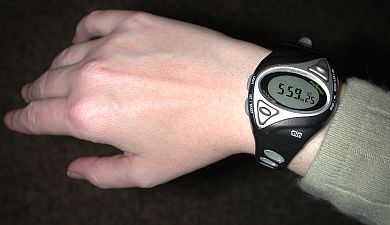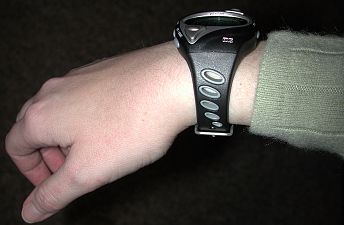 However, people with small wrists such as myself, may find it a bit
uncomfortable. I had to wear the watch on the next to last band setting so that
it wouldn't turn around on my arm. The metal back of the watch needs to make
contact with your bare wrist in order to work. This is a big watch, and looked
huge on me. I wouldn't want this to be my everyday timepiece.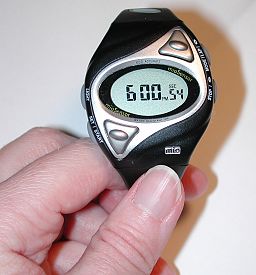 The watch has 6 buttons. 2 on the face and 2 on either side. The side buttons
allow you to switch between modes, start and stop the lap counter, input
calories, change settings and turn on the backlight.
Before you can really get full use out of the watch, you must first do a
little setup. Set the correct time, date, input your weight, calories per day
target, and resting heart rate. Easy to following directions are included that
walk you thru these steps.
The Mio interface is very simple. In normal mode, it only displays the time
and seconds. Pressing the mode button allows you to switch to Calendar mode
which shows the current date and day of the week. Then there are modes to show
the lap counter, and calorie target.
To check your pulse, you must use the 2 buttons on the face of the watch.
Actually only one is an 'button' that can be pressed. They are both really
sensors.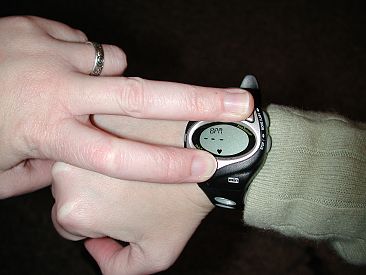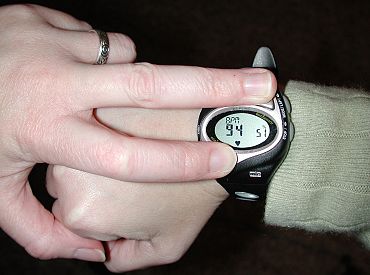 All you have to do is rest the pad of your middle finger on the top front
button and press and hold the bottom button with the pad of your index finger.
The display will change to show a beating heart and then 5-7 seconds later, your
rate in beats per minute will be displayed along with the percentage to your max
heart rate.
Sometimes the rate will not display. When this happens, you just have to
moisten your fingertips and try again. Taking your pulse this way is quick and
easy to do. You can even do it while walking, running etc.
During my testing period, I would take my pulse while doing various
activities such as sitting, walking, etc. I almost never had a problem where my
pulse was not displayed and required a 2nd try. Just as a double check, I pulled
my Polar heart rate monitor out of the drawer and put it on one arm and the Mio
on the other. The Polar shows a continuous read out of my pulse, so I could test
my rate with the Mio at anytime and compare the two. They were always 1-2 beats
different, faster or slower. I rarely noticed one or the other being wildly
different. This led me to trust the measuring capabilities of the Mio.
The main way that the Mio differs from other heart rate monitors is that it
does not continually display your heart rate and warn you when you're leaving
your target rate zone. But, not having to wear that uncomfortable strap really
makes this watch more convenient than the others in my opinion.
Besides just showing you your pulse and the percent to your max rate, the Mio
also allows you to input your daily calories and also deduct them from the total
as you burn them. However, the interface for inputting the calories isn't the
most friendly. You have to hold the SET button in for so long, then use the
buttons to increase each of the digits. A little book is included with the SHAPE
watch that includes a nice selection of calorie data for different kinds of
foods.
The Mio SHAPE watch is a good tool for anyone looking to keep track of their
heart rate without the need for bulky straps. The ability to track calorie
intake and use also makes this product very appealing for people interested in
either maintaining or reducing their weight. If this is something that you've
been interested in, be sure to check out the Mio.
Price: $129.95
Pros:
Fast and easy way to measure pulse rate
Doesn't require a chest strap
Also includes calorie counting features
Cons:
Watch is large
Interface for entering calories isn't the most friendly
Product Information
Price:
129.95
Manufacturer:
Adapture
Pros:

Fast and easy way to measure pulse rate
Doesn't require a chest strap
Also includes calorie counting features

Cons:

Watch is large
Interface for entering calories isn't the most friendly