We use affiliate links. If you buy something through the links on this page, we may earn a commission at no cost to you. Learn more.
11/26/01 – It has been almost a year since this
review first came out. During that time, Atollo has only continued to improve
their product. I was recently sent the newer version of the toy, and I would
like to share my observations with you all…
Do you remember how creative you became when you first discovered wooden
building blocks? Most of us know that as a child, there is no greater thrill
than the opportunity to actually create something. To build an object
from the ground up – and then (the ultimate thrill) to be able to play
with your new creation.
From wooden blocks, most children traditionally graduate to Lincoln Logs,
Legos and Tinker Toys. Well, whether you have a child, or you are still just a
big kid inside, there is a new creative building toy that you might want to take
a look at.
Atollo is a different way to build. There are two
basic types of pieces in an Atollo set, and all fit together in their own unique
ways, creating movable components that you can actually bend and flex. All
Atollo pieces are made of precision molded plastic.
The pieces themselves are not actually blocks that snap together – rather,
they are a series of ball and sockets and hinging joints. All sorts of
creatures and machines can be created by snapping the two basic shapes together.
I received the "Atollo 240," which as the name implies has 240 pieces, enough to make quite a few
different items. The 240 kit includes the two basic Atollo shapes, and each
comes in two colors. I would imagine that there might be other color variations
available, if not now then at a later date.
The first shape is a hinging piece. These snap together and
create a flexible flat surface on one side – the other side has a "socket",
to receive the "ball" of the other Atollo shaped pieces.
Next there is the "ball and socket" shape. These pieces fit
together just as the name implies. When the two pieces have been connected
together, the ball is able to rotate inside the socket, allowing movable
components on your creations.
By fitting the ball and socket pieces together alone, you
can create beautiful geometric shapes and designs. Here is an example of a
star that my daughter, Sarah, made.

Next, we have a robot that has movable
arms and legs…
When you add the flat pieces to the ball and socket ones,
you can create really diverse items – everything from a "space creature"…
…to a "lunar wagon" with movable wheels.

 

Here is a square made up of only the "flat" pieces.
There is only one fault that I can find with the Atollo
method. If you insert two of the ball and socket pieces in such a manner that the ball
is laying flat in the socket, you will need to take special care when
separating the pieces – otherwise the "neck" holding the ball could quite
possibly snap right off.

Once you have destroyed a piece or two of Atollo, you will get very
conscious of this. You will find ways to separate the pieces without putting
undue stress on this weak area. Evidently Atollo recognizes this problem,
that is why they have an entire
page about how you can
gently separate pieces when they are interlocked like this.

Update: Atollo has remedied this problem by
including a tool just for this purpose.

You can now easily pry apart locked pieces without
breaking them!

Otherwise, Atollo pieces seem to be remarkably sturdy and
play-safe. Of course, these are small pieces so you wouldn't want to let a
child under, say…five play with this set, anyway.
Update: Atollo now comes in a more "kid-friendly
package. Instead of the cardboard box from last year, there is now a plastic
cylinder that makes clean-up time easy!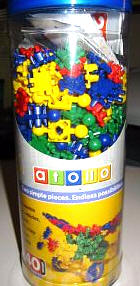 It is no exaggeration to say that the minute the Atollo 240 showed
up at my house, my daughter quickly laid claim to it. She found the included
directions for making the lunar wagon, the sphere, and even the dinosaur (which
I didn't include a picture of) to be simple to follow, and fun to do. She also
created a crown, necklace, belt, and the other designs I included pictures of in
this review.
I really don't think that you can go wrong by ordering this set as a
Christmas gift, if you have someone in mind that likes to create and build. The
results are only limited by their (or your) imagination – or lack thereof.
I still think this is a great gift for anyone
above the age of five and not just for kids, either! The new packaging and
separator tool make it even better than before! Atollo is available in 24, 24,
120 and 240 piece packages.
Price: $26.99
Pros:

Easy to create movable, and imaginative objects
Fun to play and create with
Inexpensive
Cons:

Pieces are small and may present a choking hazard for young children
Care must be taken when separating some Atollo combinations
Product Information
Price:
26.99
Manufacturer:
Atollo
Pros:

Easy to create movable, and imaginative objects
Fun to play and create with
Inexpensive

Cons:

Pieces are small and may present a choking hazard for young children
Care must be taken when separating some Atollo combinations