We use affiliate links. If you buy something through the links on this page, we may earn a commission at no cost to you. Learn more.
Product Requirements:
Device:
The following equipment with a PCMCIA Card rated
Type II Slot: PC/AT compatible machines, Apple Macintosh PowerBooks, Handheld
PCs
Operating Systems:
Windows XP/2000/Me/98 (Including SE)/95
Windows CE 2.0 and later
Mac OS 8.5/8.6/9.0/9.0.4/9.1/9.2/9.2.1
(This product is not compatible with Sleep functions)
I have been looking for a way to consolidate all of the various memory card
readers that I own into a single PCMCIA card. You see, on any given day  I
can deal with a variety of SD/MMCs, Memory Sticks, Compact Flash and Smart Media
Cards. It can get a bit insane swapping out each cards specific adapter when I
need to access a different card..
While I wish I could tell you that I had found a card reader that would do
all five of the formats I use, I am still pleased that I have found one that
handles four of them – specifically SD/MMC, Memory Sticks and Smart Media.
The I-O Data
Multi PC Card
Adapter is a Type II PCMCIA card that is in a word, convenient.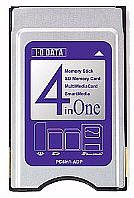 Instead of hooking up one of my PDAs that takes SD/MMC or memory stick media
directly to my laptop and transferring files by using the PDA as its own drive,
I can instead go the much quicker route and transfer directly through the card,
via the reader.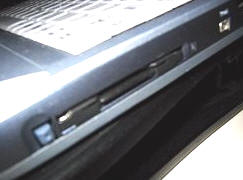 The I-O Data card sits flush with my lap top's side. Ejecting the PC card
exposes the cut-out, which makes extracting the memory card easy.
One of the best examples of how much time this can save you is seen when
transferring MP3s. Here, you can see what I am talking about…
Transferring one 8MB MP3 to a SD Card
Amount of time it took:

To SD Card via Pocket PC Phone Edition and Active Sync

1:40 minutes
To SD Card via the I-O Data Multi PC Card
Adapter
0:14 seconds
 TEXT There are many different scenarios that I can see where this card
would be very useful:  transferring MP3s to a PDA, transferring pictures
from a camera to your laptop, viewing pictures on your Pocket PC with a PCMCIA
slot.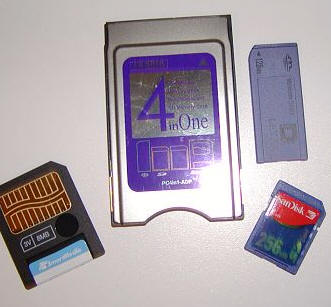 This widget has earned a permanent place in my gear bag…unless they happen
to come out with one that also accepts Compact Flash, then I will definitely
have to trade up!
Price: $34.99

Pros:

Eliminates the need for multiple card readers
Cons:

None
Product Information
| | |
| --- | --- |
| Price: | 34.99 |
| Manufacturer: | I-O Data |
| Pros: | Eliminates the need for multiple card readers |
| Cons: | |