We use affiliate links. If you buy something through the links on this page, we may earn a commission at no cost to you. Learn more.
Name: Jak Grimm
Website: n/a
Location: Malaysia
I am an Electrical Engineer, with an additional degree in Business Management. I
have worked for the last 13 years in Telecommunications, first at NEC for a
couple of years, and for the last 11 or so at Nortel Networks.
Over that time, I have worked on Japanese MSDOS PC's to run test equipment,
programmed PLC's, used laptops, desktops and my Palm.
I started out with a PalmPilot Pro, bought an expansion/IR over the Internet,
sold the PPPro when I won a PalmV at work. By this time I was quite fanatical
about the Palm. I had a small modem, so I built my serial cable to hotsync cable
converter, added in the necessary PRC files and got my PalmPilot Pro to dial
into the corporate network and the Internet. When I got the PalmV, I had to buy
a MidWest Bridge and continued to use my hotsync cable to modem solution.
Finally got a company Nokia 5110, then on a work trip to HK, I picked up a Nokia
data cable. I got hold of the TDK Globalpulse software, and now my modem is
gathering dust in a corner, as I was dialling in using the mobile phone.
And during one trip overseas, I picked up a Leatherman tool – always useful to
have in the suitcase when OS, and handy around the office as well.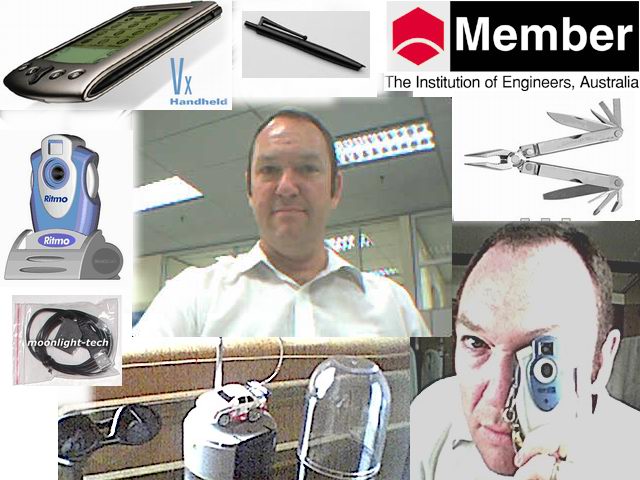 When Palm.com had a promotion for developers, I was able to upgrade my PalmV to
a PalmVx (with some assistance from a mate in North Carolina as the shipping
address). So, now I have my PalmVx and very nice it is too. I have not had to
worry about running out of memory for a year or so now. A very good reason for
sticking with PalmOS and not bloatware from another vendor. I used to have a
desktop PC, and with the modem or mobile and VNC software, I was able to access
the whole PC in Melbourne, from wherever I happened to be.
I am currently in Kuala Lumpur on a work project and have been here for about 5
weeks, leaving my family behind. It would have been totally unbearable but for
one thing – I have been able to see my wife and two kids nearly every day. This
is possible using my dual mode camera, plugs into the USB port, and we use Yahoo
Messenger to chat and handle the video server.
Finally, I purchased a USB charging cable for the PalmVx through
http://ebay.com.au, so I did not have to lug my
PalmVx cradle and power supply with me in addition to the company Dell Latitude
laptop, just this lightweight cable. I just hotsync through the IR port.
So, that about sums it up. A bunch of hardware and a few pieces of software, and
I reckon I am a gadgeteer for sure.
Oh, and in the picture, that is my latest toy, a micro mini radio control racing
car.
Some web links for you:
www.satotech.com.au – Ritmo dual mode
camera
www.moonlight-tech.com – USB
charging cable for PalmV
www.leatherman.com – Leatherman tool
www.ieaust.org.au – Institution of
Engineers, Australia
www.tappad.com – Indispensable software for
the Palm