Product Requirements:
Device:
Sony CLIÉ
NR70 Series PDA
<climbing onto soapbox> I don't know about you, but
I have yet to see a stock stylus that I haven't wanted to replace with something
more substantial. It honestly galls me that companies will put out innovative
PDAs that they are asking over half a grand for, but when it comes to
providing you with an input method that will either make or break your
user-experience, they go for cheap and cheesy every time!<climbing
down, now…>
For those of you that own a Sony CLIÉ NR70
series and have been putting off getting a replacement stylus until you see what
the folks at PDA Panache will have to offer, the time has come to place your
order.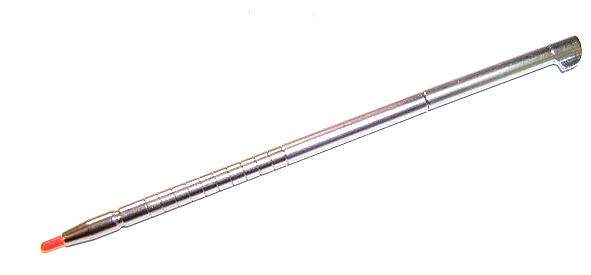 This replacement stylus is slightly longer than the stock version, and it
weighs twice as much – 8 grams vs. the 4 grams of the original. Comprised of
brass that has been electroplated with either a chrome or black finish, this
stylus looks much better than the original.

I was wondering if the extra weight of the Panache would keep it from staying
securely in the silo of my CLIÉ, but my fears have
been allayed. There a satisfying "click" as the stylus locks into place in the
silo, it sits flush (due to its longer length) and it stays "put."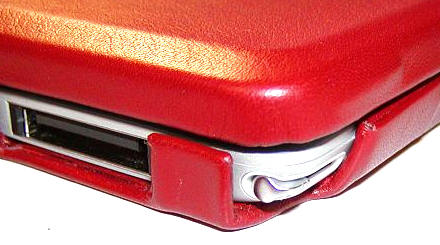 The Panache features a metal reset pin, which I
like much better than the original plastic. Notice that instead of their classic
"nail-head" design, the NR70 stylus features a molded head. Nice touch!

As with all PDA Panache styli, the tip on this
stylus is the fabulous orangey/red rounded tip that writes equally well on
screens that do or don't have protection. This has always been one of my
favorite styli tips, as it is easy to see and seems to just glide across the
PDA's screen.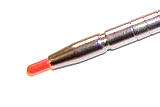 The PDA Panache stylus feels just a little bit
slicker than the stock stylus. As Alec Bell, one of our guest reviewers here at
The Gadgeteer pointed out, "while it has good weight,
it's a little too slick, partially from its size, part from being chrome, and
the rest from my greasy fingers." So, you might want to wipe those
fingers before handling the stylus. ;0)
I purchased the chrome version because I thought it would look nice with my
NR70V's coloring. While it looks fabulous, I almost wish I had bought a black
one just for the contrast. At this price, I may just have to spring for one –
especially since PDA Panache is throwing in a free stick stylus (it looks
similar to a classic BIC pen, but with the Panache tip instead) when you place
an order.
Price: $17.95
Available in black and chrome
Tip carries a life-time warranty
Pros:

Substantial replacement, feels much better in hand than the stock version
That fabulous PDA Panache tip
Built in metal reset pin
Cons:

None
Support The Gadgeteer
:
We may earn a small affiliate commission from purchases made from buying through links on our site. As an Amazon Associate I earn from qualifying purchases. Learn more.
Product Information
Price:
17.95
Manufacturer:
PDA Panache
Pros:

Substantial replacement, feels much better in hand than the stock version
That fabulous PDA Panache tip
Built in metal reset pin

Cons: