We use affiliate links. If you buy something through the links on this page, we may earn a commission at no cost to you. Learn more.
In case you couldn't tell, here at The Gadgeteer, we love cases and bags! As
you can imaging though, after reviewing hundreds of them (no, I'm not
exaggerating…), we aren't always chomping at the bit to write the next one.
But, sometimes something 'different' comes along that makes a typical review not
feel like a chore. This time, that something different is the Pod from
RoadWired.
The Pod is a smallish 1050 Denier Ballistic Nylon bag that is well suited for
a variety uses. Photographers will love it, travelers will appreciate it, and
Gadgeteers will have to have one to carry their 'stuff' from place to place.
First of all, this bag has a unique shape that is both functional and
pleasant to the eye. Having a square shape and a flat bottom, it sits perfectly
on a flat surface and will not fall over. With an overall size of:  7 x 6.5
x 5in. and a weight of 13 oz, this isn't a large bag by any means, but you will
be very surprised at what all this little guy can hold!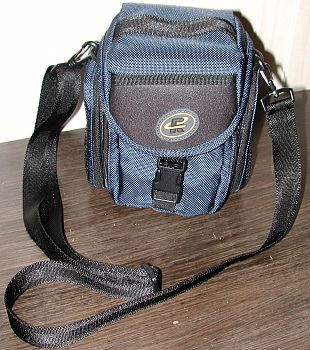 The main core of the bag is a 5.5in deep 3.5 x 3.5in square padded cavity
that has a removable padded nylon sling. This sling cradles the contents to
protect them from shock. I found that I could comfortably fit either my Nikon
Coolpix 990 digital camera alone or my CLIÉ NR70V with my Canon S110 digital
camera in this area. This main compartment is covered with a flap that contains
a see-thru plastic pocket as well as a hidden pocket behind it. The flap is
secured with a plastic clip.
In addition to the main cavity, the Pod has 3 other zippered storage
compartments. One on each side (except the back) of the bag. These compartments
all have dual zippers with metal pulls. When fully unzipped, the pockets which
are sort of hinged at the bottom, flap open like wings.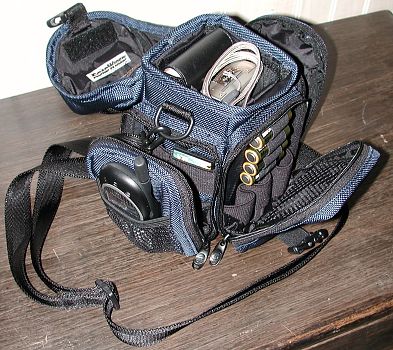 The compartment on the front of the bag has a mesh pocket on the inside as
well as 4 elastic loops for batteries and 3 larger elastic loops for items such
as  film rolls.
The compartment on the left side of the bag has 4 elastic pockets in which CF
cards and other type of media fit perfectly. A small nylon pocket with a Velcro
flap lines the other side of the compartment. A mesh pocket is sewn into the
outside of the compartment and can easily fit most cell phones.
The compartment on the right side of the bag is very similar to the left
side. It also has a nylon pocket. The difference is that it has one large
elastic slot with 2 yellow elastic bands above it. I found that this area can
hold PCMCIA cards perfectly.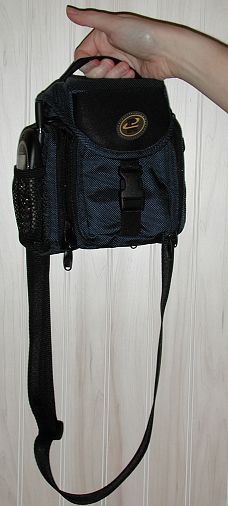 There are three ways to transport this bag. A small handle on the top flap
allows you to carry the bag by hand. If you prefer to wear it, the back of the
Pod has 2 sets of straps that you can run your belt thru to make the bag into a
fanny pack of sorts. If wearing the bag in this manner makes you want to cringe
(I've never been a fanny pack fan…), you can also use the included adjustable
shoulder strap. This strap connects to the bag using swivel metal spring clips
that attach to metal D rings. The only thing really missing from the strap is a
shoulder pad of some kind. I personally have trouble keeping these type of
straps from sliding off my shoulder unless I wear the bag bandolier style..
When I first requested this bag, I was hoping that it would be large enough
to become my daily small gear bag A.K.A. Julie-purse. Unfortunately for me, it
is a little too small for that task as it can't hold my billfold, and checkbook.
If it were twice as wide, it would be perfect for me. Instead, Judie has gotten
me interested in Louis Vuitton bags! Ha! Yes, she's a very bad influence! ;o)
Even though this bag doesn't fit my personal requirements for an everyday
gear bag, it is going to work out great as a little camera bag when I go on
vacations. Construction, materials, and functionality are all first rate.
Price: $49.95
Available in Black/Black, Titanium/Black, Navy/Black and Red/Black
Pros:
20 pockets
Padded
Cons:
A little too small
Expensive