We use affiliate links. If you buy something through the links on this page, we may earn a commission at no cost to you. Learn more.
Do you believe in fate? I do. Case in point: A few weeks ago, I was contacted to see if I would be interested in writing a review of a laptop bag called the TiBag. I like reviewing gear bags, so I accepted. The bag was delivered, I looked at it briefly and then stuck it under my desk to await its turn in my review queue. A few weeks later, I am in the market for a notebook computer and decide to go with an Apple PowerBook G4. It arrives. I really like it. I try to fit it into my beloved SunDog gear bag and it doesn't fit! I shed several tears of woe and then try to fit it into the Crumpler Roll-o-Notes bag. The G4 wouldn't fit in it either! Then I happen to spy the TiBag under my desk. I hold my breath, and slip the G4 into it. It fits! Then my gadget overloaded brain puts two and two together… TiBag…. TiBook (another name for the PowerBook)… Doh! Sometimes I amaze myself ;o)
So, I moved all my stuff from my SunDog bag <sniff> to the TiBag and have been carrying it with me to work every day for the past 2 weeks and then on a trip to Texas. How does the TiBag fare as an everyday notebook / gear bag? Let's first take a look at the
materials and construction.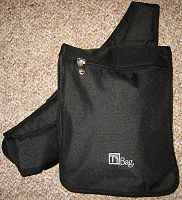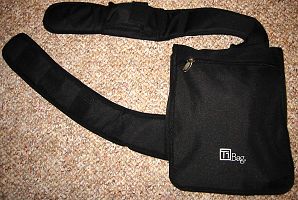 The TiBag is an 11 x 14.5 x 6in messenger style bag which means it only has one strap instead of two like backpack style bags. It is made of 600 Denier Polyester and is available only in one color: Black. The material is a heavy canvas type and feels like it will take quite a bit of abuse without showing any wear and tear. I have both a dog and a cat and didn't notice this bag (unlike other bags that I've had) becoming a hair magnet. It doesn't even attract lint. I keep my bag on the floor at home and at work and it doesn't look dirty at all after using it the last couple of weeks.
The only decoration on the bag is the TiBag logo which is embroidered on the front flap in silver. This front flap has one large pocket which is accessed with a heavy duty zipper and is large enough to accommodate a standard sized magazine.
The flap is not padded and is held closed with a large strip of Velcro at the bottom. Ok, here comes my Velcro rant… Those of you familiar with my hatred of this material can skip the next few sentences… Ok, ready? Yuck, Yuck, Yuck! I hate Velcro! Everyone knows when I get to work in the morning because they can hear me open my bag with an ear-jarring Rrrrrrrripppppp! :o[ Now beside the fact that I just don't like this type of closure method, there's also the fact that if you stuff this bag full of 'stuff', that it can make it difficult to even make contact with the matching Velcro strip on the bag. This doesn't make for a very secure closure method. I would really like to see a plastic buckle of some type used instead… This is actually my biggest gripe regarding the TiBag.
Upon opening the front flap with an annoying Rrrrrrrrripppppppp! – Ok, I'll stop now… You will be greeted with the TiBag's storage compartments. There are 7 different organizer compartments. A zippered 4.5 x 4.5in area. Next to it, 3 pen/pencil slots, and behind them, one long pocket that is wide enough to accommodate a standard sized checkbook. I use this pocket to hold two checkbooks
and my billfold. Behind those compartments is a larger zippered pocket that is 6 x 10in in size. The front of this pocket is padded. In my opinion, the back of the pocket really should be the portion that is padded… Behind this pocket is a large open compartment that you can use to hold all sorts of items. This is the area that I use to hold my PDAs. The only thing I don't like about this pocket is the fact that the back part is not padded. The back part can come in direct contact with your notebook computer. So any pointy items that you keep in this area could press against the notebook…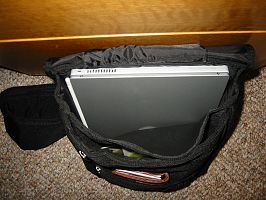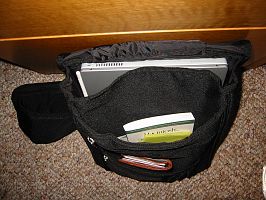 The notebook sleeve is padded on both sides and back with 1/4in foam. It is a nice roomy area that holds a TiBook and a Dell Inspiron 8100 notebook just fine. According to the TiBag website, the sleeve fits any laptop up to approximately 13.5in width x 10.2in height x 1.35in depth. This area is large enough (depending on the size of your notebook) to hold other items too. I'm not sure that I like this fact. I would actually rather this area be less roomy so that the notebook would not come into contact with anything. I'm pretty nervous about getting scratches on my TiBook…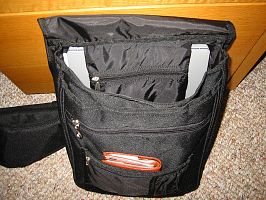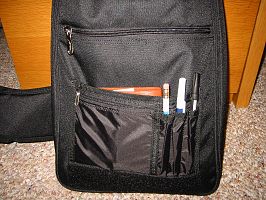 Speaking of scratches, there is a zippered satin bag that is attached to the back wall of the notebook sleeve. You really don't want to leave this bag hanging behind your notebook when it is in the bag because the metal zipper could scratch the finish. Instead, I sling it over the notebook. I use this bag to hold the AC adapter for the TiBook.
The only thing this bag is missing is a non-zippered pocket on the front or back. An open pocket is very convenient when traveling. Especially at the airport when you need to quickly present a boarding pass.
The back of the TiBag is padded and is made of a more meshy material that feels comfortable when it is laying against your back.
To transport this bag, you can wear it bandolier style, or you can sling it over your left shoulder. The strap is 4in wide and is adjustable (Velcro). A removable cell phone/PDA/whatever you want pocket can attach to this strap.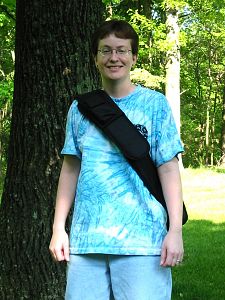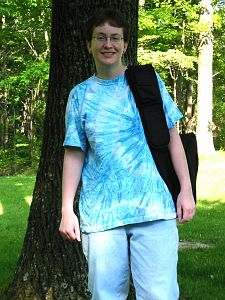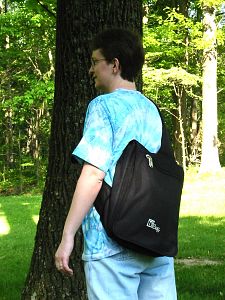 I don't like to wear this bag bandolier style because I usually only need to transport it from my house to my vehicle and then from my vehicle to my cubicle at work. I find it awkward to position it and remove it. Instead, I usually sling it over my left shoulder. This works ok, but sometimes I feel like it is going to slide off. I think it would be nice if the bag also had a handle so that you had more carrying style choices.
At only $39.95 with a money back guarantee and a lifetime warranty, this bag is a great bargain! I've seen similar bags advertised for way over $100! If you don't mind Velcro and especially if you have a TiBook, this is a really nice bag that will serve you well.
Product Information
Price:
$39.95
Manufacturer:
TiBag
Pros:

Inexpensive
Fits the Apple PowerBooks G4 and other large notebook computers

Cons:

Uses Velcro to fasten down main flap
Awkward to hold when not on shoulder