We use affiliate links. If you buy something through the links on this page, we may earn a commission at no cost to you. Learn more.
Product Requirements:
Device:
Palm III, VII, m125 and m500 series PDAs
The best thing about being a PDA enthusiast, is the fact that new PDA models
are released once or twice a year. And, the worst thing about being a PDA
enthusiast is that new PDA models are released once or twice a year. The problem
with frequent PDA updates is that invariably, the PDA will change so that you
can't use older peripherals with it. Palm has been notorious for changing the
hotsync / serial connector on their PDAs with past updates. Right now, there are
3 different connector styles in circulation. There is the PalmPilot, Palm III,
VII, m100 series style, the Palm V/Vx series style and now the m50x, m125 series
style of connectors. The good news is that Palm is supposed to stick with this
last style for at least a couple years for all their future models. As a result,
they have actually named this connector the Universal Connector because it will
be universal throughout their product line.
Now, if you are like me and happen to have several older Palm PDAs and their
associated peripherals, you know what it is like to wish that you could use all
your accessories with all your PDAs no matter which connector it happens to
have. In the past, there were a couple solutions that allowed you to use your
Palm III series accessories with your Palm V series PDA. One such solution was
the Palmdock, and the other was a little
adapter from a company named Midwest
PCB Designs*. Well, Midwest PCB Designs is back
with several new widgets that they have called the Universal Bridge.
The Universal Bridge is an adapter that has the main purpose of allowing you
to sync your various Palm PDAs with different model hotsync cradles. Of course,
the Bridge will interface with many more accessories than just cradles and is
available in several different configurations. I will be looking at the Palm V
to Palm III, Palm V to Palm m50x, and the Palm III to Palm m50x versions.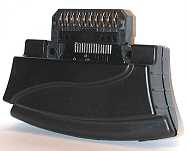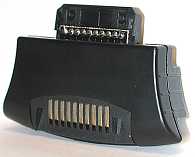 Palm V to Palm III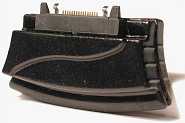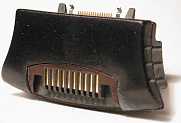 Palm
V to Palm m50x, m125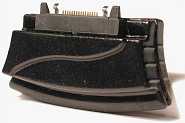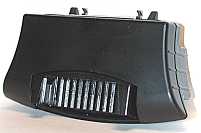 Palm III to Palm m50x, m125
First of all, these new adapters are larger than the original
Bridge adapters and have a more commercial look
to them. They are made of black plastic and have ridges on the sides that help
you grip them for removal or insertion. The bottom of the adapter is curved to
fit the Palm V/Vx hotsync cradle and other Palm V/Vx items such as the modem.
I did a few tests of the various Bridges with my Palm m505, a m125. Here are
the results of those tests:
The first test I did was to try syncing an m125 and m505 with a Palm V and
IIIc cradle. The results were that everything worked great. The only problem
that I noticed is that the Universal Bridge extends the connector up so high
that the PDA will tend to lean back quite a bit on the cradle. Although this
configuration might look precarious, I never had a problem with the PDA falling
backwards off the cradle.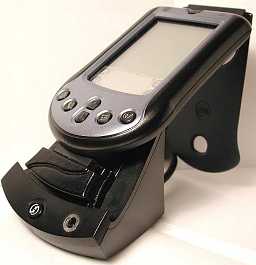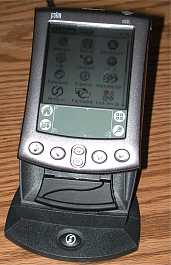 Syncing with different cradles is really the original function that the
Universal Bridge was meant for and it is the no.1 job that I use it for as well.
I have only one cradle for each of my Palm PDAs, and now that I have the
Universal Bridge, I can sync my m505 at work with my Palm III cradle. This has
saved me from paying $50 or so for another m50x cradle.
It should be noted that syncing a Palm m50x series PDA with a Palm V/Vx or
Palm IIIc series cradle will NOT charge the m50x series internal
batteries.
Next, I tested the m505 with a Palm V modem. I found that the Bridge wouldn't
hold to the connector on the modem very securely and required a tight grip on
all the components in order to use it. I also was not successful in making a
dial up connection with this configuration. That said, I tried to use my Palm V
with this modem and also wasn't able to make a connection. So, this test was
inconclusive.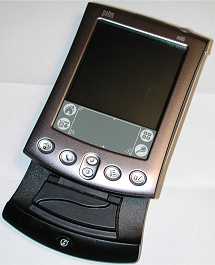 My next test was to use the Palm m505 with a Palm V and Palm III series
folding keyboard, and a Palm III and IIIc with a Palm V series folding keyboard.
All of these tests worked just great! Using the Universal Bridge with a Stowaway
keyboard is my no.2 most popular use for it.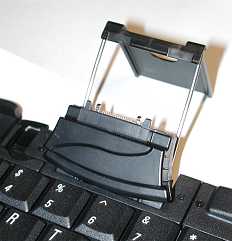 Again, the PDAs tend to lean back a little farther than normal when using the
Bridge. I found that placing a 3.5in floppy in between the PDA and the back rest
fixed the problem though!
During my testing, I found that the Palm III to Palm m50x, m125 Bridge did
not work with Palm m100 specific accessories such as the m100 modem. The base of
the modem is to rounded so that the Bridge will not fit on the connector. It
should also be noted that the m100 doesn't fit on the Palm V to Palm III Bridge
very well. However, it does work with the Palm III and IIIc that I tested it
with.
If you have a specific accessory that you are wanting to use with a specific
PDA, you will probably want to check out the

compatibility listing posted on the Midwest PCB Design website before buying
a Bridge.
Although the Universal Bridge may not fit / work with every Palm accessory
out there, all in all, it is a nifty little adapter and is great for those of us
that have upgraded to newer Palm PDAs but still have older cradles and
accessories that we don't want to spend money to replace.
* The President of Midwest PCB Designs is my
boss at my day job.
Price: $29.95 (includes shipping)
Pros:
Extends the lifetime of older Palm peripherals
Small, easy to use
Cons:

Syncing a m50x with a Palm V/Vx or IIIc cradle will not charge the m50x
series internal batteries
Product Information
Price:
29.95
Manufacturer:
Midwest PCB Designs
Pros:

Extends the lifetime of older Palm peripherals
Small, easy to use

Cons:

Syncing a m50x with a Palm V/Vx or IIIc cradle will not charge the m50x
series internal batteries