We use affiliate links. If you buy something through the links on this page, we may earn a commission at no cost to you. Learn more.
Program Requirements:
Device:
Most Palm OS devices, Pocket PCs, and cell phones
The eHolster Leather Professional is a one-of-a-kind product. It is a holster, made with leather, designed for carrying devices that fit the cell phone and PDA form factor. If you aren't already adjusted to wearing a holster, this product may not be for you, but for those who are used to wearing/using a holster, its perfect. For me, a person who has no previous experience with a holster, it took me a while to figure out how to put it on correctly, but later looking at their web site again, the pictures they have there are quite helpful. The
geek factor of wearing one of these is extremely high. This may attract some people, and repel some others. Some may prefer to wear it under a coat of some sorts.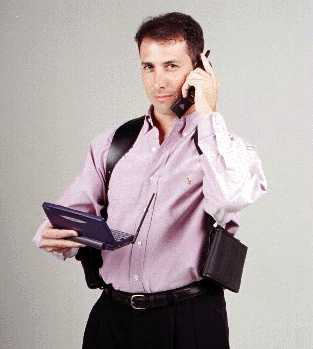 The holster is modular in design, consisting entirely of leather. It comes with a cell phone pocket and a PDA pocket. The pockets are completely removable, so you can switch which side it is on, or remove the cell phone pocket and have two PDA pockets, for those PDA lovers out there.
You can buy additional pockets, but by default the eHolster comes with one PDA and one cell phone pocket. The pockets are affixed to the holster with a combination of buttons and snaps. In my opinion, this method yields a very secure connection between the pocket and the holster itself; it takes significant effort to take off one of the pockets.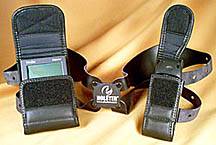 The leather used is not paper-thin, like the kind of leather I have seen on some other PDA-related products. It seems to be a small amount less thick than a standard leather belt. The cell phone pocket fit my Sony cell phone perfectly, and it closed very securely on top of it. My PalmIIIc fit in the PDA pocket just fine, however, I was a little wary of snapping the button while it was in there… you have to exert significant force, and it may crack the screen if you are not careful. The PalmIIIc fit was a bit snug, so you may have some trouble getting bigger, less useful (i.e. WindowsCE/PocketPC) devices to fit.
All in all, the eHolster Leather Professional is a finely crafted product, delivering everything that is advertised about it. Once again, it may not appeal to those who do not normally wear a holster.
Price: $99.95
Pros:
Quick/easy access to your cell phone and/or PDA
Excellent craftsmanship
Cons:
Cost
People who aren't already used to a holster probably wont like it
Product Information
Price:
$99.95
Manufacturer:
eHolster
Pros:

Quick/easy access to your cell phone and/or PDA
Excellent craftsmanship

Cons:

Cost
People who aren't already used to a holster probably wont like it