Are you a Picasso or a Van Gogh wannabe? Or maybe you're into drawing
cartoons like the late great Charles Shultz. If you enjoy doodling, drawing or
image editing and you also have a WindowsCE device, then you have to check out
the following graphics packages. This is a 5 part review with new package
reviews being added often.
Pocket Artist v1.14
One Cat Doodler v3.0
Microsoft Pocket Paint
nsCanvas
nsPencil
Image Expert CE

Supports:
Palm-size PCs, Handheld PCs, and Handheld PC Professionals running CE 2.11 or
higher
SH3 version is ~500K executable size
MIPS version is ~650K executable size
Memory used is the executable size + 600K for a Palm-size PC, and ~3MB for a HPC
Pro.
Pocket Artist by Conduits Technologies
Inc. is a 24 bit graphics editor / drawing application that is very full
featured. It reminds me more of a desktop PC program like Adobe Photoshop than a
typical WindowsCE application.
With Pocket Artist, you can open existing images in BMP,
GIF, JPEG, and 2BP formats. Work can then be saved in BMP or JPEG formats.
You also have the ability to adjust the JPEG quality which makes the saved
files smaller or larger depending on the setting. New images can be
created of any size that you wish. There are also preset image sizes that
you can choose from such as 240 x 320, 480 x 240, 640 x 240, 640 x 480,
and 800 x 600. I did find that if you try to create a huge image like
10,000 x 10,000 it will pretty much crash the program. So don't do that.
:-)This software has so many features/tools that going into detail about
each of them would make for a huge review. So, I'm going to try to go over
the features that I think are the most important or unique. For a detailed
explanation of every feature, be sure and check out the great online
documentation at the Conduits site.
There are quite a few different brush sizes and styles available. These
brushes are used when drawing with the pencil tool or paintbrush tool. The
difference between the pencil and the paintbrush tools are that the pencil draws
with sharp distinct edges where the paintbrush draws with a softer edge.
Drawing with the stylus on the screen is easy. All of the
brush styles work well except the very large ones. When you try to draw
with the largest sizes, there's a noticeable lag from the time you tap on
the screen, draw a line and see the line that you just drew. The other
brush styles allow you to see what you are drawing as you are drawing it.
If you want to paint/draw with other brush styles you can make your own
from .bmp 48×48 pixel images and save them to the \Brushes directory under
the Pocket Artist installation. You can also simulate sketching on paper
with a pencil by checking the sketch box. When you do this, each
subsequent stroke gets darker as a pencil does.Another way that you can draw is with a texture brush. There are 8
different textures that you can use such as brick, canvas, and marble.
Very cool effects can be achieved using textures. For example if you check
the sketch box, it looks like you are drawing on rough paper or canvas. If
you want to paint with other textures you can make your own textures from
.jpg images and save them to the \Textures directory under the Pocket
Artist installation.
Pocket Artist has the normal drawing tools such as filled and unfilled
rectangles, ellipses, polygons and lines. But those tools are just a few of what
is available to you. Check out the menu images below…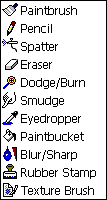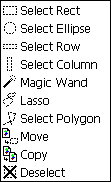 Other features not shown above include color blending, a screen capture tool,
a feature that lets you take what is on the screen and make it your desktop
background (tiled or untiled), image resizer, and an image cropping tool. There
are also different filters that you can apply to the image such as blur, emboss,
sharpen and more.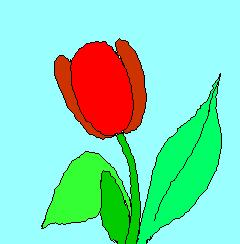 My exciting work of art!
Drawing on a small screen like the Casio E-100 using Pocket Artist is
surprisingly easy and comfortable. If you need to work on an image that is
larger that the display, you can easily resize the canvas size. You can even
anchor your work and grow the screen in one of 8 directions. This is a
really  nice feature.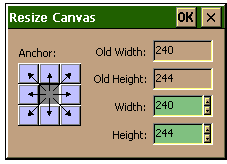 I also really like the image resizer in this program. It gives better results
than the one I'm using on my desktop PC! The resize tool gives you three choices
for the resizing algorithm. You can use Nearest Neighbor, Bilinear interpolation
or Bicubic. The first one is the fastest and as a result does give you some
jaggy lines with the finished image. I use the bicubic option and although it
takes a few seconds more, it does a great job. Check out the images below.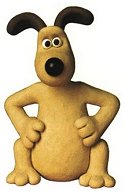 The big picture on the left is the original. The next one is resized using
Nearest Neighbor. The next uses Bilinear Interpolation and the last one uses
Bicubic. You can see some jaggies on the first resized pic.
Although Pocket Artist has tons of features, there are a few that I would
love to see added. Multiple undo, rotate by a user defined degree, a sizable
selection tool that has handles so that you can enlarge the currently selected
area, grid display and snap to grid. I've confirmed that some (if not all of
these) features will be included in upcoming versions.
This software is fun and pretty easy to use. There are a few features that
require some explanation which you can find thru the detailed online
documentation. This is a must for people that want an extremely portable image
editor and full featured drawing package. At $50, it is expensive, but it really
is worth it. There is also a 30 day demo so that you can try it before you buy.
Buyers of  version 1.1 will get free 1.X upgrades.
Conduits will also be releasing a Pocket Artist Lite which will be stripped in
features a bit, but will allow for casual doodling / digicam stuff, and will be
$19.95.
Price: $49.95
Pros:
It's like Photoshop for your Palm!
Features galore.
Cons:
Price.
Supports:
Palm-size PCs, Handheld PCs, and Handheld PC Professionals running CE 2.0 or
higher
~350K – 500K executable size (depending on processor)
Memory used is executable size + ~400K – 550K when running.
One Cat Doodler from One Man And A Cat
Software (love that name!) is a drawing and slideshow package that is suited
more for a person that wants to make complex illustrations instead of edit
images. The program is a vector based drawing program which allows you to
individually select and modify every "object" in your drawing. One Cat
Doodler can load and save .BMP images as well as its own proprietary format.
This program has the standard drawing toolset such as line, rectangle, circle
and polygon. A small floating toolbox on the screen can be expanded and
collapsed as well as deactivated.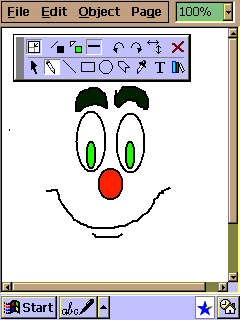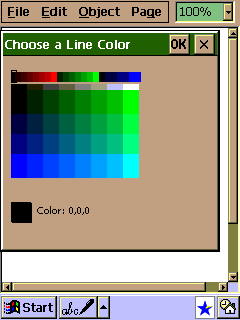 You draw with a pencil tool. There are 6 different line thicknesses that you
can use from a dotted line to a thick bar. You can choose the line color and
fill color for any object that you create.  An object is at least two
points on the screen. If you tap on the screen and drag your stylus a few pixels
and then let up, that's an object. Or, if you tap and draw a freehand circle and
end up at the first point and then raise your stylus, that whole circle will be
an object.
This is the most powerful feature of One Cat Doodler. You
can do all types of things to the objects that you draw. You can rotate
them, stretch, shrink, change color, line thickness etc. If you draw
objects on top of each other, you can also pop those objects to the top or
bottom of the stack. Objects can also be grouped, ungrouped and aligned.Getting used to working with objects takes awhile, but once you do it
is hard to go back to a regular paint program. You know how hard it is to
erase a portion of a drawing in typical paint programs? Well there isn't
an eraser in this program at all. That's because you can just click on the
object that you want to get rid of and delete it. It's quick and easy.
The only thing that took awhile to get used to with this program was the lack
of a FILL tool. I'm used to doodling around and then selecting a color for a
fill. With this program, you select the color first and draw the object. When
you are finished drawing the closed in object, it will automatically fill with
the color you chose.
One Cat Doodler will also smooth your drawings to help get rid of the jaggies
when you draw freehand. You have the ability to set how much smoothing that you
want the program to do.  You can also enter a rotation degree which is
great.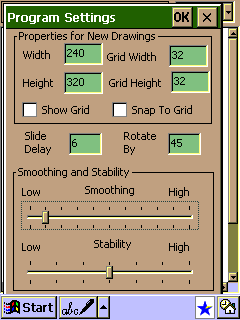 Another thing you can do is put a grid on the screen which is very helpful
when trying to draw things like maps and floor plans.  You can set the grid
so that your objects will snap to it if you wish. Speaking of maps and floor
plans, I see One Cat Doodler as a good choice for people that need to draw line
type drawings like that. Using another great feature of this program, you can
create libraries of frequently used objects. For example, you could create a
library of furniture and use this program to draw house layouts.
This program will also allow you to create slide shows of your images. You
can arrange the images in an order you prefer and then let the program display
these images one after the other. This feature makes this program good for doing
small presentations. Sort of like a baby PowerPoint type application. You can
also add bulleted text to the images easily.
There are a few features that I wish this program had that it doesn't. I'd
like to see a multiple UNDO, fill patterns instead of just fill colors and save
to .jpg format.
I wish that there was a program that included the powerful object features of
this program and the image editing / painting features of Pocket Artist. If you
need to create complex drawings and don't need to edit digital images, then One
Cat Doodler might be the program for you. There is a trial version available, so
check it out.
Price: $34.95
Pros:
Library Parts.
Object oriented.
Slideshow features.
Cons:
Can't load or save as JPEG.
Small learning curve.
Supports:
Palm-size PCs
~110K
Pocket Paint is a free paint program from Microsoft
that is contained in their PowerToys for the P/PC. This is a free download that
contains other useful utilities for your Palm-size PC.
Pocket Paint is a simple to use paint program that saves and
loads pictures in .BMP format.With this program you get the usual set of basic drawing tools such as
a magnifying glass, eye dropper, fill bucket, eraser, pencil, line,
rectangle, and circle.

You also can add text with 4 size choices (no font choice though). One
tool that I noticed was missing was a polygon drawing tool.

You draw with the pencil tool and have access to only 4 brush sizes.
There is also only one brush style which is square shaped. Drawing is
pretty responsive even when using the largest brush size. But, when you do
draw with the largest brush size, the lines you draw are not smooth but
are broken edges (see face picture below).

Rectangle and circle shapes can be drawn in 4 styles: dotted outline,
solid online, filled and filled with outline. Lines can be drawn in 4
thicknesses.
If you draw a closed shape, you can easily fill it with the
color of your choice using the fill bucket. It would have been better if
it included a few fill patterns as well.Pocket Paint only gives you a 16 color palette to choose from. The
program would be much nicer if they would update it to allow for use of a
device's entire color palette.

I think one of the best features of Pocket Paint is the Select feature.
You get the typical tap and drag rubber band Select tool, but once an area
is selected, you can move it, stretch it, or shrink it.

Pocket Paint is a small and easy to use little paint program. It
doesn't contain any fancy features but if all you need is a quick way to
doodle a simple drawing, this package might be for you. If you want to
edit images, look at one of the other high end programs. Since Pocket
Paint is a free download so you don't have anything to lose by trying it
though.
Price: FREE
Pros:
Free.
Select grow and shrink feature.
Cons:
Can't load or save as JPEG or .GIF.
No polygon drawing tool.
Limited to 16 color palette.
More of our stories that you'll enjoy: