We use affiliate links. If you buy something through the links on this page, we may earn a commission at no cost to you. Learn more.
Program Requirements:
Device:
Pilot1000, Pilot 5000, PalmPilot Personal, PalmPilot
Professional, IBM WorkPad,Palm III, IIIx or Palm V
56 K free RAM
Desktop:
Windows 95 or NT 4.0 (NT 4.0 users require Service Pack 3 or
higher)
Pocket Journal by
Chapura is an add on tool mainly for Microsoft Outlook users. Until now, Outlook users
could only carry their contacts, tasks, notes, and appointments. With Pocket Journal, they
can now also carry their Outlook Journal. Outlook Journal and Pocket Journal operate very
similarly. You can associate contacts, choose categories, enter subjects and so on.
Further, the synchronization between the two is perfect.
The Pocket Journal interface can be sorted in five ways: by contact, type, subject,
company, or list. In addition, you can also sort by categories.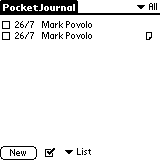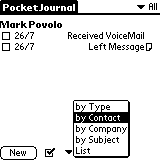 When creating a new entry, you can enter a variety of information as shown.
entry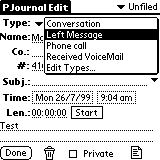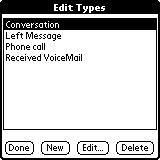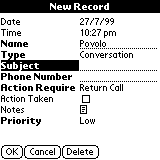 When selecting the type of entry, if you don't see what you need you can create new
entry types. After selecting the contact, clicking the phone number field provides a list
of numbers available for the contact. Lastly, you can also assign priorities, a checkbox,
and the action required.
There are limited options available to set in Pocket Journal. These include the address
list pop-up, quickfill for the contact name, sorting and subject or phone number in the
list view.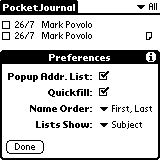 My main complaint with Pocket Journal is that it is not as useful as Outlook Journal.
Outlook allows you to drag entries into Journal and can automatically create entries. With
Pocket Journal, you need to create a new entry manually. To expand on this, if you have an
appointment at 9:00 AM and while you attend the appointment you decide to attach notes.
With Outlook, you could easily drag the appointment to Journal which would automatically
populate the main fields. With Pocket Journal, you need to create a completely new entry,
enter the subject, contact etc. then add the notes. To summarize, better integration with
the datebook and todo apps would be a great feature. It is very time consuming to change
applications and duplicate the entry of all information to create a journal entry. Lastly,
when entering the action required or date for the Journal entry, the ability to create a
datebook entry would be great.
Price: $39.95
Pros:
Syncs with Outlook Journal
Ability to attach contacts and entry types
Sorting options
Cons:
No integration with built in applications
Expensive

Product Information
Price:
$39.95
Pros:

Syncs with Outlook Journal
Ability to attach contacts and entry types
Sorting options

Cons:

No integration with built in applications
Expensive