We use affiliate links. If you buy something through the links on this page, we may earn a commission at no cost to you. Learn more.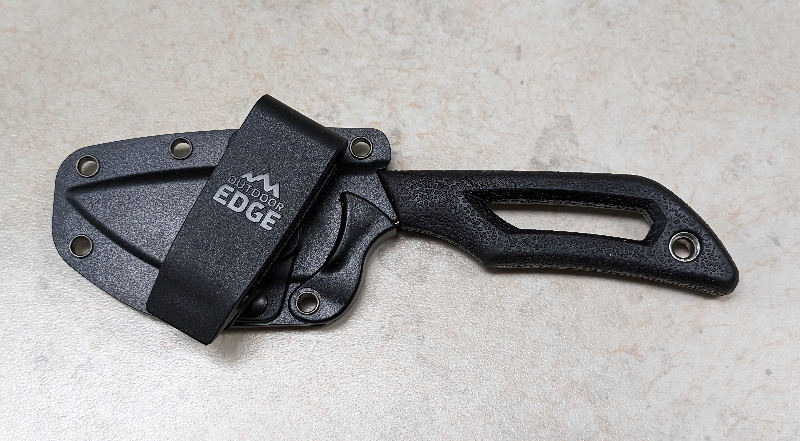 REVIEW – The Outdoor Edge Pivot Knife is a 'neck knife' or 'boot knife'. I've heard this style referred to as a 'LDK' or 'last ditch knife'. Enough quote marks for one review. The Pivot knife is versatile enough to be carried in all those ways, or even in a pocket with the belt clip removed.
What is it?
The Outdoor Edge Pivot Knife is a fixed blade, full tang, stainless steel knife that can be carried in a variety of sheath configurations.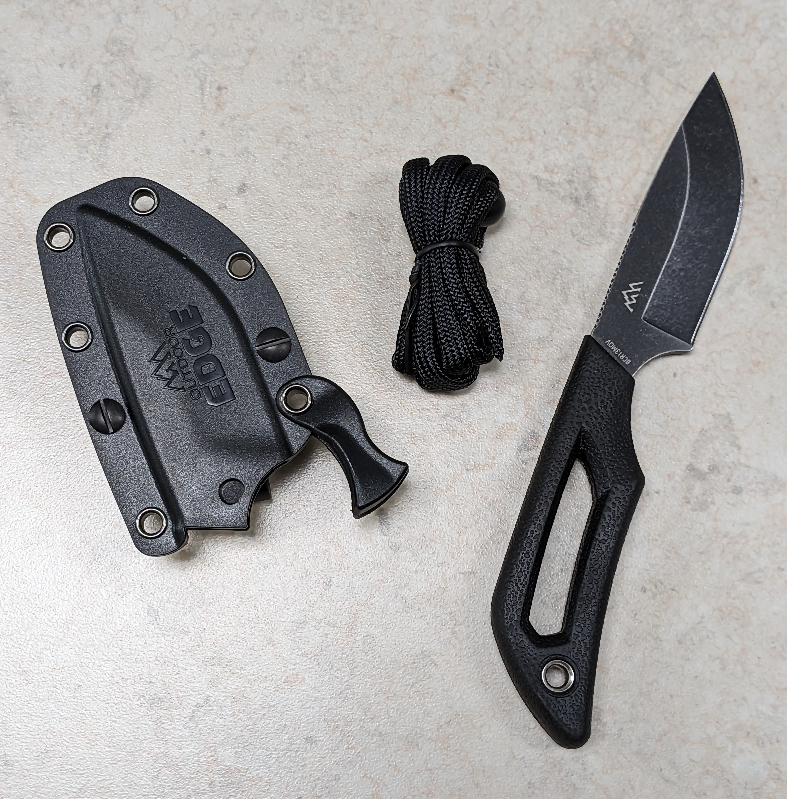 What's in the box?
Pivot knife with Drop Point blade
Neck paracord
Carrying sheath with belt clip
Hardware specs
Blade length: 2.6" Wharncliffe blade, 2.5" Drop Point blade
Overall length: 6.8" Wharncliffe, 6.5" Drop Point
Blade material: 8Cr13Mov stainless with Blackstone™ coating Rockwell-C
Hardness: 57
Handle: Full tang with rubberized TPR (thermoplastic rubber)
Sheath: Polypropylene
Neck cord: Black 550 paracord
360 degree rotating belt clip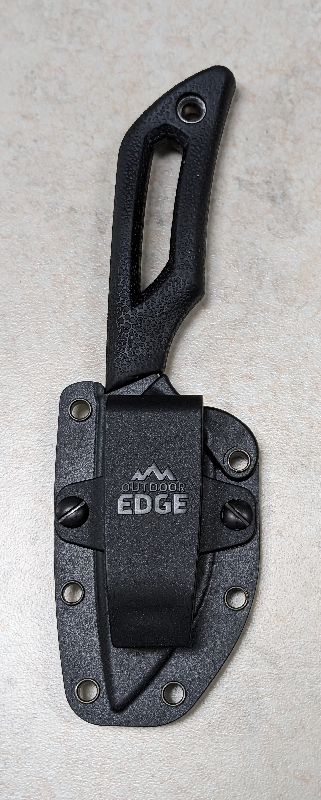 Design and features
The Pivot comes in a Drop Point or Wharncliffe blade design. For Drop Point, think 'traditional look'. For Wharncliffe, think 'utility knife'. Apologies to knife purists, as needed.
The blade has a non-reflective 'Blackstone™ ' finish. The supplied polymer sheath has a removable belt clip that is compatible with MOLLE systems. The clip must be unscrewed to remove it, but it is secure when attached.
The handle is coated with durable hard thermoplastic rubber. This handle finish provided a comfortable, stable grip in my hand when I cut with it.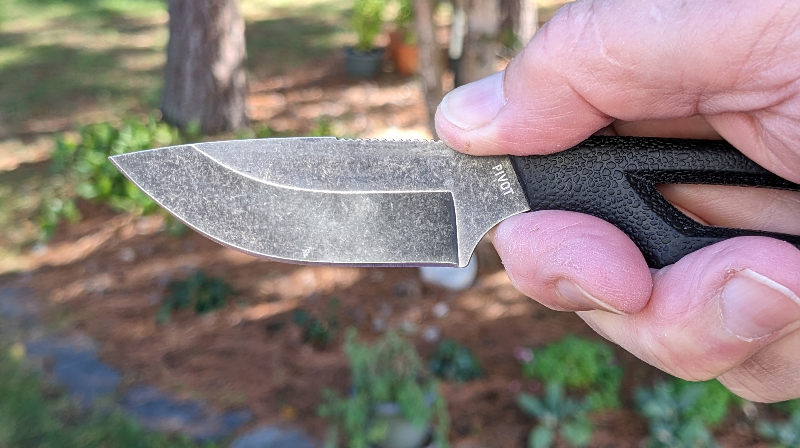 Setup
The Outdoor Edge Pivot knife had no factory oil or debris and was paper-edge-cutting-sharp out of the package. I lightly and completely wiped the knife after opening the package and the cloth still appeared clean. It only takes a few seconds to check the knife and sheath to understand how the latch opens. All that was left was to clip it to my belt.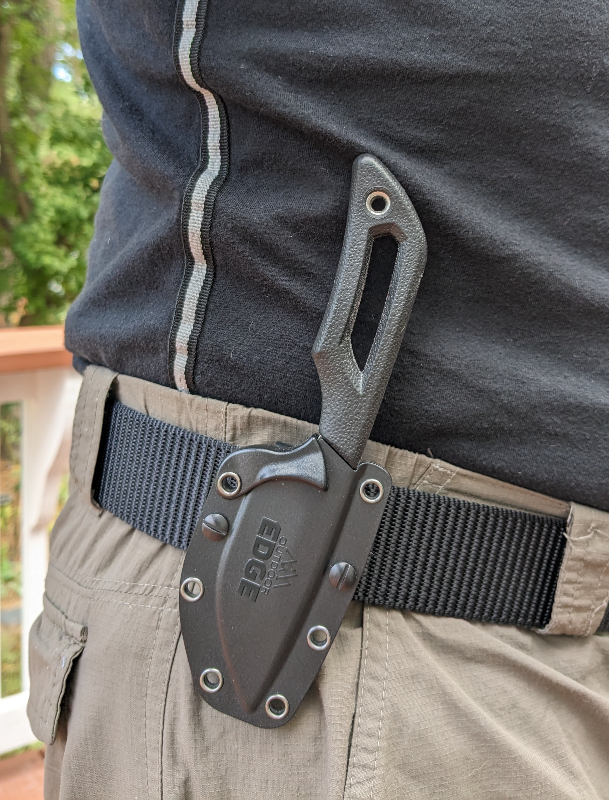 Performance
I'm a fan of the boot knife/neck knife design, and Outdoor Edge got the Pivot right. But I don't like neck carry. I have another brand of this style of knife and have carried it that way plenty before, but I prefer it to be on my belt.
First, when neck knives are carried hanging on the chest, they tend to show or 'print' as gun carriers say. Everyone knows you have something pretty thick under your shirt unless you always wear thick shirts or sweaters. Second, getting to your knife for routine use is weird if it's under your shirt. I know if it's an emergency, who cares? Third, it's really weird putting the knife back in its sheath if you neck carry. Lift shirt, show bare belly, grip sheath with a free hand, locate the small space in the sheath into which the knife slides so you don't stab your chest, insert knife, lock the latch, pull shirt down, apologize to the lady on aisle 7 watching you.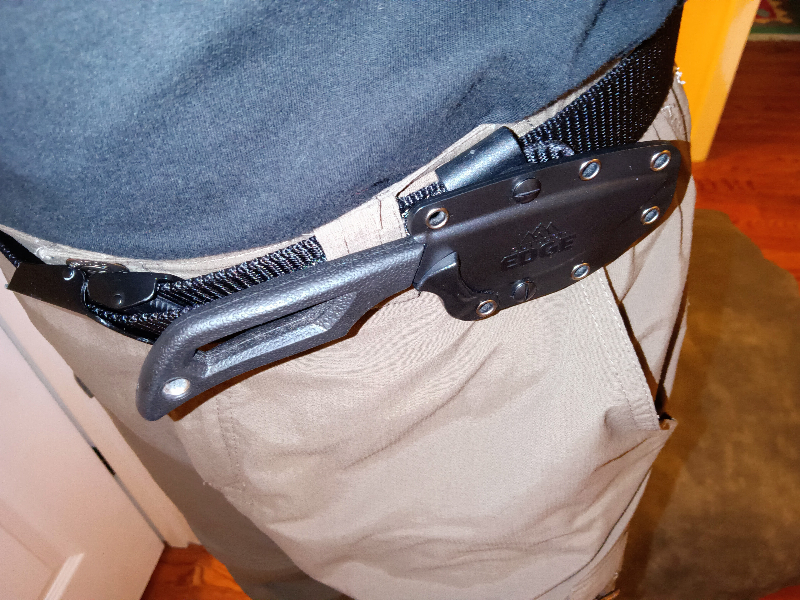 I'm right-handed and wore the Pivot on my left hip for cross-draw use much of the time. I sometimes mounted it parallel with my belt if clothing permitted but sometimes that made a sharp bulge at my belt buckle area. I usually carried the Pivot on my left hip either upright or at a 45-55 degree angle tilted toward my belt buckle. In those modes the knife didn't print and did not poke me during carry.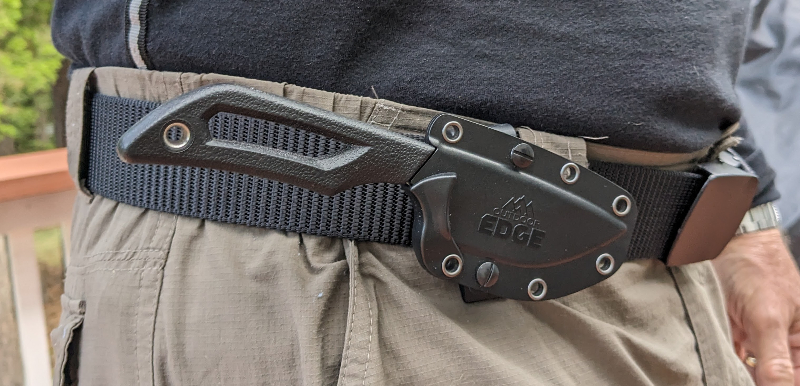 A friend carries a similarly designed knife on his belt at the small of his back, parallel to his belt. He puts up with the feeling when he's sitting, driving, etc., and his handle's rubber has worn completely off multiple times. That knife company keeps sending him replacement knives. Great, but I don't want hardware poking the small of my back on long drives or when sitting.
With the 360-degree rotating clip on the Pivot's sheath, you can be you and carry how you want. Remove the clip and use it with the neck cord or slip the Pivot into a pocket. Sheathed, of course.
The polymer clasp on the supplied neck cord may not grip the paracord tightly enough, so if you pull hard on the knife during neck carry, having forgotten to unlatch the latch, the knife and sheath can come free in your hand. It's unlikely but possible. So, I tied two small knots at each end of the paracord so the sheath could not be pulled free from the cord.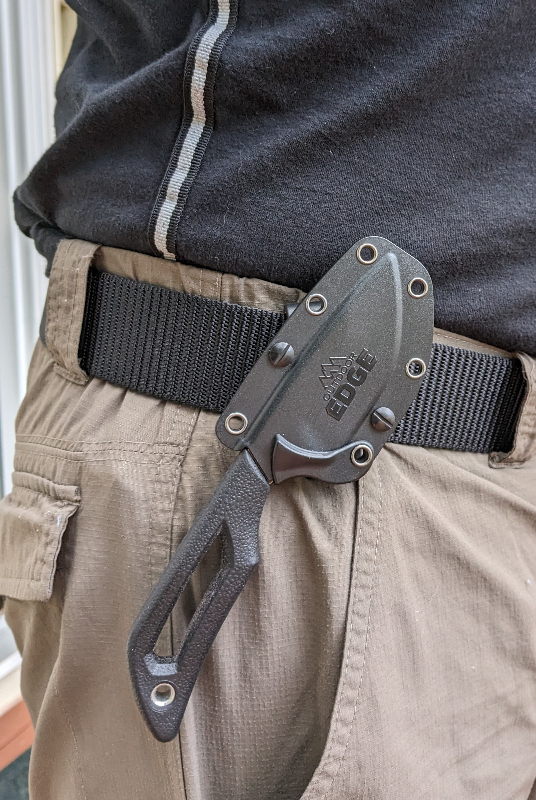 I even carried the Pivot upside down on either hip for several days. It is completely secure in its sheath when inverted.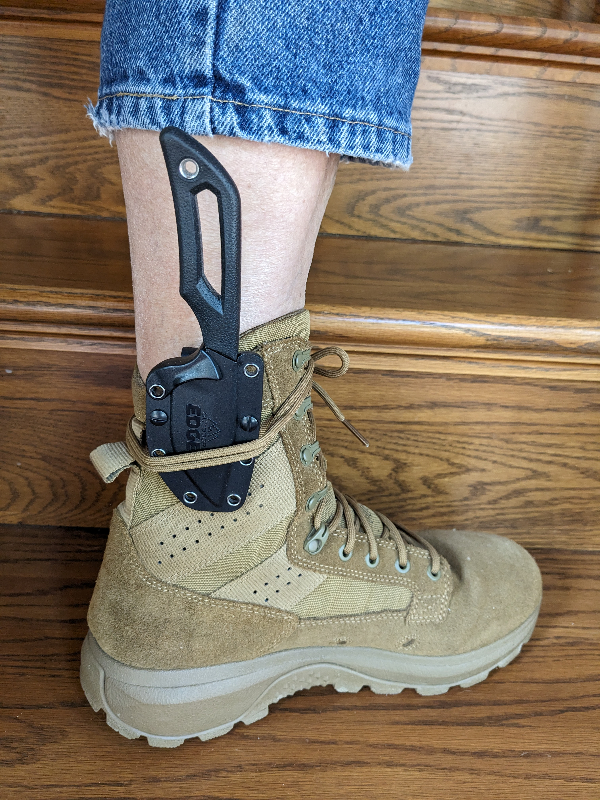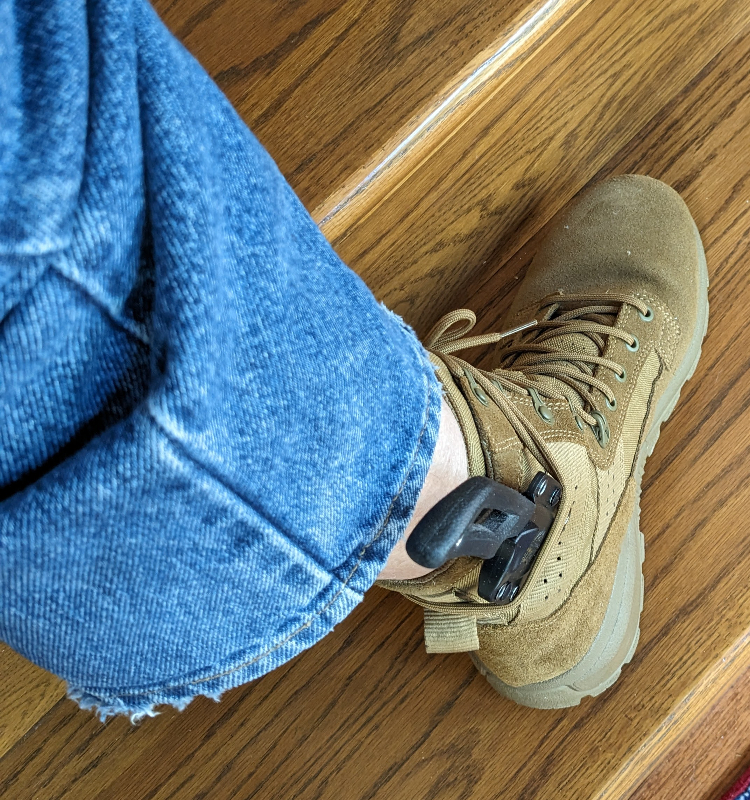 Here's my impression of how the Pivot could work as a boot knife. I know many would insert the sheath down into the boot and have the clip showing outside the boot. I tried it that way on my right boot, but the safety latch was harder to access and switch open that way, so in this fashion, it gripped my boot suitably and didn't show under straight-leg jeans. Those boots wouldn't go with skinny guy jeans anyway.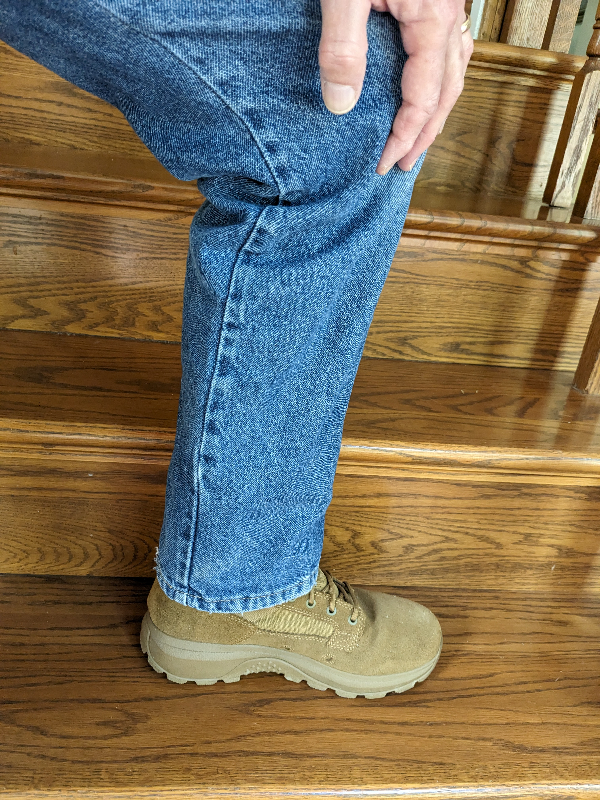 What I like
Nice weight
Excellent size for utility or emergency use
Great sheath material
Great sheath carry flexibility options
Safety latch is secure, yet easy to release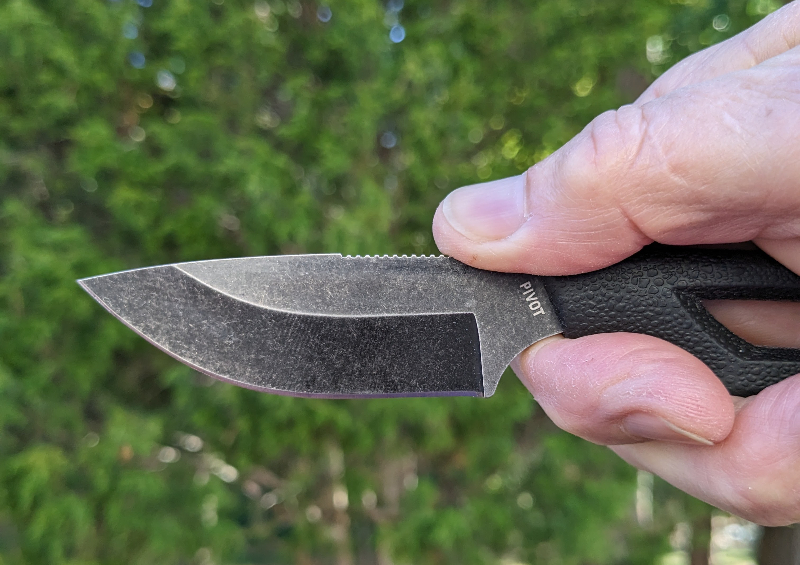 What I'd change
The neck cord adjustment clamp could grip the cord tighter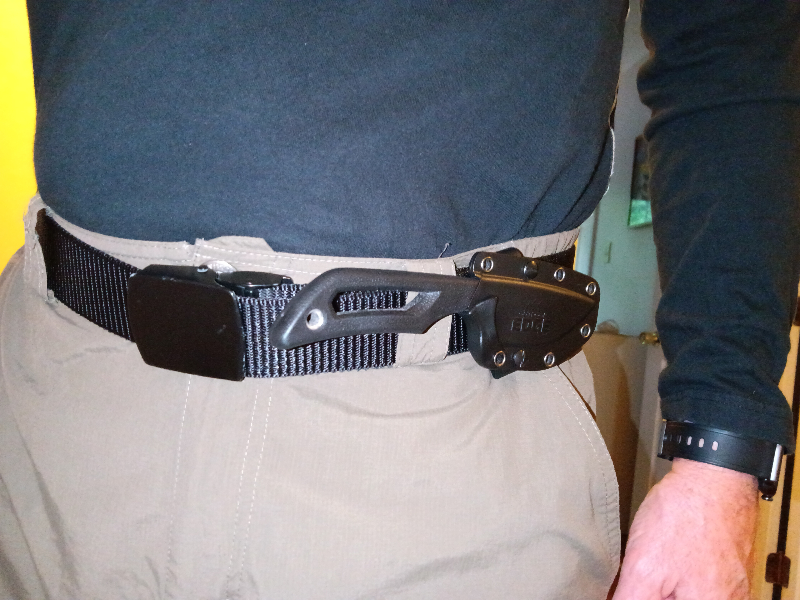 Final thoughts
I like the Outdoor Edge Pivot Knife a lot. One test of any of our reviews is whether we'd keep using an item or shelve it when the review is posted. I'm keeping and carrying the Pivot. I think the Pivot is a better value than its price would lead you to believe – but let's not let Outdoor Edge hear that.
Price: $29.95
Where to buy: Outdoor Edge and Amazon
Source: The sample of this product was provided by Outdoor Edge.