We use affiliate links. If you buy something through the links on this page, we may earn a commission at no cost to you. Learn more.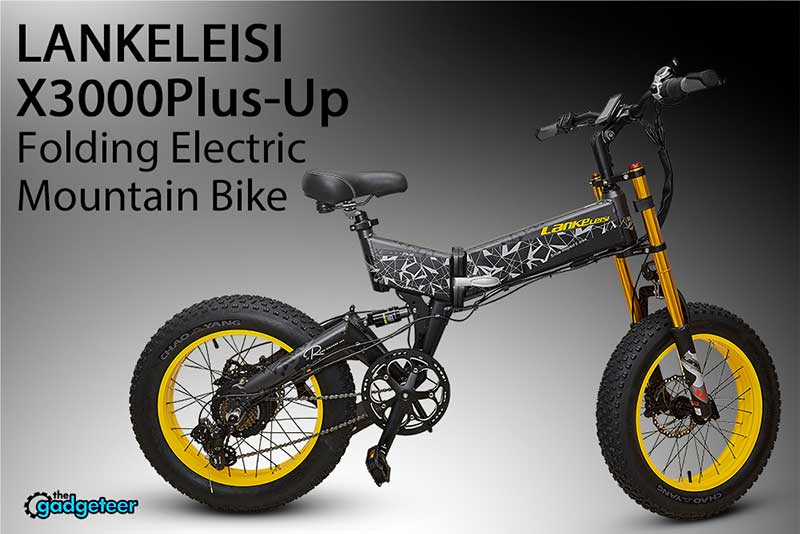 REVIEW – It seems like everywhere you look, you see someone on an e-bike. Many ride them on the flat ordinary streets for commuting in the city, getting around at universities, or just riding around the neighborhood. However, there are other kinds of e-bikes that can provide better handling and traction over tougher terrain like mud, sand, gravel, grass, and even snow. One such e-bike is the  LANKELEISI X3000Plus-Up Folding Electric Mountain Bike. The LANKELEISI X3000Plus-Up has 20 inch tires to help increase the grip of the e-bike's wheels making it ideal and easier to maneuver on diverse terrain.
What is it?
The LANKELEISI X3000Plus-Up Folding Electric Mountain Bike is an e-bike with larger, and fatter, than average tires to help the rider traverse over rough terrain. The X3000Plus-Up has three modes to select from: Manual Mode, Pedal Assist Mode, and Full Electric Mode. With its 1000W brushless rear-drive high-speed motor and double shock absorbers, it makes riding smooth and comfortable. An extra feature for this mountain e-bike is that it is foldable, thereby making the bike convenient to transport, as well as to store.
What's in the box?
LANKELEISI X3000Plus-Up Mountain Bike
Rear Luggage Rack
2 Mud Guards
Allen Wrench Tools
Bike Lock
Tire Pump
Certificate of Conformity
Hardware specs
1000W Motor
Net weight of 66 lbs. (30 kg)
Range up to 75 miles (120 km)
Top Speed up to 28 mph (45 km/h)
Front and Rear Spring Shock Absorbers
48V 17.5Ah Battery
20 " Tires
7 Speed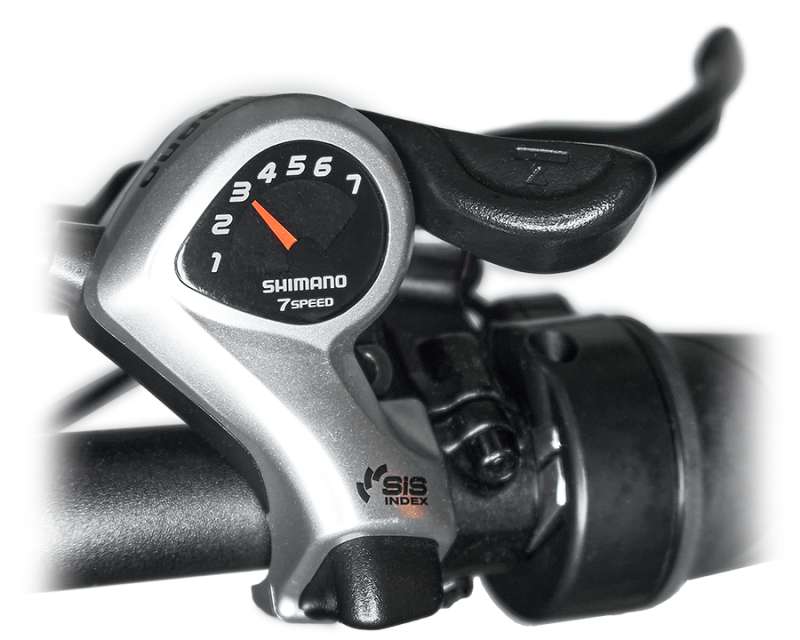 Design and features
As this is my first electric mountain bike, I don't have any experience with any other e-bike to compare it to. So, I will just have to share my experiences with this e-bike. With that said, I really enjoyed riding the X3000Plus-Up. It is a new experience when riding a bike and the pedal assist kicks in on the first press of the pedal. It might catch someone off guard if they are not expecting it. But you get over it pretty fast. However, this e-bike quickly becomes familiar to riding a mountain bike, or any bike, as soon as you start pedaling.
The thicker rectangular aluminum alloy frame of the X3000Plus-Up gives away that this is an e-bike since it doesn't have the round tubular frames of a typical mountain bike. On the LANKELEISI website, it says that the height recommendation for this e-bike is for people 5ft 6 in. to 6ft 4 in. (170-195cm).  The X3000Plus-Up weighs in about 60 lbs (27 kg.) which is about double the weight of an average mountain bike. This added weight usually comes from the weight of the rechargeable battery, motor, and in this case, the bigger tires.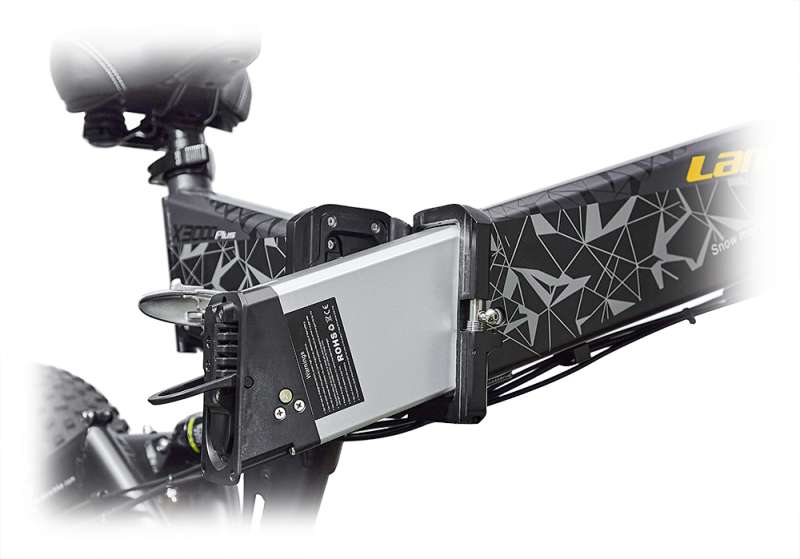 The removable 48V 17.5AH rechargeable battery is housed in the frame of the X3000Plus-Up and has around 1,000 charge and discharge cycles. The battery weighs about 7 lbs. (3 kg) and has a charging time of 5-7 hours. According to the LANKELEISI website, this e-bike can reach between 25 – 37 miles (40 – 60 km), and when using the Booster Mode, it should go as far as 62 miles (100 km).

To remove the battery you will need the supplied key to unlock it from the frame. Interestingly, the key looks like and is around the size of a typical car key, so it's not a small key. I believe that locking the battery is a great idea so no one can steal your battery if the e-bike is parked somewhere in an open public area. However, it does seem like you will be out of luck if you lose the key. I guess you would have to contact LANKELEISI should you lose it.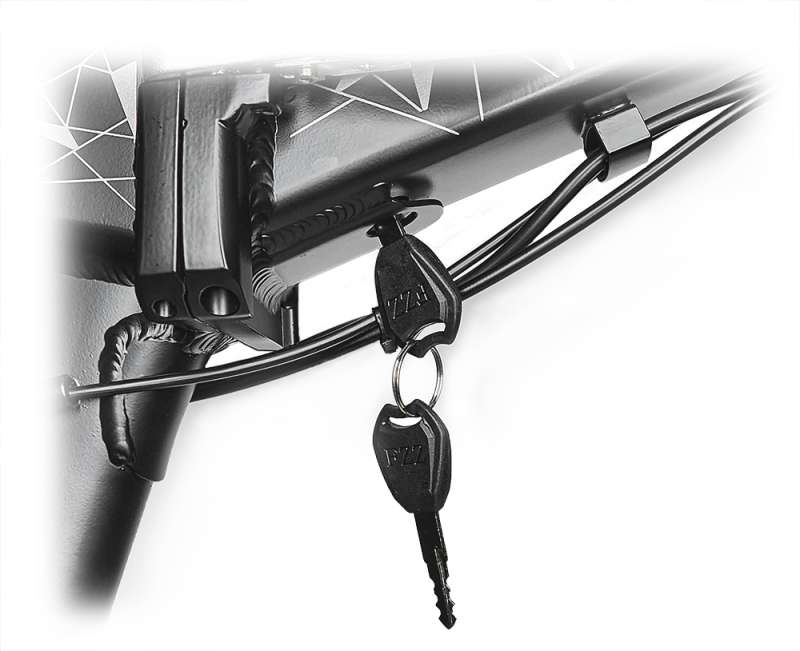 The LANKELEISI X3000 Plus has a 1000W brushless rear-drive high-speed motor which helps drive this e-bike to speeds up to 28 mph (45km/h) and helps to climb inclines up to 35°. And since it is a brushless motor, there is practically no loud sound coming from it. More of a  hum. You can really feel the pedal assist when it kicks in and I can see how it can help a rider up those steep inclines. You can increase the power level of the pedal assist (from 0-5) with the Up and Down buttons on the left handlebar. You can see the power level selection on the e-bike's LCD smart display screen.
And speaking of the LCD screen, I really like the LCD screen because it's convenient to see the information and status of the e-bike from the speedometer, battery level, mileage, and more. The LCD screen has a water-resistant ration of  IP54 so, it should be dust proof and resistant to water splashes and light rain.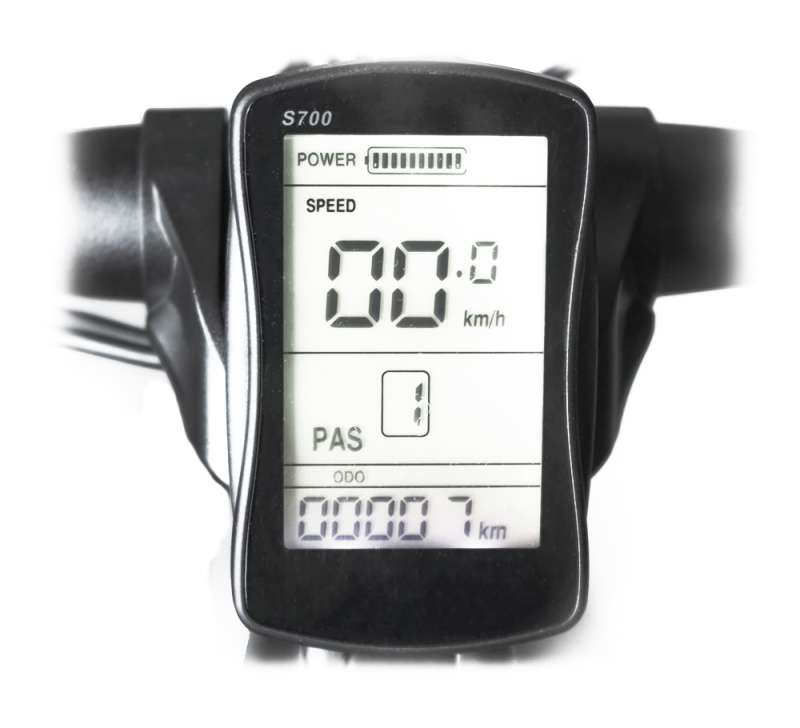 Also on the left handlebar, there is the On/Off switch for the e-bike's LED headlight.  The headlight is a great standard feature to have on the X3000Plus-Up, however, this e-bike does not have a rear brake light to turn on when you apply the brakes. Although there is a reflector on the mudguard, I figured a rear brake light for an e-bike such as this would need one. And on the subject of brakes, the X3000Plus-Up has a front and rear hydraulic disc braking system. So, you should have more stopping power over the regular rim brakes when using the brakes on the X3000Plus-Up.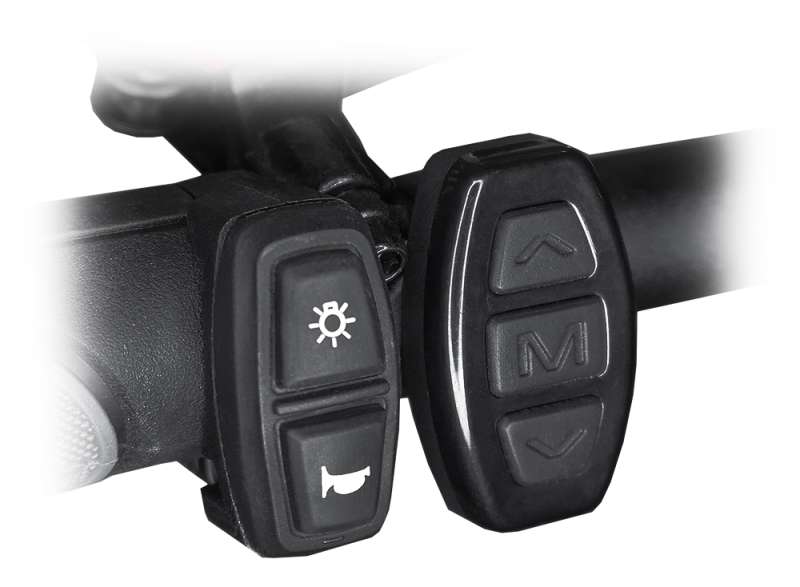 There is a horn button which is located directly under the power button for the LED headlight.  Keep in mind that the horn is considerably loud. I've been startled each time I've accidentally hit the horn, so be warned.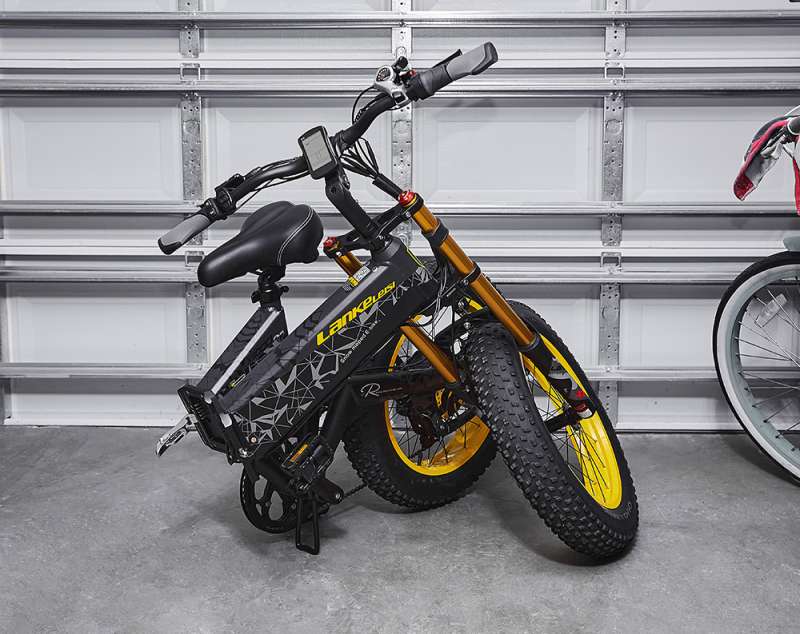 One feature of the LANKELEISI X3000Plus-Up that I really found useful is that it is capable of folding, which is great for transporting the e-bike in your car without the need for a bike rack. Although, if you did have a bike rack, I think with this e-bike's weight, it would probably exceed the bike rack's weight limit. So, chances are that you will have to put the e-bike folded in the trunk or hatchback of your car.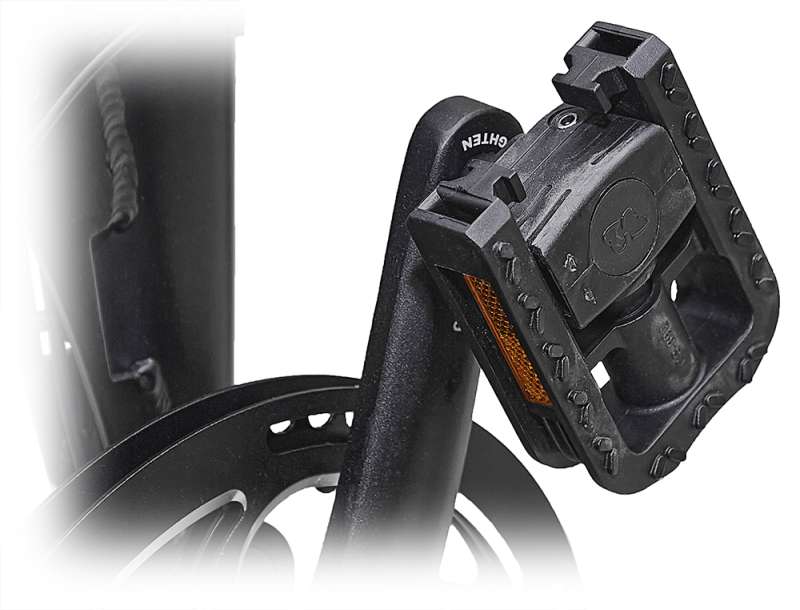 In addition, being foldable makes this e-bike that much easier to store in your garage or in the corner of a room. Plus, I like that the pedals fold away making the e-bike more compact.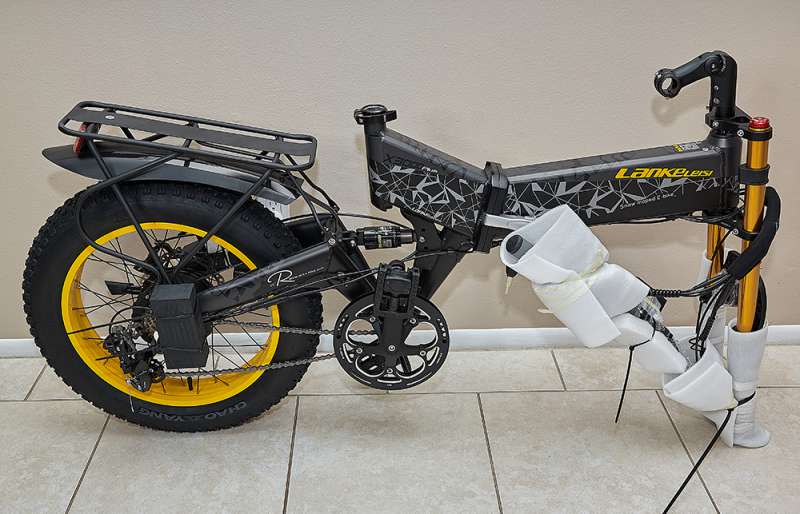 Setup
The bike comes delivered in a large cardboard box but the bike is only around 70% assembled. The front tire, the seat, and the handlebars will need to be installed so be prepared to spend a little bit of time putting it together. Although assembling isn't difficult, it does take some effort. Fortunately, there is an Allen wrench set and a crescent wrench included in the box as they are gifts from LANKELEISI. Also included is a rear luggage rack, front and rear mudguards, a bike lock, and a tire pump as additional gifts.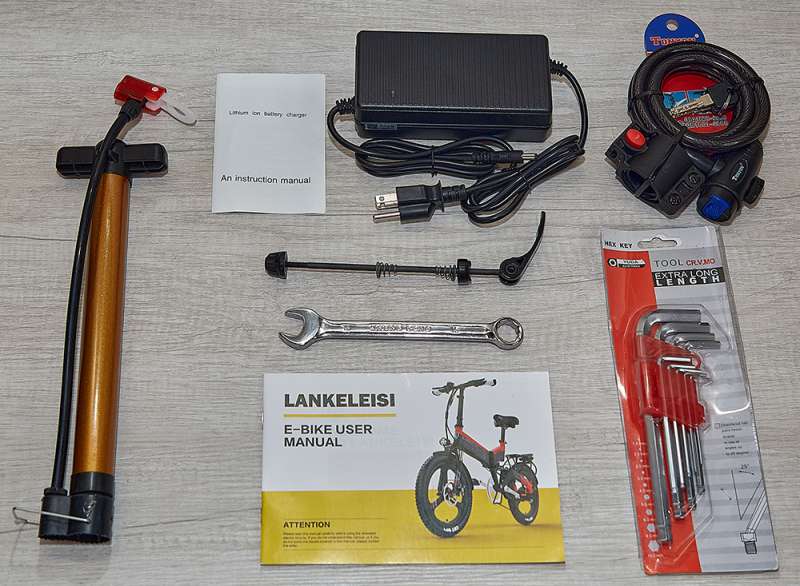 Performance
The X3000Plus-Up has 7 speeds and shifting gears is easy with the Shimano thumb and trigger shifter, which I prefer over the grip shifters. The thumb and trigger shifters just feel more ergonomic and comfortable to me rather than having to twist the grip to change gears. But that's just a personal preference. And, the X3000Plus-Up is equipped with a Shimano Tourney TY300 derailleur which is optimized for road, mountain, or touring applications.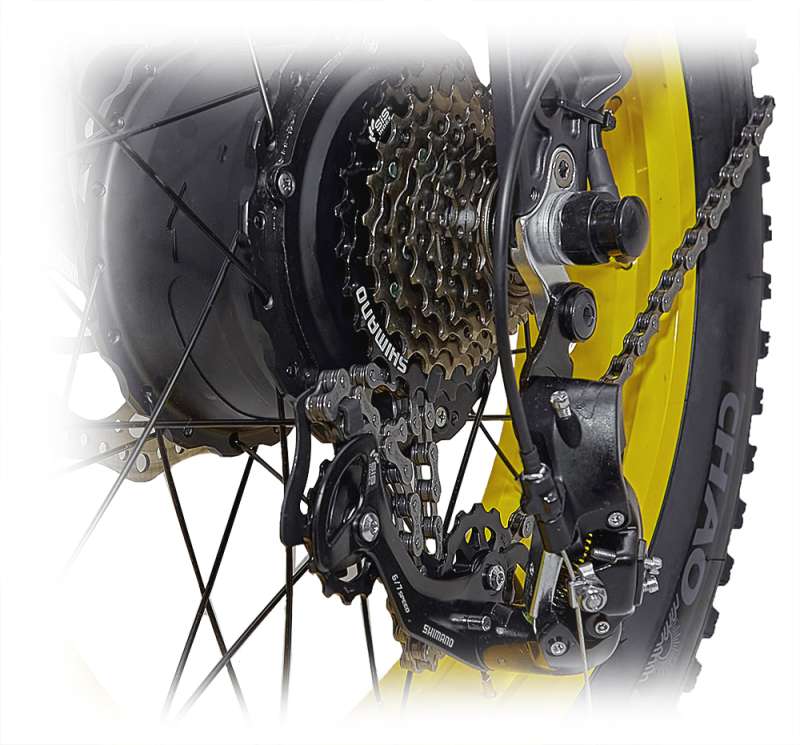 With the 1000W brushless motor drive, the X3000Plus-Up has plenty of power when it kicks in, so having that pedal assistance on those steep angles really helps you get to the top. And it's fun to ride this e-bike like a scooter in Full Electric Mode by just using the throttle only. When in Full Electric Mode, you can coast on the X3000Plus-Up without pedaling for as long as you like. However, if you decide not to use the X3000Plus-Up in Full Electric Mode, or even without the Pedal Assist, you can always go in Manual Mode.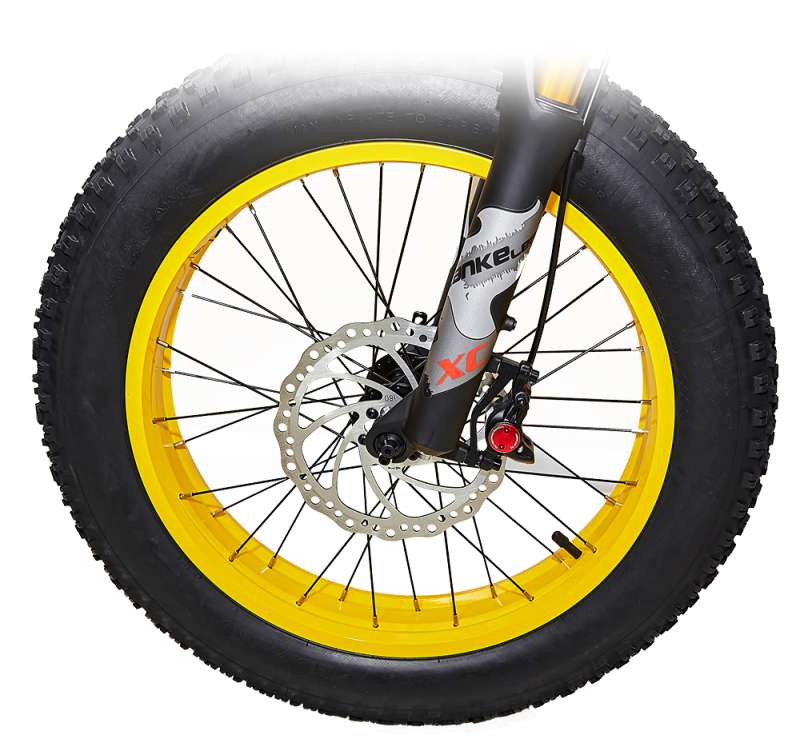 Because of the 20″ fat tires, this e-bike can easily ride over various terrain such as gravel, sand, mud, grass, rough roads, trails, and even snow. The bigger tires on the LANKELEISI X3000Plus-Up give more stability and traction when riding over the rough terrains so it has a better grip as you are riding. And the bigger tires provided a much smoother ride. The seat was comfortable and I didn't feel like it was too big of a seat. I've had bike seats that I have switched out before because I felt like they were too wide. I prefer a skinnier seat when riding.
Adding to the smooth ride is the aluminum alloy full suspension frame and the front and rear spring shocks. The X3000Plus-Up has a lockable front fork so in the locked position, it can "reduce energy loss and improve driving efficiency, while in the unlocked state, the front fork can play the role of buffering and shock absorption". I did notice how the fat tires made riding the X3000Plus-Up much smoother when riding over those rough and bumpy terrain. It makes riding over sand easier since the fatter tires have more surface area to prevent the tires from sinking. Since I'm here in Florida, regrettably I won't be able to get a chance to try out the X3000Plus-Up in snow any time soon, but we do have plenty of sand and mud.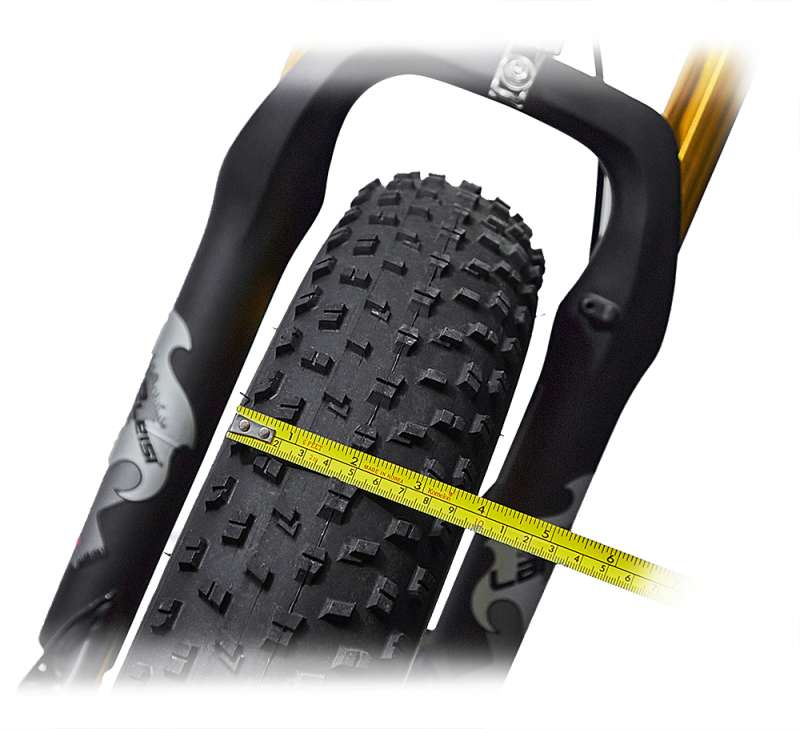 Although the X3000Plus-Up came with a mudguard and the bike rack already attached, I decided to remove them. Even though the mudguards can help lessen the amount of mud, dirt, or water spray getting on the e-bike, I just didn't want them on. It just felt like extra things bouncing around when you hit those bumps and uneven terrains. Besides, I like a more minimalistic look to the X3000Plus-Up, anyway.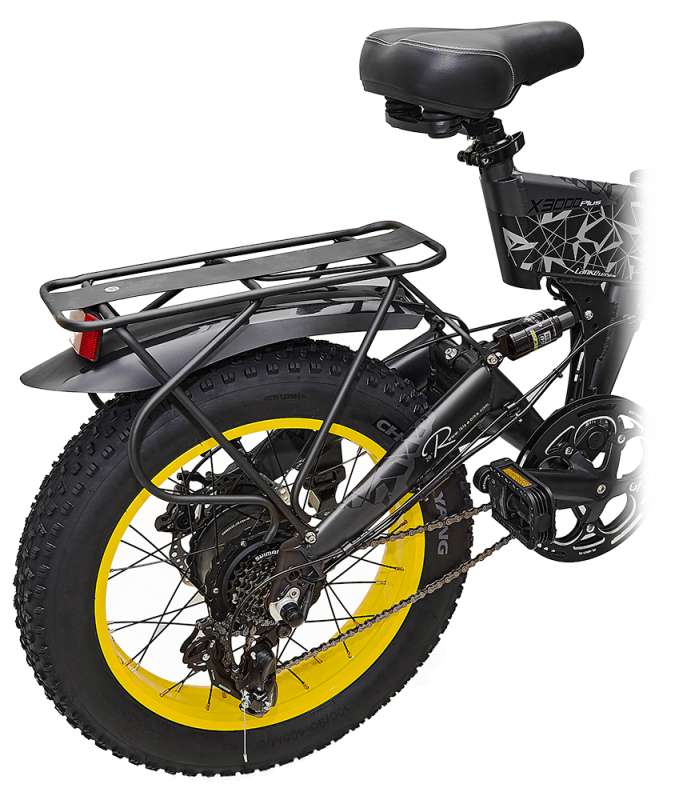 What I like
Foldable feature
Smooth ride
LED headlight
Trigger shifter
Included gifts
What I'd change

Final thoughts
I gotta say that I really enjoyed the LANKELEISI X3000Plus-Up Folding Electric Mountain Bike as my first e-bike. At the moment the pedal assist first kicked in I was caught by surprise but I immediately got over it. It can catch you off guard if you don't expect it, especially when you realize that the e-bike picked up speed when you stop pedaling. But you get used to the mechanics of the pedal assist right away.
Not only can you use the X3000Plus-Up as an e-bike but you have the option to ride it as a regular manual mountain bike. So, if you decide that you don't want to go the electric bike route but instead use more of your leg muscles to get up that hill, that's your choice. Either way, I think you'll have a great time with this e-bike no matter which option you choose.
Price: $1699.00
Where to buy: lankeleisi.com
Source: The sample of this product was provided by LANKELEISI.