We use affiliate links. If you buy something through the links on this page, we may earn a commission at no cost to you. Learn more.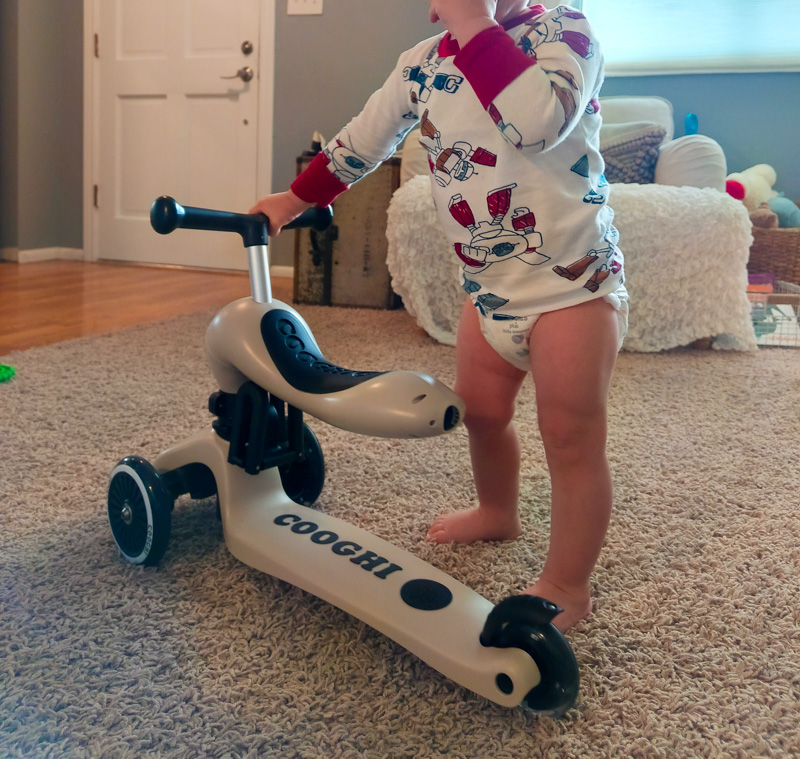 REVIEW – Sometimes a review offer will come in for us Gadgeteers that couldn't have been timed better. In this case, our 14 month old toddler is starting to walk/run everywhere, and he got a balance bike for his first birthday but hasn't been able to get the hang of that model yet. The Cooghi scooter offer popped into my inbox, and I jumped on it: maybe this one will be easier for him? I especially liked the option for the parent's handle to help aide and guide him as he learns. We've been using it almost daily for nearly a month, so I'll try to summarize our findings here.
What is it?
The Cooghi V4 Pro 4-in-1 Scooter for Kids is a scooter/bike that can be quickly adjusted to 4 different configurations as the name implies: walker, "trolley", balance bike, and scooter. The different configurations and height adjustments allow it to be used from as little as 10 month old babies up to 5 year olds.
Price: $259.99 (on sale for $169.99 at time of review) | Where to buy: Cooghi and Amazon
What's in the box?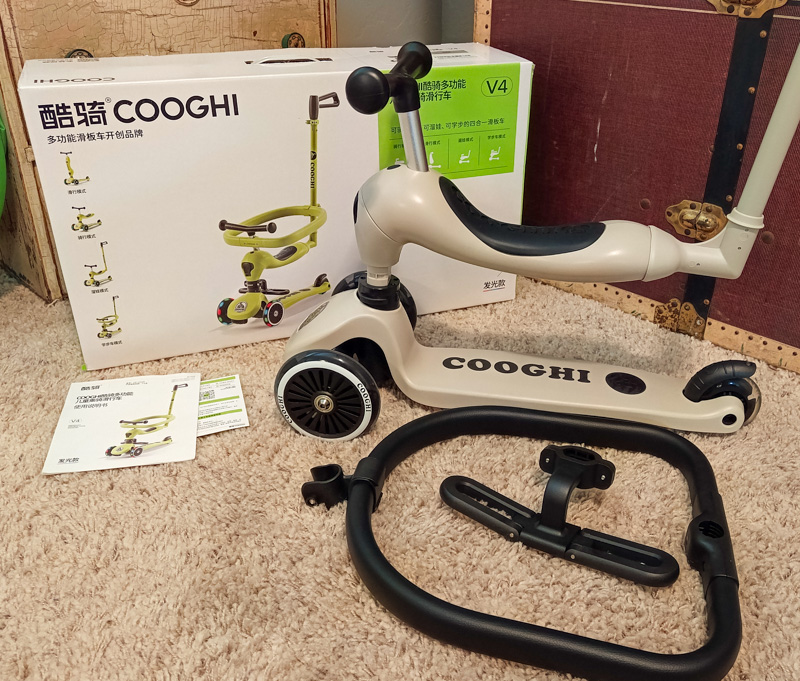 Cooghi V4 Pro 4-in-1 Scooter for Kids
Wraparound fence
Foldaway foot rests
Manual
Design and features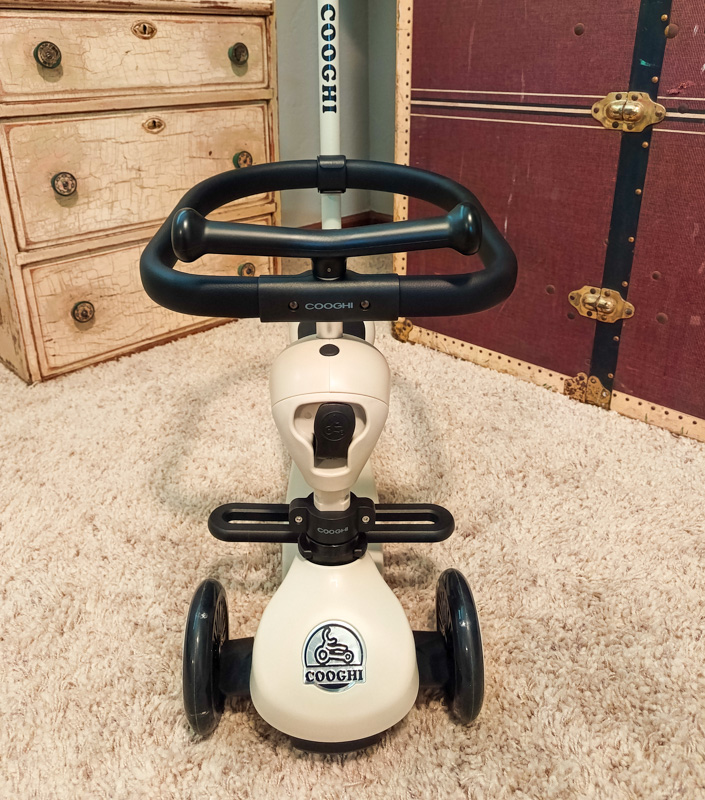 The Cooghi V4 Pro 4-in-1 Scooter for Kids is a durable plastic build, with hard rubber scooter style wheels (2 front, and one rear). The configuration above has the folding foot rests and parent's handle attached, but you can remove the handle and "fence" for a non-assisted version, and as they get older you can rotate the seat 90 degrees to convert it to standing scooter mode.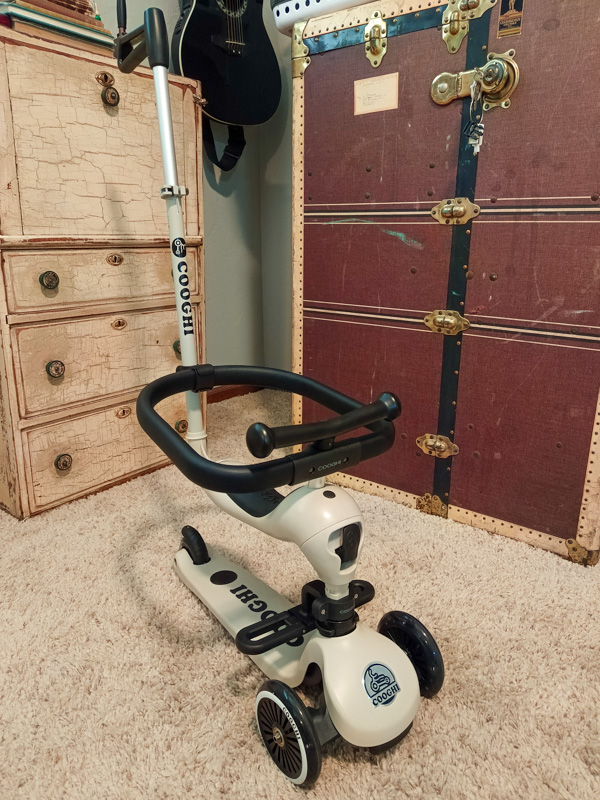 The front two wheels steer by leaning. As the child leans the handlebars to either side, the wheels pivot to turn in that direction, which is intuitive and I'd imagine is teaching them to learn to lean bikes and scooters when they get older.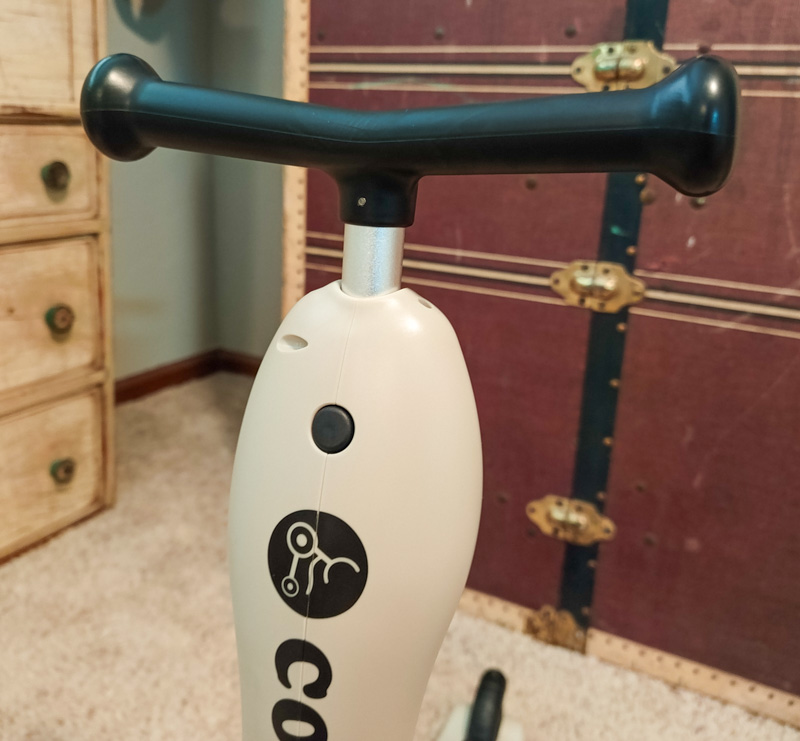 The handlebars are plastic and lock securely into the scooter/bike body.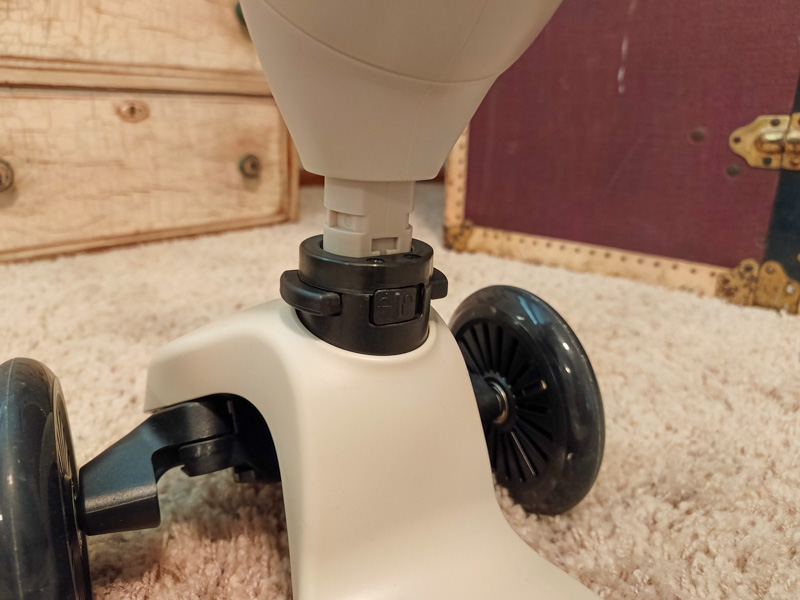 Two tabs have to be pushed in simultaneously to adjust the height of the seat for the bike mode.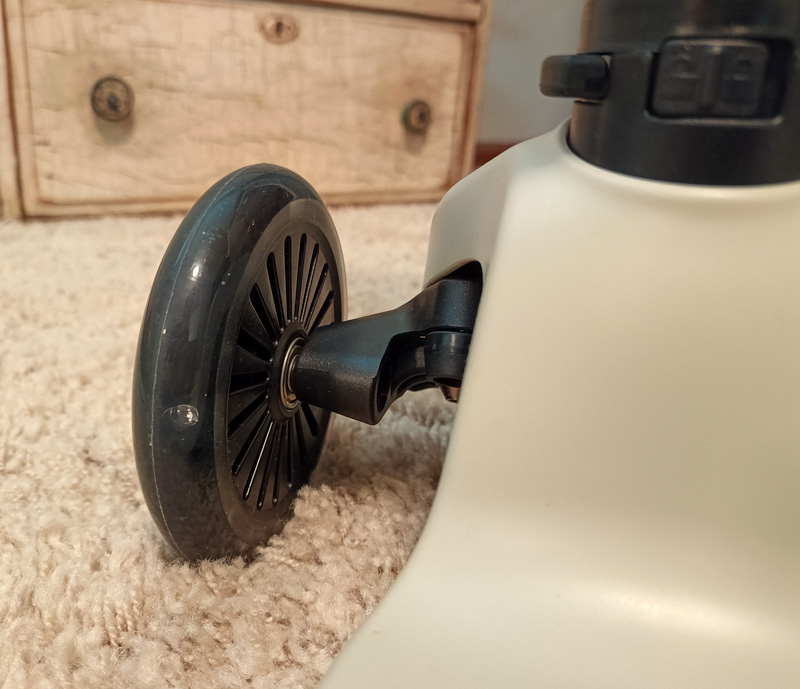 The wheels seem like they'll last forever, and are similar to wheels found on kid's kick scooters everywhere. It seems the "Pro" models of Cooghi scooters simply have flashing LED lights in the wheels (I'm not sure what flashing lights have to do with going "pro", it's an odd thing to add to a child's product, but I'm not marketing expert).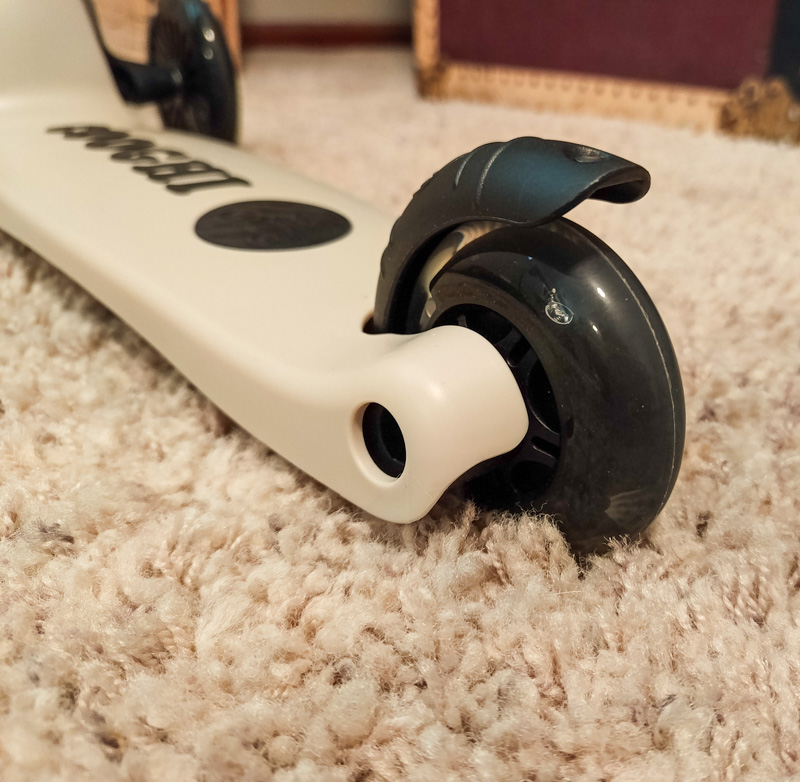 The rear wheel has a braking function – by simply putting weight on the flap above the wheel, it's pressed into the wheel and slows the scooter down. This serves no function in the bike/walker modes.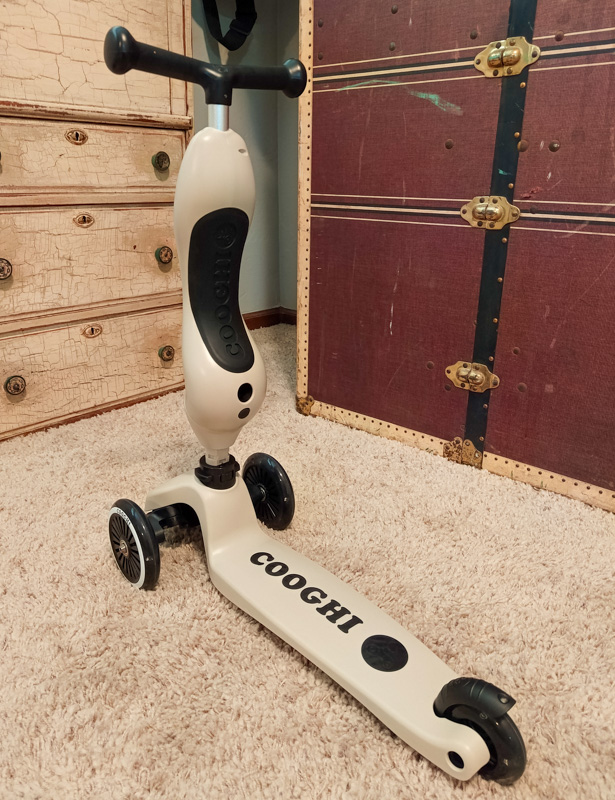 Above is the scooter mode, you can see how the bike seat is simply rotated to form the front post of the scooter.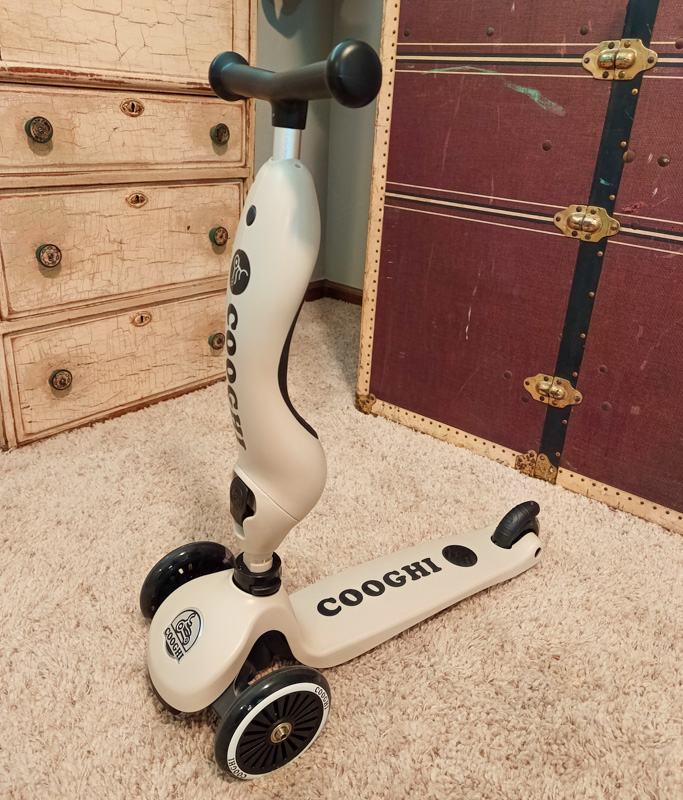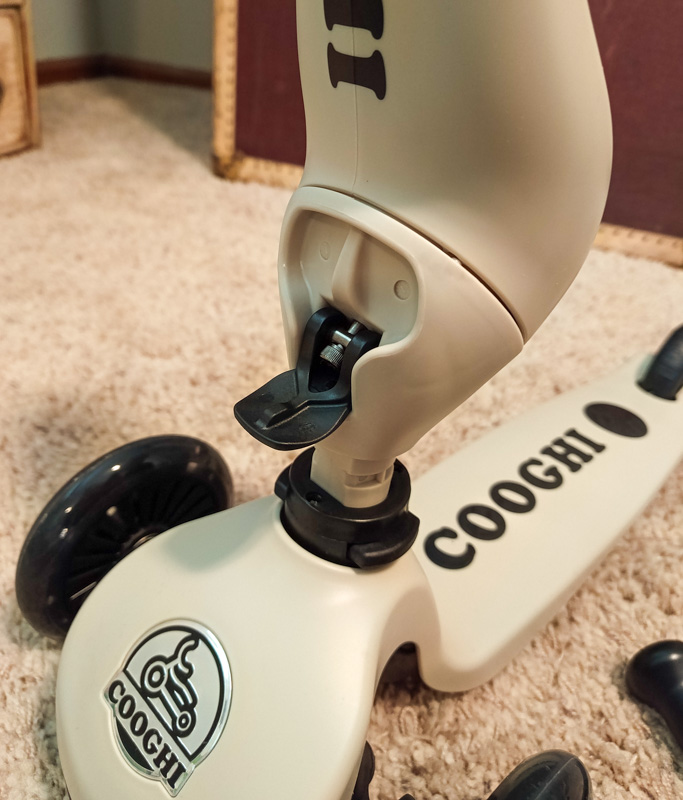 The locking tab pictured above allows rotation of the seat to switch modes.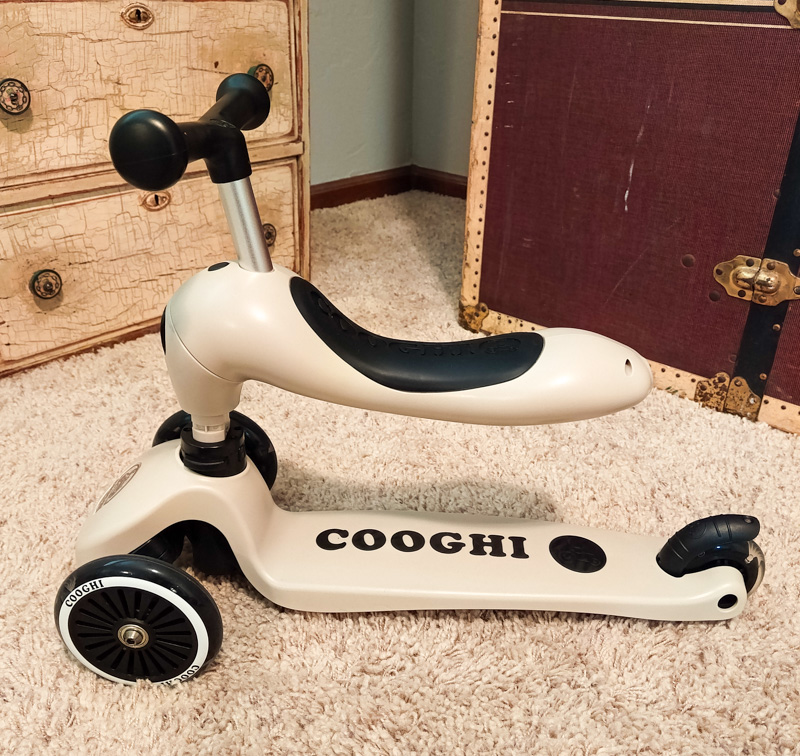 When folded down, it's a great balance bike for toddlers, we let our little guy push himself around the house like this. He didn't immediately learn how to lean to steer, and fell down a few times, but he's getting the hang of it with practice (it's much easier for him than the previous balance bike we tried).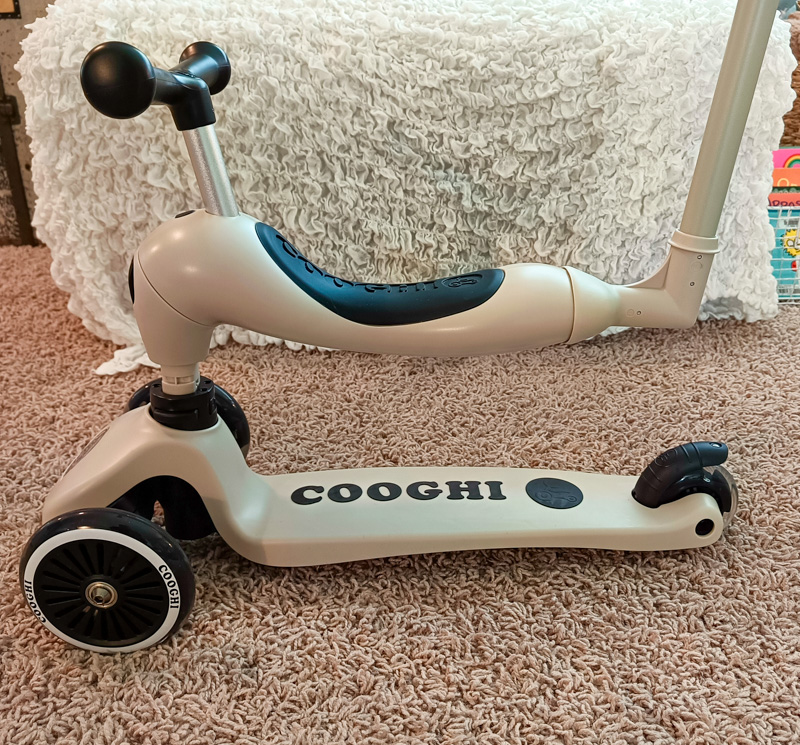 You can use the parent's handle without the protective fence, but if your little one isn't so steady yet you'll probably want to add the guardrail as well so they don't tumble off while you're walking around with them.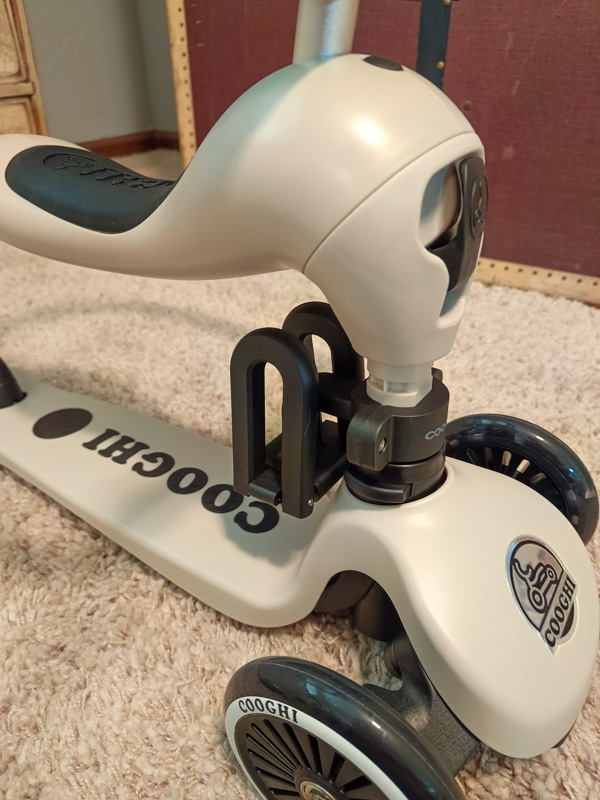 The folding foot rests get out of the way nicely, and are simply slotted between the seat and the lower portion of the scooter/bike.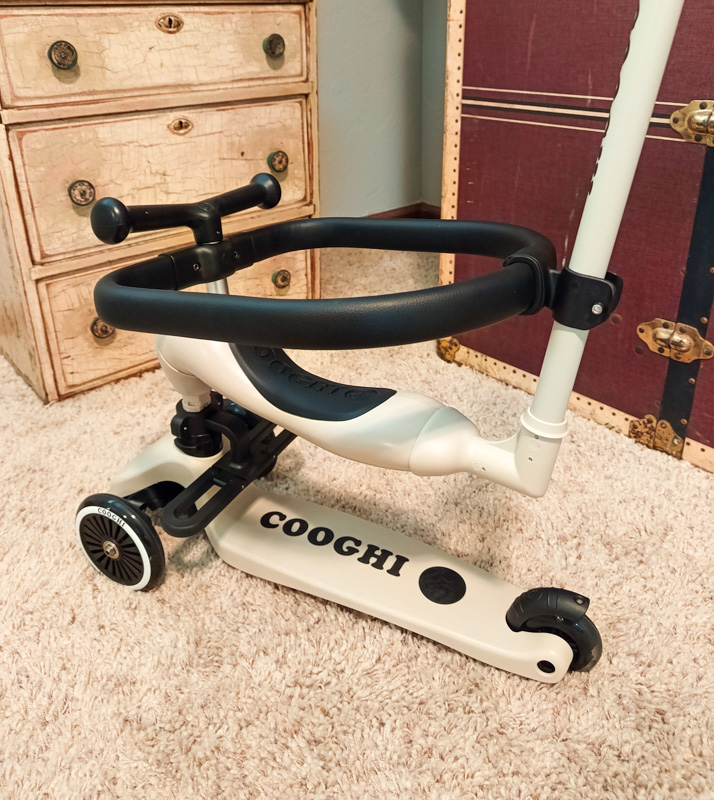 Above is the configuration we used most during this test period: seated bike with parent handle and guardrail ("fence") attached. We like this setup because our little guy can push himself and lean to turn, but can also just sit back and let us push him when he gets tired.
Setup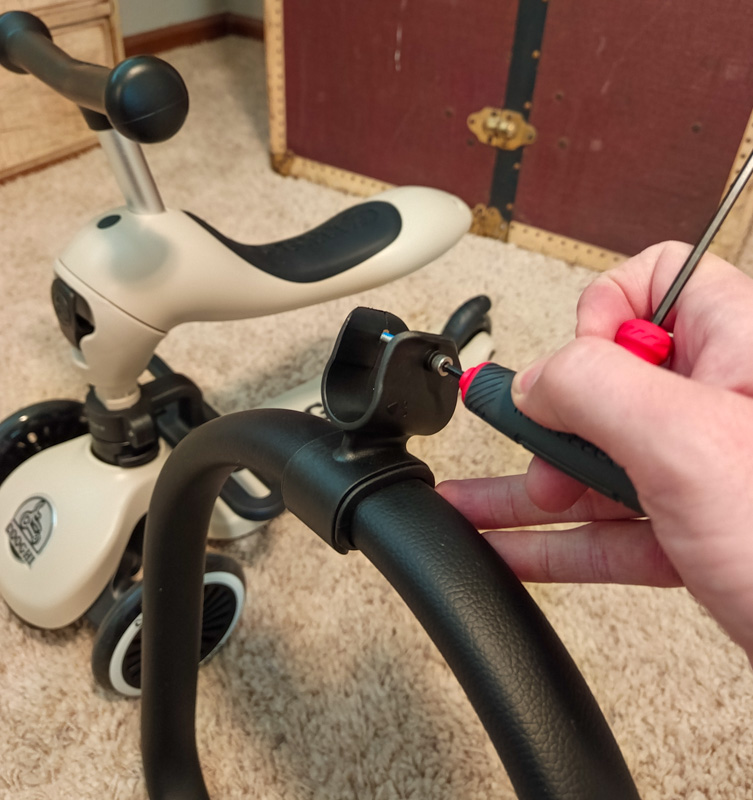 Setup is as simple as sliding parts together until they lock, except for one part of the guardrail/fence shown above (you have to tighten a bolt with a hex wrench).
Performance
The Cooghi V4 Pro 4-in-1 Scooter for Kids performed wonderfully. After a few weeks, our toddler is getting the hang of it, and it's replaced the stroller for most summer night walks. It's great to get him walking more instead of just sitting in the stroller, and it gives him a little bit more independence and autonomy since we let him set the pace (at least until he's tuckered out and we then just push him the remainder).
What I like
Ability to use as assisted bike, balance bike, and standing scooter
Intuitive lean-to-steer turning
The guardrail and parent handle works great if they're still wobbly on their feet
What I'd change
Maybe it's just our kid – but he refuses to use the foot pegs, instead dragging his feet on the ground if he doesn't feel like walking. I'm not sure how Cooghi would fix this though.
Final thoughts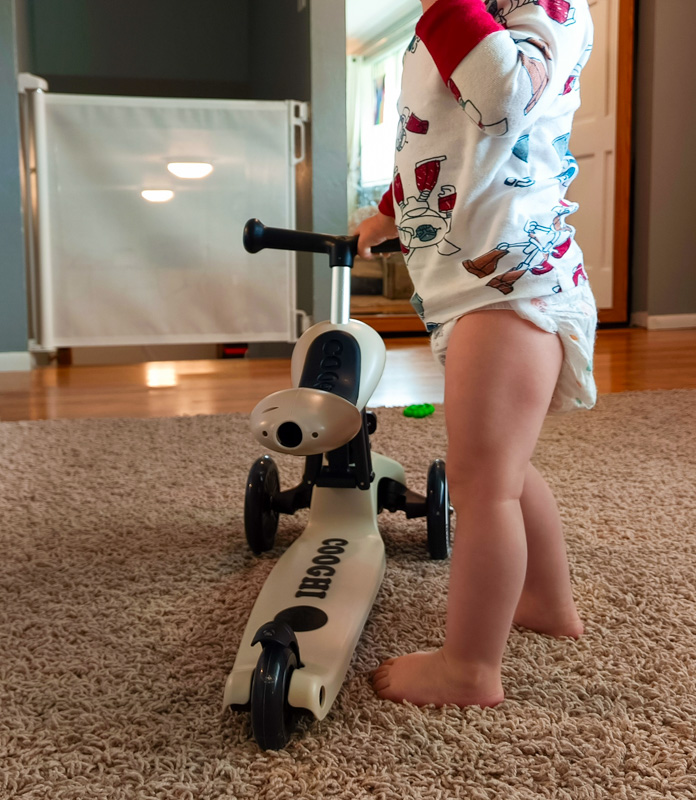 While the Cooghi V4 Pro 4-in-1 Scooter for Kids costs more than the other balance bike we were trying to get our toddler to use, I think it would be worth it in the long run. It works better, has various modes for different needs, and the fact that it will be his first standing scooter means one less thing to buy in another year or two. We look forward to years of use with this one!
Price: $259.99 (on sale for $169.99 at time of review)
Where to buy: Cooghi and Amazon
Source: The sample of this product was provided by Cooghi