We use affiliate links. If you buy something through the links on this page, we may earn a commission at no cost to you. Learn more.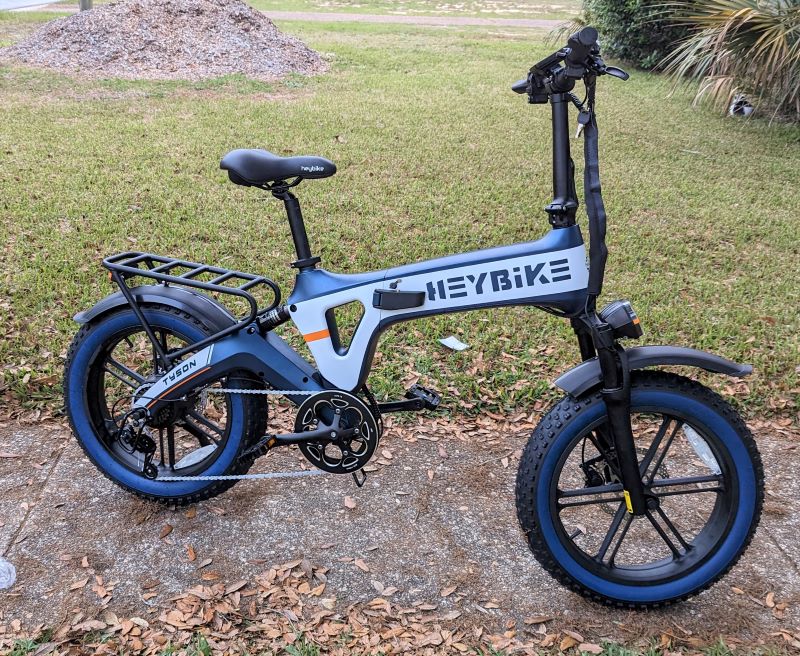 REVIEW – Electric bikes are most definitely popular right now.  We get submittals for electric bike reviews all the time.  I've reviewed one in the past and when given the opportunity,  I was more than happy to get my hands on the Heybike Tyson. It's smaller than the other bike I reviewed but still beefy enough for a guy of my size and stature.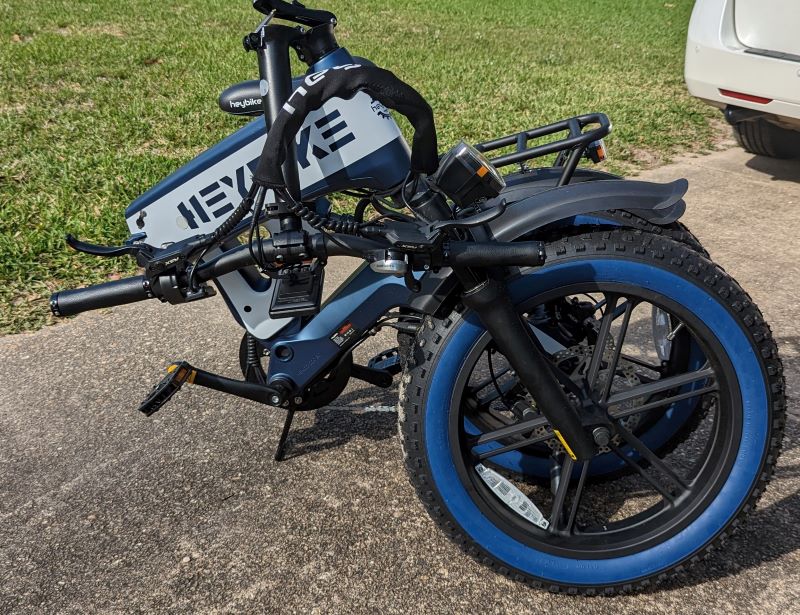 What is it?
The Heybike Tyson is a foldable fat tire electric bike for on and off-road treks
What's in the box?
You can remove this heading and section if it doesn't apply to your review.
Heybike Tyson electric bike
Front fender
2 pedals
Seat with riser
Keys
Tools and hardware
Front wheel
Battery charger
Rear wheel installed on bike
Battery installed in bike
Headlight
Hardware specs
Size:
Total length – 68.9″
Wheelbase – 46.4″
Max seat height – 35.8″
Stand height – 29.5″
Wheel diameter – 21.6″
Handlebar length – 24.4″
Handlebar height – 46.8″
Minimum seat height – 31.5″
Chain stay length – 19.5″
Top tube length – 24″
Head tube length – 7.5″
Recommended rider height – 5'7″ – 6'6″
Specs:
Battery – 48V 15Ah
Fast Charger – 48V 4A
Charging Time – 4-5 Hours
Hub Motor – 750W Brushless Gear Motor
Max Range – 55 Miles (Pedal Assist)
Max Load – 400 Lbs
Ebike Class – Class 3
Display Capability – 4G Mobile App Sync
Front Fork – Hydraulic Suspension Front Fork
Tire Construction – Unibody
Brakes – Hydraulic Disc Brakes System
Folded Dimensions – 97 x 92 x 62 cm
Product Dimensions – 175 x 62 x 119 cm
Product Weight – 77 Lbs
Package Dimensions – 146 x 28 x 75 cm
Package Weight – 94.8 Lbs
Design and features
First thing first. If you're on the fence about getting an electric bike, let me say get one. Yes, they are very practical but mostly they're straight up FUN. Ok, now let's talk specifically about the Heybike Tyson.  The Heybike Tyson electric bike is a unibody, folding design with a magnesium frame, making it much lighter than steel and even aluminum. With that said, it is not light.  This isn't a knock against the Heybike Tyson electric bike. I think it's just an inherent trait with most e-bikes so Heybike's use of lighter materials is much appreciated.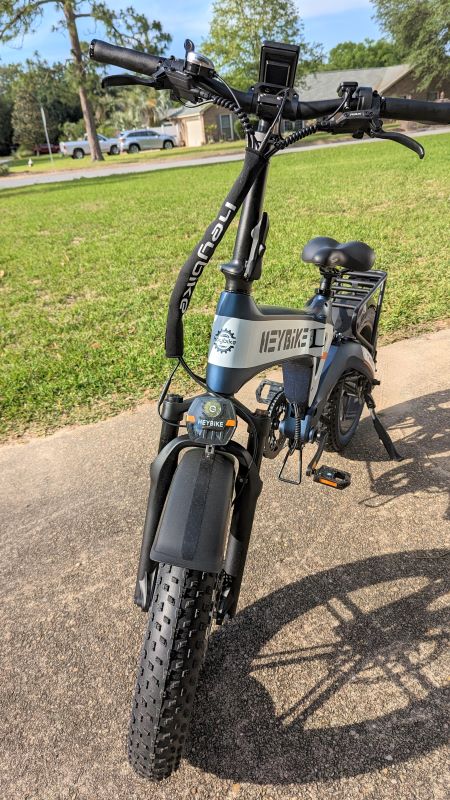 For anyone wanting to use the Heybike Tyson to commute or travel with it, the folding feature is fantastic. As you can see, it fits perfectly in the rear cargo space of my Honda Odyssey minivan.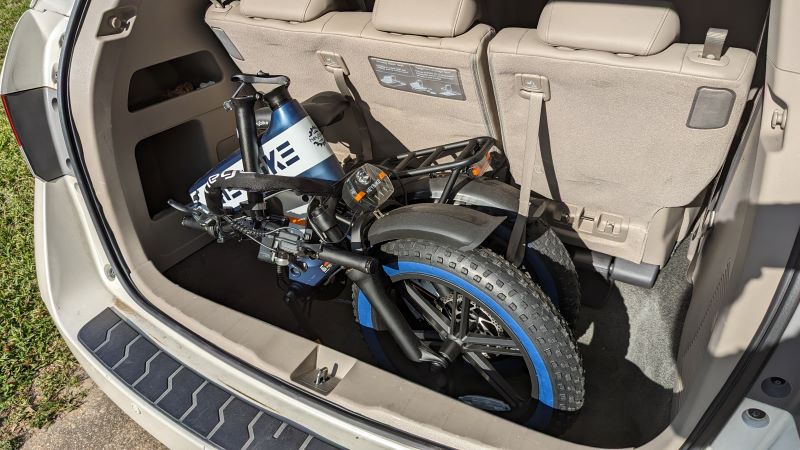 One thing to note about folding, it doesn't lock together once folded that I could find, so that can make moving it while folded a bit of a chore. A way of securing it while folded would be appreciated. There are also no steps regarding how to fold the bike in the manual, but it's not hard. I mean, you'll figure it out while putting it together. Here's the main latch on the body. Push the brass button on top and flip out the black lever.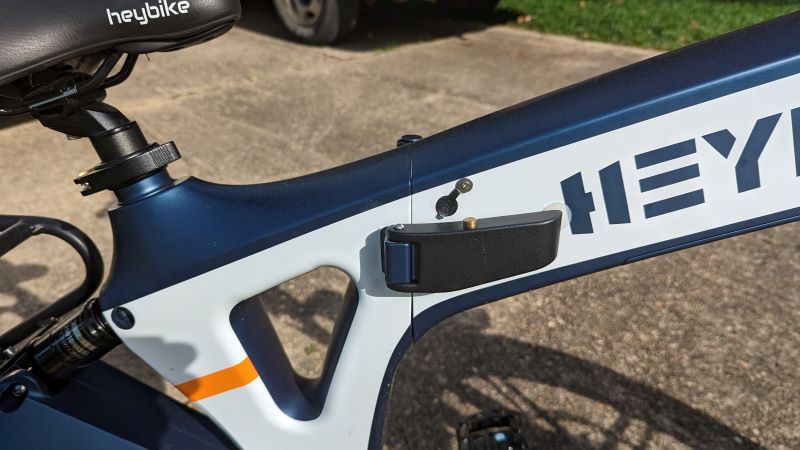 For the handlebars and down tube, slide the button down and release the lever to fold them down.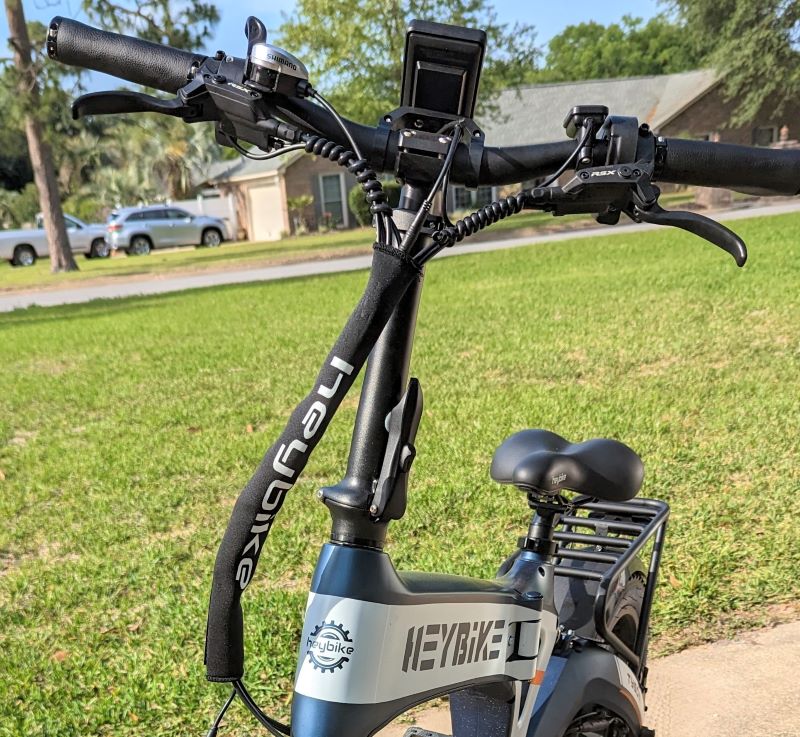 The Heybike Tyson electric bike also has adjustable suspension on the front forks and a shock absorber in the rear between the main body and rear forks.  Here are a couple of shots of dials on the front forks used to adjust them.
On the right for preload: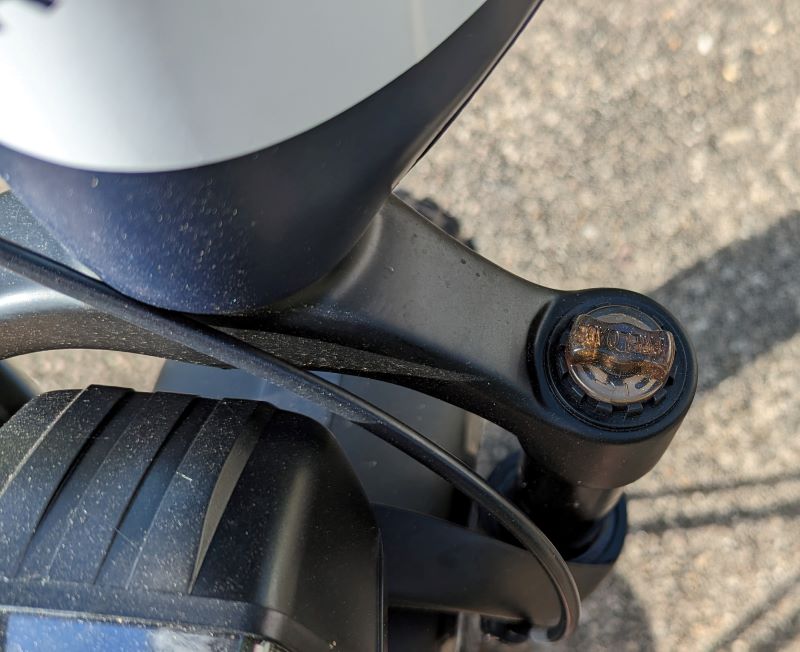 And the left: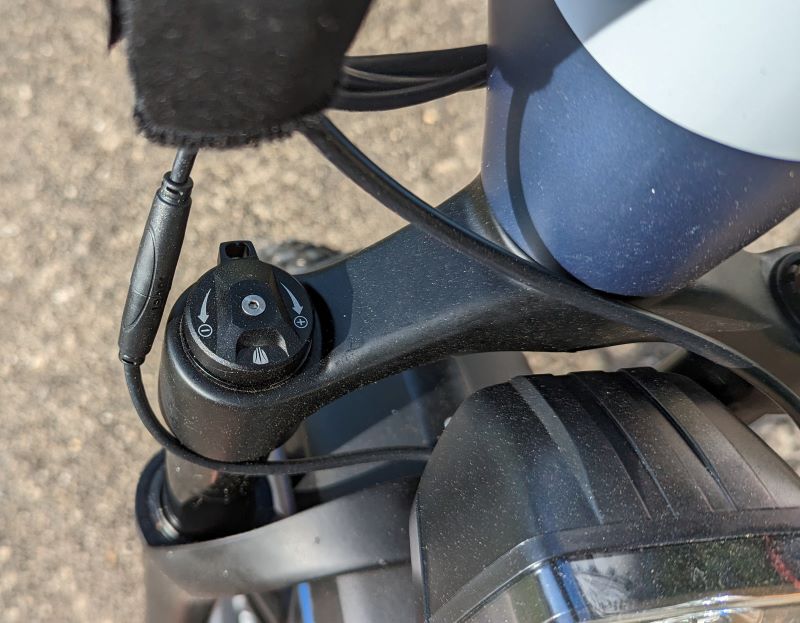 So you can set your ride to accommodate your terrain whether on the road or off.
Some of the other great features of the Heybike Tyson are the use of hydraulic brakes, mag wheels, and that protective piece over the rear brake caliper.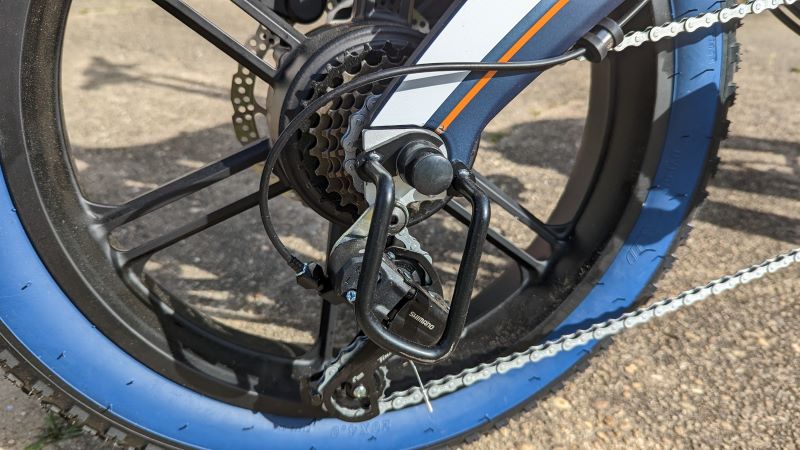 The mag wheels are a great feature because you won't have to worry with maintaining spokes. I like less work, don't you?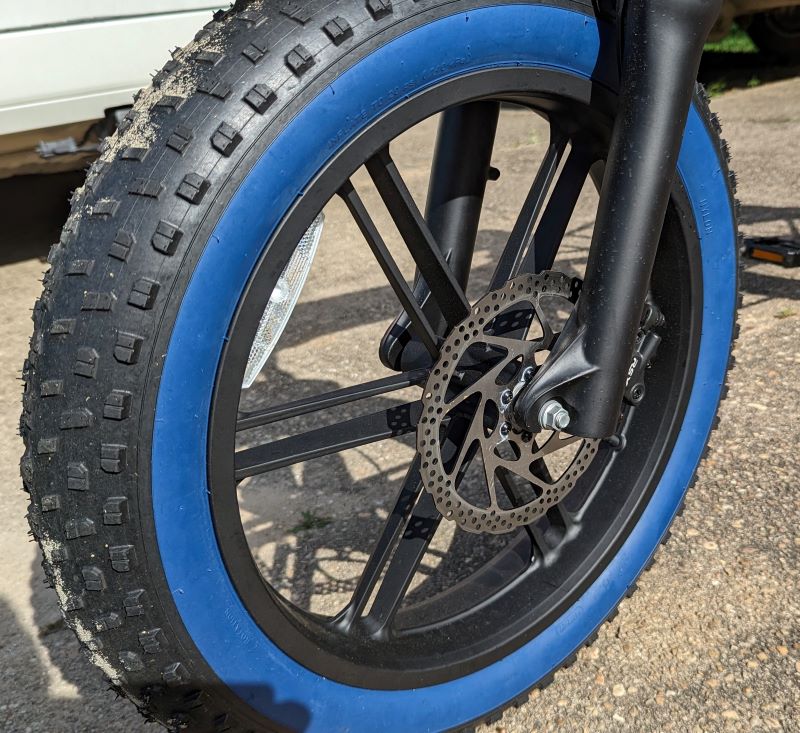 The Heybike Tyson electric bike definitely comes with all the bells and whistles, or should I say horn and blinkers and lights.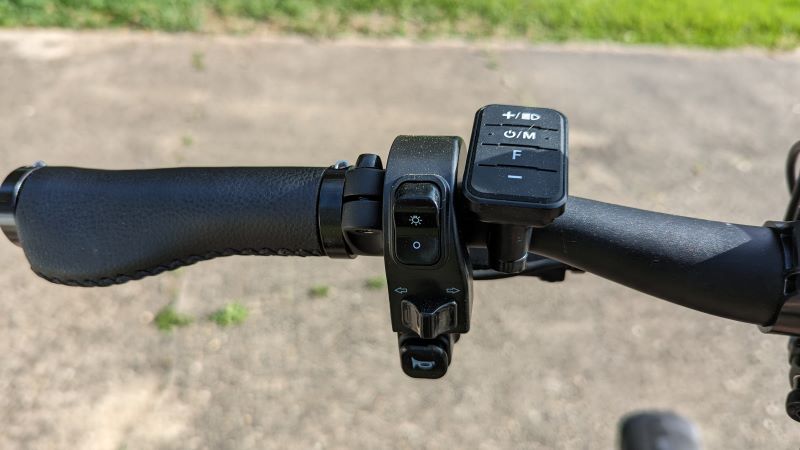 And thumb throttle and cruise control and Shimano shifter.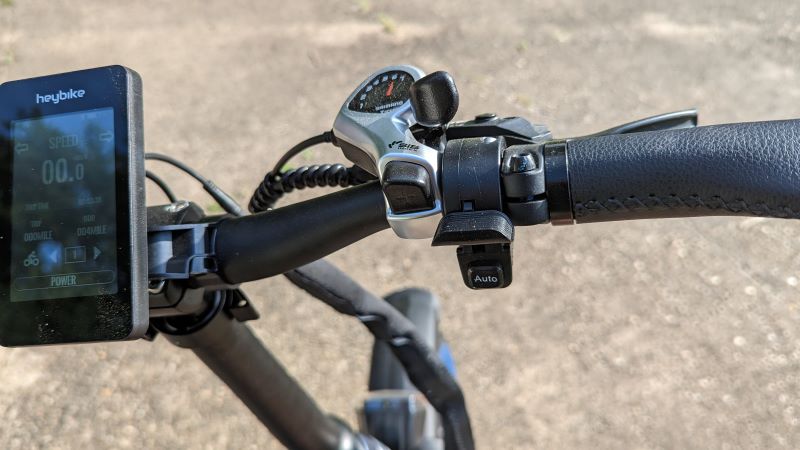 And multifunction display.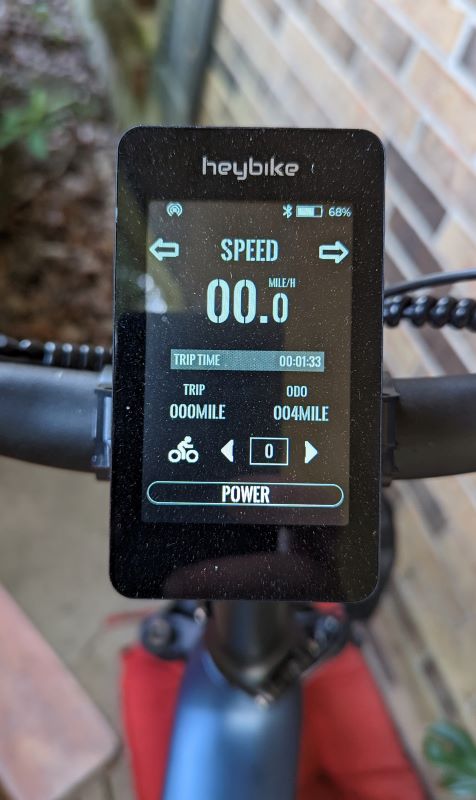 And brake lights.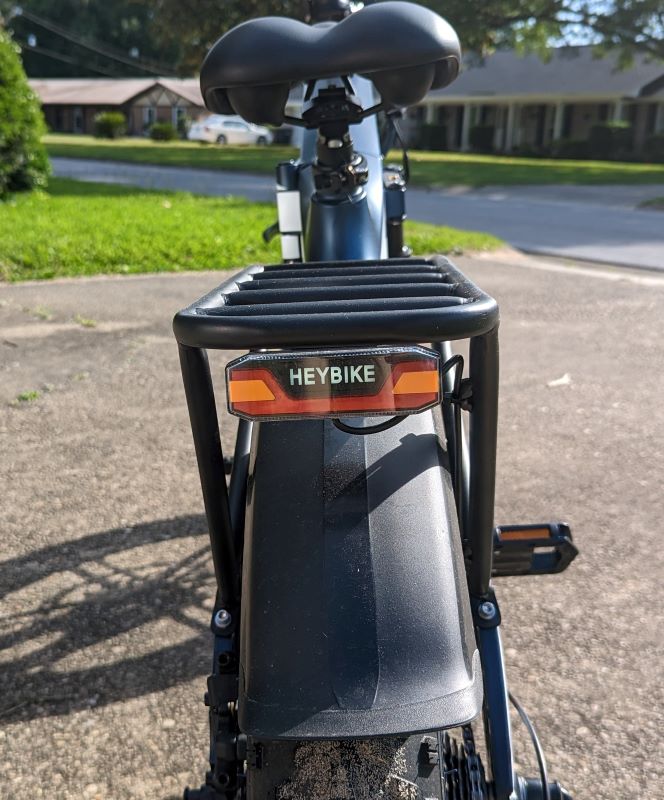 Setup
Since the Heybike Tyson electric bike is a folding e-bike that will be shipped to your location, there is some construction you'll need to perform. For the most part, you can do it by yourself but I would recommend getting some help. The bike can be unwieldy when doing it alone.  I recruited a couple of my kids to help and definitely needed the extra hands when installing the front wheel.   The included manual is pretty good but I would've liked larger pictures and text for my tired eyes.  They did include a QR code in there to a video if you'd prefer to watch it being done. I did have a couple of issues when putting the Tyson together.  One was a bent bolt in the folding stem or down tube.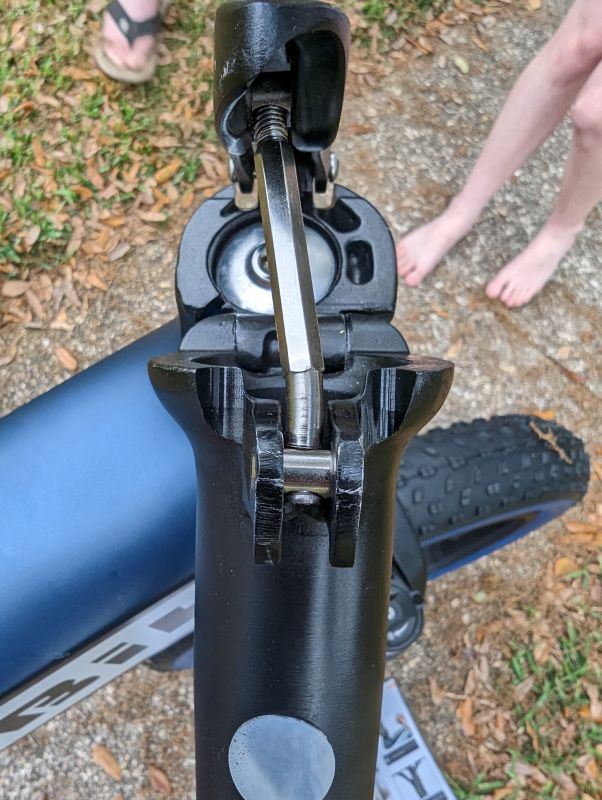 But after sending a picture of the issue to Heybike, they replaced the whole piece, not just the bolt, which was easy to swap out.  The other issue I had was a bent pin in the electrical connector for the controls.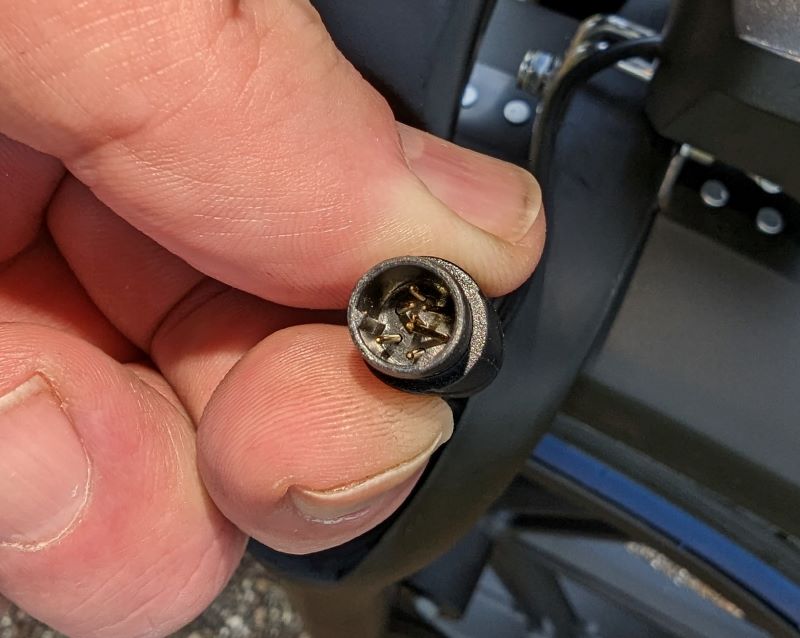 I straightened it out easily enough and haven't had any problems since.
You'll also want to install the Heybike app so you can personalize the bike to you. It's available for both Android and IOS in their respective app stores. The manual even has steps in it to connect to your bike for the first time.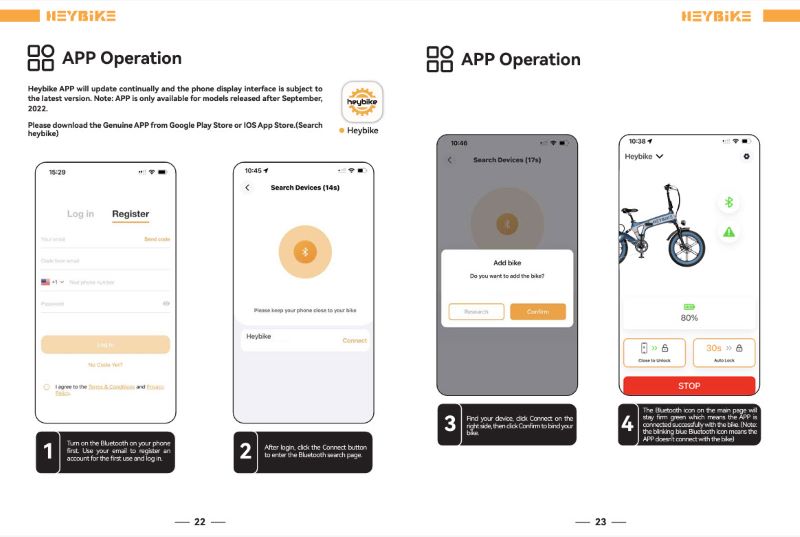 Once the Heybike Tyson electric bike is connected to the app, you can view information like battery level, connectivity, and whether to bike is OFF or ON. From the home screen, you can activate the proximity unlock.  This is cool because the bike should only function when your phone is close enough to unlock it.  You can also set it up to auto-lock the bike within preset times ranging from 15s to 180s.  It can alert you if your bike gets stolen and will show you its current location, but it does require a subscription to the Heybike Connect service. Within the Personalize settings, you can set the speed limits for each pedal assist level, and adjust the display brightness, max speed, and throttle speed limiter.
One thing Heybike does not include is my son to give the bike a once over after I've done all the work of getting it together. He approved it.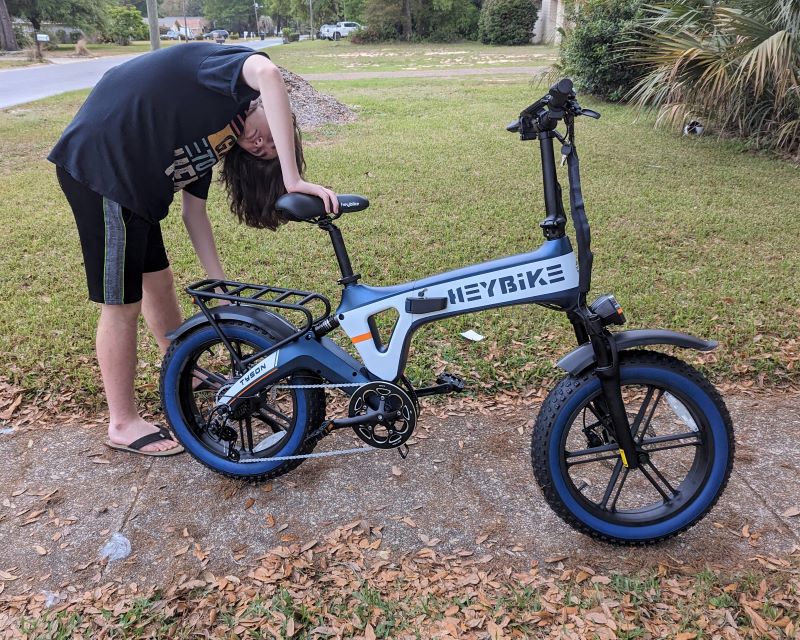 Performance
As I said before, e-bikes are fun and the Heybike Tyson electric bike is no different. It's rated as a Class 3 e-bike which means with pedal assist it can reach speeds of 28mph. I was able to get a little over 22 mph, but I'm a big guy. My daughter said she got up to 26 mph and then backed off.  I'm sure she could've gotten to 28 but she decided 26 was too fast for her.
Once the suspension was adjusted, I was able to get a nice smooth ride that took bumps in stride. With the adjustable PAS speeds, I was able to set the bike to the speed settings that I wanted.  I like the thumb throttle better than a twist throttle. It's just easier on the wrist.  The handlebar grips have a nice swell to them that lines up perfectly with my palms.
The 750-watt motor is plenty strong to move the bike and me at a good clip.  The 48V 15Ah battery allows for good battery life and with the pedal assist, I don't doubt you could get close to the advertised 55-mile range.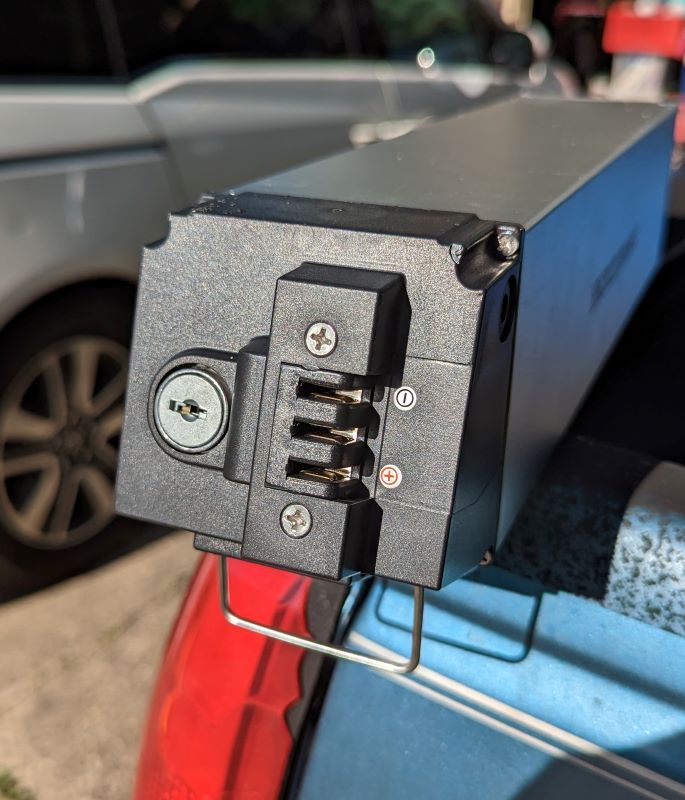 I say I don't doubt it because I had issues with the app for a while, reported it, and then got an update.  After the update, my previous records were gone.  Not a big deal, but it would've been nice to show here. As with any e-bike, your mileage will vary depending on the weight of the load.
The battery can be fully charged within about 4-5 hours and can be done with it in or out of the bike.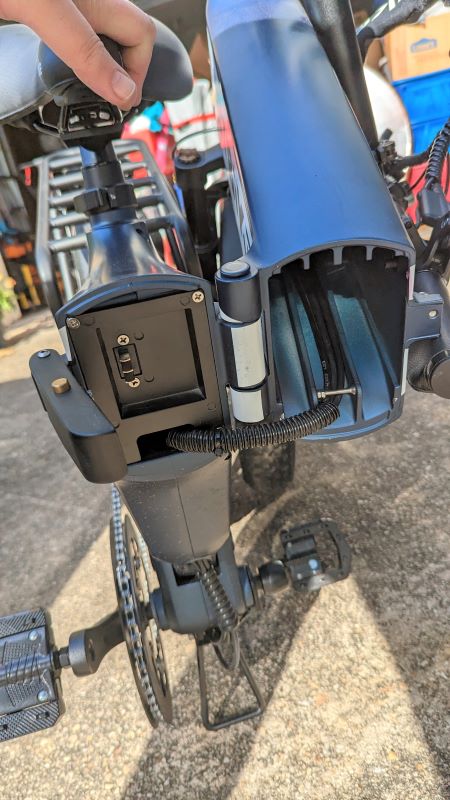 I think the only gripe I have with the Heybike Tyson electric bike is the display.  Even with it at its brightest setting, it's very hard to see in direct sunlight.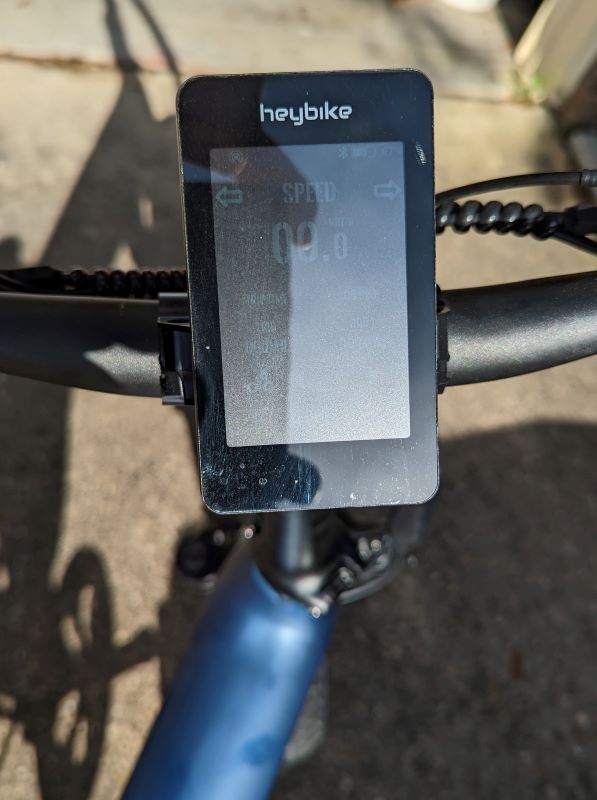 What I like
The folding design
Mag wheels
Personalized settings in the app
Comfortable ride
Great customer support
What I'd change
The multifunction display
Some sort of way to secure the bike together when folded
Final thoughts
I really like the Heybike Tyson electric bike.  The smaller size and folding option make it great for folks in metropolitan areas for commuting or those who want to take it along with them on a road trip.  If you're in the market for an e-bike, consider Heybike.  They have other models available as well. So far I've been pleased with the Heybike experience and I think you will be too.
Price: $1699.00
Where to buy: Heybike and Amazon
Source: The sample of this product was provided by Heybike.