We use affiliate links. If you buy something through the links on this page, we may earn a commission at no cost to you. Learn more.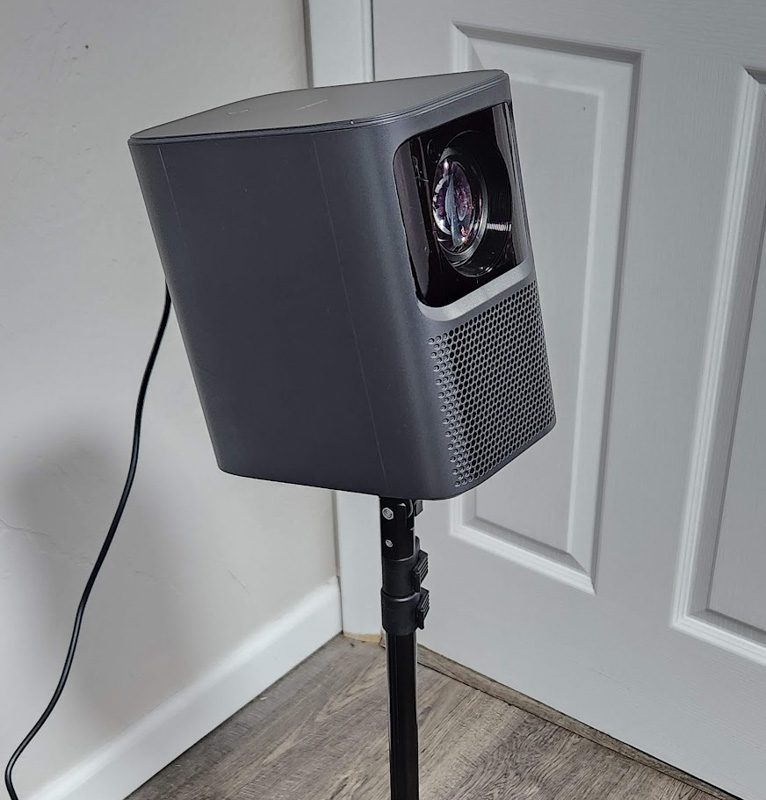 REVIEW – Like many other products, the projector world can be sorted into tiers based on performance and functionality. At the bottom of the group are the cheap, dim, hard-to-focus low definition models that might not even include any smart functionality. I'd class the next group into a mid-tier, where most have much better optical quality and brightness, and many in this middle group have smart functionality these days as well (streaming apps, easy wireless connectivity, etc.). Finally, there are true home theater projectors, featuring everything from 4k resolution to lasers to hot butter popcorn scent while running. The Emotn N1 Netflix officially licensed projector lands squarely in my imagined middle tier, at least based on it's marketing claims. I've tested it out for a few weeks with everything from Netflix to gaming to spreadsheets, and in this review I'll dispatch my findings.
What is it?
The Emotn N1 Netflix officially licensed projector is a Full HD (1920 x 1080 pixels) native resolution projector. It has some smart functionality built in, including official Netflix licensing and Youtube and an app store (though probably not one you've heard of).
What's in the box?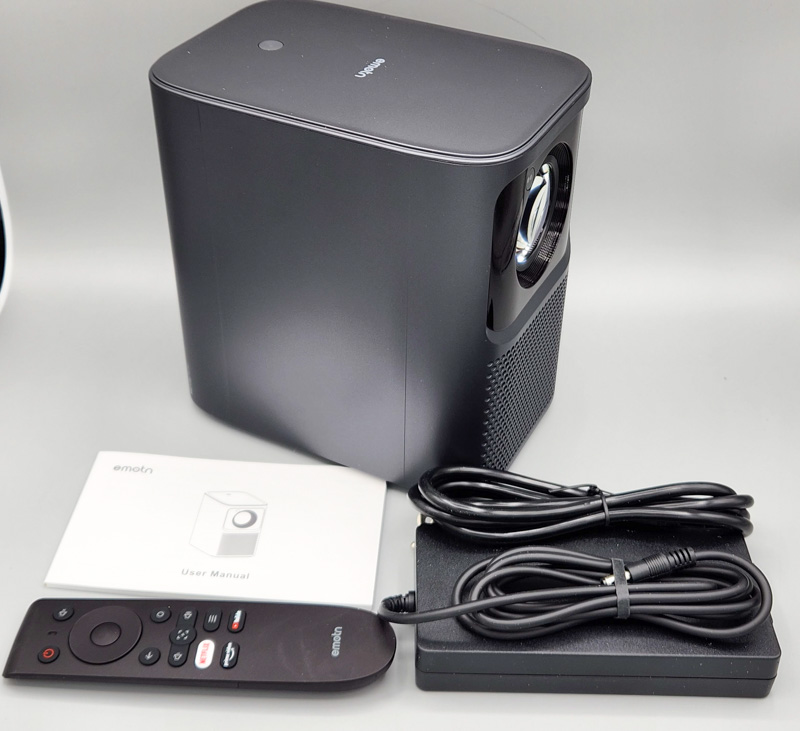 Emotn N1 Netflix officially licensed projector
Remote control
Power Brick and AC cable
Manual
Hardware specs
Item dimensions: 7.16 x 4.92 x 7.55 inches
Display: native 1080P FHD (1920 x 1080 pixels), HDR10+/HLG
Throw Ratio: 1.25:1
Brightness: 500 ANSI Lumens
Recommended projector screen size: 60″ – 120″
Focus/Keystone: Automatic with Time of Flight sensors, and manual controls
Speakers: 2 x 5W speakers "Enhanced with Dolby Audio"
Noise level: <26dB
Connectivity: HDMI, USB, Wifi (2.4 and 5 Ghz), Bluetooth, Ethernet
LED rated lifespan: 30,000 hours
RAM/ROM: 1 GB DDR 3 / 8 GB eMMC 5.1
Design and features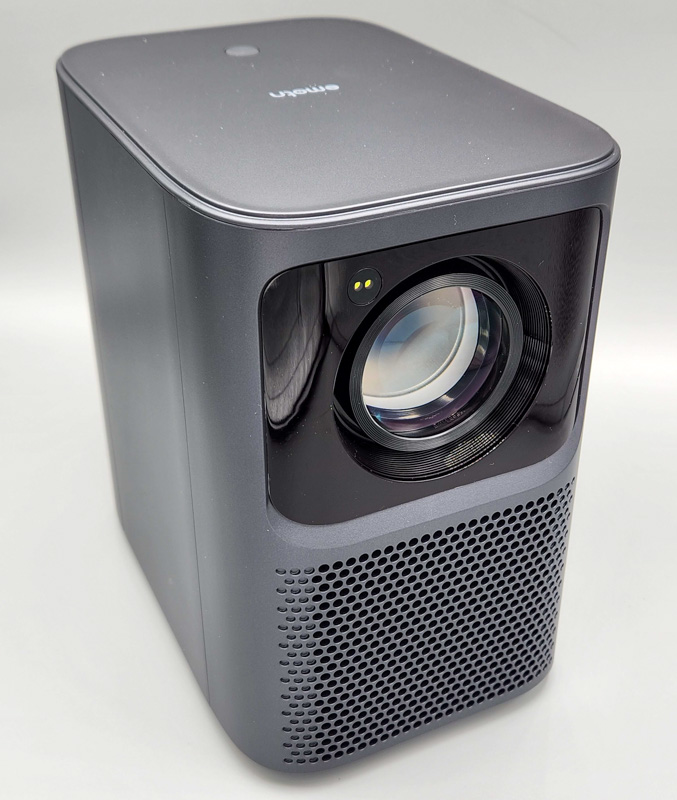 The Emotn N1 Netflix officially licensed projector is an interesting form factor for me, most of the projectors I've owned or reviewed are flat pancake-style affairs, while this is taller with the lens up top. Functionally I don't think it makes much of a difference, though getting the projector lens centered on a projector screen is definitely easier when the lens is also centered in the unit. Next to the main lens is a small ToF (Time of Flight) sensor/camera that checks the projected image and assists the autofocus/auto keystone functions to fix the image automatically for you. Airflow holes are below the main lens.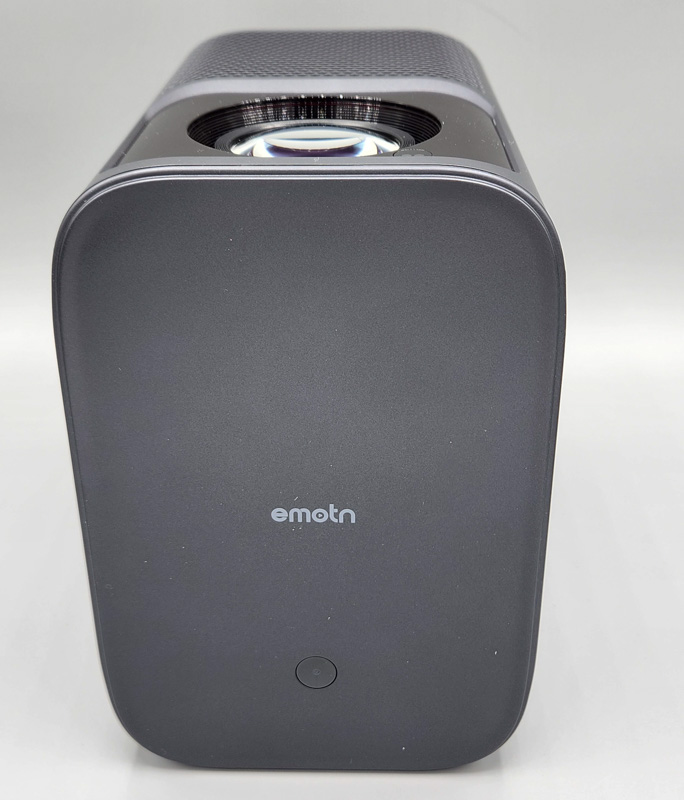 Up top is a single power button. Don't lose the remote.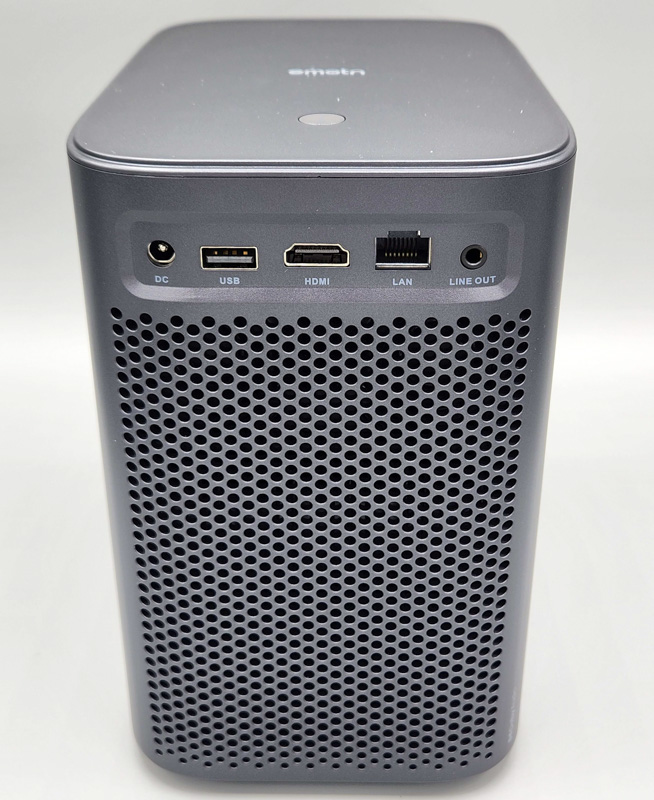 On the back of the Emotn N1 Netflix officially licensed projector are the ports, from left to right: Power input, USB-A, HDMI, LAN, and Audio Out. Below the ports are more holes, this time for the dual speakers (and maybe airflow as well, I couldn't tell).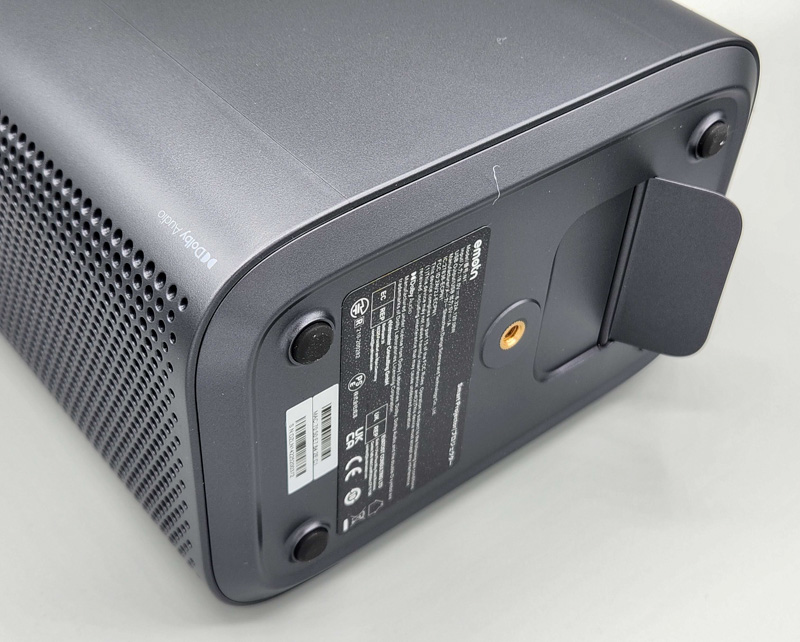 On the bottom is a tripod mount, 4 rubber feet to keep things sturdy, and a flip-out stand to angle the projector slightly up (especially helpful if your only place to put it is on the floor).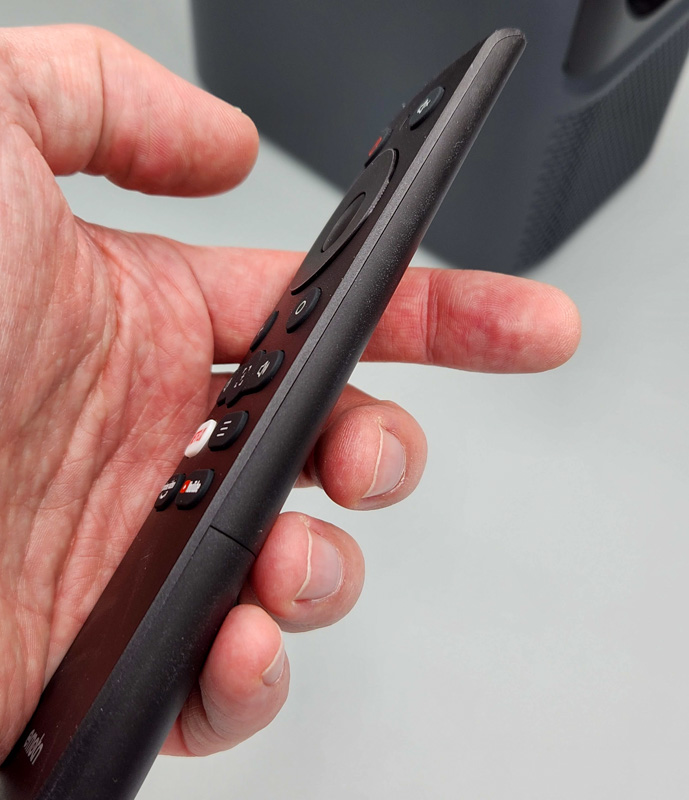 The remote is a pretty standard sized affair, though I believe it's Bluetooth (which I prefer) since I can't spot any IR sensors on the front or back of the projector.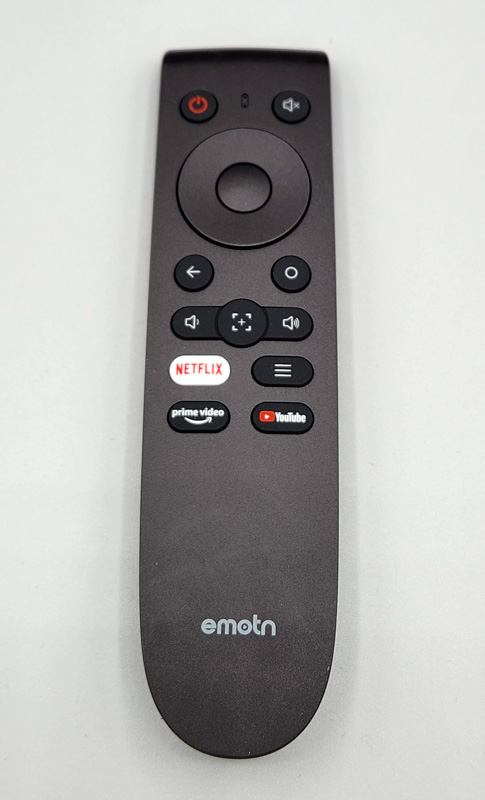 The remote features a one-click auto-focus, buttons to launch the 3 pre-installed streaming apps you may have heard of, a menu button, directional controls and enter, and power and mute.
Setup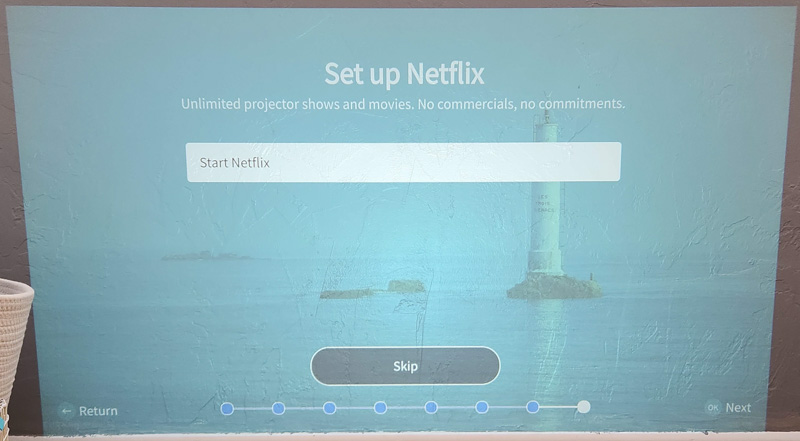 Setup on the Emotn N1 Netflix officially licensed projector was pretty straight forward, I logged into Netflix and Prime Video and moved right on.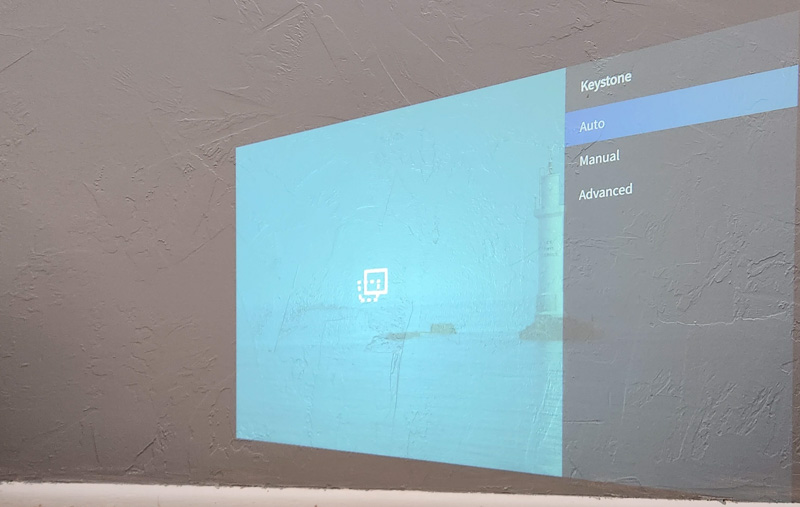 I was setting things up in a bright room on a wall, so I'm not surprised the auto keystone feature had issues, but even in a dark room on a flat projector screen it still seemed to always be a little off for me. Luckily the manual keystone menu was easy to use and quickly fixed the issue.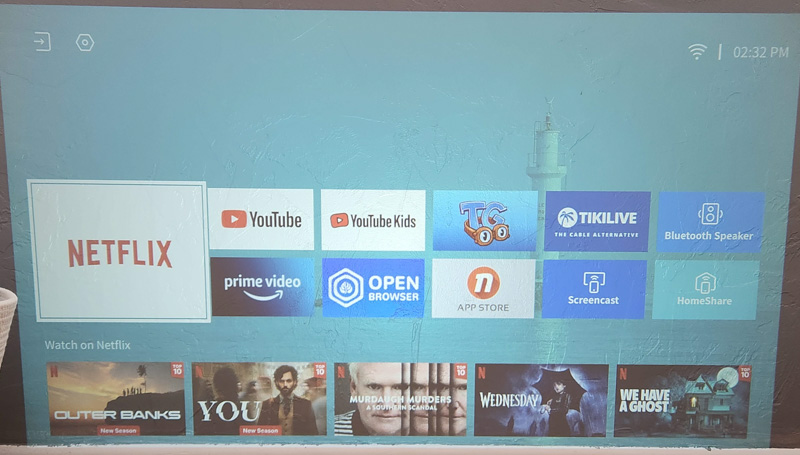 Upon finalizing setup, you're presented with a list of apps and then suggested Netflix shows (not surprising given the "Official Netflix Licensing". However, besides Youtube and Prime Video, I hadn't heard of any other app in their limited app store except for one far-right political propaganda streaming service.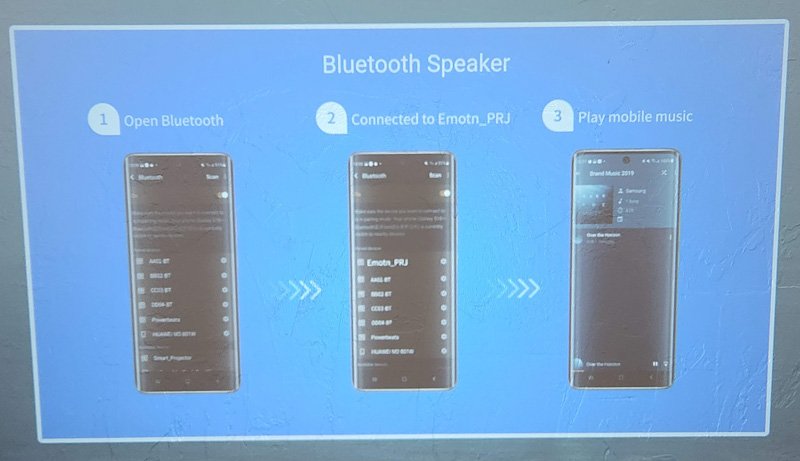 The Bluetooth Speaker function is interesting – you can connect to the projector from your phone/tablet/laptop and the audio will play on the projector. The built in stereo speakers are fine, but many laptops these days sound better so you'll probably want a portable speaker or soundbar for movie nights. The speakers do great for quick casual watching, but they're not cinema quality.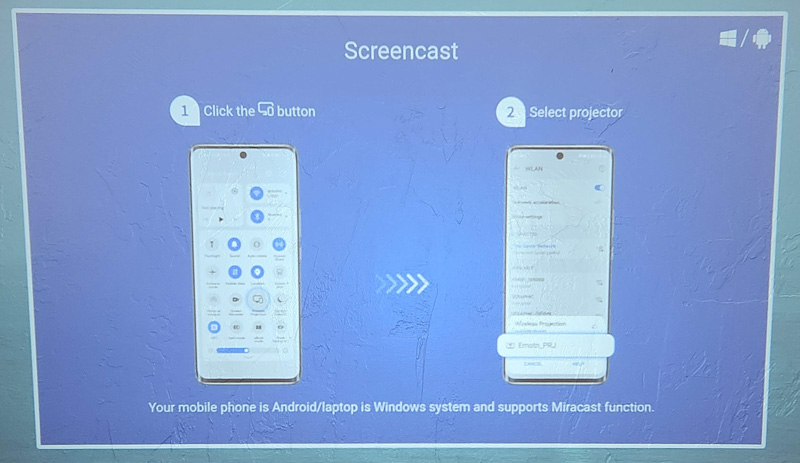 Luckily the Emotn N1 Netflix officially licensed projector also supports screen casting, so if their limited app store is a deterrent, you can always just cast things from your device to the projector. This Screencast screen mentions Miracast and only shows Windows and Android logos, so Apple-heads will probably want to just plug an Apple TV into the HDMI port and call it a day.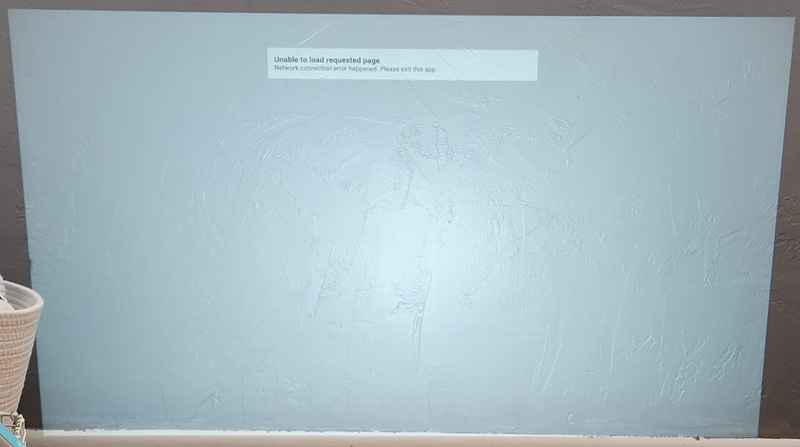 Finally, I did have a couple of error screens during the review period, but hitting back and attempting whatever I was doing again usually resolved them. Not a dealbreaker, but it was a bit annoying.
Performance
The picture quality of the Emotn N1 Netflix officially licensed projector was better than I expected. Below is testing footage (first loading Netflix to show the UI speed and then a Youtube HDR test video). The contrast on the HDR video was very nice, better than almost all of the other sub-$500 projectors I've reviewed. Brightness was good for this price point, but in even partially sunny rooms it'll be pretty washed out, this projector wants a dark room or dark night to shine.
I also tested out gaming performance with an Xbox Series X and Asus Rog Strix G18 gaming laptop, and had no input lag with either (some projectors suffer from game-wrecking input lag). On a nice screen in a dark room, this is a great projector experience, especially with a soundbar or better speakers.
What I like
Good image quality for the price point
Quiet fans while playing
What I'd change
App support is very limited outside Netflix/Youtube/Prime Video
Speakers could be louder with more bass
Final thoughts
I'm not sure the Emotn N1 Netflix officially licensed projector needed to be "Netflix licensed". The better-than-most picture quality, decent brightness, fast interface, and good-enough speakers make for a compelling package at this price point, and I think a lot of us these days use so many streaming services that only having two or three major ones supported means we'll be using an external playback device anyways (like an Apple TV, Roku, Chromecast, etc.). The projector is solid though, feels well built, and puts out rich colors and a sharp image.
Price: $359.00
Where to buy: Amazon
Source: The sample of this product was provided by Emotn