We use affiliate links. If you buy something through the links on this page, we may earn a commission at no cost to you. Learn more.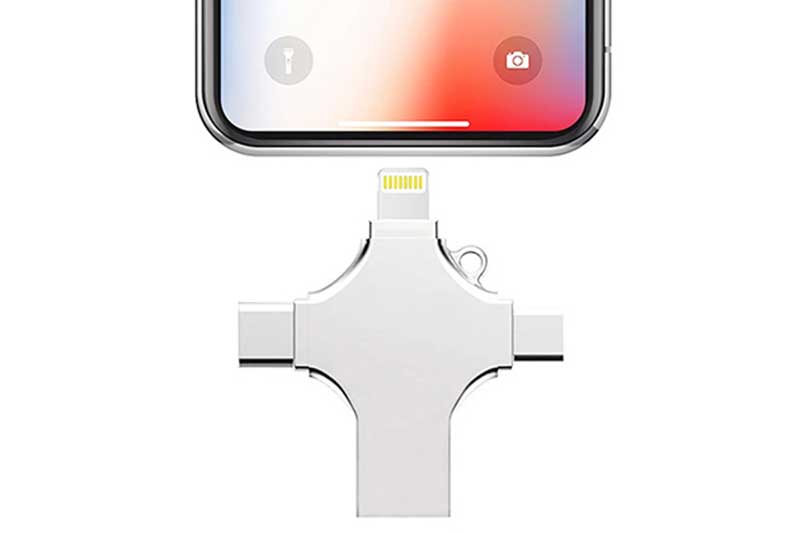 NEWS – The convenience of modern technology isn't always as convenient as we'd like. Like when you shoot a video on your smartphone or tablet. If it's a long video, it could be clogging up your device's internal storage or cloud storage for a while. And if you decide you want to send it to family or friends, it may be too big to transfer cleanly.
This 4-in-1 Smart Flash Drive makes it easy to handle files on your devices, connecting your phone or tablet to another computer or storage device for lightning-fast transfers.
Fast transfers on the go
Whether you're an iPhone and iPad user or an Android fan, this 128GB flash drive has USB 3.0, lightning, micro-USB, and type-C for syncing up your favorite devices in seconds. Thanks to its 25MB/s high-speed transmission abilities, users can transfer images, video, music, and any other data right from one device to another with no fuss.
At less than 2 inches long and weighing about half an ounce, this memory card reader is ultra-portable and ruthlessly efficient wherever you need to make a quick transfer. Just slip it into your favorite gear bag or even a pocket and you're always ready at a moment's notice.
Whether you just want to clear cumbersome files off your mobile devices or you'd rather keep them all secured on a laptop or another portable storage device, this drive streamlines the entire process.
Save almost $10 on this easy to use flash drive
Right now, you can save 22$ off the regular price of this 4-in-1 Smart Flash Drive, usually $39, but available now for just $30.99 while this offer lasts.
Prices subject to change.