We use affiliate links. If you buy something through the links on this page, we may earn a commission at no cost to you. Learn more.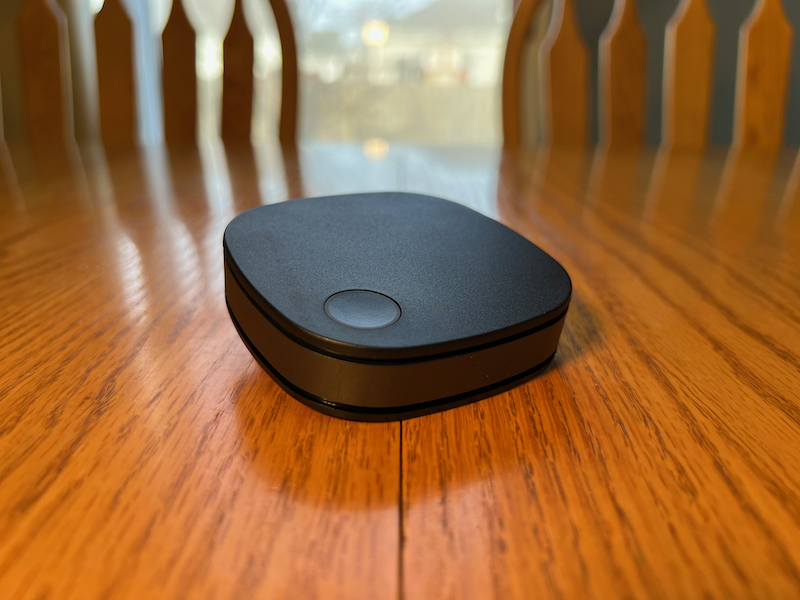 REVIEW – Need to show something from your phone or laptop on a TV but don't want to run a cable across the room? You might have an AppleTV or a TV with Airplay or Chromecast built in, but what if you don't? What if you're in an office environment and not everyone uses the same phone or computer OS? You need something that is compatible with many different "casting" protocols. This is where the ProScreenCast SC01 Miracast Dongle comes in. It supports Airplay, Miracast, and DLNA and won't break the bank.
What is it?
The ProScreenCast SC01 Miracast Dongle is a compact wireless video receiver designed to connect to a TV or projector and receive video from a phone, tablet, or laptop.
What's in the box?
SC01 Miracast Dongle
HDMI 2.0 cable
USB-A to USB-C Cable

 

User Manual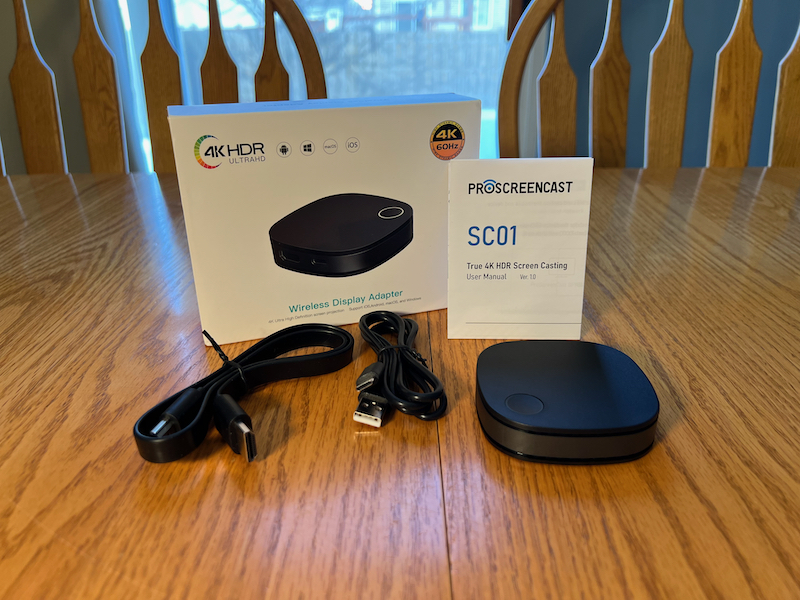 Hardware specs
Power: USB Type-C, 5V/2A or 5V/1A
Output: HDMI 2.0
Material: ABS + PC
Max Resolution: 4K @ 60Hz
WiFi: 2.4 GHz + 5 GHz 802.11 a/b/g/n/ac
HDR Support: Yes
Compatibility: Windows 8.1+/Mac OSX 10.10+/Android 5.0+/ iOS 9.0+/ChromeOS
Stream Format: Airplay/Miracast/DLNA/Chromecast
Resolution: 3840 x 2160 @ 60Hz, 3840 x 2160 @ 30Hz, 1920 x 1080 @ 60Hz, 1280 x 720 @ 60Hz
DC in: USB Type-C: 5V/2A
Power consumption: Max 3W
Cable Length: HDMI 2.0 cable: 10 in (0.25 m), USB-C cable: 40 in (1 m)
Size: 2.83 x 2.83 x 0.67 in (72 x 72 x 17 mm)
Weight: 1.79 oz (50.7 g)
Design and features
The ProScreenCast SC01 Miracast Dongle is a compact, low-profile, black plastic box with two connectors on the back – HDMI 2.0 and USB-C for power. At less than 3" square and less than an inch thick, this is a receiver that can be placed just about anywhere. My AppleTV HD looks simply huge next to it. The plastic frame includes air holes all around the edges and the bottom of the unit. On top is a single button, used for switching between landscape and portrait display modes.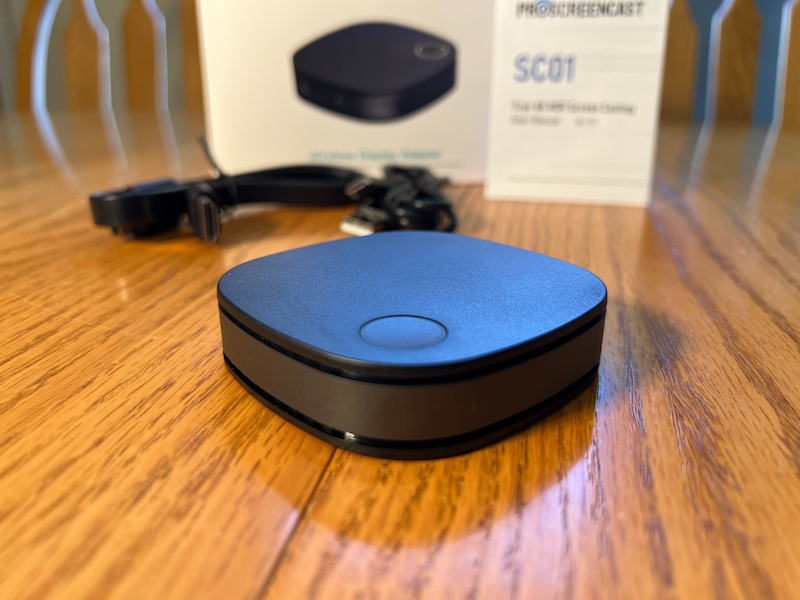 The receiver supports 2.4 or 5 GHz WiFi. With up to 4K at 60 Hz and HDR support the SC01 can work with just about any display you connect it to and present your content in the way it was meant to be seen. In situations where you may not have WiFi (or access to the building's WiFi) you can connect directly to the SC01 to display what's on your phone or another device. In this situation, you will only be able to show what's already downloaded to your device, but it is a convenient feature for a hotel or business where you may not be given access to existing WiFi. 
The SC01 supports the most popular video casting platforms – Airplay, Miracast, DLNA, and Chromecast. With all these options you can share video from an iPhone, iPad, Mac, Android phone or tablet, or a Windows computer.
Installation and setup
Installation and setup were a cinch. On the physical side of the setup, the device needs to be plugged into power (I used the USB-A port on the back of my TV and it worked great) and HDMI to your TV. Once that's done the device shows a well-thought-out instruction page on the screen, including written instructions, the IP address to visit in your device's browser, ProScreenCast's support email address, and a QR code to load the online instruction manual. The best part is, everything worked the first time. I connected to the SC01's built-in WiFi access point, scanned the QR code to go to the device's IP address in my browser, selected my local WiFi network and within well under 5 minutes I was able to connect to it and control it through its web-based menu system. I was informed that there was a firmware update available and about three minutes later that process was finished and it was ready to be used.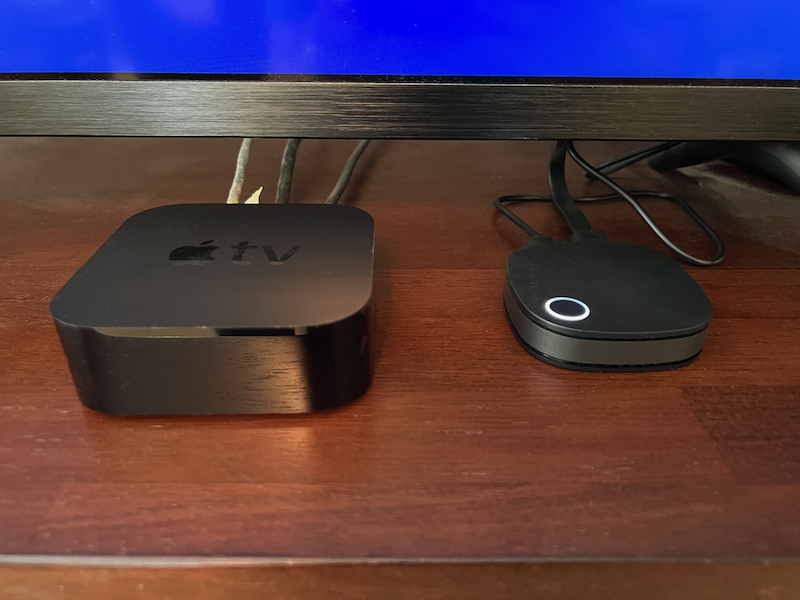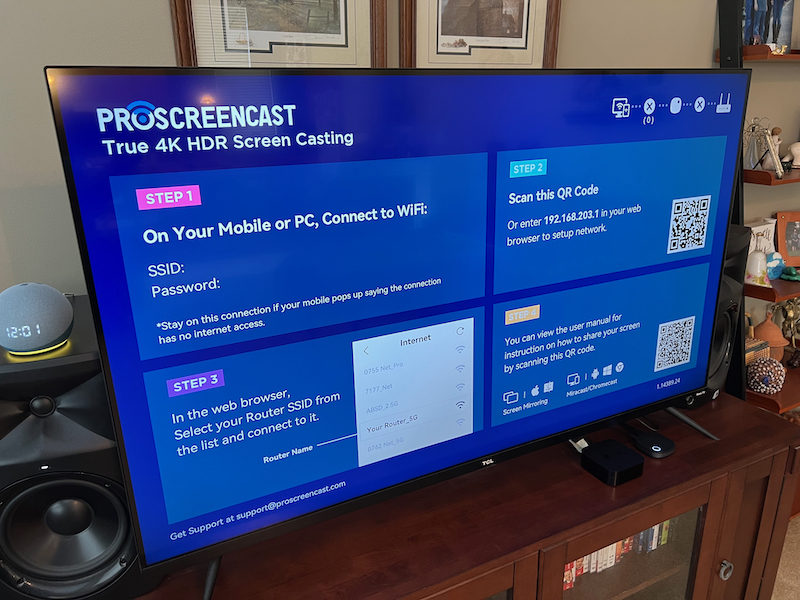 The web-based has quite a few options including resolution, HDR on/off, landscape/portrait mode, Miracast mode (game/video), changing the language, device name and password, power-saving mode, firmware upgrade, reboot, and more. For such a small device there are a lot of options available. 
In Use
As easy as the setup was, connecting to it to display media was just as easy. I first connected my iPhone and went to the YouTube app and started playing the first video that came up. It took several seconds (maybe 10 – 15?) to connect and start the video but once it started it played smoothly. I tried skipping around the video a little bit and it didn't like that very much – it took probably 5-7 seconds for the audio to come back and at least 15-20 seconds to see the video again. 
I also played back some music from my iPhone and it sounded as good as it should have. I was able to turn off the screen on my Roku TV and just listen through my external speakers. I heard one slight glitch in the audio while testing music playback. While not ideal this is not an unusual thing for any kind of wireless listening or viewing experience so I don't count it as a negative toward the SC01.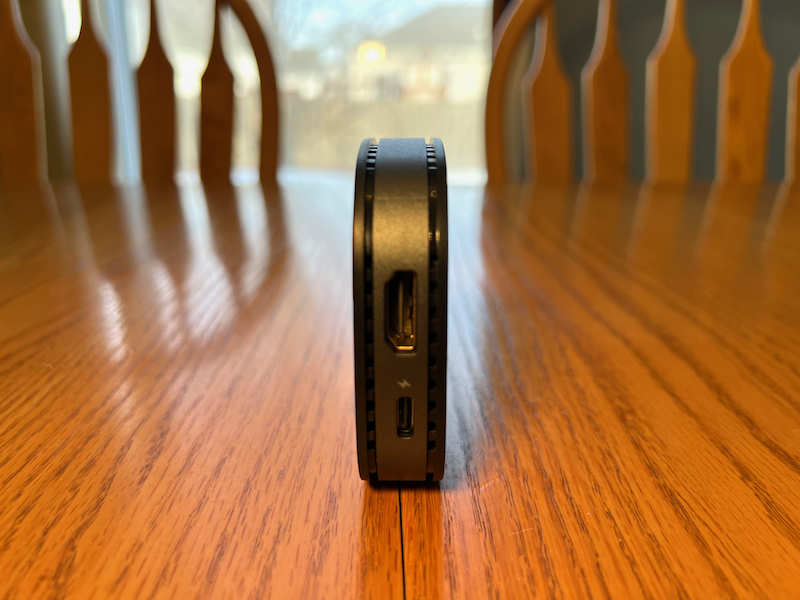 Connecting to the SC01 from my MacBook Pro was just as easy. It showed up as a destination under Screen Mirroring just like my AppleTV and Roku TV do. Everything worked as expected here as well. There was just a slight lag (maybe 1/4 – 1/2 second) when I moved things around on screen. Playing video was as smooth as it had been from the phone, though. It's normal to expect a slight latency when casting video to a wireless device like this and it didn't seem any worse than the lag I see when I connect via any other method other than an HDMI cable.
The Windows laptop in my office was able to see the device as a Cast destination and connected just as easily as a Mac would connect via Airplay. The video playback through the ProScreenCast SC01 Miracast Dongle was smooth and everything worked here as expected.
The last device I connected to the SC01 was my Google Pixel Android phone. Once again the device connected quickly and both screen mirroring and video playback were smooth and reliable.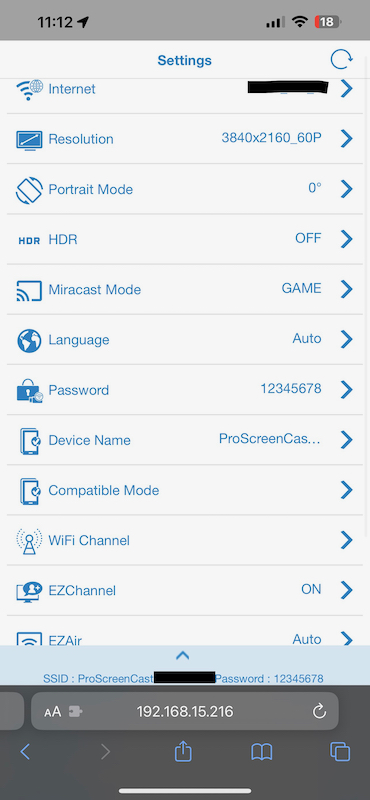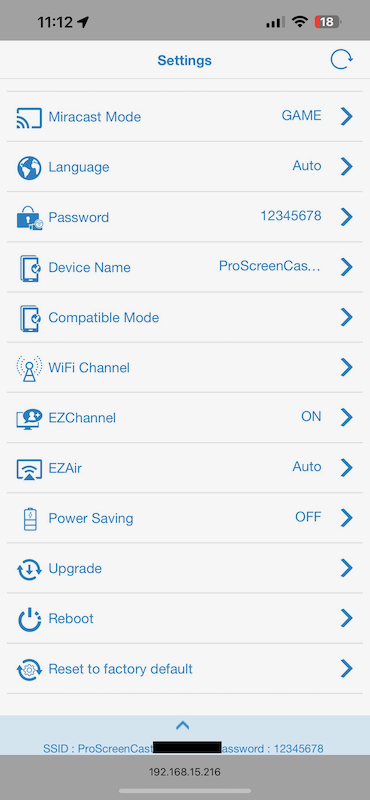 Just for fun, I tried playing back video from Netflix and Amazon Prime from my phone and, as expected, it didn't work. It says on their site that this won't work but I hadn't read that far ahead yet. 
One confusing thing happened after I upgraded the firmware. When I first connected this to my TV and WiFi network I was shown a list of videos I could watch by scanning a QR code. After the firmware upgrade this option never came up again. I'm not sure where this content came from or if I would have even wanted to watch what was being offered but I wonder where the options went.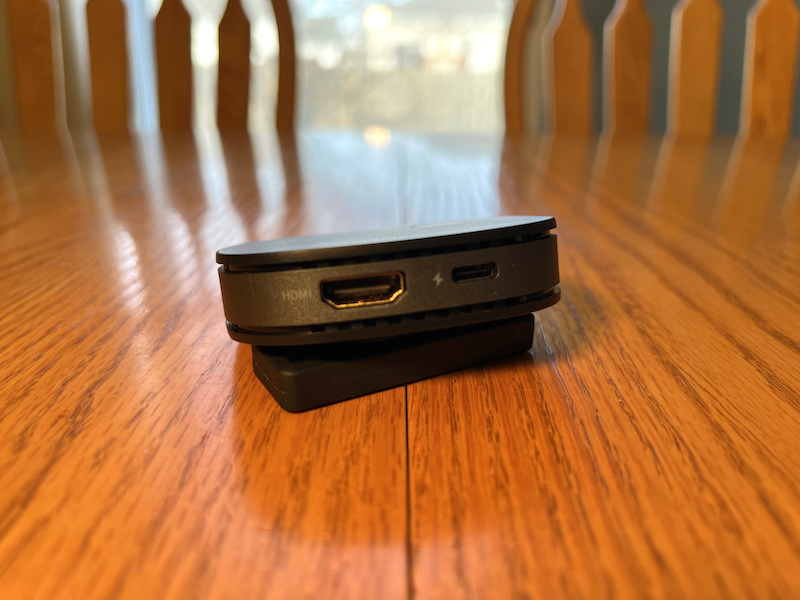 What I like
Very compact and lightweight
Helpful instructions – printed, on-screen, and online
What I'd change
I'd like a version with ethernet
Final thoughts
All in all, the ProScreenCast SC01 Miracast Dongle is a great device for sending video from a wide variety of devices and operating systems to just about any TV or projector you would want to show it on. If you don't want to pay for an AppleTV or you work in a mixed environment, or you don't want other apps getting in the way, this is a perfect option for viewing video from just about any device you may come across.
Price: $69.99
Where to buy: proscreencast.com
Source: The sample for this review was provided by ProScreenCast. For more information visit their site.