We use affiliate links. If you buy something through the links on this page, we may earn a commission at no cost to you. Learn more.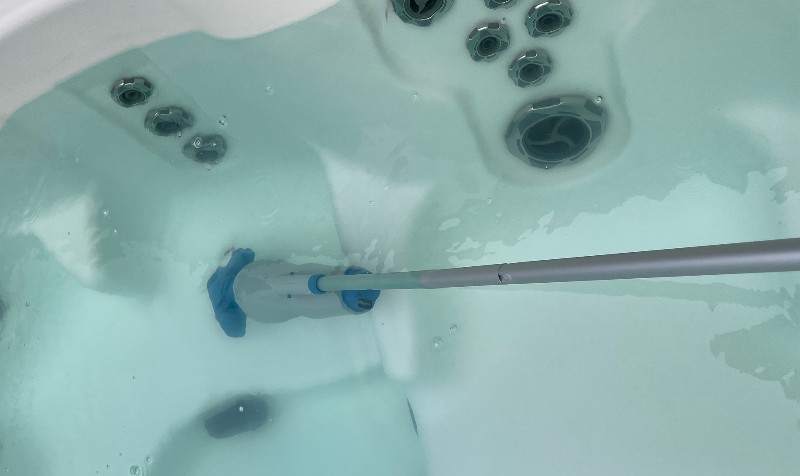 REVIEW – To clean our pool, we have both a vacuum that attaches to our pool pump and a corded robot vacuum. But when we got an 8-seater hot tub, we weren't sure how to clean it… short of draining it and scrubbing it by hand. When I saw the KOKIDO XTROVAC 110 pool vacuum, it seemed to fit the bill as a solution to keep the spa clean without draining it so often. We decided to give it a try.
What is it?
The XTROVAC 110 by Kokido is a small, cordless, rechargeable cleaner for a small pool or spa. It comes with a small pole or fits standard-sized poles for pool-cleaning tools.
What's in the box?
KOKIDO XTROVAC 110 pool vacuum and reusable filter
Two brush heads
A charger
Manual and info sheet
Mine also included a page of letter/number stickers (I'm not sure why!)
Hardware specs
Brand: Kokido
Model: XTROVAC 110 2022
Color: Gray
Dimensions: 19.69 x 7.09 x 5.91 inches (LxWxH)
Weight: 2.58 lbs
Power source: Battery
Flow rate: 7.7 gallons per minute
Debris collection: Holds 0.1 gallons of debris
Pole reach: 1.3-5.9 ft (comes in 5 sections)
Maximum operating depth: 2 meters/6.5 feet
maximum water temperature: 5 C/41 F to 42 C/107.6F
Design and features
When the KOKIDO XTROVAC 110 pool vacuum arrived, I told Julie it reminded me of a Dustbuster for my pool. And it still feels that way!
It's smaller and lighter than I anticipated (less than 3 pounds!), especially compared to my other pool-cleaning tools, which are bulky and cumbersome.
Setup
The setup for the KOKIDO XTROVAC 110 pool vacuum is very simple. You just put together the pole, which comes in 5 pieces and easily slides together.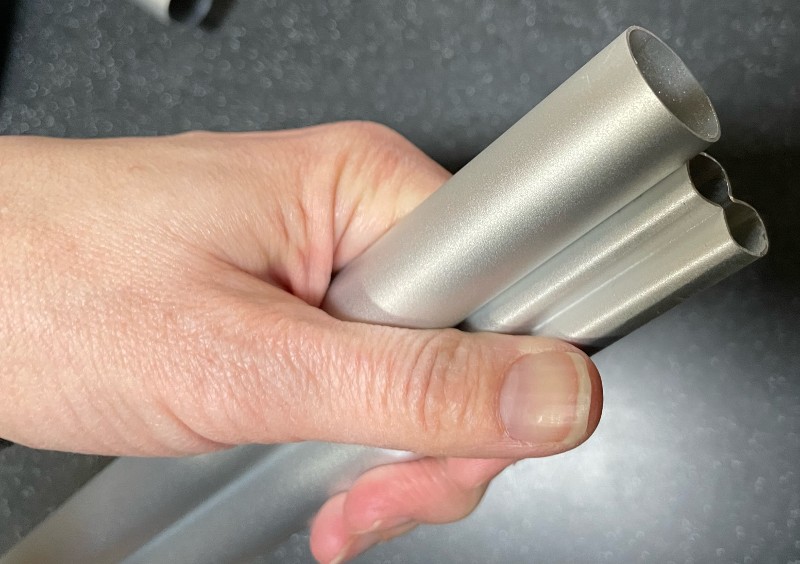 Then you pick one of the two brush heads.
One of them is larger and has rollers and a swivel.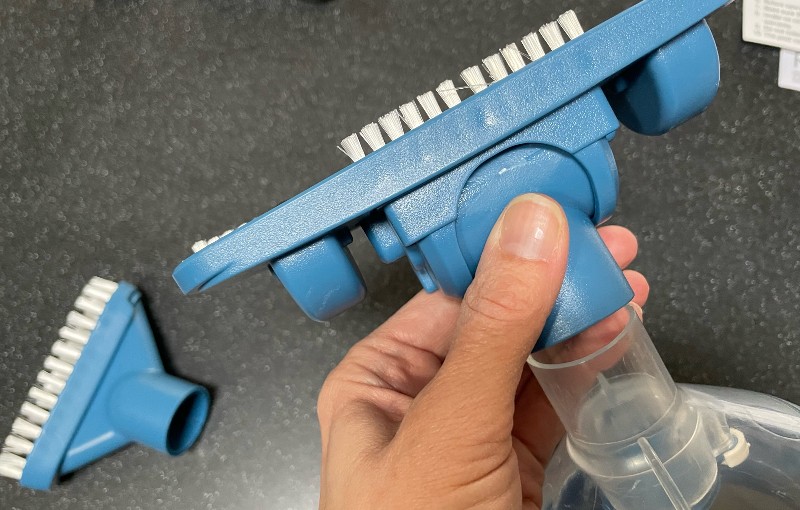 I actually prefer the smaller, simpler brush head, because it fits better in the tight nooks and crannies, and especially in the narrow spot between the edge of my spa and one of the filters on the floor.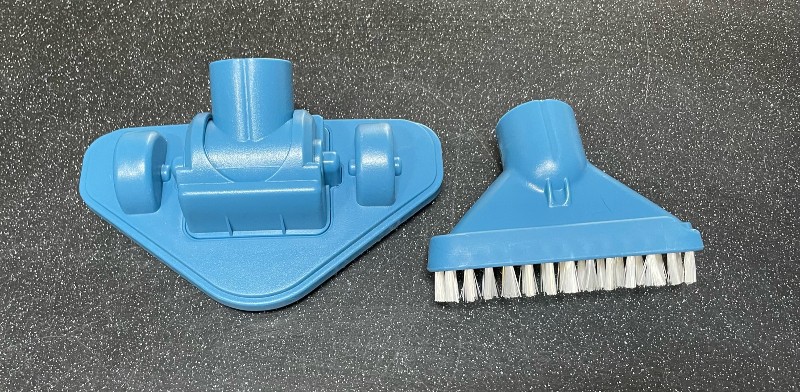 Performance
Operating the KOKIDO XTROVAC 110 pool vacuum is a bit unusual. You spin the circular dial piece at the very back to reveal the charging port. You have to check, while it's charging, to see if the light is red (needs charging) or green (done charging).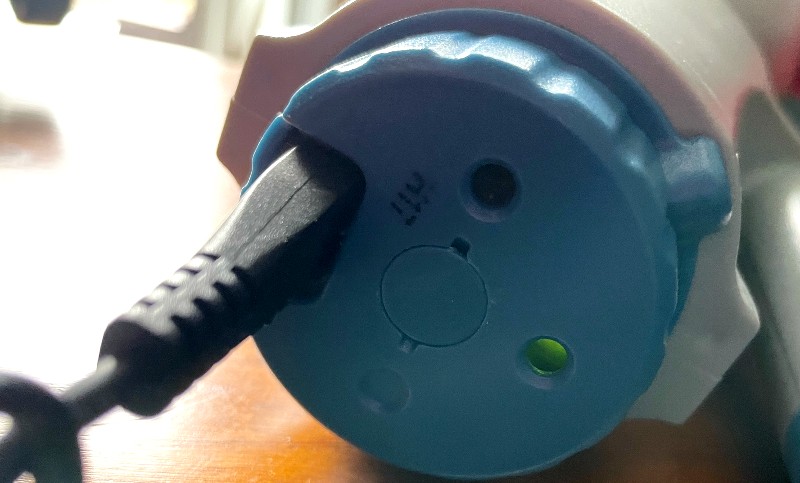 It takes 4.5 to 6 hours to reach a full charge, and the first time using it you need to charge it for a full 6 hours.
When it's completely charged, you simply unplug and turn it so the charging port is covered and the waterproof sensors are visible. And that's it! There's no on/off switch or any settings.
Once you twist the vacuum into the pole, you're ready to go.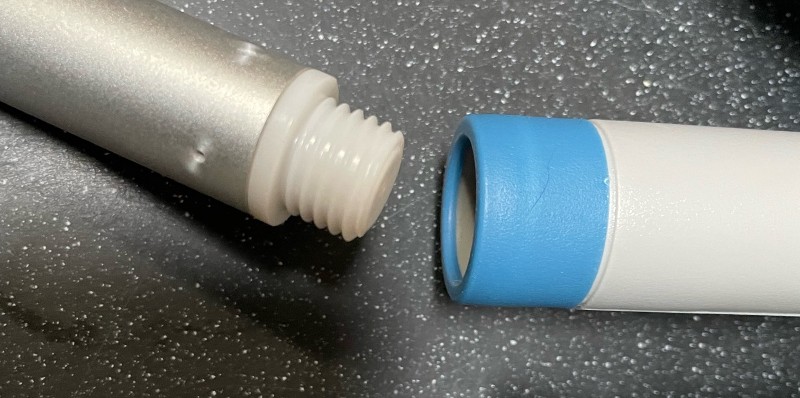 When the sensor hits the water, the vacuum starts working.
I noticed immediately that the KOKIDO XTROVAC 110 pool vacuum might be tricky for cleaning pool steps, which was originally one of the places I anticipated using this because the water needs to be deep enough to activate the sensor to turn on the vacuum.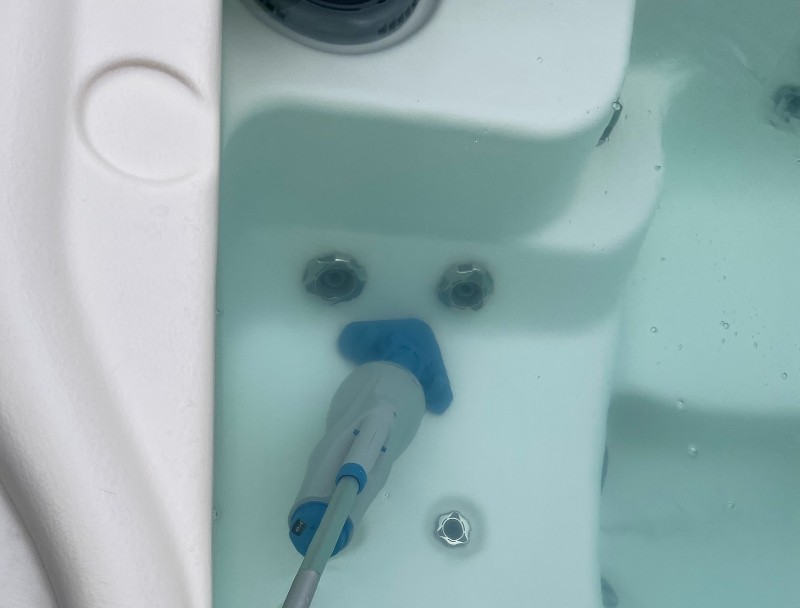 Even to clean the seats of our hot tub, there isn't much clearance, and we have to angle the pole enough to keep the vacuum submerged.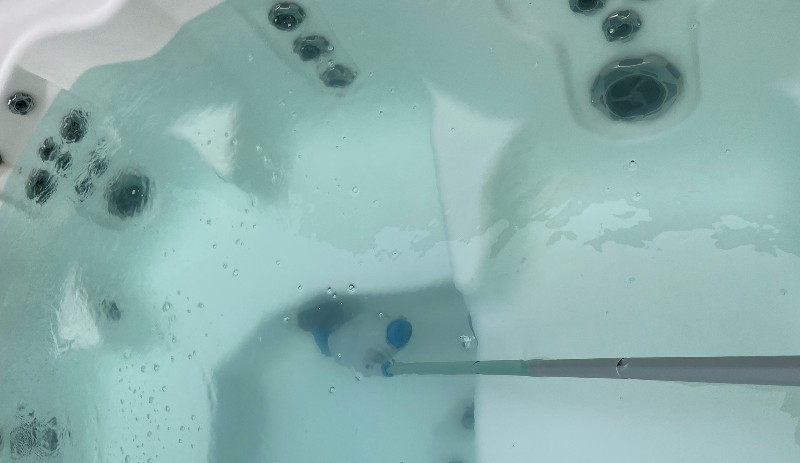 The first few times I used the KOKIDO XTROVAC 110 pool vacuum, I thought it might not be working (it's very quiet), or that I was doing something wrong. What I learned is that the battery life is short. And it's not easy to check. There's no indicator that it's running low. To check the battery, you need to pull it out of the pool/spa, let it drip dry a little, unscrew the pole, bring it inside, dry it off some more, turn it to the charging port and plug it in, and check the light.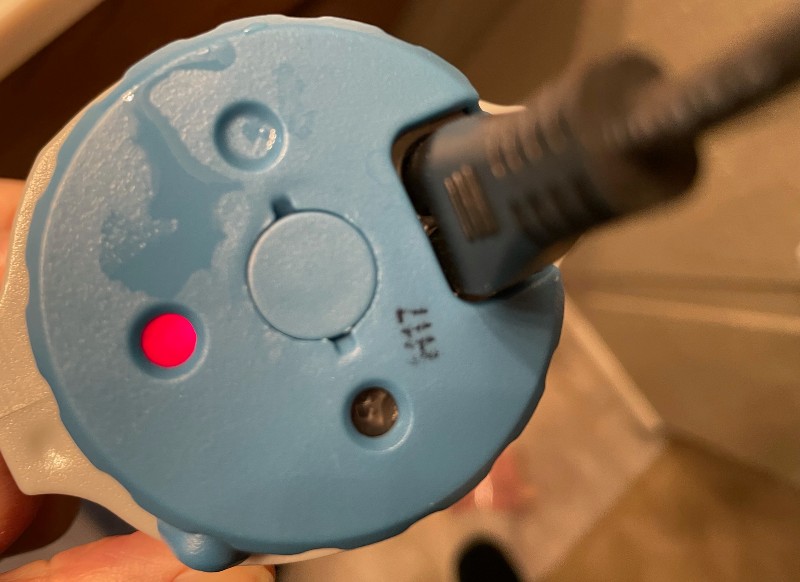 Even after a quick clean-up, for me, the light would show red every time.
But I could check the filter and make sure that it was doing something… and it was.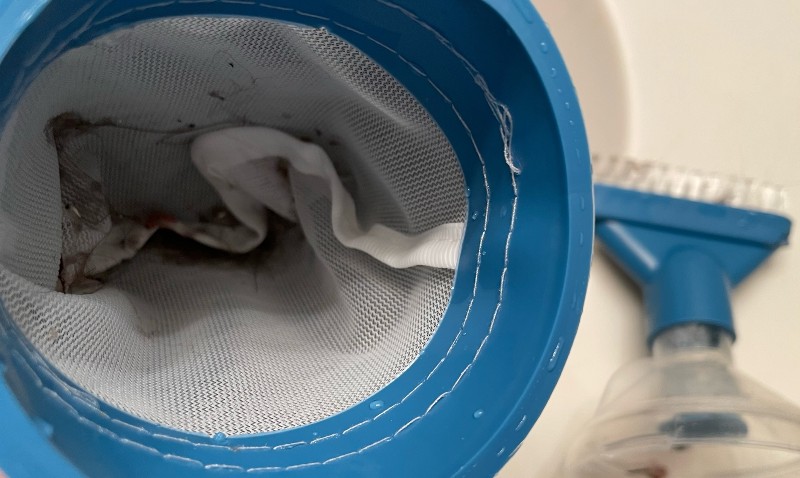 Ultimately, the KOKIDO XTROVAC 110 pool vacuum was perfect for sucking the grime and debris from the hard-to-reach filters at the bottom of my hot tub. And that's helpful and saves us from emptying it so often.
I can also see this being handy to have around when our pool is open for the summer. I expect to use it for quick clean-ups when I don't have the time to run a full cycle with the robot vacuum. I think it would work well for collecting the little bits of decomposing leaves or pine needles that are hard to grab with a pool net, or I could use it to tidy up the bottom steps or corners of the pool where crude gathers.
What I like
Cordless and easy to use
Reaches tight spots
What I'd change
A battery level indicator would be hugely helpful
Longer battery life
Ability to operate in shallower water
Final thoughts
For spot cleaning or for a very small, even inflatable pool/spa, the KOKIDO XTROVAC 110 pool vacuum could stand in for a much more expensive pool vacuum. But for anything bigger, requiring more thorough cleaning, stick with the traditional pool cleaners.
Price: $89.00
Where to buy: Amazon
Source: The sample for this review was provided by Kokido.