We use affiliate links. If you buy something through the links on this page, we may earn a commission at no cost to you. Learn more.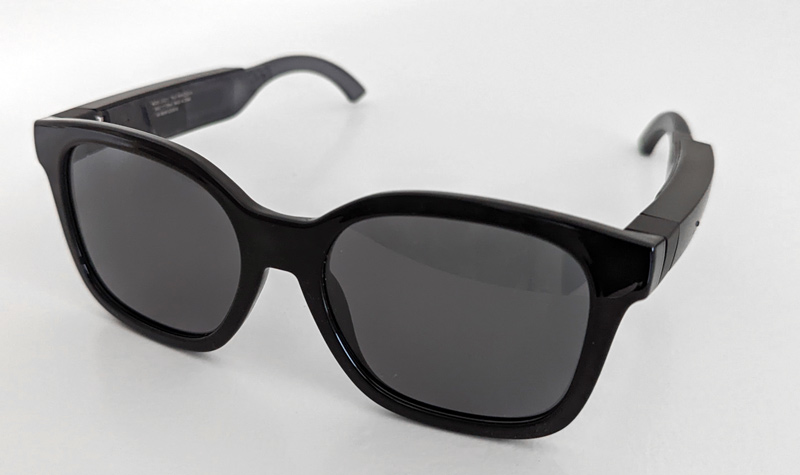 REVIEW – I have reviewed lots of headphones, earbuds, and audio speakers here at the Gadgeteer.  I listen to music everywhere… at home, in the car, in the outdoors, in the office… so I love having options of ways to listen to music. I also have to have prescription eyeglasses for reading, which I do all day.  So the idea of having a gadget that gives me my prescription lens and includes audio features seemed pretty compelling. Enter the $129 LeMuna True Audio glasses.  Let's check them out!
What is it?
The LeMuna True Audio Glasses are a pair of audio glasses that has built-in speakers and mics to enable you to listen to music and answer phone calls.
What's in the box?
The LeMuna True Audio Glasses frames (called the 'Theia'), the clear blue-light blocking frame (called the 'Soter'), a cleaning cloth, a folding glasses case, a USB charging cable, and an instruction booklet.
Hardware specs
Model: Myth 1
Size: 6.3 in x 6.2 in x 2 in.
Weight:  1.8 oz
Battery: 220 mAh (110 mAh per arm)
Bluetooth:  200 ft max range
Charging time:  1.5 – 2 hrs
Play time:  10 hrs listening to music, 8 hrs making phone calls
Water-resistant: IPX4. Splash, rain, and sweat proof, but can't be submerged
Warranty:  18 months

Design
There are already some compelling competitors in this tech space, and each comes with pros, cons, and some trade-offs, and the LeMuna True Audio Glasses are no different.  Right now all the gadgets in this category are going to have some similar things you notice right away. You'll see really thick arms (to hold all the tech, of course), and you'll notice quickly that almost all of them are not regular glasses. So the tech hasn't advanced (yet) to the point where these gadgets are thin enough to get away with looking normal. That will change over time, I am sure, but if you get one of these things get ready to turn heads. The audio delivery on all these smart glasses is also generally referred to as 'open ear' design in most cases because you don't have anything that is inserted into your ears. The speakers generally are located in the arms of the glasses and positioned right above or behind your ears.
What I discovered when looking at the other products that have similar features is that the LeMuna True Audio Glasses are pretty competitively priced at $129, for a couple of reasons. First, that price includes both a sunglasses frame (called the 'Theia' frame) and a clear blue-light blocking frame (called the 'Soter' frame).  You have to buy 2 frames with other products if you want both, and the LeMuna comes with both for that one price. And that leads me to the second reason that I think the LeMuna glasses are setting themselves apart: The arms on the glasses are easily removed so you can attach whichever of the 2 frames you want to use. A simple twist of each arm removes them from the frame and easily attaches to the other frame.  It's actually pretty cool. And when you aren't using one of the frames you simply store it inside the included glasses case.
The LeMuna True Audio Glasses are very sturdy and the arms are nice and tight on the frames and it feels really solid when you are twisting and removing them. They also give you the option of purchasing prescription lenses if you want, in place of the 'Soter' frames.  I did this option because I wanted to use them in the office as I worked on my computer all day. The additional price for the prescription frames varies depending on what type of lens you need, but a general price range is between an additional $50 to $130. So that increases the total cost to between $179 and $259 if you go with a prescription lens.  NOTE: if you want to order the prescription lens, you go here on their website and they give you a quote: https://lemunaglasses.com/products/prescription-lens
The arms on the side of the glasses are where all the tech is located. When you open up the arms they automatically turn on and pair with your phone, with audio prompts telling you what's going on.  And when you are done using them you simply close the arms and they automatically turn off. The touch area for controlling all the functions is located on the temple of each arm, right next to the frames.  (See picture below) There are 2 mics on each arm, which you can also see in the picture.  And there is a speaker on the bottom of each arm which ends up sitting right above the entrance to your ear canal.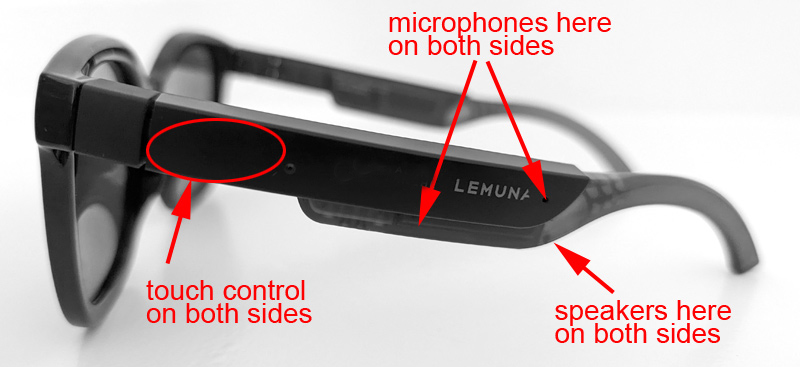 I wanted to mention something that will be pretty noticeable when you open the package.  The LeMuna True Audio Glasses frame is pretty darn big.  When I put them on and turned to my wife she remarked how they looked like women's glasses.  And when I handed them to her and she put them on, I agreed with her.  They looked much more appropriate for her. Here are some pictures of the glasses on my head with the sunglasses frame, then the prescription frame, and then the third picture is with my normal reading glasses. Then I put a side-by-side picture of the Lemuna with my regular glasses.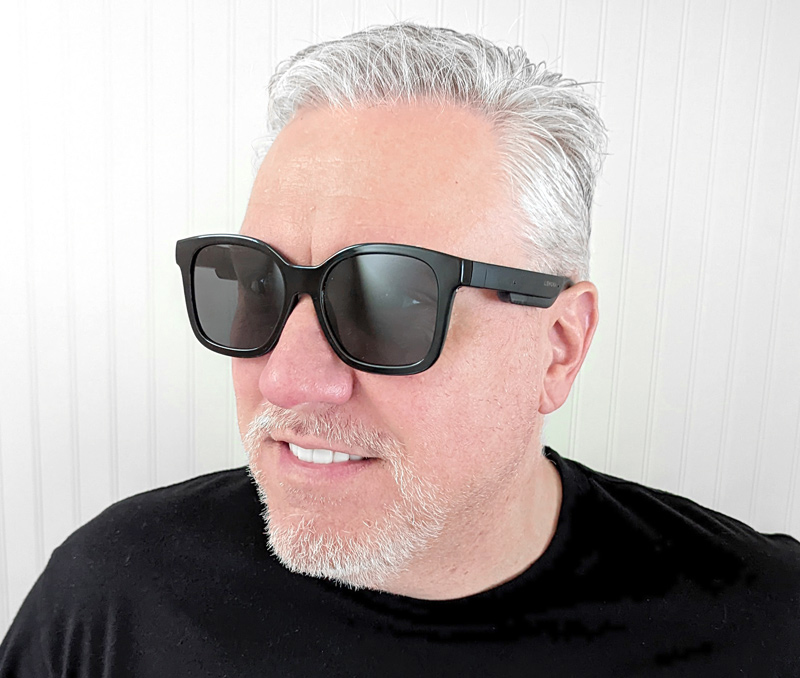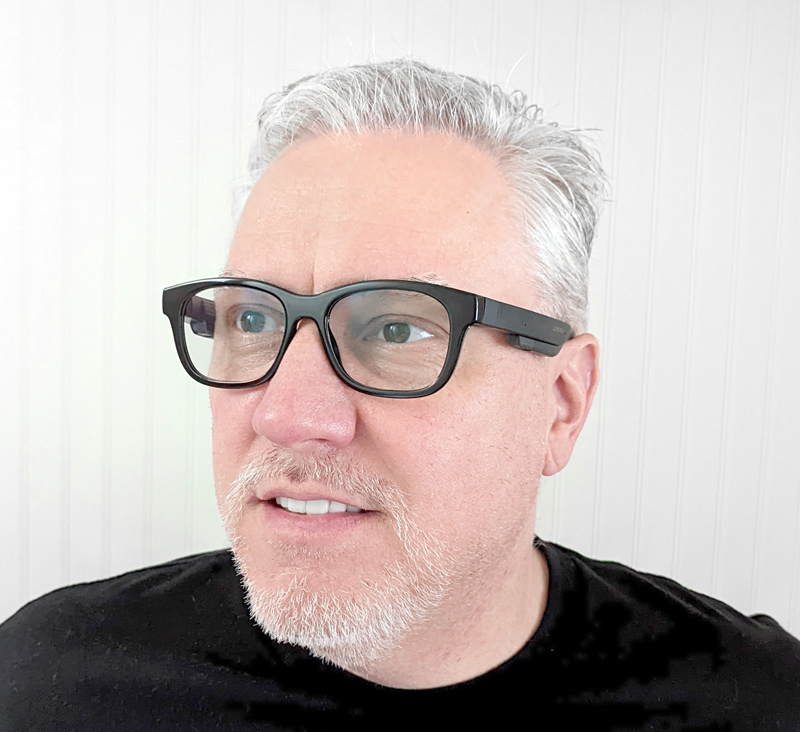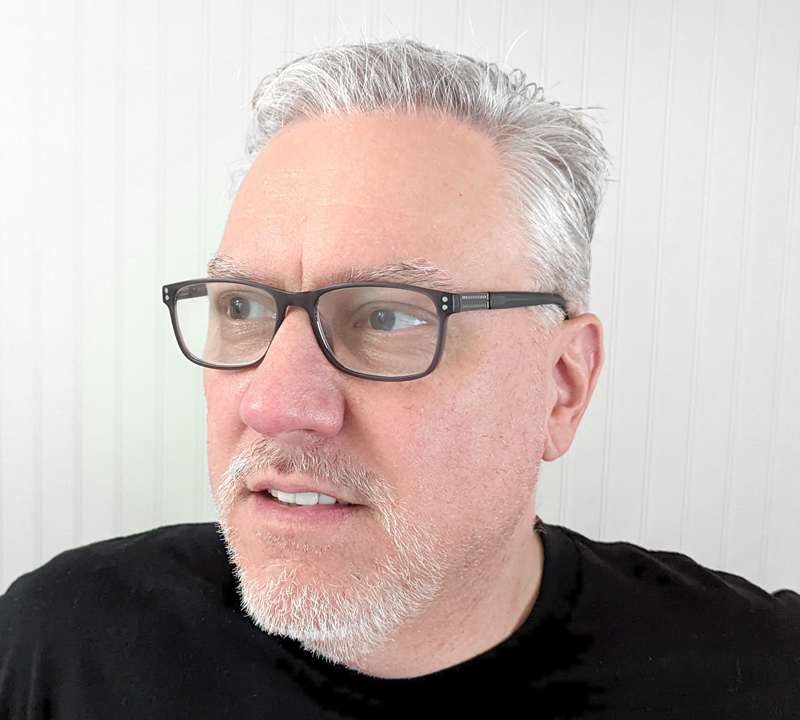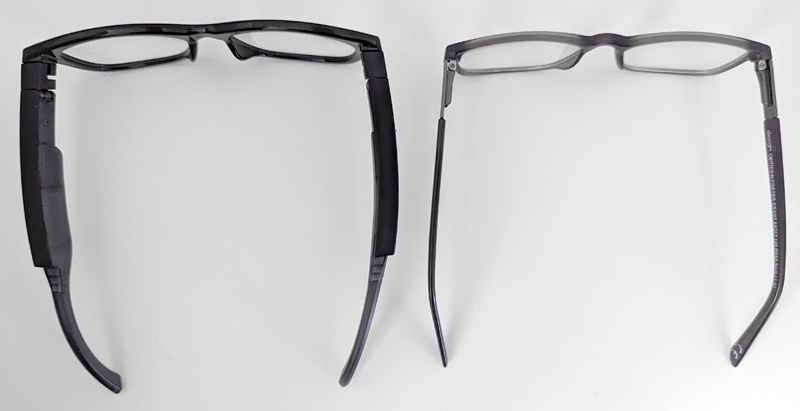 You'll notice that the LeMuna True Audio Glasses frames are a bit oversized for my head, although some folks could argue that I am just being fashion-forward I suppose. Some guys could probably pull it off, but I don't think it quite suits me. The prescription frames are a little bit smaller as you can tell and are closer to the look that I get when I wear my regular reading glasses, but are still somewhat thick. I reached out to LeMuna and asked about this and they confirmed to me that they have received the same feedback from others and they are currently working on some different style frames that will be more suited for men's styles.  This is good news, although I would have expected the main market segment of consumers for this type of product would be men and LeMuna's initial design would have been geared toward men.  But I could be wrong about that.
When I was wearing the glasses I had a pretty much universal reaction from others who saw me wearing them: 'hey, what are those glasses?' So these glasses won't pass unnoticed and, just like many of the other products in this space, they look a bit geeky/techie. Honestly, it would be nicer if the arms weren't so thick and noticeable and people thought that they were just normal glasses, and as I mentioned before I imagine as each generation of tech evolves the arms will become thinner, more resembling a regular set of glasses.
The padded carrying case that comes with the LeMuna glasses is pretty unique. When not in use it folds completely flat, and expands to a triangle shape when you are ready to put the glasses away. It also has a magnetic flap to keep it securely closed. The charging cable is also unique, so it will be important to take care of this charging cable because a regular USB charging cable won't work. Each end of the cable has small round magnetic connections that attach to each arm of the glasses.  Here are pics of both: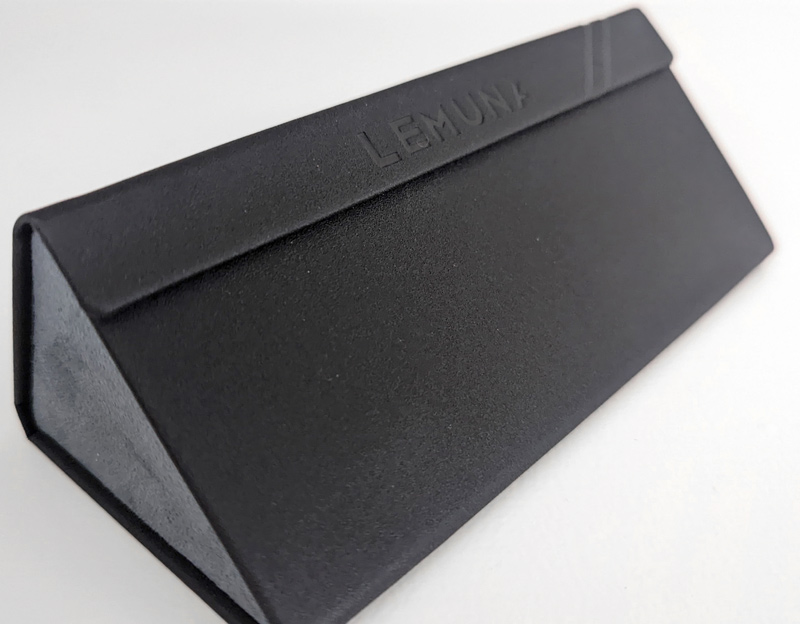 Performance
When accepting calls with the LeMuna True Audio Glasses, they operate just like any other Bluetooth headset would. And I will say that the call performance with the glasses was quite good. In my testing I got good feedback from everyone on the other end of the line, with no complaints, with 1 exception: if I had the volume turned up too high in my Bluetooth audio settings then the sound coming out of the speaker on the underside of the arm was picked up by the mics on the arm, causing the person on the other end to hear an echo. You can see in the annotated picture above how close the mics are to the speaker. So the only solution to remove the echo was to turn the audio down on Bluetooth, which worked. But there were some callers on the other end who weren't speaking loud enough for me to hear clearly when I turned the sound down, so you have to be aware of that.  It's a tradeoff I would say. In general, I had better success making calls in my office environment, which is pretty quiet.
As far as listening to music, the LeMuna True Audio Glasses worked well. I will admit that if you are used to listening to music through headphones or earbuds and getting some deep, rich sound, the LeMuna glasses will take some getting used to. The whole point of these glasses is to provide you with the ability to listen to what's going on around you and be aware of your surroundings while listening to music at the same time.  And in that regard, they work as designed. But again, it's a tradeoff. You can turn the music up loud if you want to get better sound, but when you do that then it is quite noticeable to those around you. They can clearly hear what you are listening to, or listening to the person on the other end of the line if you are having a phone conversation. So you have to be aware of that as well.
When it comes to battery life, I experienced pretty much what the manufacturer promotes.  It takes me about 2 hrs to fully charge the glasses and I can easily get a full day of use out of them, getting at least 8 hrs of listening and phone calls.
I do have some wishes with the LeMuna True Audio Glasses.  I wish that the audio coming out of the speakers wasn't picked up so much by the mics when I am on phone calls.  It isn't a huge deal for me since I use them in a quiet office with just me there, but that is one thing I would change. I also wish that the arms were made of softer materials instead of hard plastic.  At the end of the day, the area of my head behind my ears where the end of the arms presses against gets a little sore.  Not painfully soar, just a little soar. I am guessing that over time as the glasses get more use and I open and close them hundreds of times, that will go away. And I should also mention that the bridge of the glasses that rests on my nose is comfortable and causes no long term discomfort for me like some other glasses can do.
What I like
Easily swappable frames
The prescription option is a big plus
Great touch controls
What I'd change
The frames are a little bulky and noticeably thick
I want more frame choices
Less audio pickup by the mics
Arms made of softer materials to save wear on the ears
Final thoughts
I think that in order for the LeMuna True Audio Glasses to work for you, you will have to be aware of the best use cases because I don't think that they will really work in every situation.  I use them in 2 different ways.  The first one is when walking the dog. I like to listen to music when walking the dog, and the ability to hear what is going on around me is a big plus to avoid getting hit by a car.  I am also usually alone when walking the dog, so having others around me able to hear my music isn't that big of a deal.  The second way I use them is in the office every day.  I need reading glasses to look at the computer screen, and I take phone calls all day.  And while I wait for calls to come in, I listen to music.  With the glasses, the music will stop when a call comes in (or I can simply tap them to pause it), and I am alone in my office so I don't have to worry about others hearing my conversations. If I worked in an open, busy office with lots of people around, the main features of the glasses aren't really ideal in my opinion. But for the price, you get a lot. I found where they fit in my life, and I love that I can get a prescription lens. I don't mind (at least for now) wearing a sunglasses frame that is more suited for my wife.  I can deal with her teasing! But I will be looking out for LeMuna to release a sunglasses frame that is more my style.
Price: $129 (plus an additional charge to add a prescription lens)
Where to buy: Amazon or LeMuna.
Source: The sample of this product was provided by LeMuna.