We use affiliate links. If you buy something through the links on this page, we may earn a commission at no cost to you. Learn more.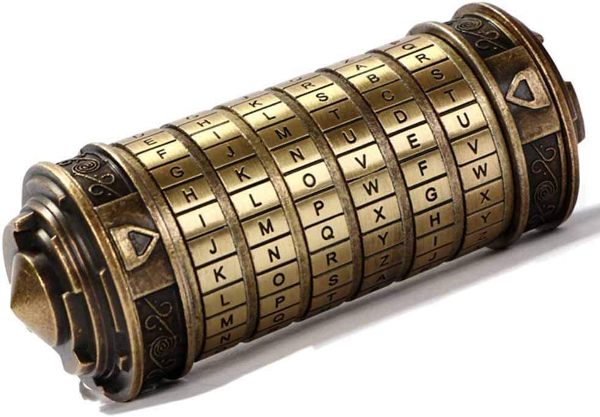 NEWS – Every now and then, I stumble upon some interesting things on Amazon. This Da Vinci Code Mini Cryptex Lock by Rainling is a really cool-looking metal lock cylinder. It measures about 1″ in diameter and 3″ long. The default password is "ILOVEU" but it can be changed to whatever you can come up with that will use six letters. The cylinder is made up of six rings of letters that you can slide off the inner cylinder to set a new password. You can hide small items inside it like jewelry, key rings, notes, etc. (Note: Some Amazon reviewers have said that the rings can be a little difficult to rotate, but others didn't have any trouble.)
If you want to make your gift-wrapping a part of the excitement of gift-giving this holiday season, then this is ideal! You can find the Da Vinci Code Mini Cryptex Lock on Amazon for $28.99. And be sure to check out our awesome gift ideas.