We use affiliate links. If you buy something through the links on this page, we may earn a commission at no cost to you. Learn more.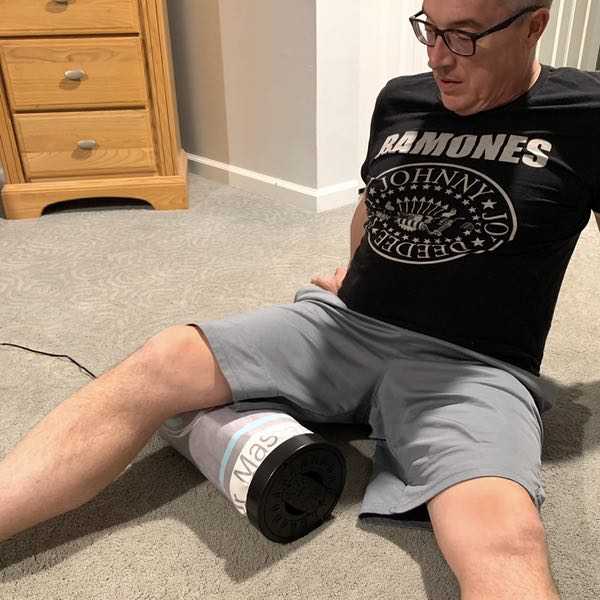 REVIEW – What are you using for muscle recovery after your workouts? A foam roller? A Massage gun? A heating pad? The Dr. Massage Serenity Auto Fitness Roller combines all three in a single device for relieving your aches and pains. To the review!
What is it?
The Dr. Massage Serenity Auto Fitness Roller is an electronic fitness roller that combines shiatsu-style massage, vibration and heat in one device.
Hardware specs
Patent-pending auto motion technology
Heat and vibration options.
Lithium ion rechargeable battery (up to 3 hours of battery life between charges)
Stall force limit of 66 pounds (auto shutoff for safety)
6 pounds, 9 ounces total weight
15.5″ long by 6.5″ diameter
9′ long adaptor/power cord
Design and features
The Dr. Massage Serenity Auto Fitness Roller review is a hefty device compared to typical foam rollers, measuring in at 15.5″ long, 6.5″ in diameter and just over 6.5 pounds. A soft, lightly padded surface wraps the cylinder that can be wiped clean but is not removable for machine washing.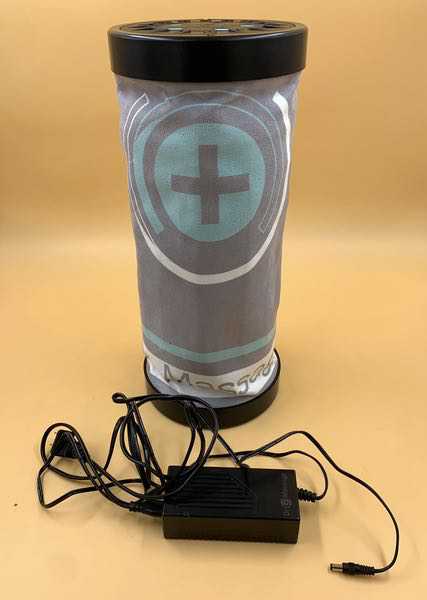 This device uses a patent-pending technology to create a unique massage action. Run your hands along the barrel of the unit and you'll feel a bunch of knobs under the skin that rotates under the surface of the device.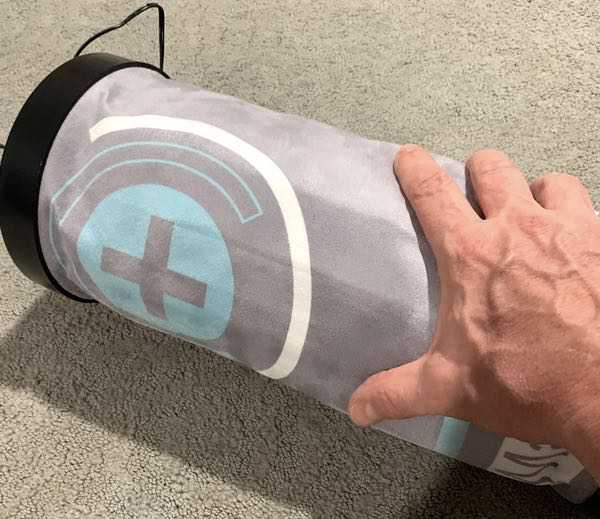 A picture from the Dr. Massage web site shows how those knobs are laid out in an offset pattern that, when rotating, creates an asymmetrical pattern that emulates shiatsu-style massage.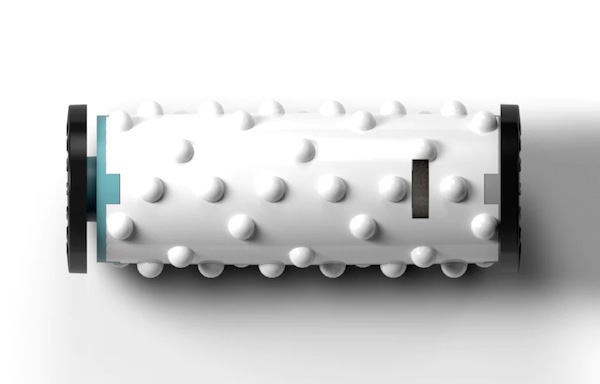 All of the controls for the unit and the adaptor for the power cord are on one side of the device.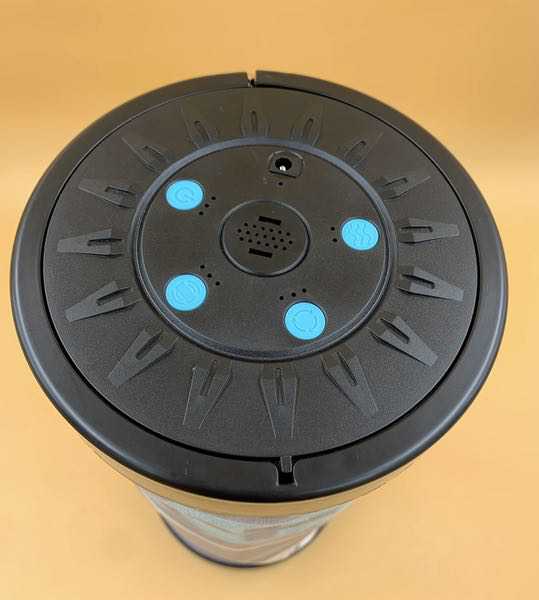 The first button (at the bottom of the pic below) is your power button. You'll push that button to fire up the unit, and the three LEDs indicate the remaining power on the battery. The lithium-ion battery promises up to 3 hours of use on a single charge.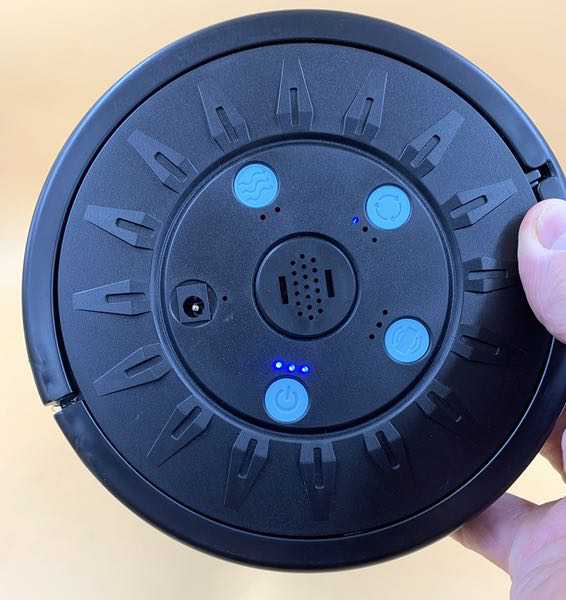 The remaining three buttons control your different massage options. Working counterclockwise from the power button they activate Vibration, "Auto Motion", and Heat respectively. Pressing each button more than once triggers different levels of intensity for that function.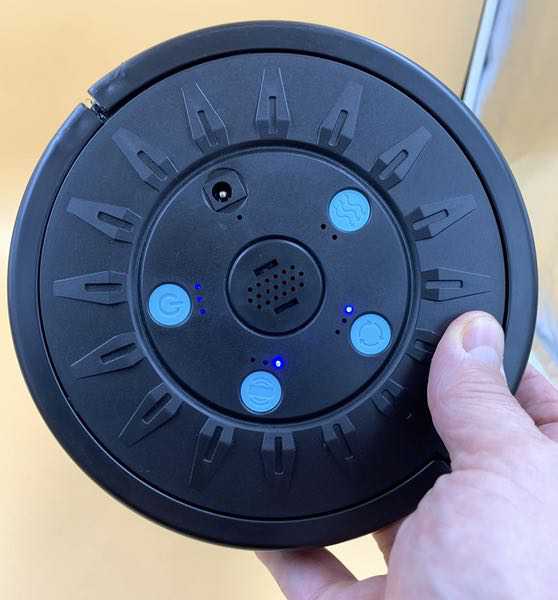 Here's what each option does:
Vibration mode creates intense vibrations throughout the unit. You can press this button to toggle between low, medium and high intensity vibrations.
The Heat mode is only available if the unit is plugged in. Toggling this option allows you to select between two heat levels.
The Auto Motion option starts those knobs rotating under the skin of the device for the shiatsu massage. The first level is a slow and steady speed. The second level uses a rapid speed with intermittent pauses to create an intense pulsing action. The third level uses a rapid rotation speed for a steady, intense massage.
You can use any combination of these different massage modes and different intensities together to create a variety of massage experiences. The LEDs under each button indicate your various levels of intensity.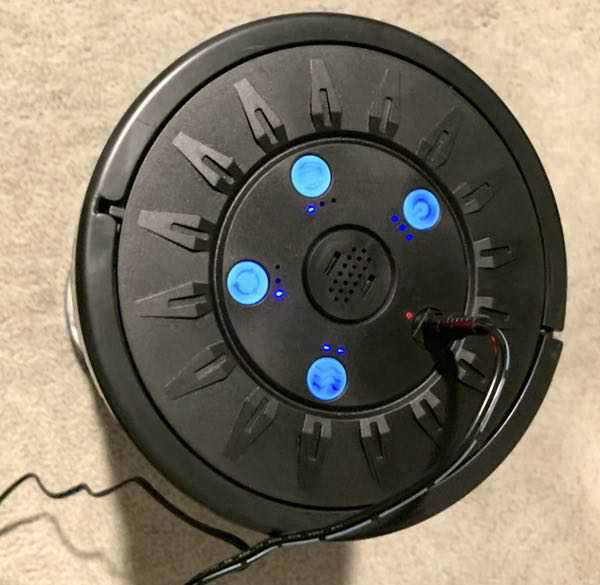 The Dr. Massage Serenity Auto Fitness Roller doesn't seem to have any predetermined time limits for any function; they'll run until you turn the device off or the battery runs out. There's also a 66 pound weight limit on the device itself for that Auto Motion massage function. Any more pressure than that will cause the Auto Motion to cease functioning (vibration and heat do continue to work).
Performance
One of the key marketing points of the Dr. Massage Serenity Auto Fitness Roller is that it requires no work on your part. You turn it on, pick your settings, and position it where you need it. It requires a different approach than the traditional foam rollers I'm used to.
The biggest adjustment is NOT applying your body weight to the treatment. Here my son is demonstrating a calf muscle massage, which is pretty straightforward.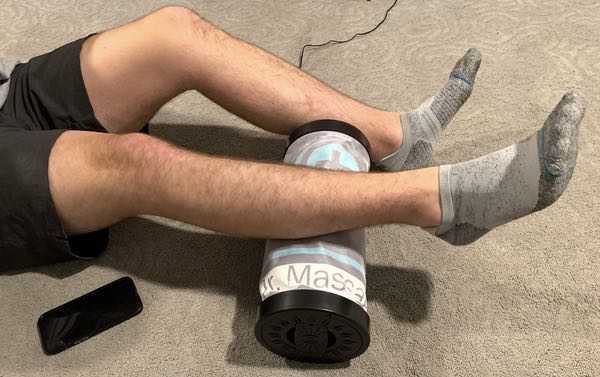 Moving up to a hamstring massage, however, requires you to be careful not to put too much body weight on the device is you're a bigger human as the additional weight will shut down the unit.  You'll need to apply some stability from your foot to make sure you're not dropping all your weight on the roller.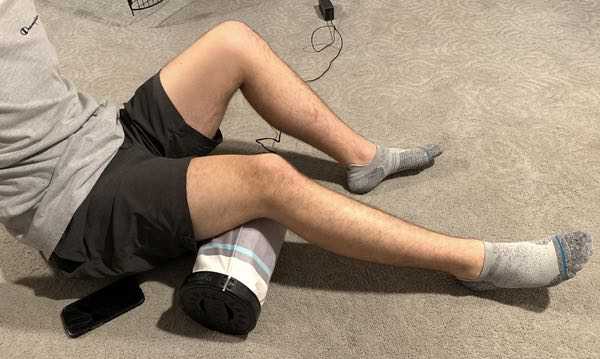 Here's a demonstration of a lower back massage where, once again, you need to be careful not to lean back too heavily or you'll shut down the device.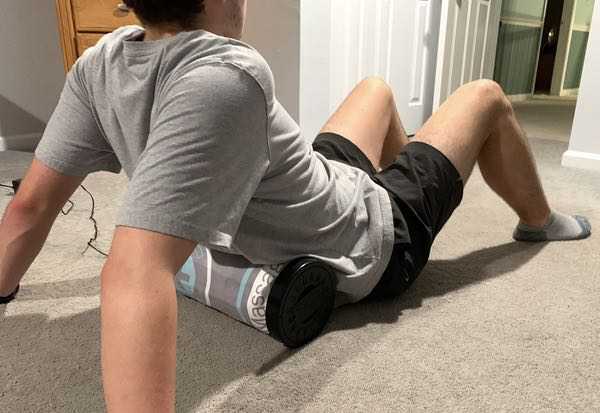 The roller also has a tendency to slide out in this position. It actually works better if you position it against a wall or the and of your couch to keep it from rolling out.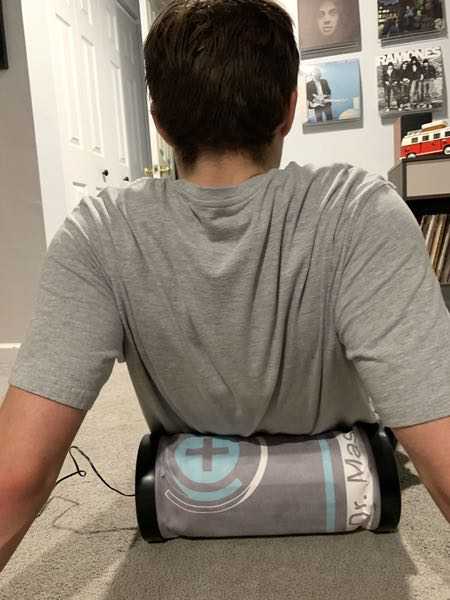 While that takes a little getting used to, the actual massage functions are fantastic. I didn't find any of the vibration modes to be uncomfortable (even at level three!), and the two levels of heat are marvelous. While the roller is pretty thick the 15″ width gives you ample room to find a comfortable position.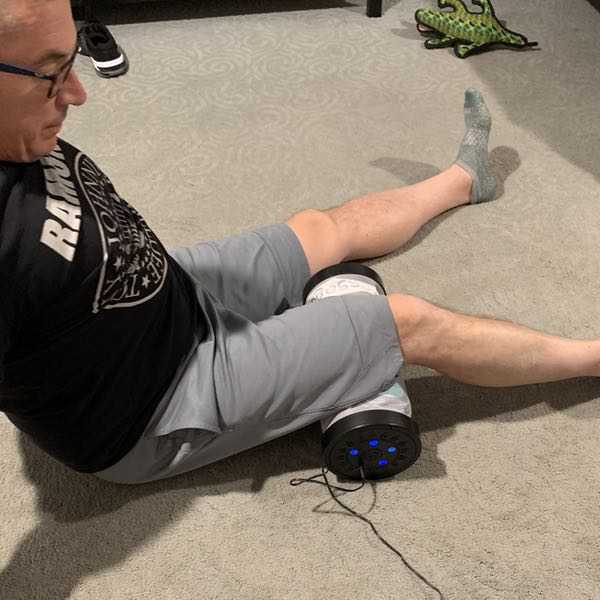 The shiatsu massage function is no joke. It's intense at the lowest setting, and gets particularly aggressive at the higher levels. If you're looking for a deep-tissue style massage you're going to find that it gets the job done nicely. The ability to augment that with vibration and heat is marvelous for some extra punch, or you could drop the auto motion and just use the vibration for more sensitive muscles. All good for delivering a variety of massage options.
I was even able to get it working on some quad massages. I needed to get up into a bit of a bridge so I didn't put a lot of pressure on it, but I could make it happen with some extra work. That auto motion massage felt great in this position.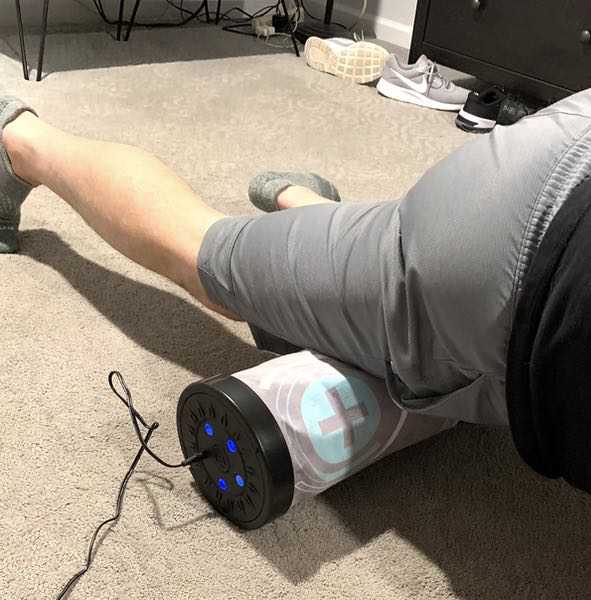 My wife also particularly liked the Dr. Massage for neck/shoulder massages, where she could lay back and position the roller under her neck. We all found it difficult to engage other upper-body massages with the auto motion function, however, because of the weight limit. 66 pounds sounds pretty generous until you lean on it! This is going to significantly impact your experience depending on your body type and how you intend to use it.
While the heat function only works when the device is plugged in, the generous 9′ power cord made this a non-issue for us. I also found that the battery life is pretty accurate as long as you're using the lowest settings. Crank the vibration and auto motion features up to max at the same time and you'll see that battery life drop very quickly.
It's curious that the massager doesn't include any auto-off timer functions. It just goes until you turn it off or the battery runs out. I expected it to have a default time limit (like 5 or 10 minutes), but have run it for 25 minutes or more without it shutting down.
Finally, I found that the button functions could be a little quirky. Sometimes I found that the buttons may require multiple taps to engage. I thought it was just me, but my wife has noticed it as well. It's a minor annoyance, but better hardware would probably solve this one.
What I like
Potentially replaces multiple devices
Delivers an excellent massage
The ability to combine massage options makes the experience even better
What I'd change
Weight limit requires some creative adjustment to get the best use out of the device
Controls can be twitchy
I wish the cover were removable for proper washing
Final thoughts
The Dr. Massage Serenity Auto Fitness Roller is a very clever combination device that delivers some outstanding results, but it feels to me like it could use some refinement to make it truly great. That weight limit requires some creativity to work around the limitations, and the unit could probably use a few finishing tweaks to the controls. The massage is very good, however, if you can work around some of those quirks.
Price: $174.99
Where to buy: Dr. Massage and Amazon
Source: The sample of this product was provided by Dr. Massage.