We use affiliate links. If you buy something through the links on this page, we may earn a commission at no cost to you. Learn more.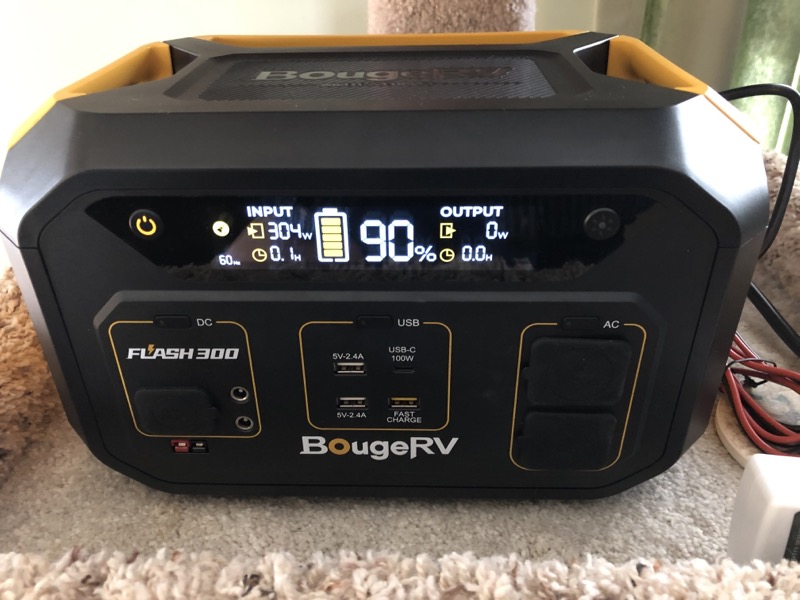 REVIEW –  Where does the BougeRV Flash 300 Portable Power Station fit into the myriad of power stations that exist out there?  Hint, it has to do with the Flash! Let's see what else it has to offer.
What is it?
The BougeRV Flash 300 Portable Power Station is a fast charging power station providing 600 Watts of continuous AC and the standard array of DC ports. Not only is the BougeRV Flash 300 Portable Power Station capable of providing 600 Watts of AC in a pinch, but it is also capable of charging at that very same 600 Watts rate resulting in sub 1 hour recharge times from empty to full.
What's in the box?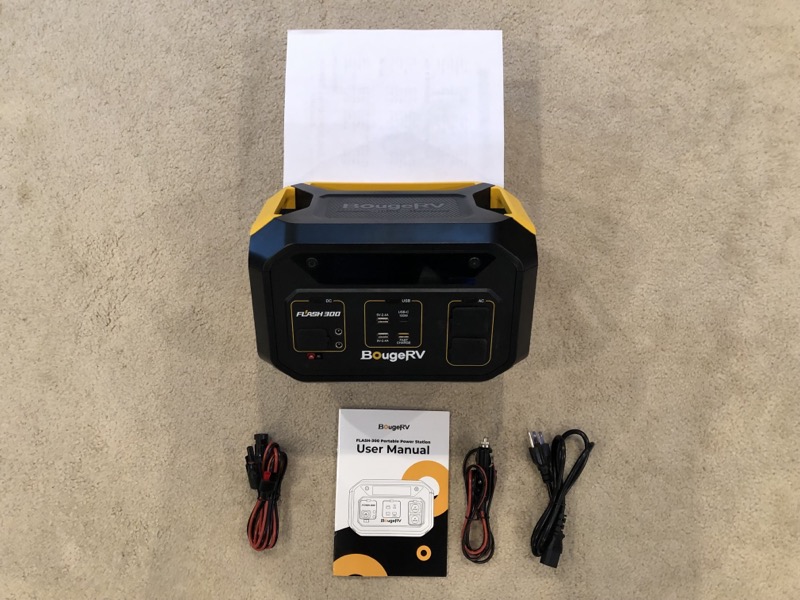 BougeRV Flash 300 Portable Power Station
AC-AC Charging Cable
Car Charging Cable
Solar Charging Cable
User Manual
Hardware specs
Input Ports

AC Charge: 110-115V 600W Max
Solar Charge: 12-45V, 25A, 600W Max
USB C Charge: 20V/5A 100W Max

Output Ports

AC (x2): 50/60Hz Pure Sine Wave, 600W Max
USB-A (x2): 5V/2.4A, 12W
USB-A QC 3.0 (x1): 5V/3A, 15W; 9V/2A, 18 W
USB-C (x1): 5/9/12/15/20V, 5A 100W Max
Cigarette Port: 13.5V/10A, 135W Max
DC 5525 (x1): 13.5V / 10A, 135W Max
Wireless Charge: 5V/3A, 15W Max

Environmental Operational Temperature

Operating Temperature: 32˚F – 105 ˚F
Discharge Temperature: 14 ˚F – 113 ˚F
Charge Temperature: 32 ˚F – 113 ˚F
Storage Temperature: 32 ˚F – 100 ˚F

Battery Info

Cell Chemistry: Li(NiCoMn)O2
Cycle Life: 700+ Cycles to 80% Capacity

General Info

Net Weight: 6.6kg/14.6 lbs
Product Dimensions: 27x18x19 inches
Capacity: 286 Wh
Certifications: FCC, PSE, ROHS, UN38.3
Design and features
The BougeRV Flash 300 Portable Power Station provides 2 AC outputs capable of satisfying a load of 600 W combined.  Both outputs are covered with rubber flaps to help prevent the AC sockets from collecting dust or other debris.
In addition, the BougeRV Flash 300 Portable Power Station provides the full complement of DC outputs, be it a cigarette socket, 5525 (x2), USB A (x3) one of which supports QC 3.0, and USB C with power delivery and even includes a wireless charging deck to allow for wireless cell phone charging.  All power station output sections are individually controlled by switches.  I should point out that the wireless cell phone charging is controlled by the USB switch.
The BougeRV Flash 300 Portable Power Station also includes an integrated multi-purpose LED powered light setup featuring an ambient light – full bright / half bright, flashlight – full bright/half bright and an SOS (blinking) mode.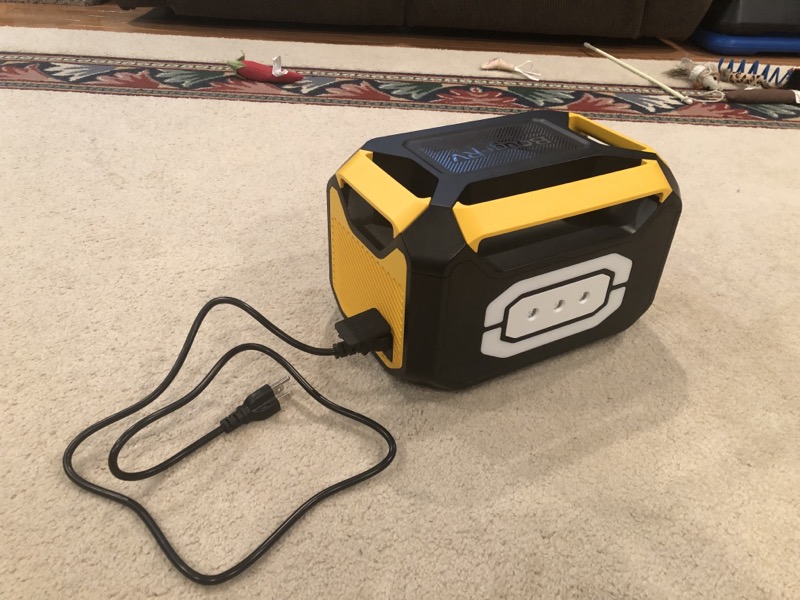 Probably the most unique feature of the BougeRV Flash 300 Portable Power Station is the ability to recharge at a very high rate, both while using the integrated AC charging (brick-less) or the ability to handle 600 W of solar charging.  The fast AC recharge rate is extremely useful, allowing the user to for example take the unit to a coffee shop and recharge it in less than an hour.  I find the 600 W of solar charging a little bit of an overkill given the comparison of solar panel cost to the cost of this unit, since the cost of 600 compatible Watts of solar charging panels is expensive, probably more like 3x the cost of this power station.  That said, it is nice that it can be "plugged" into an existing solar array set up for larger systems and be able to recharge very quickly. Caution, you still need to observe the electrical limitations of the solar inputs before attempting to do this.
I should mention that BougeRV did provide one of their 100 W CIGS (Copper Indium Gallium Selenide) Flexible Solar Panels for limited testing. Note in the following picture that the front Panel is the BougeRV panel.  You can see in the subsequent picture that the BougeRV Flash 300 Portable Power Station's display illuminates the icon which indicates that the unit is charging on solar (MPPT), resulting in 49 Watts on a sunny fall morning. A more complete discussion of the slick flexible solar panel will be provided in a separate review.
One interesting characteristic for the BougeRV Flash 300 Portable Power Station is the battery size for this unit. It checks in at a modest 284 Wh. This smaller battery makes the unit more portable (less weight and size) and obviously cheaper.  In addition, this smaller battery contributes to the under 30 minute 0 – 90% advertised, and experienced recharge time.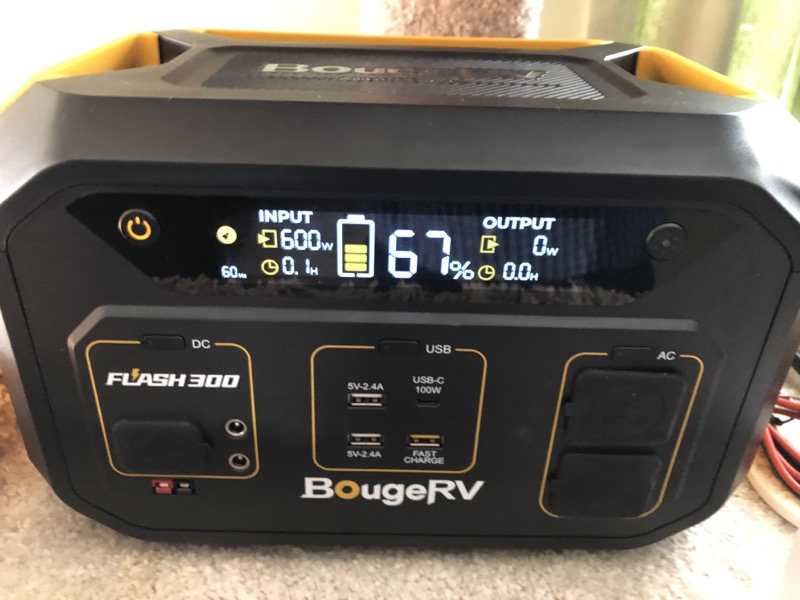 The display of this unit is multi-colored and very pleasing to the eye. It has the usual battery state of charge (SOC) graphic, along with the SOC percentage, input and output sections displaying not only the value of watts coming in and out, but also an estimate of how much time is remaining to either charge or discharge the unit at those current rates. There are also a slew of indicator icons that show, where the input charge is coming from, the frequency the unit is operating at, extreme temperature indications, overload and error situations.
The unit can display up to 10 different fault codes covering various fault conditions for the inverter, solar input and AC charge circuitry. These fault codes are alphanumeric, and the manual would need to be accessible to decode them should they arise.
One thing that did not thrill me was the fact that the display will turn off after 30 seconds when the unit is providing energy to any device. It is immediately awakened by touching any of the five buttons on the front panel.  While not a huge deal, I would just like to be able to glance at the unit from afar, to see the discharge status. It is worth noting that the operating manual states that this behavior occurs for both charge and discharge, however, I only experienced it during discharge.
A couple of other smaller features are the unit's infinitely variable fan.  Very nice as it allows the unit to operate almost silently in low power discharge situations. There is an ECO function that will turn off the unit if there is no input or output detected for 5 minutes. The USB ports will shut down if the output is lower than 3W for one hour, and the AC / DC ports will shut down if there is lower than 5W output for one hour. In the event that the unit shuts down, either because it has been fully discharged, or one of the 10 error conditions are reached, the unit will alarm letting the user know there is an issue.
Lastly, the unit provides three convenient handles on every side of the unit except the front, making it easy to carry around. Be it from either side, or from the middle using the back handle.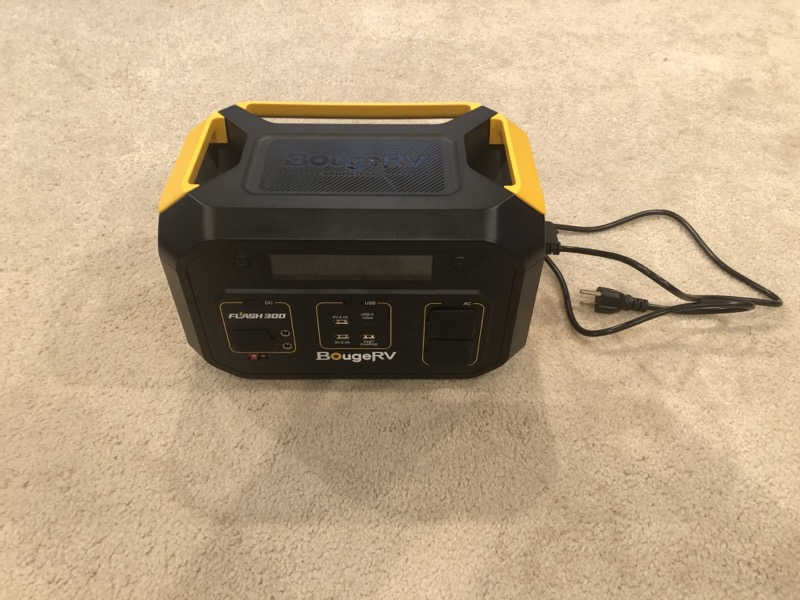 Setup
Not much setup other than charging the unit to full before the testing began.  The unit arrived with a battery SOC of 27%.  I plugged the AC cord into both the side of the unit (again, no brick) and the closest AC outlet, and it did not take long before the unit ramped up and was accepting 600 Watts of power input.  It took only 20 minutes to get to 90% of charge from 27%.  As expected, the unit slows down as the unit approached 100% SOC.
The unit is turned on by long pressing the on/off button (upper left-hand side) for two seconds, followed by a 1 second press of each output section that is desired, be it AC, DC or USB.
The integrated light is initiated by a short press of the light button (upper right-hand side). Repeated short pressing of this button will cycle through the five modes (mentioned above) and a two second press of this button will shut off the light from any mode where the light is on. Note waking up the display with this button will also trigger a change to bright ambient light from any current light state, including the light being off.  Not sure I like this, but not a show-stopper for sure.
Performance
Before I go too far, I want to describe two different ratios.  There is the ratio of the battery size (measured in Watt-hours (Wh)) and max continuous pure sinewave inverter AC power output (measured in Watts).  I will call this the discharge ratio.
There is a ratio of the battery size and the maximum recharge rate. I will refer to this as the charge ratio.
I start with these ratios because their values are a direct reflection of purposeful design decisions.  While most systems have a ratio of 1:1 for the discharge ratio, resulting in a theoretical discharge time of about 1 hour at the rated output.  The BougeRV Flash 300 Portable Power Station has a discharge ratio of half that, resulting in a discharge time of less than 30 minutes at the highest AC output.
So that is the downside if you can call it that, more on that later.  The upside is that the charge ratio, which typically is 5 or 6 hours to 1.  The BougeRV Flash 300 Portable Power Station literally takes less then 1 hour to fully charge and can charge to 90% in under 30 minutes from 0% and this is repeatable.
In practical terms, this means that for the BougeRV Flash 300 Portable Power Station the unit can only deliver max AC continuous power for about a half an hour, compared to other units 1 hour capability.  With respect to the charge ratio, it says that the recharge rate of the unit results in under an hour recharge time, compared to many hours for other units. Prediction, fast charging is going to infiltrate every single power station on the market!  In fact, I have started to see this already. BougeRV is an early adopter of this very useful feature. In this sequence of images, I have taken pictures at 5 minute intervals, with the last picture being taken in just over 28 minutes after the charging started.
During one of my tests, I ran the unit down to 0%, connecting it to a UPS that has my laptop, cable MODEM and WiFi router plugged into it.  It powered that setup for just under 6 hours and consumed .22 kWh measured with a wattmeter. BougeRV markets this unit to charge from 0-90% in half an hour.  My testing verified that claim to be true twice as well as completing the full charge in 47 minutes both times.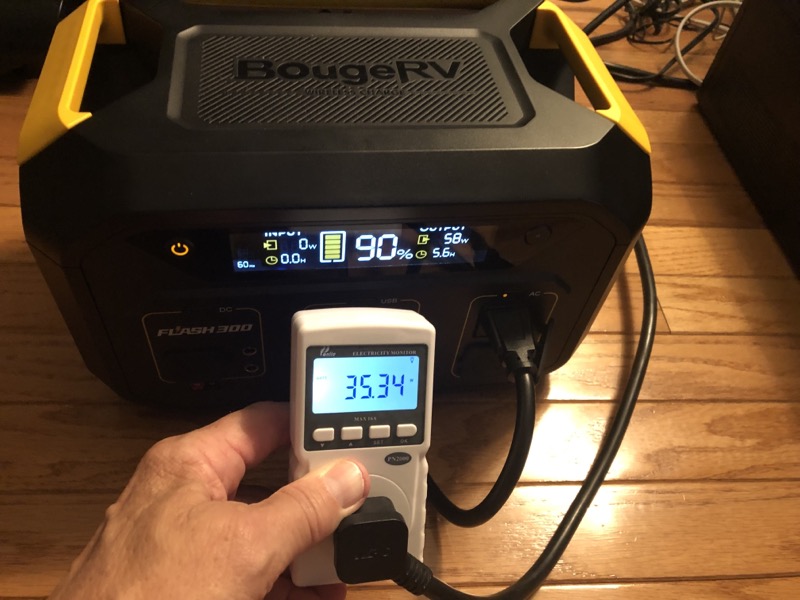 One of the last scenarios that I investigated involved me just plugging in my 13 inch M1 MacBook Pro into a fully charged unit just to see how long the BougeRV Flash 300 Portable Power Station would power my laptop under my normal use at home. I wanted to answer the question; how long will this small power station power my laptop if I just leave it plugged into the unit, using it as I normally would? The result, it lasted for 3 days, with an average screen on time of about 6 hours per day, including the running of the Time Machine back up program which will continuously back up the laptop's hard drive even when the laptop is in sleep mode.
What I like
Fast Recharge Rate / Time
Informative multi-colored display
Pretty quiet when not heavily stressed.
What I'd change
Increase the battery size to at least 300 Wh
I wish the display would always stay on
Final thoughts
I really like the BougeRV Flash 300 Portable Power Station. I like the size of the unit and I really like the fast recharge. This unit is not sized to run your microwave oven or refrigerator, but to be fair, it is not designed to be.  It is designed to provide backup / emergency power to your personal information electronics infrastructure, specifically, cable modems, WiFi routers, watches, cell phones, tablets, laptops, etc. Being able to provide 600 watts of output, if only for a half an hour allows the unit to power just about any electronics situation, from keeping phones charged, to powering up the home's network stack periodically to do email processing and essential work on the internet.  Couple that with the ability to quickly charge in under an hour is just so useful for the normal power loss events that Americans experience during typical power outages.
Price: $399.99
Where to buy: BougeRV (Use code: power14 to save 14% expires 12-31-2022) and the power station is also available on Amazon
Source: The sample of this product was provided by BougeRV.