We use affiliate links. If you buy something through the links on this page, we may earn a commission at no cost to you. Learn more.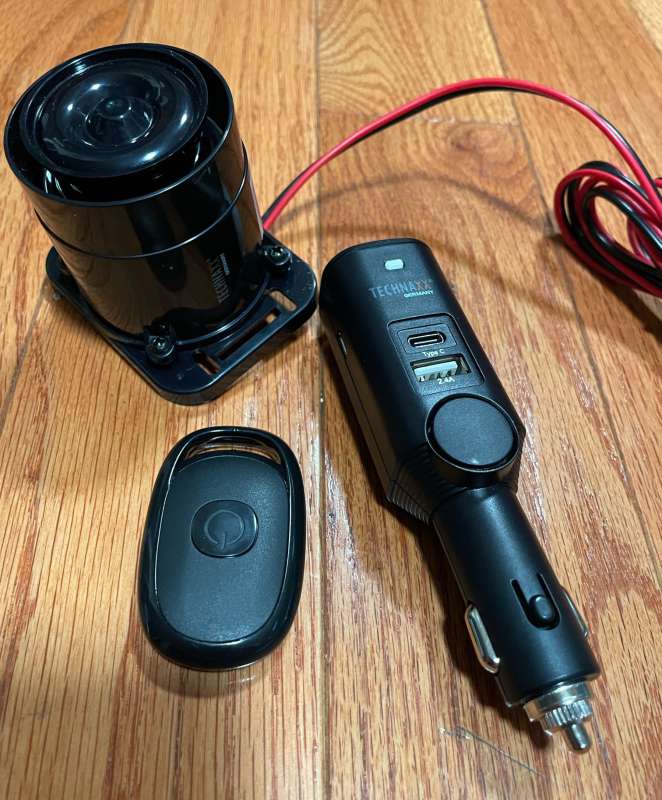 REVIEW – A few weeks ago, my daughter came home from work and reported a car parked adjacent to hers had been damaged and burglarized for the coins in the cup holder. She's savvy enough to not leave anything valuable in her car, even if it's only a few dollars in coins, but it got me thinking about how to mitigate the possibility of this increasing phenomenon. Coincidently, Techaxx's TX-168 Pro Universal Car Alarm became available, so I jumped at the chance to have a look. I'm very thankful I did!
What is it?
The Technnaxx TX-168 Pro car alarm is a USB or accessory socket-powered alarm system that is activated and deactivated with an included key fob that detects motion with a passive infrared sensor and sends a wireless signal to activate a remote siren.
Hardware specs
Dimensions: Car alarm: 5.31″ x 1.18″ x 1.18″
Dimensions: External Siren: 2.44″ x 2.24″ x 2.87″ (Cable length of siren 1.5m)
Dimensions: Remote control: 0.39″ x 1.46″ x 2.32″
Power: Car alarm: 12 or 24 volts through car accessory socket, 5 volts through Micro-USB
Built-in rechargeable 500mAh lithium polymer battery 3.7V
Charging time ~2 hours / Working time ~7 days / Standby ~14 days
Power: External Siren: 12 or 24 volts hard wire connection, Operating current 100mA
Power output 1: 1x USB-C charging port with a total of 5V / 3.0A output power
Power output 2: 1x USB charging port with a total of 5V / 2.4A output power
Automatic alarm triggering at motion detection by PIR sensor
Detecting range: 120° cone angle
Distance IR remote control ~10m (open field)
Car Alarm and external siren are each about 105dB
Button for panic alarm (about 105dB)
Possibility to connect up to 3 remote controls
Alarm Time: Car alarm max. 2min; Siren max. 30 seconds
Transmission frequency: 2.4GHz / Type: ASK
Maximum radiated transmission power: 15.85mW
Material: ABS
Operating temperature: -10°C – +50°C
What's in the box?
Technaxx TX-168 Pro universal car alarm
External siren with connection cable and 3A fuse
Remote control fob
CR2032 battery
Mounting cable ties
User manual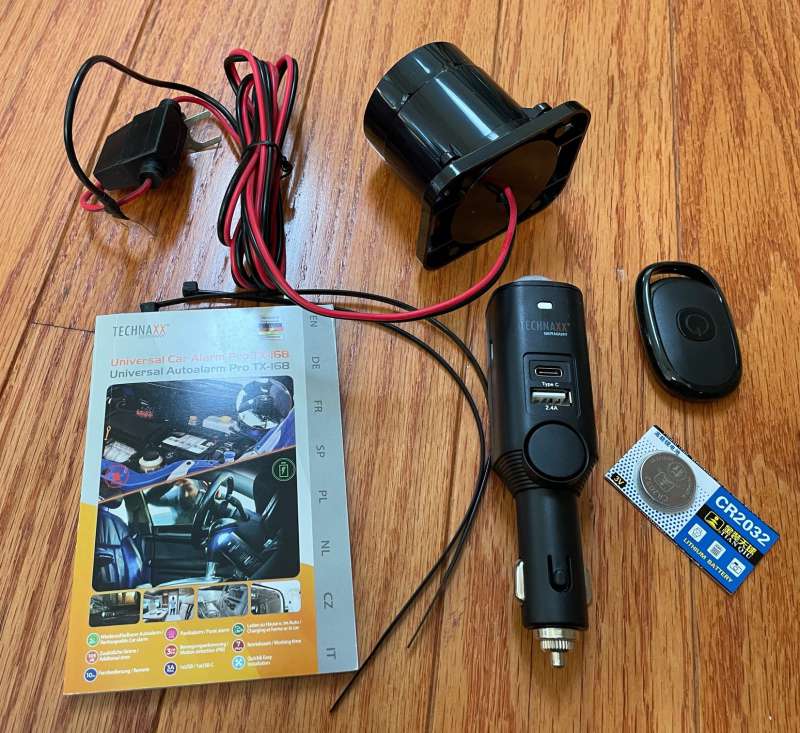 Design and features
The Technaxx TX-168 Pro universal car alarm's box was a bit beat up, but the contents were undamaged.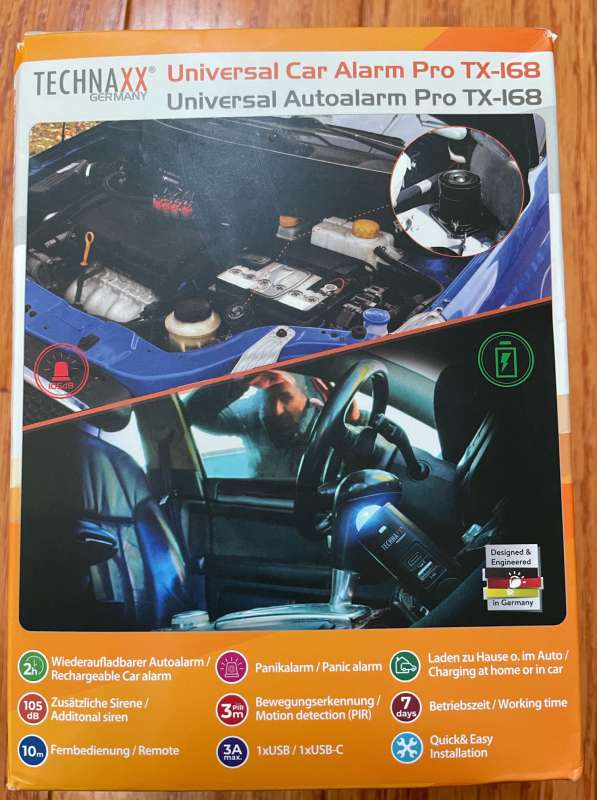 The system has three essential parts – the alarm, siren, and key fob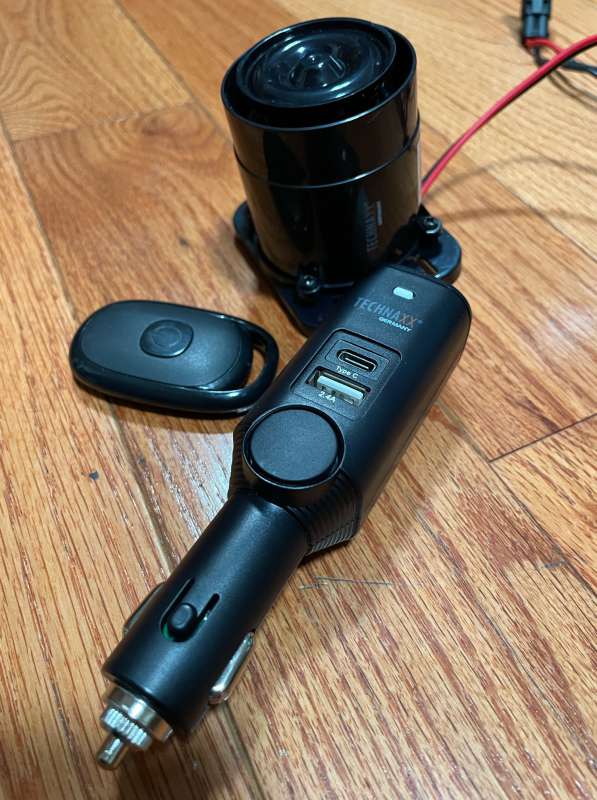 Don't be concerned by the thickness of the manual. It's very well written and the instructions are provided in several languages. Warnings and precautions abound, but the setup and operation of the Technaxx TX-168 Pro universal car alarm were shockingly easy.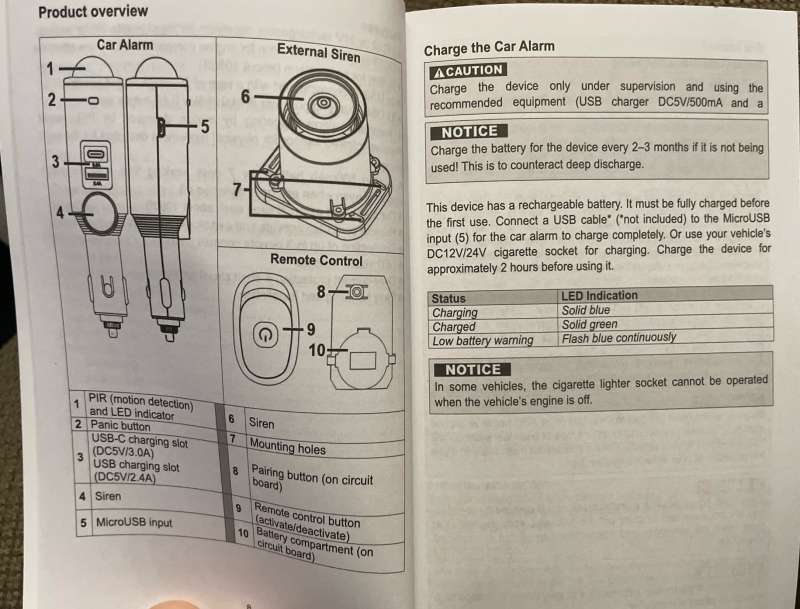 The first step is always to charge the battery. This can be done through your car's accessory ("cigarette lighter") port or with a Micro-USB cable (not included). It's worth noting that some cars don't supply power unless the car is running or the key is in the "accessory" position so consider that during the initial setup. The internal 500mAh battery takes about two hours to fully charge and should supply about a week's worth of protection for your chariot.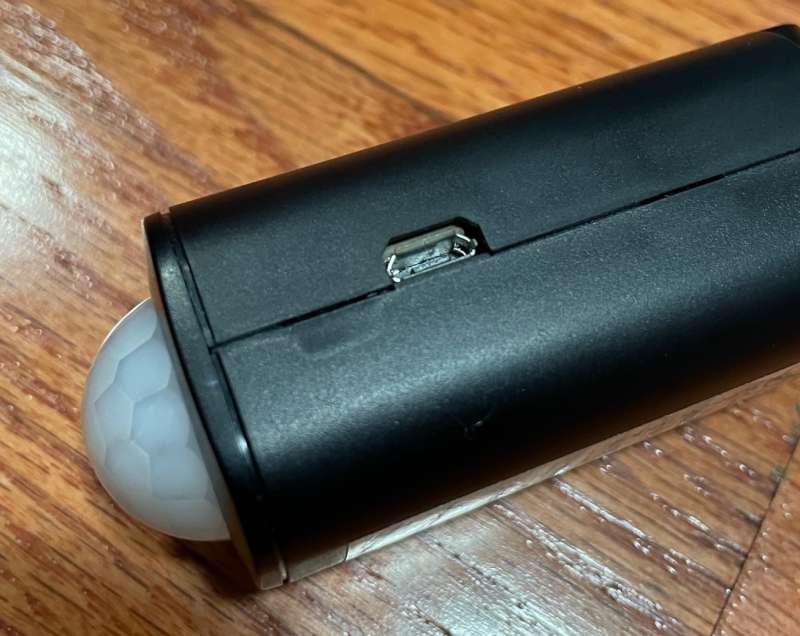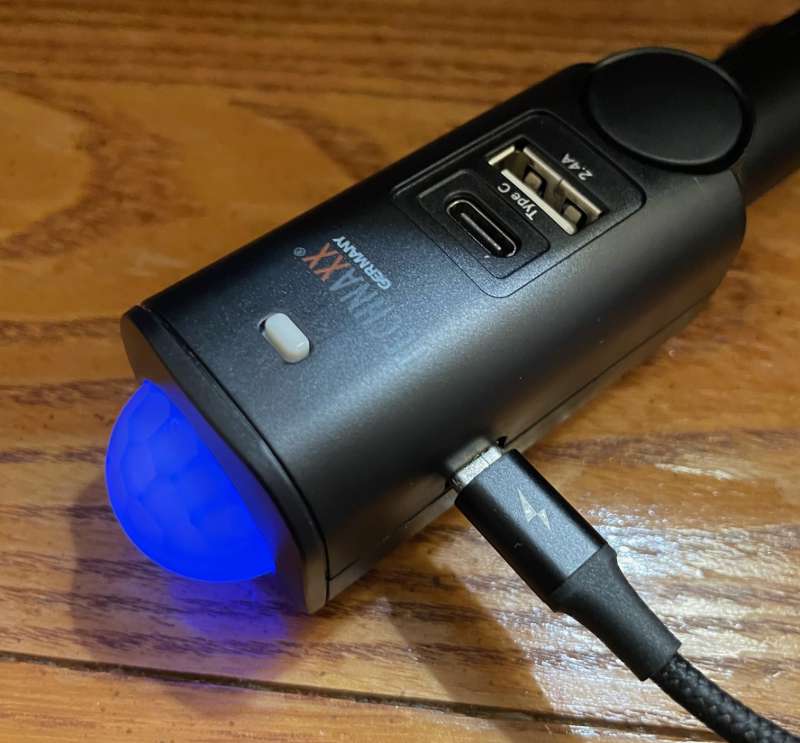 I suspect most users will want to plug the Technaxx TX-168 Pro universal car alarm into the accessory port and leave it there.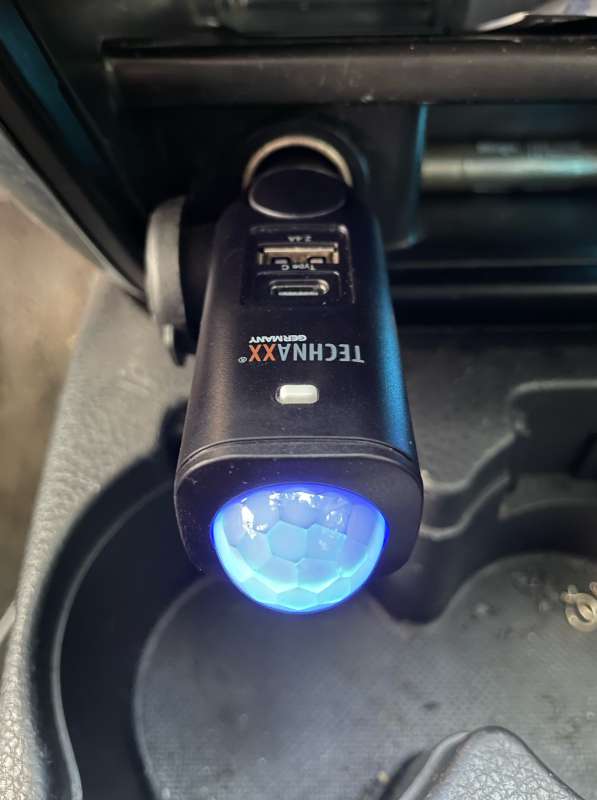 A blue LED under the PIR dome indicates charging is in process. The LED also flashes blue when the battery is low, multiple colors when pairing, and green when charged. Red blips (with audible beeps) indicate when activating and deactivating, flashing red every five seconds to indicate the system is active, or solid red to indicate an alarm in progress.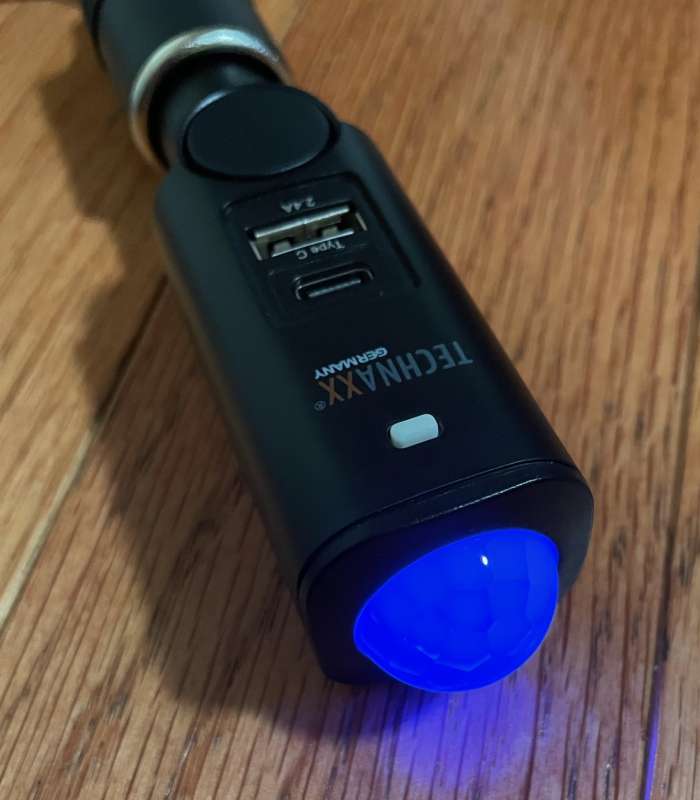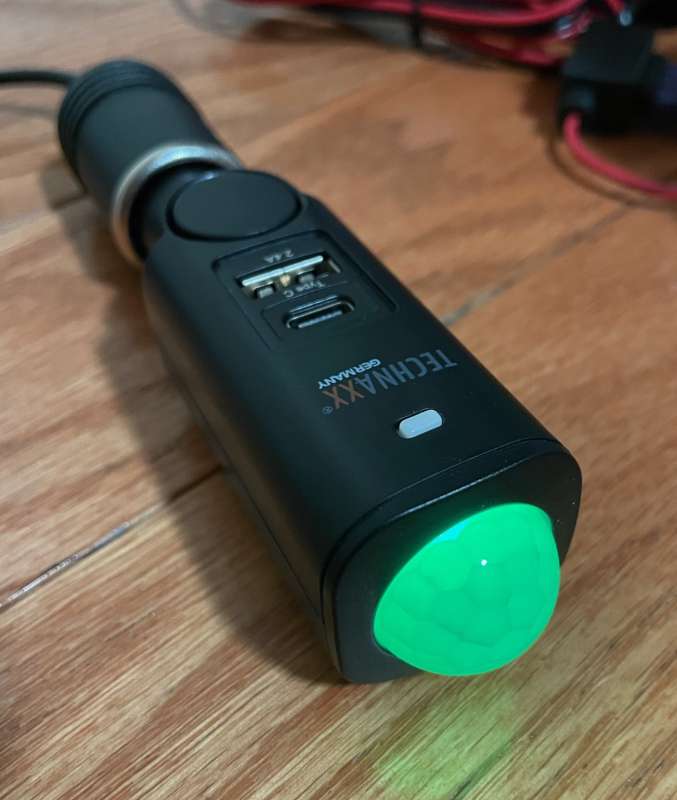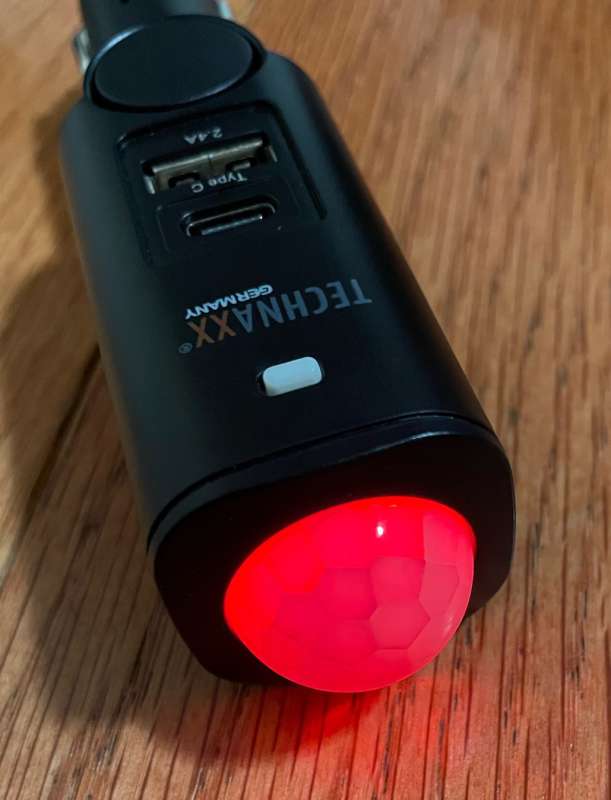 While the Technaxx TX-168 Pro universal car alarm is charging, it's a good time to put a battery in the remote control fob. The cover pops off and a CR2032 button battery is included.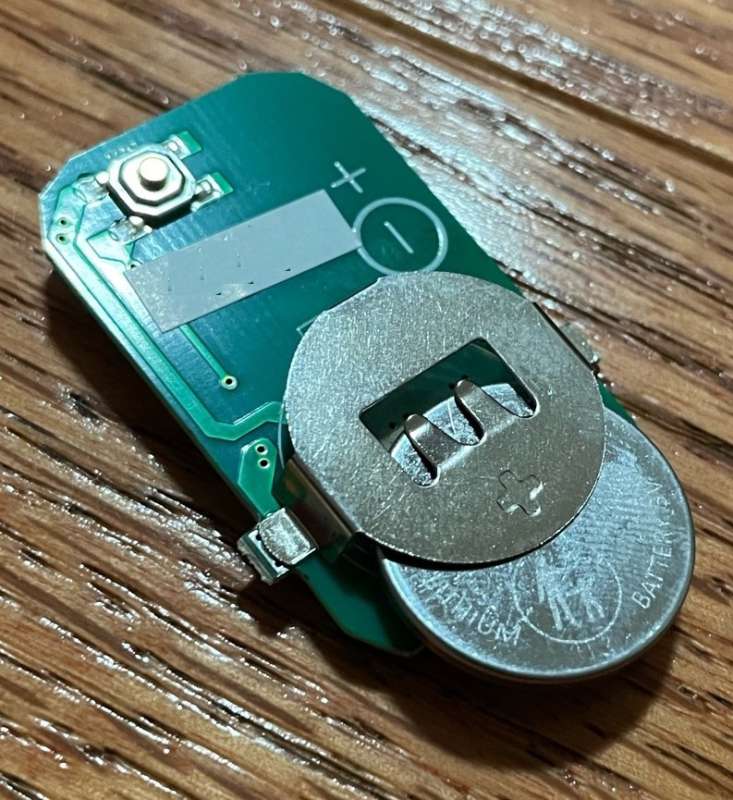 See that little button on the circuit board? You'll need to press that to pair the fob with the alarm…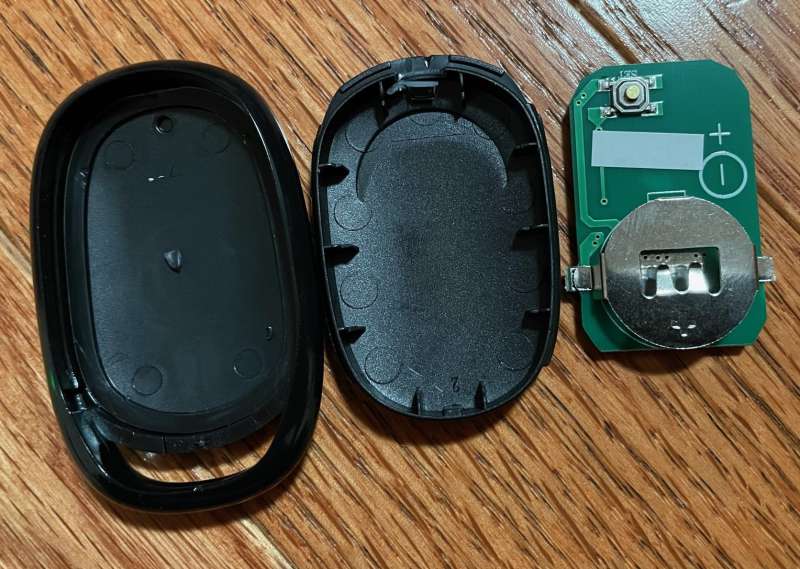 …But before pressing that button, the white "panic" button on the TX-168 should be held for about four seconds to prepare for pairing. This button does double duty – If you want to use the Technaxx TX-168 Pro universal car alarm as a personal alarm, it can be carried in a pocket or purse and a momentary press will activate the teeth-jarring internal siren.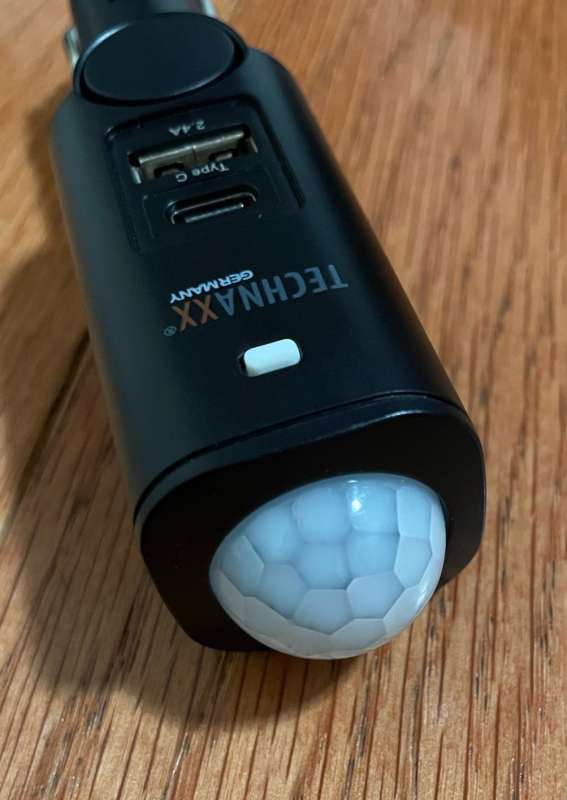 After pairing, a press of the fob's button toggles the activation and deactivation of the alarm. The fob has a maximum range of about 10 meters (30 feet) and will work through the vehicle's windows. If the button is held for about 4 seconds, the alarm chirps four times and the alarm is disabled. The disable mode ceases if the alarm is reactivated using the fob or it's connected to recharge. Only one fob is included, but up to three can be paired. Including a second fob would have been welcomed.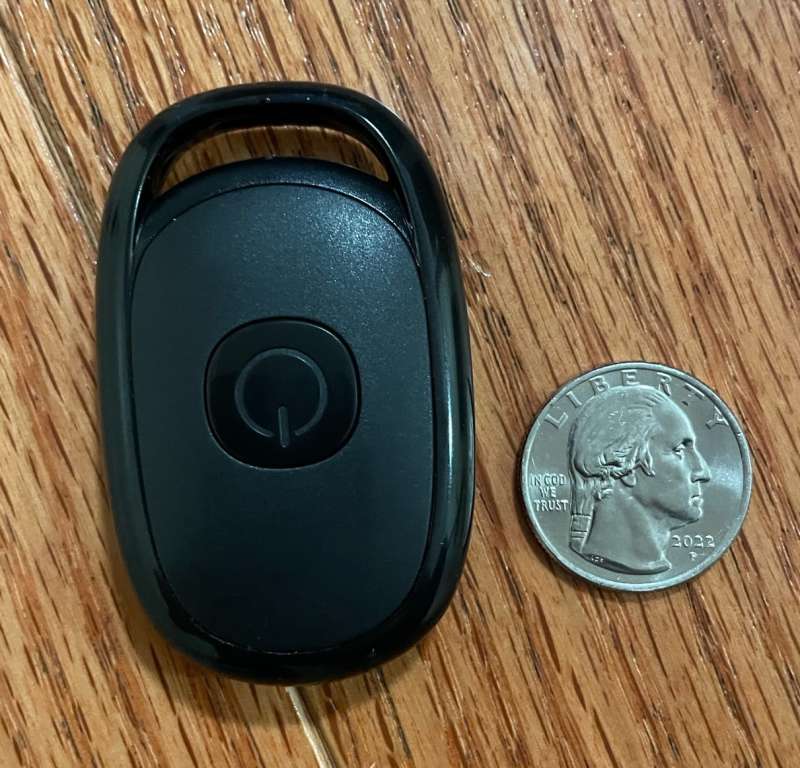 The siren is very loud and should have no trouble attracting attention.  There is a short delay between the time the internal alarm beeps or screams and the under-hood siren responds.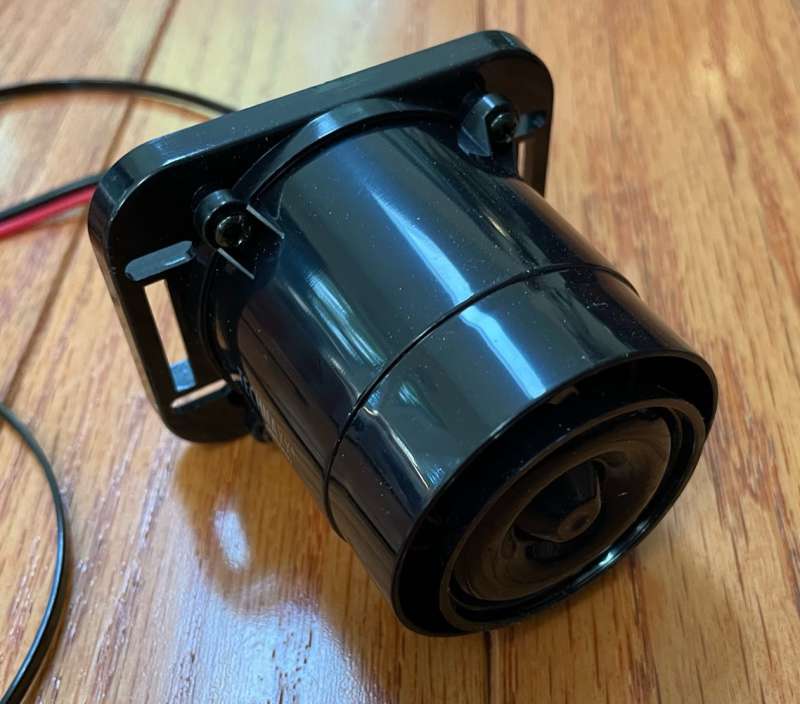 I loved that this system took only minutes to install and can be used in any car with a USB or accessory socket. As a bonus, the alarm can be used independently of the remote siren. The idea of using this in a shed, tent, or RV is fabulous!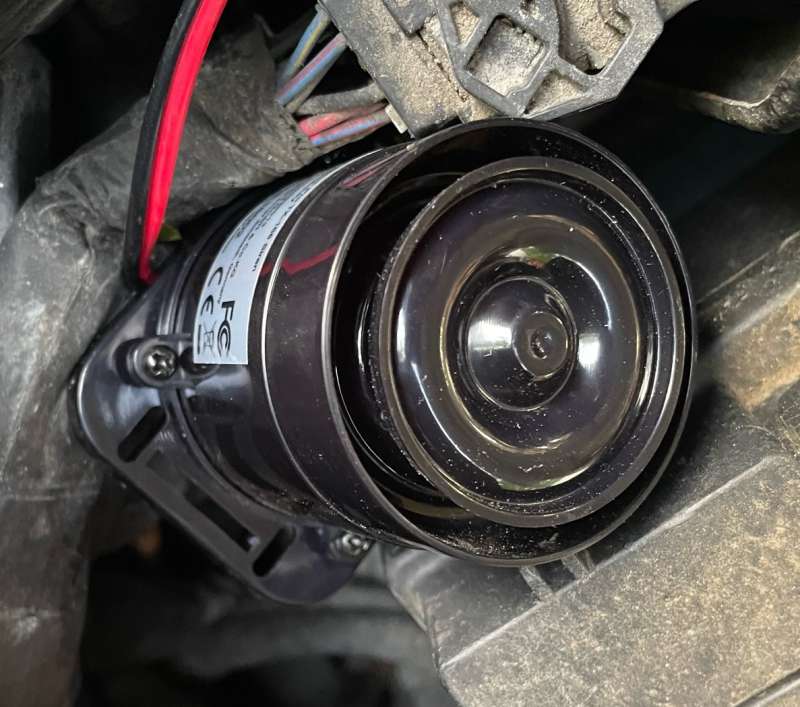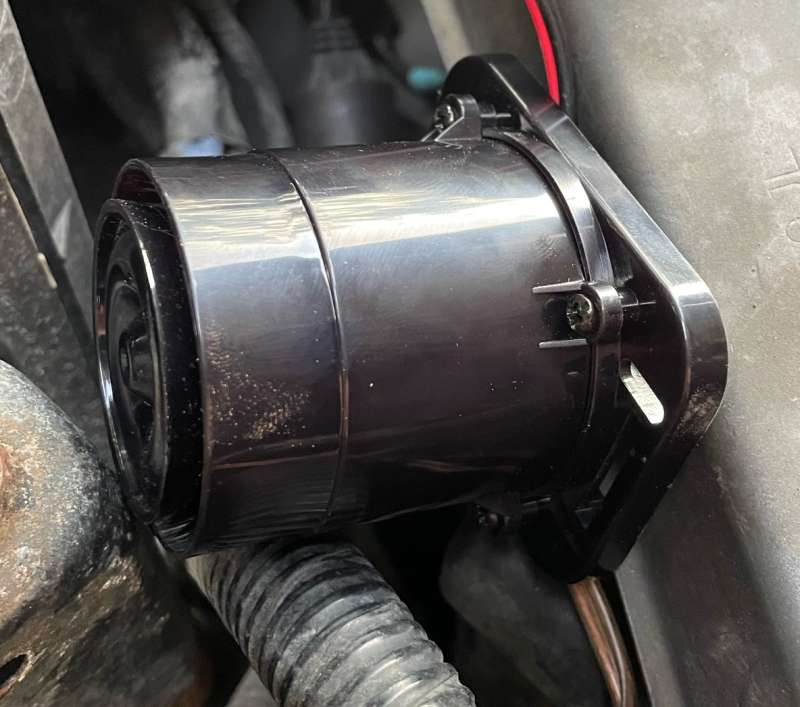 To complete the setup, the siren connects to an unswitched connection in the car. A three amp in-line fuse is included so the power cord can be attached directly to the battery.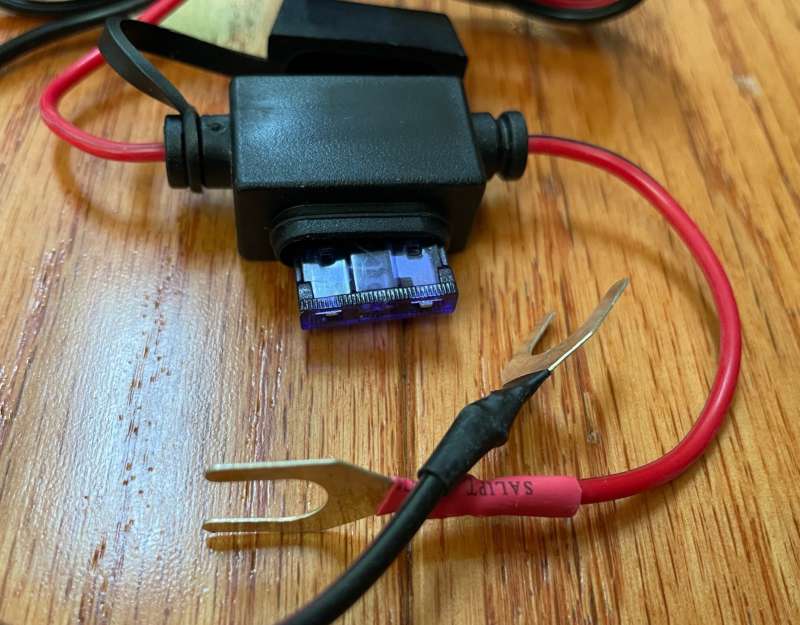 I added a connector to the siren wires so they can be moved from one vehicle to another with a single plug. It will take literally seconds to open the hood, disconnect the wire, and reconnect the remote siren in another car. Wonderful!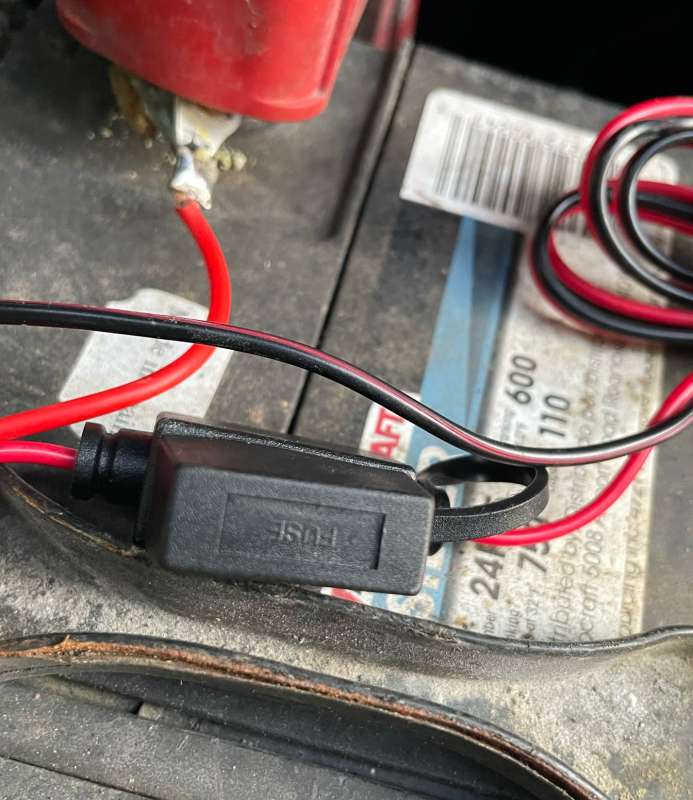 As icing on the cake, the Technaxx TX-168 Pro universal car alarm is equipped with USB-A and USB-C outputs so you can charge your phone or favorite phone accessory.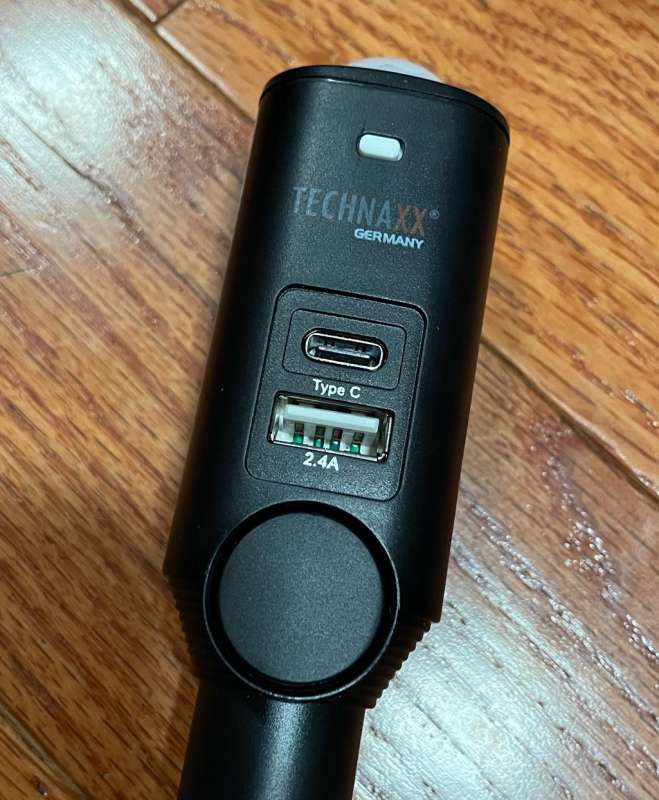 What I like
Very easy to operate
Works in any vehicle
"Cigarette lighter" and USB charging
Setup takes only minutes
Easily transferred between cars with no complicated wiring
Inexpensive
Can be carried as a personal alarm
Not solely for vehicle use. Can be used in a small home, tent, shed, garage, etc.
Exceptionally well-written manual
USB-A and USB-C output ports
What I would change
Include a second fob with the kit
Final thoughts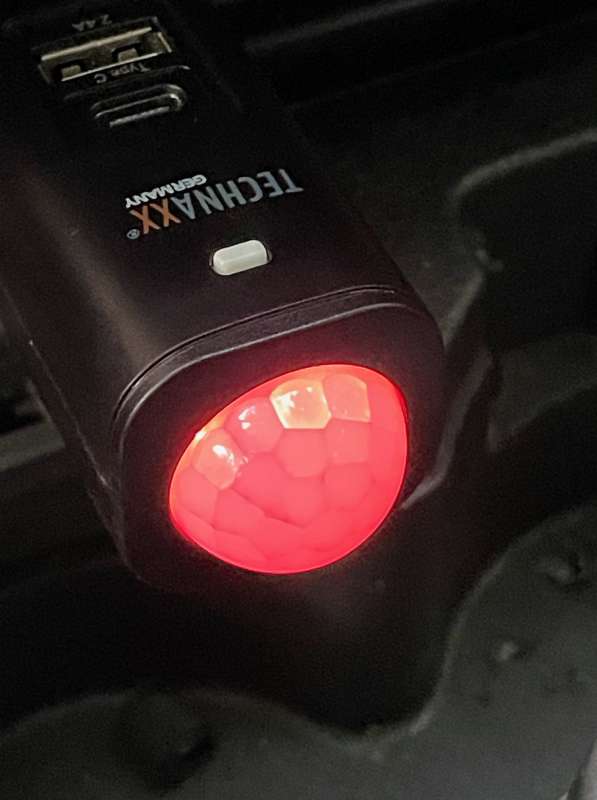 If you do an internet search, (like this one from "Car and Driver"), car thefts and burglaries are on the rise in 2022. It only makes sense to try and prevent her car from being another statistic. Car alarms can be a royal pain to install and generally can't be easily swapped from one car to another. Technaxx comes to the rescue with the Technaxx TX-168 Pro universal car alarm. I'm sure it won't stop every theft or burglary, but it sure gives me some peace of mind knowing that if something does happen to my daughter's car, at least there will be some noise and attract some attention. Thank you, Technaxx!
Price: $69.99
Where to buy:  Amazon
Source: The sample for this review was supplied by Technaxx.