We use affiliate links. If you buy something through the links on this page, we may earn a commission at no cost to you. Learn more.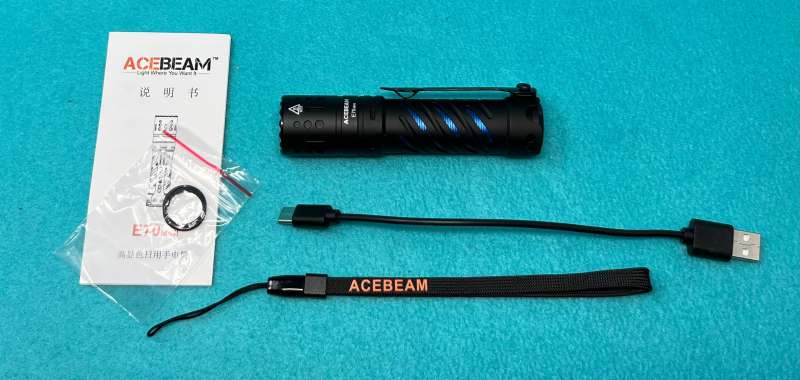 REVIEW – We all love our flashlights, the more powerful the better. But there's one thing missing from most EDC high-power flashlights: a sense of style. They all look like you're outfitting for an armed assault, rather than just wanting to have a decent light available while you're going about your life. Few of us buy anything with strict utilitarian features. (If that were so, we'd all live in cinder block homes with no landscaping, like a prison, because that's the best shelter for the dollar!) AceBeam has designed a new series of LED torches with an eye toward design, while not sacrificing power. I was sent the E70 mini, so thought I'd share it with you today.
What is it?
The AceBeam E70 mini is a very powerful, pocket-sized, compact flashlight that doesn't look like something from a police or military surplus catalogue.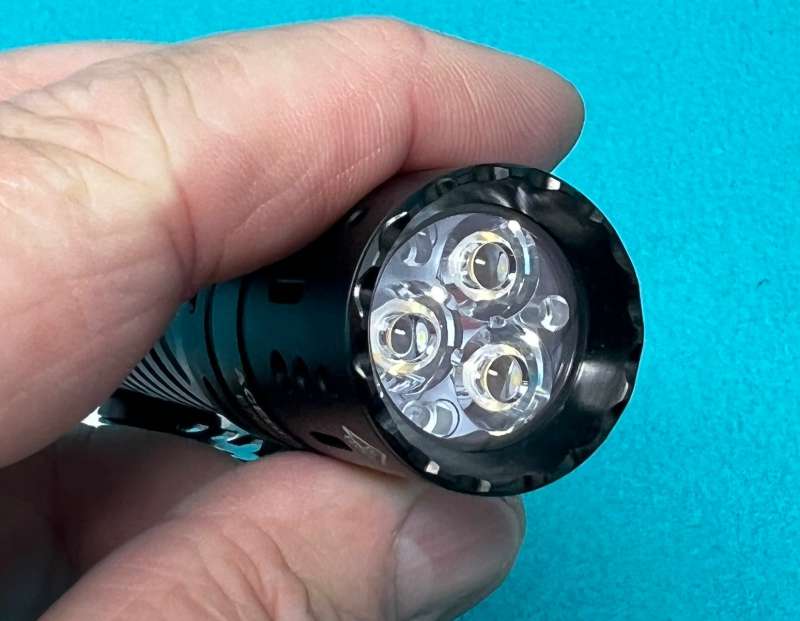 What's in the box?
AceBeam E70 mini flashlight
Lanyard
3199 mAh rechargeable battery
8″ USB-A <=> USB-C cable
replacement O-rings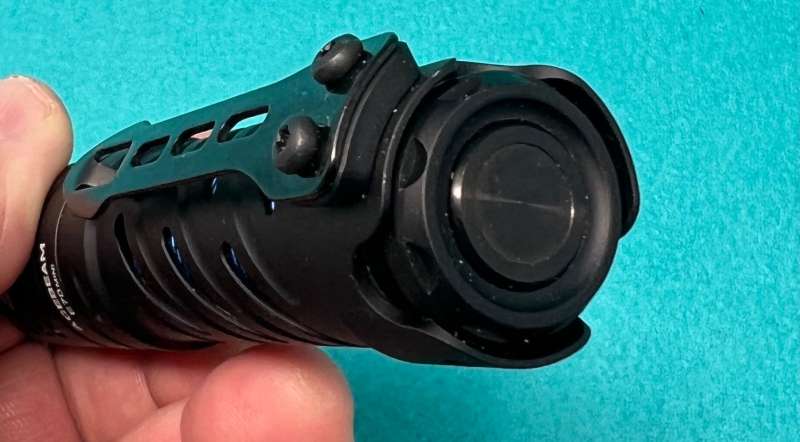 Hardware specs
From company website
LED : XHP70.2 LED with a lifespan of 50,000 hours
Moonlight: 1 lumen; 11 days
Low: 50 lumens; 50 hours
Mid1: 180 lumens; 625cd; 50 meters; 12 hours 45 minutes
Mid2: 650 lumens; 1,600cd; 80 meters; 4 hours
High: 1,300 lumens; 3,600cd; 120 meters; 1 hour 45 minutes
Turbo: 4,600 lumens; 14,400cd; 240 meters; 1 hours 30 minutes
Strobe: 1,650 lumens; 2 hours 30 minutes
Max. output 4,600 lumens
Max. beam distance: 240 meters (787feet)
Max. runtime: 11 days
Peak beam intensity: 14,400cd
5 Brightness levels and 2 special modes (Strobe and Moonlight) for various scenarios
Utilize the most sophisticated technology to offer small device that doesn't sacrifice on power
Lockout mode and "double click to turn on" design prevents accidental activation
Smart ITS temperature control system provides stability and optimum performance
All circuitry contact points are gold-plated, providing better conductivity and superior durability
Strobe mode disorients an attacker without excessive force
All-in-one metal tail switch for convenient operation
Tail stand-capable for use as a candle
Ultra clear tempered glass lens with anti-reflective coating
Made of durable high-strength and oxidation-resistance aero grade aluminum
Premium type HAIII hard-anodized anti-abrasive finish
Size: 128.3mm (Length) x 30mm (Head Diameter) x 27mm (Tube Diameter)
Weight: 102g(3.59oz.) w/o battery
Impact resistance to 1 meter
IP68 waterproof (2 meters submersible)
Design and features
The selling feature of the AceBeam E70 mini flashlight is that it doesn't look like something you'd buy at the hunting store, it looks like something you could give someone who drives a Tesla or a BMW: it's powerful and highly functional art. The outer shell is still anodized aluminum, like most high-end EDC lights of this power level. But rather than a cold ringed pattern or a toothy tactical look, it has a swirl pattern milled into it, and an inside layer with a bright, colorful finish underneath.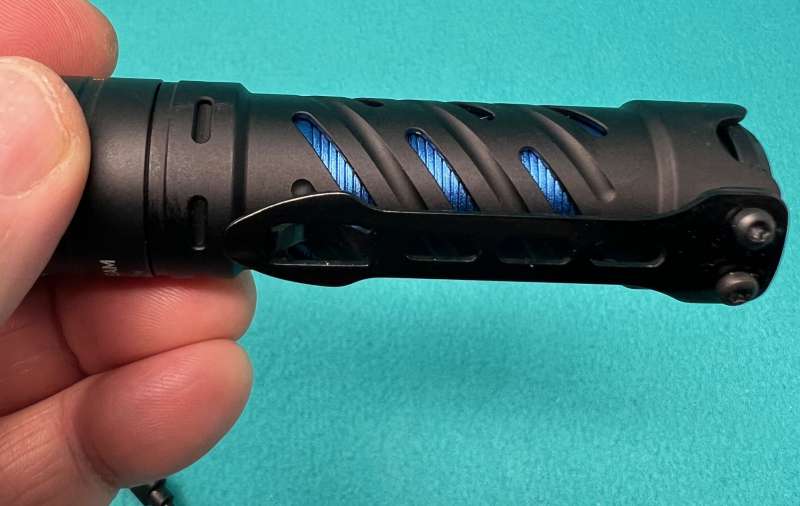 Setup
Besides removing the insulation disc that prevents contact with the battery during shipping and initial charging, there is no real setup needed.
Performance
Similar to many other lights of this ilk, the AceBeam E70 mini flashlight has five "normal" levels (high, mid2, mid1, low, and moonlight) and a turbo level, as well as a strobe level that can be accessed to confuse and disorient someone as a defensive move. A simple triple-click on the tailpiece switch moves to Strobe mode, and a single click turns it off. A longer press will move into moonlight from off or start cycling up to brighter levels if the light is already on.
The charging method is a little unusual. You charge the battery directly: there's a USB-C port near the top button. I wondered how you'd be able to tell about the charge level, but when I plugged it in, an LED ring around the top contact turned on red and turned to green when the charge was complete.
The only other indication of charge is that as the battery level drops, the highest light mode will lower. At some point, it just won't turn on or stay on. It would be nice if you could know where the "gas gauge" sat before you went out on a trip you expected to use the light on, without having to open it and plug it in.
Here's a quick comparison video of the brightness levels for the E70 mini.
The AceBeam E70 mini flashlight's tailpiece houses the button for activating the light. It is also a flat piece that can sit level in order to light a tent during ghost stories.
What I like
The interface is straightforward
The design is very pleasing, but it still performs very strongly
What I'd change
It would be nice to know the battery level without having to open the case up and plug it in.
Final thoughts
We all love bright, rechargeable flashlights. Having one that looks nice means we have something to gift the folks in our life who don't want to carry around a piece of military hardware, just so they can find their keys under the car seat. The AceBeam E70 mini flashlight fills that role nicely.
Price: usually $79.90 on sale for $74.80
Where to buy: Acebeam.com and Amazon
Source: The sample of this product was provided by AceBeam.