We use affiliate links. If you buy something through the links on this page, we may earn a commission at no cost to you. Learn more.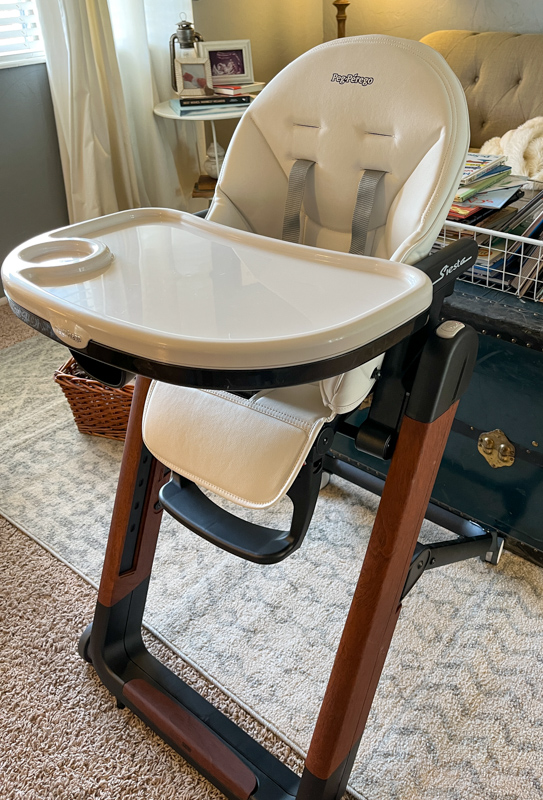 REVIEW – With a pending baby birth right around the corner, shopping for baby products has become a nightmare of a chore for me and my partner. The vast range of choices on every conceivable necessity and convenience makes decision paralysis a real thing. And if you also care about the look and style of whatever item you're researching it complicates the equation. We had been looking for a high chair that was: sturdy, stylish, easy to clean, easy to store, and adjustable. So many of the options we've explored so far meet some but not all of those criteria, but it's been hard to find the perfect one to tick all the boxes. Then the Peg Perego Siesta high chair review came along, and blew all our previous choices out of the water.
What is it?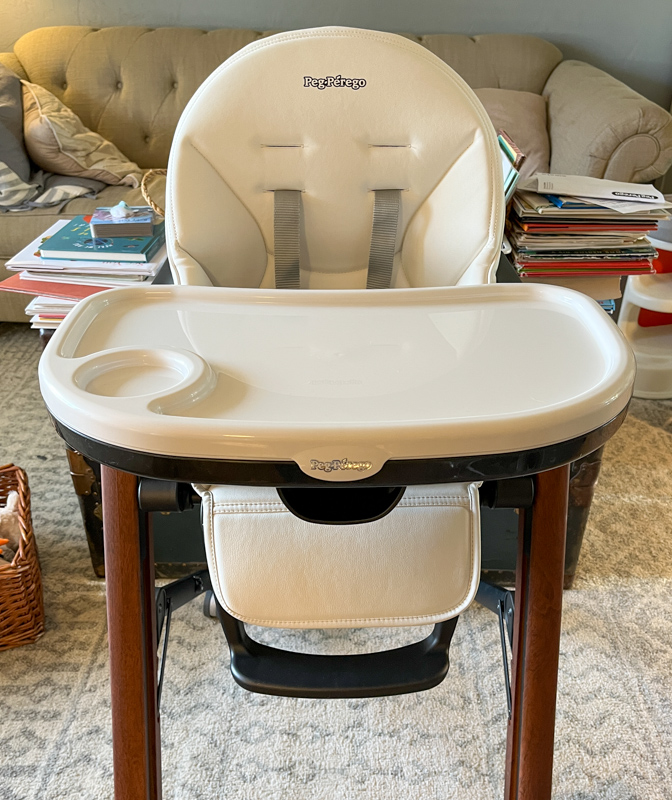 The Peg Perego Siesta high chair is a high chair for infant and toddler humans, though I suppose you could probably also fit a small dog/cat/pig as well. It features adjustable height and tilt, a padded bucket seat, a removable washable tray, and folds for convenient storage. It's Italian-made and styled as well.
It's available in a wide variety of colors to match nearly any decor, we were sent the "Ambience Brown" colorway.
What's in the box?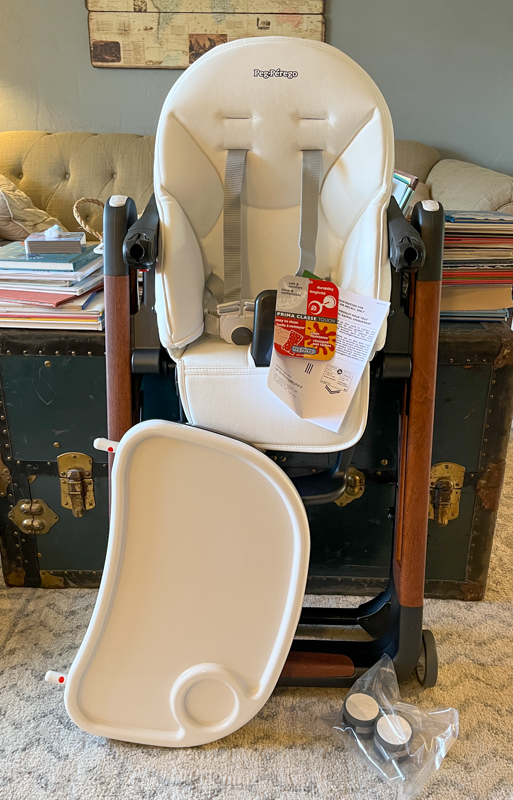 Peg Perego Siesta high chair
Removable feeding tray and passive restraint
2 x wheels
Manual
Hardware specs
Seat material: Polyester 70%/Cotton 30%
Reclining seat: 5 positions
Adjustable footrest: 3 positions
Dishwasher safe tray cover
Locking caster wheels
5-point safety harness + passive restraint bar (tray)
Unfolded dimensions: 29.2″ x 23.6″ x 41.2″
Folded dimensions: 11.7″ x 33.7″ x 23.6″
Max child weight: 45 Pounds
Item weight: 23.2 Pounds
Design and features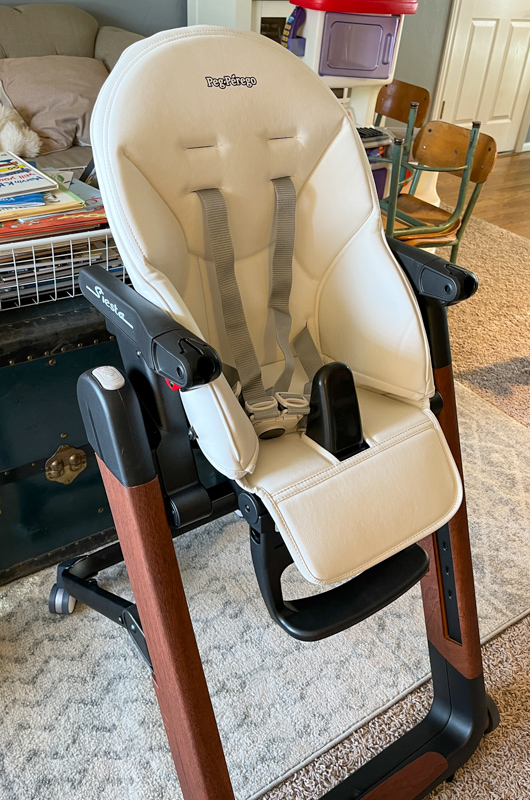 At first glance, the Peg Perego Siesta high chair seems like simply a stylish typical high chair, but once you start digging into it, the features keep coming.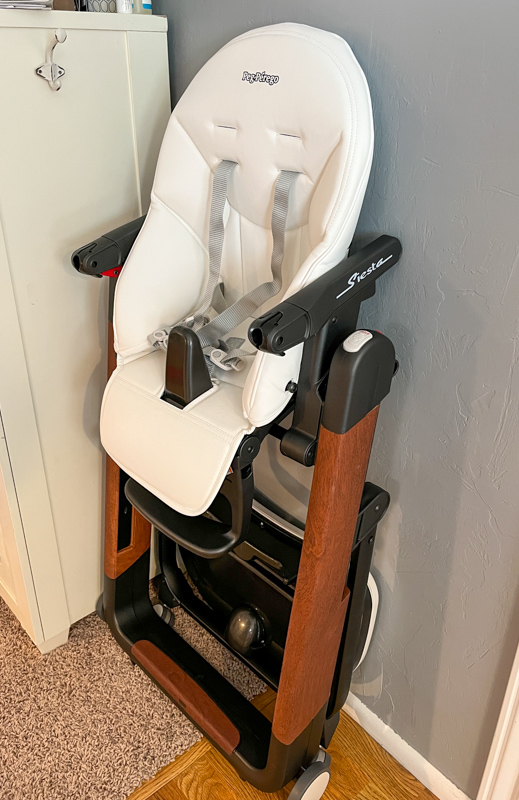 First off, it folds to a quite compact size for easy storage. This is a welcome feature that many of the other models we were looking at didn't offer.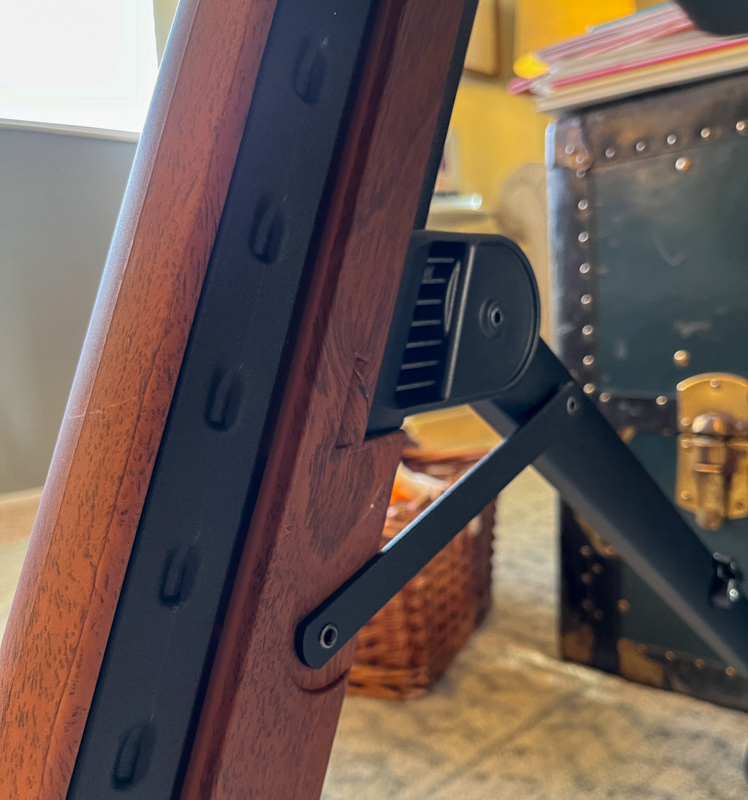 When unfolded, the high chair is very stable and doesn't wobble at all. This doesn't feel like a cheap or unsafe chair. Everything securely locks into place.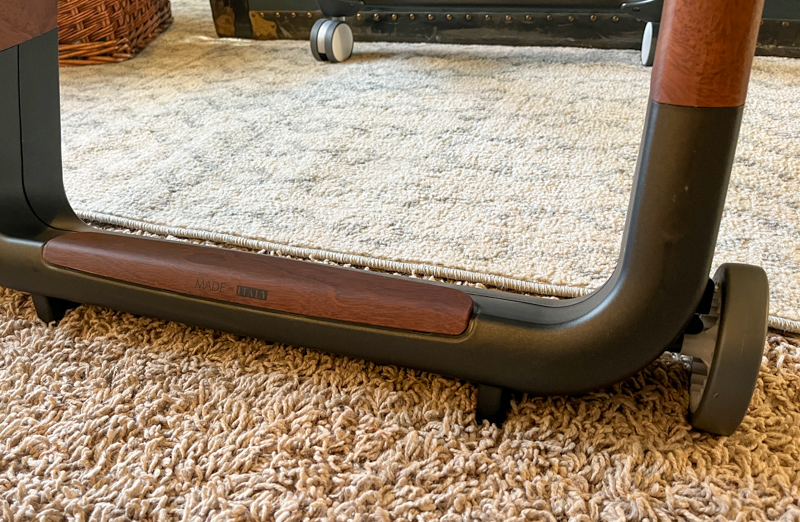 4 wheels make it easy to move around, and fully lock to prevent unintentional moving as well. The frame is a high quality plastic with faux-wood finish on our colorway.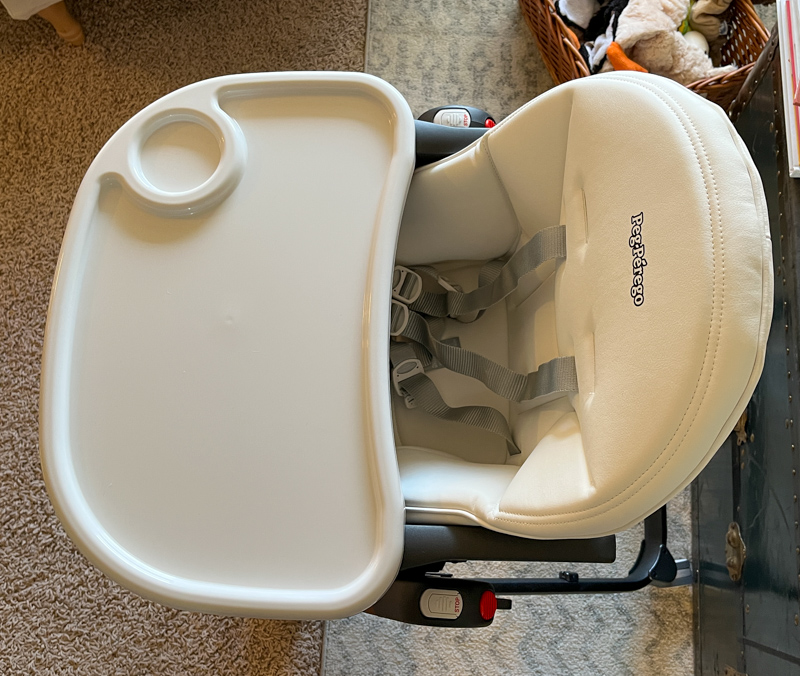 Above is a shot showing the tray and lock controls (on either side of the seat). This tray is easy to remove and install, and when installed provides a secure restraint (on top of the 5 point harness). Speaking of the harness, the buckles are easy to use and feel quality-made. A large push button in the center brings all of the straps together right on the infant's chest/belly.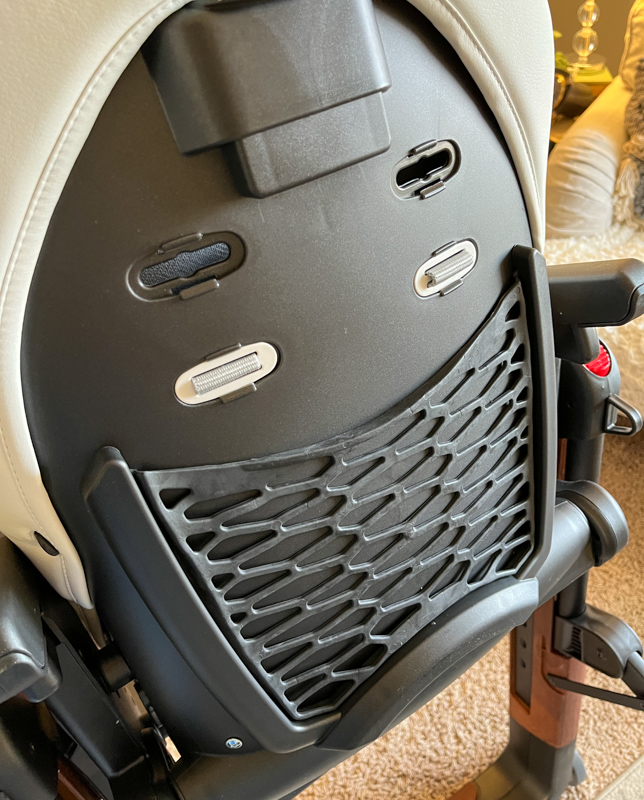 On the backside of the Peg Perego Siesta high chair is a rubber net for quick and easy storage of bottles or other items (out of reach of little grabby hands). In the picture above you can also see the 4 slots for the harness. As pictured, it's ready for an infant, but as your child grows you can move these to the higher position to accommodate toddlers up to 45 pounds.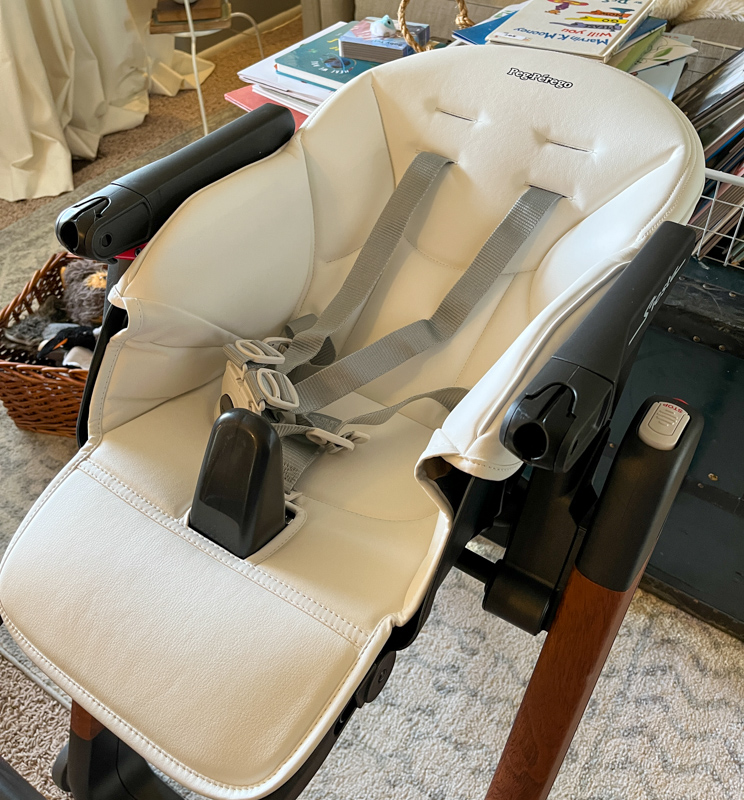 The footrest can be adjusted to 3 different angles, and the seat itself can recline to a near-horizontal resting position. I like that this becomes a multi-use device for napping, eating, etc.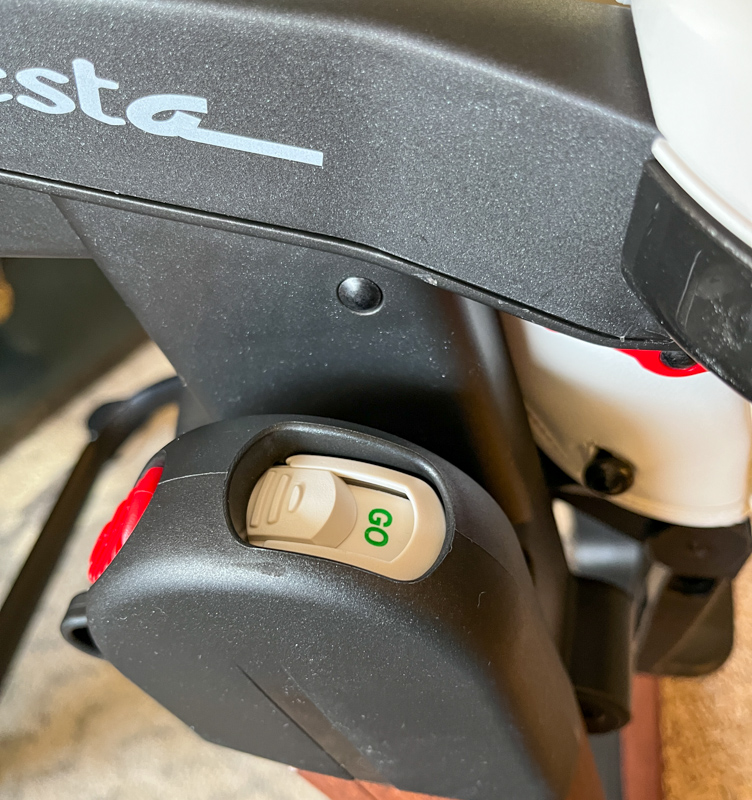 Above is a shot showing the Peg Perego Siesta high chair's locking controls, these clearly display if the wheels are locked or unlocked.  On hard surfaces the wheels are great, but on carpet they don't easily glide, but this is probably true of most wheeled high chairs.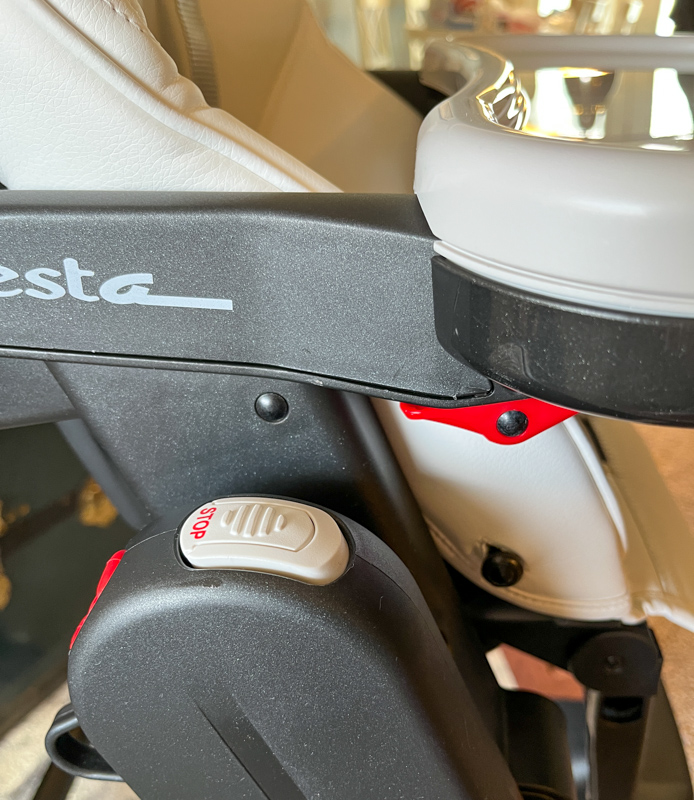 In the "STOP" position (locked), the high chair becomes firmly planted on any flat surface.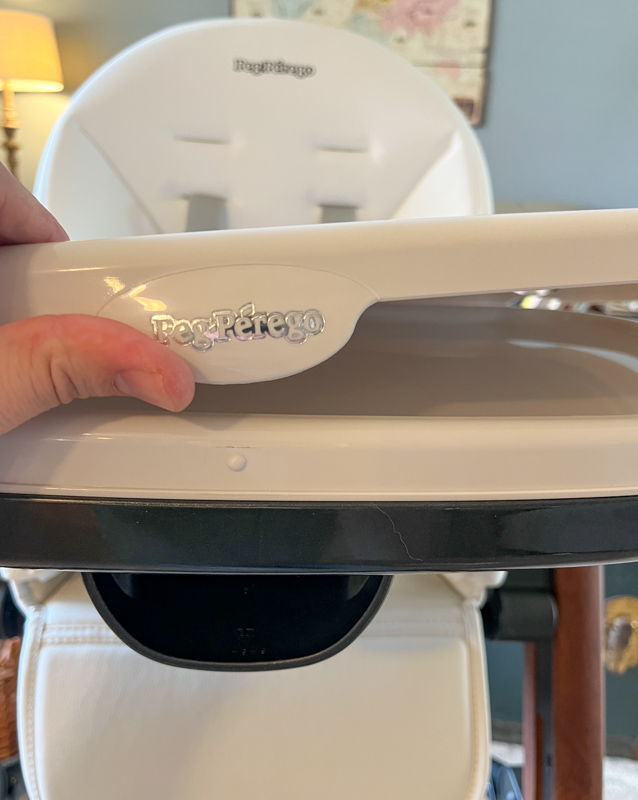 The tray has an easily removable liner that can even go in the dishwasher. Cleanup of the entire high chair is easy, all of the surfaces are mess-resistant. The tray itself (like many baby products) seems hard to get on and off the chair at first, but after a few tries you master the feel for it and can even do it one-handed. I thought this would be a negative in my review at first but by the end of the review period it was quite easy.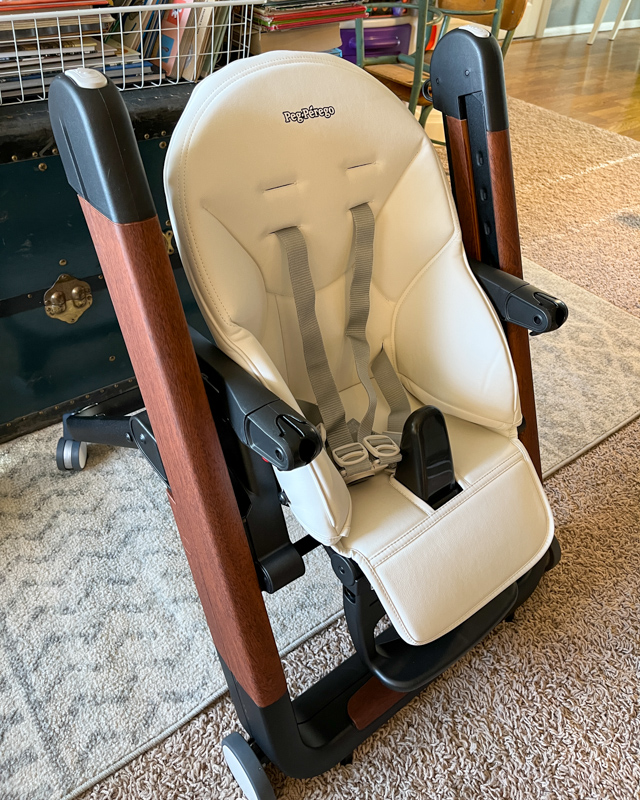 The height is also very adjustable on the Peg Perego Siesta high chair, which then becomes a low chair. This flexible height is perfect for matching a toddler right to a chair or even bar-height surface.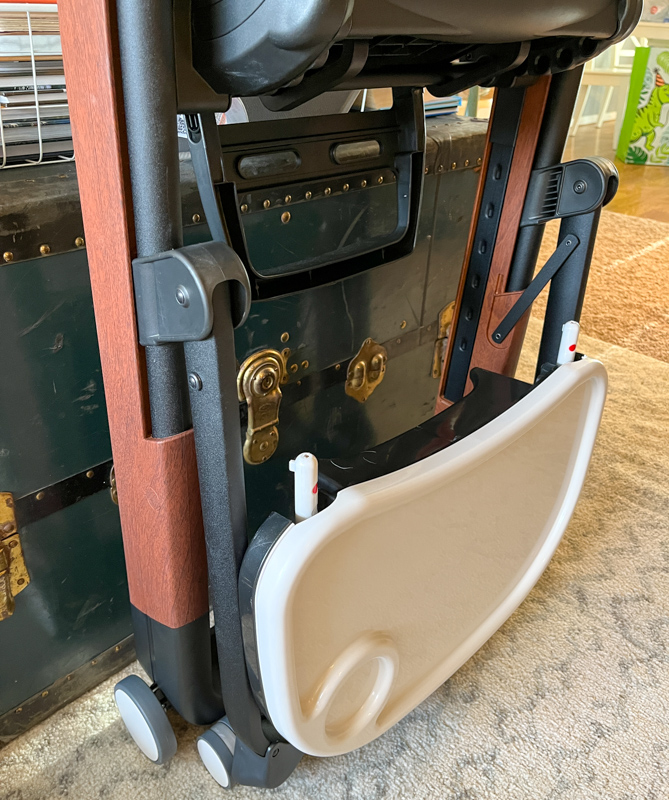 When you fold it up for storage, there's hooks for the tray so it's not loose. This folded compact package was an added bonus we didn't even know we needed!
Installation and setup
Installation was as easy as pushing the 2 non-permanently attached caster wheels to the base and setting the tray cover onto the tray. This couldn't have been much easier.
What I like
Stylish design
Easy adjustments that lock into place firmly
Ability to change harness position as child grows
Easy cleanup
Seems safe and secure
What I'd change
Nothing! This really ticks all our boxes, the only thing that could make it better would be if it had an AI-assisted robot arm to catch all the food and toys that infants and toddlers love to throw in every direction while in a high chair.
Final thoughts
For our needs, I can't imagine a better high chair than the Peg Perego Siesta high chair. Maybe it exists out there, but these already-exhausted parents whose baby hasn't even been born yet are relieved to have had the opportunity to stumble upon this high chair. I'll definitely update the review as our little monster grows!
Price: $329-429 (depending on color choice)
Where to buy: Amazon
Source: The sample for this review was provided by Peg Perego.