We use affiliate links. If you buy something through the links on this page, we may earn a commission at no cost to you. Learn more.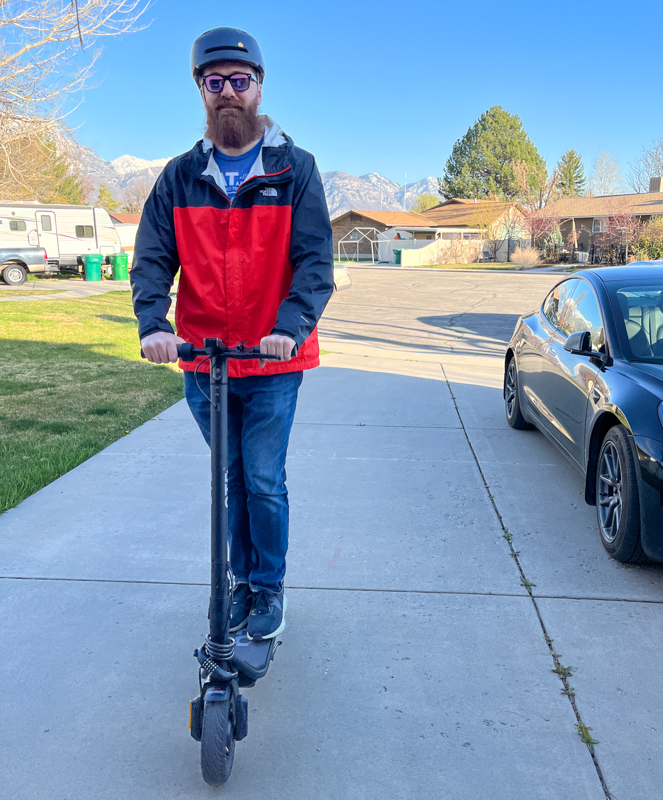 REVIEW – When OTD offered to send over their latest L2-H electric scooter for review, I'm not sure what I was expecting. I've ridden scooters of this style with no motors, gas motors, and a range of electric motors (from barely-able-to-move to too-fast-for-comfort). This new scooter from OTD might be the goldilocks scooter for me, at least on paper. A decent top speed, good range, suspension for my poor knees, and large frame all add up to the elements I'm looking for in a scooter like this. However, specs on paper can often be meaningless numbers that some marketing intern pulled out of a hat, so I'll take it through it's paces!
What is it?
The OTD L2-H Electric Scooter is an electric battery powered folding scooter, great for short hops around town or as a "last-leg" mode of transport to or from public transport like subways, bus, or rail.
What's in the box?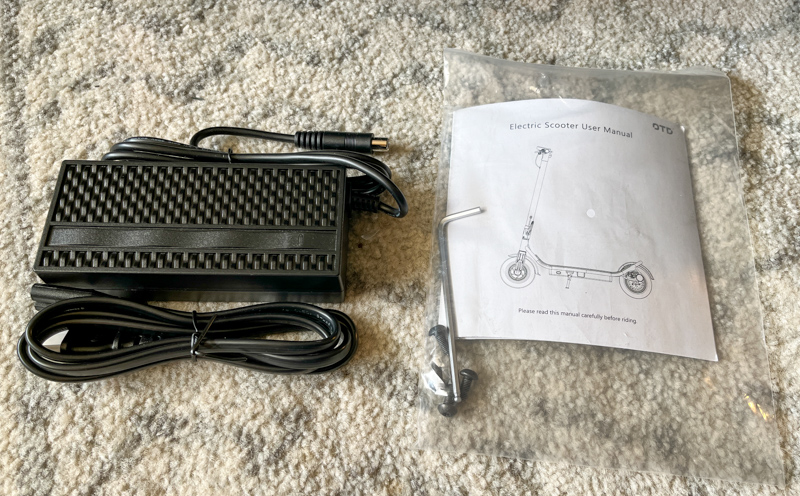 OTD L2-H Electric Scooter
AC charger
Instruction/setup manual
Hex keys and bolts for assembly
Hardware specs
Motor: 500W Electric
Top speed: up to 15 mph
Range: up to 22 miles
Battery: 36V/10.4AH
Weather resistance: IP54
Rider weight capacity: up to 260 pounds
Dual brakes: Disc brake + eABS regenerative anti-lock braking
Pneumatic (air-filled) tires
Wheel size: 10 inches
Weight: 39.9 pounds
Platform width: 8.1 inches
Frame size unfolded: 46.1″ L x 19.5″ W x 46.1″H
Frame size folded: 46.1″ L x 19.5″ W x 19.3″H
Design and features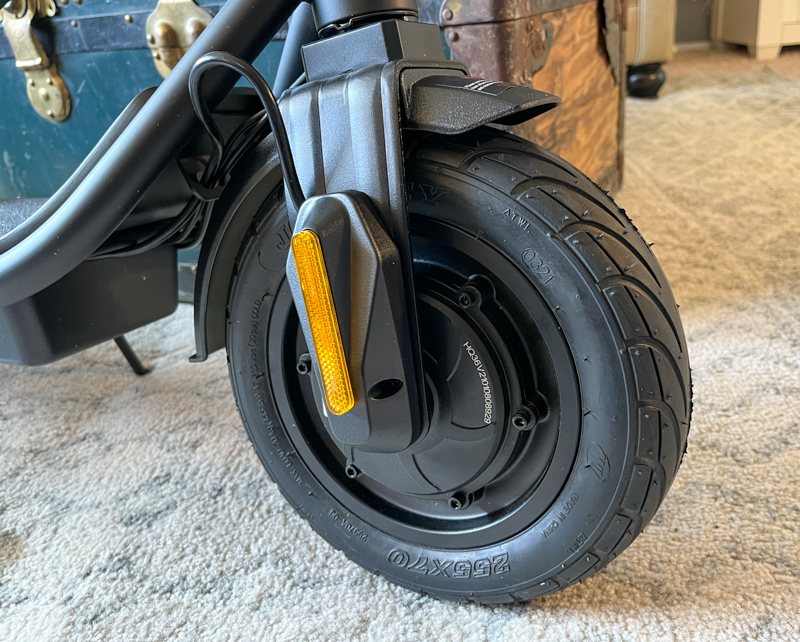 The OTD L2-H Electric Scooter has a single 500 watt motor, which is pretty good for this category of commuter scooters. This is in the front wheel, while the rear wheel has a mechanical disc brake. There's also a front suspension included to make sidewalk cracks and other bumps more comfortable.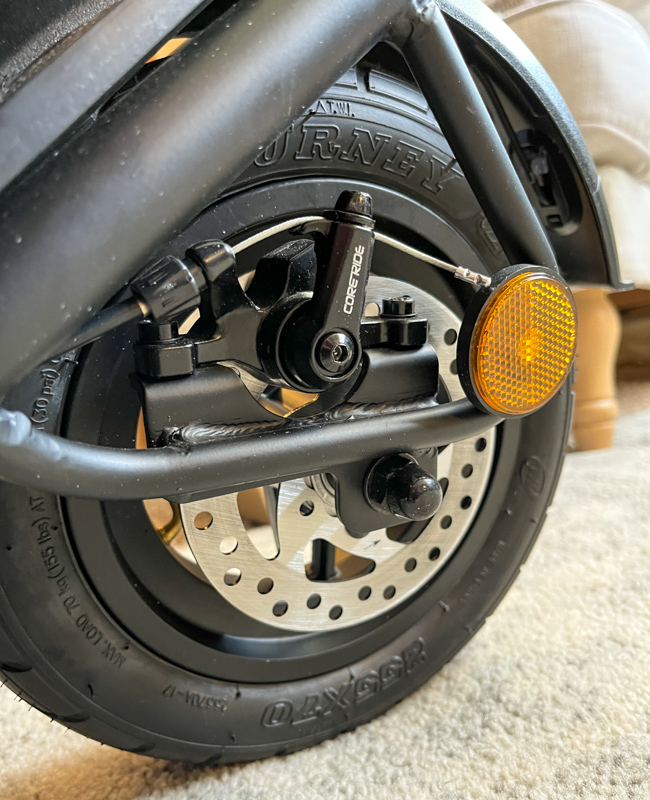 The combination of the electronic and mechanical brake were better than I expected, I did have to slam the brakes on twice for hazards while riding, and from full speed I stopped in about a car length without fear of flipping over the front. They did a good job tuning things to stop fast without loss of control.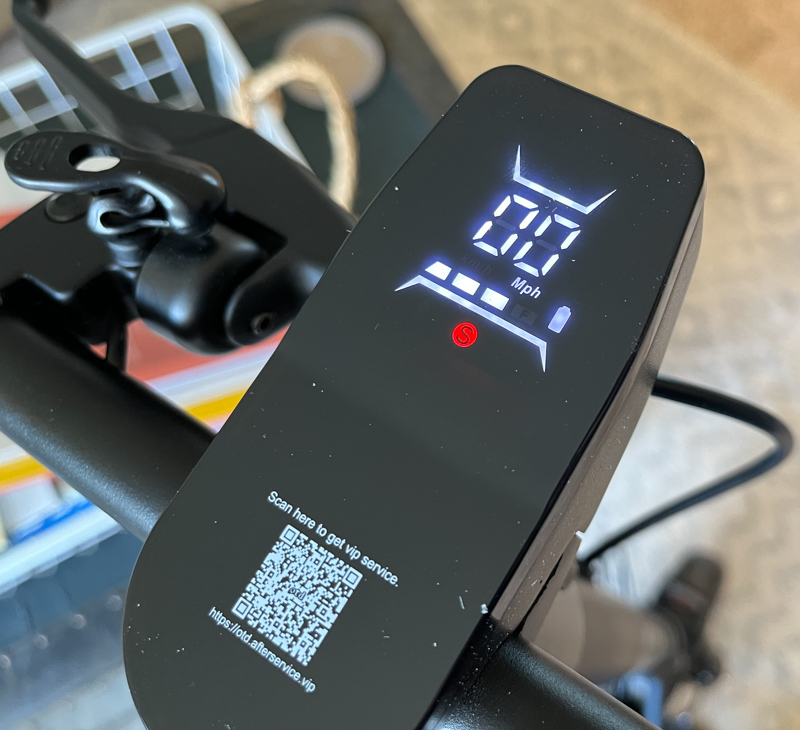 The LED screen shows battery status, speed mode, and current speed.  I was able to see this even in the brightest sunlight, though if the sun was reflected off the screen (from behind me) there were times I momentarily couldn't read it. I usually ride full speed so the only thing I'm looking at this screen for while riding is battery status.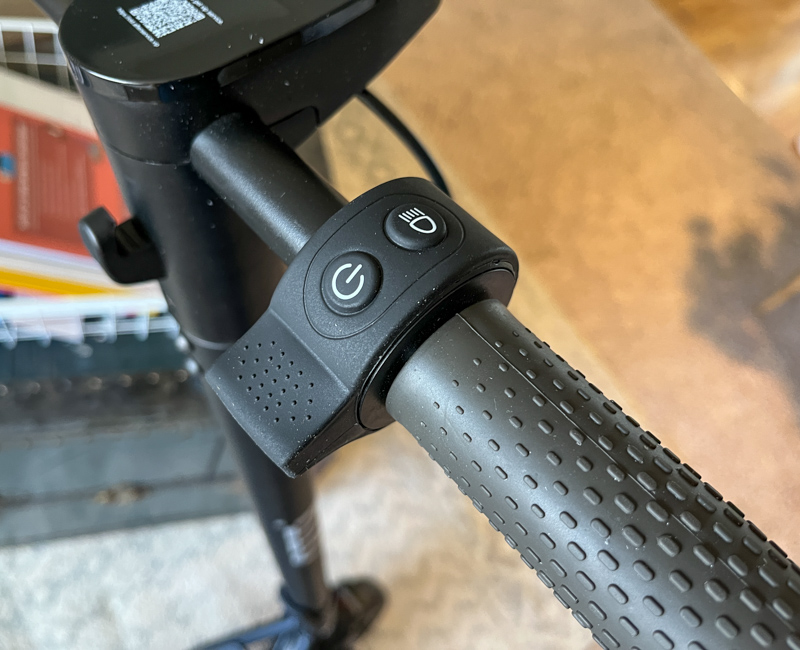 To the right of the screen is the thumb throttle, the multifunction power/speed button, and the headlight button. On longer rides, it can be a bit of a pain to keep holding the thumb button down for power, but the finger-grip style throttles have their own safety issues (if you grip in a panic you may speed up inadvertently). A cruise control option for long stretches would have been nice here.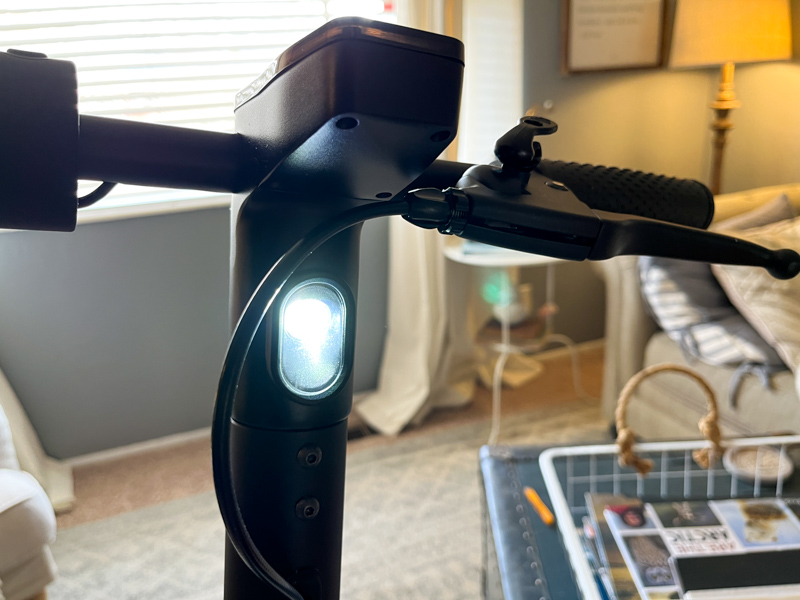 The LED headlight is mounted high on the scooter, and has a good angle to illuminate the path in front of you (and make you more visible to traffic).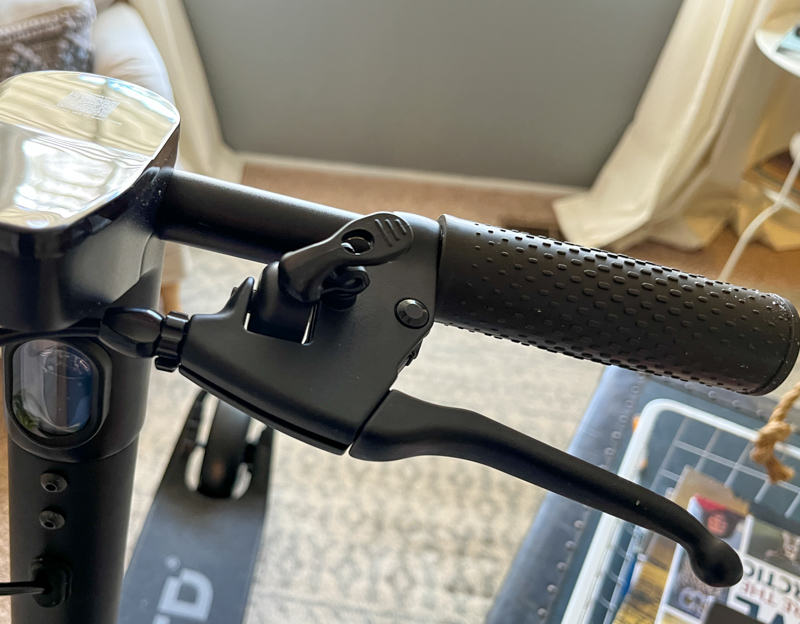 On the other handlebar is the brake lever and a bell (so you can announce your presence to pedestrians and bikes before passing). This scooter is pretty quiet, so I always try to give people a nice warning that I'm around before zipping by.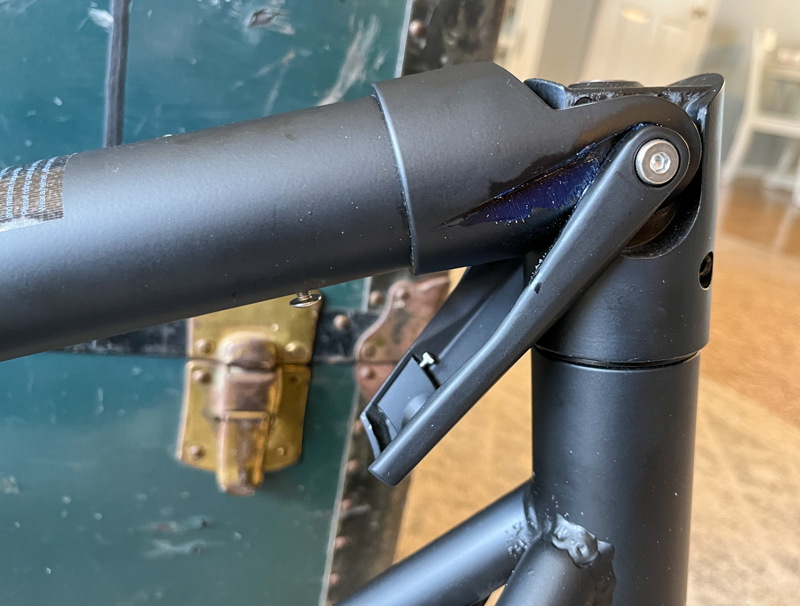 The folding mechanism seems very sturdy and well-greased.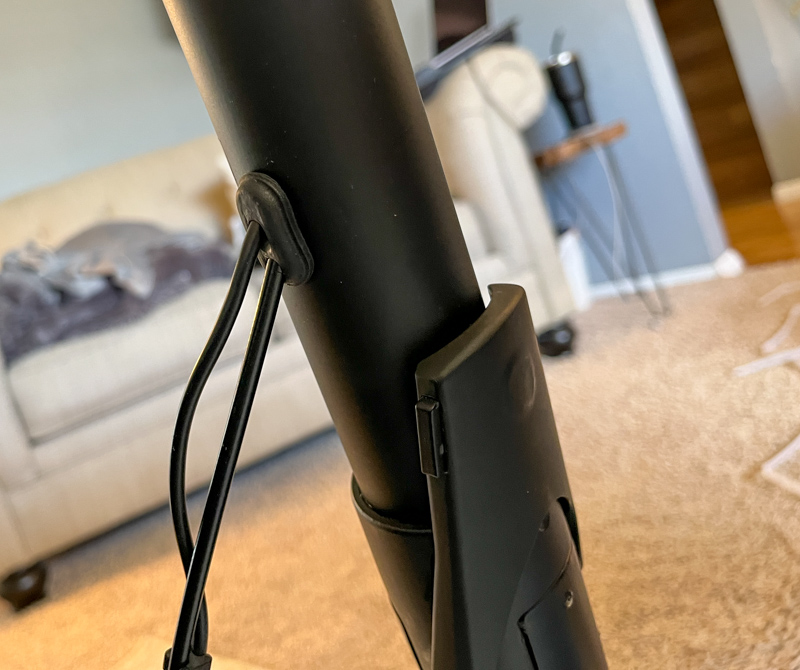 Once locked into place, my unit had no wiggle or flex at all.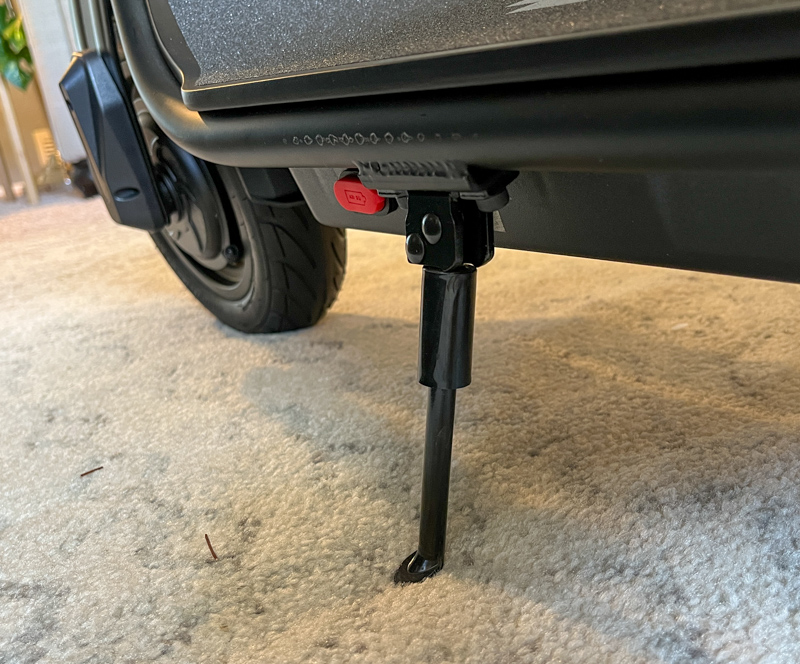 The kickstand does it's job of keeping the scooter standing, and the red plug in front of it is the charging port – when closed it prevents water and dirt from messing it up.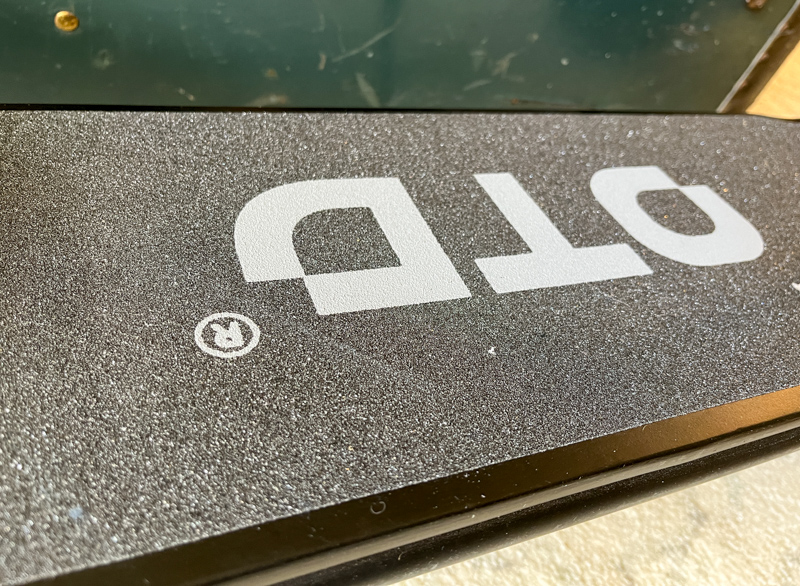 The OTD L2-H Electric Scooter deck itself is identical to a skateboard, giving a huge amount of grip. It's also wider than most of the other kick-scooters I've tried out, which is especially nice on longer rides so you can stand with your feet side by side instead of front and back.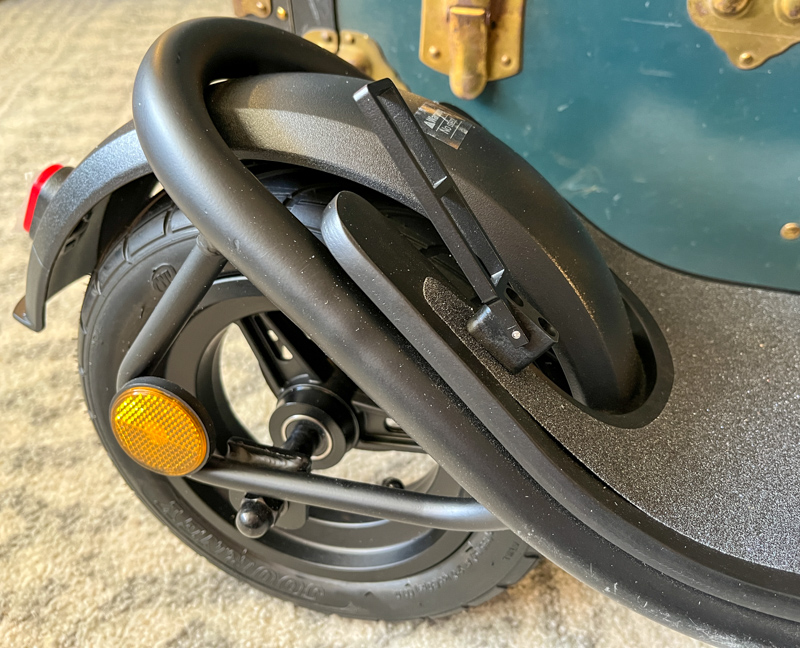 Here on the back is the clasp mechanism used to secure the scooter when folded.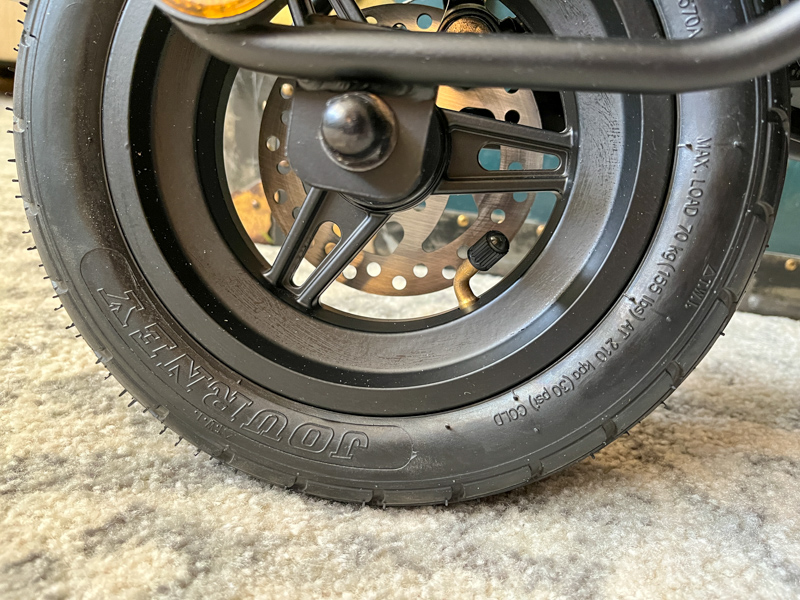 And finally, a shot of the tires. Having air-filled tires is a huge advantage over solid rubber tires for ride comfort, some of the electric rental scooters I've tried out will rattle your teeth out with no suspension and nothing but small hard rubber tires between you and bumps and sidewalk gaps.
Installation and setup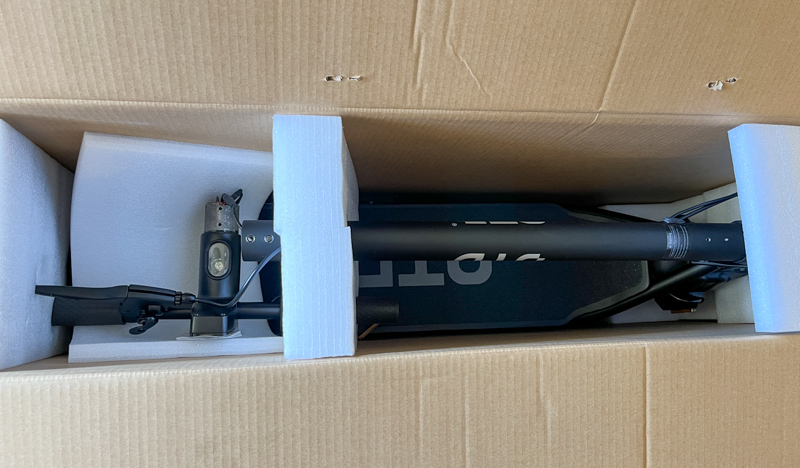 The OTD L2-H Electric scooter arrives well protected with foam, and all in one piece except for the top handlebars.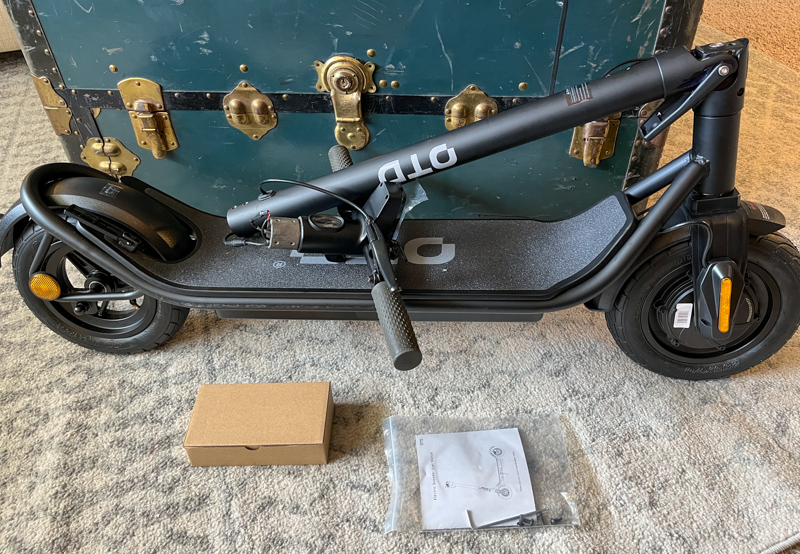 Screwing in the handlebars was quick and easy, and at this point the scooter is ready to charge and ride!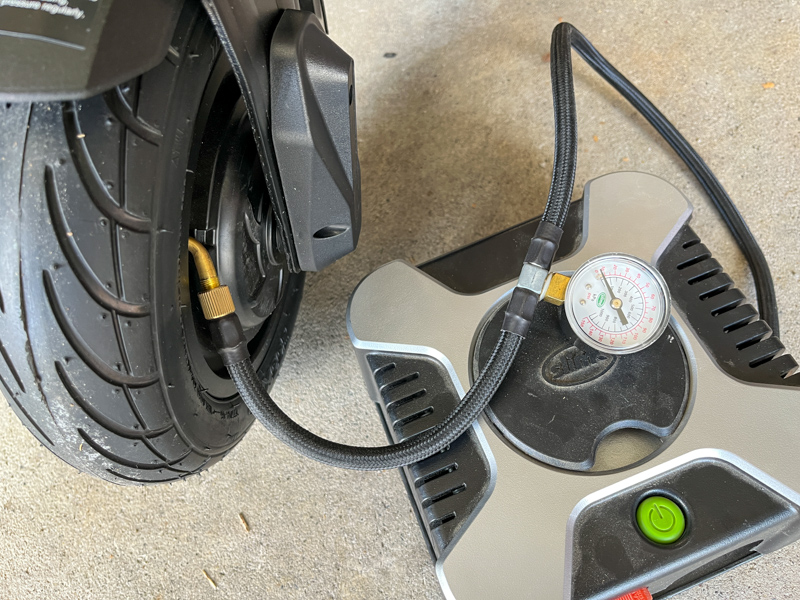 But you'll also want to check the tire pressure. The manual recommends 30 psi, so that's what I did (they were both under 10 psi out of the box).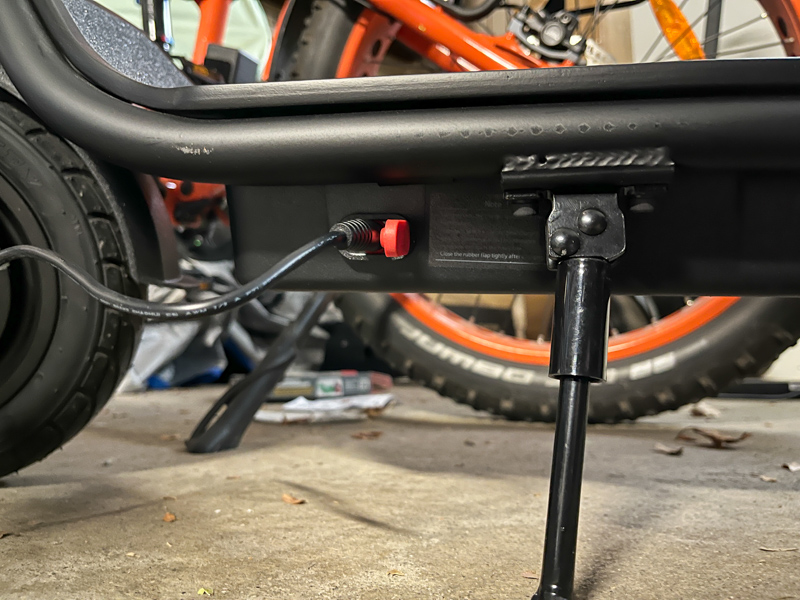 Next up is charging, which takes around 5 hours if completely empty, but I always just topped it off and never used more than half the battery (judging from the 4 bars available) on even long rides.
Performance
The OTD L2-H Electric Scooter has 3 top-speed modes, and I almost always had it on the fastest setting. On quiet smooth streets 15 mph can feel a tad slow, but as soon as you ride on sidewalks or on narrower paths it's faster than sane people would want to go.  I do wish the top speed was a bit closer to 20 mph for those situations where it's safe to ride faster, but overall the speed was enough for me. It's very comparable performance-wise to the various scooter rental options that are a pox on city sidewalks across America.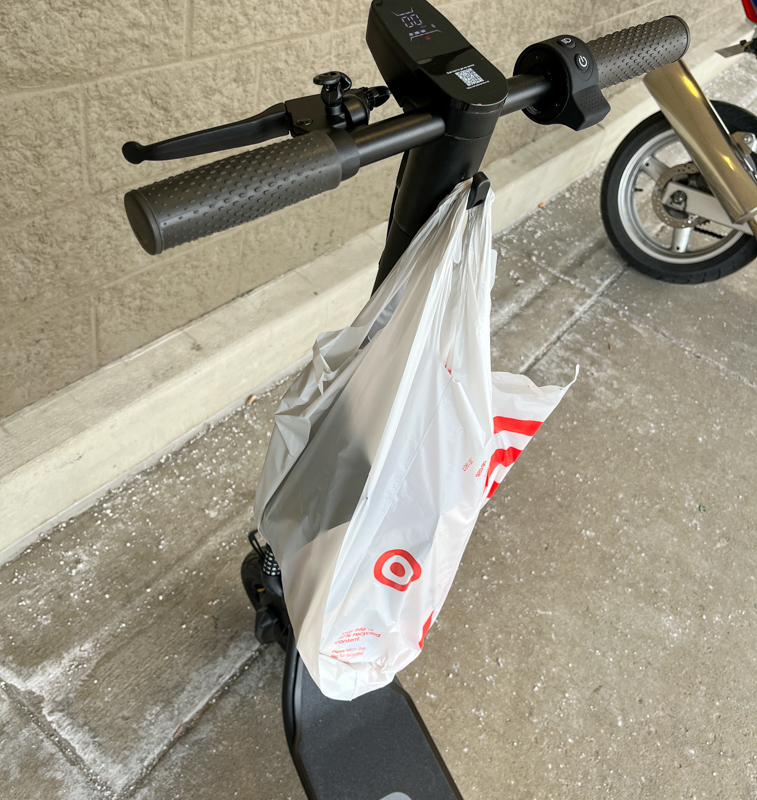 The OTD L2-H Electric Scooter quickly became my go-to mode of transportation for the last few weeks. The hook on the handlebar is perfect for grocery bags, and with a bullseye-themed store about 2 miles from my home I found myself making excuses to take the scooter ride pretty often.  If you're doing a full grocery run you'll definitely want a backpack: the hook can support at least ~30 pounds since it holds the hefty lower part of the scooter when folded up, but it only has so much hook-room for bags, and if you have a lot of weight on the handlebars it will affect handling.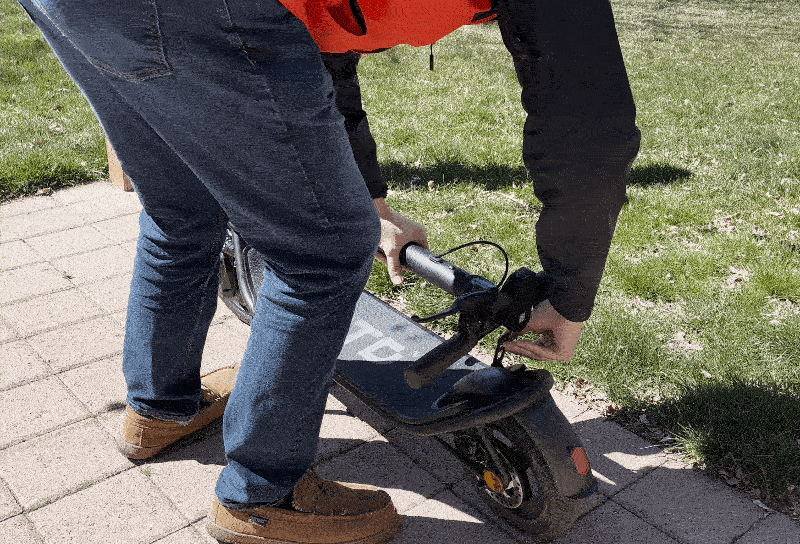 Folding and unfolding the scooter can easily be done by one person, and at just under 40 pounds it's pretty easy to carry around.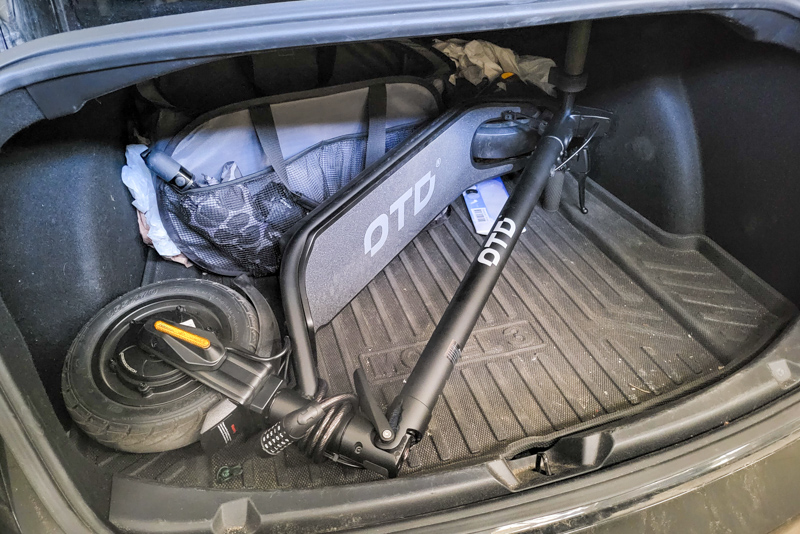 I also took it on several short trips and errands around town, once folded the scooter easily fit in our average-sized trunk. For lack of a better place to squeeze this into my review – the flexible combination bike lock in the picture above worked great with this scooter, I was able to loop it around the scooter frame itself, I'm glad they left a gap in front of the deck that allowed me to do that!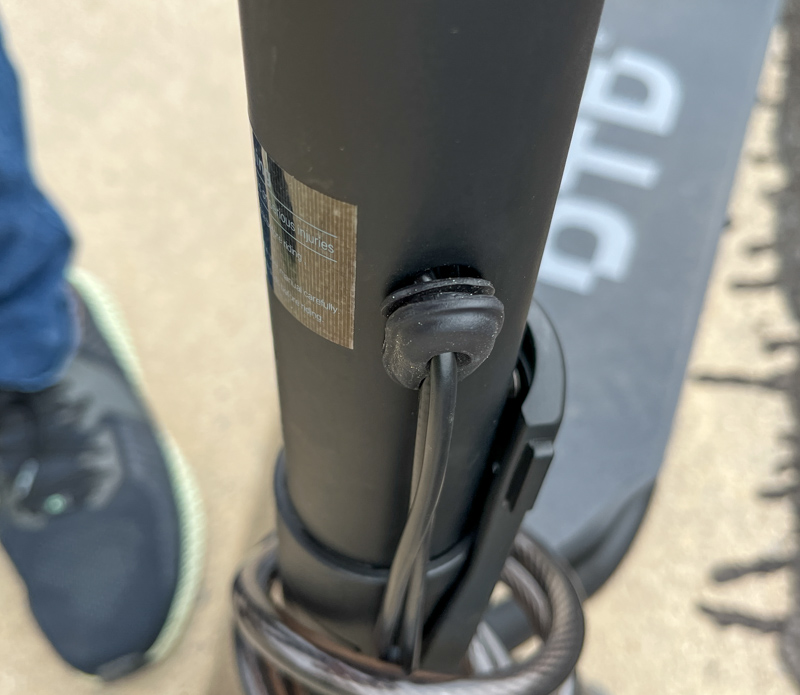 The only build/quality complaint I had was the grommet for wires shown above. It keeps popping out, I'll probably use a bit of silicone to keep it in place, when it's like this I'm losing the weather protection and just asking for rust inside the handlebar tube.
Range was good, even when tested in near-freezing temperatures (I have a lot of experience with electric motorcycles and bicycles, and cold weather can kill range).  I was able to go about 6 miles round trip on mostly flat ground at max speed, and arrived back with 2 bars out of the 4 remaining. If the battery indicator is accurate, I should have been able to go around 12 to empty which sounds about right with the freezing temperatures and my weight, as well as a few hills that are also battery-killers.
What I like
Good range
Decent shock absorption
Easy to handle, great braking
Bright headlight
What I'd change
Good speeds, but feels like it could do 20mph with this motor if it wasn't electronically limited.
Grommet pulling out repeatedly
Battery percentage and/or distance-to-empty would be helpful
Final thoughts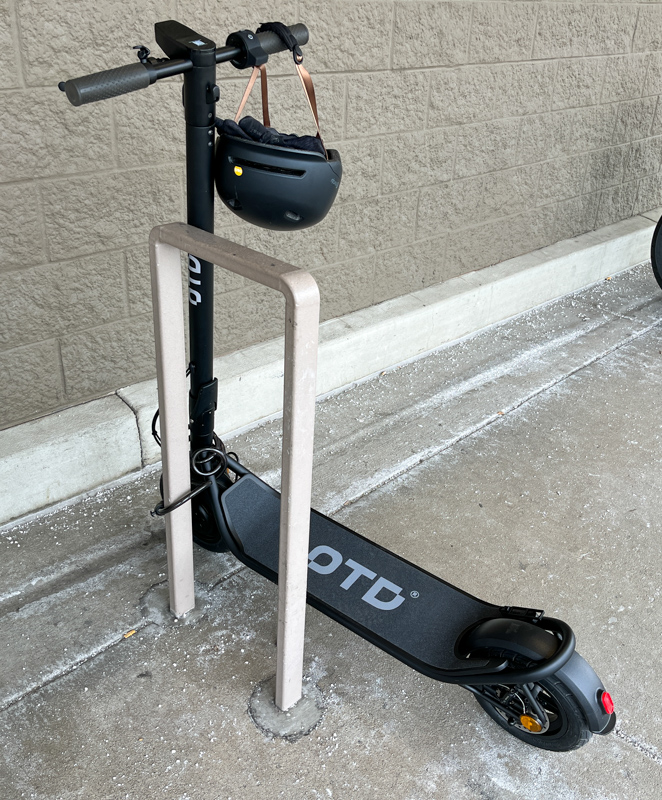 I thought that the OTD L2-H Electric Scooter would simply be a convenient way to make short trips for our one-car family, but it turns out that it's also fun! I find myself taking rides almost every day, either to a store to grab something or just around nearby parks for some air. If you're looking for something with decent performance and range, the ability to fold up and carry or fit in a trunk, and good ride comfort, you might have just found the right one! At ~$5+ per ride on the rental scooters (if you can find one in your area), owning your own could pay for itself quickly too.
Update 6/10/22
I've been using this scooter nonstop since the review was posted, and I'm still loving it. Good range, decent power, and the ability to throw it in the trunk or carry onto a bus/train is great. I did have one flat tire, but some tire slime flat-fix got me going again without having to replace the tube. I eagerly await the days when tubeless tires will still have decent shock absorption.
Price: $649.99
Where to buy: Amazon
Source: The sample for this review was provided by OTD