We use affiliate links. If you buy something through the links on this page, we may earn a commission at no cost to you. Learn more.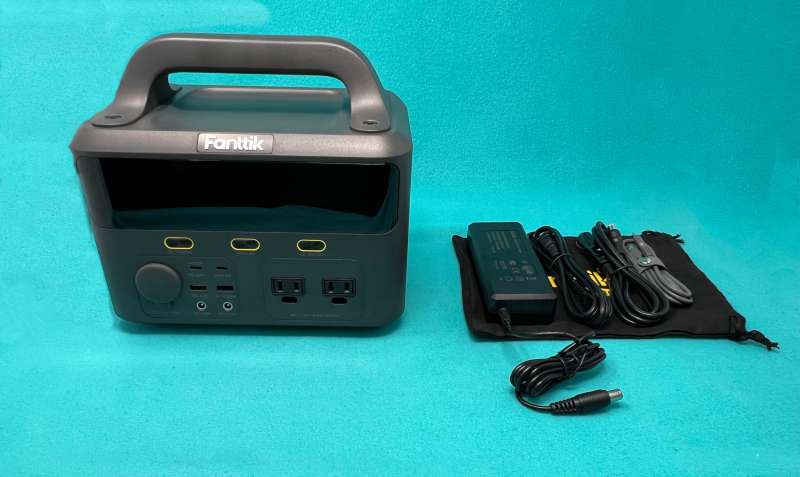 REVIEW – Whether it's due to a natural disaster or a choice to go somewhere off-grid, we sometimes find ourselves needing portable electricity. For whatever situation you're in, the Fanttik EVO 300 Portable Power Station can give you power for a good long time – at least, that's what the marketing material states. I was sent their bundle of the power station and the EVO solar 100 solar panel recharging setup to test, so let's take a closer look.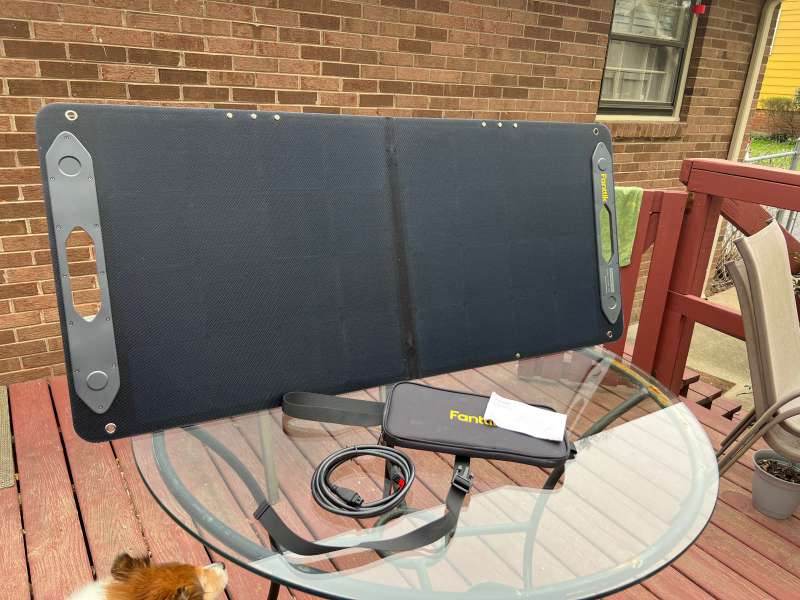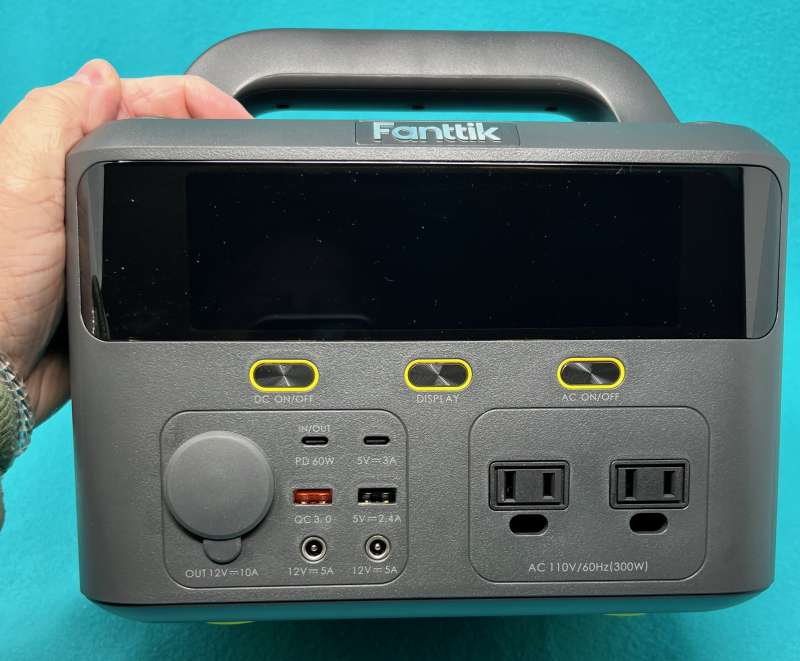 During the last several years, I think folks in every part of the world have had some sort of emergency. Whether it's a flood, wildfire, blizzard, armed insurrection, whatever – many have had to deal with the unknown. Worrying about how to power the things you need in these situations frequently isn't thought through until you're in the middle of it, wondering "How can I power my phone or my weather radio or that most important piece of emergency equipment: my coffee maker?"
What is it?
The Fanttik EVO 300 is a portable solid-state power station for applications large and small, AC and/or DC, and a solar charging array to recharge it
What's in the box?
The bundle arrives in two packages. The Power station box contains: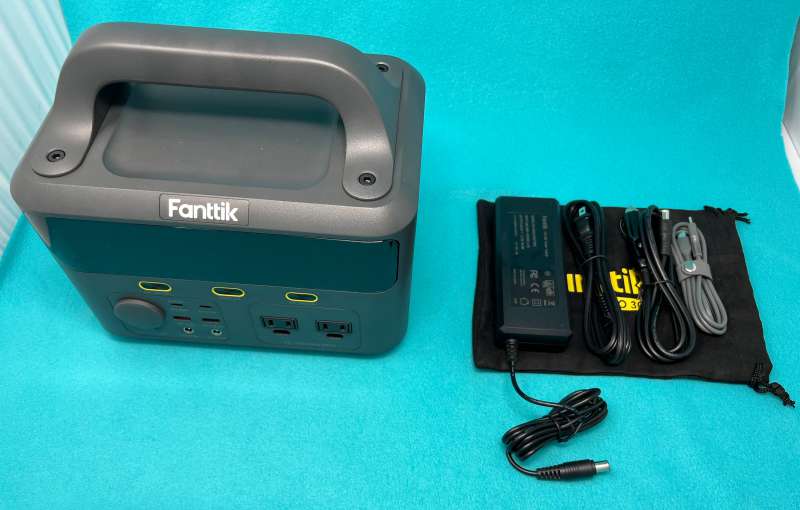 Fanttik EVO 300 Power Station
Car Vehicle Charging Cable
USB-C to USB-C Cable
Accessory Bag
User Manual
Quick Start Guide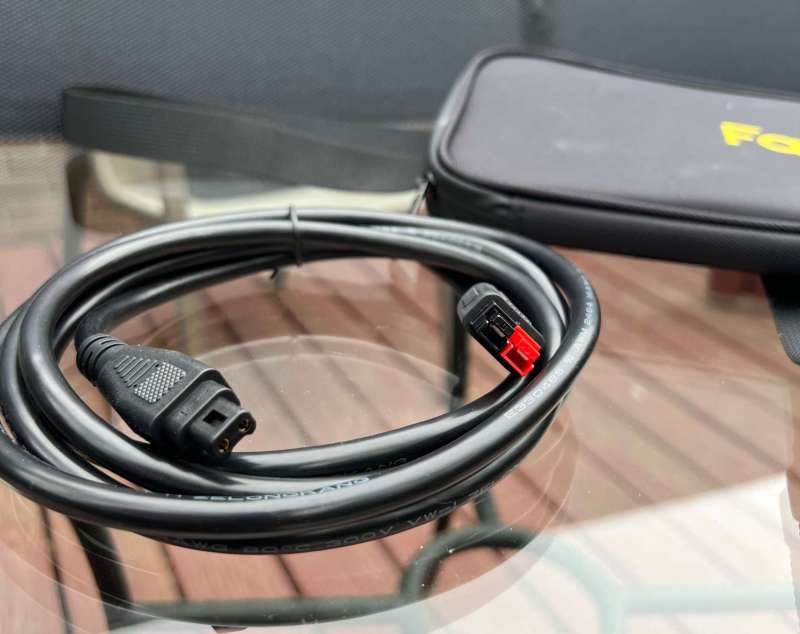 The Solar Charger box contains:
Fanttik EVO 100 Solar Charger
Anderson Charging Cable
Accessory Bag
User Manual

Hardware specs
From the company Amazon listing
Power Station Specs
LARGE LCD SCREEN: The large LCD screen displays real-time input and output power, remaining charging time, battery power, and warnings for your convenience. When the portable power station is charging the devices, the screen will stay on, allowing you to check the remaining power at any time.
USB-C 60W TWO-WAYS FAST CHARGE: It takes only 2 hours to recharge 80% battery of the power station through the wall outlet and 60W PD USB-C port simultaneously. Also, each port is independent of the other and can power 6 devices simultaneously thanks to 2 AC outlets, 1 USB-C port, 2 USB-A ports, and 1 car outlet.
FOUR EASY CHARGING WAYS: This solar generator can be charged via wall outlet + PD60W USB-C, wall AC outlet, solar panel (built-in MPPT), and car cigarette lighter port. The easy-to-carry handle can be carried anywhere without worrying about power shortages. Flashlight with SOS light design is convenient for your outdoor emergency.
ADVANCED TECHNOLOGY: Fanttik solar panels are composed of individual monocrystalline silicon panels, and any damage to one of them will not affect the overall use. Also, the panel uses a variety of materials for lamination, allowing modules to last up to 25 years. Suitable for building roofs, yachts, RVs, etc.
HIGHER ENERGY CONVERSION RATE: Covered by monocrystalline silicon solar cells, the solar panel adopts multi-layered cell technology to generate energy from the sunlight and perform better with higher conversion efficiency than up to 23% of other conventional panels.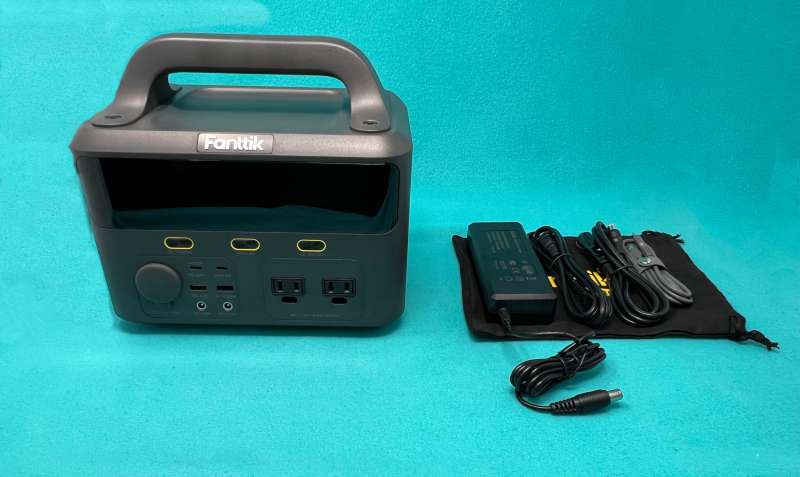 Solar Panel Specs
Higher Efficient Sun Energy: Built with an industry-leading SunPower solar panel that converts up to 23% of received solar energy into electrical energy. A controller with MPPT technology intelligently manages power flow to maximize efficiency.
Durably Constructed: Fanttik solar panels are composed of many separate monocrystalline silicons, and any damage to one of them will not affect the overall use. Also, the panel uses a variety of materials for lamination, allowing modules to last up to 25 years. Suitable for building roofs, yachts, RVs, etc.
Portable & Foldable: The Fanttik 100W solar panel features 2 kickstands that can be placed firmly on any surface ground. With just a few seconds of setup, you can start soaking energy from the sun for your power station. The rubber handle allows you to carry around easily when taking off-grid trips.
Water-resistant & Durable: The Fanttik 100W Solar Panel is fully waterproof due to a seamless, one-piece design, making it ideal for outdoor activities like camping and hiking. The ETFE-laminated case is durable enough to extend the lifespan of the solar panel.
Compatibility: This EVO Solar 100 panel can charge the following batteries: Fanttik Power Stations; Sealed lead-acid battery; Colloidal lead-acid batteries and the open lead-acid batteries.
Design and features
The Fanttik EVO 300 power station is a solid black polycarbonate box with a very solid bolted-on handle. Overall, it measures 10" x 10" x 7" and weighs 8.8 pounds. The handle adds about 2" to that 7" height.
The face of the unit is divided into two horizontal halves: a large (1.9" x 6.25") display, three knurled plastic oval buttons just below it, and a lower section of output ports. The three buttons are used to display the DC status (left button), the AC status (right button), and turning on/off the display (center button).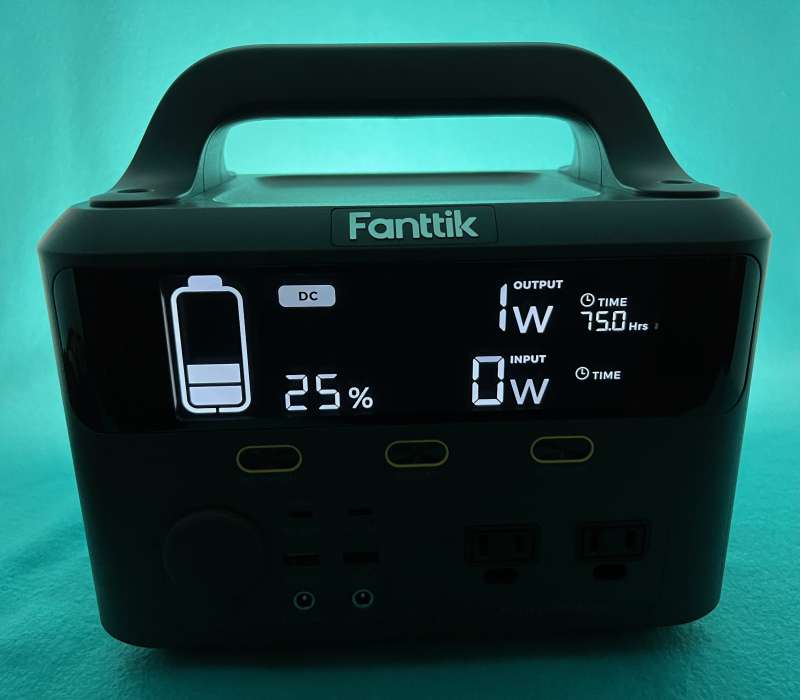 The output section is divided into two halves: DC and AC. In the DC quadrant on the lower left, there are: a covered 12W vehicle power port, two USB-C ports (Power Delivery 60W and the typical 5V 3 amp), two USB-A ports (QC 3.0 and 5V 2.4 amp), and two 12V 5 amp center ring jacks. The AC quadrant has two side-by-side polarized US standard 2-prong outlets. In order to accommodate three-prong plugs, there is a hole under the outlets, but it has no conductivity. I read this is a big flashing sign that says "This unit is not grounded!" Not unexpected, and handled very subtly.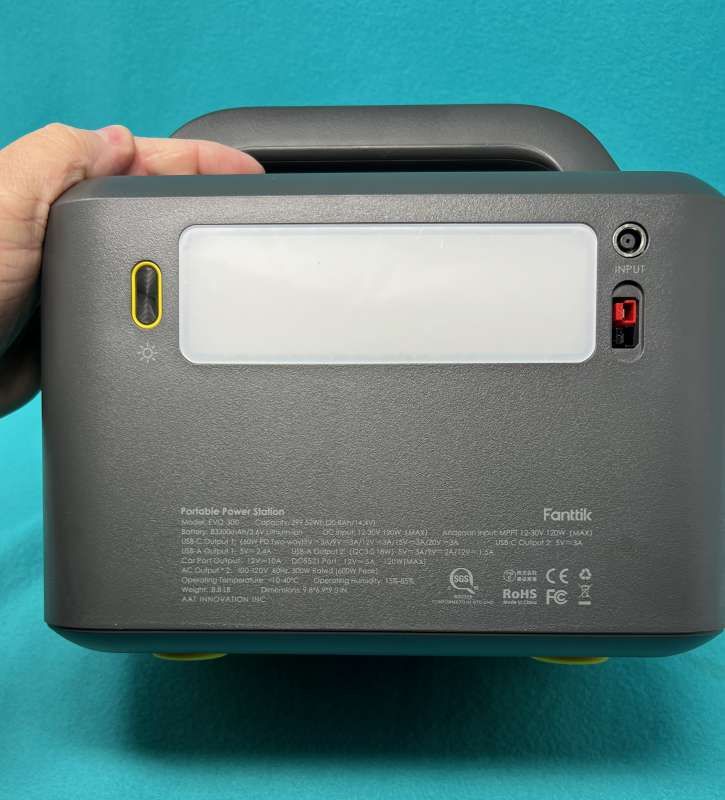 On the back of the Power Station is a nicely sized (5.4" x 1.77") LED light, controlled by a knurled plastic button to the left side. Pressing the button cycles through half-power, full power, SOS flashing, and off. This can be used for camp activity illumination or emergency signaling. Opposite the light button are the power inputs, which can be used in tandem to speed up charging. One is the Anderson plug which can connect to the solar array. The other is for the included 24V power supply for building power or the also included 12V vehicle power cable.
Rounding out the included cables is a USB-C<=>USB-C cable with a snap leash. These all fit into a nicely finished drawstring bag with a silkscreened logo.
The Solar Panel is in two hinged halves, 21.125" x 24.125" x .5" each, that each includes a handle cut into the longer ends. These handles have strong magnets integrated into the molded plastic reinforcement. Attached to each half is a 4.5" wide leg that flips out to support the unit at an angle to the sky. There are webbing straps that allow for adjustment of the angle, and two strong magnets keep the free end attached when the unit is not deployed.
The two handles have strong magnets built-in that keep them together. There is also an unattached strap that loops around and keeps the two panels together. Sewn into this strap is a zippered pouch that can hold the cable that attaches it to your Power Station. For output, there is only the Anderson plug under a weather-proof flap. Grommets on each corner would allow for temporary tie-down or hanging.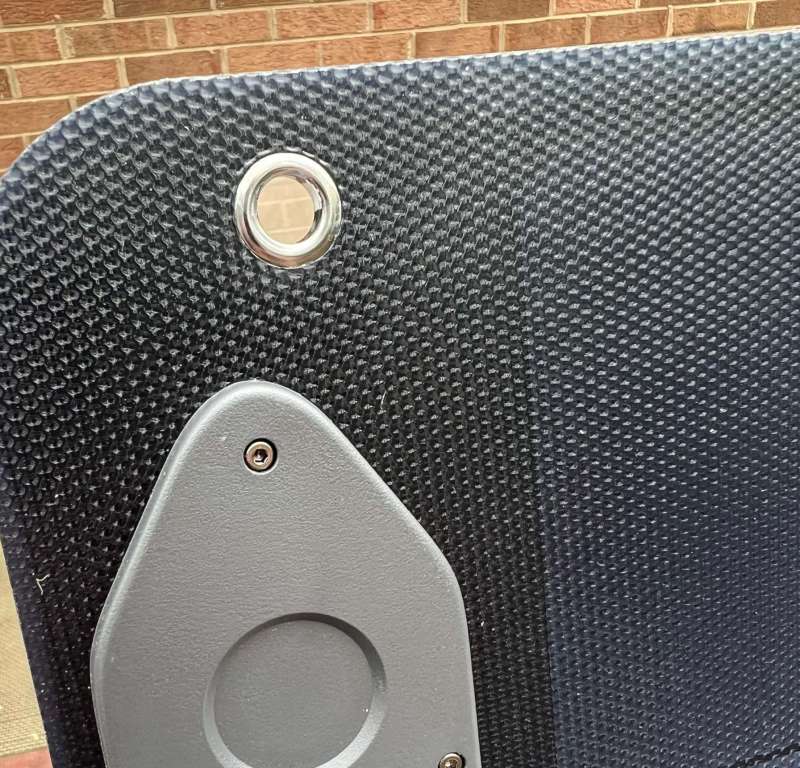 Setup
There really isn't much setup needed, other than unpacking. The power station can be charged with the included solar array, vehicle power, or with a building outlet. This means you could charge it while you're driving to your campsite or the evacuation point, or it could be charged and ready to go when you unplug it or lose power.
To set up the solar array, it's pretty much as simple as flipping it open, flipping out the legs, and plugging it in. Here's a quick video.
Performance
The Fanttik EVO 300 power station started charging immediately when I plugged it into my home outlet. I could then run almost anything from it. I charged portable devices like phones and tablets with no issues. I have a multi-battery array for my drone which charges faster through AC than DC, so this was a welcomed upgrade to my roaming drone use. (With most drones, you have to charge multiple times per session, since they have to trade off battery weight with the flight time.) I was rarely able to put a dent into the stored capacity of the power station – it's a huge amount of power stored in a relatively small, efficient package.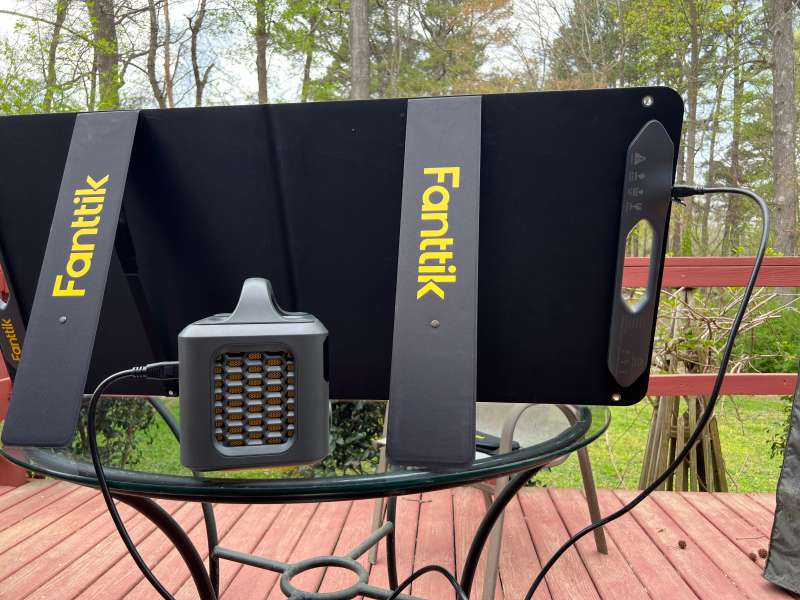 I'm hoping to camp some this spring, and will enjoy having the solar array available to keep things topped up, as well as to make hot water in my hot pot!
I've been through two different weeks without power. When living in Asheville, NC, a blizzard took a power line down on our street, but trucks couldn't get to the limbs or poles, because of the 45% grade of the street and the ice under the pine trees. (We did have a kerosene heater, so we were toasty warm inside!) Two years later, (in the summer this time!) we were in central NC, and a hurricane knocked down 6 of the 8 utility poles on our two-block street. Since we were a small neighborhood, we were a very low priority. In either of these situations, having alternate power would have made life much less fraught. Some neighbors had generators, but those come with their own tradeoffs – gasoline and noise being two huge ones!
What I like
All modes covered for both input and output
All cables included
Fully self-sustaining – all you need is sunlight
What I'd change
I was surprised that I have no issues with anything in this kit.
Final thoughts
There are two cases (mainly) where you would need a power station like the Fanttik EVO 300: you're someone who goes off-grid (camping, wilderness research, gold prospecting in the wilderness) or you're a person/group that expects emergencies (preppers, disaster recovery teams, aid organizations). I can even see this set-up making things more fun in the backyard during a family picnic, being able to have movies, karaoke, or music performances without having to run extension cords. I'm sure I missed some use cases, but for both of those major groups, this package seems a good fit. For the campers, it is small and light and can be deployed and put away in a matter of a few minutes in a very small space. For the emergency workers, you can power an almost infinite number of devices – from communication tools to batteries for power tools or medical gear, and, again, it's easy to pack, deploy, and teach volunteers how to use. The weatherproofing on both pieces is going to guard against failure in the field, and things like the signal light allow for reading, emergency first aid, or just fighting off the fear of the dark unknown. Grab one before your next blizzard, tornado, hurricane, flood, wildfire, or brown-out.
Price: $299.97 for Power Station 300, $299.97 Portable Solar Station. $619.97 For bundle with both.
Where to buy: Amazon
Source: The sample of this product was provided by Fanttik.