We use affiliate links. If you buy something through the links on this page, we may earn a commission at no cost to you. Learn more.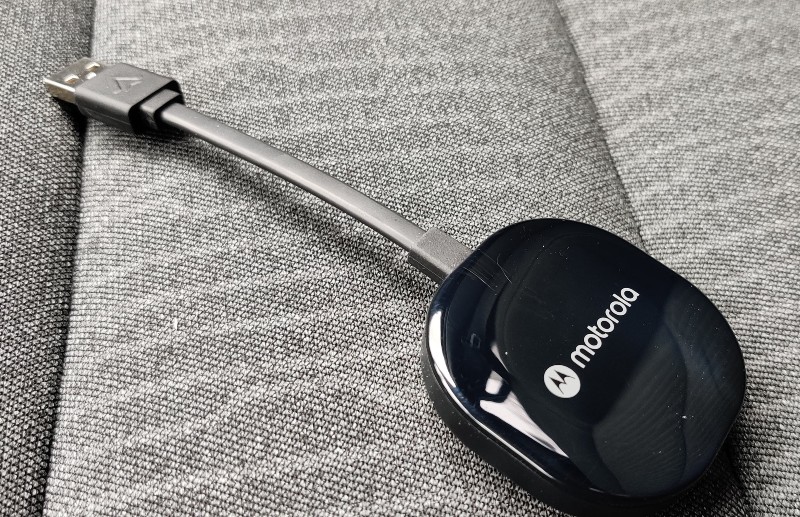 REVIEW – It might not seem like much to plug your phone into the car to access Android Auto each time you get in for a trip, but a few days with the Motorola MA1 Wireless Android Auto Car Adapter will change your mind.
What is it?
If you've bought or rented a new car in the last 7 or so years, it's likely that car is equipped with Android Auto, which is the ability to more-or-less mimic your Android phone's screen on the display of the car.  For all but the newest cars, this involves using a USB cable to connect your phone.  The Motorola MA1 handles that connection wirelessly – just get in the car with your phone, and it connects over the air.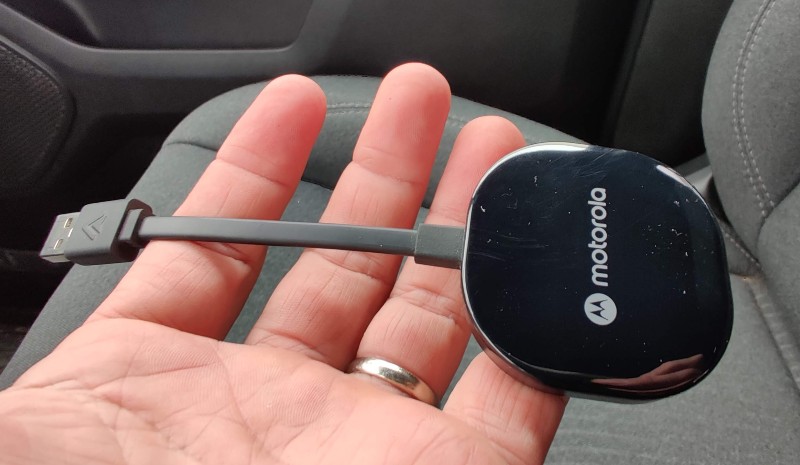 What's in the box?
Motorola MA1 Wireless adapter

Gel sticky pad

Quick-start guide

Hardware specs
Platform Compatibility: Android 11 and higher

Bluetooth 5.0

5Ghz WiFi

Weight: 31g
Design and features
The design of the Motorola MA1 Wireless Android Auto Car Adapter is very similar to a Google Chromecast. It's a small puck with a 5-inch non-removable USB-A cable.  There is a small connect/reset button and a LED.  That's it!  As far as features, well, there really aren't any.  It does one thing – connect your phone to your car, without wires.  No apps to download or settings to change. 
Installation and Setup
Initial installation and setup were quick and easy.  You first have to connect your phone to your car via the "old-fashioned" method, with a USB cable.  Then you simply unplug that cable, plug the MA1 into the car, and connect your phone via Bluetooth. Your phone then establishes a direct-connect WiFi link with the MA1 which is how the data is ultimately sent.  This initial process takes less than 30 seconds, and once completed, your phone just appears on the screen of your car, just like if you had plugged it in. 

Performance
Almost all of the time, the Motorola MA1 Wireless Android Auto Car Adapter just works. I get in the car, start it up, and before I make the turn out of my driveway, my phone is connected, Android Auto appears on screen, Google Maps comes up, and Youtube Music starts to play.  I've not seen a performance difference between the cable connection and the MA1.  The audio sounds great, and the screen is clear and very responsive to touch inputs.  That said, there have been a few strange glitches that I've been unable to explain.  There are two buildings that I occasionally pass by, and when doing so, the MA1 disconnects from my phone.  Every time.  The same two buildings are miles apart from each other.  It reconnects less than a minute later, so I can only guess that something in those buildings confuses the WiFi, causing the MA1 to disconnect.  
What I like
I really like the simple design, the quick installation, and the fact that it just works, and works very well most of the time. It's small and connects quickly.
What I'd change
The wire is a bit short.  In my vehicle, a 2019 Ram 1500, it works because there is a little place to stash the MA1 out of the way below the USB port.  A gel sticky pad is included for a more permeant installation, but that would make switching between cars or using the MA1 in a rental more difficult.  
The wireless connection really zaps your phone's battery.  This is not something that can be changed, as it's a WiFi connection, and those are power-hungry. Most of my trips are short, less than 30 minutes or so. In those cases, I don't even notice. But on longer trips, you can run the battery down quickly, so I usually just use a cable connection, which keeps the battery topped up.  But those short trips where you don't want to be bothered to plug in are where the MA1 really excels. 
Final Thoughts
Overall, I have been really impressed with the Motorola MA1 Wireless Android Auto Car Adapter.  It might not sound like much to plug your phone into your car each time you get in, but not having to is surprisingly great.  I thought this would be a "luxury item" that I would feel guilty using, but I've come to enjoy the almost instant-on capability and near-flawless reproduction of the cabled experience of Android auto.
Price:  $89.95
Where to buy: Motorola Sound or Amazon
Source: I purchased this item with my own funds.