We use affiliate links. If you buy something through the links on this page, we may earn a commission at no cost to you. Learn more.

REVIEW – More so than any other element (see what I did there?), the quality of the sound you produce will either make or break your content. With smartphones and action cameras, the ability to create content is in the hands of more people than ever. The mic in these devices, though, is rarely up to the challenge, making products like the Mackie EleMent Wave Wireless Lav mic a necessity. Is this particular product worth your hard-earned dollars? Let's find out…
What is it?
Mackie's EleMent Wave Wireless Lav mic (which, to save my aching fingers we'll just call "Wave") is a 2.4 GHz wireless transmitter (the mic end) and receiver (the part that plugs into your recording device) intended to help you produce quality sound on a budget.  It comes with (almost) everything you will need to get started.  More on the "almost" shortly.
What's in the box?
A wireless transmitter
A wireless receiver
A lavalier mic that plugs into the transmitter
A "dead cat" windscreen for the transmitter (in case you don't want to use the lav mic)
A USB-A to dual USB-C cable for charging both units at once
A TRS and a TRRS cable that goes from the receiver into your device of choice
A zippered hard shell carrying case for everything
Instruction manual and software offers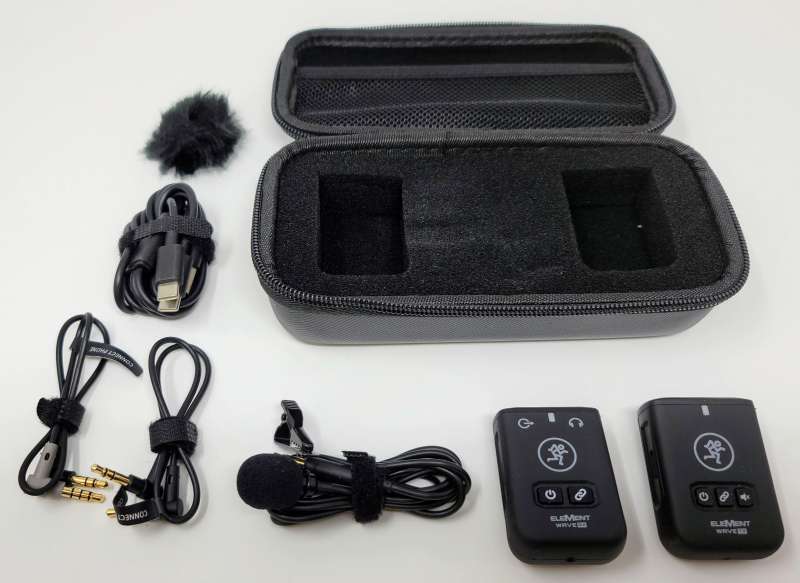 Design and Function
Both the transmitter and receiver sport a common design language. The front of each has a power button and a link button in case the pair lose their connection.  Out of the box they are already paired, so this is more contingency than necessity.  The transmitter has an additional mute button.  Both also have an LED to let you know the state – flashing red if a charge is needed, flashing green if one unit is not connected to the other, solid green if connected and solid red on the transmitter if muted.
A quick press of the power button on either unit will show the current battery level in 25% increments. Four flashes means you are at 100% while 1 flash is 25%.  Press and hold the power button for 2 seconds to power either unit on or off.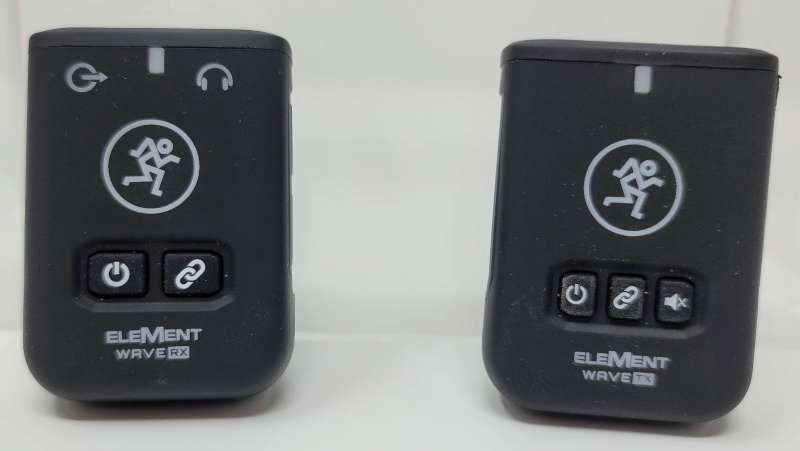 On the top of the receiver, there is an 1/8 inch jack for headphones and another for output to your recording device.  The transmitter top has an 1/8 inch jack for a lav mic as well as an onboard mic.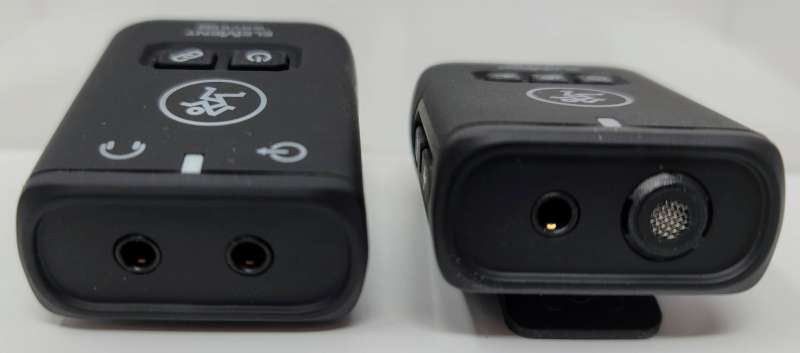 On the right side of each unit, there are volume up and down buttons.  I found this somewhat curious on the transmitter because there is no headphone jack until I figured out the secret. The volume controls on the transmitter govern the mic output while the controls on the receiver manage headphone volume.  Doesn't tell you that in the manual.

And finally, on the left side, there is a USB-C port to charge the units.

The Wave has another variant – instead of a lav mic, you can get a setup that has an XLR connector instead so you can plug it into a high-end mic.  While you cannot add additional transmitters to the set (in case you need 2 mics at once), according to Mackie you can use up to 6 transmitter/receiver pairs in the same location. I wasn't able to test this and, of course, your ability to use this many pairs might be hampered by anything else using or bleeding over into the 2.4 GHz band (like WiFi, for example).
Way back at the top of this review I noted that the Wave comes with almost everything you need to use right out of the box.  The "almost" comes from the current state of smartphones and action cameras.  Many phones these days no longer have a 1/8 inch jack – the same is true for action cameras.  In order to use this system, you will need either a specialized dongle or some sort of digital-analog converter.  For example, my phone (Samsung Galaxy Note 20 Ultra) requires a special 1/8 inch female to USB-C male cable.  I tried a couple of generic cables but every last one didn't work, so I gave up and paid the Samsung tax and bought their cable. And it works.
The curious thing about this is that this trend towards ditching the headphone jack on devices has been around for a while. I'm not sure why Mackie did not make the USB-C port into something more than just a charging station.  Other wireless mic companies allow for USB out, making it very easy to plug the receiver into your phone.  Seems like a pretty big miss.
While we are on the subject of misses, here's a big one – there is no on-device recording capability. That means if anything in the chain fails, your recording fails. It could include interference from other devices, a bad or loose cable between the receiver and the recording device, or a recording device failure. And if there were on-device recording, then a safety channel could also be implemented.  This channel would step the gain down a few decibels just in case of loud noises or bad volume settings.  There are similar setups on the market that have these features and are at the same price point, so it is difficult to understand why Mackie did not include this.
Once all connected and plugged in, you get up to 7 hours of recording time on a single charge. It takes a couple of hours to go from 0 to 100%, so nothing unusual there. If you have a clear line of sight between the transmitter and receiver you could be up to 230 feet apart and still get decent sound (although, again, your environment may limit that). Buildings, trees and other obstructions bring that down to about 30 feet.
Here it in action
The question is – is this any better than the mic on your cell phone or camera? The answer is an obvious "yes". While you can capture audio on either type of device with the native mics, you are also at the mercy of wind and environment noise, and your proximity to the device. Being able to use a directional mic (like an XLR handheld or the lav mic which comes with the Wave) means you have the ability to counter those enemies of clear sound.  While the onboard mic on the transmitter is adequate (and still better than your phone), the lav mic will take your recording to a professional level.  The sound is clear and crisp, the fuzzy windscreen on the lav literally takes away any breeze this side of a hurricane, and being able to place the mic near the speaker's mouth yields more consistent levels.
The Wave is a lightweight and easy-to-use alternative to your device's native recording capability. So yeah, the Wave is worth your hard-earned dollars.
What I like
Great quality lavalier mic included with this version
Very easy to use – up and running in minutes after charging is complete
Crystal clear sound without interference (even when standing near my microwave which apparently doubles as a radio tower)
Hard shell case inclusion is a thoughtful touch that'll save you $14.95
What I'd change
Add onboard memory for local recording and a safety channel
Offer digital output via the USB-C port
Final thoughts
If you are just beginning to build your content creation studio, Mackie's EleMent Wave system would make a great starter kit, especially if you need to record on the go. Your content – and more importantly, your audience – will thank you for it.
My advice, though, would be to buy multiple dongles for your recording device. USB cables might be easier to locate when you are away from home, so if you require a special cable/dongle, better to have a backup than to lose an opportunity.
Price: $199.99
Where to buy: Either directly from Mackie or Amazon
Source: The sample for this review was provided by Mackie