We use affiliate links. If you buy something through the links on this page, we may earn a commission at no cost to you. Learn more.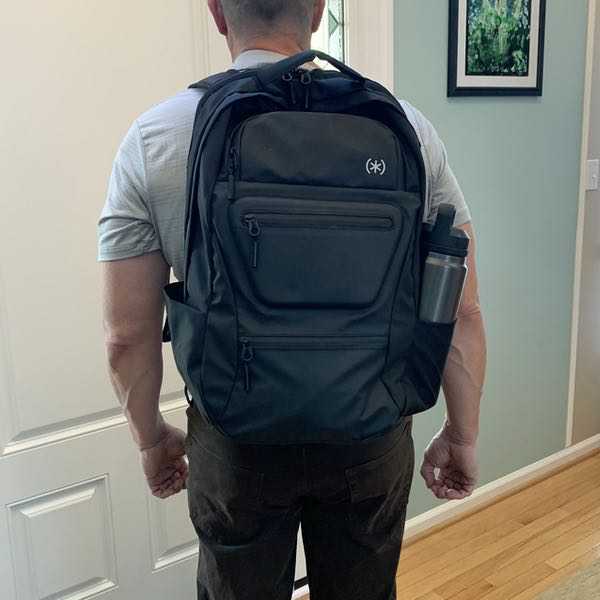 REVIEW – If your daily trek to the office includes a lot of stuff, the Speck Transfer Pro 30L backpack may be the solution. This is a bag for all the things, and it's available at a great price. Let's go to work. To the review!
What is it?
The Speck Transfer Pro 30L backpack is a 30 liter backpack with separate compartments for your laptop & tablet, your essential bit, and just about everything else you can throw at it.
Hardware specs
17″ tall by 12″ wide by 8″ deep
Nylon construction
30 Liter capacity
Fits up to 15″ devices
Design and features
The Speck Transfer Pro 30L backpack is an unobtrusive office commuter. Black is your only color choice in the 30L at the moment, but there is a smaller 26 L version available that has dark blue and black colorways. This bag differentiates itself from the generic computer bag with some interesting curves and rounded edges that give it a bit of athletic style. It looks good as a daily driver.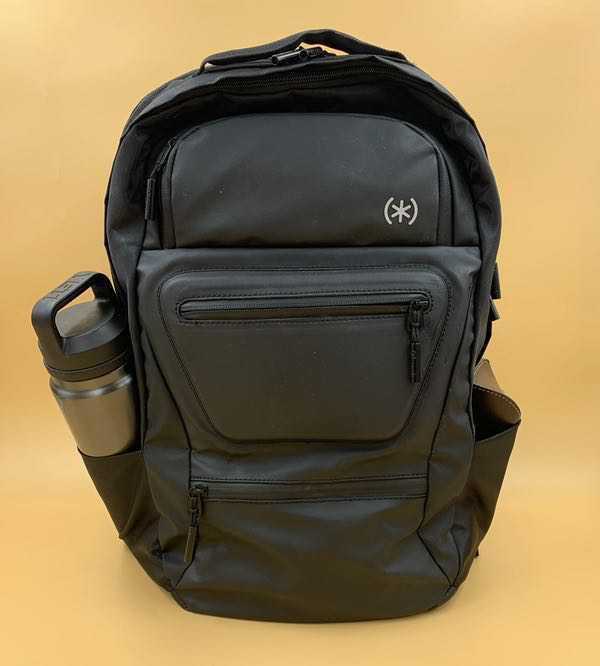 While the bag is sports basic nylon construction, you'll get some nice accents like the fancy metal tubular zipper pulls. External zips are also sealed or hooded for water resistance.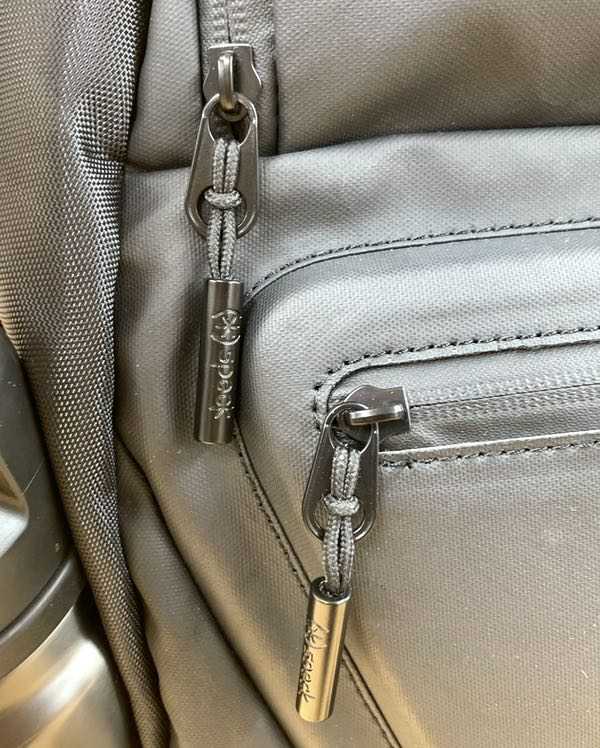 The side profile reveals a pronounced wedge shape, with a structured and padded base that is 2″ deeper (give or take) than the top. This structured form allows the bag to stand on its own, and keeps the bottom from sinking if it's packed full of stuff.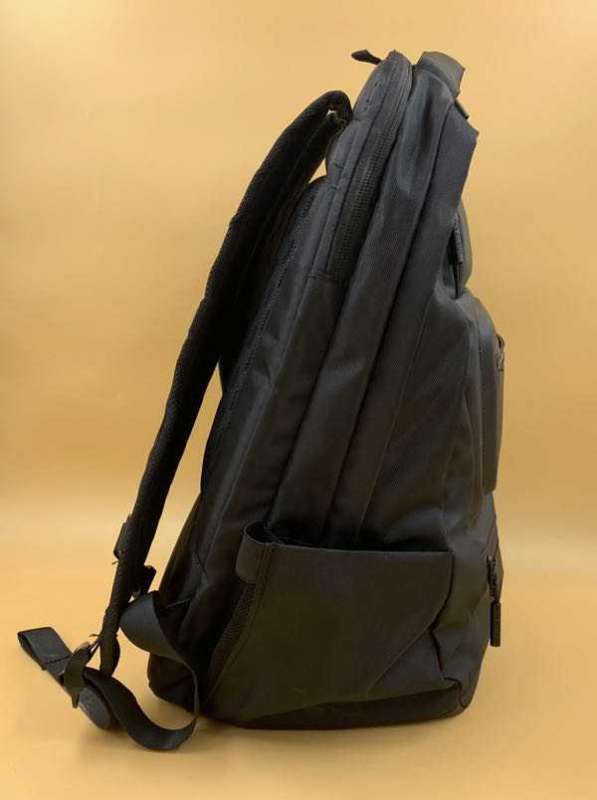 Your organization begins with three external pockets. There's a soft lined top pocket that flips out and includes a basic key clip. This pocket is appropriate for your sunglasses.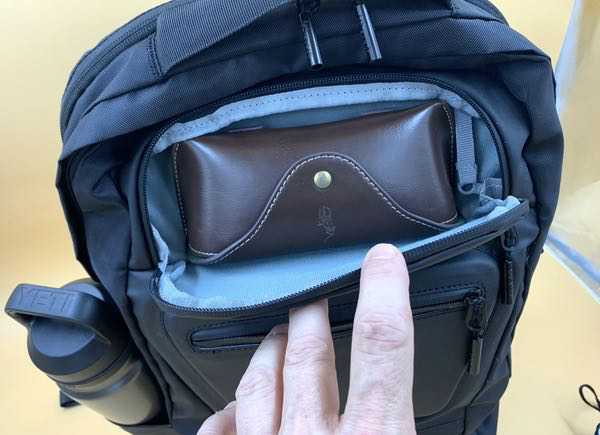 I really wish these securing flaps on either side were a bit deeper. When you open this pocket all the way it just kind of flops out and your content will fall out if you are not careful. this is not a space for a bunch of small stuff.
The Speck Transfer Pro 30L backpack's center pocket is a crush-proof box fronted by a hard plastic cover with a soft lining to protect delicate goods. The shape is a bit odd, though. My iPhone XS Max barely fits in there. Sunglasses won't. You could stash your earbuds, thumb drives, and that sort of stuff here.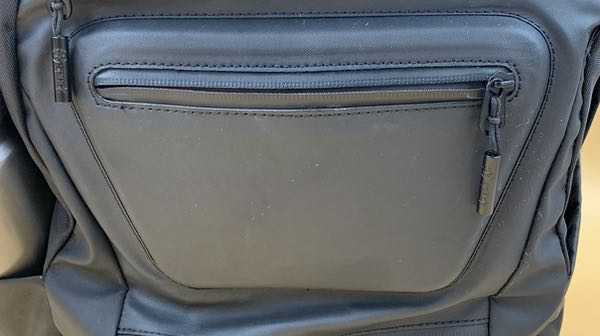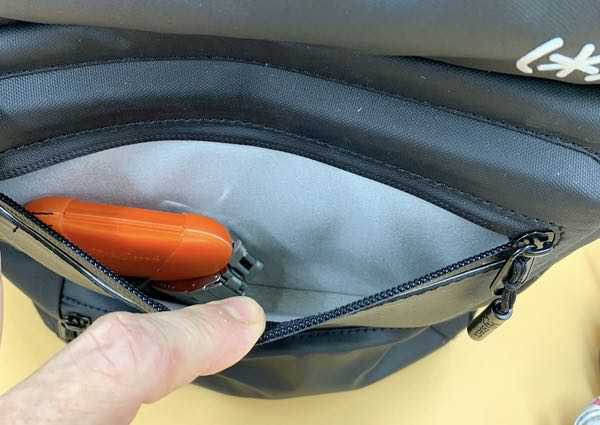 The bottom pocket makes use of that extra space for things like chargers and cables. It's not huge, but is more than adequate for an iPad/iPhone brick and lightning cables. You'll find that Speck does a nice job of using a grey lining on all pockets to make it easy to find your stuff.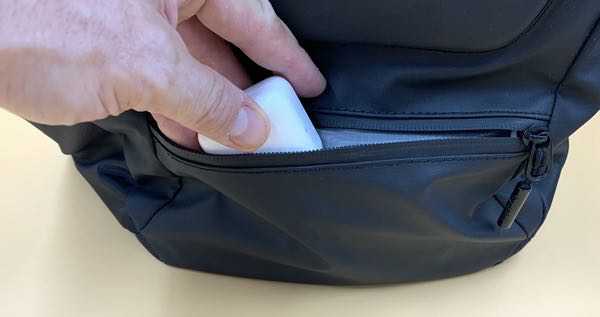 You've got dueling water bottle pockets on each side that have a bit of elastic for stretching. My 28 ounce Yeti Rambler fits nicely. The pocket design also doesn't crash on your carrying space.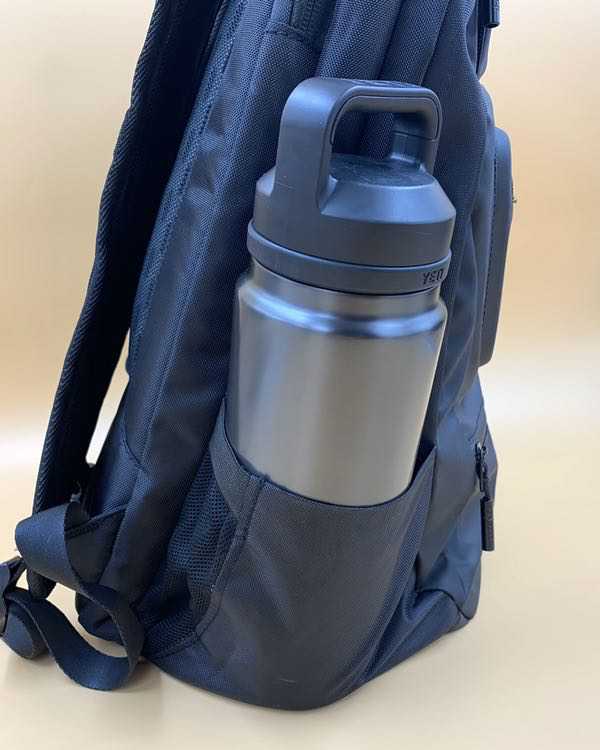 Your rear compartment of the Speck Transfer Pro 30L backpack is where your laptop and tablet ride. You've got both a padded laptop sleeve and a padded divider in this space. I can pack my 16″ MacBook Pro and my 12.9″ iPad Pro (with the Magic Keyboard), and still have room for a notebook or an additional tablet in this space. I could even stash my 13″ MacBook air in there if needed.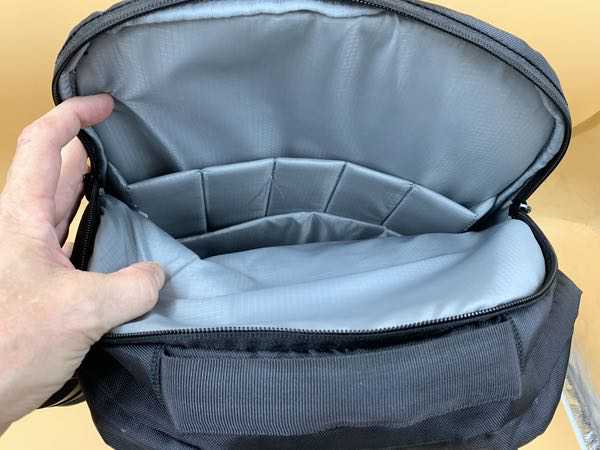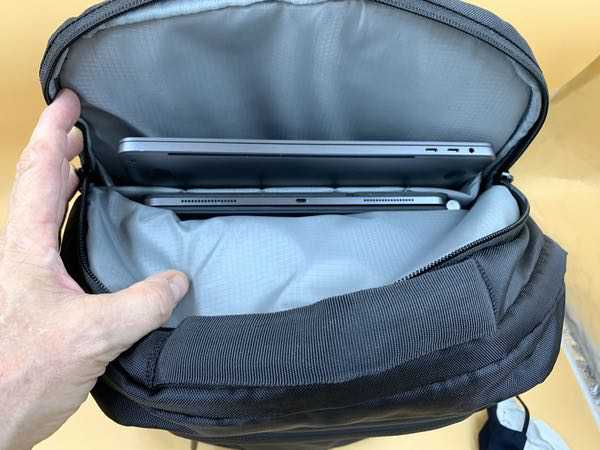 The main compartment sports a lovely organization panel, thoughtfully placed about 1/3 down back panel so that you can get to the contents without deep-diving into the bag. Nothing fancy here, but it doesn't need to be. You've got two generous pen slots, a mesh pocket and a drop pocket to work with.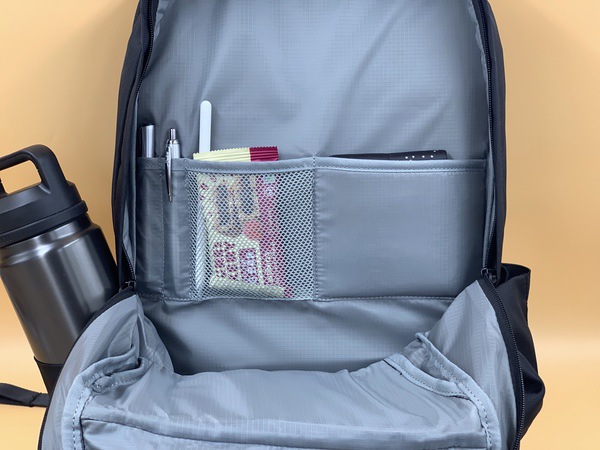 The rest is just a big cavern for holding all of your gear. Dual zips open deep on the sides so that you can get full access to the guts without reaching deep into the bag.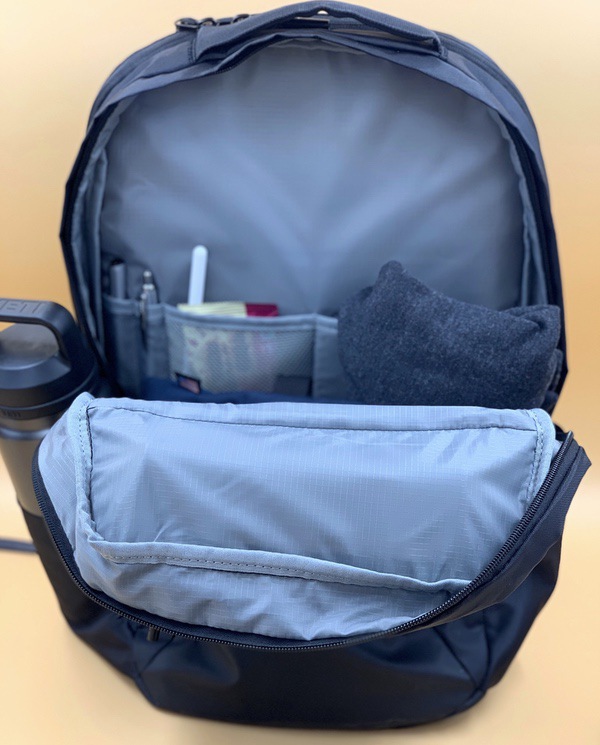 You'll find a basic padded carry handle on the top of the bag, along with a little loop that I think is for hanging the bag. Not sure if that is necessary, but it doesn't get in the way.
The carry harness leverages wide low-profile padded straps, and a 3-pad back system that allows for plenty of airflow. There's also ventilation in the pads on the straps and the back.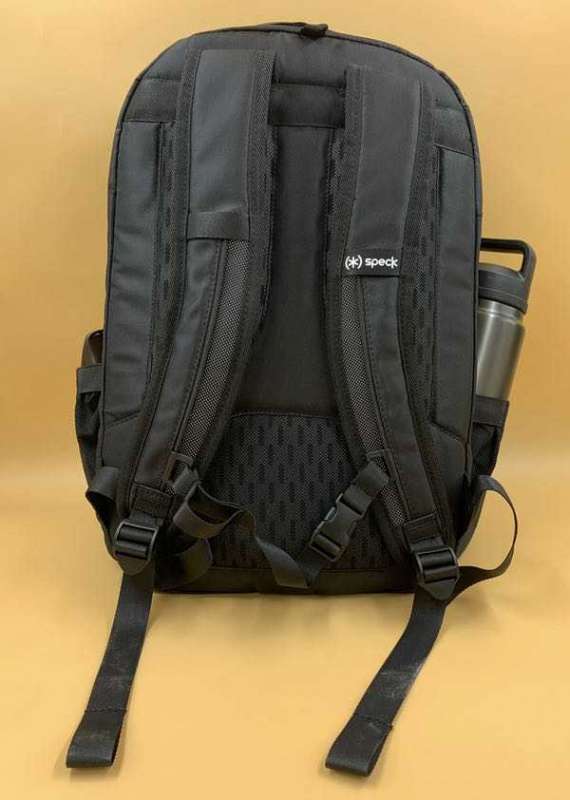 You'll get an adjustable sternum strap that cam be slid up and down the fabric rails for a good fit.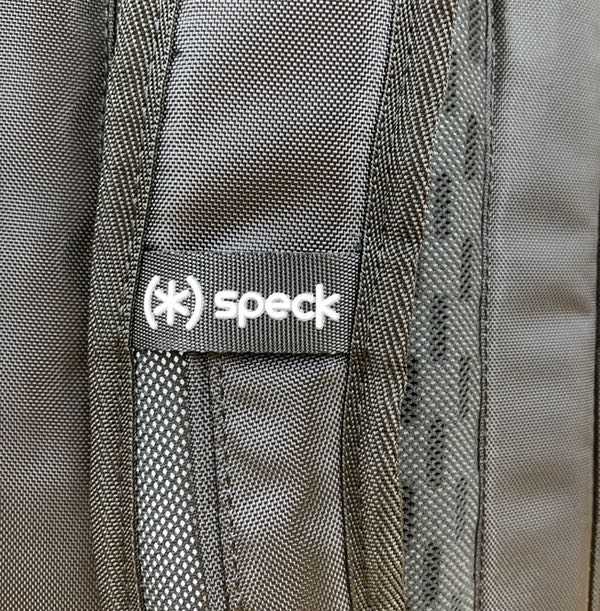 Performance
Got stuff? The Speck Transfer Pro 30L Backpack is a solid overall performer. It's big, roomy and simple. There are some odd quirks, but they don't detract much from the overall usability.
Those external front pockets are more specific than I usually like. I'm finding ways to use them, but the top pocket is not a place for small stuff. That middle pocket has nice protection, but it's not easy to get in and out of. You may love them depending on your carry needs.
The laptop section is pretty much everything you'd want. Dual zips make for quick access, plenty of padding, and you've got an extra divider for multiple devices and a notebook. You can dive into your work essentials without ever cracking the main compartment. All is good there.
The carry system is really comfortable. Like REALLY comfortable. The back pads are amazing (especially the positioning of that lower lumbar pad), and the wide channels and breathable pads make for a lovely sweat-free experience. There's no framesheet in this bag, but it feels like it because the structure is really well done. I was pretty amazed at the comfort even with a full pack.
Here's a front view of those low profile shoulder straps. The sternum strap is easy to reposition so you'll find it's not a problem finding a comfortable fit.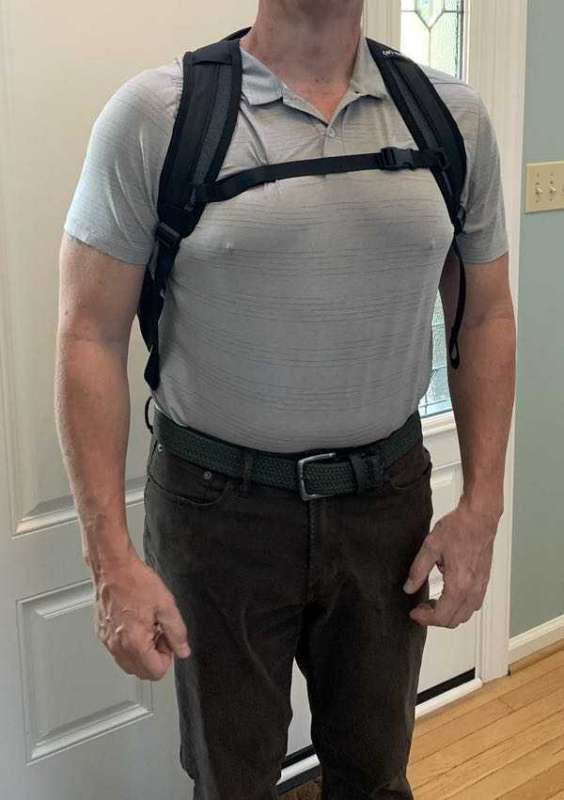 Here's a side profile view where that wedge shape becomes obvious if you're not packed out. Given the massive 30 liter capacity, however, I find it to be pretty streamlined.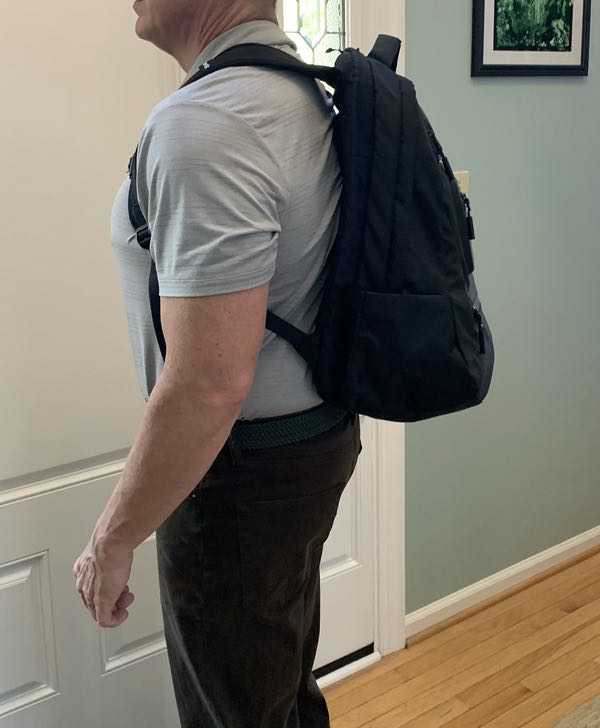 Here's my loadout for these pics. You're looking at a 16″ MacBook Pro, a 12.9″ iPad Pro with the Magic Keyboard, a jacket, a set of Bluetooth headphones, several organizer pouches, and a bunch of extras.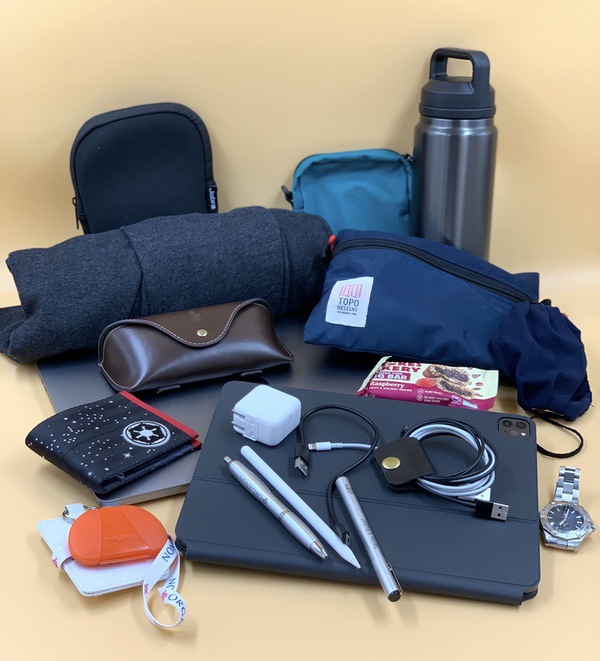 The bag just swallows all of that. I have room to spare for a packed lunch, my coffee gear, and even my gym gear if I want it.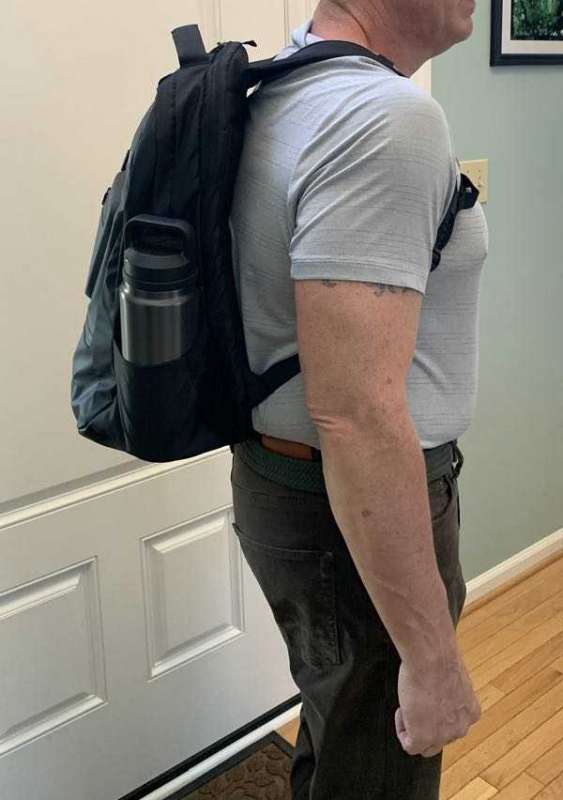 Materials and construction are kind of what you expect at this price point. It's a vinyl build and you'll find a loose thread here or there. But it's solid and gets the job done.
What I like
Very comfortable for long commutes
Flexible laptop/tablet compartment
Easy to use layout
What needs to be improved
Odd pockets on the front face
Build and materials could be improved
Final thoughts
If you're looking for an inexpensive commuter pack to carry a lot of stuff, the Speck Transfer Pro 30L backpack is worth a good look. The layout is very usable, it's got great laptop/tablet protection, and the carry system makes for a very comfortable haul with room for days. There are some quirks, but they're just fine at this price point.
Price: $99.95
Where to buy: Speckproducts.com and Amazon
Source: The sample of this product was provided by Speck.