We use affiliate links. If you buy something through the links on this page, we may earn a commission at no cost to you. Learn more.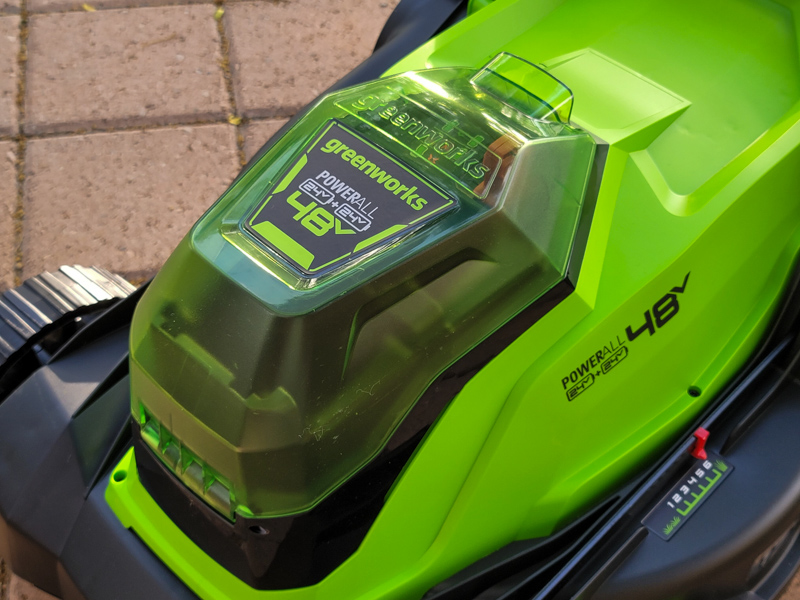 REVIEW – Most of us have spent our entire lives using gasoline or corded electric lawn tools. I had infamously bad gas lawnmowers when I was a kid, where you had to yank the starter cord 10 or more times with all your kid-strength to get it going, then you had the hassle of mixing gasoline and oil for the 2-stroke engine, plus maintenance and breakdowns and running out of gas. Several years ago I switched from a gas mower to a corded electric mower which made maintenance and starting issues a thing of the past (not to mention being WAY cheaper than similar gas mowers), but navigating a 100 foot cord while mowing can get a bit annoying to say the least. I feel like we're finally entering a new electric era with new battery technology and products from companies like Greenworks.  They sent over their 2 x 24V (48V) 17″ Brushless Lawn Mower to review, so I put it through the paces (in a sweltering heat wave and drought here in the American West). Overall it was easy to setup and use, and I'm happy to report that it's much better than the dreaded gas mower of my childhood!
The package that they sent me is an optional version that also includes a 24V screwdriver/drill, so I'll include a section below about my thoughts on that as well.
What is it?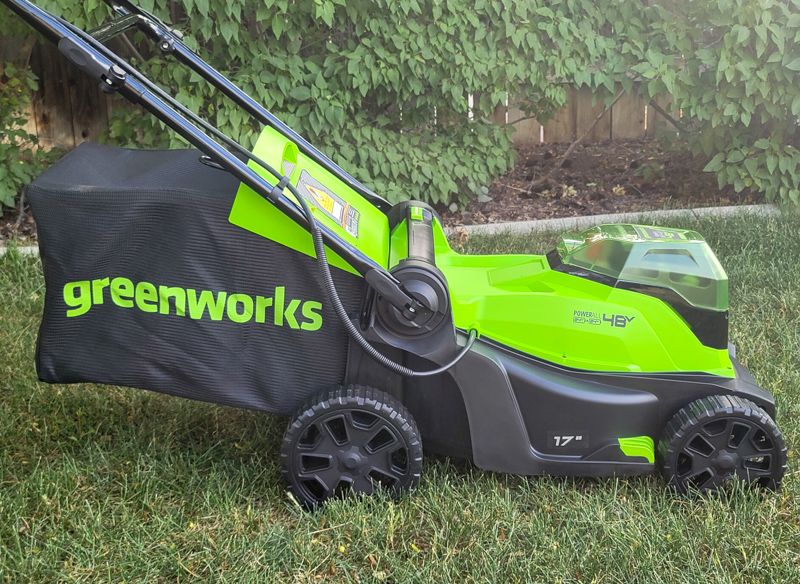 The Greenworks 2 x 24V (48V) 17″ Brushless Lawn Mower is a cordless (battery powered) electric lawn mower.  It's very lightweight, and can be used with a bag to collect trimmings, or you can plug it up and mulch the clippings back into the yard, depending on your preference.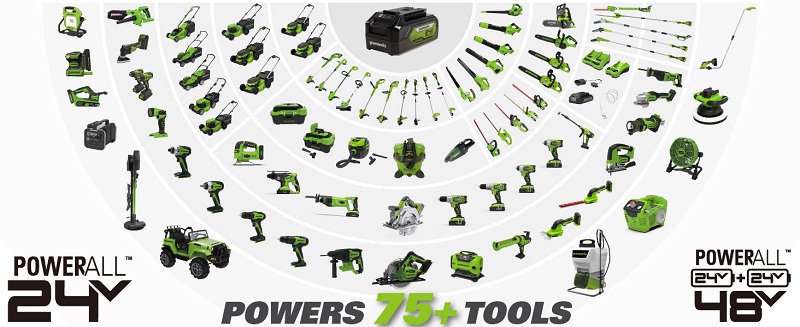 The dual 24V battery configuration is very interesting to me, previously Greenworks and other companies had different lines of tools at lower and higher voltages (20/40/etc) to cover different needs. By using a standardized 24V pack that can double up in some tools for 48 volts they seem to offer the best of both worlds and give the user much more flexibility.  A single charger and set of batteries can power over 75 different tools (and counting), though this number includes many duplicates like 10 different lawnmower models. Perusing their lineup shows that they seem to offer at least one model of just about any power tool that I'd use on a regular basis plus quite a few more exotic options (like a toddler Jeep ride-on!).
What's in the box?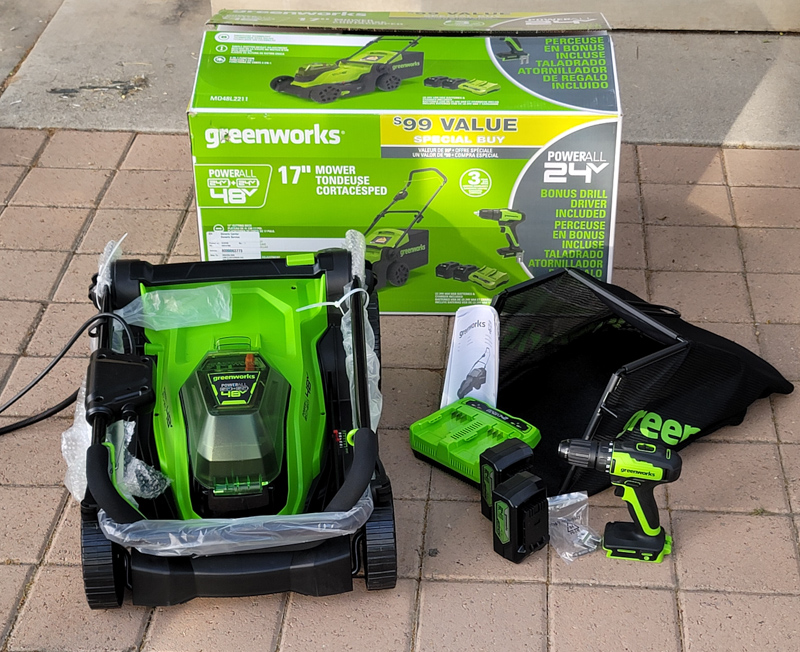 Included in the box is the Greenworks 2 x 24V (48V) 17″ Brushless Lawn Mower, 24V Drill/screwdriver, dual-charger, AC input for the charger, 2 x 24V battery packs at 4ah each, a belt clip for the screwdriver, the grass clippings bag, and manual.
Hardware specs
Dimensions (Length x Width x Height): 52.8 x 19.4 x 40.24 inches
Cutting width: 17 inches
Battery runtime (mower): up to 45 Minutes with included batteries fully charged, varies based on grass conditions and operator technique
Clippings management: rear bagging or mulching options
Cutting Height adjustments: single button with 6 positions ranging from 1-1/4 inches to 3-3/8 in.
Battery capacity: Two included at 4Ah x 24 Volts POWERALL (compatible with other capacity 24V powerall batteries)
Design and features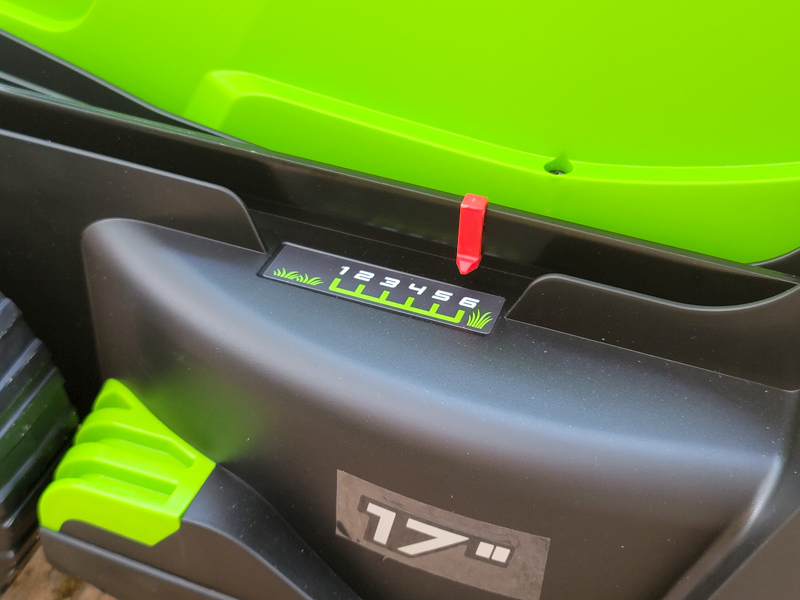 The Greenworks 2 x 24V (48V) 17″ Brushless Lawn Mower is constructed almost completely out of a high-impact plastic, which feels built to last a long time. There are also some metal parts like the handlebars. The height adjustment has an easy to read indicator as shown above, though the actual adjusting is done by a button and grab-bar on the top of the mower.
Here you can see the metal axles that the plastic wheels are attached to. Even after multiple hard bumps into concrete landscape edges, the wheels are solid with no signs of coming loose. Also pictured above is a plastic shroud that hangs across the back of the mower deck to prevent things from flying into your ankles as you go.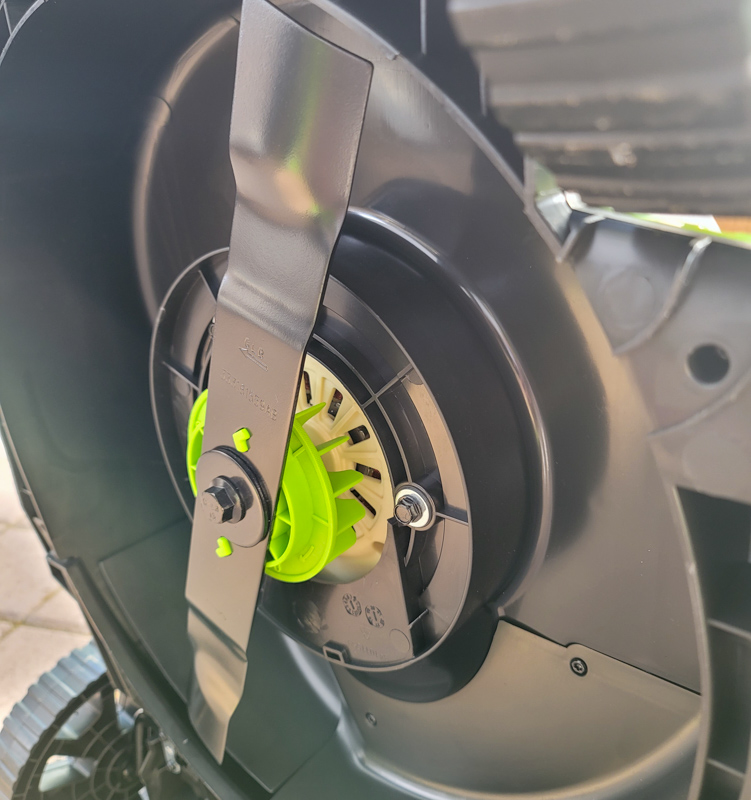 The mower blade itself is a standard affair, and looks like it's easily removable for sharpening.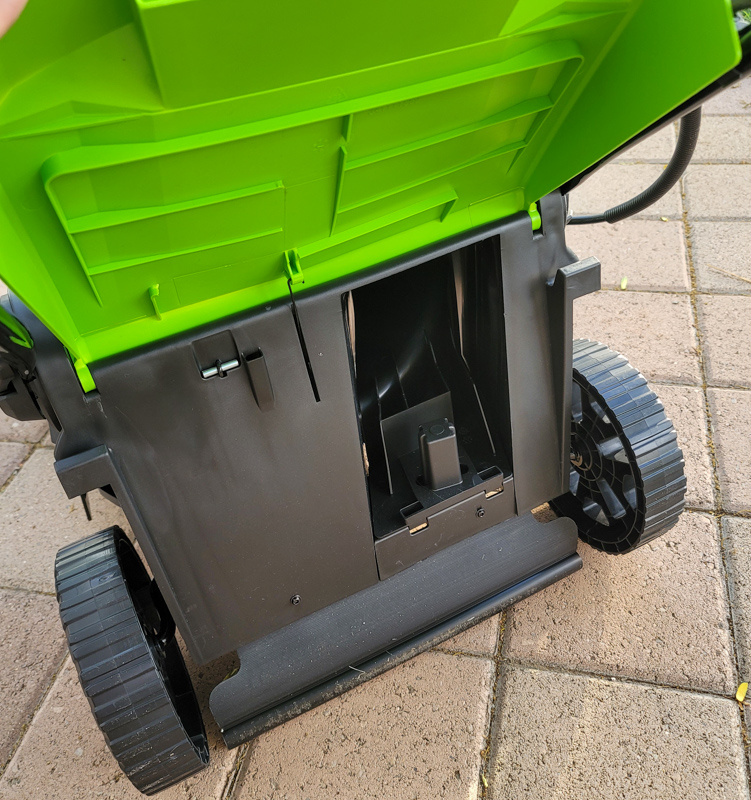 Here's the backside, with the green plastic cover lifted up. If you want to collect the lawn clippings into a bag, you lift this up then remove the plastic plug on the right side, then slot the bag into the back of the mower.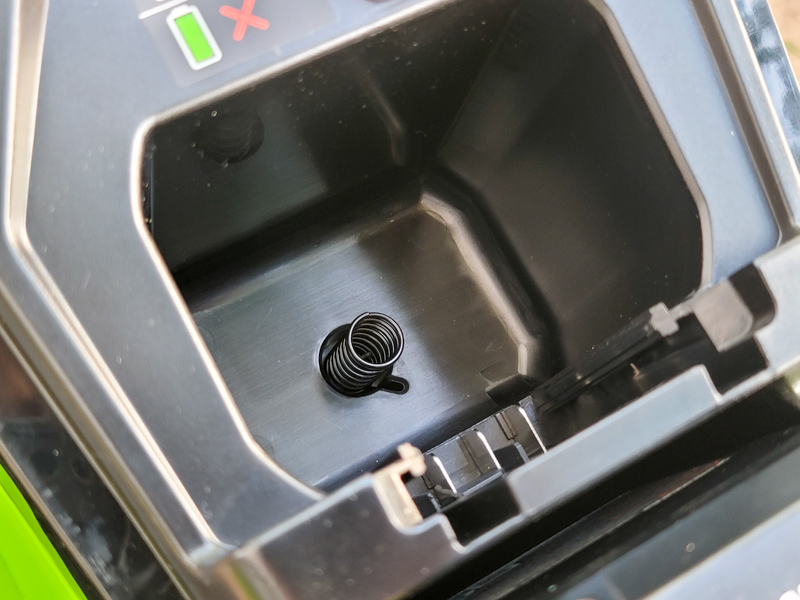 The battery slots have a nice spring at the bottom, which assists in removing them for recharging. There's no way to insert the batteries incorrectly, and they clipped in and removed nicely.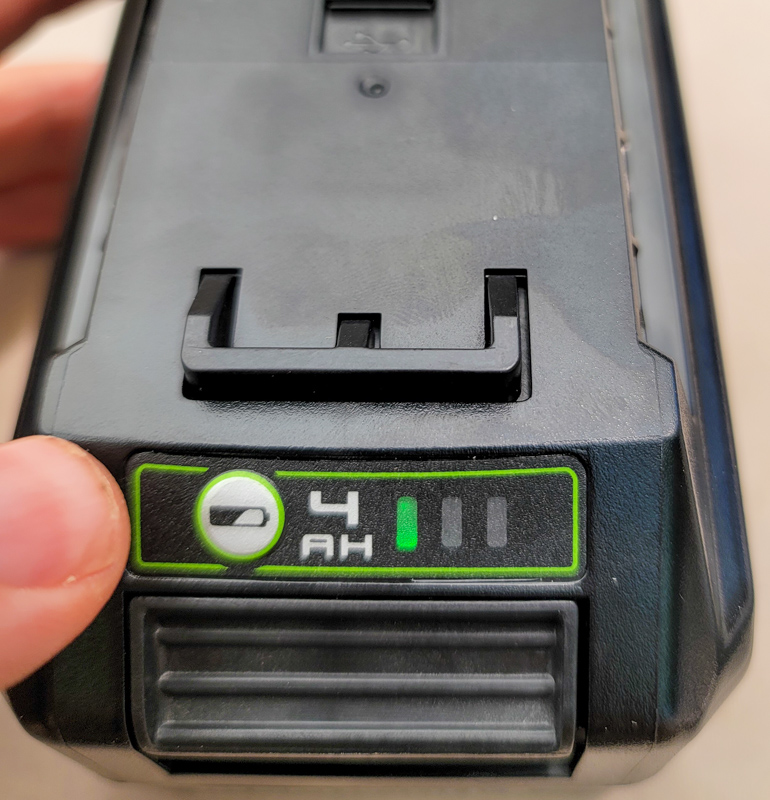 Speaking of the batteries, they're also a nice high-impact plastic build, with a push-button to check power levels.
Installation and setup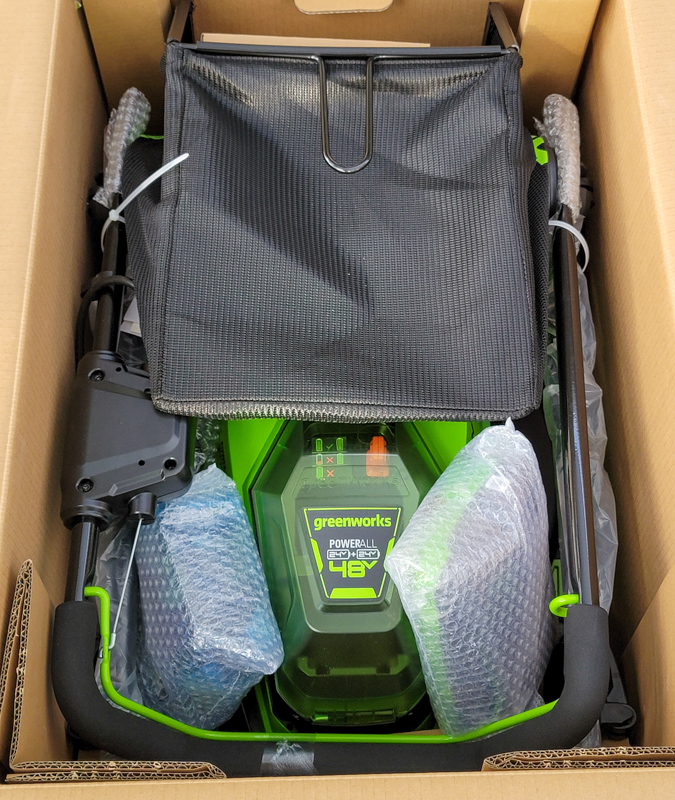 The Greenworks 2 x 24V (48V) 17″ Brushless Lawn Mower came well protected in a very sturdy (and large) box. Quite a few zip ties secured everything and have to be cut off, and bubble wrap removed from various parts.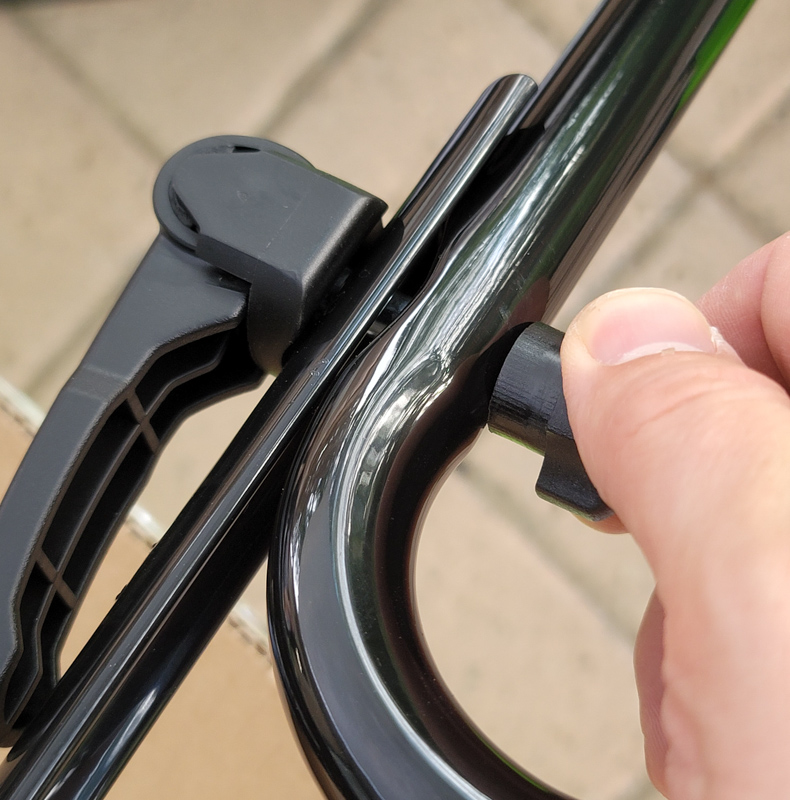 The handle is attached with quick-release bolts, which I found to be easy to install and remove (for storage).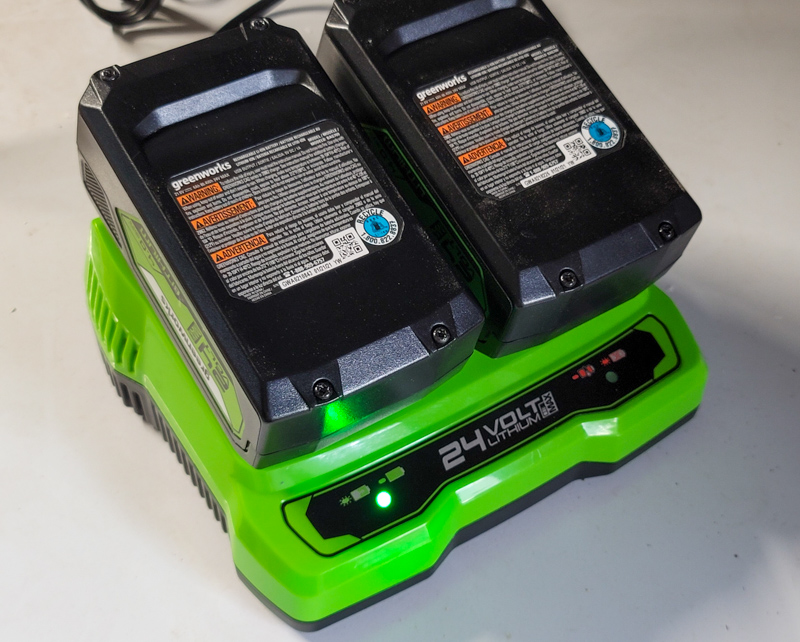 Next up I plugged in the dual charger and charged up the batteries. From fully dead these took 3+ hours to charge, so I'm glad they always lasted through cutting my lawn (1/8 acre with landscaping, Greenworks says they can do a quarter acre lawn but they were always reporting nearly dead by the end so that must be under ideal conditions like thin grass and a minor trim).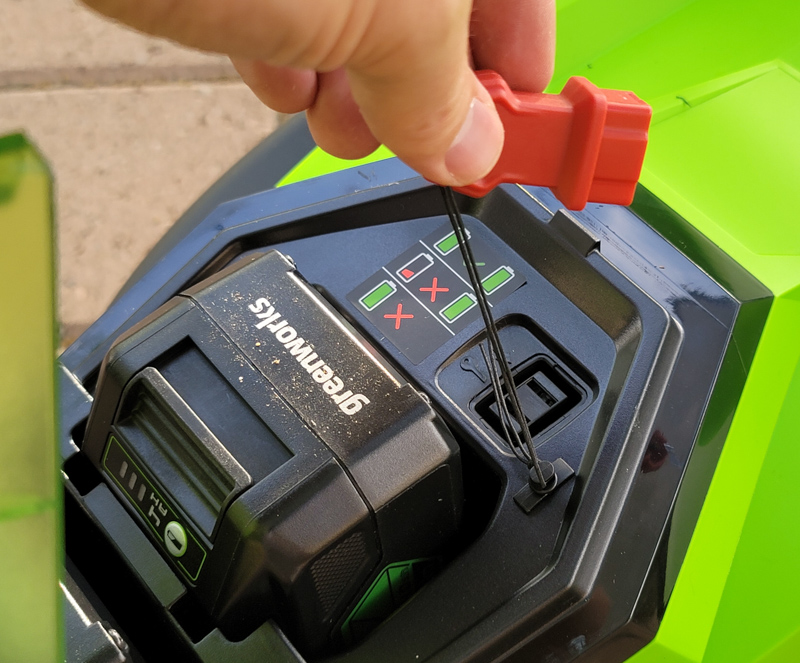 A safety key comes installed, but can be removed (great if you have curious kids who might find the bright green lawnmower something interesting to play with)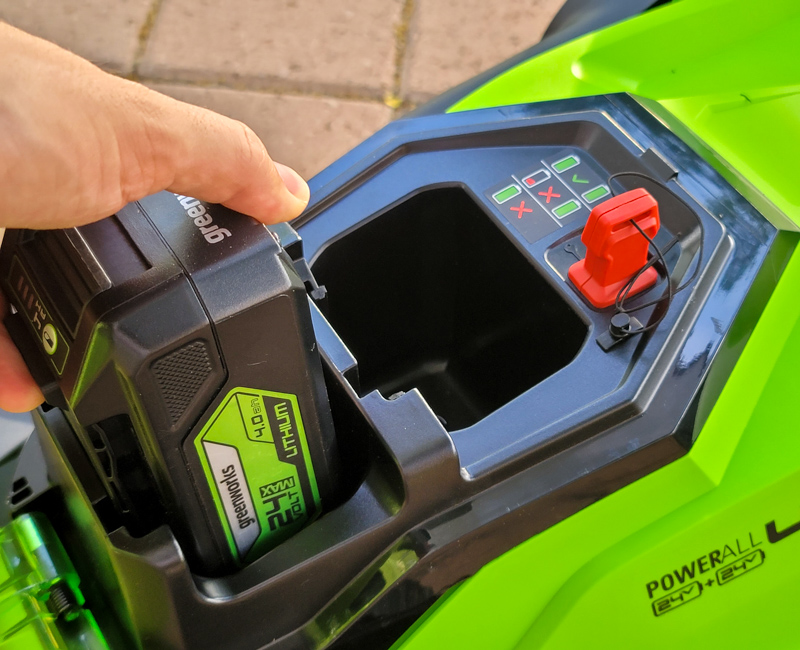 Next you push in the batteries until they catch. These slots fit well and weren't difficult to install or remove batteries (unlike some previous battery tools I've used where you need a rock climber's finger strength to get batteries out at times).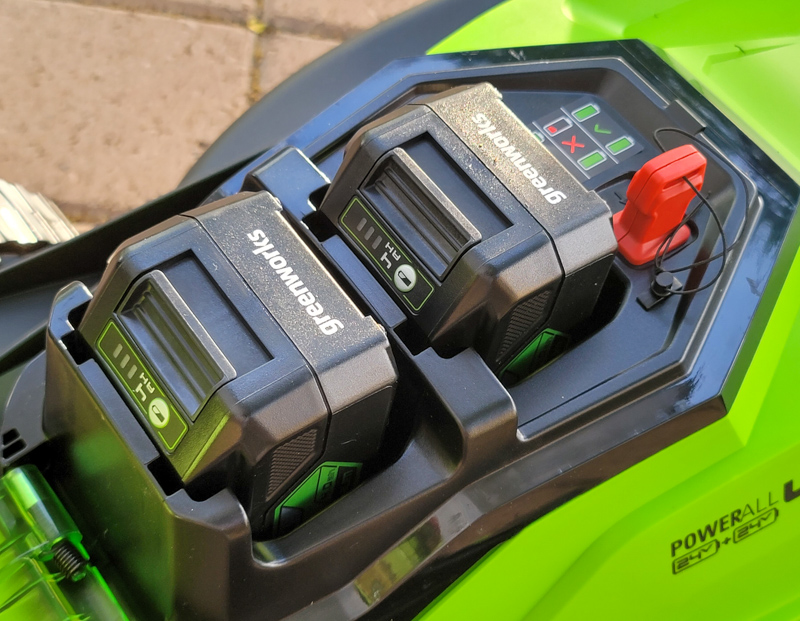 Installing the second battery is also required, this mower needs both to operate, and combines their 24 volts each to power a 48 volt motor.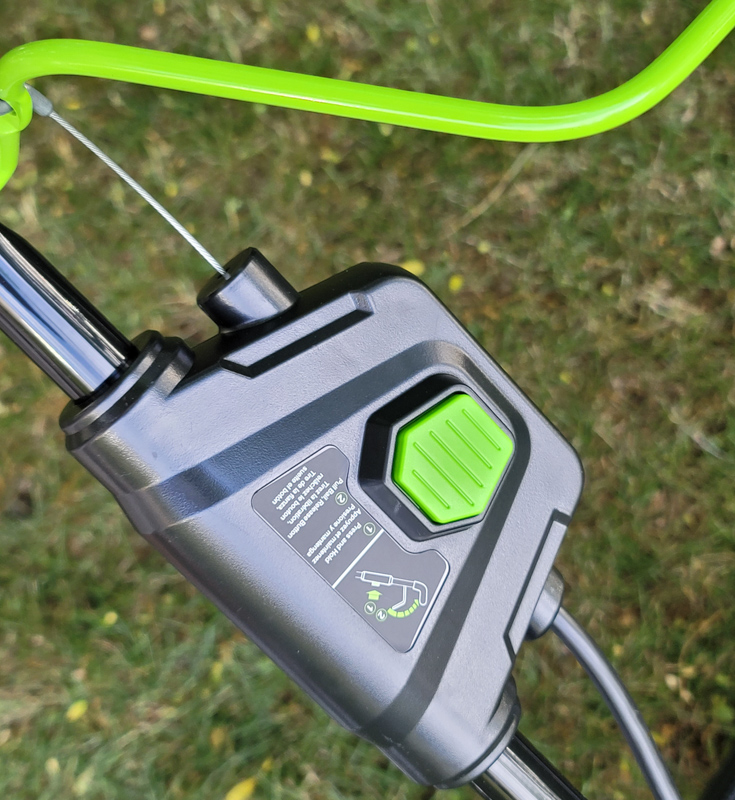 Finally we're ready to mow! Turning the mower on requires you to grip the safety bar to the handlebars, then hold the start button. This prevents accidental starts and cuts power immediately if you let go of the handlebars during operation.
Performance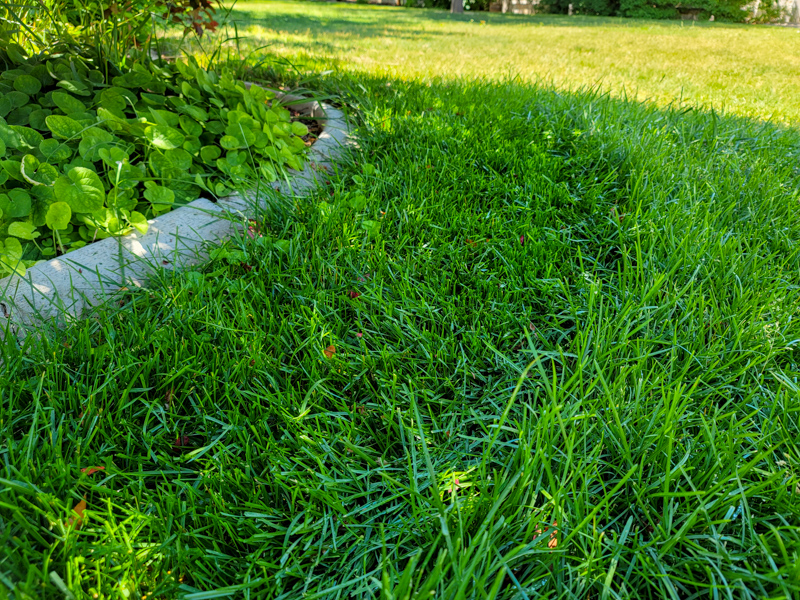 As previously mentioned, I've used various gas and corded electric mowers in the past. I was worried that the battery powered electric mower would struggle with some of the thicker parts of our lawn (which alternates between dying brown spots and ultra-thick green spots), but it powered right through them as well or even better than other mowers I've used.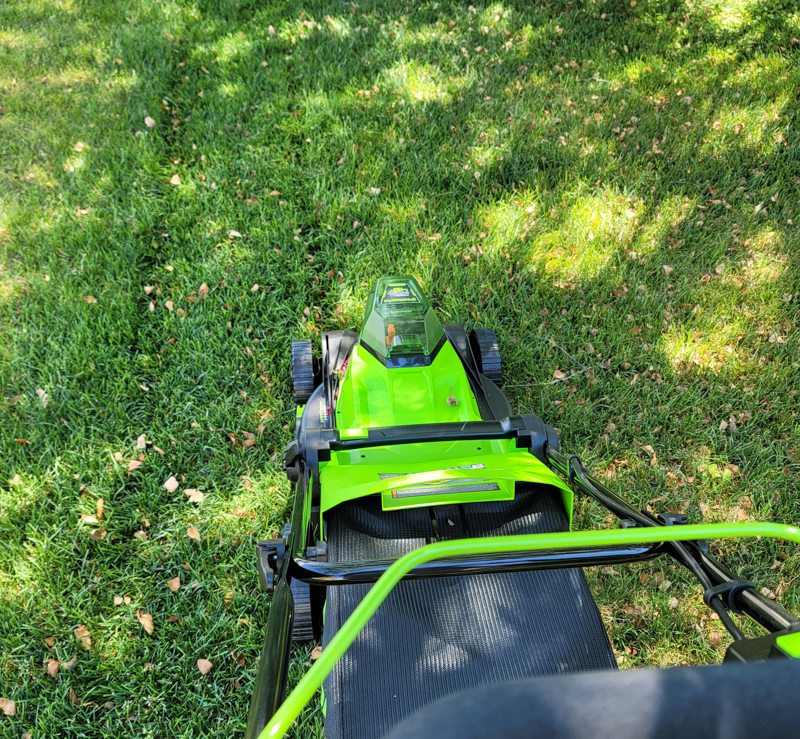 When it encounters a thick patch it revs up the motor higher, and I never felt like it was going to choke on the grass. I have a feeling that the higher power motor combined with a 17 inch cutting blade helps a lot with thick grass – I had previously used a 40 volt battery powered mower with a 22 inch cutting width and it did sometimes die on the thickest parts and have to be restarted.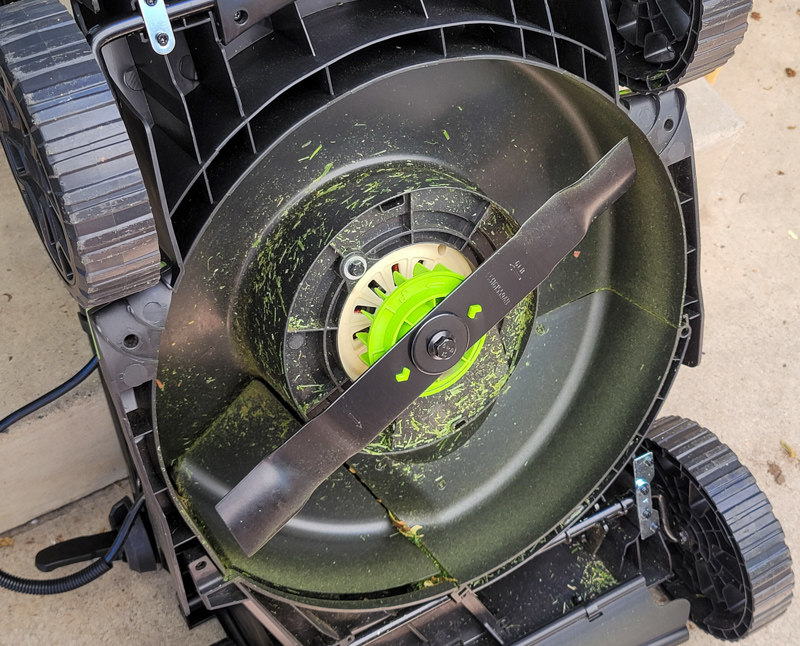 I experimented with different cutting heights and using both the mulching plug as well as directing clippings to the included rear bag. The height adjustment was pretty easy to use, and you can go from fairly short to fairly long (I've seen mowers with both shorter and longer settings, but this range seems like it would be good for most scenarios). One note on the height adjustment – you press a button on the bar at the top back of the mower housing and then physically lift the mower higher or lower.  It's not super heavy, but it can be a bit awkward getting it into the highest cutting setting.  All the other settings gave me no trouble. I prefer mulching my lawn clippings, but the rear bag option worked fine as well. Even with fairly wet grass both options worked as expected, I didn't get any clippings building up and clogging anything. The rear bag is fairly small, requiring frequent stop-and-empty trips (I had to do this twice while mowing our smallish lawn).
As a side note, in the picture above, I folded the handle up against the mower for storage. Unlike other mowers I've used, this one doesn't balance vertically (on its rear wheels), so it's always going to take up a decent amount of space unless you lean it against a wall or something. This isn't a dealbreaker, but it's something I wish they'd addressed when designing it: our city only allows a small side yard shed and our garage is packed, so finding a storage space would have been a lot easier if it stored vertically.  On the plus side, it's light enough that I felt confident just hanging it from a tool hook eventually – something I never would have considered with previous mowers.
What I like
48 volts power from 2 batteries
Wide variety of other compatible tools at 24/48 V
Spring assisted battery removal
Very light and easy to maneuver
What I'd change
Somewhat narrow cutting width means more passes
Small clippings bag means frequent stops to empty
Doesn't balance vertically for storage
Screwdriver/Drill mini-review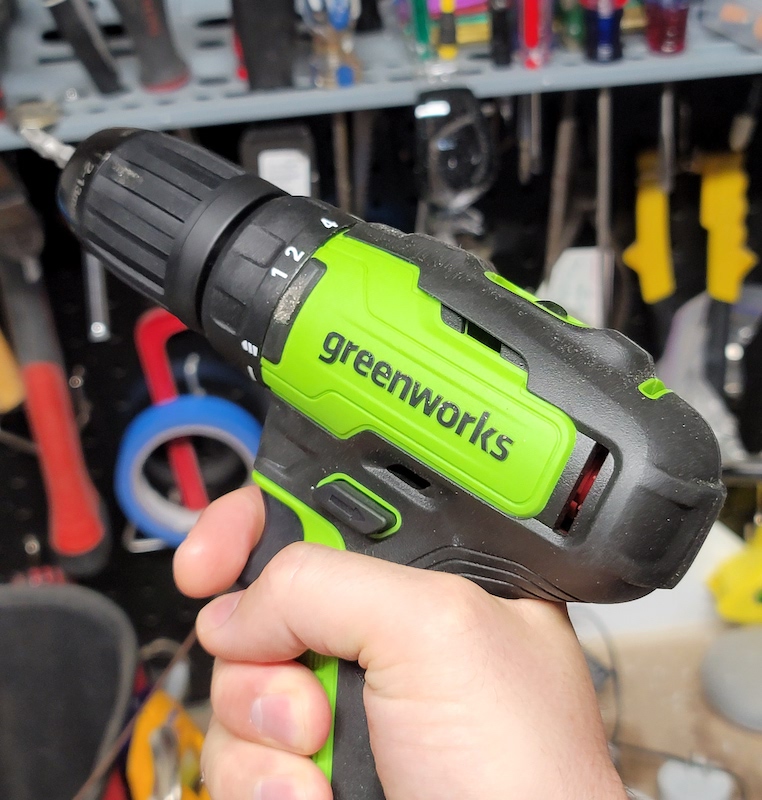 The Greenworks 2 x 24V (48V) 17″ Brushless Lawn Mower that was sent to me for review included a Greenworks 24V drill/screwdriver as a bonus. I used this repeatedly throughout the review period instead of my usual 20V Black and Decker cordless drill for various projects.  Though the Greenworks 24V drill felt lighter, it seemed significantly more powerful and was able to apply more torque than my usual drill. It was more on-par with the corded drill I use when I really need some torque. It has an adjustable keyless chuck (you tighten/loosen the rings near the front to install/remove a drill bit or the included flathead/Phillips screwdriver head). It also has adjustable torque settings so you don't over tighten screws.
Final thoughts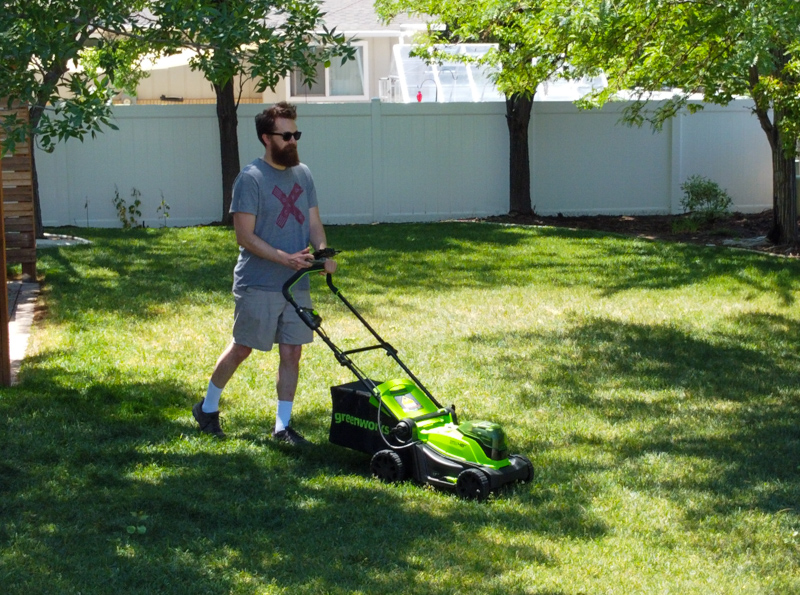 I went into both Lowes and Home Depot during this review and perused their gas mowers for a comparison point. In my area the average price for a standard gas mower was about $200, with slightly wider cutting paths, but they were definitely heavier than the Greenworks mower. I think that as long as you're also going to use other Greenworks tools like trimmers, blowers,  and other power tools, then the value proposition is even if not better in favor of going electric. The other Greenworks tools without batteries included seem to be mostly cheaper than gas counterparts, for example the only gas trimmer in stock at the store was $190 and a similar-sized Greenworks trimmer clocked in at just over $40 with no battery included on Amazon (if you're starting with this mower and 2 large capacity batteries you might not need more batteries with other tools). Overall, I found the Greenworks 2 x 24V (48V) 17″ Brushless Lawn Mower to be a competent and simple-to-use mower, and had no major issues or complaints after weeks of use.
Price: $359.99
Where to buy: Amazon
Source: The sample for this review was provided by Greenworks