We use affiliate links. If you buy something through the links on this page, we may earn a commission at no cost to you. Learn more.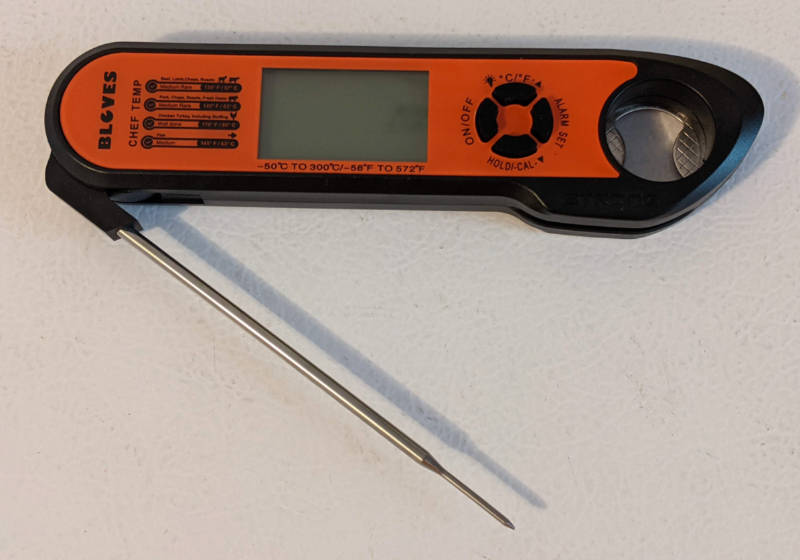 REVIEW – When cooking you sometimes need an accurate reading of internal temperatures to know when 'done' has been achieved. How does the Bloves Meat Thermometer perform in several cooking tasks? I'll show you its features and a couple of flaws.
What is it
The Bloves Meat Thermometer is sold as an instant-read, probe type cooking thermometer with an accessory external wired probe.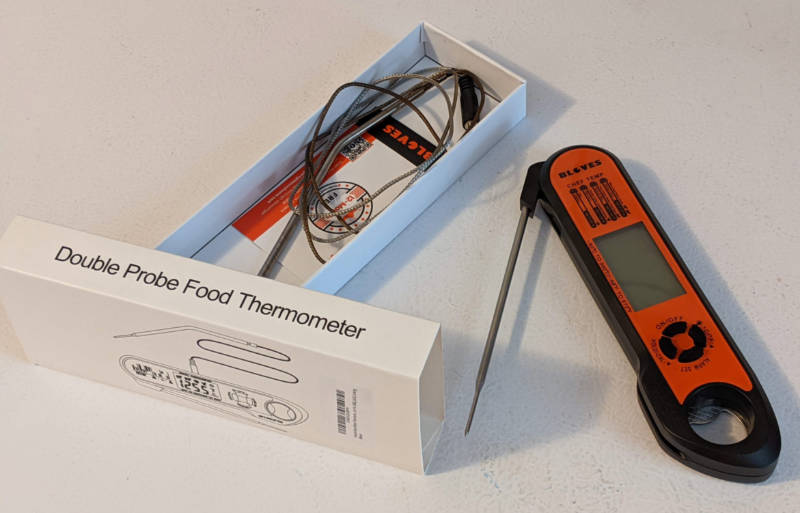 What's in the box?
Bloves Meat Thermometer

Oven/grill probe

Lithium 2450 battery

Instruction sheet

Meat temperature guide sheet (done-ness chart)

Warranty card
Hardware specs
Measurements:

  7.13 x 2.36 x 0.83 inches

Weight: 4.8 Ounces

External probe length: 4 feet

Upper temperature limit: 572 degrees

Fahrenheit

LCD digital screen
Design and features
Built-in temperature probe

Removable external temperature probe

Backlit LCD screen

Internal magnet allows mounting to grill or oven during use or storage

Bottle opener. Because we need it. I call it 'cook's privilege'.  

Alert ('Alarm') feature to notify that the target temperature is reached.
Installation and Setup
Honesty here; I had several reviews going at once so – I think the battery was already installed in the thermometer, with a protective plastic sticker on it that had to be removed. The battery is a Lithium size 2450 which I hadn't seen before, but they're on Amazon. If the battery arrives loose in the package, it's easy to install in the opening on the back so, either way, there is no challenge with powering up. 
With a single press of the 'On' button the device is ready to use.
I needed an instant read thermometer and figured the addition of the external probe was a real plus. Unfortunately, the device didn't perform to expectations at some points.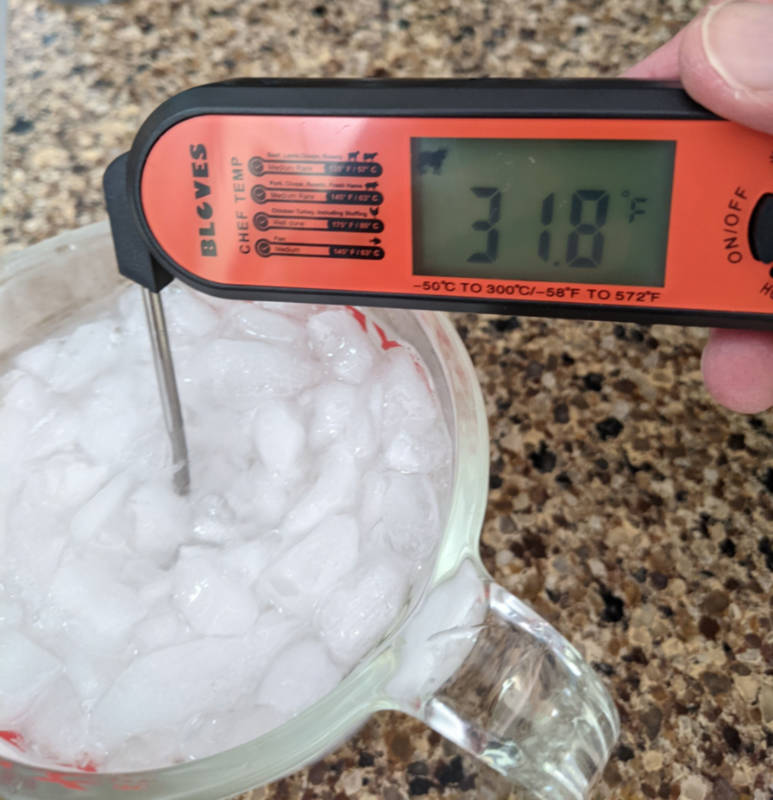 The device passed the ice water slush test at 31.8 degrees. (It's best to test a thermometer for 32 degrees with thick ice slush vs. ice cubes in water for a more consistent temperature.) It should read 32 degrees but I'm not going to recalibrate for tenths of degrees. But at the boiling water test, sometimes it gave a 212-ish reading, at times it showed 210 degrees and a few tenths, and it once showed 215 for a few seconds. Water boils, for sure, at 212 degrees in Virginia, U.S.A.
Never miss one of our posts again. Sent MON, WED, and FRI with the latest gadget reviews and news!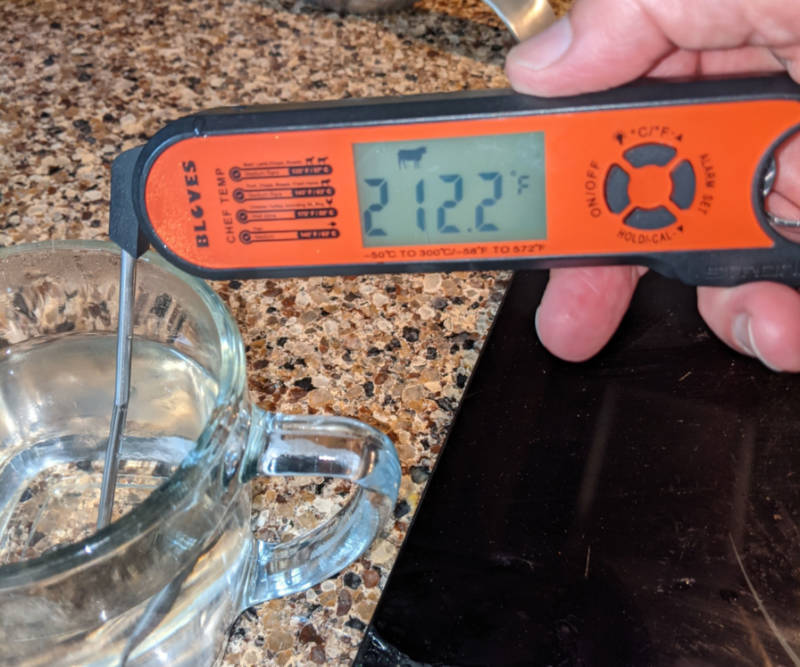 I wanted to calibrate the thermometer to 212.0 degrees exactly, but with poor instructions in the sheet on the topic I couldn't figure out how to do it. And I've been family tech support since the VCR days! 
I could enter calibration mode but the device quickly displayed a lower case 'e' and two characters similar to lower case 'f' but not quite. Puzzled I was.
Testing and observations
I ponder deep questions of the universe like, who knows whether a thermometer is accurate? How do we check its accuracy? Whether thermometers, tire pressure gauges, bathroom scales, blood pressure cuffs – how DO we know the number they show is accurate? We don't. 
I can't stop – Did you really get the scratch-resistant coating on your glasses? Did they really change the oil filter when you got that oil change?
And who checks whether refried beans have really been fried the second time?! 
Thankfully a thermometer can be checked by taking its readings at freezing and boiling points of water, and the Bloves Meat Thermometer did OK there, sort of. But how about a pork tenderloin and a rack of lamb chops? (You say, 'Sure, I'd love some!)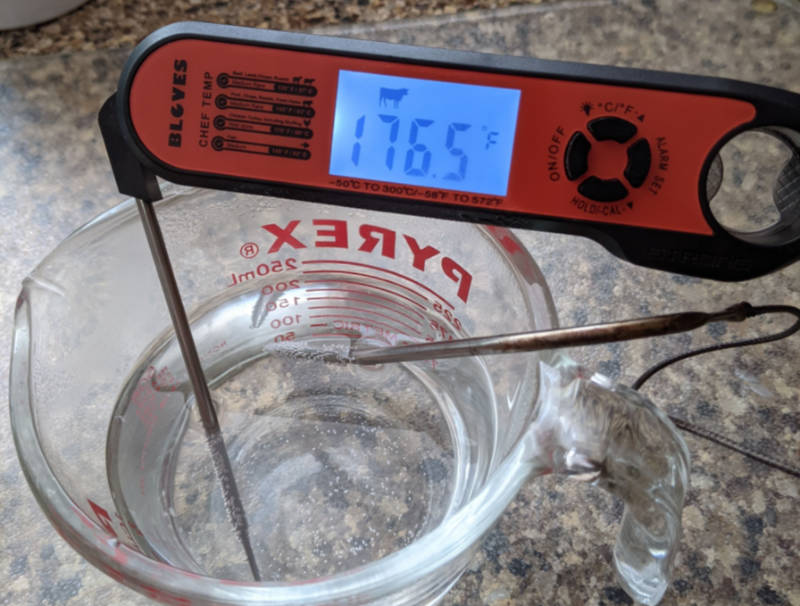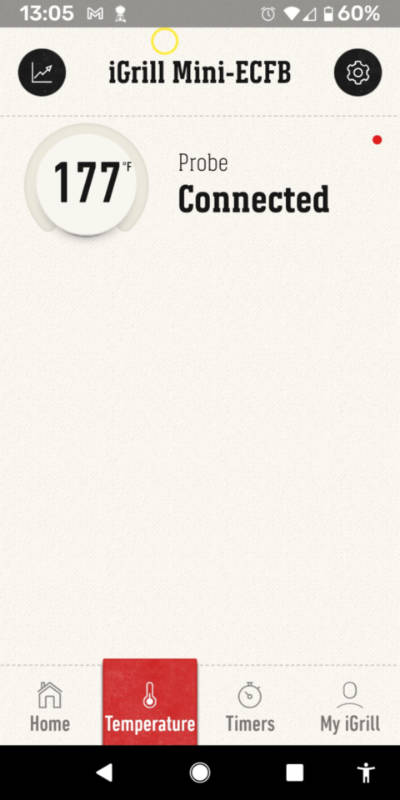 I also compared the results of the Bloves' readings with the iGrill thermometer by Weber which I've used successfully for years.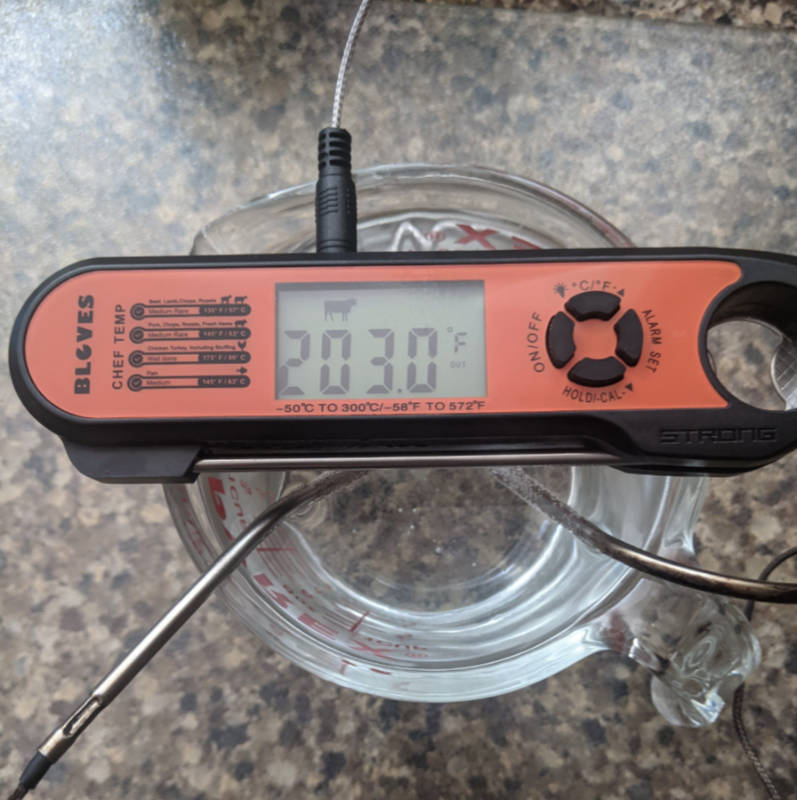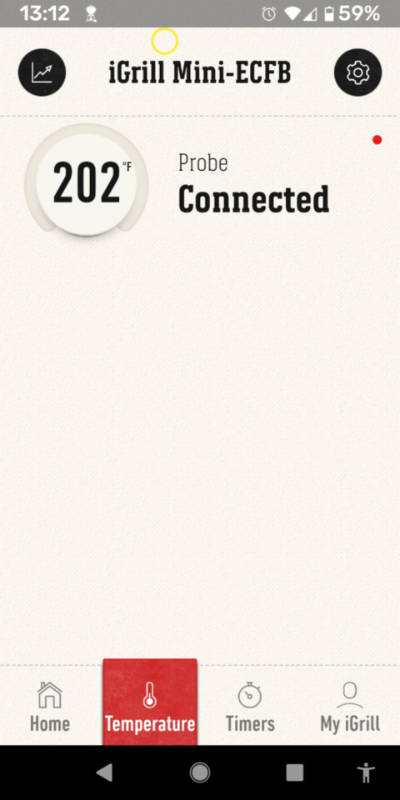 The two thermometers compared favorably at some temperatures.
In my opinion, poking nearly done meat with an instant-read thermometer is a cooking foul.  That lets meat juice escape. The probe with its 4 foot wire allowed for probe placement before cooking, then removal after the meat was done and rested. This technique should allow for more moist meat since juices are retained. There's a time for making jerky but this wasn't it.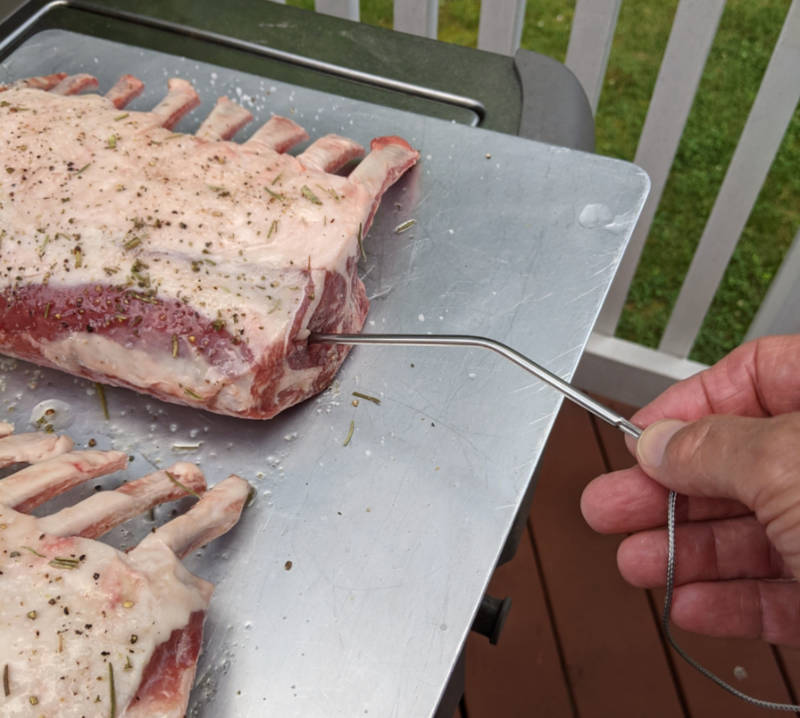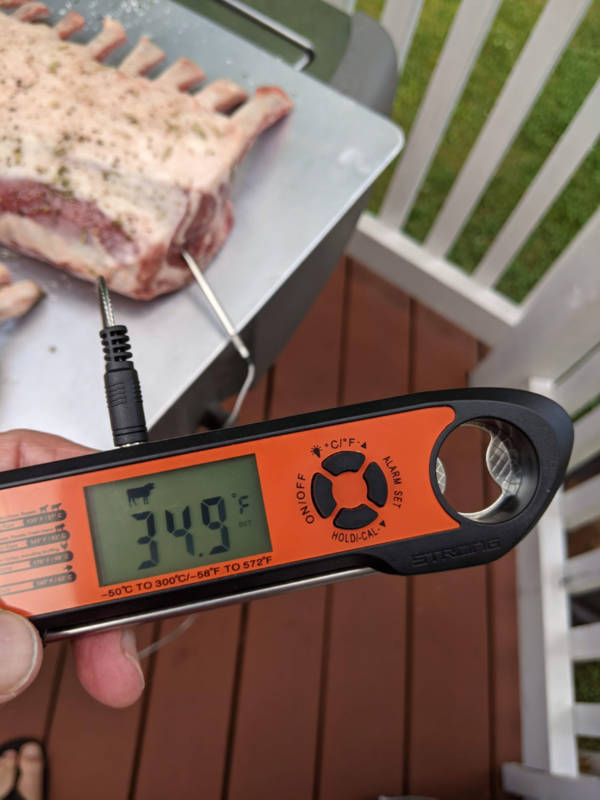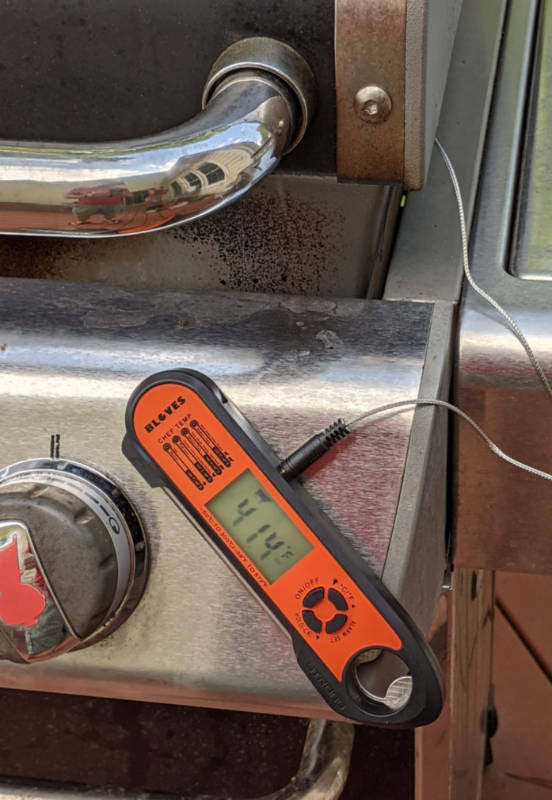 I grilled lamb chops with the Bloves Meat Thermometer probe wire in the center of the meat.  The 'done' signal at 145 degrees came way too soon as the meat was very rare when we cut one chop off.  Back on the grill with the meat, and with the thermometer reading 165 degrees the meat was actually then medium rare, which it should be at around 145 degrees.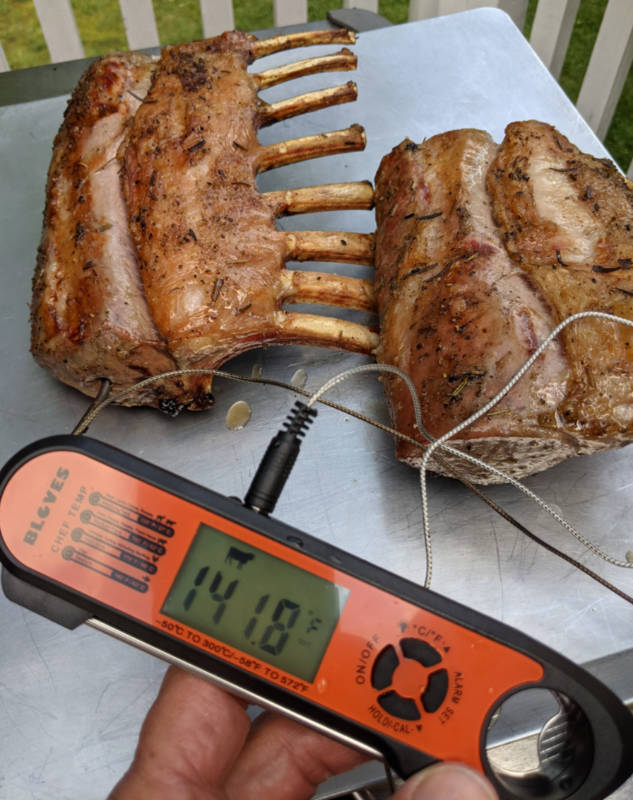 Meat should be removed a few degrees early because it continues to cook when removed.
In my pork tenderloin test, I got really surprised.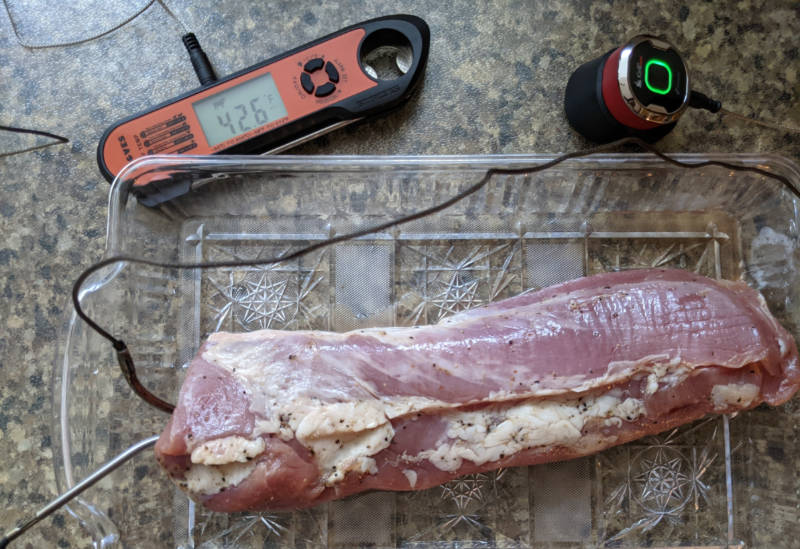 The Bloves Meat Thermometer is on the left above, iGrill on the right. The two probes are side-by-side in the center of the meat.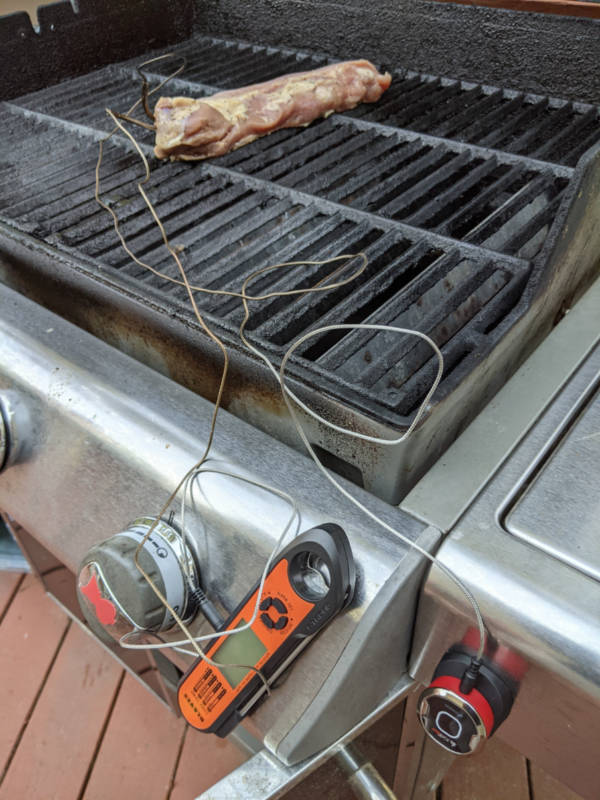 As I grilled on a gas grill set to medium high heat, the two devices showed very different temperatures at all times until the last 5 minutes of cooking. I cannot explain that. The iGrill climbed up from the 2 digit fridge temp in normal, stepwise fashion. (I know, I should let meat come to room temp before grilling.) The Bloves would show a temperature, then show 5-8 degrees below the temperature just shown, and back and forth in a fashion that would not be expected in a normal meat grilling scenario. 
I suspect the wire outside the probe is 'reading' temperatures, maybe intermittently, which would explain the early 'done' alert with my lamb cooking test. I have no idea why the Bloves was all over the place during the pork tenderloin cooking, nor why it converged with the iGrill thermometer at 145-148 degree point.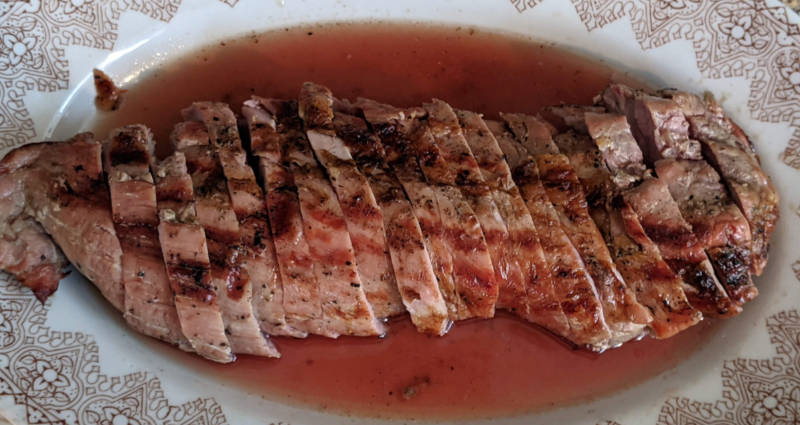 This video shows the thermometer in use but near the end shows the temperature fluctuation that it sometimes does.
What I like
The magnet and bottle opener are welcome features.

The 4' long external probe made grilling an easier task and would be useful during indoor baking.
What I'd change
Provide clear instructions for calibrating the thermometer.

Provide clear instructions. The English directions need to be corrected. 

Better quality assurance before shipping?
Final thoughts
It is odd that the Bloves Meat Thermometer claimed 'done' too early with the lamb.  Ditto the internal pork temperature readings with the Bloves thermometer not correlating with my trusted cooking thermometer until the finish point. And it was disappointing the device couldn't be calibrated. I can't come to an enthusiastic recommendation on this device, I'm afraid.
Price: $14.99
Where to buy: Amazon
Source: The sample for this review was provided by Bloves.