We use affiliate links. If you buy something through the links on this page, we may earn a commission at no cost to you. Learn more.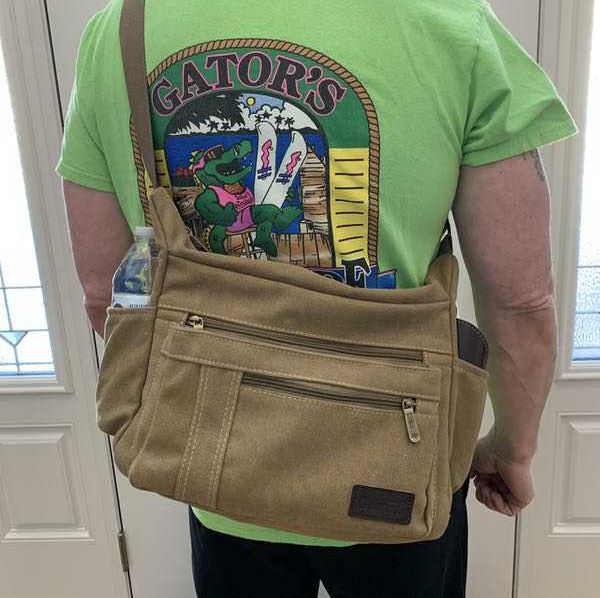 REVIEW – Is it a sling bag? A messenger bag? Whatever you want to call it, the Wautton Crossbody Bag is a compact shoulder bag for carrying your stuff for the daily grind. Let's check out the details. To the review!
What is it?
It's a sling/messenger bag with lots of pockets. Lots. Of. Pockets.
Hardware specs
6″ by 9″ by 13″
53″ adjustable shoulder strap
Waterproof cotton canvas construction
Design and features
The form factor of the Wautton Crossbody Bag is a messenger bag without the flap. It's designed to carry over the shoulder or crossbody with a super-long adjustable strap that will accommodate just about any body type or carrying style.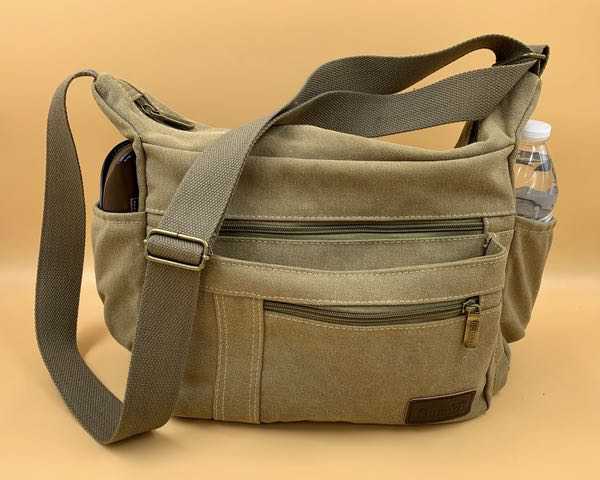 My wife tells me that it resembles a purse or diaper bag in terms of style & design, but the waxed canvas materials & weathered brass hardware gives it a more rugged aesthetic. Mine is the Khaki colorway but you can also get this bag in coffee brown, black and army green.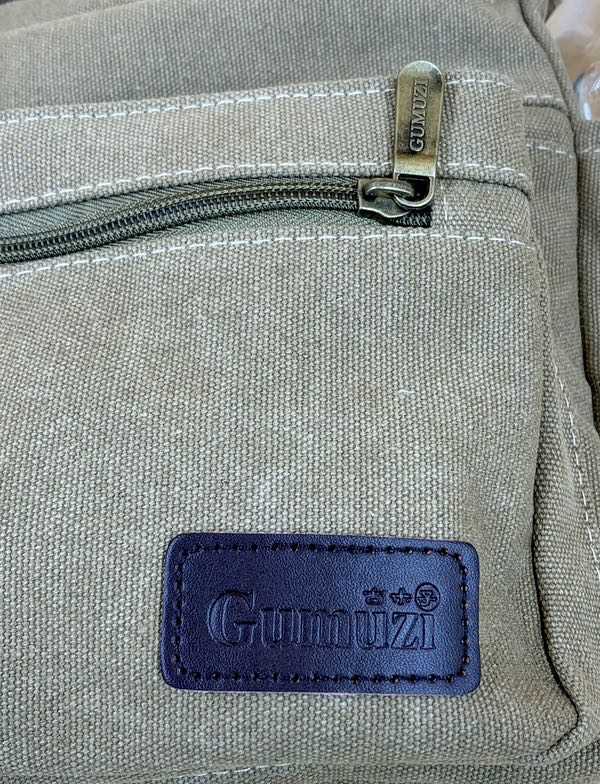 No matter what you call it, you'll get a whole bunch of pockets for organization. There's an elastic bottle pocket  on each side of the bag. These pockets are tight. I've got a standard water bottle and my sunglasses case loaded up in the sample photos for reference.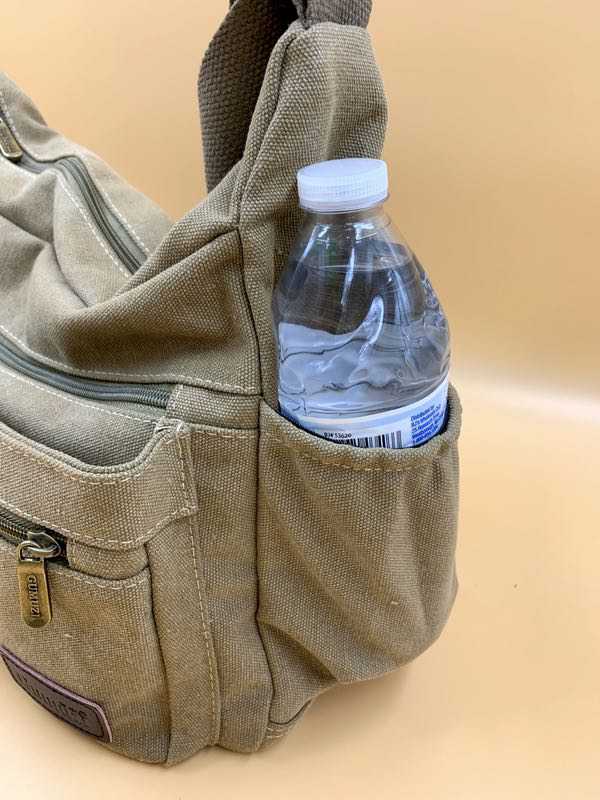 Your front panel has three different pockets for your wee bits. The first pocket is a tiny thing that would work for keys and such. I have my gum, chapstick and assorted emergency medicines in here. Check out the printed liner.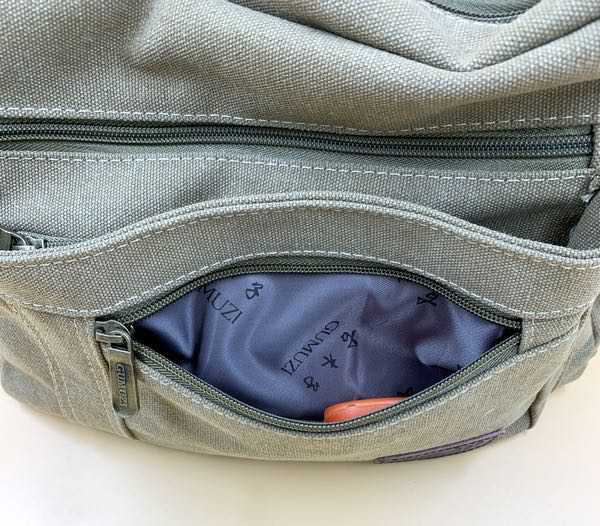 The second pocket is slightly larger, also made for small stuff. This pocket is an odd one. See how the zip stops at those grey loops on either side?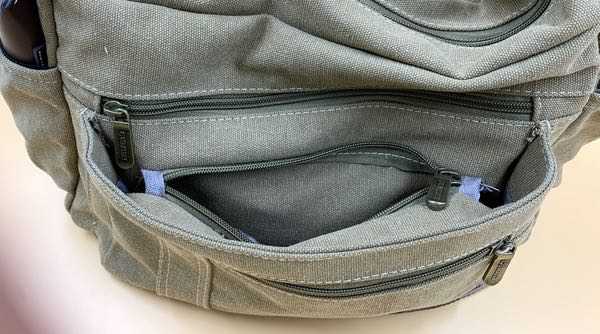 Check this out when I put my finger through from the inside of the pocket. It's open to the elements. I'm not sure why they didn't run the zip & seal it end to end. Keep in mind that this pocket could trap water if caught in a downpour.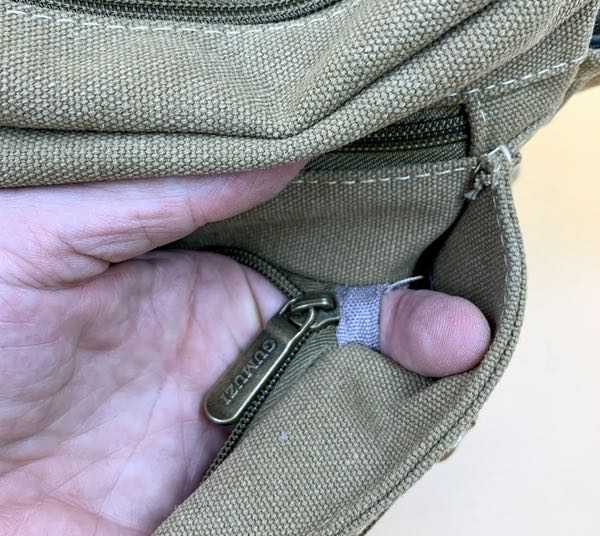 You have another zipped pocket behind this one that will take a small notebook or your phone.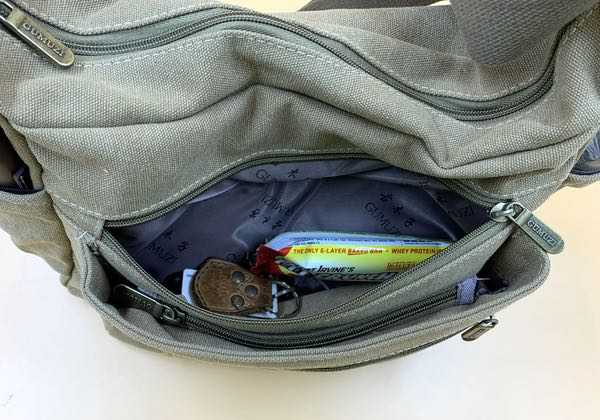 The design of these pockets doesn't compromise the main compartment, with is nice and roomy for a compact bag. I've got an iPad Air in here along with a couple of other items. A pair of drop pockets on the front side will stash your power bricks and accessories, and there's another zip pocket on the rear panel that's ideal for wrangling cables and chords.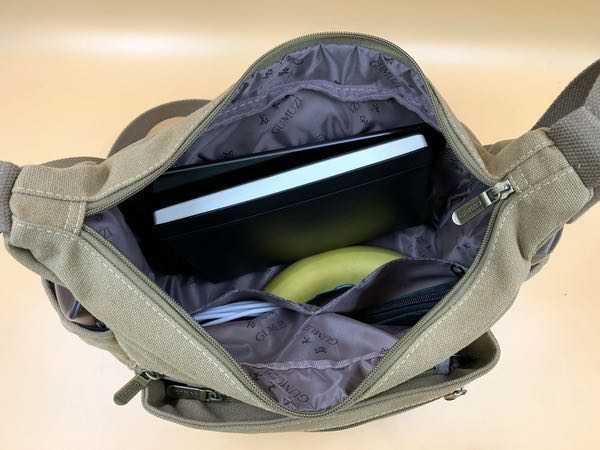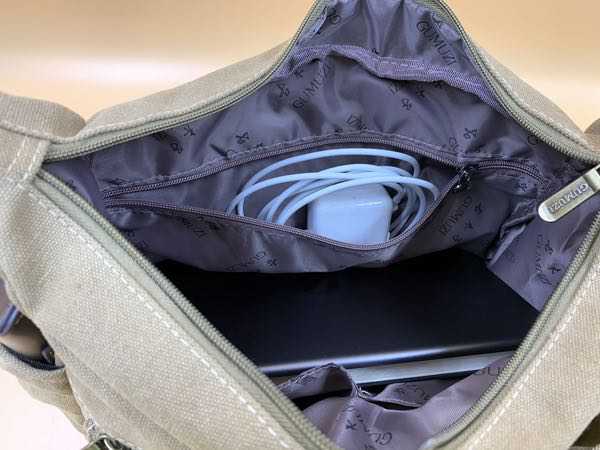 You can see from the pics that I have all kinds of room in that main compartment for more. Note that there is no divider to keep your tablet separate from the rest of your gear. You can *just* barely fit a 13″ MacBook Pro or and iPad Pro in there, but it's tight. You also won't find any padding in the bag for protection, so your best bet for travel would be a standard iPad-sized tablet with a protective case.
There's also a rear pocket on the bag that serves as a secure spot for your wallet, tickets, or papers. The opening is tight and will not accommodate a 5″ by 8″ notebook are larger. Papers or documents will be folded to stuff in here.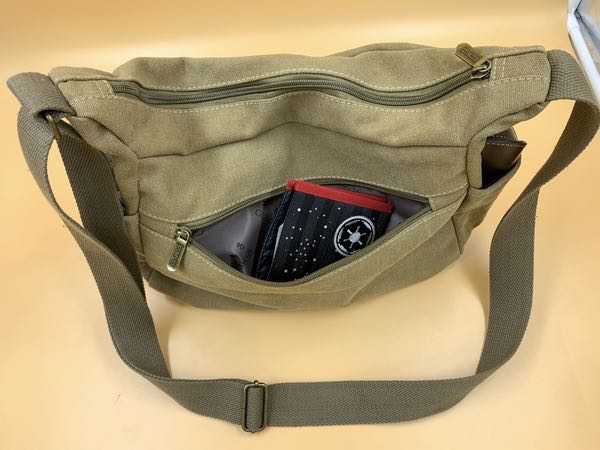 Construction is fine for a bag at this price point. The manufacturer claims that the cotton canvas is material is waterproof, but it doesn't feel like it to me. Fit and finish are fine. I don't see any waterproof seals on the zips. Coupled with and the gaps on that front/middle pocket, I don't think I'd trust this bag to be waterproof.
Performance
The Wautton Crossbody Bag holds a surprising amount of stuff for the size. The pic below shows everything I have loaded up for the photo shoot, and I still have lots of room to pack it out. I could stash a bigger hydration bottle and a rolled light jacket in there on top of all my gear. And I still have plenty of room in all the assorted accessory pockets.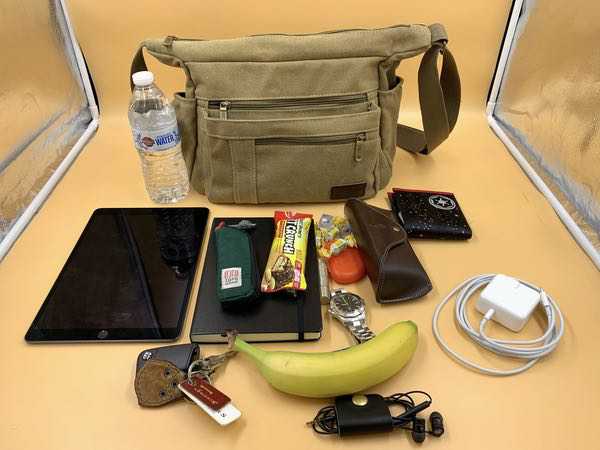 I'm torn on the abundance of pockets. You have a total of 10 spaces, pouches, and pockets for stuff which seems like a bit of overkill for a bag this size. I think I'd prefer if a couple of those pockets were combined to make them a bit more flexible. But if you are a micro organizer, you'll really like all the options.
The bag is lightweight and super comfortable, and just warps around your body in either over-the-shoulder or crossbody mode. I really like the extra-long adjustable strap which is very comfortable even without a built-in pad.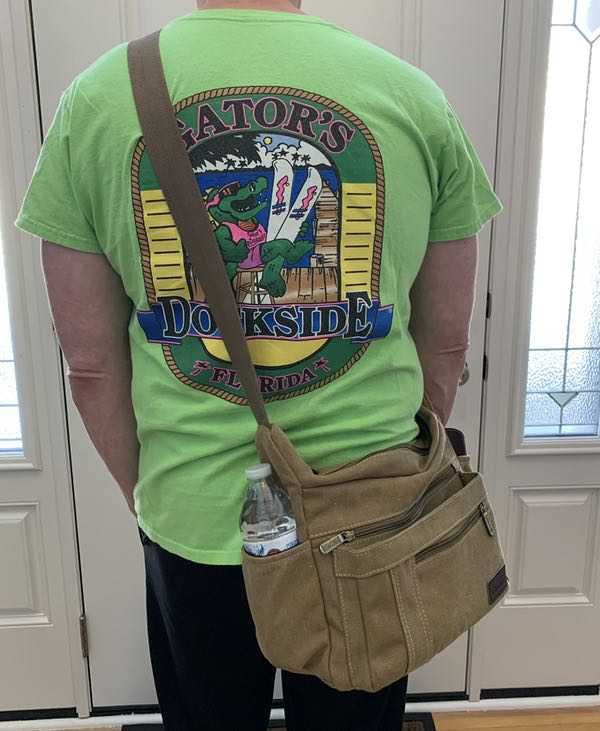 What I like
Super roomy for a compact bag
Comfortable and lightweight
Flexible design for all sorts of uses
What needs to be improved
Some odd pocket layouts that favor smaller items (other than the main compartment)
Not sure if it's going to be waterproof
Final thoughts
At this price point, the Wautton Crossbody Bag is a great choice if you just need a flexible smallish carryall for day trips and running around town. It would make a nice carry-on travel companion as well. You'll want to leave the laptop at home, though, and I'm not sure how it will hold up to long-term durability testing. There are also some questionable layout choices in the pocket design. But overall it's a nice bag for the budget-conscious… unless your travels take you into a lot of wet places.
Price: $39.99
Where to buy: Wautton.
Source: The sample of this product was provided by Wautton.