We use affiliate links. If you buy something through the links on this page, we may earn a commission at no cost to you. Learn more.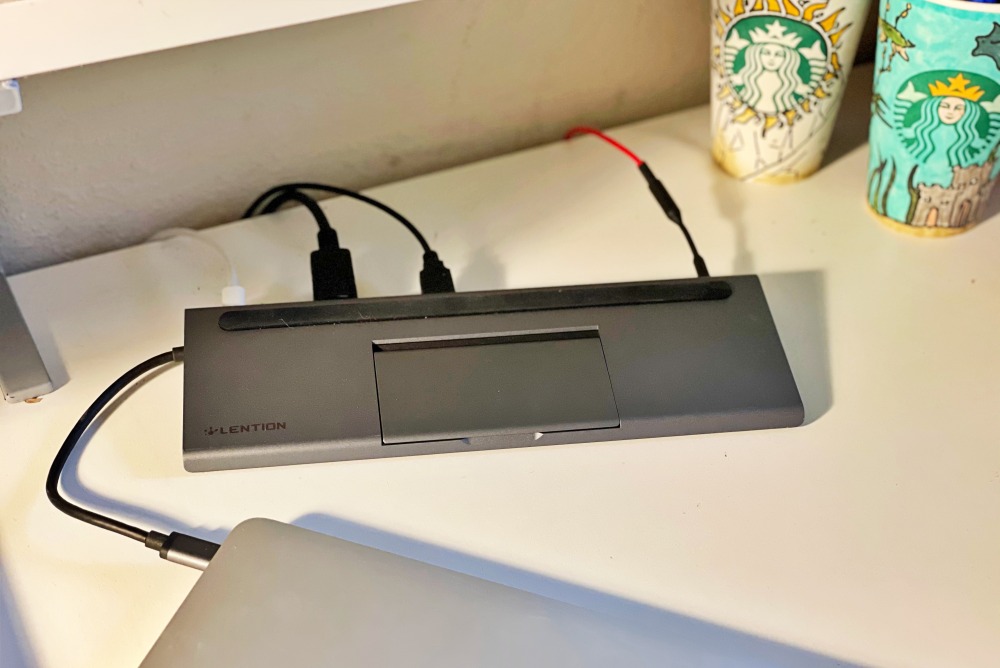 REVIEW – Does your laptop have fewer ports than you'd like? Are you plugging in more than one cable every time you settle in at your desk? If you've answered yes to either of these then congratulations, you should check out a dock. There are a lot of options out there varying in size, form and price. Quite often they take up some space on your desk, so when Lention offered up their compact 11-in-1 USB-C Laptop Docking Station that sits under your laptop, it meant one thing… review time again!
What is it?
The aptly named 11-in-1 USB-C Laptop Docking Station is a single cable solution for connecting monitors and other accessories to your USB-C capable laptop, and possibly tablet or phone.
What's in the box?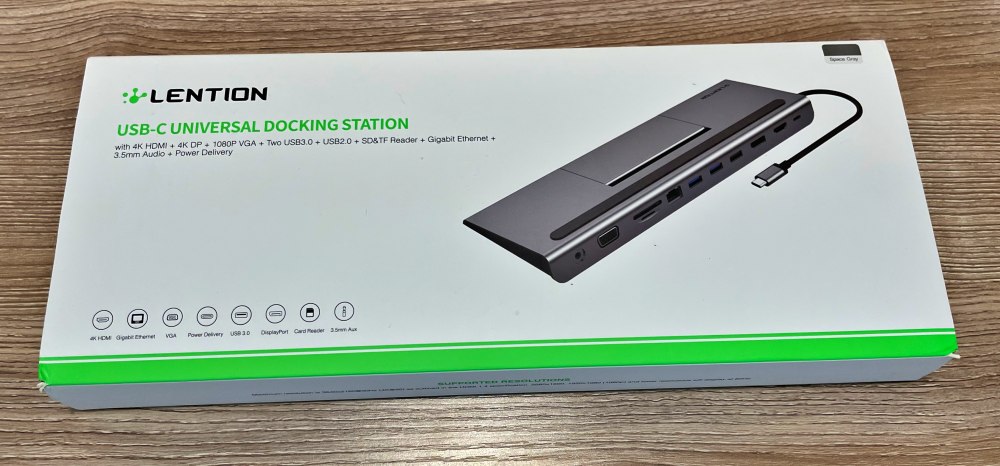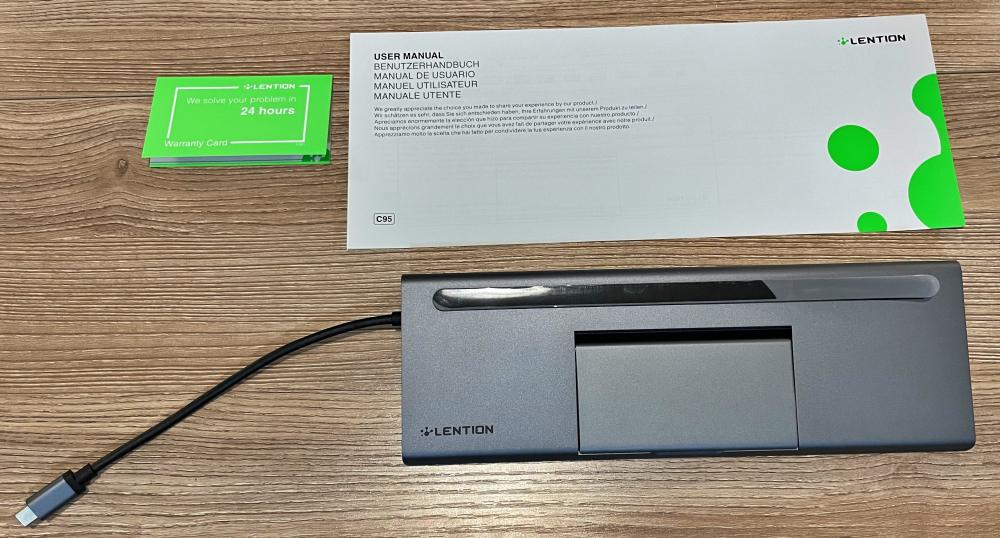 11-in-1 USB-C Laptop Docking Station
User Manual
Warranty Card
Hardware specs
Power: Up to 100W USB-C Power Delivery – Bring your own USB-C power adapter
Video Ports: HDMI, DisplayPort, VGA
USB Ports: (2) USB-A 3.0, (1) USB-A 2.0
Audio: 3.5mm Aux Port
Cards: SD/Micro SD Reader Slots
Ethernet: Gigabit Ethernet
Non-Slip: TPU feet and computer rests
Dimensions: 10.5 x 3.5 x 1″ | 12.6oz
Design and features
Lention's 11-in-1 USB-C docking station is designed as a minimal ramped lift for your laptop that you can connect with a single cable for convenience.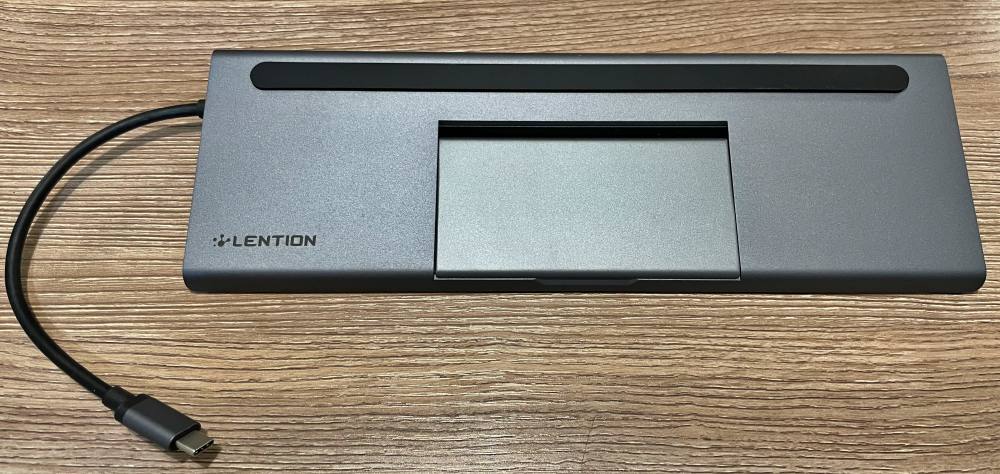 All ports are easily accessible across the back of the device.

TPU feet on the underside provide friction to keep the dock from moving around.

A small stand flips up from the center if you are connecting a supported USB-C mobile phone.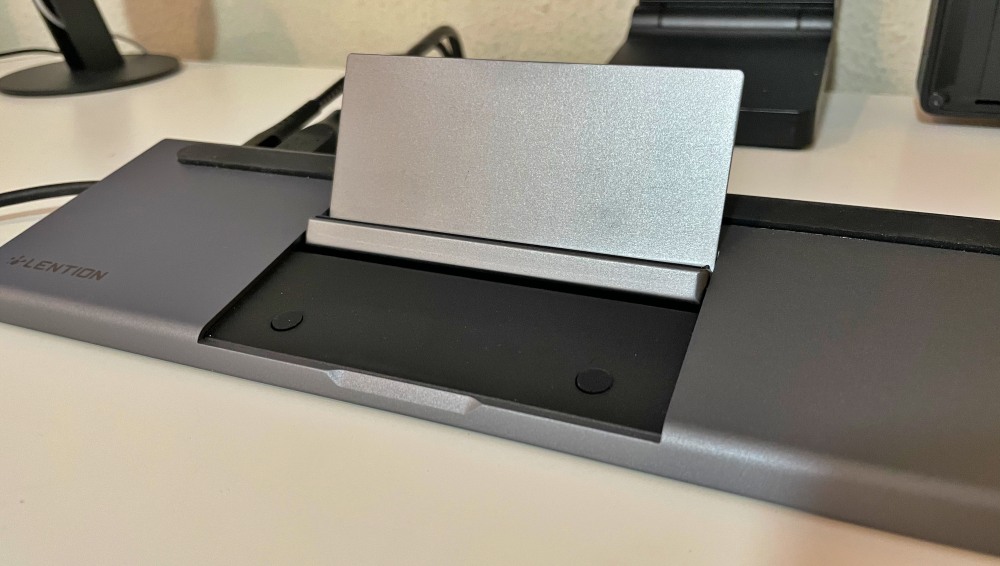 The docking station supports up to 100W PD power pass through to your computer and will depend on the size of the power supply you provide.
Setup
Getting the docking station set up on your desk is pretty simple and will vary a little depending on what you need to connect.
There's some plastic film over the TPU parts (top and bottom) you'll want to remove once you know where you're placing the dock, and after you've wiped down the desk in that spot.
One key thing to note is that you will need to provide your own USB-C power supply if you want your computer to be charging during use. Connect it to the USB-C port on the back right of the dock and to the wall.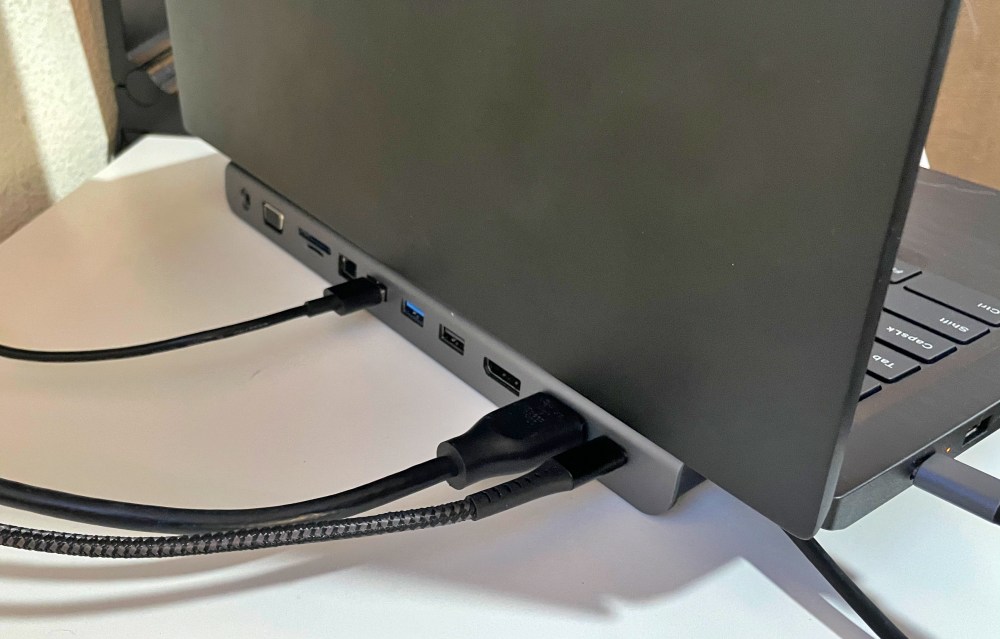 Next connect cables for your display if you're connecting an external monitor. The dock will support up to two at a time (if your computer will) and can handle HDMI, DisplayPort and VGA connections. Cable shown above is HDMI.
If you're lucky enough to have ethernet at your desk, connect that to the Gigabit port.
Lastly connect any USB-A accessories, noting that the two with blue internals are your 3.0 ports.
Now rest your laptop or device on top of the dock and connect the USB-C cable that extends from the left side of the dock.
Your monitor (if connected) should spring to life and any other connected devices should become available.
Performance
This dock feels slim and big at the same time, especially while setting it up. But as soon as you drop your laptop into place, it disappears and doesn't take up any surface area your laptop wasn't already going to occupy. Dock or docking station is the right term here as it is basically saying "place your laptop here". That's a good thing.
Once accessories and monitors were connected, everything worked as it should. All connected devices were accessible and power flowed to whatever was docked on top.
About that… The Lention dock seemed to work best on my Windows laptop where I could mirror or extend the desktop without restriction. Supported two external monitors as advertised.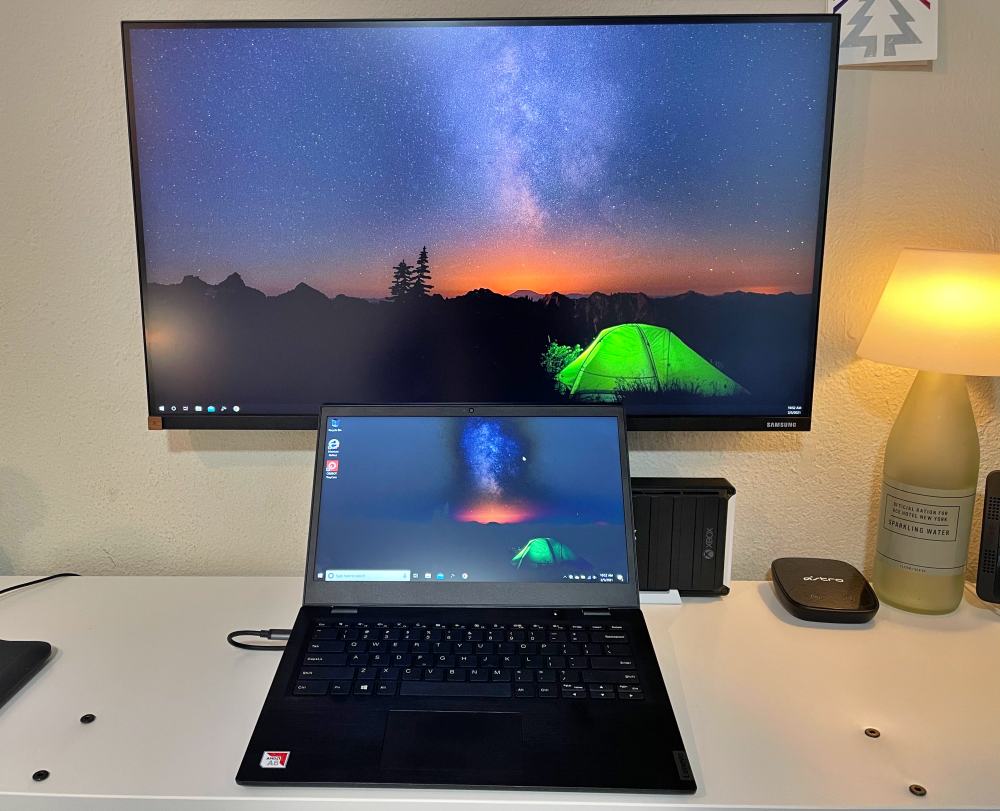 With my Intel MacBook Pro, it connected fine, and also supported two monitors, but I only had one resolution (3840 x 2160) that was useable for me. The other options produced black bars on the sides or were too zoomed in. I don't have this issue connecting directly to this display, so that seems weird.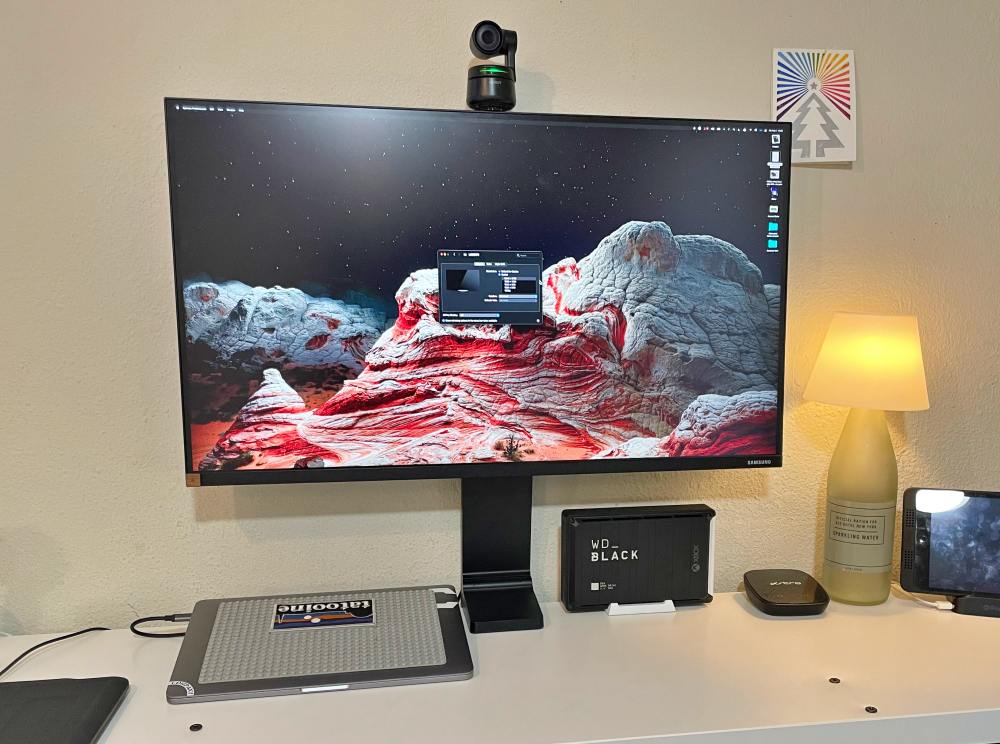 When connecting my iPad Pro, the only available option was mirroring, and the black bars were present there too. The flip up rest isn't built to hold anything but a phone so you're left to lay a tablet down, or stand in whatever case it's in. It is interesting though. How many users connect a phone to monitor, keyboard and mouse? This likely doesn't add a ton of cost, so if it translates to some sales, there's no real harm in the feature being there.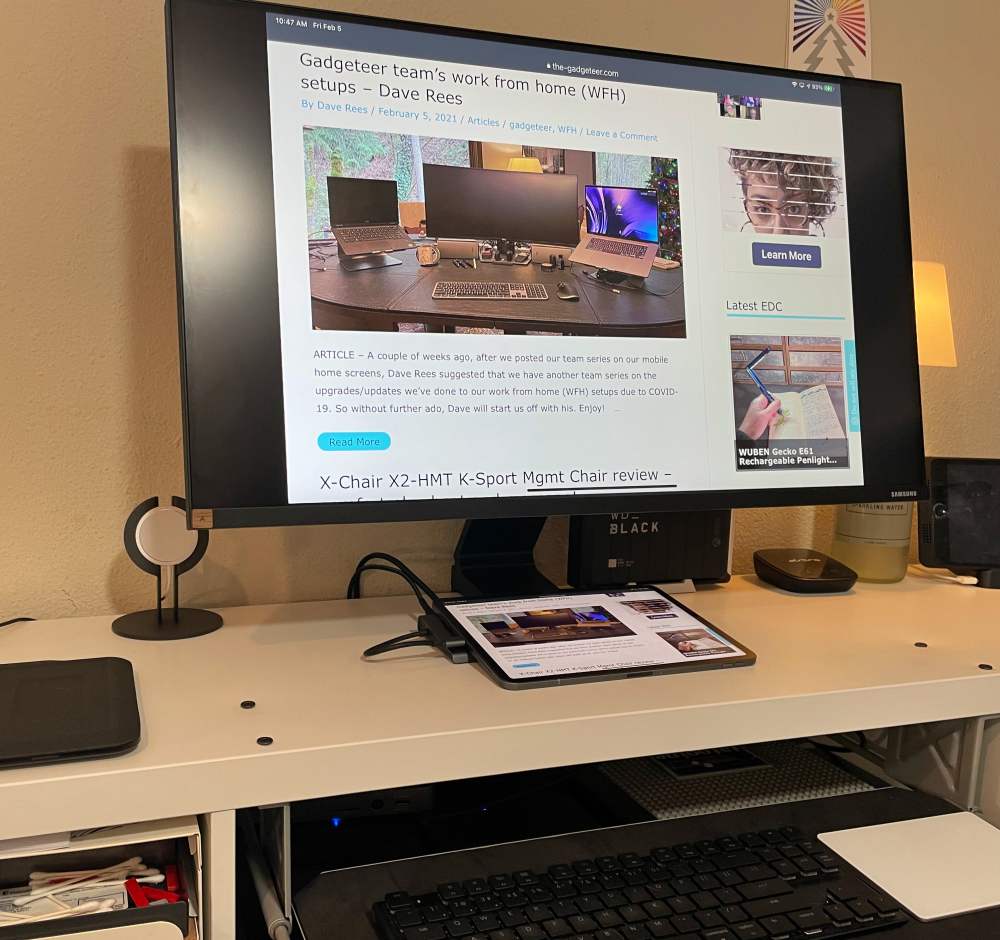 The setup worked great at my daughter's desk with her MacBook Air (M1).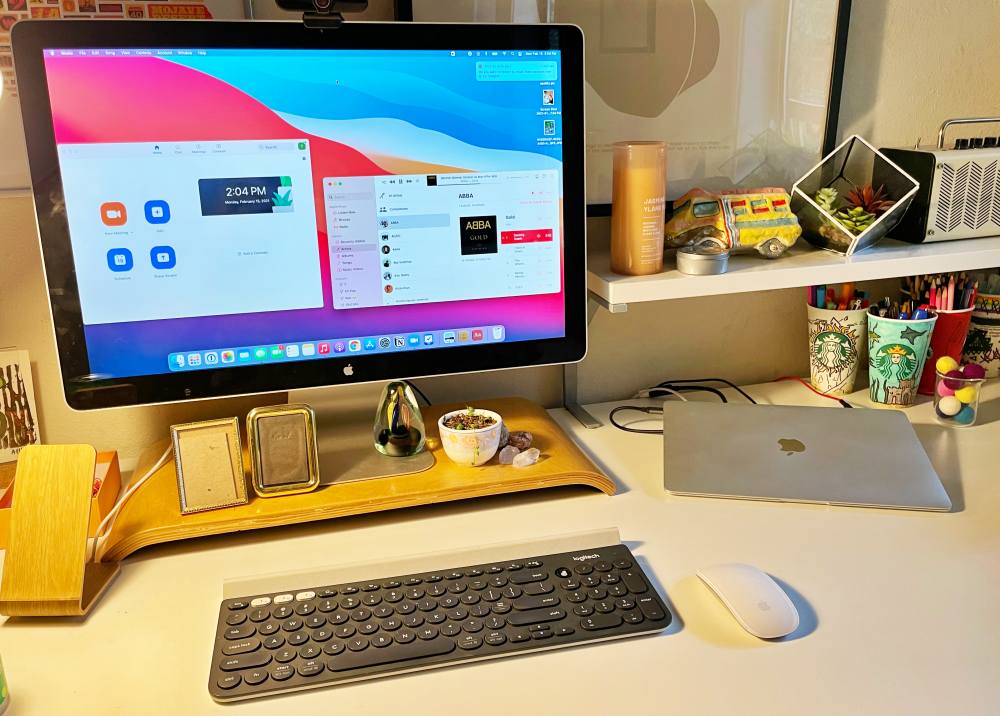 She really likes this old Apple Cinema display which has only has a DisplayPort Mini connector at the end of its tethered cable. We were able to use an adapter to convert to a full size DisplayPort for connecting to the dock. You can see that in the below photo.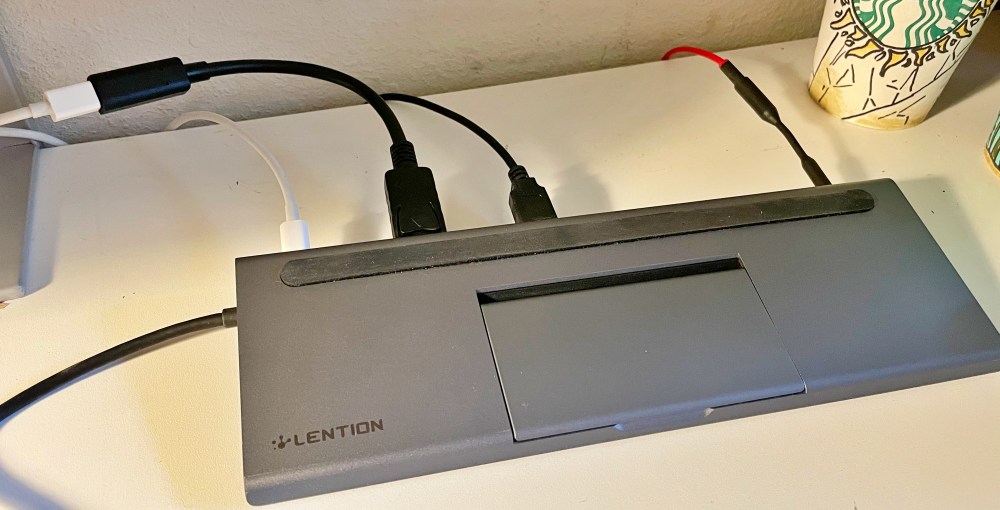 You'll also notice that the audio cable on the right side has a small adapter. The 3.5 TRS port Lention uses requires a 4-pole connection so when connecting to aux-in speakers you need to convert a standard 3-pole aux cable to a 4-pole on this side. Works great.
The ports are easy to get to as you're setting up the first time, but getting to them when your laptop is resting there is a little awkward. If your laptop is open, you'll have to close your lid at least some to see what you're doing. The card reader slots are the most tricky depending on where your laptop's rear side is resting. Would much rather have these on the right or left side.
You'll also probably want to pick up an extra PD power supply so you can keep your laptop power supply in your go-bag.
The last thing to mention is that docks are frequently quirky as you may have seen me mention before. It's also frequently a result of different devices and/or operating systems and not the dock. I had some issues with glitchy video early on in the testing period. At first, I thought it was an M1 MacBook issue, but then it occurs on my son's Intel Mac as well. After chasing multiple angles it ended up being a Big Sur issue that for some reason affected this dock and not some others and as of the latest Big Sur updates, all is good again. Just a reminder to read release notes and to not be afraid to dive into some forums to see if anyone is having the same issues.
What I like
Ramped laptop riser design
Easy access to ports during set up
Pass through PD power keeps your laptop charged
Price is pretty fair
What I'd change
Move the card readers to one of the sides
Resolution challenges with Mac
Final thoughts
Lention has made a good little docking station here for USB-C equipped laptops. You'll want to check your particular laptop's capability for video over USB-C to be sure. I'm giving this a thumbs up for Windows laptops, and check resolutions carefully if you plan on using with a Mac.
Price: $119.99
Where to buy: Amazon
Source: The sample of this product was provided by Lention