We use affiliate links. If you buy something through the links on this page, we may earn a commission at no cost to you. Learn more.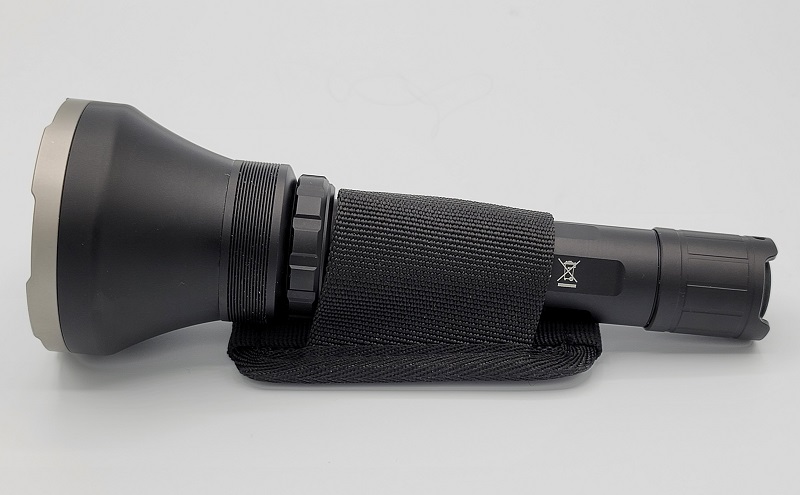 REVIEW – Sometimes you need highly specialized tools for special situations, but there's always a struggle to decide when to use a multi-use tool instead of a one-use tool.  The Cyansky Multi-color Long Range Hunting Flashlight bills itself as a do-it-all long range hunting flashlight with multiple modes and light spectrums for different hunting situations.  I've tested it extensively for a few weeks, and will now impart my findings.
What is it?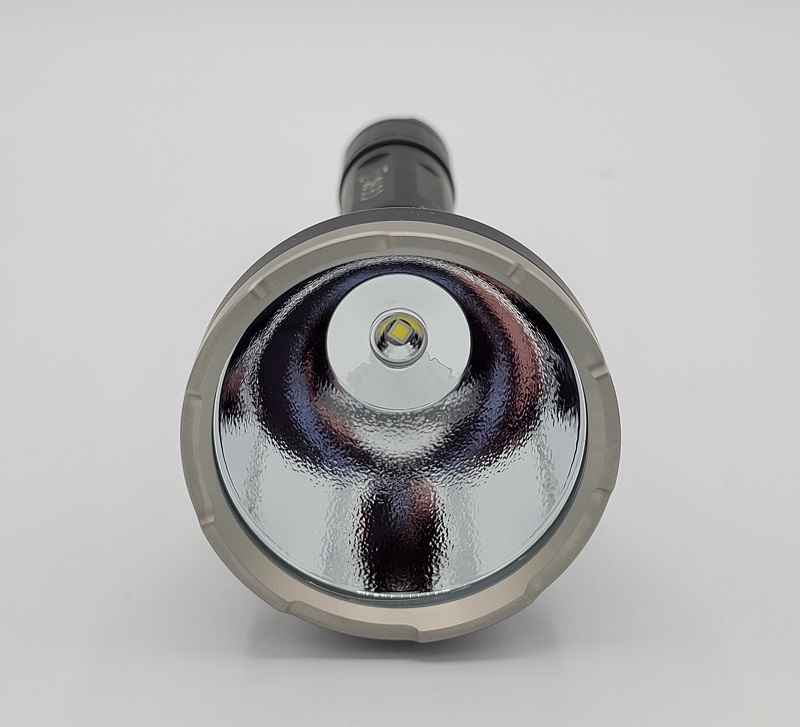 The Cyansky Multi-color Long Range Hunting Flashlight is a high-power long range LED flashlight with multiple color modes built in.  In addition, it offers marathon battery life and a ruggedized build designed to take the abuse a typical hunt can dole out.  This flashlight can be used handheld or mounted to a firearm with optional mounting hardware.
What's in the box?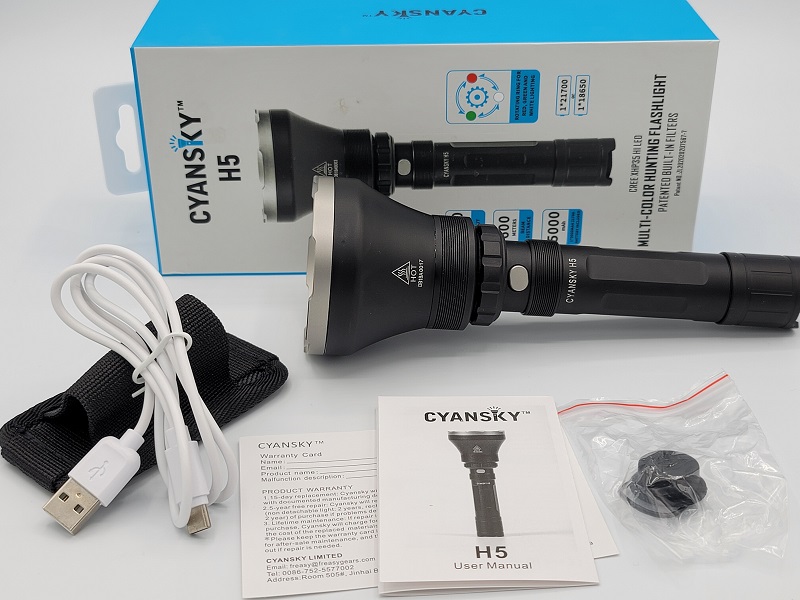 Included in the box is the Cyansky Multi-color Long Range Hunting Flashlight, the battery, a belt holster, a USB Type-C charging cable, spare O-rings (2), spare Tail Cap, lanyard, user manual, and warranty card.
Hardware specs
Light output (white): 1300 Lumens / 600 Meters / 90026 cd intensity maximum
Light output (red): 100 Lumens / 180 Meters / 8102 cd intensity maximum
Light output (green): 300 Lumens / 313 Meters / 24312 cd intensity maximum
Impact resistance: 1 meter
Waterproof rating: IP68 (2 meter submersible)
Operating temperature range: -30°C – 50°C / -22°F – 122°F
Size: 64mm/2.52in x 25.4mm/1in x 182mm/7.16in
Weight: 288g/10.16oz (without battery)
LED type: CREE XHP35 HI LED
Battery specs: 5000 mAh type 21700 rechargeable Lithium-ion battery – Type-C charging (compatible with other 18650 batteries as well)
Max runtime: 60 hours
Design and features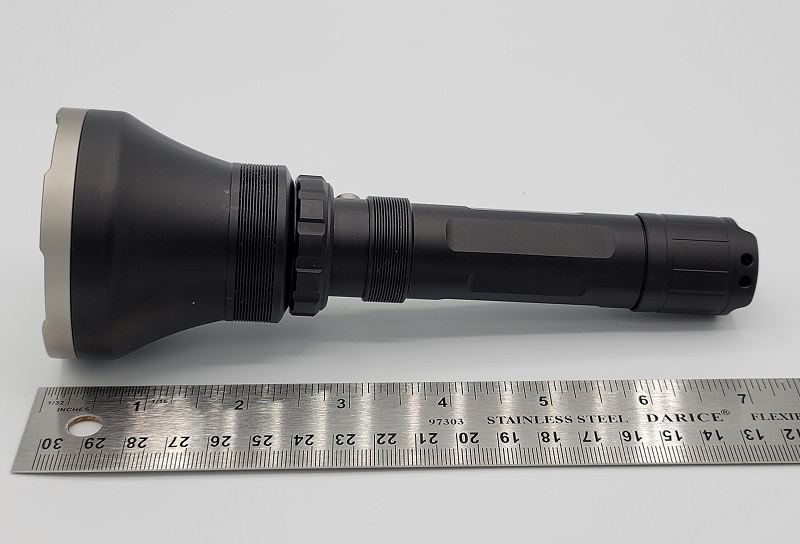 The body of the Cyansky Multi-color Long Range Hunting Flashlight appears to be machined out of aluminum and is coated with a hard-anodized coating designed to take abuse.  The build quality is great, everything seems well-machined with no gaps or loose pieces.  Threads on various screw-on parts are smooth, everything is as you'd expect for a premium flashlight.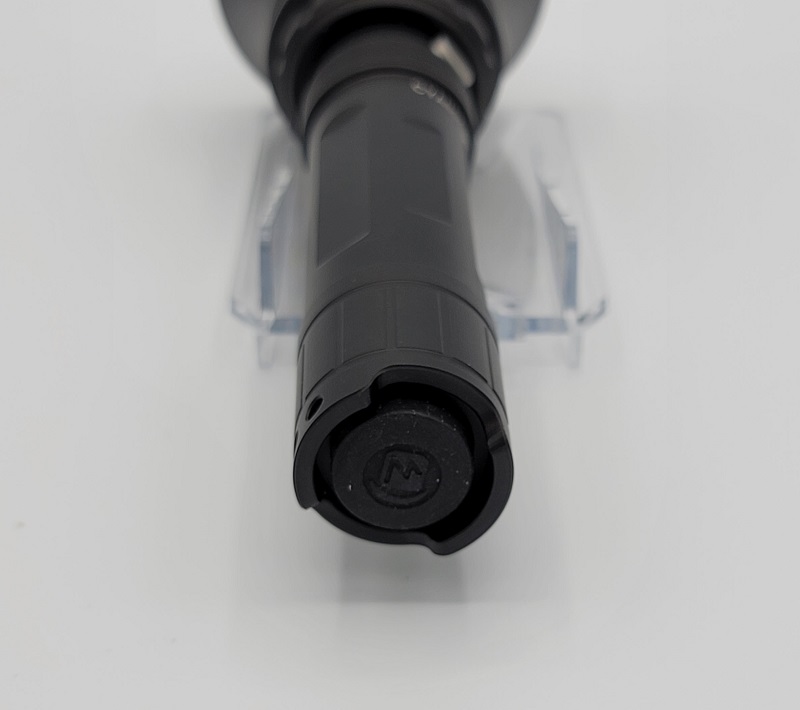 The tailcap has the pressable on/off switch which also has momentary-on with a half-press.  There are also 2 small holes cut out here for the included lanyard.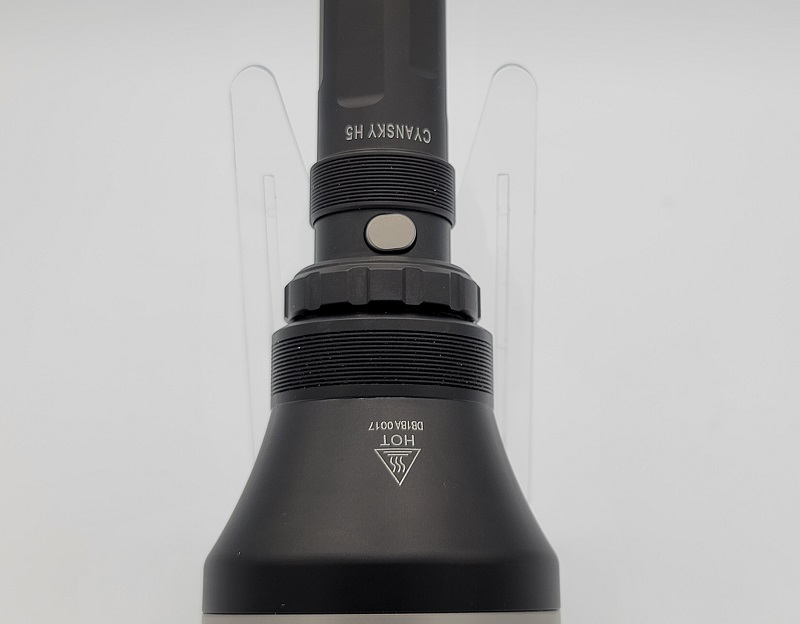 Up near the business end of the flashlight is a metal button and a sliding metal ring.  The button is multi-functional: single press to switch brightness modes (4 levels), and long press to toggle between strobe and solid-on.  The ring physically rotates the red/green/clear filters over the LED itself, thus changing the color of the light output.  The handle is nothing like the old D-cell flashlights I grew up with, it's barely thicker than the battery it contains.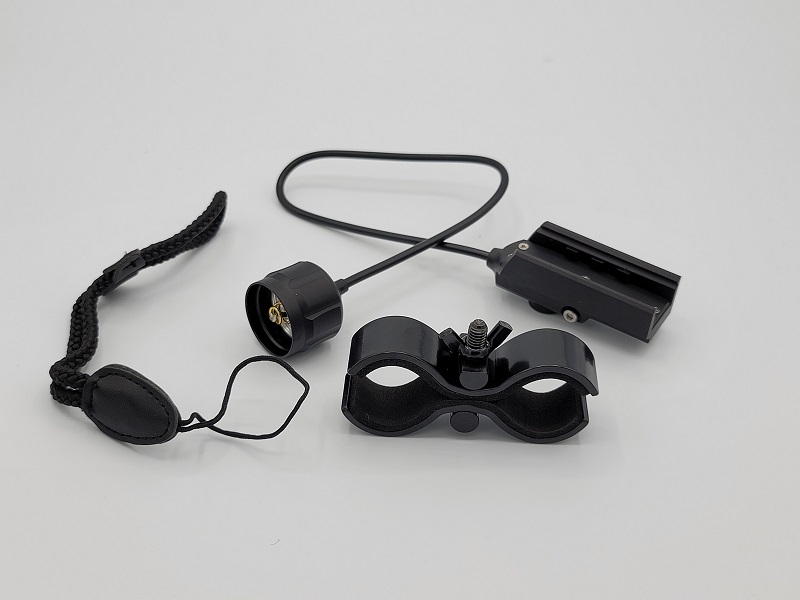 Included in the review kit I was sent was a tactical pressure switch (rail attachment for a firearm) and a dovetail gun mount.  This is notably different than the one they picture on their website, and is listed as an optional accessory so it may not be a final design but rather a placeholder to aid in the review.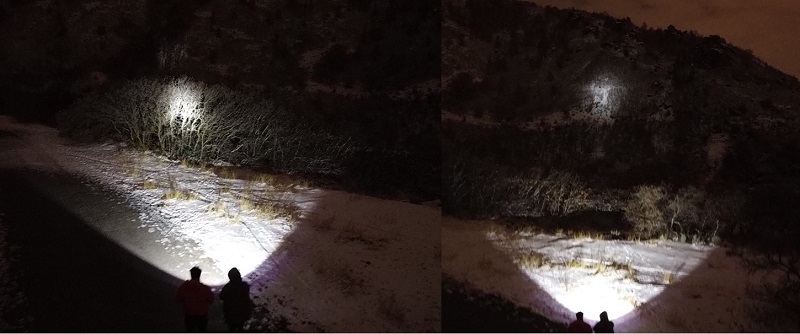 In the brightest light mode, Cyansky advertises an up-to-600 meter illumination capability.  The above pictures were taken at roughly 30 meters and 100 meters on the brightest setting, at night (the yellow clouds are just reflected city light from nearby houses, the canyon where these pictures were taken was very dark).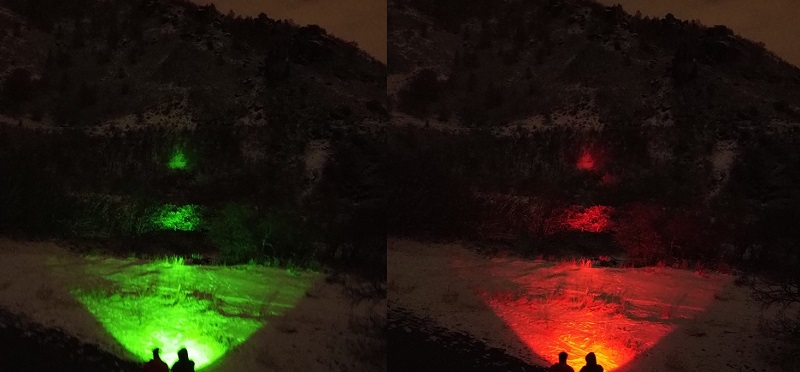 Cyansky suggests that green light is good for hunting "hogs", and red for deer and similar prey.  I'm no expert, but both light modes worked well.  The green mode is rated for just over 300 meters, while the red is only good for 180 meters at highest power.  The red mode especially is nice on lower settings, it provides good illumination without completely destroying your night vision.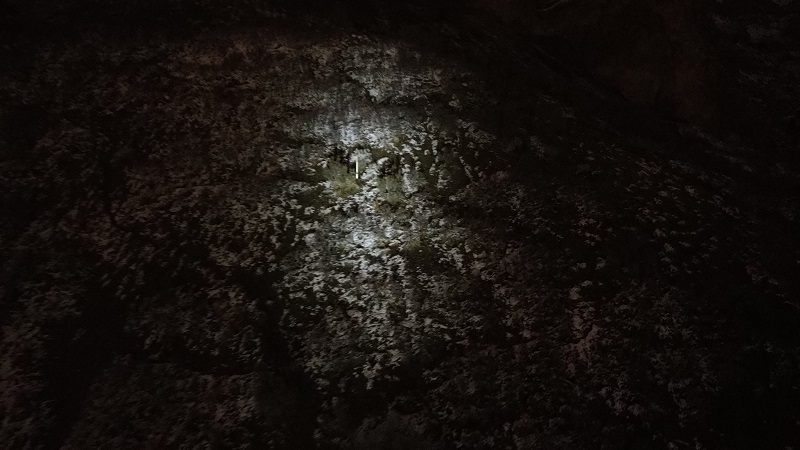 For this last picture, I pointed the Cyansky Multi-color Long Range Hunting Flashlight at a hillside about 300 meters away, then flew a drone over to the area to capture the photo.  You can clearly see shrubs and rocks, and if there was a hunting target it would be easily visible (if your eyes were good).  You'd want a magnifying scope for anything this far or further, my naked eyes could only make out a white circle on the hillside from where I was.
I tested battery life by leaving the flashlight on at full power on the white setting and it lasted just over 3 hours, though it was getting pretty dim for the last 30 minutes.
Installation and setup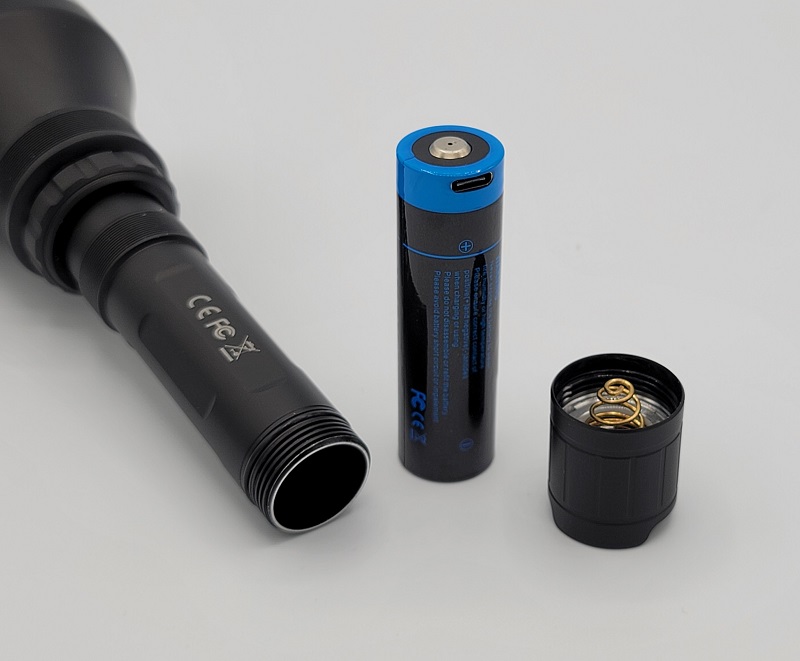 Setup was quite easy, the battery simply needs to be charged and inserted.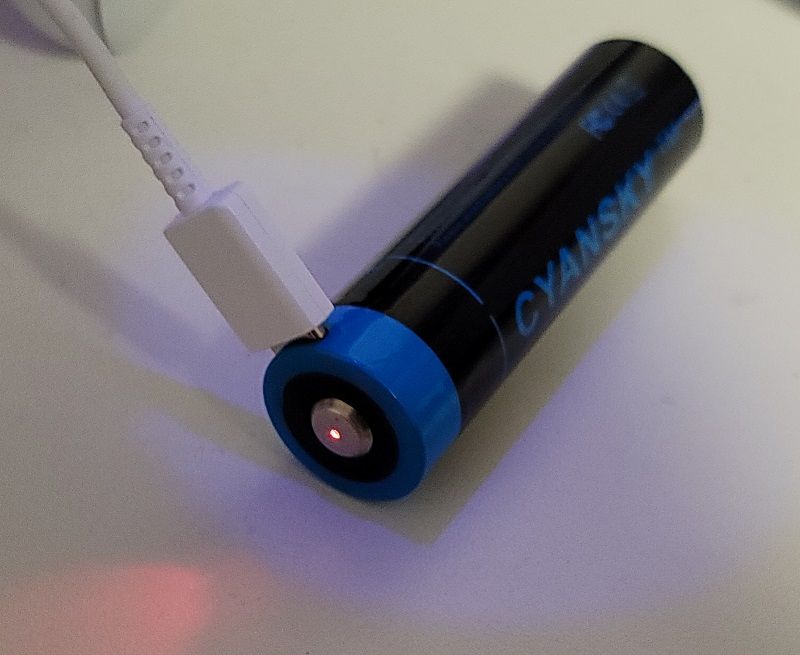 Charging is done by plugging the included USB type-C cable into the battery itself.  I wish you could charge it without removing it from the flashlight, but that would have made waterproofing the flashlight much more difficult.  Since the battery lasts so long, I can live with this.
What I like
Powerful long range beam
Multiple color modes without external filters
Water and shock resistance
What I'd change
Adjustable focus on the beam would be nice for uses outside hunting
External charge port so you didn't have to remove the battery
Final thoughts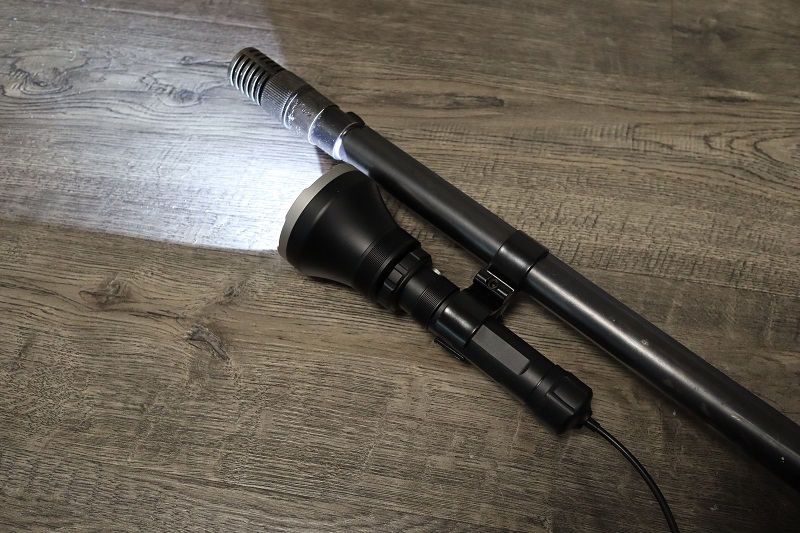 After testing out the Cyansky Multi-color Long Range Hunting Flashlight, I would recommend it if you need nighttime hunting LED flashlight with multiple color modes.  It seems like it would be good for tactical / home-defense use at all, though I'm no expert in that area.  A 5 year warranty would impart long-term confidence if the brand was established (it seems Cyansky is fairly new), so I'm not sure about long term reliability.  The build quality of the product is good though, I don't have any worries based on my testing so far.
Update 6/5/21
The flashlight itself still works great, but the click button broke right after I posted the review. I simply unscrew the end a bit to turn it off now, and screw it in to turn it on, but it's a bummer that such a premium-feeling flashlight has a poor-quality switch.
Price: $99.95
Where to buy: Cyansky
Source: The sample for this review was provided by Cyansky