We use affiliate links. If you buy something through the links on this page, we may earn a commission at no cost to you. Learn more.
ARTICLE – My work-from-home setup is fairly simple. I work at the bar area in my home (first photo above) since my husband needs the space in our den/home office area (last photo above). I use a Lenovo Yoga 730 13″ laptop, a Logitech M585 Multi-device wireless mouse, Jaybird Tarah Pro earbuds for Zoom meetings, an Aukey Link PD Pro USB-C Hub to provide me with an Ethernet jack and other valuable ports (a new device for 2020), and a couple of flash drives for storage and transferring files (SanDisk 32GB Ultra Dual Drive Go and PNY flash drive).
My husband has three Lenovo work laptops and has two additional Dell monitors that he uses. He also uses a Samsung T5 Portable SSD 500GB, Logitech M325 wireless mice, an Epson WorkForce ET-16500 Wide-format EcoTank all-in-one printer for printing engineering drawings on 11″ x 17″ paper among many other things (not in the photo), a Xerox Duplex Combo Scanner, and a Yamaha PAC112V Pacifica Electric Guitar (for fun, of course).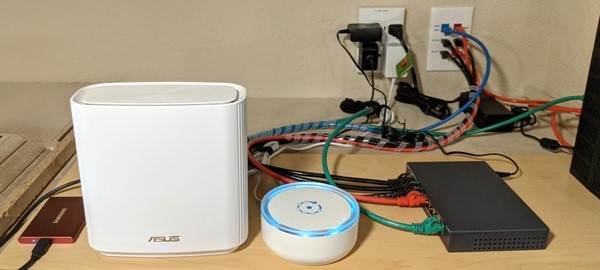 The real upgrade for us over the past year was buying new mesh routers and wiring up our home for data. All of us were going to be doing online video streaming all at once (my husband for periodic work meetings, my kids for school, and me for periodic training for my volunteer work). Thankfully, I had been researching routers for the past couple of years, and thus when our old router died in August 2020, I was ready to purchase the ASUS ZenWiFi AX6600 Tri-Band Mesh WiFi 6 System (XT8 2PK).
I installed the mesh routers and purchased a couple of TP-Link 8 Port Gigabit Ethernet Network Switches (TL-SG108) to accommodate all the new Ethernet jacks we decided to install in our house. Other devices included in the photo above are a Samsung T7 Portable SSD 2TB (also a new device for 2020) plugged into the USB port in the back of the main router to allow everyone access to commonly needed files and a Fingbox for managing the devices on our network. And of course, with this new hardware, we had to upgrade our internet service to AT&T Internet 1000 (you know, for the kids!).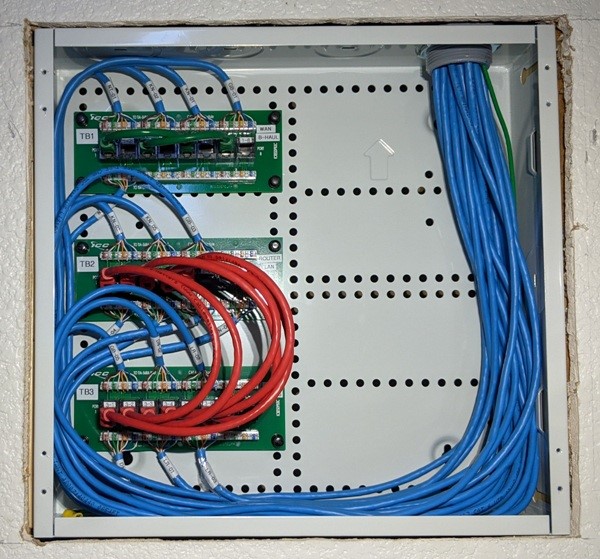 To ensure that everyone could stream reliably, we wired up as many devices as possible since Ethernet is the fastest way to go and it frees up WiFi for our other devices. My husband used CAT6 cables and purchased some CAT6 data modules (8 port) for this purpose and to allow for future network expansion if needed. The Asus ZenWiFi AX mesh routers and our newly wired home are providing us with the necessary internet access our family needs!
Be sure and check out the other WFH setup articles in this series.