We use affiliate links. If you buy something through the links on this page, we may earn a commission at no cost to you. Learn more.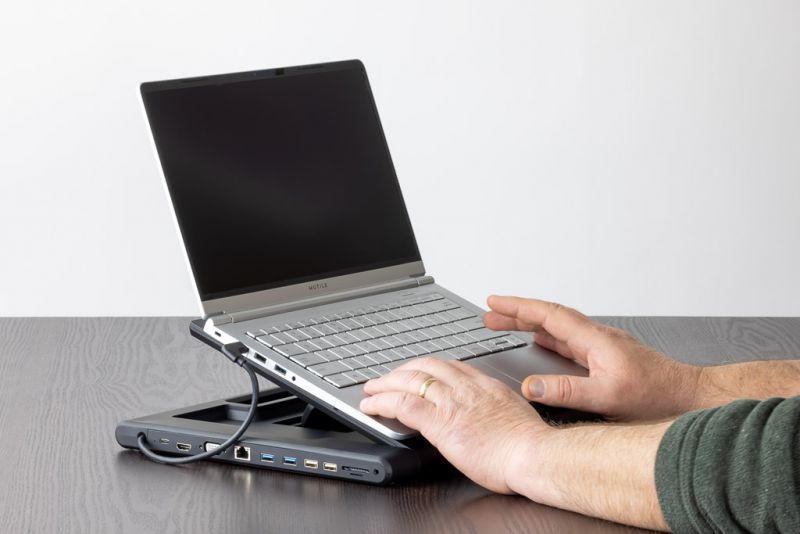 CROWDFUNDING REVIEW – I've almost always had problems finding the perfect laptop stand. They're usually too thick or too oddly shaped for what I need. I received the Topwork 12-in-1 portable stand for review, can it fit the bill? Let's find out!
What is it?
The Topwork 12-in-1 portable stand is a laptop stand with a built in device hub and wireless phone charger. Its Kickstarter campaign is already fully funded.
What's in the box?
Topwork 12-in-1 portable stand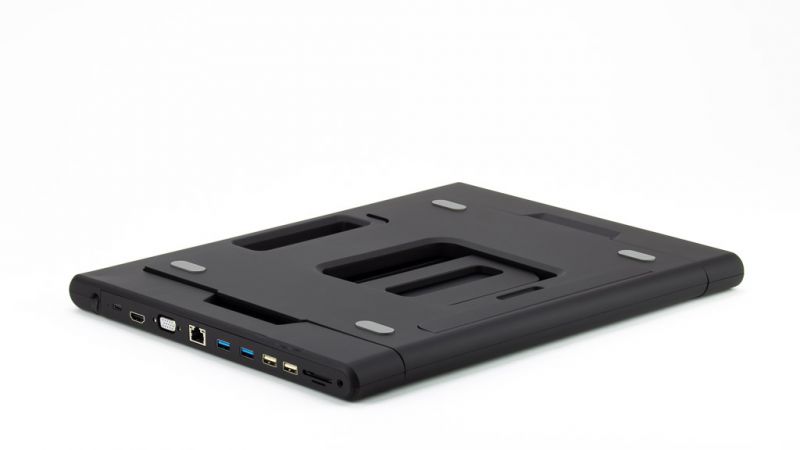 Hardware specs
Stand specs:
Weight: 2.2lb (1kg)
Dimensions: 14.2″ (360mm) wide x 11.2″ (285mm) deep x 0.9″ (24mm) thick
Capacity: Laptop with screen size up to 17″/11lbs (5KG)
11 in 1 hub specs:
Type-C cable for connecting the laptop
Type-C 3.1 port, 100W Charging
HDMI port, 4K/2K 30Hz
VGA port, 1080 max resolution @ 60Hz
Ethernet port, 1000Mbps
2 USB 3.0, 5Gbps data, 5v/900mAh charging
2 USB 2.0, 480Mbps data transmission
SD & TF Card Slots, 480Mbps data transmission, 256GB max
3.5mm Audio Jack
Wireless Charger:
10W wireless charging pad
Retractable
Design and features
The one thing about laptops that many people don't know is that you should never put your laptop directly on your lap. The fabric dust from your clothing will get sucked into the laptop and eventually clog the cooling fan. This is the number one cause of laptop failure – cooling fan clogging. For the same reason, you also should not place a laptop directly on a pillow, couch, or bed.
The problem that I've found with many laptop stands is that they are either designed to work only with a table top surface, have a pillow attached to the bottom, or are simply too bulky to be portable.
My normal use of my laptop consists of use while sitting on my couch, use while traveling, use at my desk. The couch use is my primary problem. I need to have something to set the laptop on, but it needs to be easily moved when I want to get up. I also prefer to have the screen portion raised a bit. The Topwork 12-in-1 portable stand is perfect for that. When I'm traveling, the stand fits into a laptop bag, and I don't need to take my external SD card reader. We we're on road trips, my wife often drives while I navigate. If I need to do something while riding in the passenger seat, the stand provides a flat surface on my lap to place my laptop.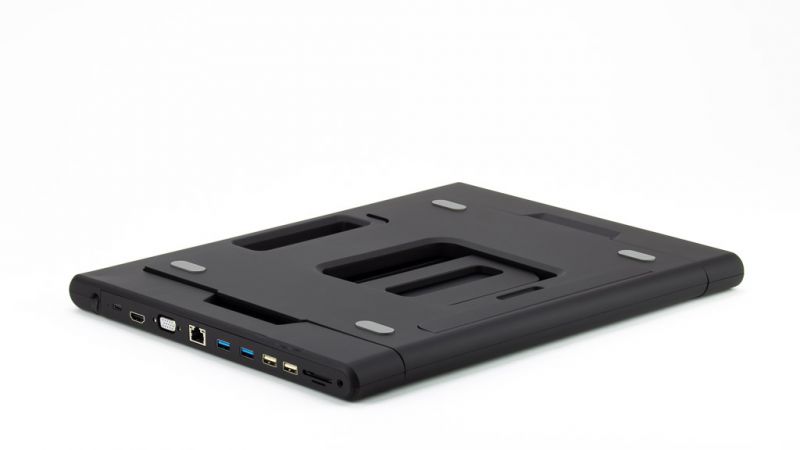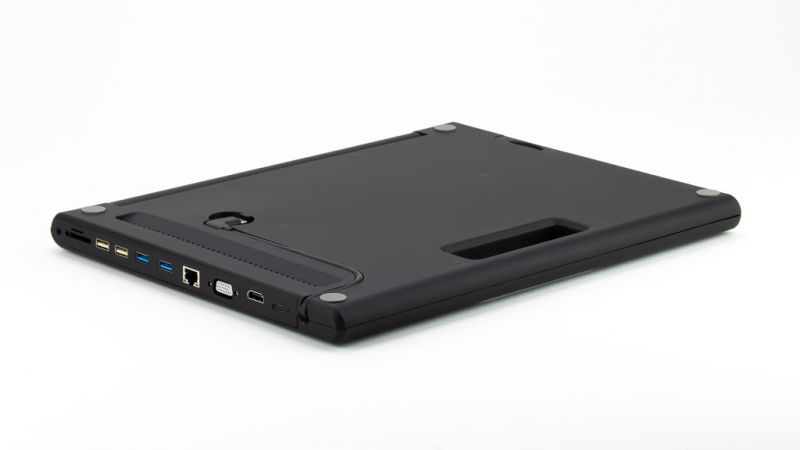 The Topwork 12-in-1 portable stand is relatively thin (about 1″ or 26.7mm with the feet), yet provides a lifting height of 4.75 inches (12cm) with its 5 position tilt mechanism with four adjustable angles: 7, 15, 21, and 30 degrees. Silicone feet on both the bottom and the laptop tilt mechanism provide for secure positioning. If desired, you can flip up the little shelf to keep the laptop from sliding down when tilted all the way up.
The flip up part does not latch into main body, and can easily rotate out when carrying the stand by it's built in handle. It would be nice if the final product included a bit of a nub so that would kind of latch in place. The flip up part is simple in that it simply rests in one of four slots, there are no parts to latch or fail.
There is a single USB-C cable that neatly fits in the bottom, and easily pops out to connect the ports located on the left side of the laptop stand. The main problem I had was that my laptop only has a USB-C port in the right side, so I'll need to get an adapter. The permanently attached cable could be improved by making it able to reach either side of the laptop.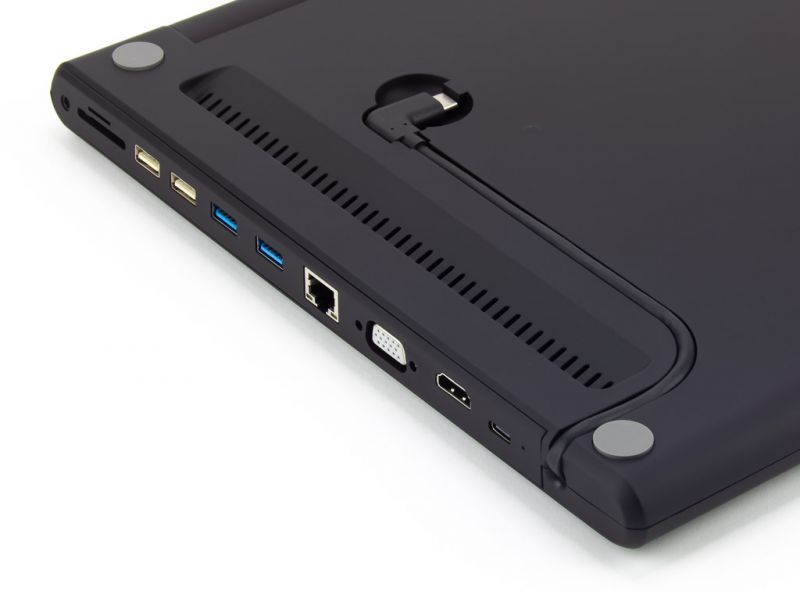 The USB-C port is capable of 100W power delivery, meaning you can attach your charging cable to the stand and it will supply power to the laptop via the stands built-in cable. There is also a built-in retractable 10W wireless charging pad for phones, AirPods, and other wireless charging devices. It slides out from the right side. This is an awesome feature! One less cord or device to get out when you're on the road.
The video ports can be used simultaneously to extend your desktop to two additional monitors. Note that when both video outputs are used they will both be 1080p @ 60Hz.
The outer coating of the stand has a slight rubber feel to it, which I find quite nice.
What I like
The feel of the material is very nice
Very nice port assortment
The built-in carry handle is a nice touch
Built-in wireless phone charger is awesome
What I'd change
USB-C cable needs to be able to reach either side of the laptop
Flip up part does not latch into main body, can fall down when carrying by the handle
Final thoughts
I have found my laptop stand. Previously I was using a plastic clipboard storage thingy. I have been looking for something like this for a very long time, and now I've found it! Whether you're using the Topwork 12-in-1 portable stand as a docking station, travel workstation, or comfortable lap desk, you'll find it to be a versatile space saver.
Price: $89
Where to buy: Kickstarter (Already fully funded)
Source: The sample of this product was provided by Topwork.