We use affiliate links. If you buy something through the links on this page, we may earn a commission at no cost to you. Learn more.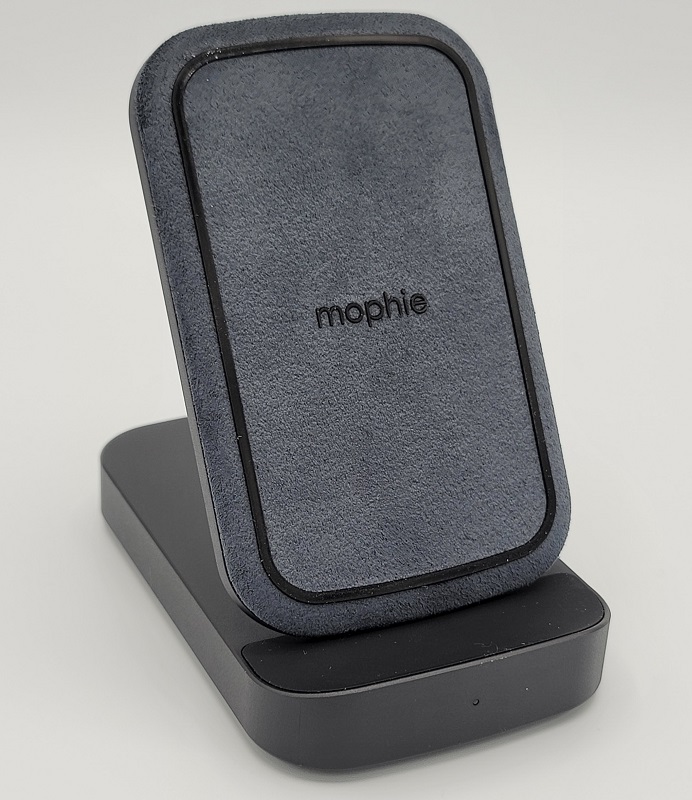 REVIEW – I've owned at least a dozen different wireless charging stands/pads over the years ,and at first glance the Mophie 15W wireless charging stand looked like yet another variant of the many I've tried albeit with a nice set of features.  After using it for a few weeks I can say it's my favorite yet.  This was another review where I struggled to pare down the Pros and populate the Cons columns.
What is it?
The Mophie 15W wireless charging stand is a fast-wireless-charging stand/pad for electronic gadgets.  It features a tilting stand, dual coil fast wireless charging, and a battery backup for charging devices away from an AC outlet.
What's in the box?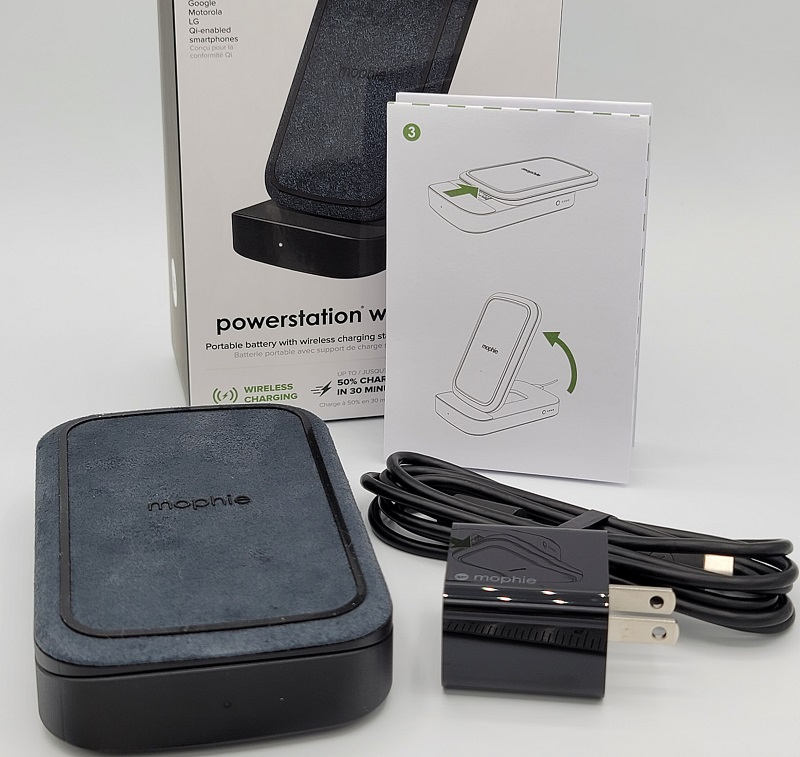 Included in the box is the Mophie 15W wireless charging stand itself, a wall-plug, 1.5 meter USB-C cable, and an instruction booklet.
Hardware specs
Wireless Charging Type:  Qi wireless charging, 10W
Phones officially supported: iPhone SE, iPhone 11 Pro Max, iPhone 11 Pro, iPhone 11, iPhone Xs Max, iPhone Xs, iPhone XR, iPhone X, iPhone 8 Plus, iPhone 8, Smartphones, Google Pixel, Samsung Galaxy, Qi-enabled Devices
Weight: 0.34 lbs (0.16 kg)
Size: 4.7 in x 3.0 in x 1.0 in (11.9 cm x 7.6 cm x 2.5 cm)
Battery: 3.8V 8,000 mAh
Multi-Output: 22.5W max (Qi 5W + USB-C 5V/2A + USB-A 5V/1.5A)
Design and features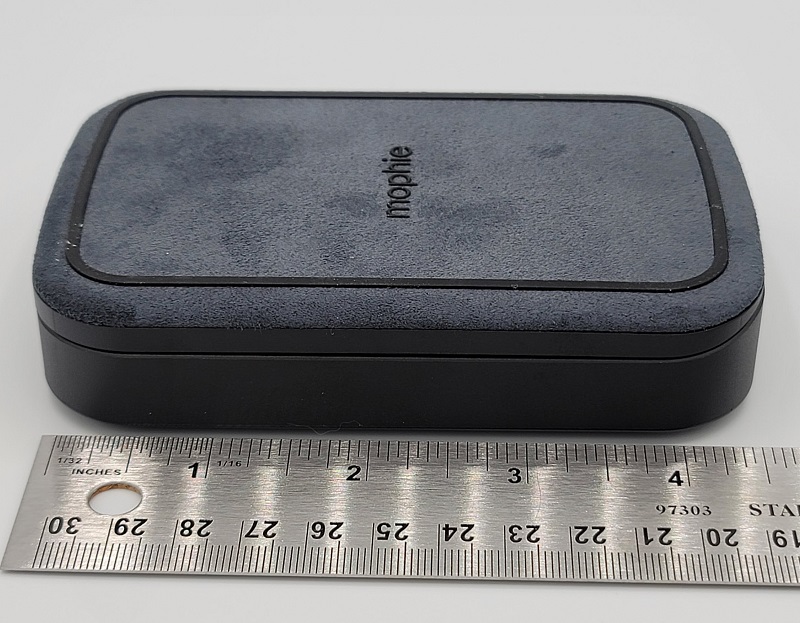 The top of the Mophie 15W wireless charging stand is covered with a soft-touch fabric and rubber trim.  This combination is a bit of a dust-magnet (as most fabric surfaces tend to be), but feels nice.  The rubber does a great job holding devices in place.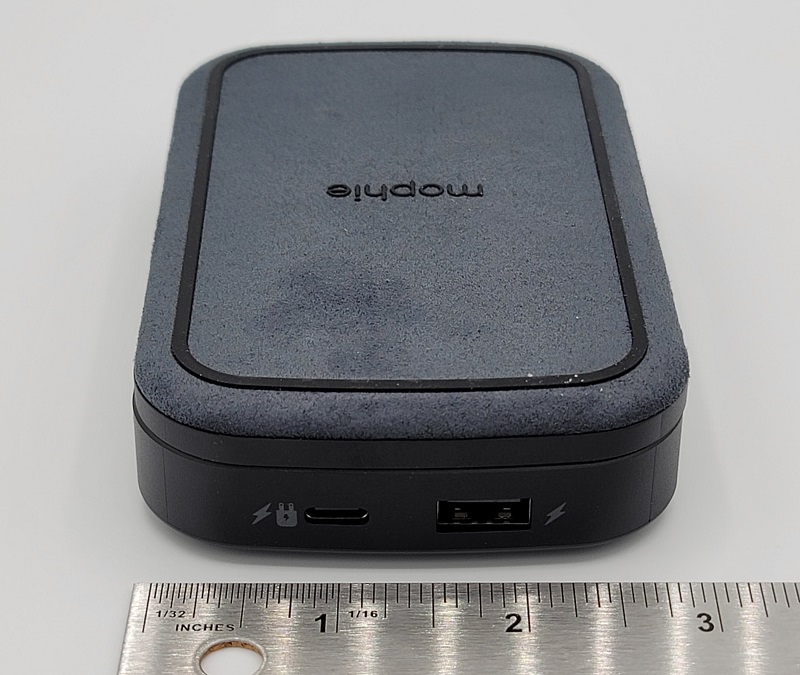 Here on the top is the USB-C power input, as well as a USB-A power output.  I thought this output port is genius, I could charge one device wirelessly, and a second via cable at the same time which is very handy on my small desk.  Power output on the USB-A port registered as "standard" on multiple devices, no fast charging on this port.  When it's not plugged into the wall via the USB-C port, you can charge a 3rd device with that USB-C port as well.
Never miss one of our posts again. Sent MON, WED, and FRI with the latest gadget reviews and news!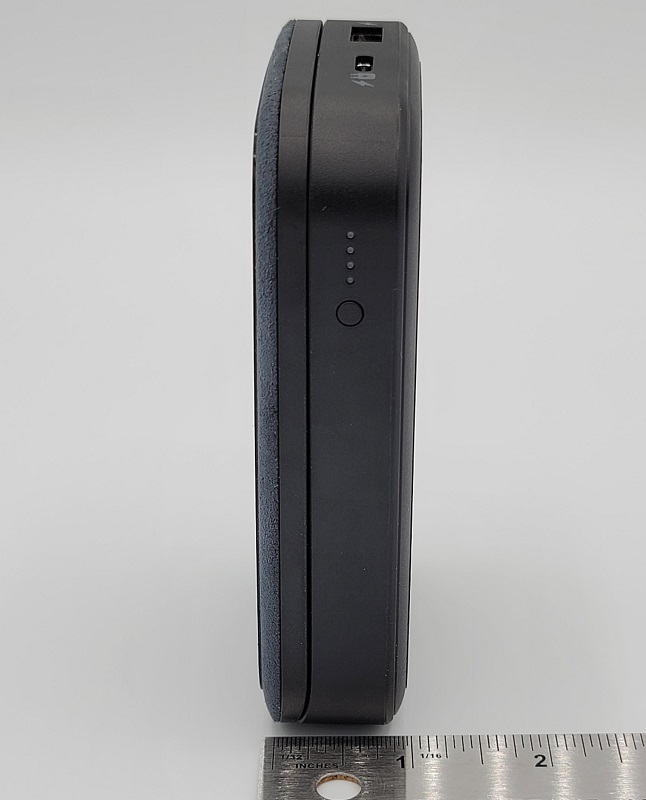 The Mophie 15W wireless charging stand is about an inch thick, due to its built in battery pack.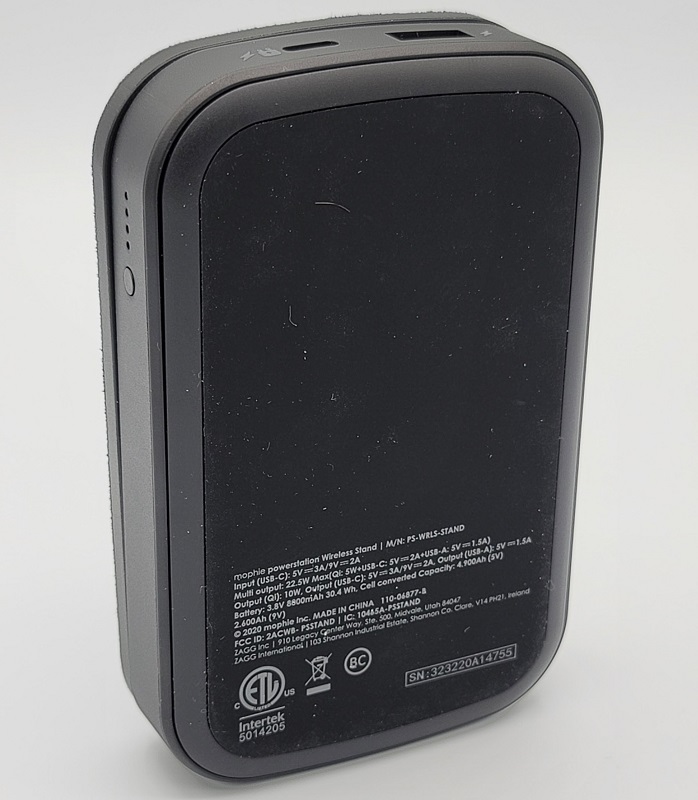 Nothing exciting on the backside of the device, just the regulatory information.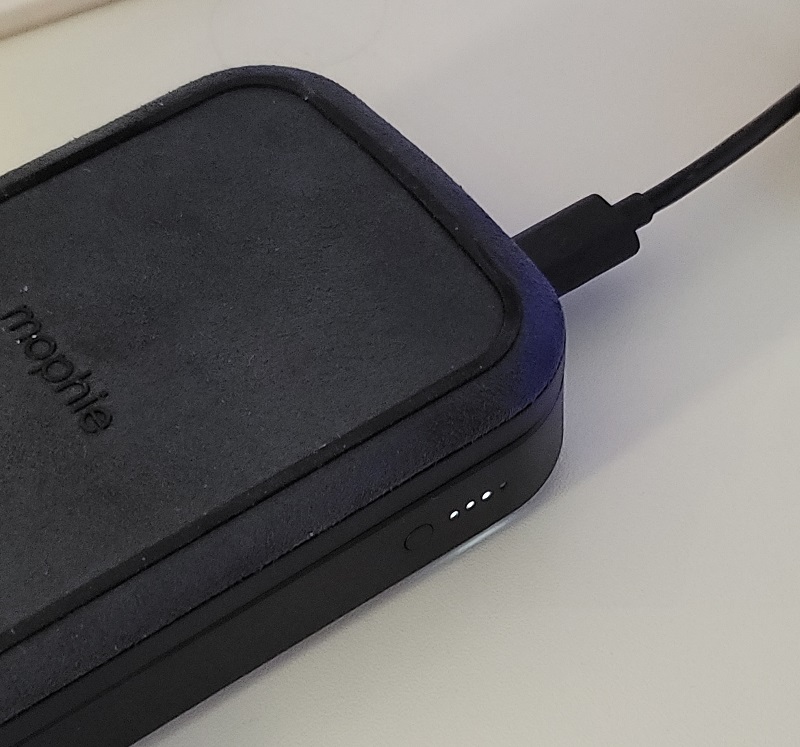 A 4-LED battery status indicator lights up when the small button is pressed to indicate remaining charge.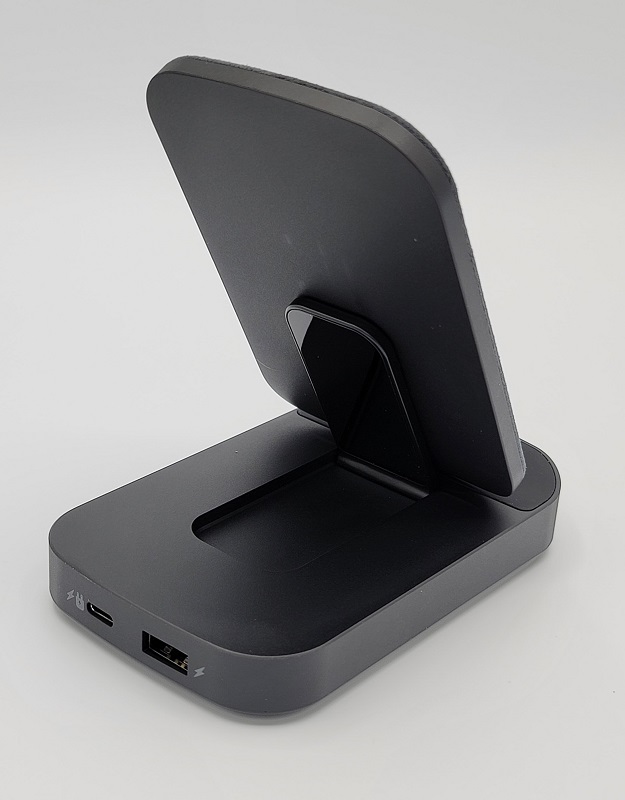 The stand allows the charged device to be set to nearly any angle up to about 70 degrees. A rubber pad near the base keeps the charged device from slipping, and the angle is easy to adjust but holds position well.  Everything about this hinge felt premium and solid.
Performance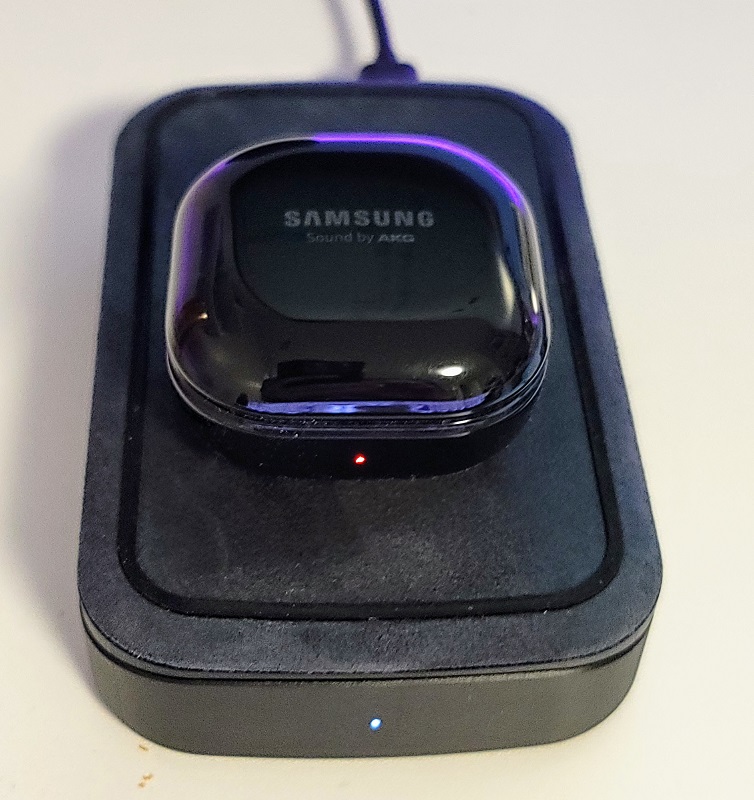 I tested charging with various devices, including a Samsung Note 20 Ultra, Samsung wireless earbuds, .  The earbuds would only charge when placed offset from the center; this tells me that the device is a 2-coil wireless charging system.  This was a bit annoying with the earbuds, even after knowing how I needed to place them I still instinctively set them right in the center where they didn't charge.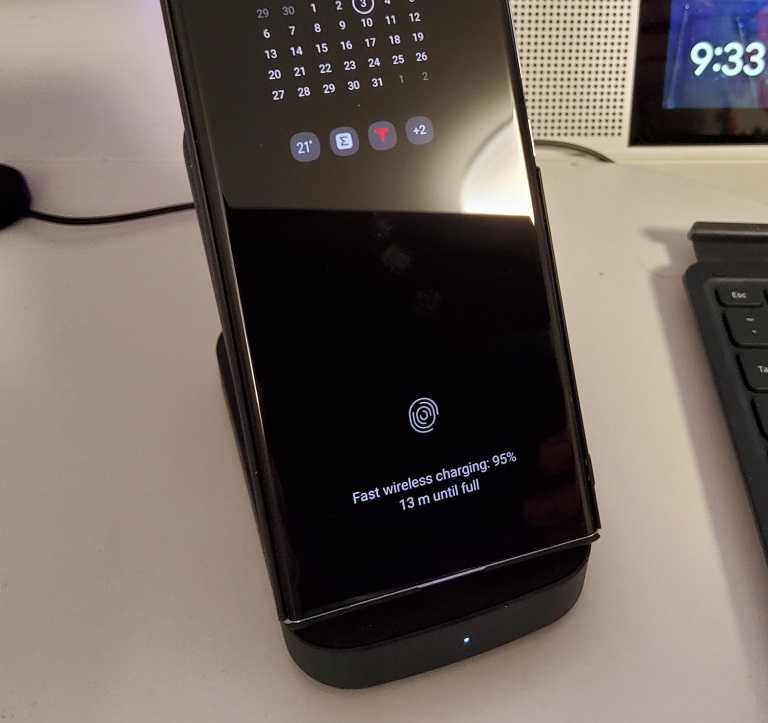 The Samsung Galaxy Note 20 Ultra registered 10 watts wireless charging while the Mophie 15W wireless charging stand is plugged in, and around 7 watts when on battery.  This seems to match Mophie's claimed total power delivery (across up to 3 devices – 2 wired and one wireless).  I loved that the angle can be adjusted, my old wireless charging stand was a fixed angle, and seemed to always catch the full glare of my office lights on the phone screen.  With this one, I can easily tilt the phone to avoid that.  Being able to adjust angle is also great for video calls.
What I like
The Mophie 15W wireless charging stand was dead-simple to use and is able to give up to 2 phone charges on the go(more if your phone doesn't have a massive battery like my giant Samsung).  I liked the fast wireless charging, that they include a wall plug in the box, and that they have additional ports including the USB-C port when on battery.
What I'd change
I wish they would pump the full 15 watts if you were only using the wireless function, but it was still a speedy charger on wireless at 10 watts.  The price is a bit high if you're only looking for a wireless stand or a portable battery pack, but I think the full combination of features makes it a better value proposition.
Final thoughts
The Mophie 15W wireless charging stand now has a permanent spot on my desk.  It's replaced both my old wireless charging pad as well as my portable battery pack. I'll definitely pack this when business travel resumes instead of my old portable charger.  I love that it can charge multiple devices including wireless options, with the added benefit of a phone stand while charging.
Price: $99.95
Where to buy: Zagg
Source: The sample for this review was provided by Zagg