We use affiliate links. If you buy something through the links on this page, we may earn a commission at no cost to you. Learn more.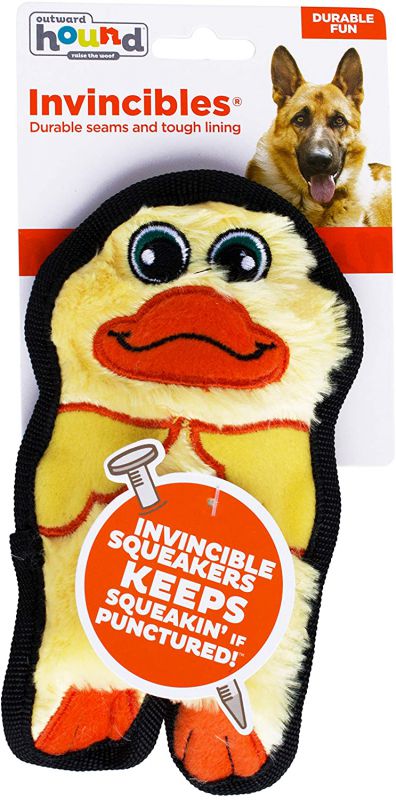 NEWS – Every other month, I get a rather unusual item in my Amazon Subscribe and Save bundle: A fuzzy, squeaky duck.
This dog toy for $3.75 is sold by Outward Hound under the brand name "Invincibles." And that's a bit of an overstatement. My two pups have proved over and over that these toys are definitely not invincible.
However, for all the dozens of dog toys they've destroyed, this one takes a whole lot longer. And it's still able to squeak, even after they've chewed the heck out of it. 
So we keep these duckies coming every two months. And it's one of the best deals I've found to keep my dogs entertained.
At 4.5 inches by 6 inches, the yellow duck is the smallest option. Outward Hound offers similar dog toys in extra small, small, medium, large, XL and XXL, in various colors and characters. The duck is the cheapest at $3.95 ($3.75 with a subscription). The largest is a green striped snake that's 5 inches by 70 inches and costs $23.02. 
These toys currently have a 4 out of 5 star rating on Amazon with more than 13,000 ratings.