We use affiliate links. If you buy something through the links on this page, we may earn a commission at no cost to you. Learn more.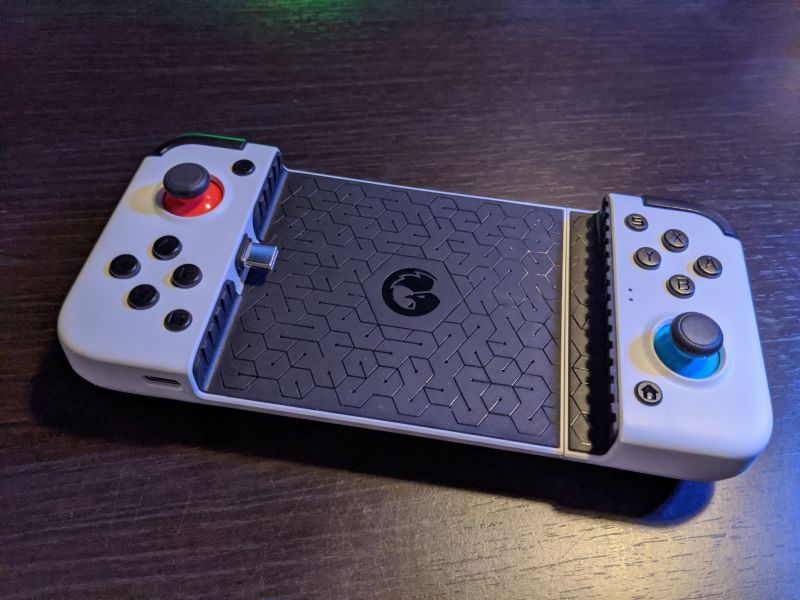 REVIEW – During this global pandemic everyone is slowly making their way through, video games have offered many a welcomed respite from the daily challenges they're facing. Gaming subscriptions and purchases are on the rise compared to the same period pre-pandemic and this influx of interest and dollars is helping drive a lot of innovation, both in software and hardware.
Platform options are increasing as well, with many of the big players experimenting with Cloud Gaming. Microsoft has recently launched Cloud Gaming with Xbox Game Pass Ultimate, Google launched its Stadia gaming platform, and now Amazon is ready to enter the fray with Luna. This means hundreds of video game titles that are normally only playable on expensive PCs and consoles can now be played on compatible phones and tablets straight from the Cloud. The main challenge for gamers is trying to simulate the console or PC experience on their phones. This is where a hardware innovation like the GameSir X2 Type-C Mobile Gaming Controller can help. For just $69.99, the GameSir X2 allows you to pop your Android phone in and immediately start playing. The X2 is a good, affordable device with some interesting features, but there are a few shortcomings that could make it a no-go for some hardcore gamers.
What is it?
The GameSir X2 Type-C Mobile Gaming Controller is an all-in-one, wired controller that connects directly to any Android phone that has a USB Type-C connector.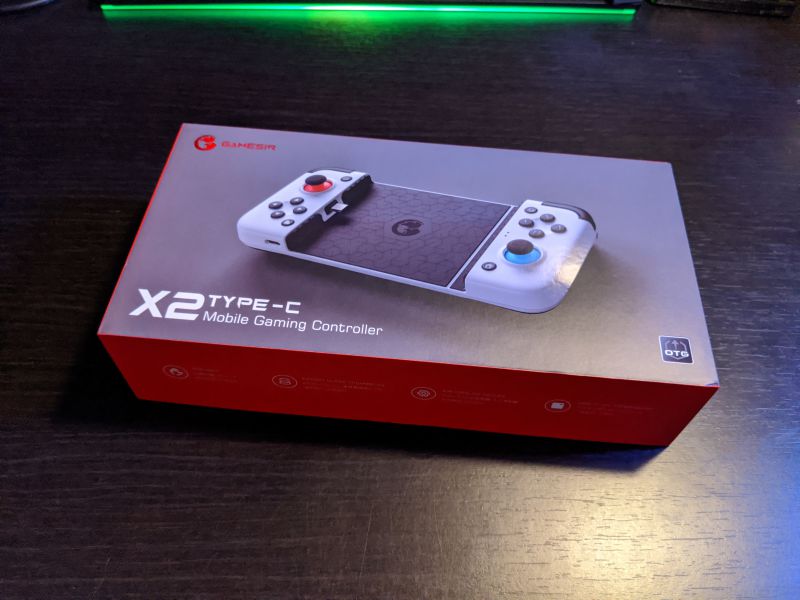 The X2 comes in a stylish, brightly colored box that details its many features and specifications.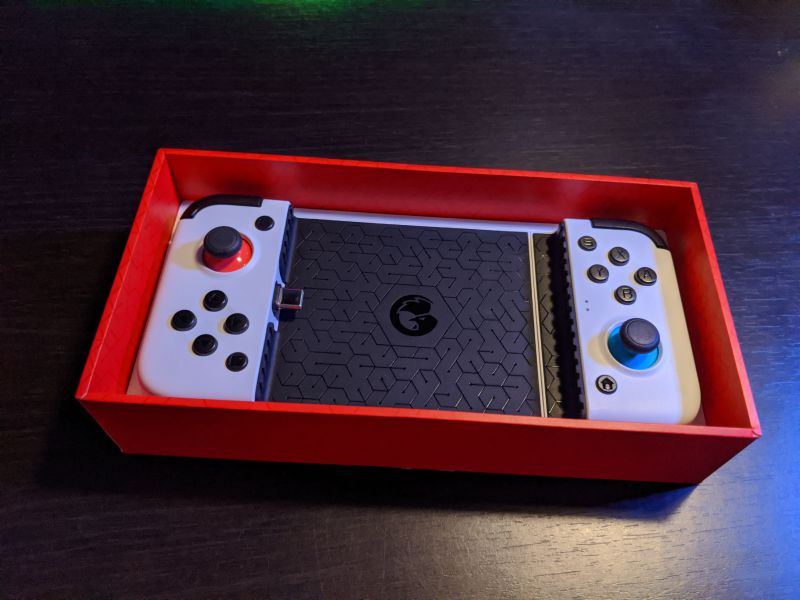 Hardware specs
Platform: Android, Cloud Gaming
Connection: Wired USB Type-C
Maximum Device Length: 6.57 in / 167 mm
Power Consumption: 2mAh
Material: PC+ABS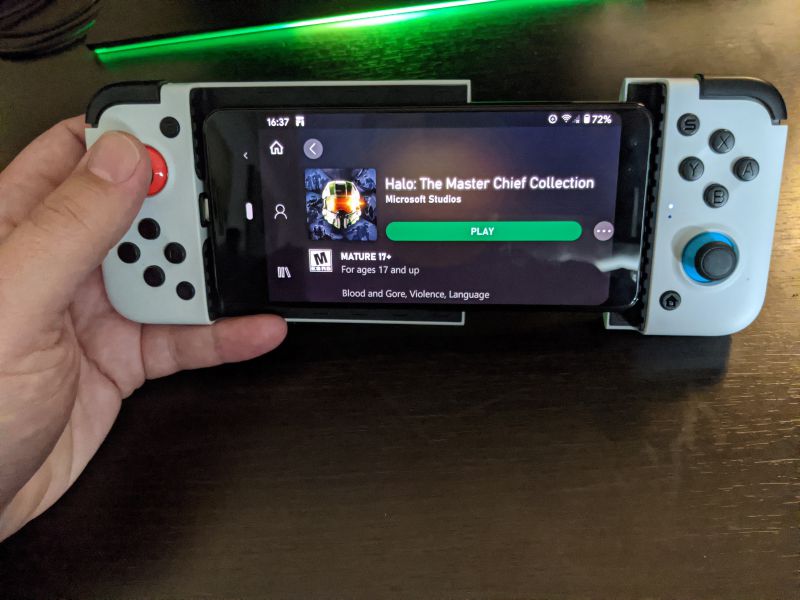 Design and features
The GameSir X2 is full of features and of sturdy design. It's made mainly of ABS plastic, but still has a solid heft to it.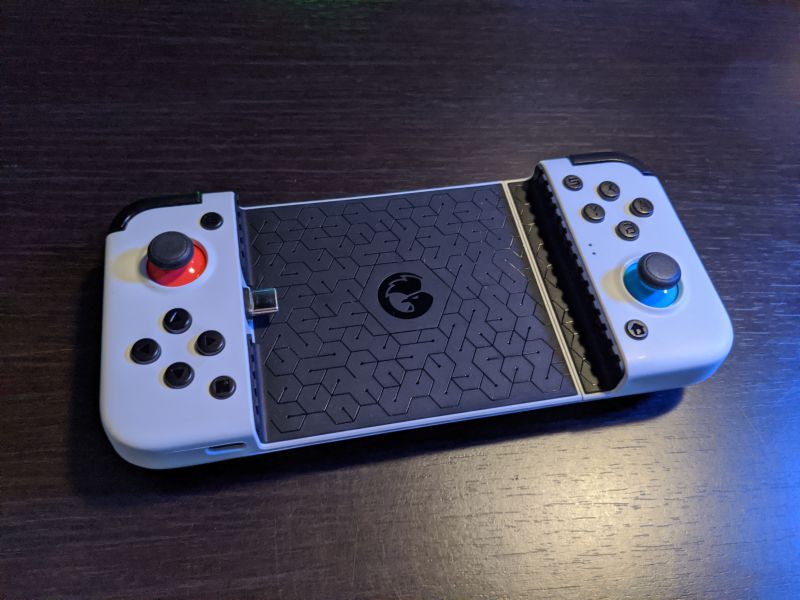 The X2 eschews the standard shiny black aesthetic of many controllers, opting for a matte white finish.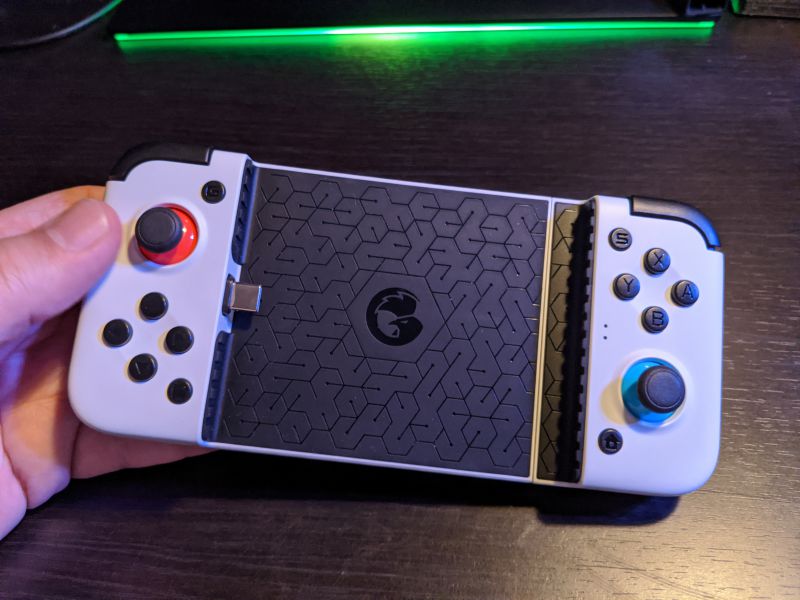 The joysticks are accented in red and blue, oddly though it's the same red and blue used on Nintendo's Switch gaming console.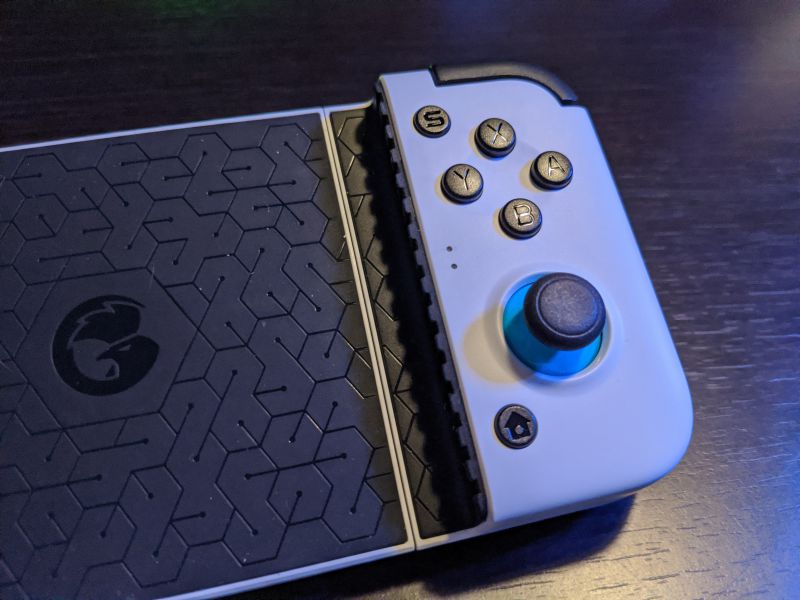 The X2 mirrors the design of most modern day game controllers. There are XYAB buttons on the right, along with a clickable joystick, a home button, and a button labeled 'S' which mimics the Xbox Menu button. There are also two indicator lights, one for connection and one for charging.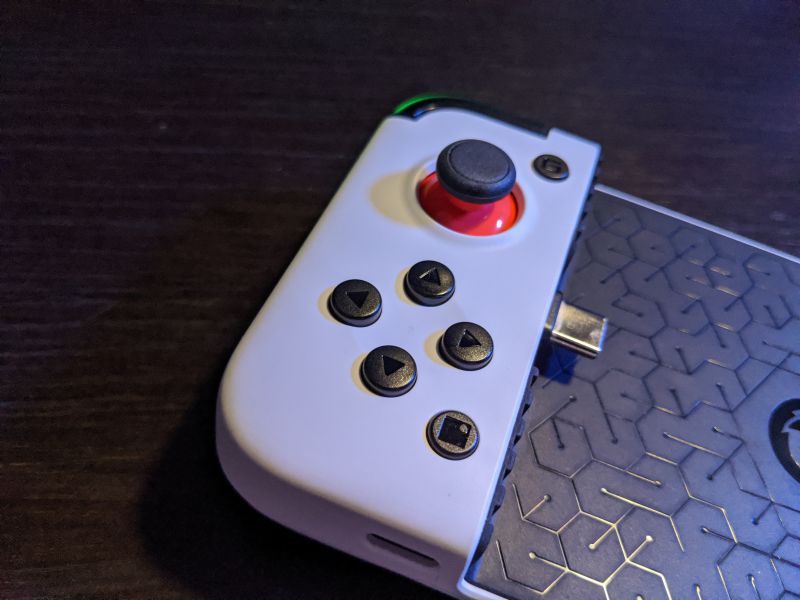 On the left side is another clickable joystick, directional buttons, a button labeled 'G' which mimics the Xbox View button, and a button solely for taking screenshots. The screenshot button is one of those great features that works in the X2's favor, but it can't help overcome one of the device's major failings. The failing I'm referring to concerns the layout of the buttons on the right side of the controller.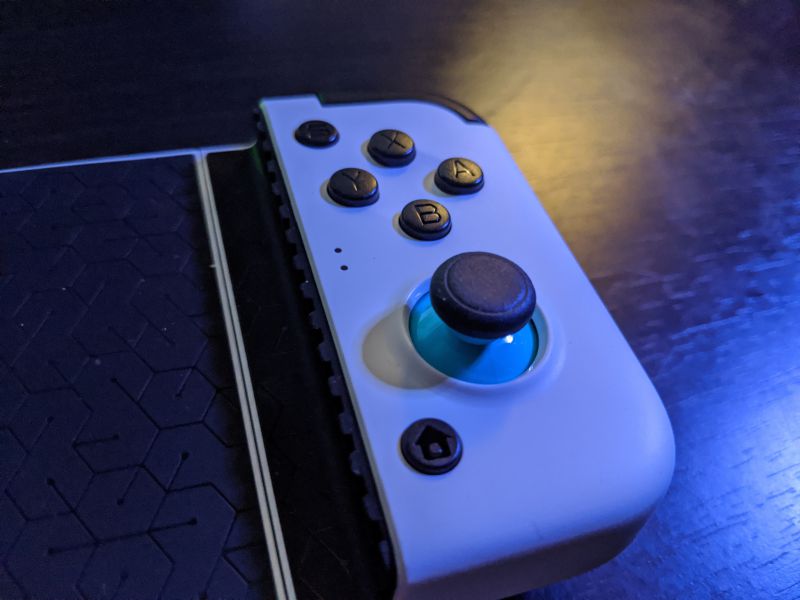 The main action buttons are laid out in a Y-X, B-A configuration. The reasoning for this choice defies logic and is another weird nod to the Nintendo Switch which has the same layout. The question is though, if the only Cloud gaming platforms that exist use a X-Y, A-B configuration, why would GameSir NOT follow that layout. Since the X2 is wired and doesn't have a configurable app, there is no way to change this layout without changing the controls in each individual game. I'll cover this more in the performance section as well since it definitely impacts usage.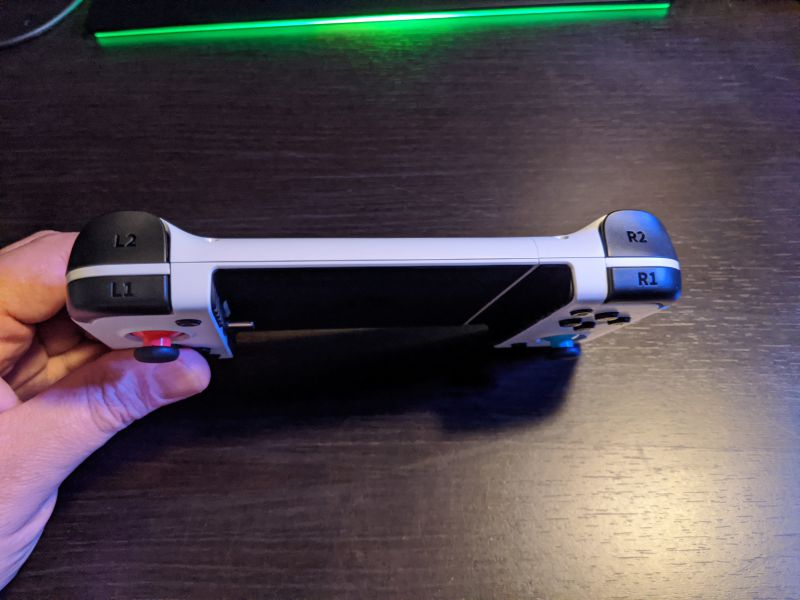 The shoulder buttons on the X2 model those found on most gaming controllers, but the spacing of them is a little tight. This spacing and design made it difficult to hold the X2 at times while playing games that required use of multiple shoulder buttons.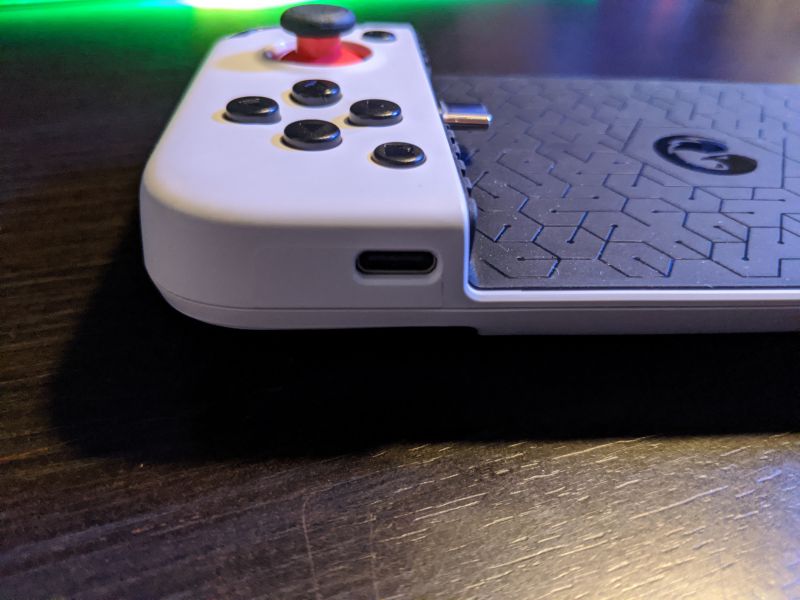 On the bottom of the X2 is a passthrough USB-C charging port which allows you to charge your phone during play. This is one highlight of the X2 that plays in its favor. Since the X2 is wired, it draws much less power than a wireless controller would, being able to charge the phone as well means you can game as long as you want without worrying about power issues.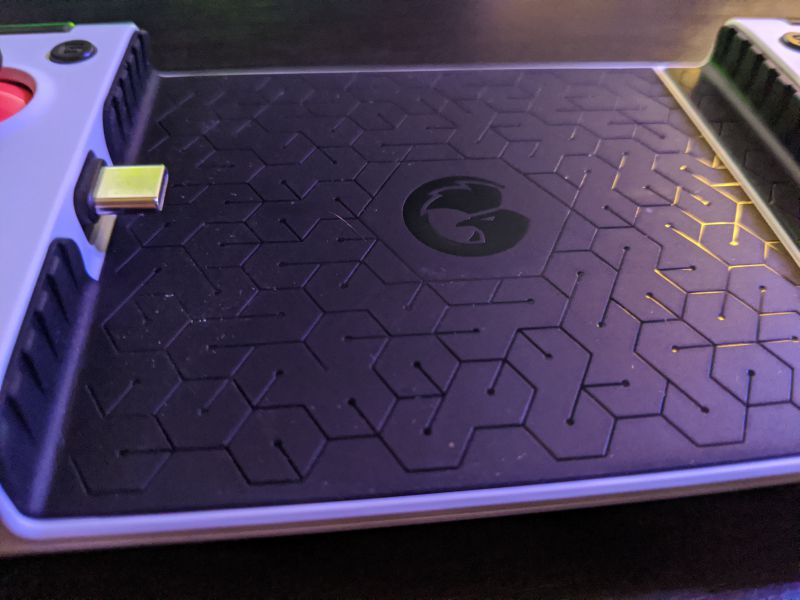 Your phone connects to the X2 via a USB-C plug on its interior, but this isn't an ordinary USB-C plug.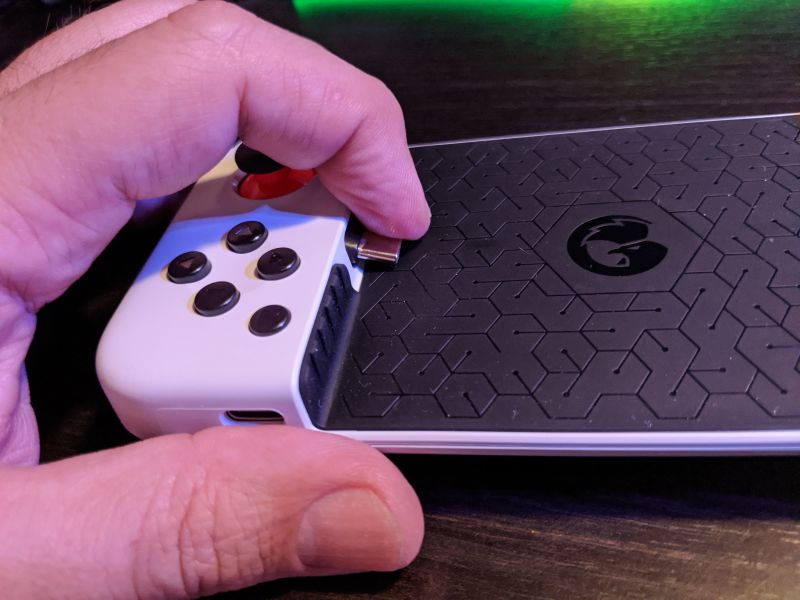 The GameSir X2's USB-C plug is adjustable with a range of up to 51°. I love this design touch so much as it helps alleviate concern about pressure being put on your phone's charging port every time you insert and remove it from the device.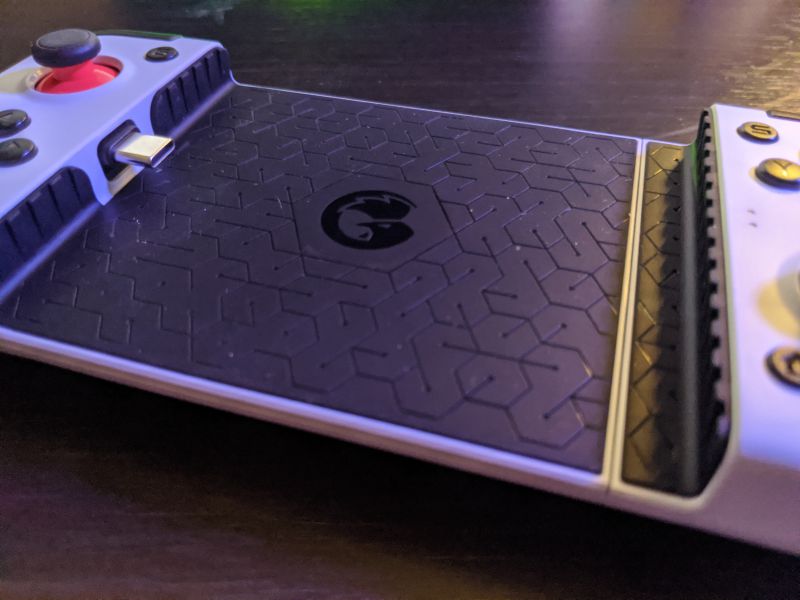 The X2 has a textured, rubberized interior with air channels cut out to protect and cool your phone during use.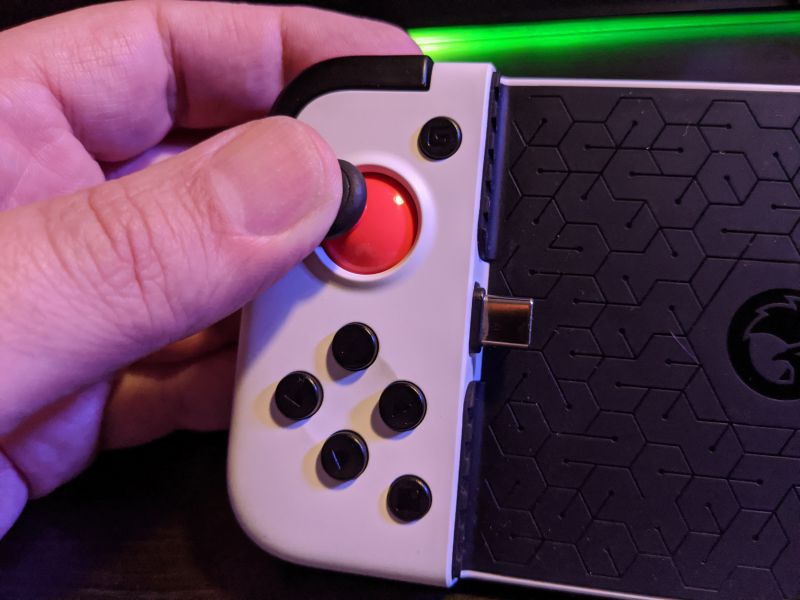 Both joysticks are responsive and clickable, but depending on the amount of control required for the game I felt that they had way too much play in them and felt soft at times.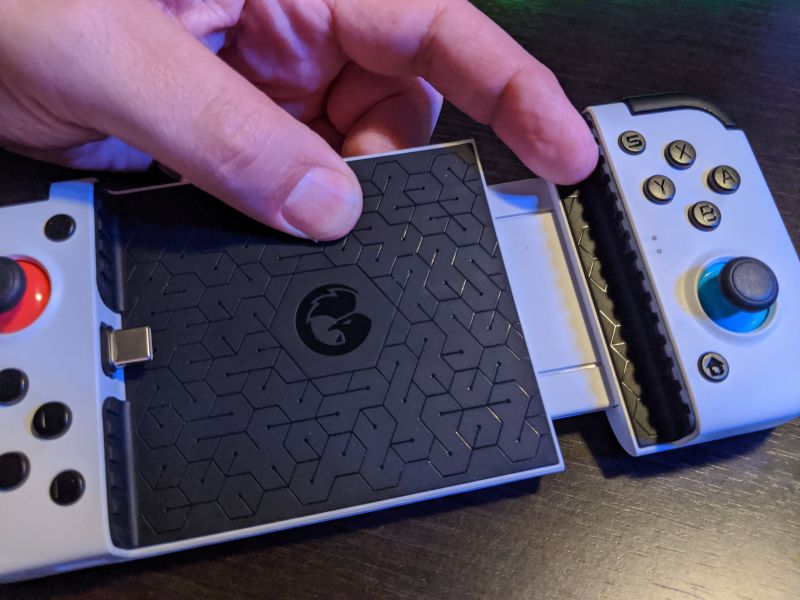 The X2 has an internal spring that enables it to accommodate any device with a maximum length of 6.57 in / 167 mm and a maximum thickness of .39 in / 1 cm.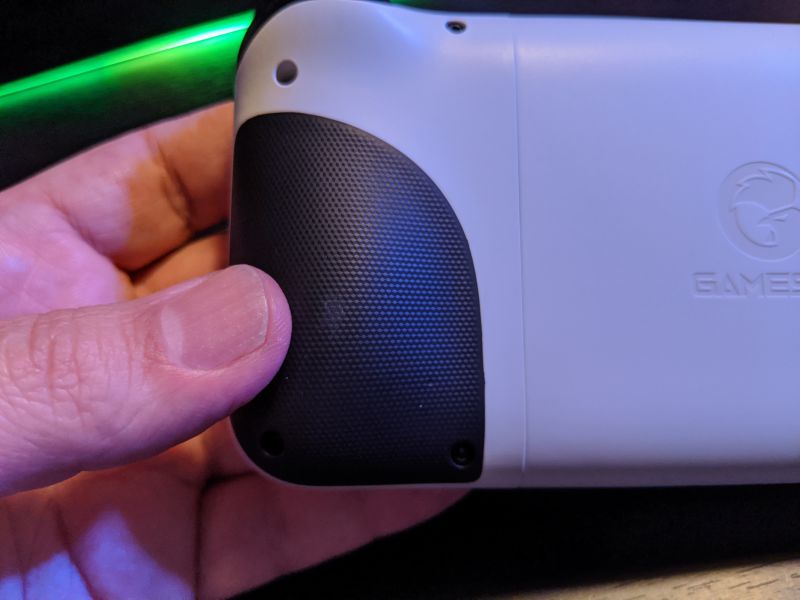 The back of the X2 has two textured, rubberized grips that are really effective at helping you maintain control during long game sessions.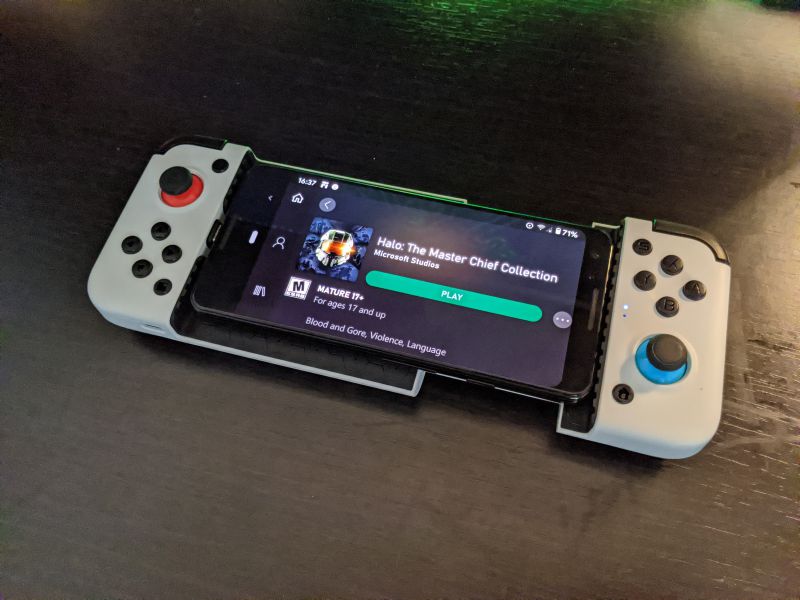 Performance
I was excited to pop my Android Pixel 3 into the X2 as soon as it arrived and get down to playing my favorite games. One of the best things about the X2 is that you can do just that, there's no software or apps to install and because it's a direct connection it just works out of the box.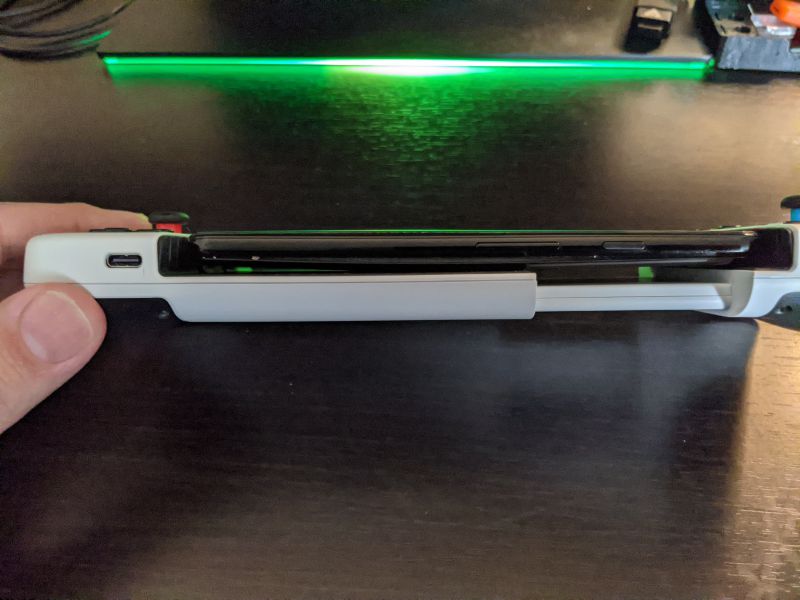 I tested first person shooters like Halo, driving games like Forza 4, and resource management games like Cities Skylines. The issue I ran into with every game was the right side button layout. After using Xbox controllers for years, my muscle memory was really difficult to overcome and I found it incredibly frustrating to navigate menus, never mind playing games like Halo and Destiny 2.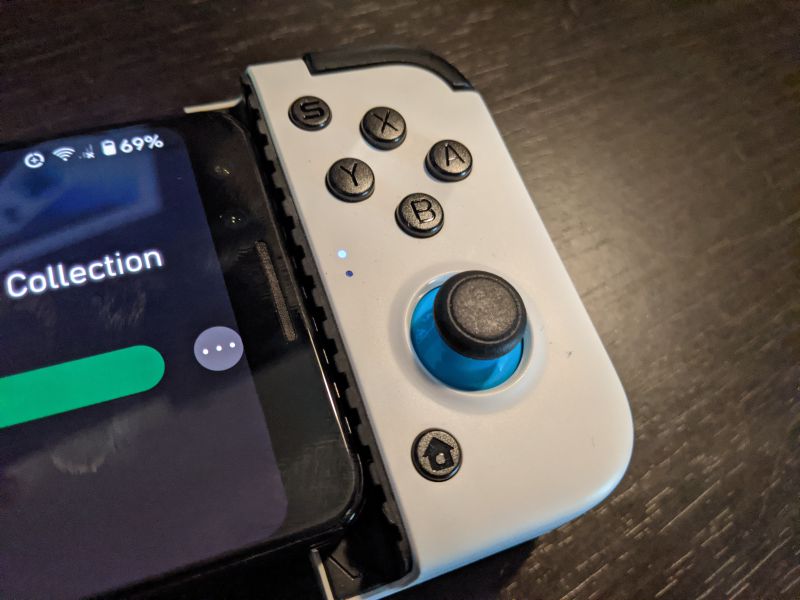 Even when I did take the time to change the game settings to mimic the button positions that I am used to, I would still get hung up on the game menus since B is universally used as 'back' in most Xbox games but is in the A button position which would normally would be used for 'action'. I was constantly backing out of menus I meant to select and vice versa. For games like Forza 4, which have a lot of menu screens, this was maddening.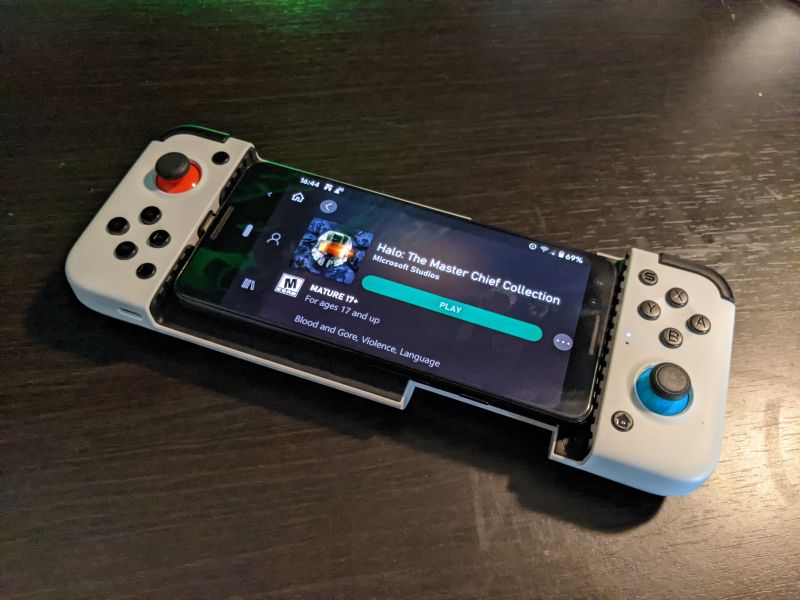 The times I was able to get past the button issue, the X2 performed adequately. The joysticks, while responsive, have way too much play in them though and I found myself overcompensating to gain control of my cars in Forza 4 and my Sparrow in Destiny 2. Some games can help you compensate for this with dead zone adjustments, but not every game has those options. For games that require a quick twitch response, the X2 did not fare well, but for slower paced games like Cities Skylines it worked just fine.
Depending on how wide your phone is, the ergonomics of the X2 can be a little difficult to get used to as well. The tight spacing of the shoulder buttons coupled with the added length of a long phone can cause some instability when trying to access all of the control buttons and joysticks simultaneously for games like Forza 4.
Power consumption is one area where the X2 excelled. I played some fairly long sessions and even without using the pass through charging option, the X2 barely impacted my phone's battery. And, the rubberized grips helped me maintain control the whole time. A 3.5mm headphone jack would've been a great addition to the X2 to make these long sessions a little more bearable.
In the future, I can see myself using the GameSir X2 for puzzle or resource management games, but I doubt it will be my go-to for shooters or racing games.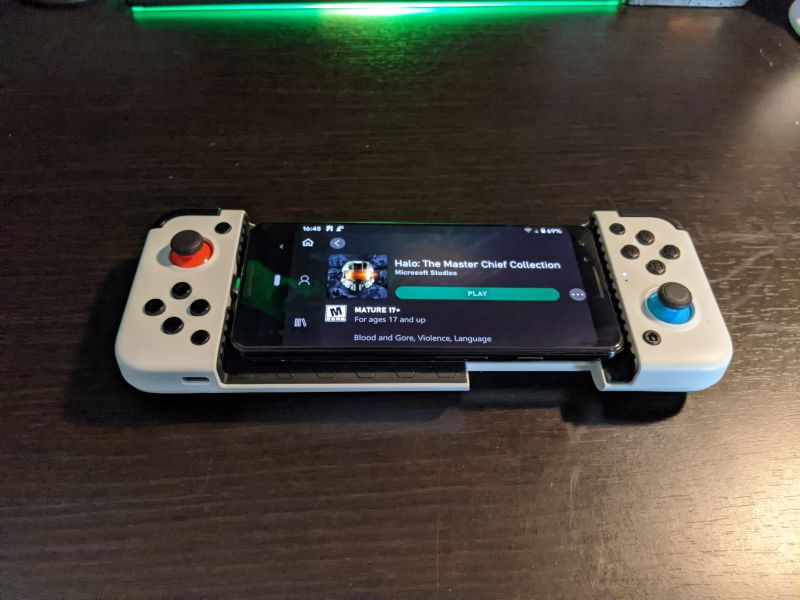 What I like
Plug and play, easy setup
Passthrough charging
Flexible Type-C plug
What needs to be improved
Questionable button layout not configurable
Too much play in joysticks
Poor ergonomic design makes it difficult to use for some games
Headphone jack would be great
Final thoughts
The GameSir X2 Type-C Mobile Gaming Controller is a good controller for simple games that don't require multi-button use or twitch response. I really like how easy it is to setup and that it consumes much less power than Bluetooth controllers do. Unfortunately, even though the X2 is priced competitively at $69.99, the odd choice of button layout and poor ergonomic design makes it incredibly frustrating to use for more complex games. The fact that the joysticks also have way too much play in them for precise control make this a controller I can only recommend for gamers who'll be using it for simpler games or have the patience to work with its limitations.
Price: $69.99
Where to buy: GameSir or Amazon
Source: The sample of this product was provided by replace with the GameSir.