We use affiliate links. If you buy something through the links on this page, we may earn a commission at no cost to you. Learn more.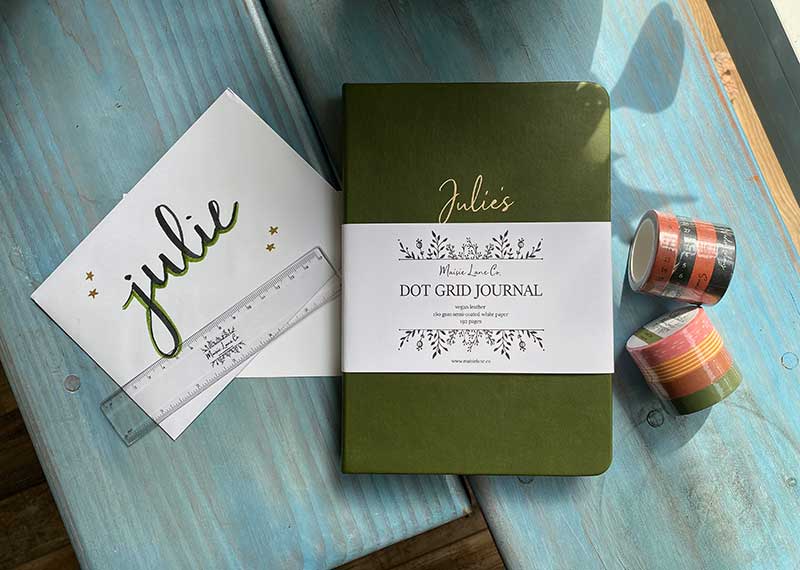 REVIEW – I love journals, sketchbooks, pens, pencils, washi tape, and all things stationery related. When it comes to journals, I'm incredibly picky. I tend to like A5 size best (8.5 x 5.5 inches), white paper, and a lay-flat when open design. The latest journal to show up in my mailbox is a Dot Grid Journal from a company that's new to me, Maisie Lane Co. Let's take a closer look at it.
What is it?
The Dot Grid Journal from Maisie Lane Co. is an A5 sized journal that has 192 dot grid 160 gsm pages and the ability to personalize the cover.
Design and features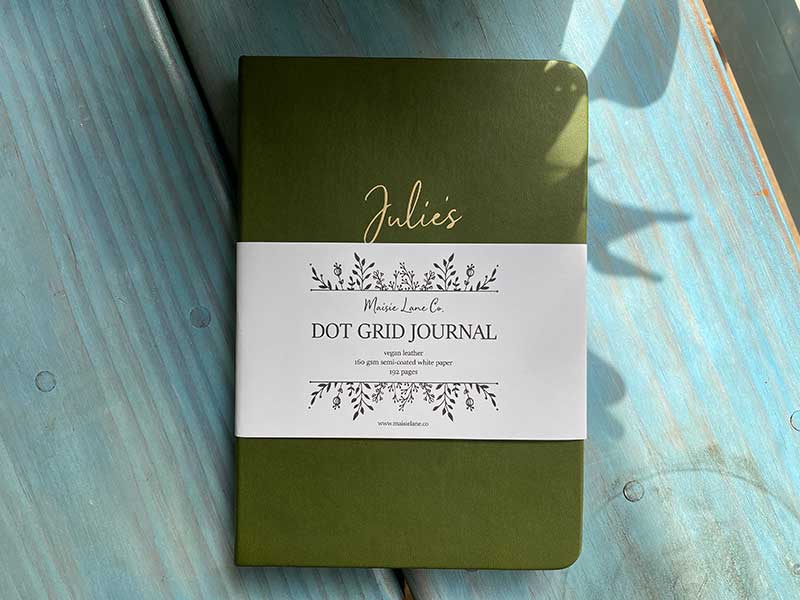 The journals are available in 5 different colors including the forager green that was sent to me. The books have a vegan leather covered hardcover that has a soft almost buttery texture that I love.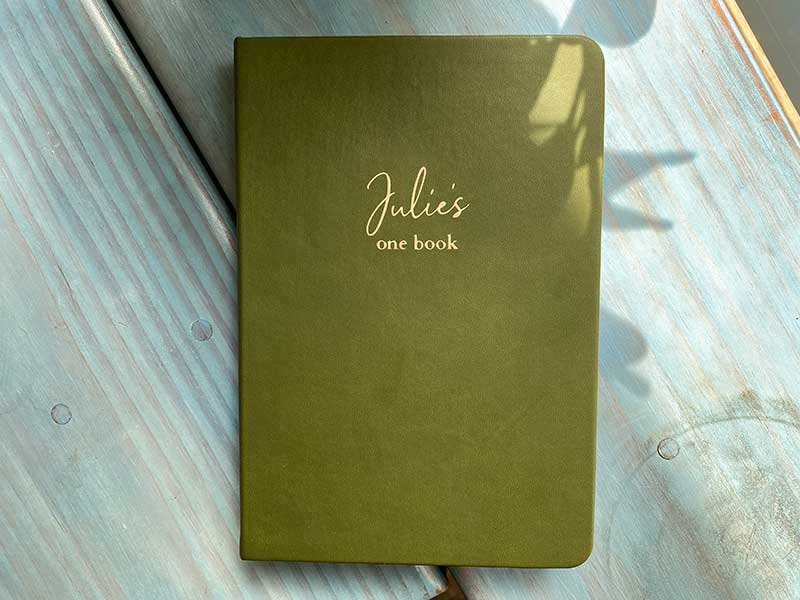 There's a $5 option to customize the journal with up to 2 lines of personalization in either matte gold (like you see here) or white. You can also choose between 4 fonts for the 2 lines of personalization. You might be wondering why I put "one book" as one of my lines. That's what my sister and I call the type of journaling that I like to do. Instead of having a notebook for journaling, one for sketching, one for to-dos, etc. I always put everything in one book. 🙂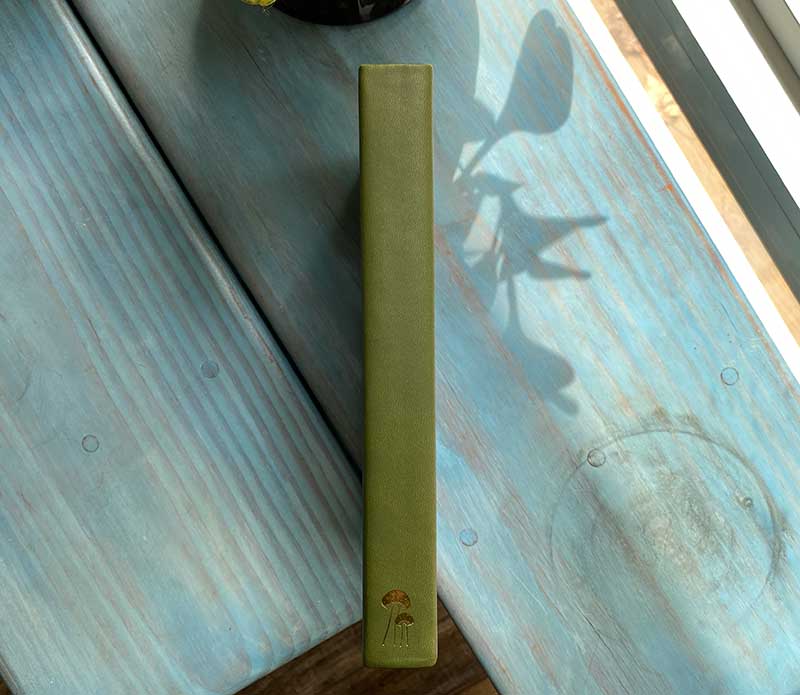 Each Maisie Lane Co. journal has artwork on the spine. Unfortunately, you can't choose the artwork as it goes with the color you choose. My Forager Green notebook has mushrooms on the spine, but the other notebooks have a different icon/artwork.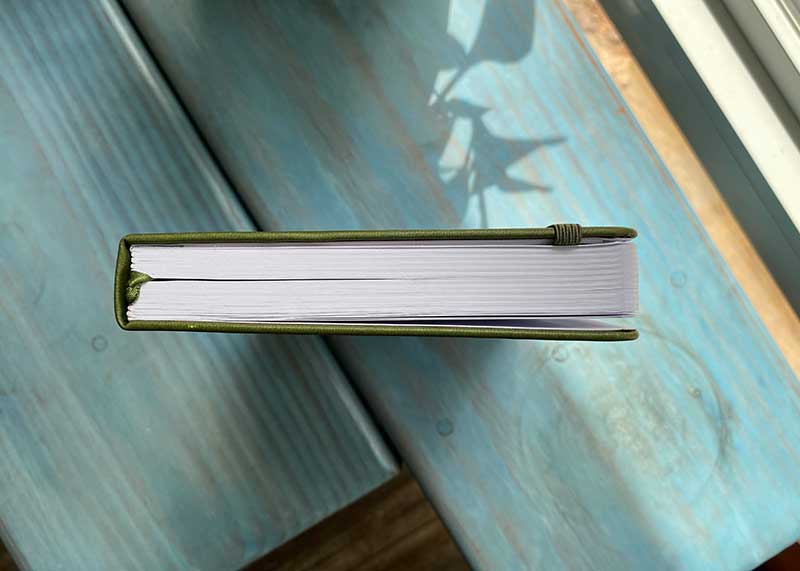 The Dot Grid Journal has 2 satin bookmarks and an elastic band to keep the cover closed. I personally don't use either of those features. I've been known to cut bookmarks out of my notebooks and as for the elastic, I usually just flip it over the inside back cover and leave it there.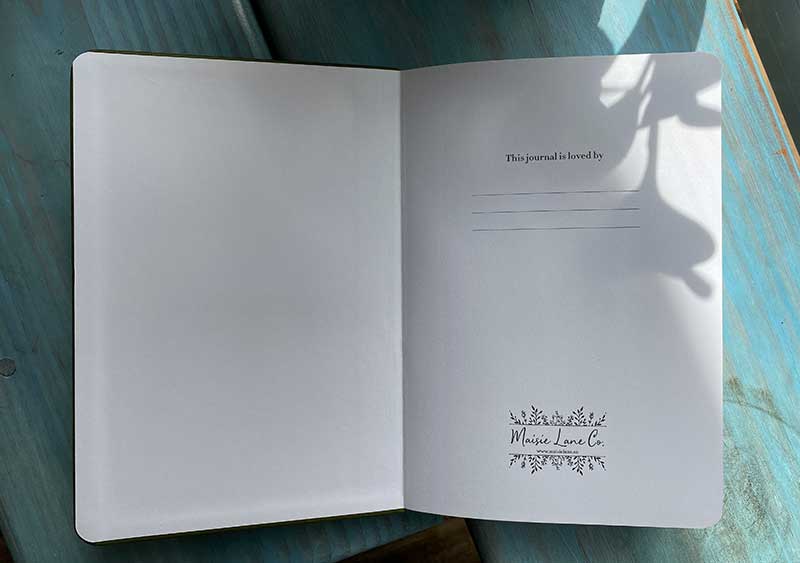 There are a few lines on the inside of the front cover where you can put your name and contact info so that someone can return the book to you if you misplace it.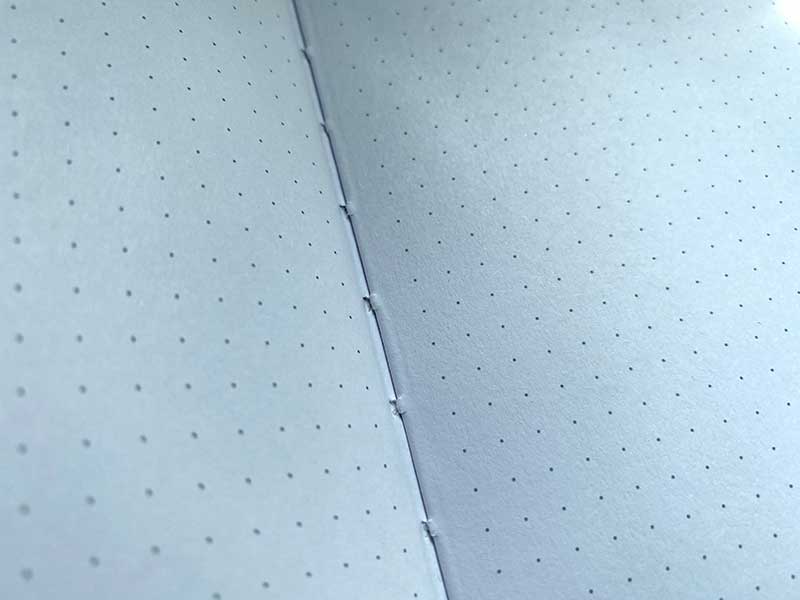 The image above doesn't truly represent the color of the paper which is a nice bright white (that I love), with small dark grey dots that have a 3/8 inch (.5 cm) spacing.
You can also see in the image above that the book has a sewn binding.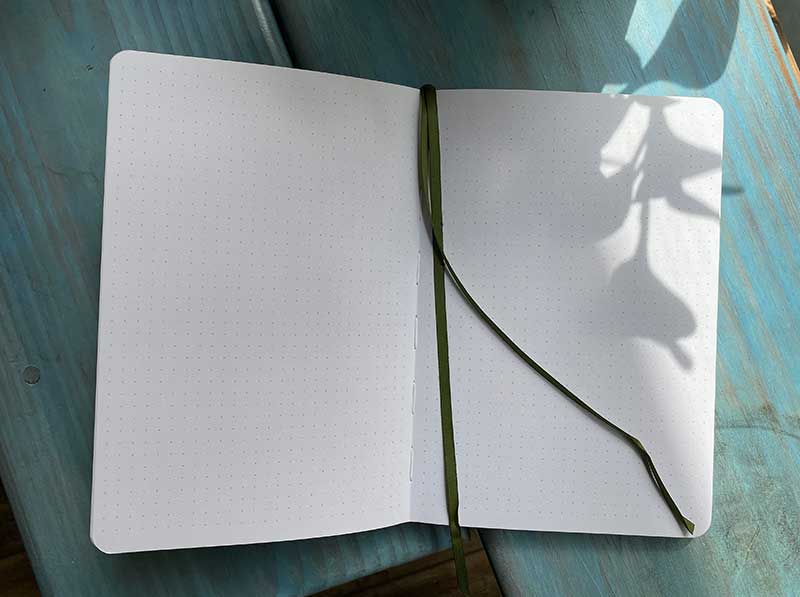 I'm very happy to report that the binding allows the book to lay flat when opened regardless of what page you're on. This is a MUST HAVE feature for me because it drives me nuts when the pages of my journal flop up.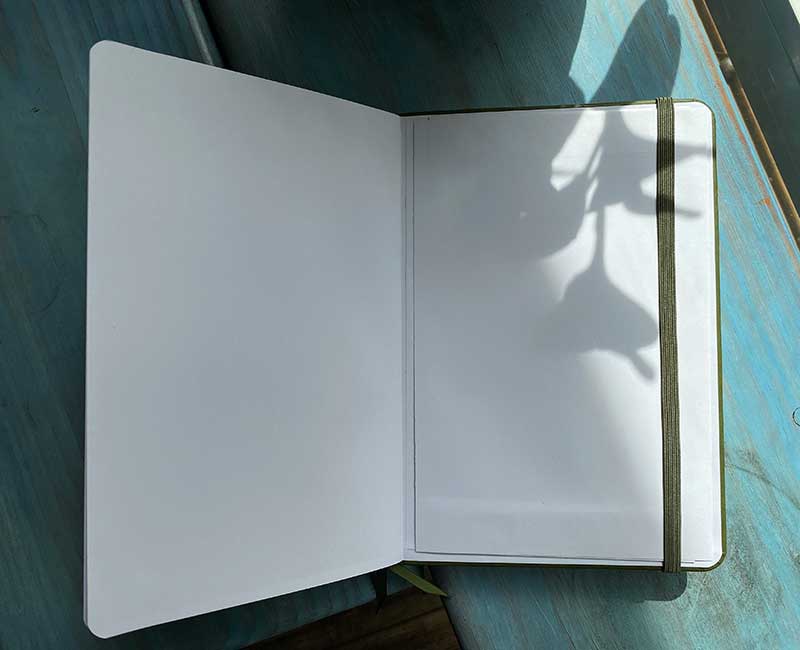 This is how I use the elastic band, which is to say that I don't use it at all. I also wanted to point out that the journal has a pocket attached to the back cover.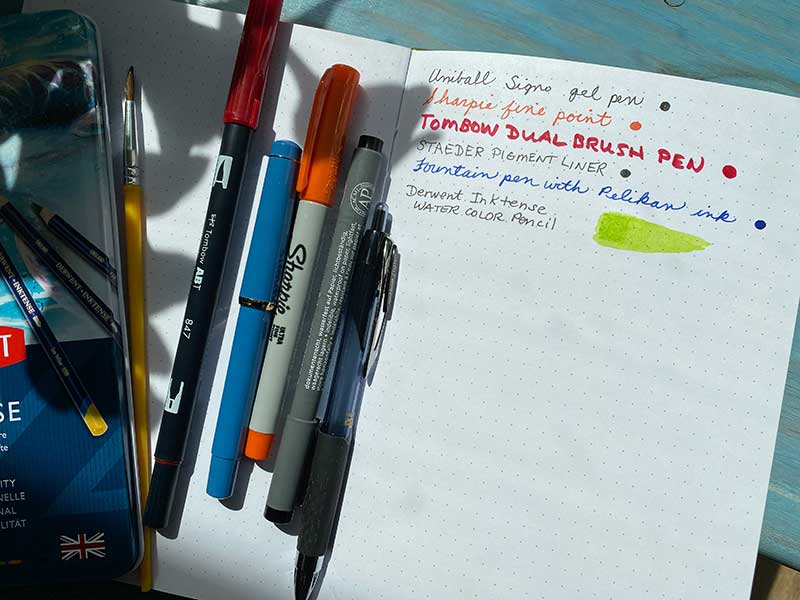 How does the paper handle different types of ink or even water? VERY well! I noticed no feathering with any of the pens I used.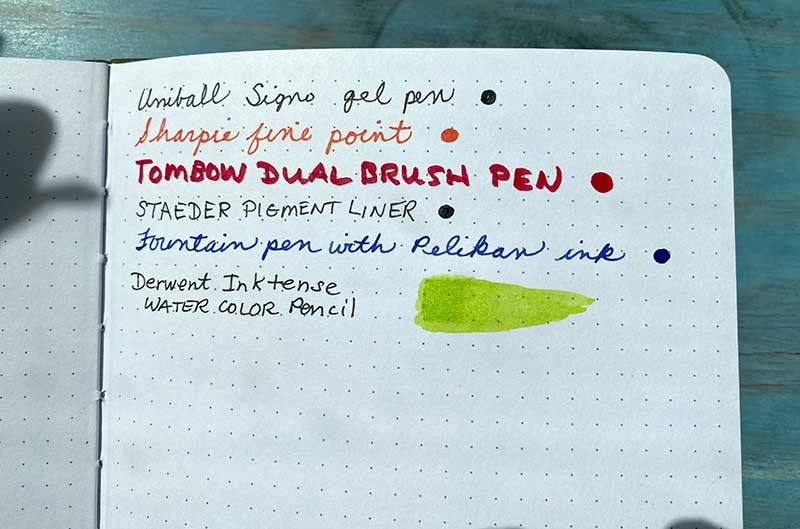 No matter if I used a gel pen, sharpie, marker, etc., the lines were crisp and clear.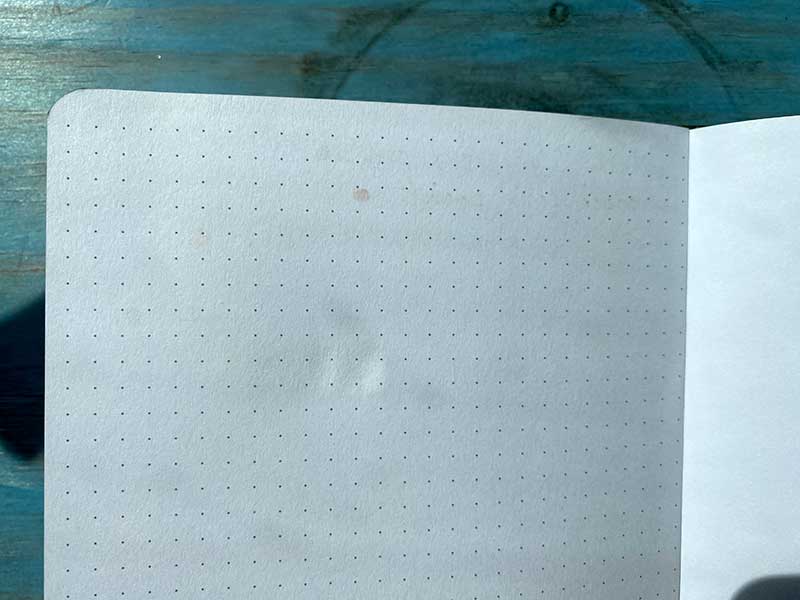 I was very surprised that the inks did not bleed through the paper. Yes, you can see the dot from the orange Sharpie, but it didn't bleed through the page. The watercolor did crinkle the page a little bit, but I took that picture a few minutes after I did the watercolor. When I look at it now, the crinkle is barely noticeable.
What I like
Lay flat design
Bright white paper
Resists bleed-through
Ability to customize/personalize
What I'd change
Offer blank or lined notebooks
Allow buyers to choose the art on the spine
Final thoughts
I really really love the Dot Grid Journal from Maisie Lane Co. It's a very well made book with great paper. In a perfect world, they would offer a blank version which would make me incredibly happy because I use my "one book" for everything, including sketching – and I don't want dots in my drawings. I asked them if/when they might offer other versions and they told me that they will at some point, but not in the near future. If dot grid is your preference, you have to check out this brand. I highly recommend them.
Price: $24.00
Where to buy: Maisie Lane Co.
Source: The sample for this review was provided by Maisie Lane Co.