We use affiliate links. If you buy something through the links on this page, we may earn a commission at no cost to you. Learn more.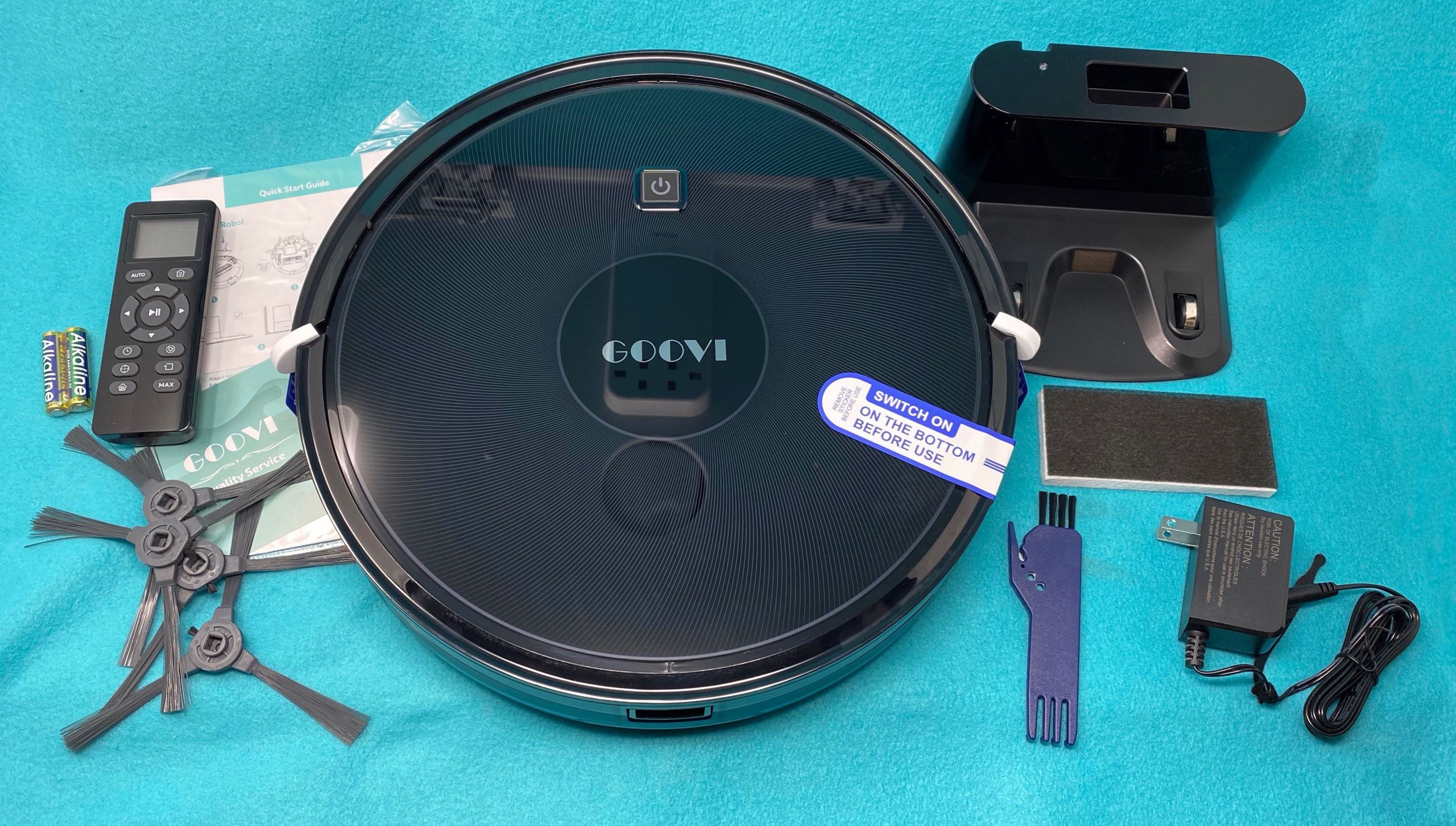 REVIEW – There are certain trade-offs we have to make when living indoors and using technology. One is that we need to keep things relatively clean, or the dust bunnies and hair-ball tumbleweeds will cause our tech to heat up and malfunction. Of course, for technical folks, there are technical solutions to all problems, and this applies to cleaning in a predictable way: ROBOTS!!! The latest RoboVac to enter our home is the Onson Goovi D380 Robot Vacuum. It's been fighting the losing battle against pet fur, dander, and leaf litter here in the Gadgeteer Southeastern Field Office for over a month now, and I'm ready to report.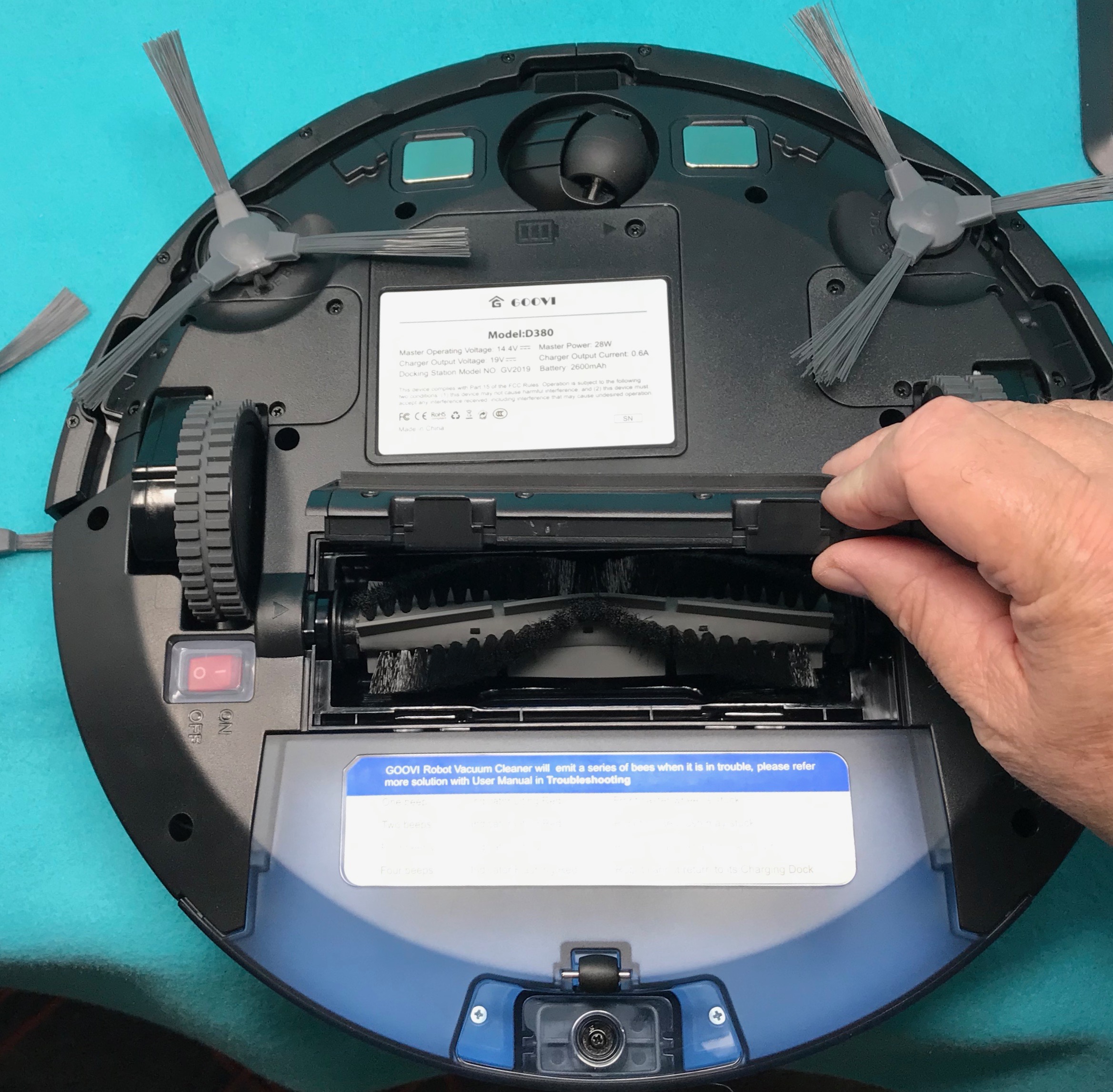 What is it?
The Goovi D380 is typical of most robotics – about the size of a small stack of dinner plates on wheels that guides itself around your living quarters, sweeping up debris. At just over 12″ in diameter, 3.25″ off the floor, and 6 pounds, it's not a daunting task to pick it up and move it to a specific area, but the beauty of a robotic vacuum is that it will start from anywhere and keep going until it is almost out of battery, and then return itself to the charger, all without you having to do anything.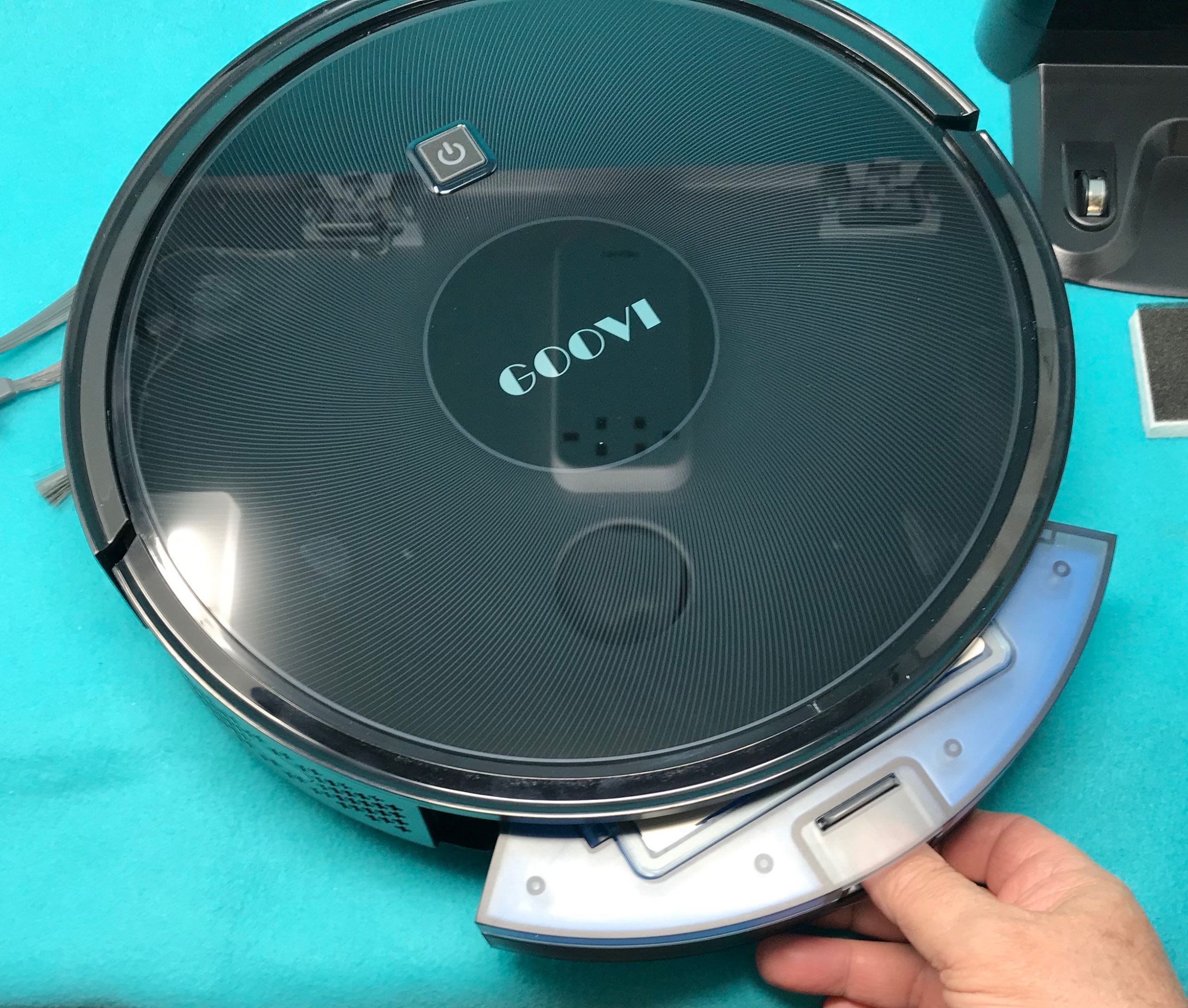 What's in the box?
Main robotic vacuum unit
(4) side brushes (2 extras)
(2) 2-stage filters (1 extra)
Remote control with batteries
charging dock with power adapter
cleaning tool for the rotating brush
Instruction manual, Quickstart guide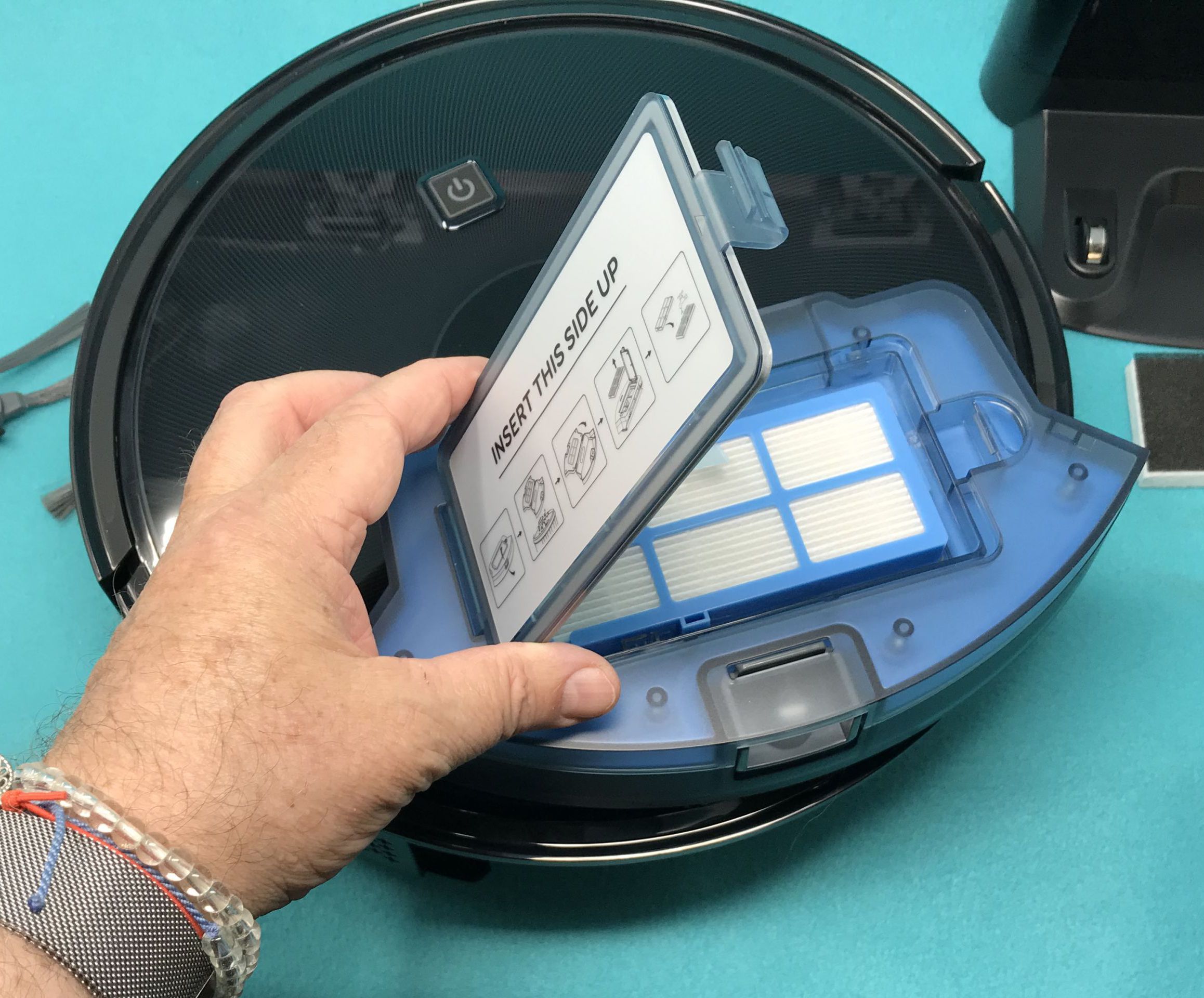 Design and features
You've all seen or read about robovacs, and the Goovi is similar in design and action. Where it differs is in suction power and control. The Goovi D380 is rated at 1600 PA, whereas most robotics at this price point are rated at 1000 PA. So, that means there is almost twice the suction with this vacuum. There are two IR sensors that sense walls and more solid items and cause the vac to slow or turn when it gets close as well. The algorithms in the vac make it turn slightly when the sensor is tripped. This can be entertaining when it goes under a table with lots of chairs, but you'd be surprised how well it'll clean under a dining table!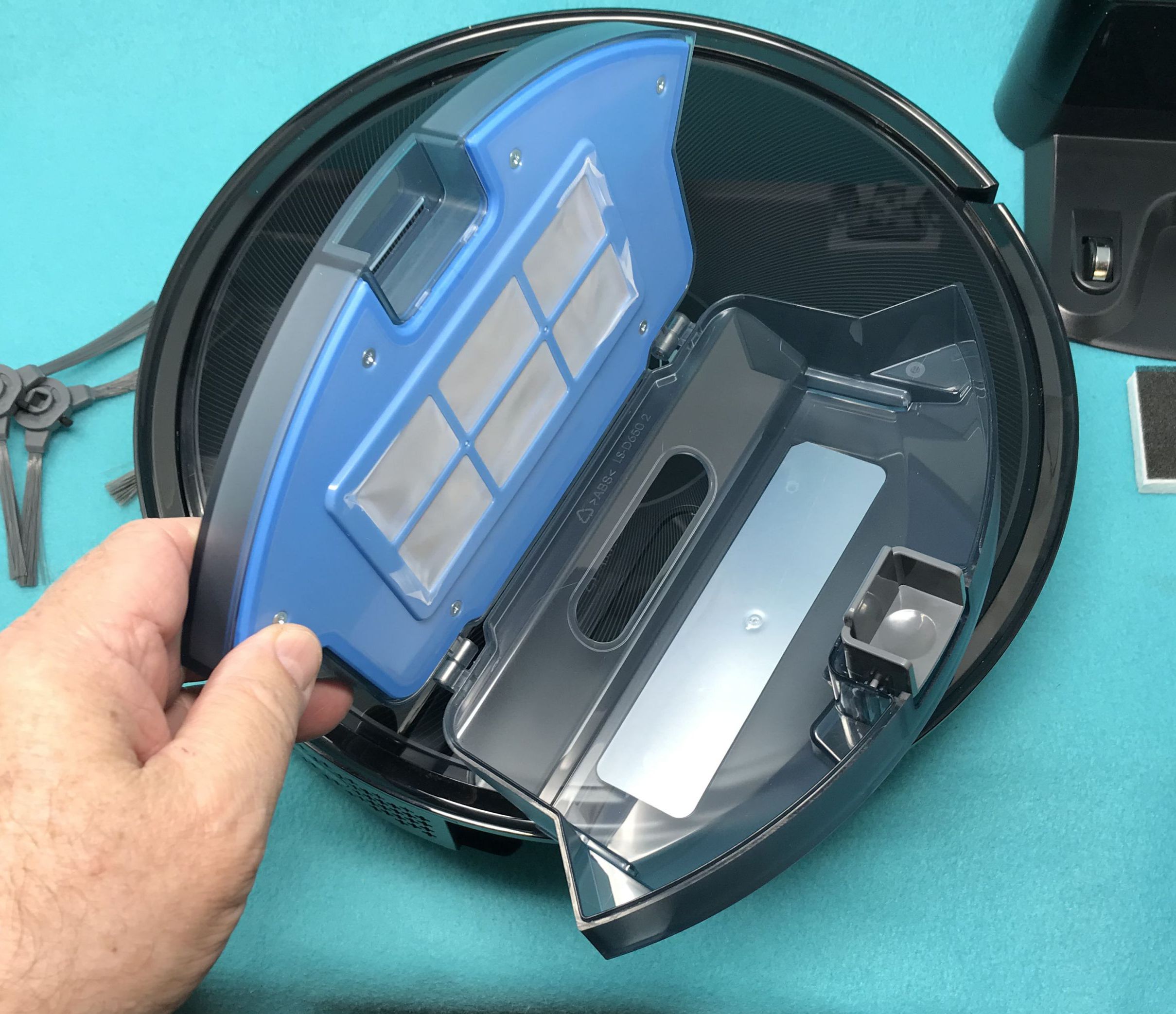 There is a spot-cleaning feature that guides the Goovi Vac through a circular pattern of ever-growing circles to about 3 feet across. It then reverses and spirals back to the starting point. This is handy to cope with spilled coffee grounds, dog food, or potting soil. I found this feature equal to other RoboVac I've used. Note that the double rotating brush can throw debris out of the path of cleanup in this mode.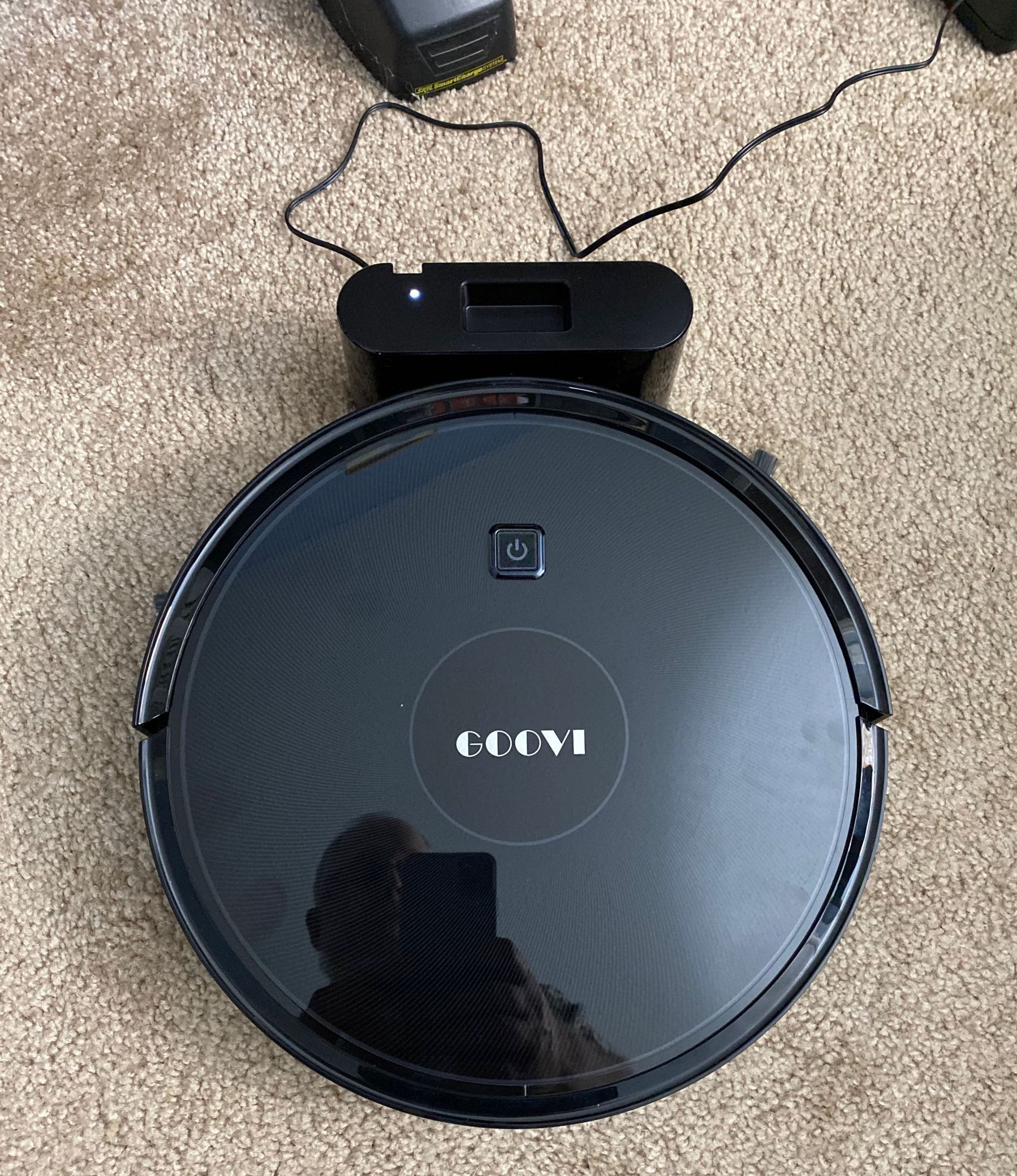 There's also an Edge Mode. In this setting, the unit follows a wall continuously. If an obstacle is detected, it will navigate around and return to the wall, hugging it tightly. Since general traffic seems to push debris to the side (ever notice this on streets?), just cleaning the perimeter of a highly trafficked area will make a huge difference.
Setup
The unit comes with each piece bagged separately, but it's very easy to set up. Click the rotating side brushes into place, remove the tape and shipping foam from the sensor plate, find a place to plug in the charger with good clearance for the vac to self-dock, and put the batteries in the remote. Ten minutes, tops. Let the unit charge until the logo on the top switch glows blue rather than orange, and you're ready for Rosie to take care of the mess!
Speaking of the snap-in brushes and rollers, all of these parts are easily replaceable and for sale online. There's a kit of HEPA filters and spinning brushes that will keep you running for a good while for about $20. The parts are also interchangeable with similar parts from several other manufacturers.
Performance
This is the second robotic vac I've used. I like that it has two rotating side brushes that spin in opposite directions. These rake debris into the path of the unit and help in getting a clean edge under kick panels and against walls. With a single brush head, you have to make sure the unit travels down the baseboard in the correct direction.
The timing feature is also nice. I inadvertently turned on the timer, and would hear the dogs start barking at 11:11 AM from my office when it would start with no one in the room. I decided to turn this feature off for their sanity.
We have primarily hardwood flooring in public spaces and carpet in bedrooms. The Goovi D380 was able to make it between the two surfaces in most cases, but on occasion would get stuck at the junction between them. It never was a real problem, but we decided to let it run when we're around, rather than letting it have free run. When things get quiet, someone will say, "Where's the vacuum?" and we'll go rescue it. This happens very rarely.
Another feature I liked is the ability to control the unit from the remote. There's a 5-button D-pad that makes guiding the vac as much fun as a video game. If you see it heading towards a rug or cable that you missed on your pre-vac pick-up sweep, you can stop it, reverse it, or just make it turn aside, rather than have it attack your wiring.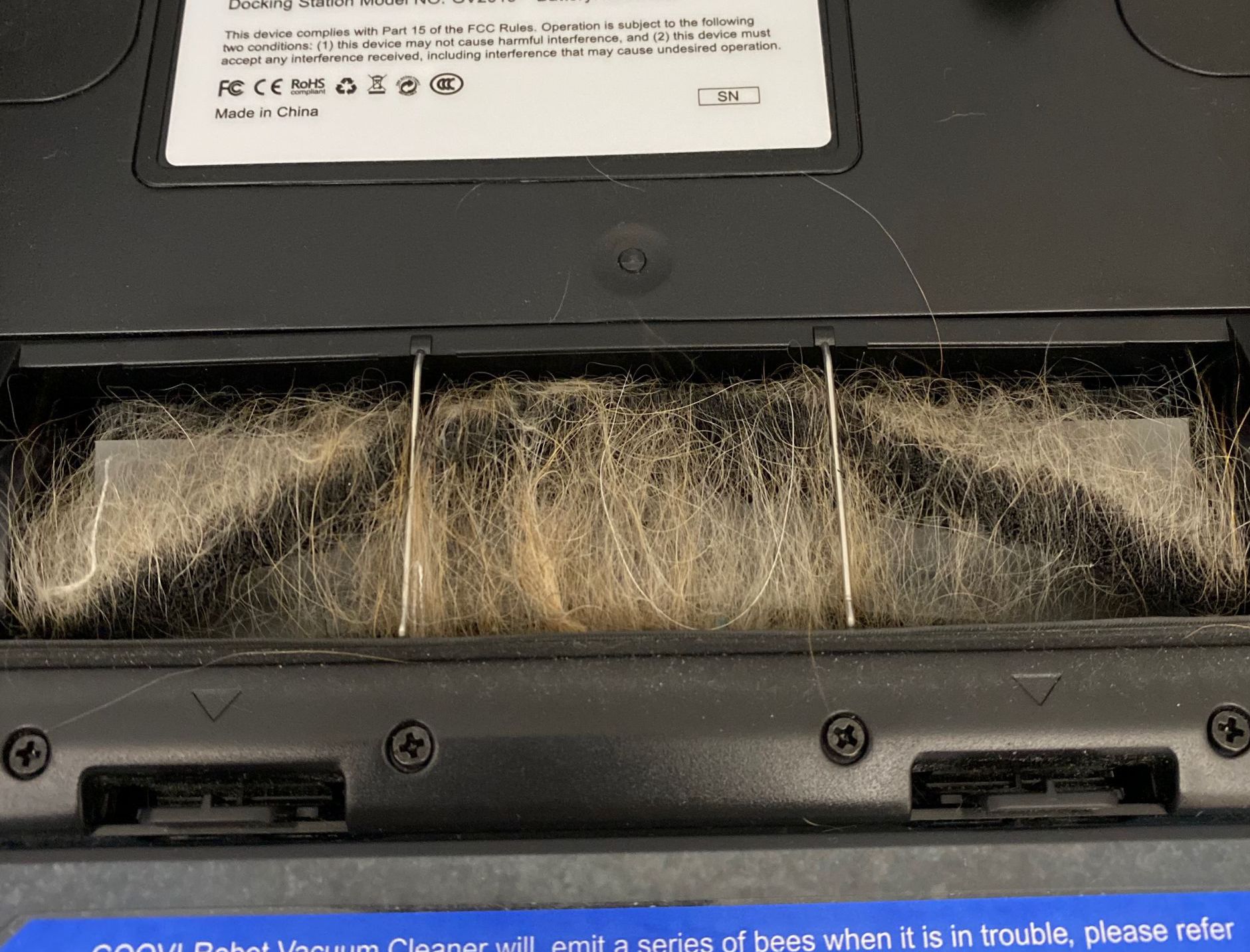 What I like
Remote has directional controls
Timer allows for unattended cleaning
Battery replacement is supported
No data/account required
All brushes remove easily for cleaning
What I'd change
Dust Bin is only .5 liter – but that's larger than many!
Filter in dust bin lid is difficult to clean easily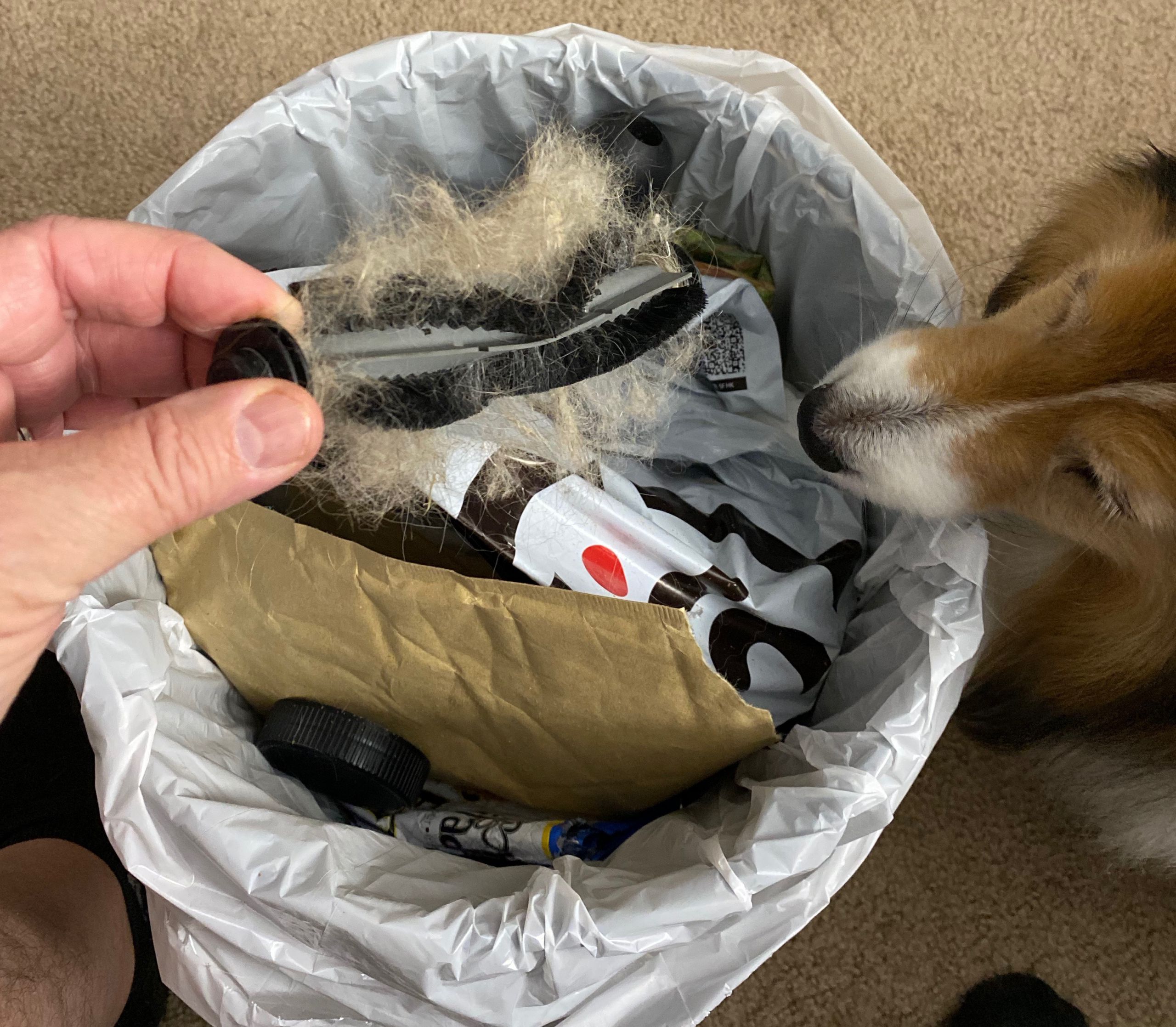 Final thoughts
We have a love-hate relationship with robotic vacuums in our house. It's not too difficult to run the regular vacuum over the floor, but there are those who would like that done far more often than others of us care to perform the task. This causes the one who is most irritated by debris to be the one to do the chore or request it, which gets old – for all involved! Being able to hit a button and have the Robot Vacuum D380 go over the room when needed is nice, and keeps us from worrying about this as much. Sure, we have to make sure the charging cables are off the floor, or no socks were left in front of the TV last night, but that's a small price to pay for a machine to do the boring stuff we hate to do. We're never going to not have to do a "real" cleaning, but the Onson Goovi vacuum at least gives us a little breathing room so that we don't feel the need quite as often!
Price: MSRP $186.99 on sale for $152.98
Where to buy: Amazon
Source: The sample of this product was provided by Onson.