We use affiliate links. If you buy something through the links on this page, we may earn a commission at no cost to you. Learn more.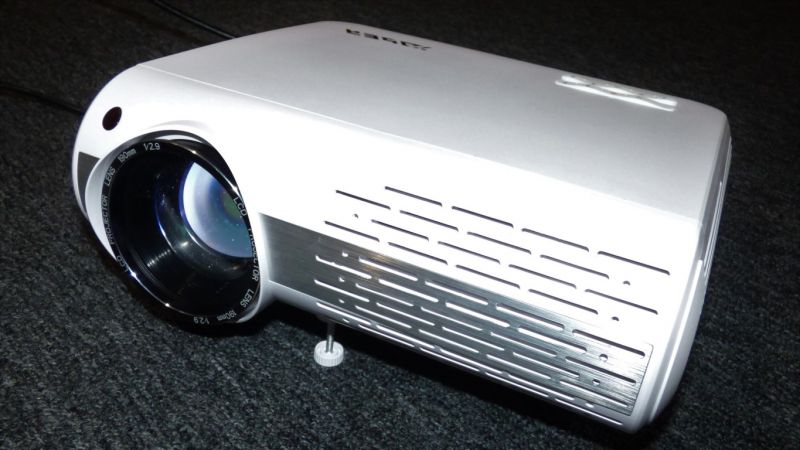 REVIEW – In the days of coronavirus, I'm having cinema withdrawal symptoms which include the need to sit in a dark room with a bunch of strangers, eat popcorn, and drink a gallon of cola! I decided to give Yaber's Y30 video projector a try to see if it could help ease my big-screen fix!
What is it?
The Yaber Y30 is a projector and integrated audio amplifier, capable of displaying content from video sources up to 300-inches.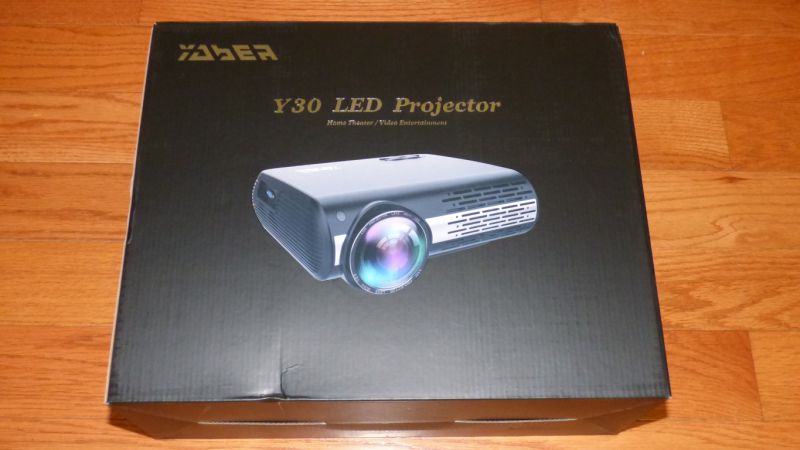 Hardware Specs:
Display Technology: LCD
Light source:   LED
Native Resolution:1920 x 1080 px (Full HD)
Max Resolution: 4K Ultra HD
Brightness: 6800 lumens (I think this is a very optimistic value)
Contrast ratio: 8000:1
Keystone Correction: 4D ±50° vertical and horizontal (electronic)
Screen size: 50 – 300 inches
Aspect ratio:16:9 / 4:3
Projection distance: 5 – 18ft (1.5 – 5.5 m)
Distance/size recommended: 10ft (3.04 m) / 100 in
Zoom function: 100% -50%
Cooling system: triple fan with heat dissipation technology and SmartEco energy-saving system.
Fan noise: low
Built-in Speakers: 3W dual stereo Hi-Fi with SRS
Dolby Digital (AC-3): not supported.
Connection terminals: 2 x HDMI / 2 x USB / AV / VGA / audio output 3,5mm mini jack
Chromecast & Fire TV Stick: supported.
Android device connection: MHL cable (not included)
iPhone device connection: Lightning to HDMI adapter (not included)
Video format: MP4, AVI, MKV, FLV, WMV, MOV, RMVB, MPEG1, MPEG2, MPEG-4, H.264, XVID, H.263, JPEG
Audio format: MP2, MP3, AAC, PCM, FLAC, WMA
Image format: BMP, jpg, png
Lamp life:70000 hours.
Power Supply:100V-240V-50/60Hz
Dimensions: 11.2 x 10.6 x 4.3 inches (28.4 x 27 x 11 cm)
Weight: 6.39 lbs (3.2 kg)Width: 7.36 inch (187mm)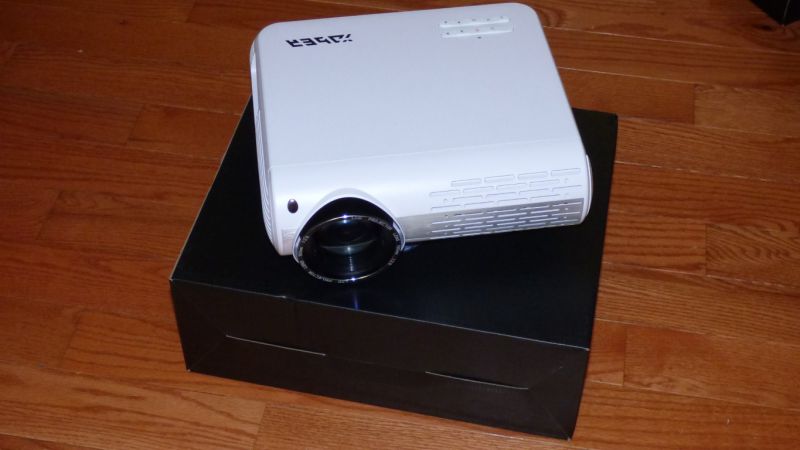 What's in the Box?
Y30 Projector
Infrared remote control
Manual
Power cord
HDMI cable
3-in-1  cable (RCA extension cable)
VGA cable
Lens cleaning cloth
Warranty card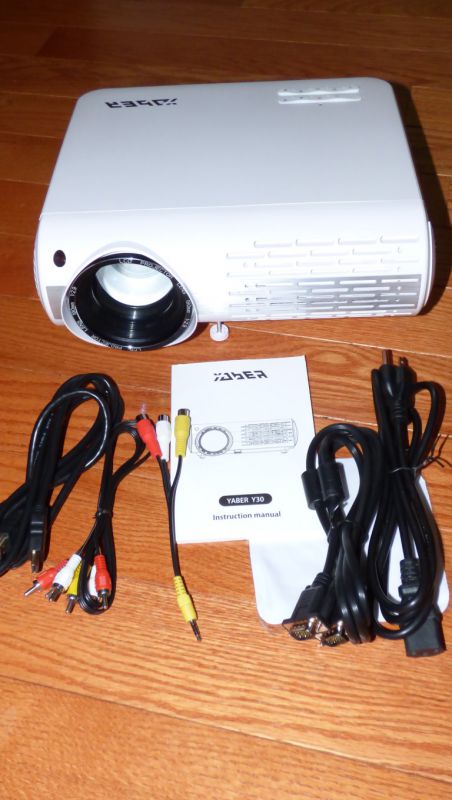 Design and Features:
Included were several connection options but the cords are on the short side. Unless you are planning using the projector in a temporary setting where the connected components are near to the projector, extension cables will be needed.
Connections include a 3.5mm, four-conductor composite video cable, a 3 conductor audio out jack, a VGA connector on the side of the housing.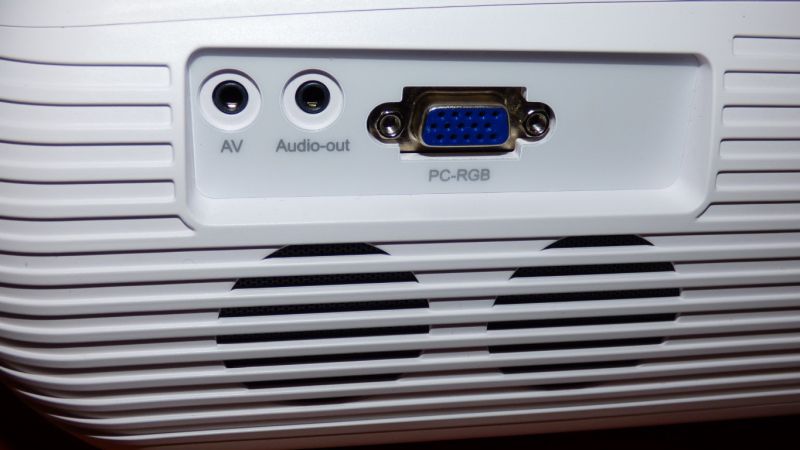 Two USB connectors and two HDMI connectors are mounted on the back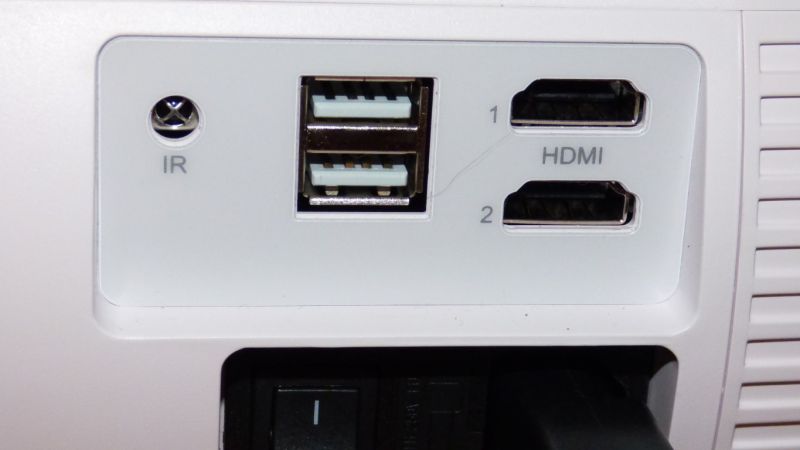 The power cable is an "IBM PC" style with 3 rectangular pins.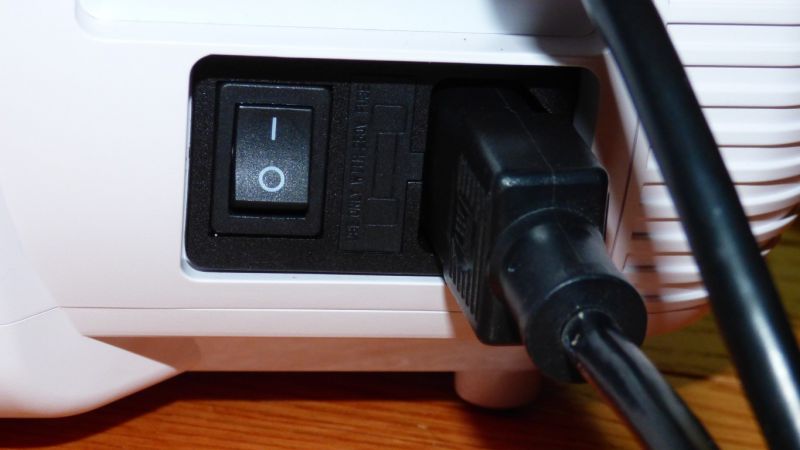 For starters, there is a toggle switch that needs to be turned on before the projector working. There is a delay of a few seconds between powering the Y30 on and when it starts projecting an image.
Buttons on the top of the projector permit set-up and configuration and have good tactile feedback, but it's much easier to use the infrared remote.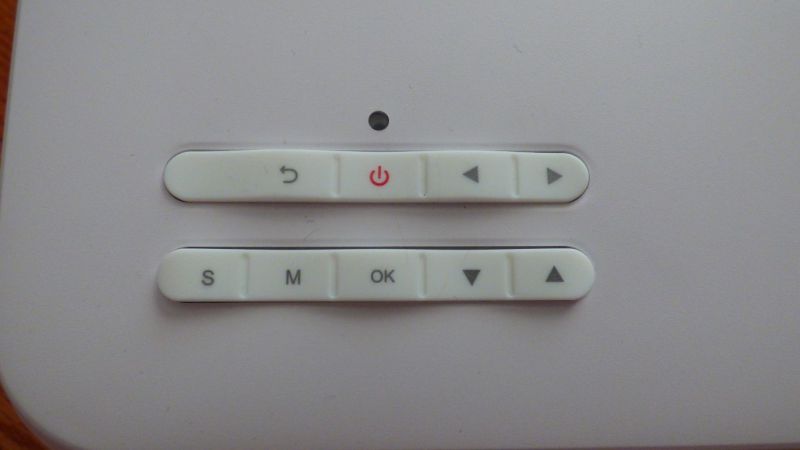 The remote is basic and is not backlit. You'll need to feed it with AA batteries (not included) before pressing the jolly, candy-like buttons.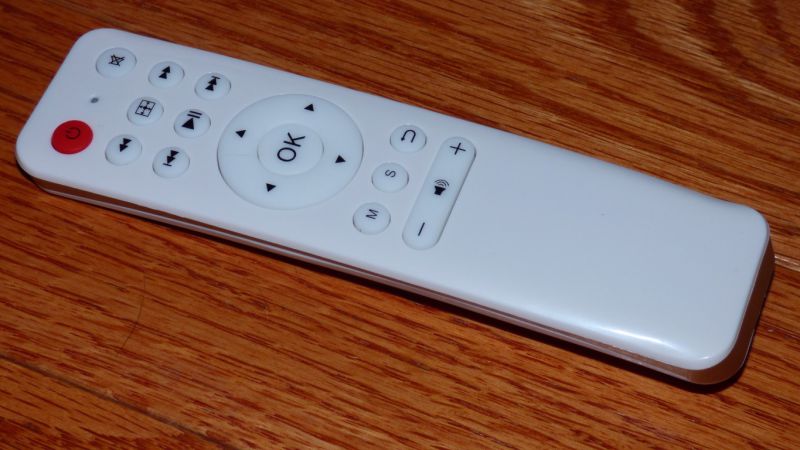 The infrared sensor is located adjacent to the Y30's lens.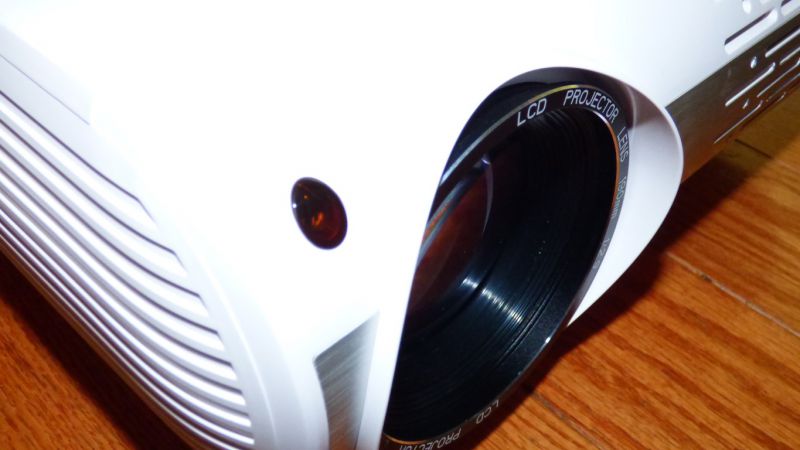 If reverse or ceiling mount projection is required, the projector can reverse and invert video. Metric ceiling mount threads can be accessed by removing the rubber feet.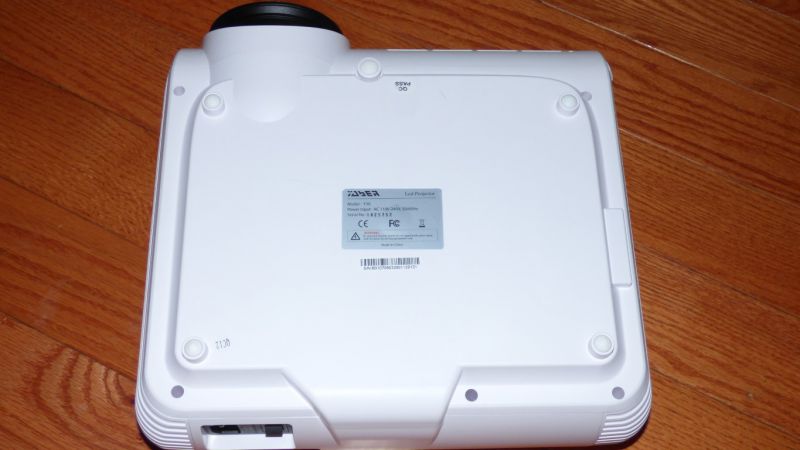 For front projection, a leveling foot is provided front and center.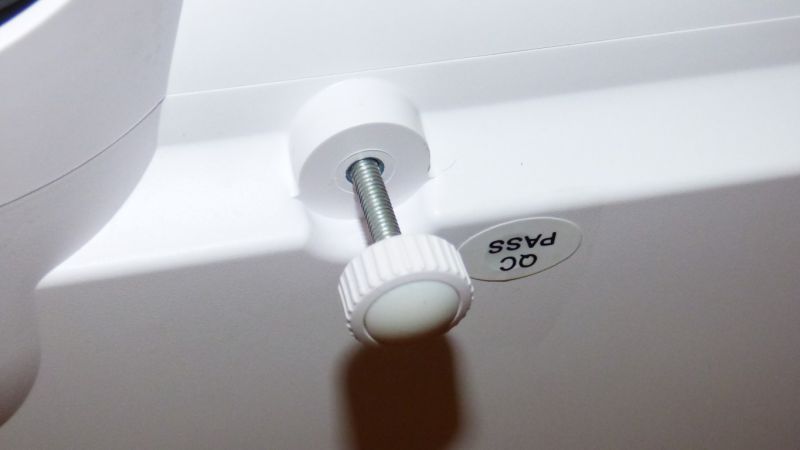 The lens can be turned to focus the projected image.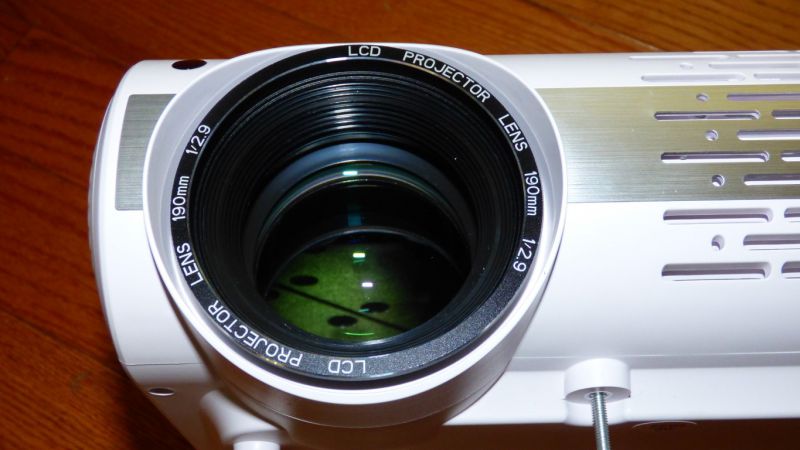 The projector has digital zoom capabilities, with separate X- and Y-adjustments so locating the projector at the distance you want from the screen can be varied.
Thanks to the digital vertical and horizontal keystone correction, aligning the image is a snap even if the projector mounting location is considerably off-center. This is particularly well implemented in the Y30, better than some other projectors I've used. I found this capability especially useful when it's not possible to perfectly position the projector. One caveat – keystone correction does not correct the projector's focus so it's best to keep the alignment as front and center as possible. The following "before and after" pictures illustrate just how extreme the keystone correction can be with the Yaber Y30. The projector is approximately 45° off-center and about 30° below the screen, yet the correction still permits a rectangular image. Good job, Yaber!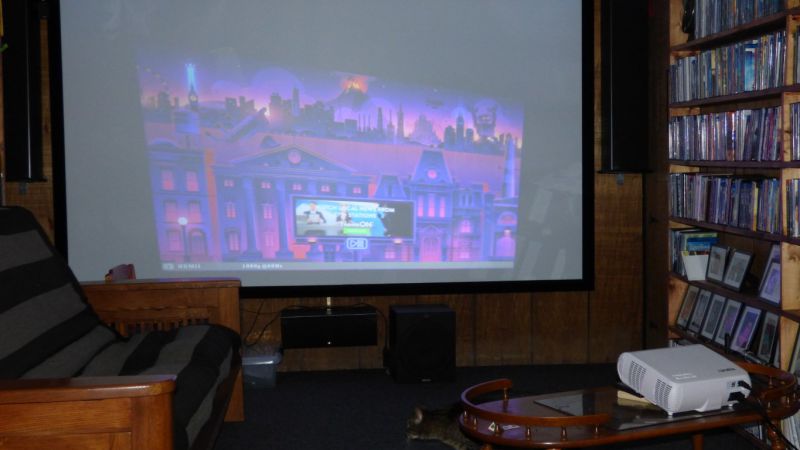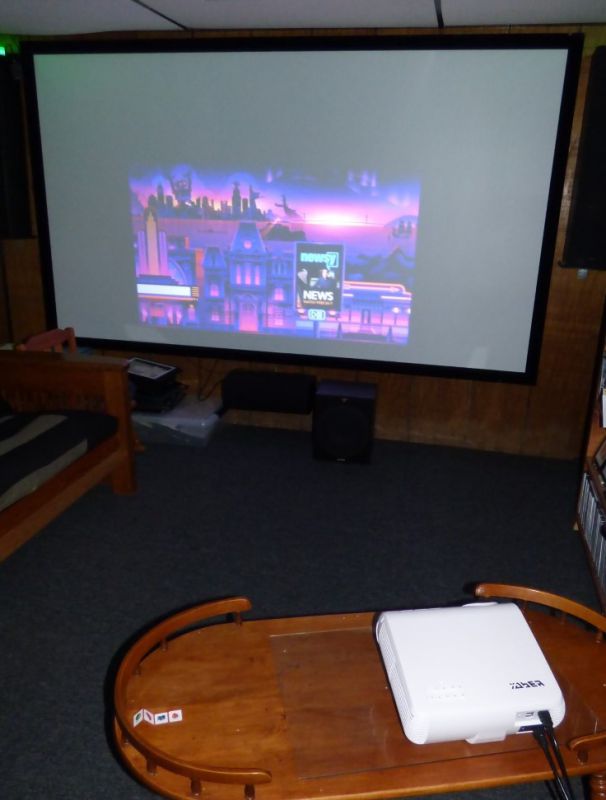 Moving on, I plugged my Roku player and fired up Netflix. Out of the box, the picture isn't particularly stunning, but with a few tweaks of the color, brightness, and contrast, the image was very watchable and, bluntly put, a strong bang-for-the-buck.
Please note: the keystone of the photos is due to the positioning of my camera on a short tripod. The actual images are rectangular and aligned.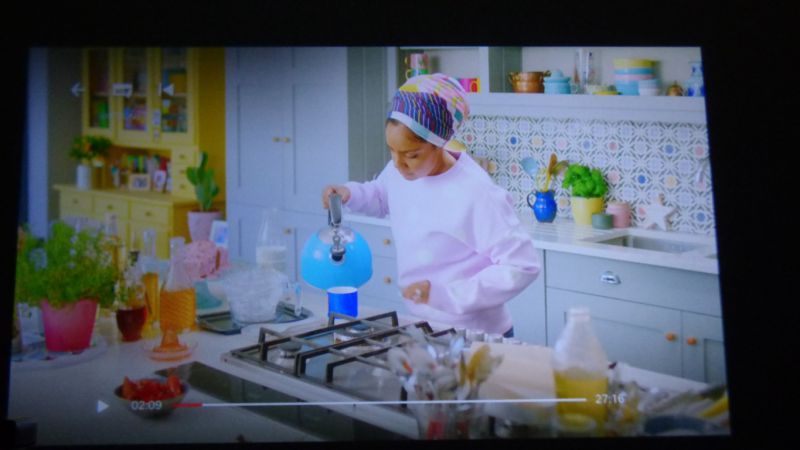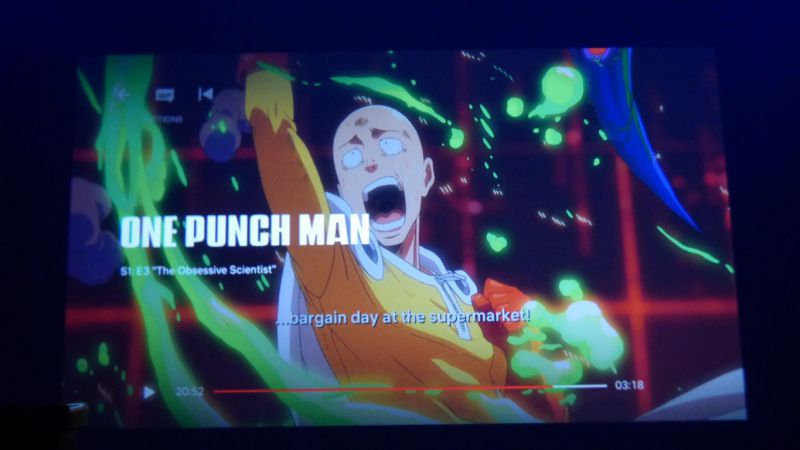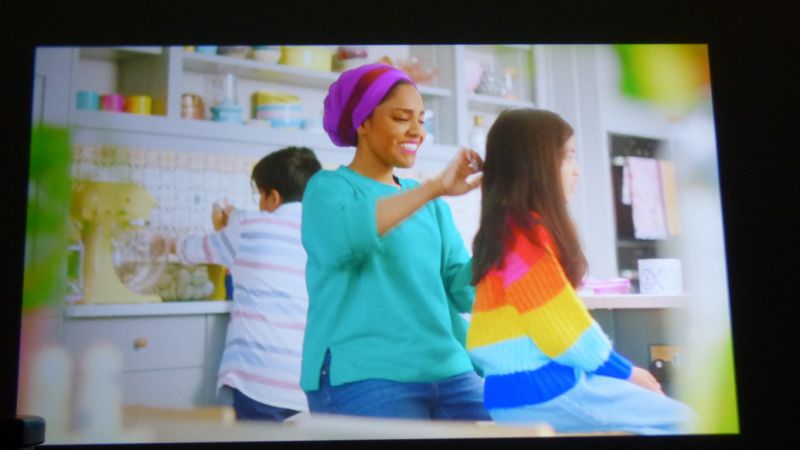 There is an active cooling fan, but I did not find the noise levels to be annoying or obtrusive.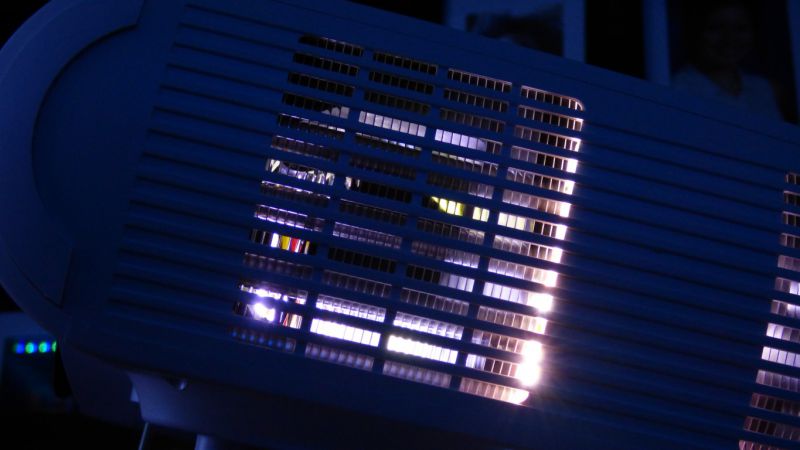 Menus are basic, but I was able to make the adjustments using the remote with no problems.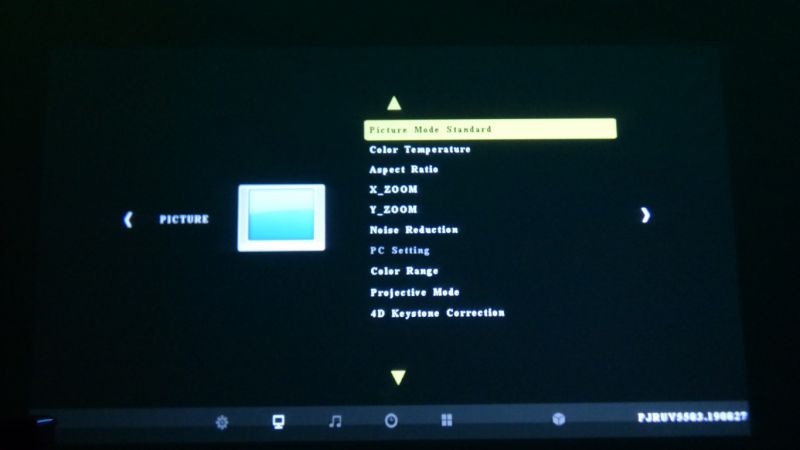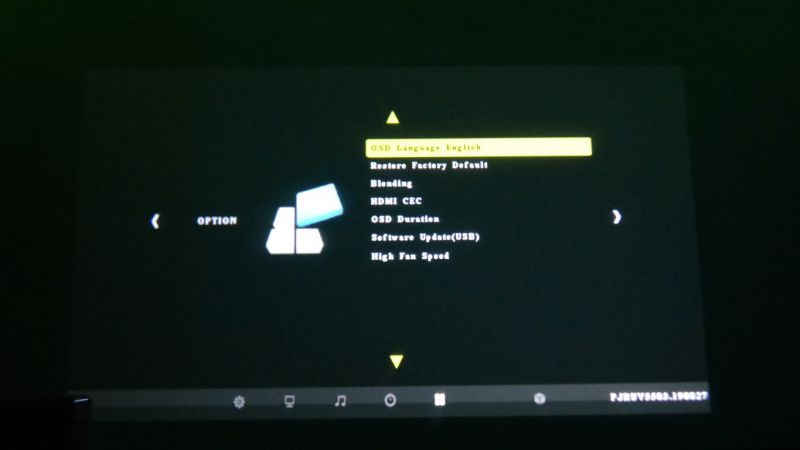 That being said, there were still some image issues. For example, very dark content had a purple cast that was annoying but can largely be eliminated through tweaking the settings. Also, for some odd reason, a grey menu bar would sometimes pop-up on the bottom of the image. This appeared to be due to some internal issue, but it was random and I was not able to reliably duplicate it.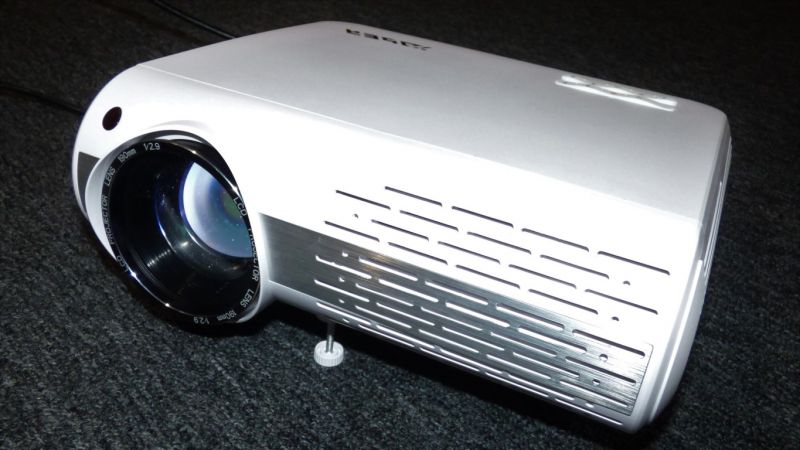 The Y30 has internal stereo speakers, but don't expect any miracles here. The fidelity is about what I would expect but is good enough for smaller venues such as meeting rooms or back-yard drive-in viewing with the kiddos bunched up on a blanket.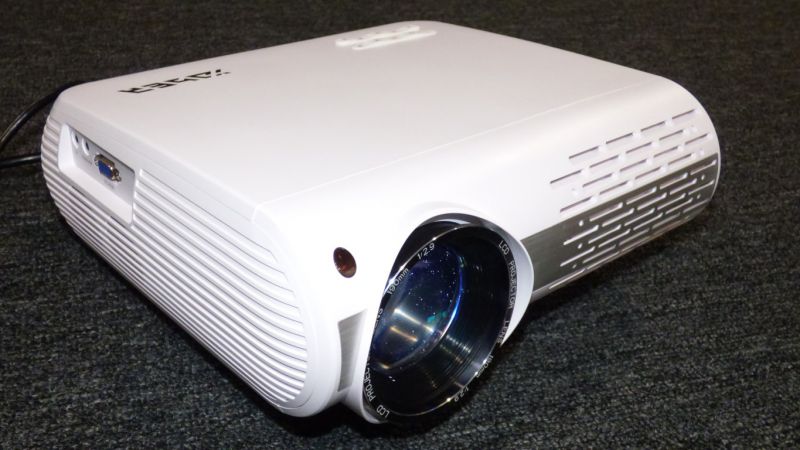 Perhaps the best feature is the native 1080P LCD. Many inexpensive video projectors can display images from higher resolution sources through lower resolution equipment, but the image quality is always degraded. With the Y30, full 1080 images were good enough to compete with projectors with much higher price points – another win for Yaber.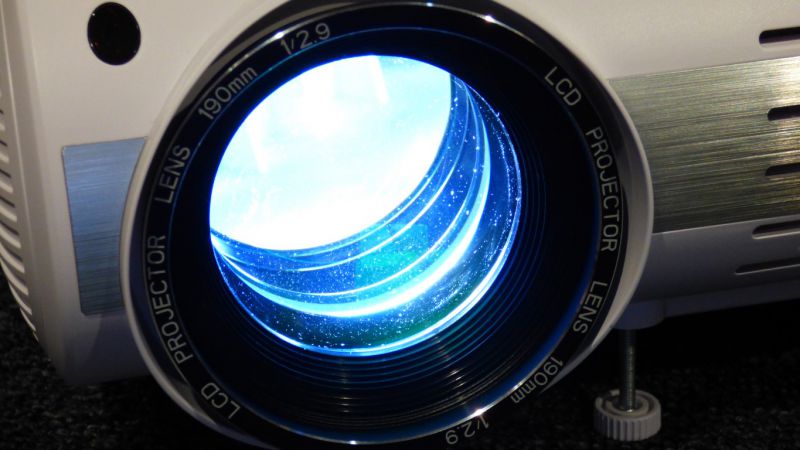 Yaber's LED light source specifications for the Y30 are 6000 – 6800 lumens (I found different values on-line) which is far from reality. Comparing it to a few other projectors I have, actual values are probably in the 1200-1500 range, although that's an educated guess. If you plan to use the Y30in a brightly lit room, you may want to consider something alternatives, but…. In a room where brightness levels can be controlled, like a home theater, or den with dark curtains, the Y30 does an adequate job.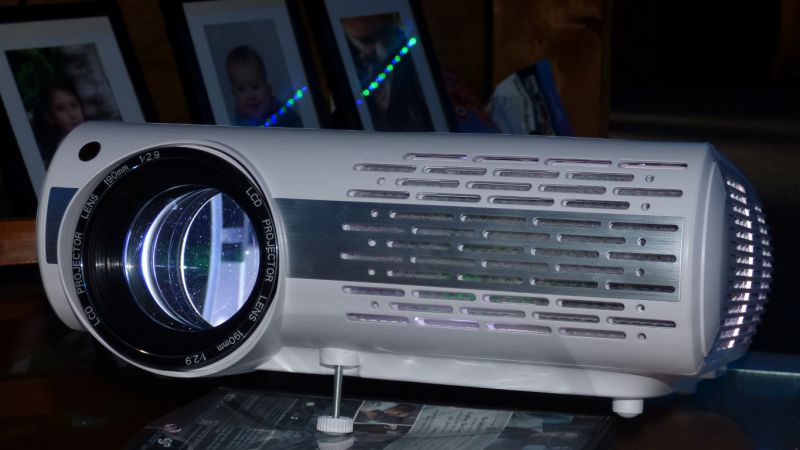 What I Like:
Full 1080P at a great price
Excellent keystone correction both vertically and horizontally
Maintenance-free LED lighting with no bulbs to replace.
What I Would Change:
Add backlighting to the remote
Final Thoughts:
Yaber's Y30 is a capable,  budget-conscious home theater projector for under $300.  It might not pack the cinema whallop of its more expensive cousins, but it gets the job done and might be the ticket to help beat the coronavirus blues.
Price: $279.99
Where to buy: Amazon
Source: The sample for this review was provided by Yaber.