We use affiliate links. If you buy something through the links on this page, we may earn a commission at no cost to you. Learn more.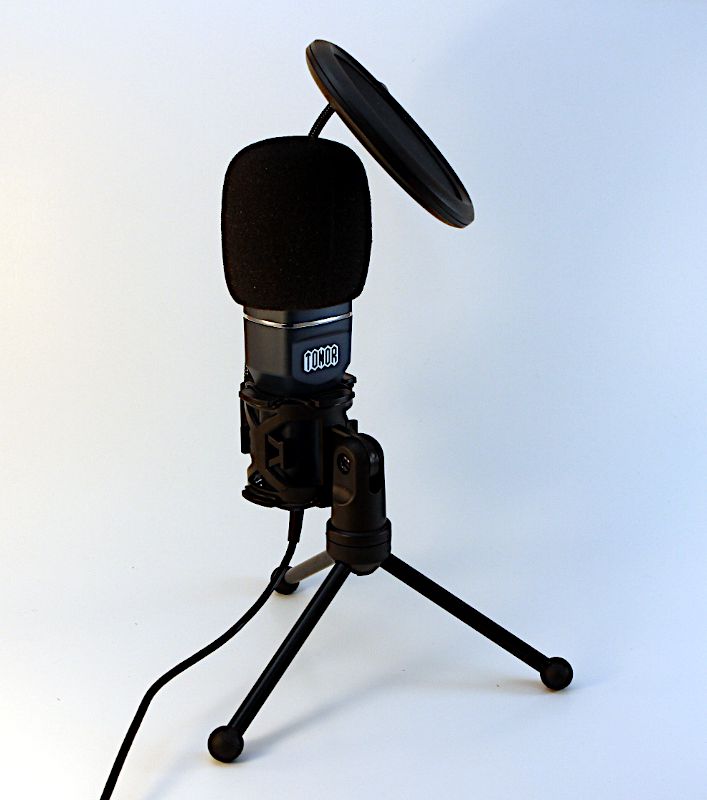 REVIEW – During these times of COVID-19, we've had to learn new ways to communicate and collaborate despite being more isolated than we would like.  One key component for remote communication is a good microphone, one that can clearly capture your voice.  For the past few weeks, I have been using TONOR's new TC-777 microphone to talk with co-workers, family, and fellow gamers.  How well did this mic work?  Read on to find out.
What is it?
The TC-777 is an entry-level, general-purpose, plug-and-play, USB microphone that comes with a stand, a shock mount, and a pop filter, everything you need to get going.
What's in the box?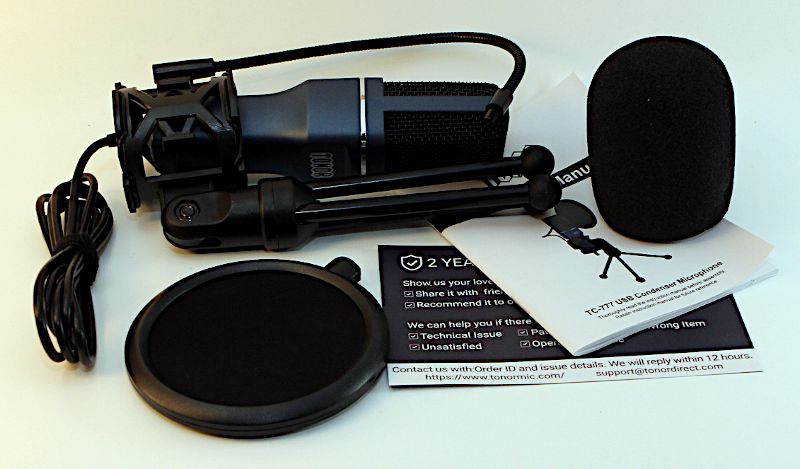 The microphone
The tripod stand
The shock mount with built-in pop filter
A foam cover
A manual
A service card
Hardware specs
Polar Pattern:  Cardioid
Sampling Rate: 44.1KHz/16Bit
Frequency Response: 100Hz-16KHz
Sensitivity: -38dB±3dB
USB Cable Length: 59 inches
Height of Mic in the Shock Mount: 10 inches
Weight of Everything:  11.6 ounces
Port:  USB-A 2.0
Design and features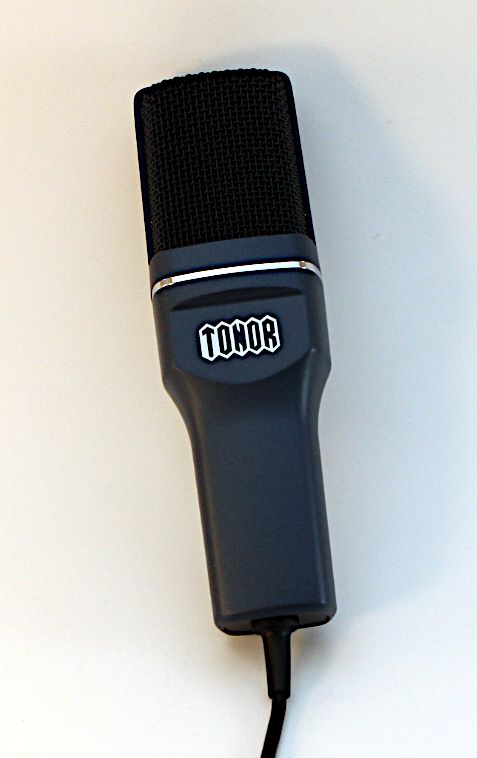 The TC-777 is a small, lightweight microphone with a plastic body, a metal grille, and a built-in USB cable. The body is an attractive cobalt blue color with a silver TONOR logo that looks sharp.
Most of the other components are also made of plastic, which is why it's so light.  The stand legs and the pop filter gooseneck arm, however, are both made of metal, so it has strength where it needs it.  I think this design works just fine so long as you set it up, put it on your desk, and leave it there.
Installation and setup
Setup is easy.  Everything in the box had a nice protective place, except for the foam cover, which was quite rather squished.  I gently massaged it back into shape and pushed it on top of the microphone.  The shock mount was already attached to the mic stand; I used a large Phillips screwdriver to adjust the angle so that the mic was straight up and down.  I unfolded the tripod legs to their fully extended position, thus giving as much stability as possible for the mic.  I threaded the USB cable down between the center of the shock cables and pulled it through until the mic was firmly held in place.  I screwed the pop filter in place and manipulated its arm so that the filter would be located between me and the mic.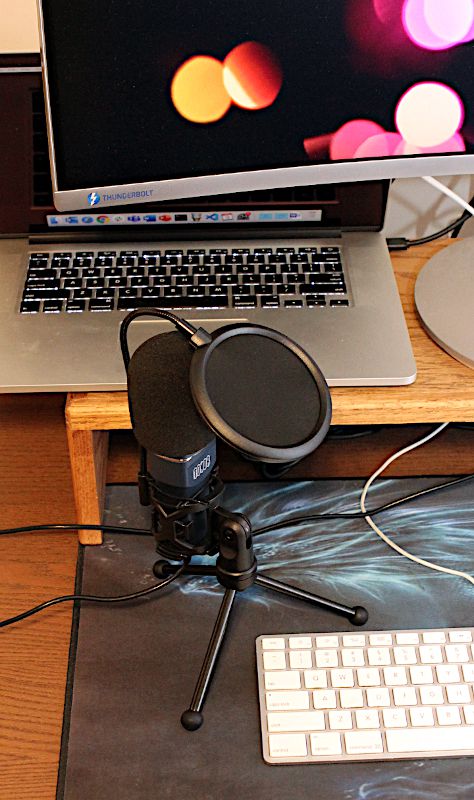 After positioning the entire unit on my desk near my keyboard, I plugged the USB into my MacBookPro.  TONOR advertises the mic as being plug-and-play, no special drivers or software installs required, and that was certainly true for me.  I also tested the mic with my Mac mini and my Windows 10 PC, and they recognized the mic and began using it instantly and without any problems.
Performance
Given TONOR's reputation for building quality mics and stands, it's not surprising at all to find that the sound on the TC-777 is good.  I used it for conference calls at work using Microsoft Teams; I used it for personal calls with my family using Discord; I used it for gaming while playing Dota 2; and I used it to record replay commentaries of my games using OBS.  Everyone I spoke with said that the audio was clear and that I was easy to understand.  There were no problems with background noise, which is always present when working from home.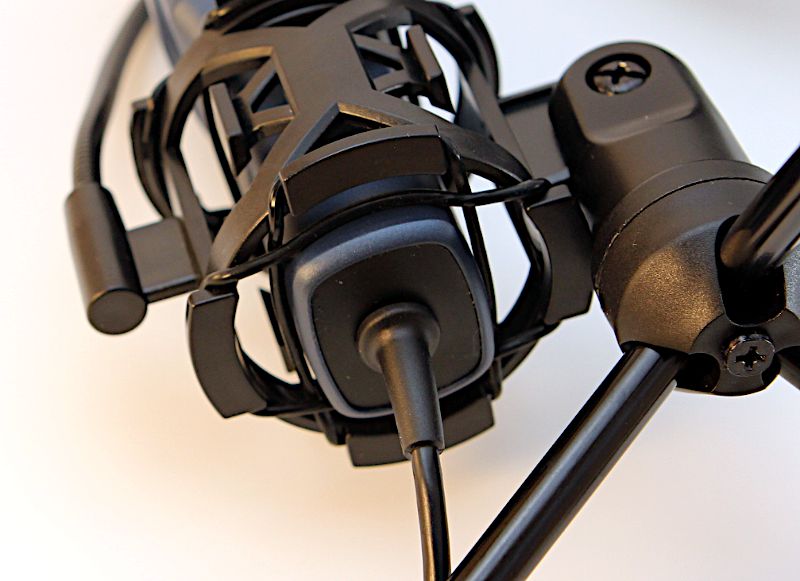 TONOR's mic has four mechanisms for reducing unwanted noise.  First, the feet of mic stand are rubber.  Second, the shock mount wraps the mic in rubber cables, 2 cables for the base of the mic and 2 more for the middle of it.  Together these isolate the mic from my desk and reduce the vibrations from typing on the keyboard or doing anything on my desk.  Third, the pop filter reduces the popping sounds caused by the fast-moving air as I speak into the mic.  Fourth, the foam cover, also known as a windscreen, reduces the windy sounds from air moving over my mic.  Unless you have a fan blowing directly onto your mic or you're recording audio while out on the back porch, the foam cover probably won't be of much help.
The TC-777 uses a cardioid polar pattern, which means that it picks up audio that comes from its front more than from its back.  This is perfect for most people who are speaking into a mic while hoping to minimize ambient sounds.  The mic does not support any other patterns.
There are a few shortcomings with the mic, though I don't think they are significant.  Although the cable is nearly 5 feet long, I found it to be a bit short when using it with my gaming PC, as my desk is a bit crowded, and I need the mic to be on the side opposite from my computer.  The cable is attached and thus not replaceable should it get damaged.  There's no physical mute button on the mic, something that can be very handy when live streaming or recording audio, especially in a home environment where other people might start making excessive noise (like grinding coffee beans).  The tripod legs are wide, which provides great stability, but they take up a lot of space, especially for anyone with a small or crowded desk.  While it would be nice if TONOR addressed these issues, I think they have chosen an acceptable set of compromises in order to keep the TC-777 at such a low price point.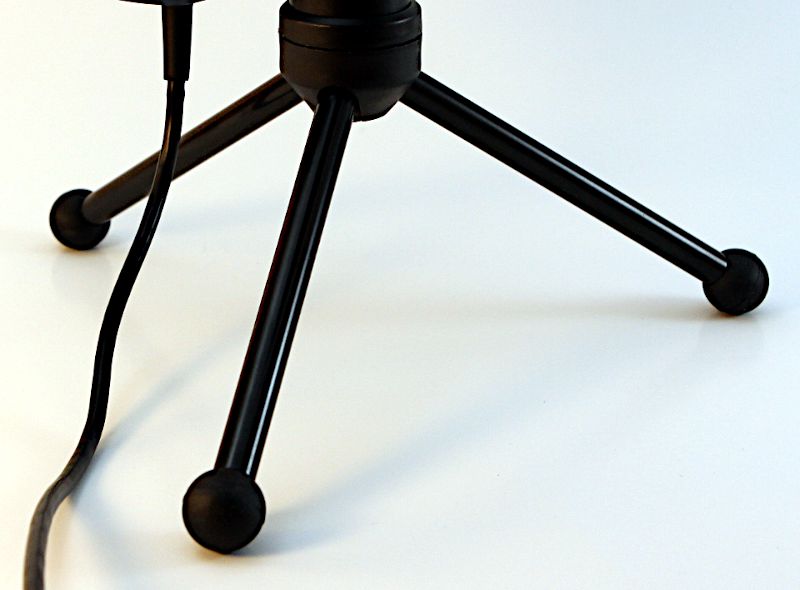 At 10 inches tall when in the stand, the mic is a long way away from my mouth.  This is fine for general use, but when I'm recording or streaming video games, I'd like it to be closer to my mouth and further away from my keyboard, especially since my trusty Razer has mechanical keys and is rather loud.  For this reason, I also tested and reviewed the TC-777 using TONOR's TC20 mic arm stand.  Though I wished the clamp that holds the mic was designed differently, the mic arm itself worked perfectly and held my mic exactly where I wanted it.  This allowed me to change my input mode in Discord from using "push to talk" to "voice activity."  Basically, this means I don't have to push an extra button to talk to my teammates while playing RD2L matches in Dota 2.  The positioning of the mic ensured that they could clearly hear me speak—coordination is very important, even in semi-competitive gaming—without having to hear the clatter of my keyboard.  Less distractions result in better gameplay.  I used OBS to record a replay commentary video of one my Dota matches, so you can hear the quality of the audio.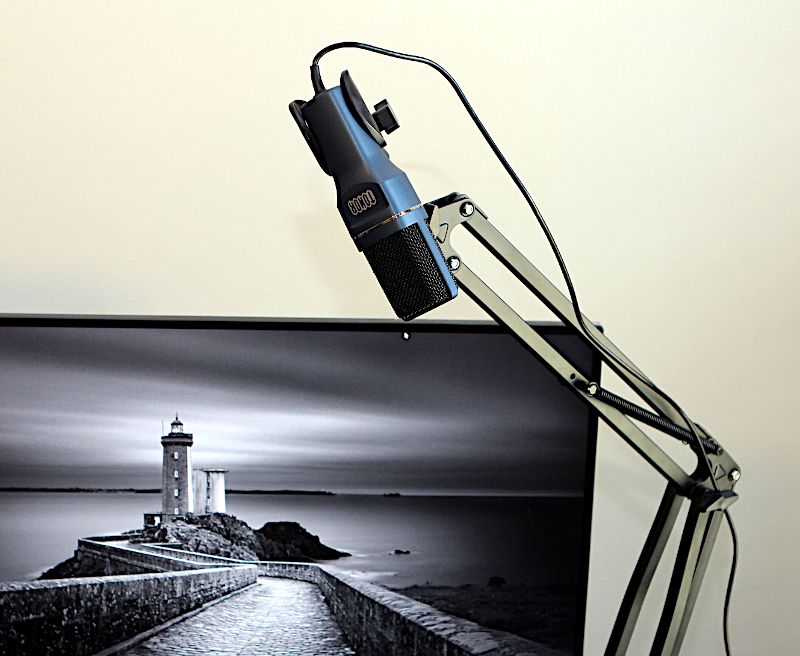 What I like
Good sound
Good price
Included stand, shock mount, and pop filter
What I'd change
Nothing at this price point
Final thoughts
The audio quality of TONOR's TC-777 mic is good.  Sure, there are other mics out there that sound better, but considering it's $40 price point, it offers amazing bang-for-the-buck.  If you're an aspiring YouTuber, Twitch streamer, or competitive gamer, and you're looking for an entry-level mic that won't break your bank, this is a great choice.  While good for gamers, the TC-777 is also good for anyone (like me) who spends a lot of their day talking with other people in online meetings.  I like this mic; it's a good deal, and I commend it to you.
Price:  $41.99
Where to buy:  TONOR's online store or Amazon
Source: The sample for this review was provided by TONOR.